Channel Seven's House Rules returns to screens this Sunday with two new judges – Australian architect and builder Drew Heath and flamboyant British interior design star Laurence Llewelyn-Bowen. I caught up with Laurence recently and he proved quite the entertaining interview subject. And while he won't be everybody's cup of earl grey, I cannot wait to watch him on the show!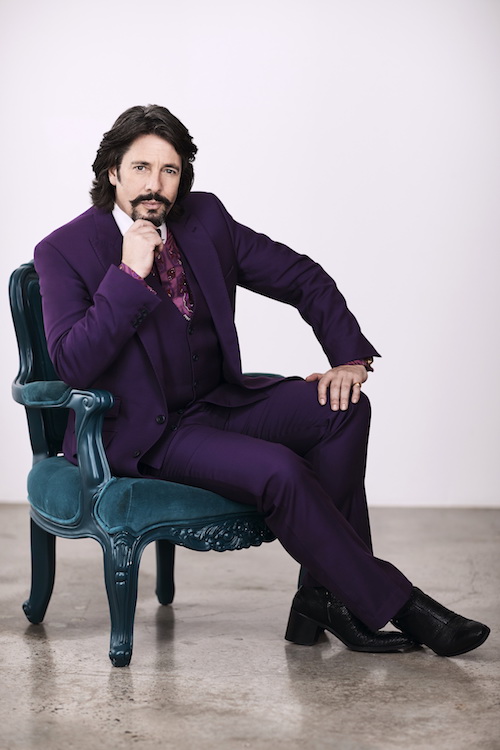 "My style is very flamboyant and full-fat. I believe in expressing oneself as forcefully as you possibly can and I feel very strongly that it's crazy that people don't feel they can truly let their hair down at home. Besides, why would I inhabit a mealy-mouthed beige space as I'm not a mealy-mouthed beige kind of person," says Laurence. Favouring a Baroque design aesthetic and personal style that is anything but subtle (you could say more is more), Laurence is sure to ruffle many of the contestants' feathers which should make for entertaining viewing.
And while he speaks with a rarefied English accent, the designer is surprisingly egalitarian in his design approach – something that he wants to impress upon the contestants and the Australian public. "I feel very strongly in the 21st century that there's no such thing as good or bad taste – it's something posh people came up with so that they could show up and put everybody else down. It also fails to incorporate any sense of individuality and the more we break the rules, the more we express ourselves," says Laurence who rails against what he terms 'ghastly good taste.' "It can be bought off the shelf by the bourgeoisie," says Laurence.
"We're all given this monumental boon to own a little bit of the planet, to have somewhere to live. A shrine to come back to after the world's worst day – somewhere that protects you from the big scary world outside and that keeps Trumpageddon at the end of your garden path! You should love your walls, you should be licking them, having an affair with your home just so it knows how much you appreciate it!" says Laurence.
As for how Australia is likely to take the brash Brit, there has been quite a bit of debate about this during the making of the show. "Yes, I know I am rather over-dressed for Australia but it's not my fault, it's Australia's fault. When I come out fighting, swirling my cane, twirling my moustache, getting cross with people and sprouting sparks from my nostrils it's because I have a huge passion for what I'm doing. I have a huge passion for what the contestants are doing and I have an overwhelming desire to make them better at what they're doing. There's a life-changing amount of money in this so they've got to be as good as they possibly can," says Laurence.
"Unfortunately, I have never, ever cared about what people think about me. I was born with this ridiculous disability which is that I do not give a shit what people think of me. I will never be that bloke on the telly that's all smiley, orange faced and wants to be your best friend. I will only ever tell it as it is. That might be I love it to death or I hate it so much that I want to napalm it in the morning. That kind of honesty is always slightly at odds in Asia but it fits perfectly in Australia," says Laurence.
House Rules 2017 commences on Channel Seven this Sunday April 30 and I cannot wait.