Let's face it, one of the best things about upgrading from apartment to house, like we did this year, is having a back yard. Not only has it been amazing for Seb, who even stopped wanting to go to the park for a while because he loved hanging out there so much, but as an extra outdoor room for us grown ups. Being a Pom, I really appreciate the outdoor lifestyle Australia affords me, so I was excited to have a decent sized paved area down one side of the house as well as a grassed lawn at the back. Only problem was, it looked like this: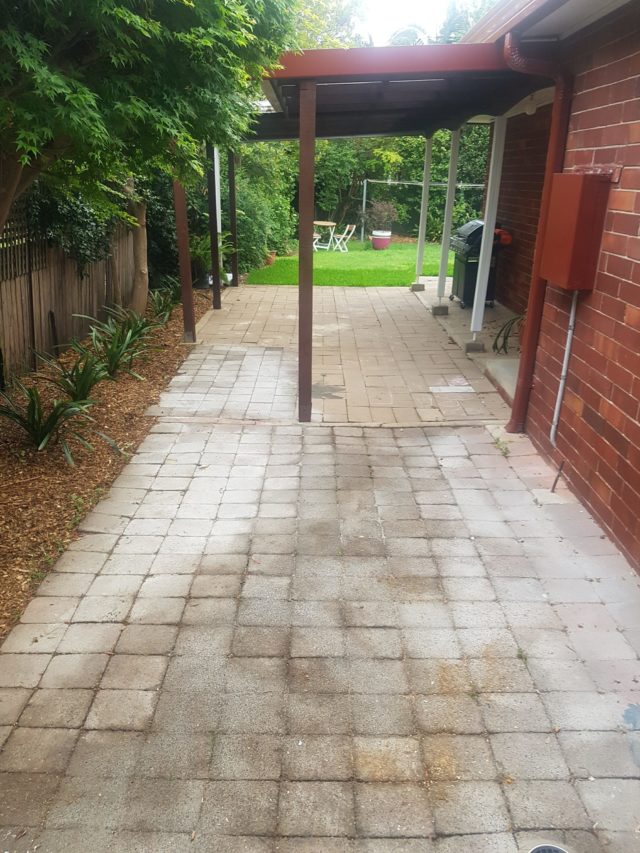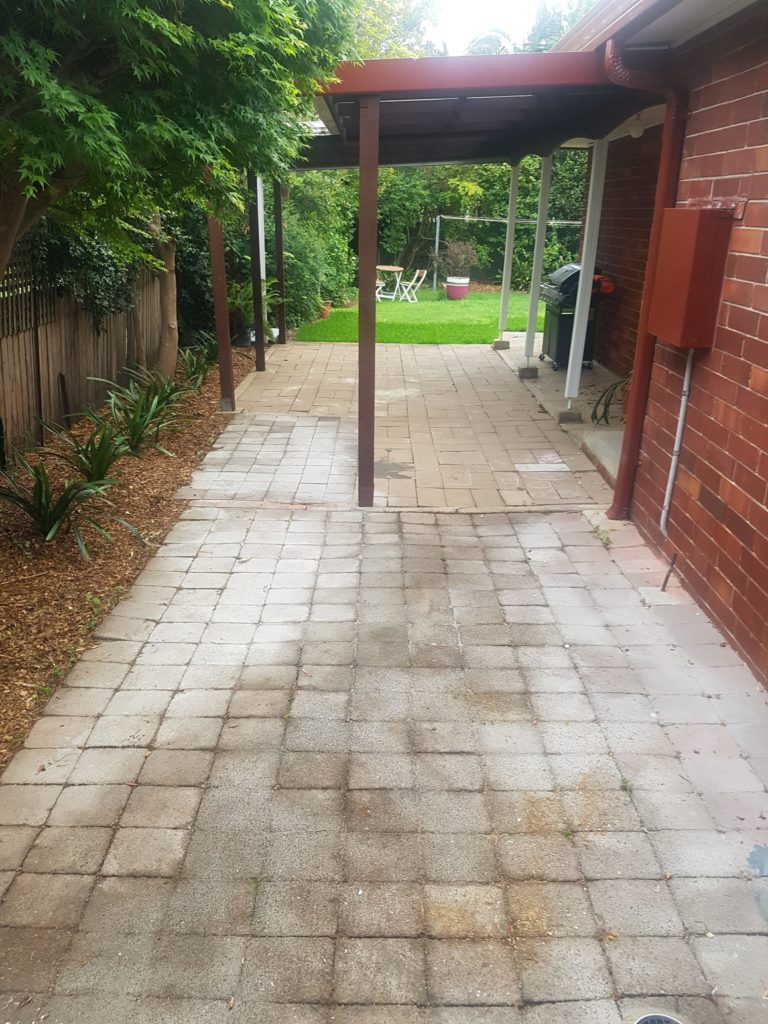 Hot or what?!
But now we have this lovely oasis: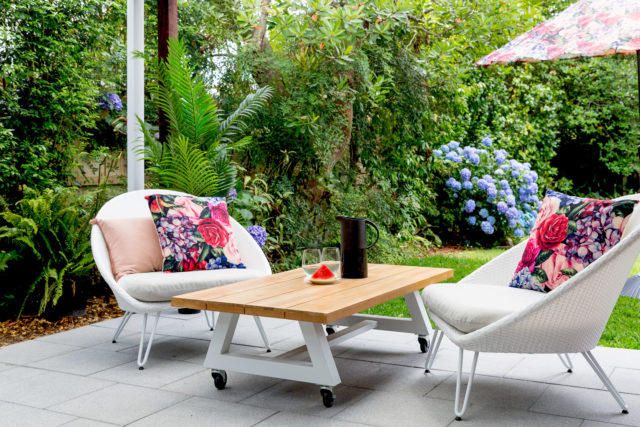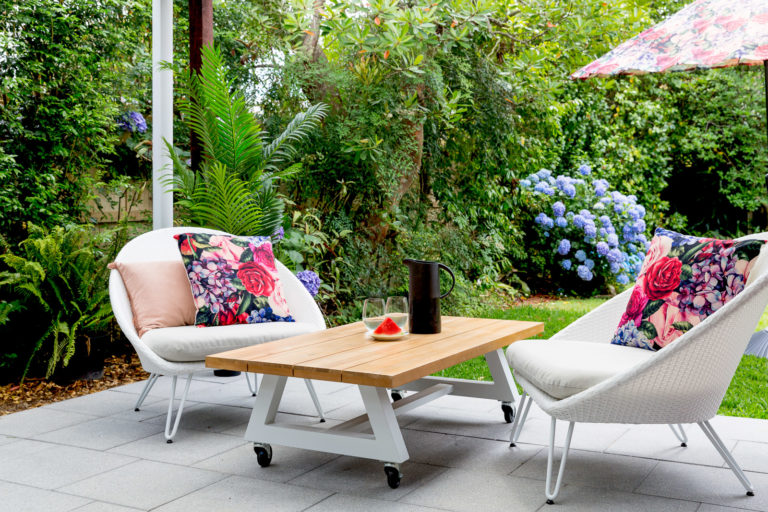 In the before photo, you'll note the old and wonky, red-toned pavers (I actually hate anything red-toned in interiors and exteriors, hence my plan to paint our red brick grey eventually!), the fence that could fall down in a stiff breeze and the distinct lack of furniture. That table for two from our old apartment balcony wasn't really cutting it!
We thought about a deck for ages, until we got a quote ($30 to $40k) and then we quickly forgot about it. Then one day, a press release from Adbri Masonry landed in my inbox and I suddenly thought: why have I never considered pavers?! It's like everyone assumes you need to build a deck these days. But what's wrong with pavers? In fact, there's a lot right with them! They're super durable, come in loads of colours, shapes and sizes, and you can lay them in myriad different patterns. Not to mention they're a great safe option in bushfire zones. I quickly settled on their EuroStone product in a 400x400mm size and loved the mid-grey colour of Zurich. It almost looks a little Terrazzo and we all know how on trend that is right now!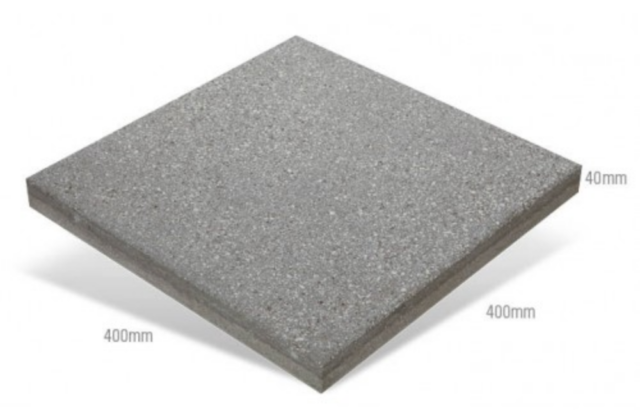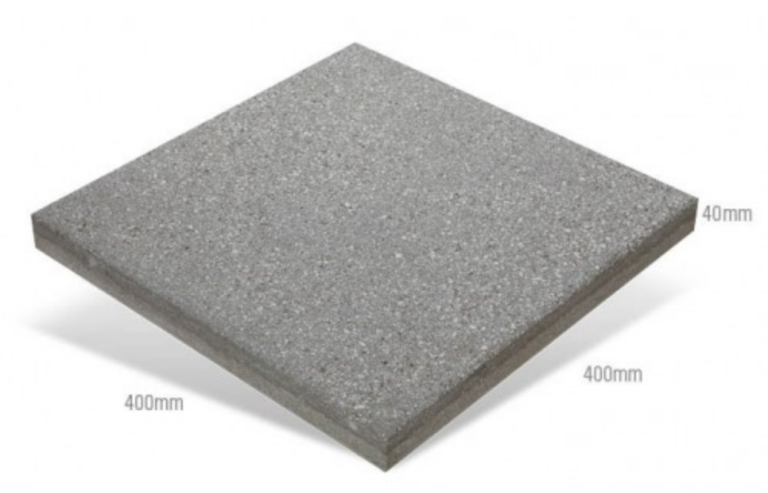 As with most things, you can lay these kind of pavers yourself (Adbri have plenty of how-to's with  TV's Jason Hodges on their website) but we lacked the skills and the time, so we got in the professionals. All up, it was about $4,000 of pavers (including a path across the front of the house and around the side to the back yard) and about the same again in labour. A snip compared to decking!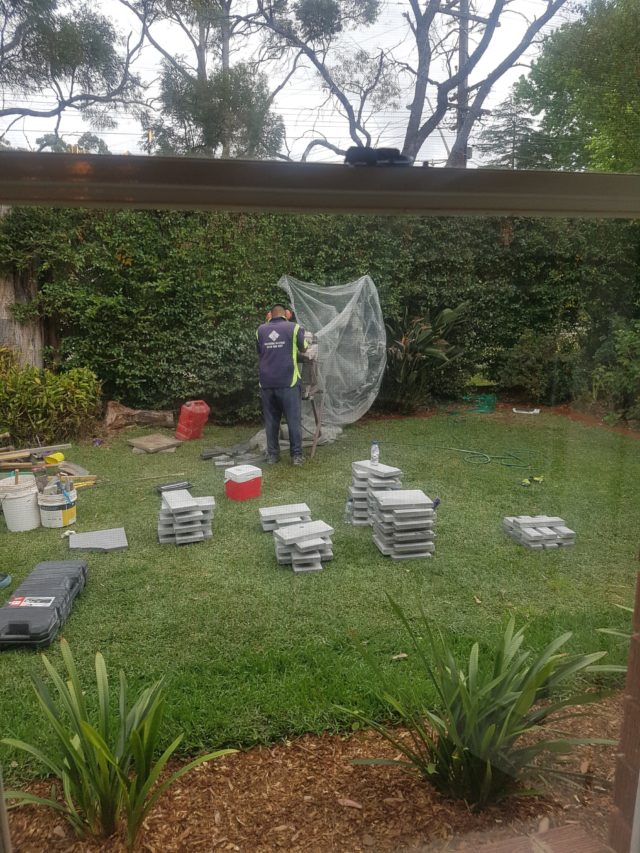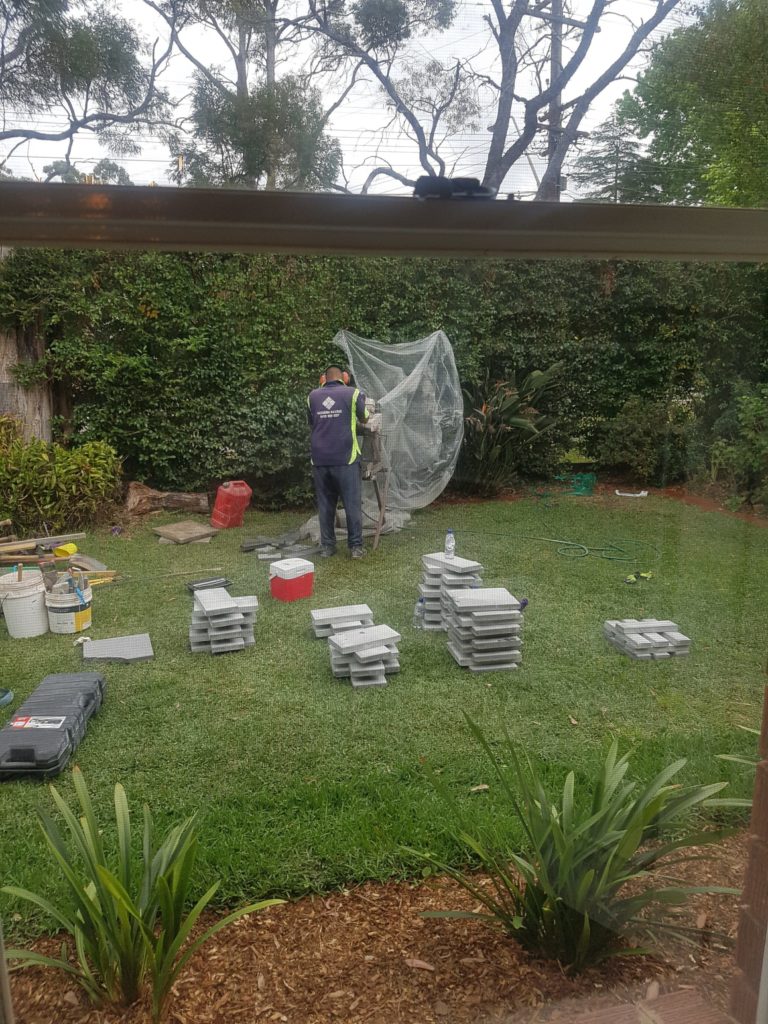 It took about a day to complete and thankfully, they were able to lay the pavers on top of the existing ones which saved us having to either remove them ourselves or pay someone else to. I absolutely loved watching the process as it all became so neat and uniform!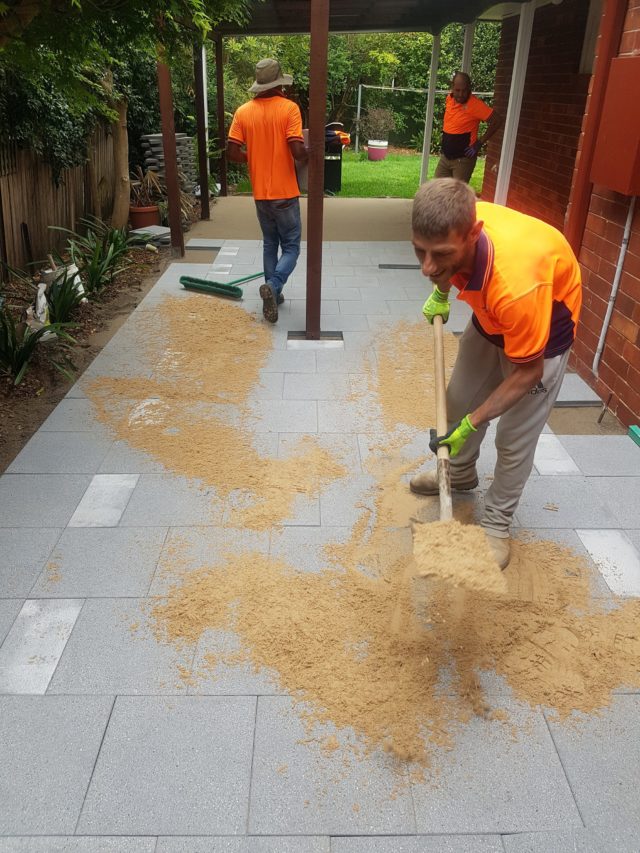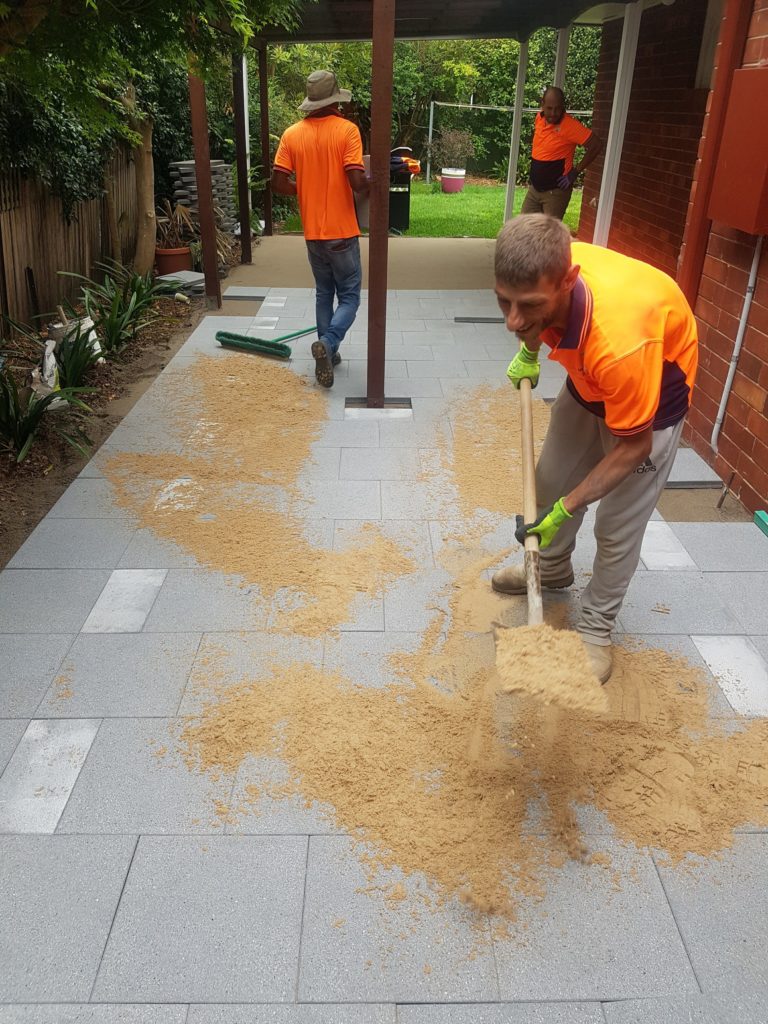 I am so thrilled with the end result. The area looks so much bigger and more modern and when we paint our red brick exterior grey and our pergola white, it's going to look even better! It was like giving our entertaining area a brand new, clean slate to work with. I couldn't believe how much difference it made! And now I think of it, a timber deck wouldn't have really suited the look of the house anyway. And I love knowing this will last for years if properly maintained. And I'm all about long term in this house! Bigger, lighter, neater and more modern: what's not to like?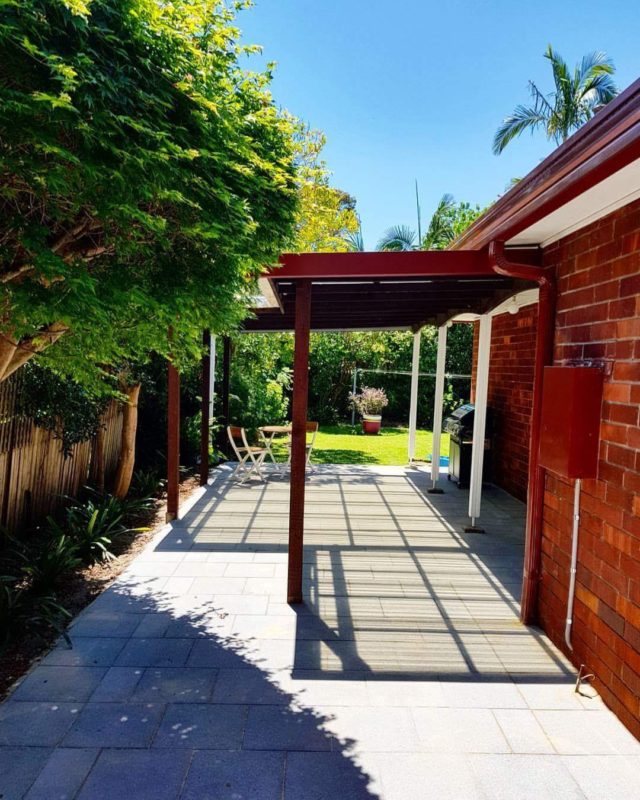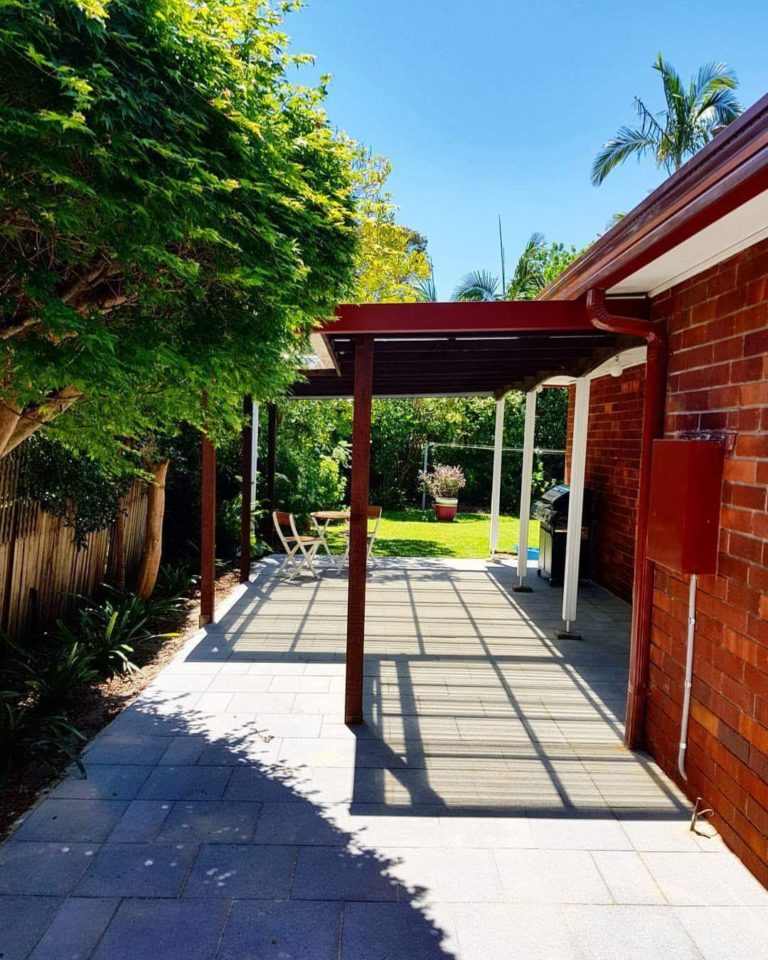 But of course, we needed some furniture now we had a space we wanted to entertain and spend time in ourselves. I was so impressed with the range of styles available at Early Settler this summer, not to mention the quality. Whether your home is traditional, country, or ultra modern, with a small or large outdoor area, they really do have something to suit everyone. I thought about the stunning marble-topped outdoor dining table with black legs for quite a while before eventually conceding it was too modern for our space. I love our sweet, flower-filled garden, and it's something we were really happy to inherit from the previous owner. So I decided on white and the Kanto dining table. I just couldn't get past its handy legs on castors and it was a great choice for us because we can easily move the table around, in and out of shade, or to create more room for Seb on his trike when we aren't using it. Genius!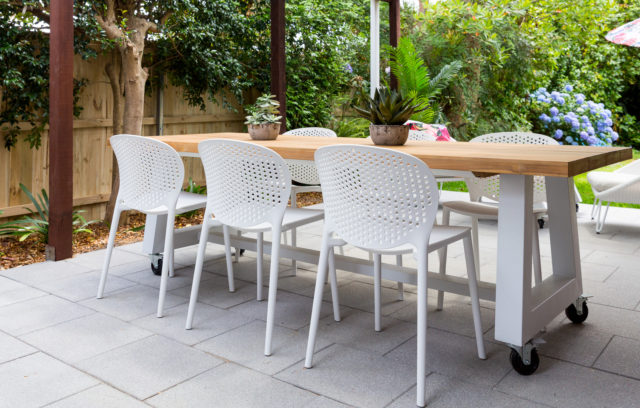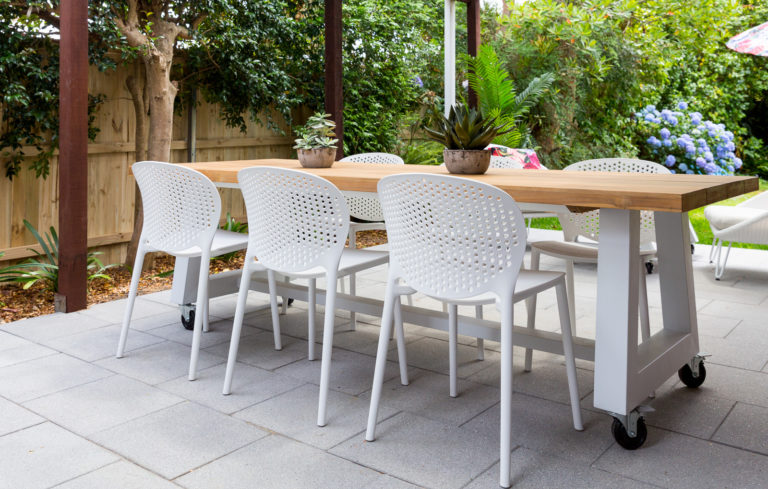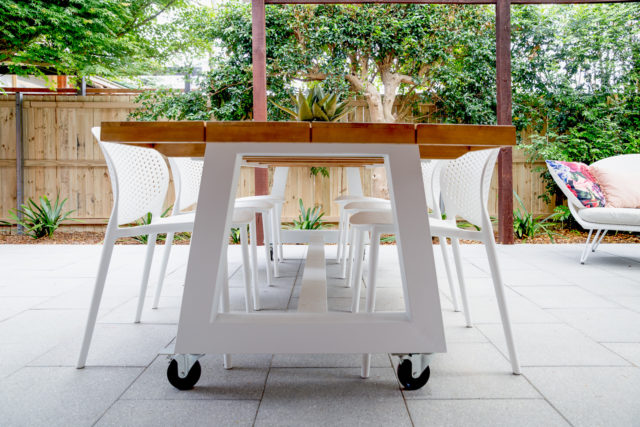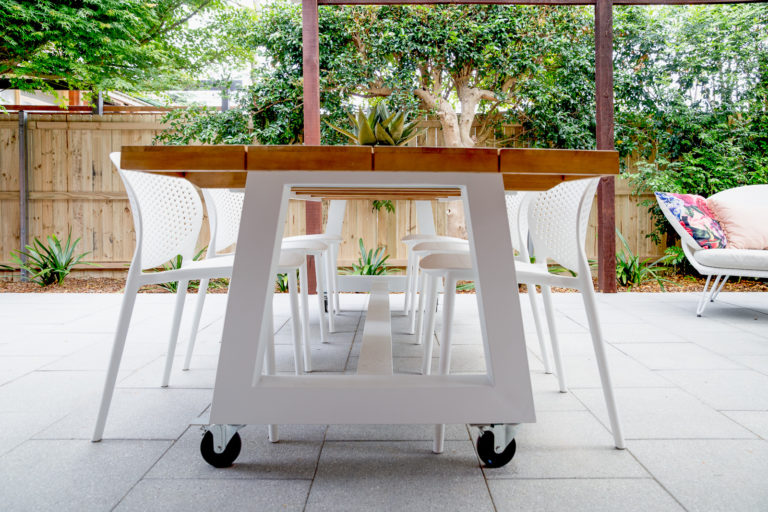 The timber top of this table is just beautiful and I think the white legs really modernise it. The Cate dining chairs are so cool. I love that they stack, they're super easy to clean and they look modern without being too out there. They come in a variety of great on-trend colours too.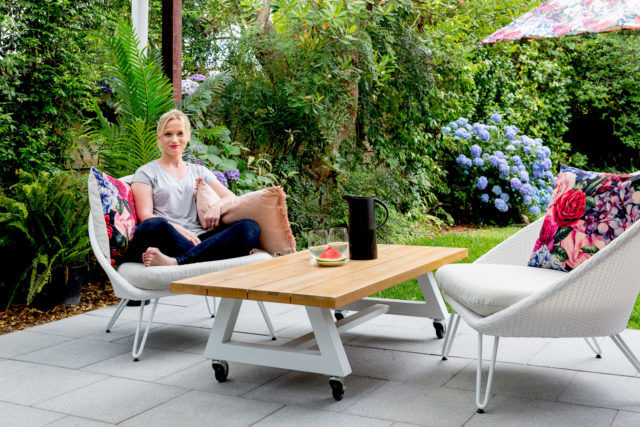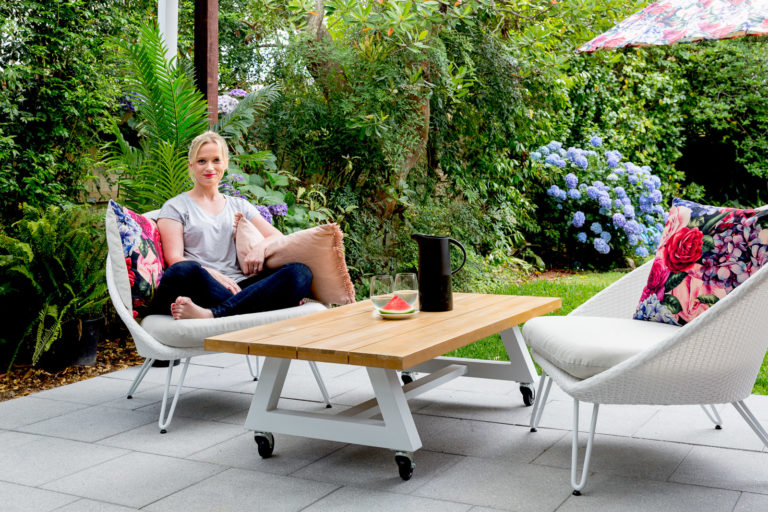 As well as a decent-sized dining table, we wanted a small relaxation area to just lounge with a morning coffee or an evening wine, look at the garden, listen to the birds or watch Seb on his play equipment. The Cantina chairs were a very quick choice and I love them. You can actually curl up in them with your book and there's space for Seb to sit with me on the same chair. We finished it off with the matching Kanto coffee table (also on castors) so we have somewhere to rest out drinks and books! I really love that we can easily move the two tables on wheels, the lightweight, stacking dining chairs and the lounge chairs easily. This creates a flexible space and we can move everything to one side with minimal effort and allow Seb to scoot around the paved area, or when we need to sweep up leaves etc.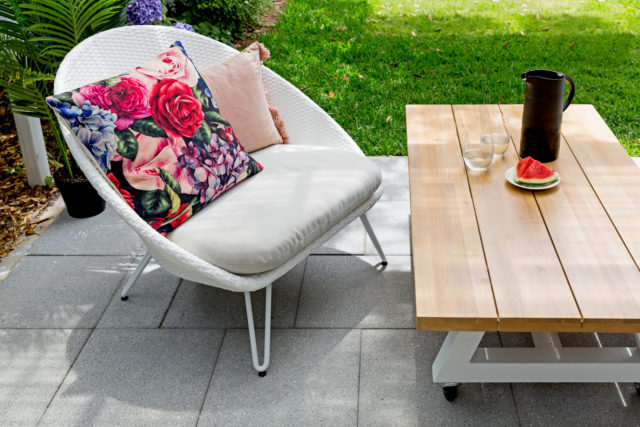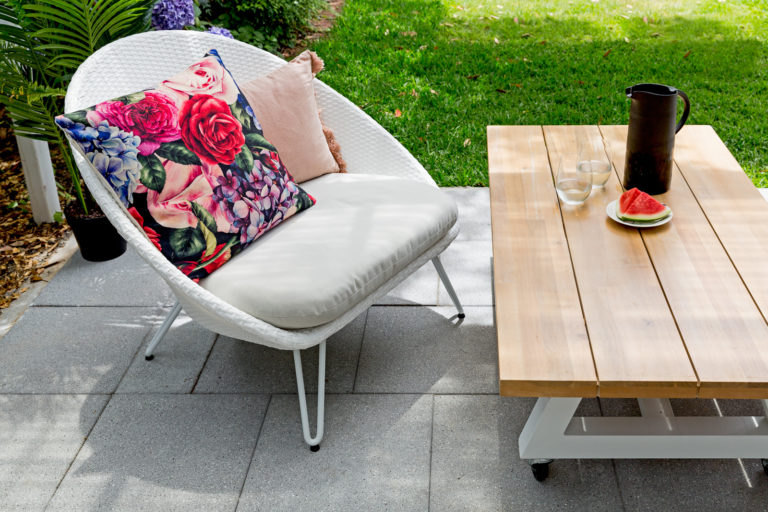 Just like indoors, outdoor areas need accessorising too, and Early Settler have a great range of faux plants (like the palm behind me in the picture and the convincing succulents on the table ), outdoor rugs and cushions, linen, trays and more, to add those finishing touches.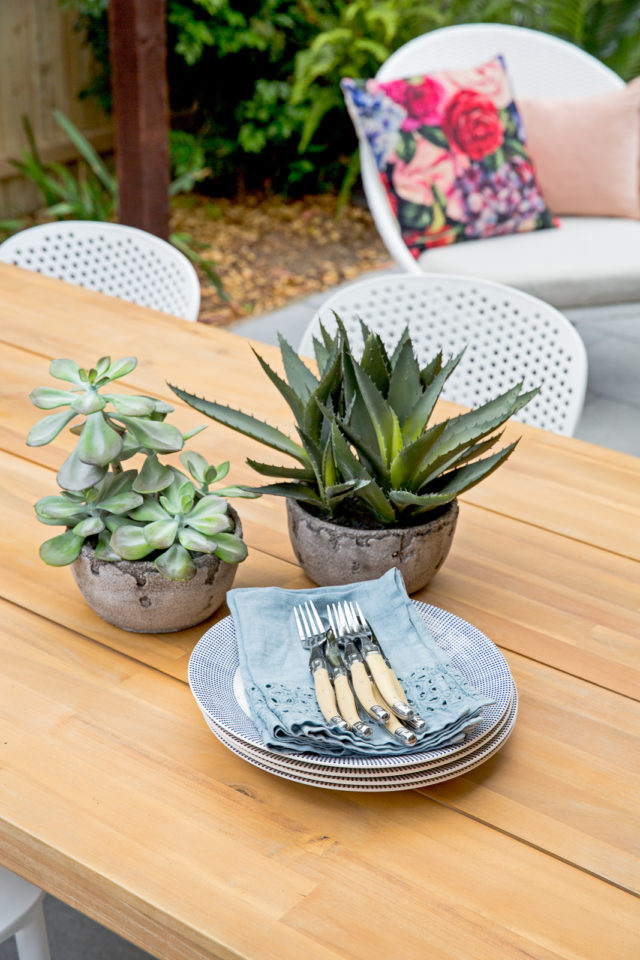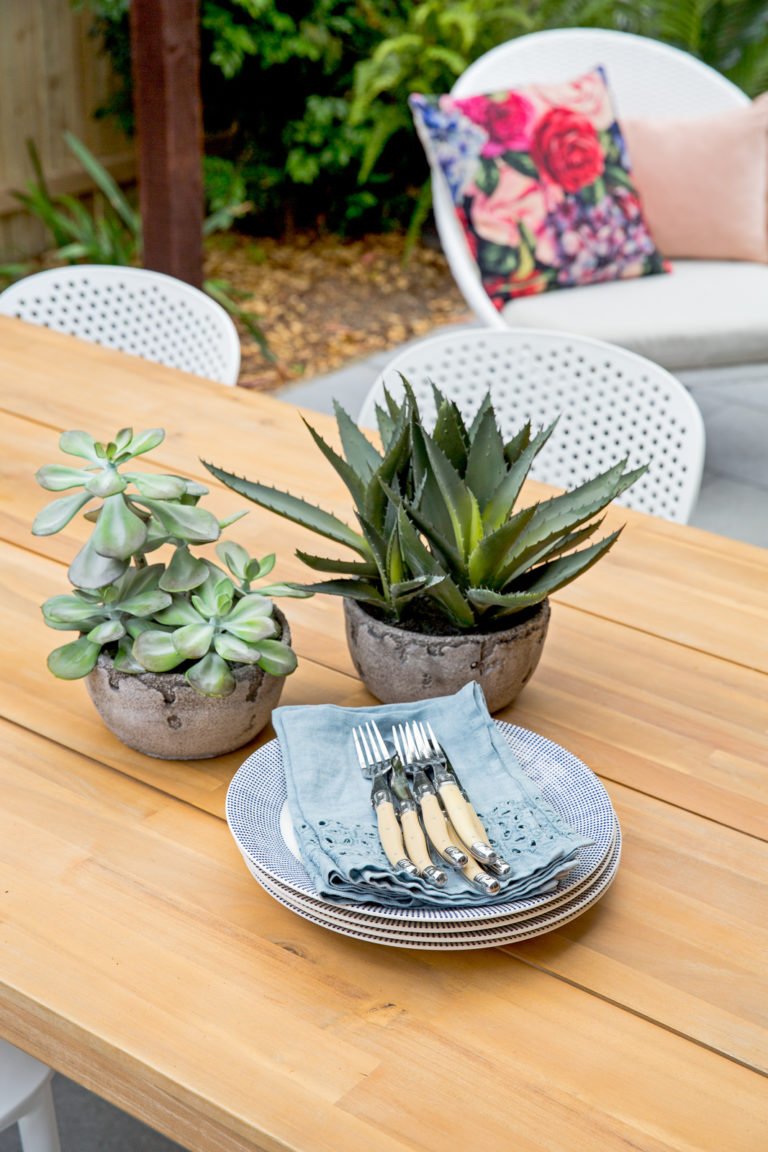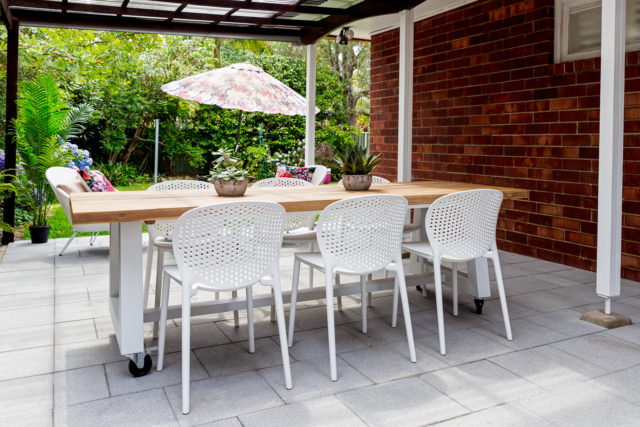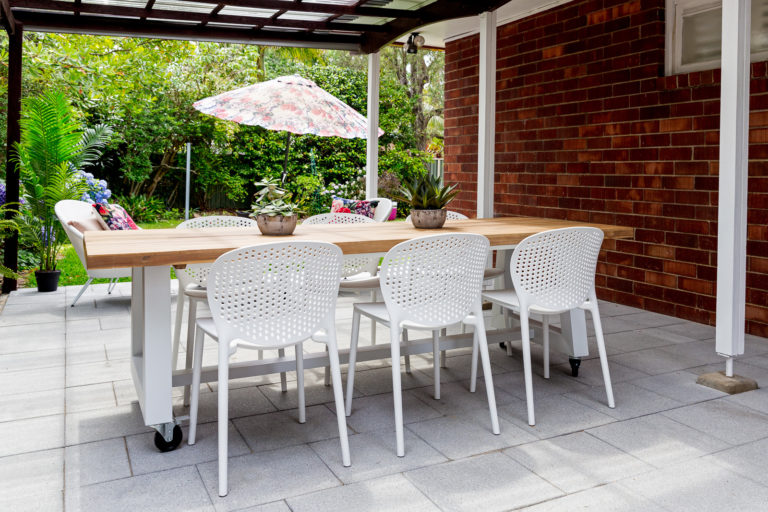 When we spoke to our neighbours about going halves on a new fence, thankfully they were all for it! So not only do we have a much better backdrop to our new back yard, we also have more privacy for our entertaining area thanks to a higher fence.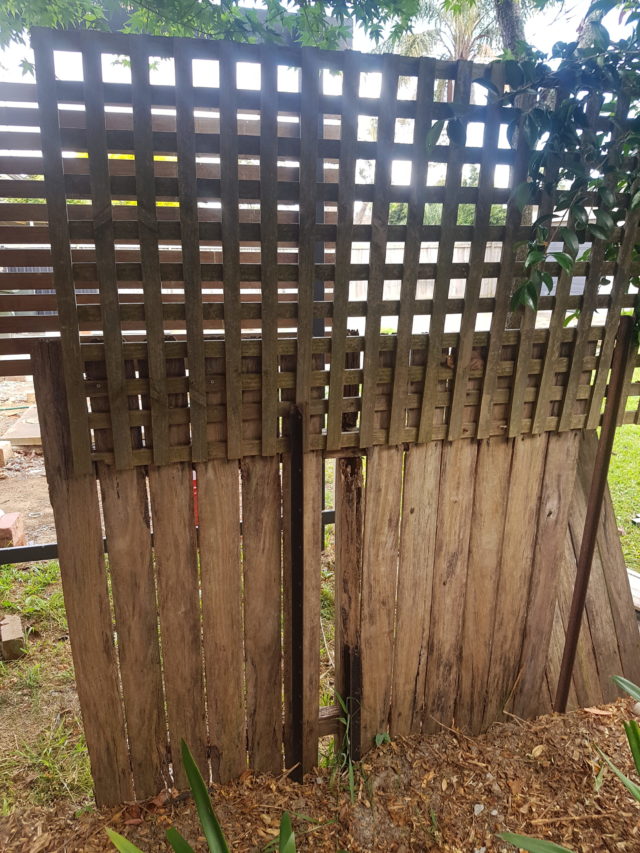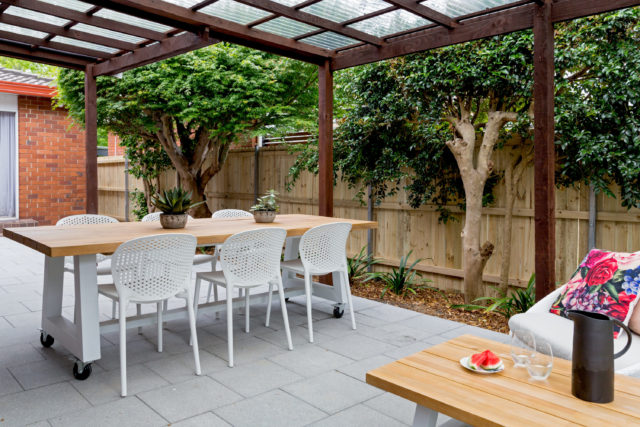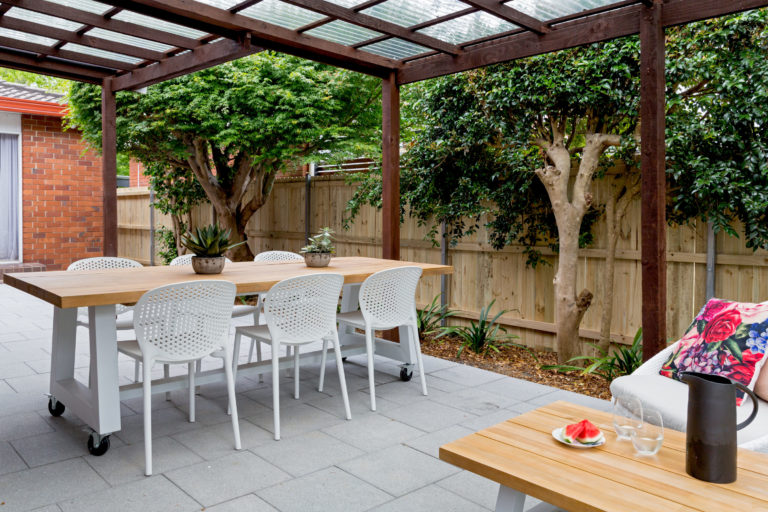 So while we haven't done any major landscaping and there's still plenty we'd love to do out the back (and will do, one day) we are over the moon with the new look and functionality of this space thanks to new pavers and furniture. And just in time for summer too. We'll be out here on Christmas Day with our families, enjoying it to the max!
Many of the Early Settler pieces in my back yard are currently on sale! Shop online.