Photography: Jacqui Turk
I'm excited to reveal my new home office; once a very dull and boxy little room, otherwise known as 'bedroom 4' on the floorplan! It did have a few great things going for it though: the best light in the house and a window and glass doors looking out onto the garden. Our house is very long and the office is right at the back, away from any noise and distraction.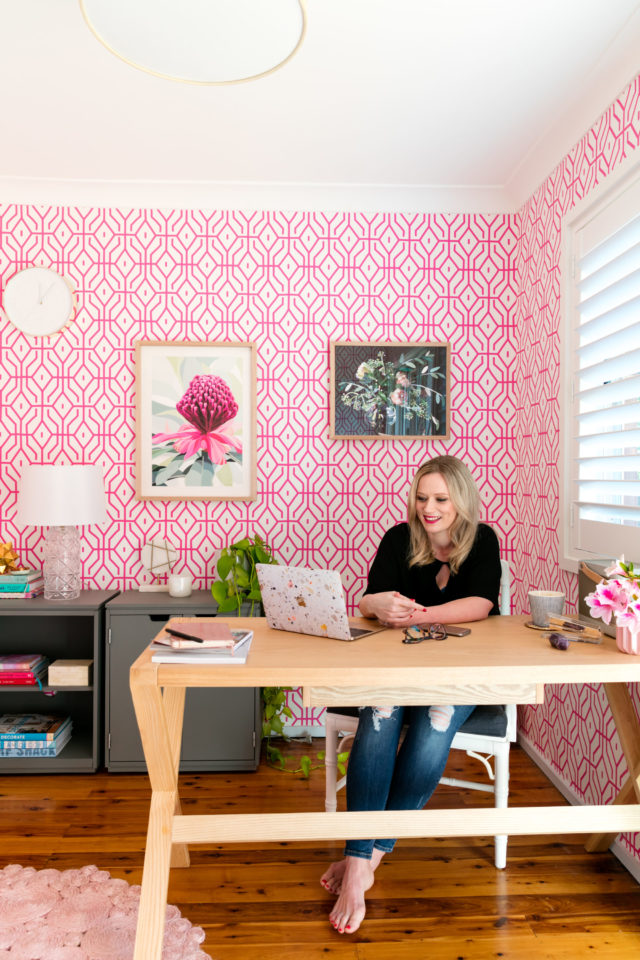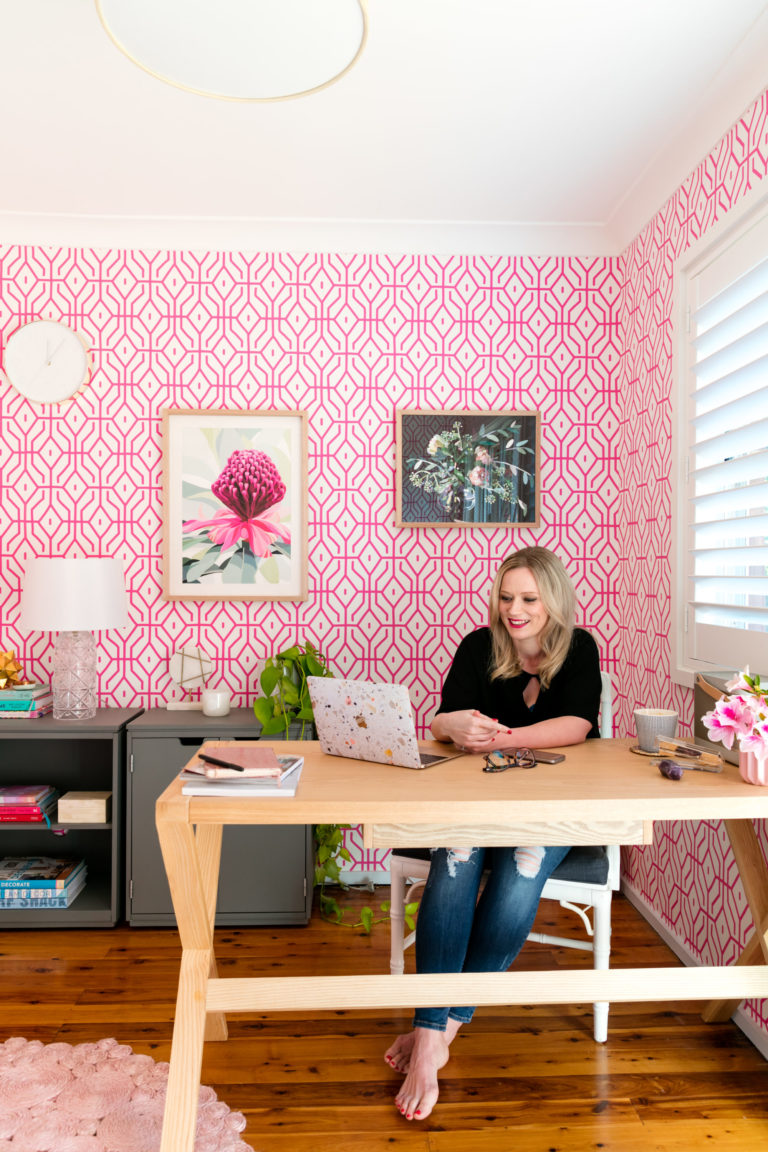 It needed help though. And as this is a long term home, I really wanted to make an effort with this workspace and make it somewhere I really wanted to hang out and felt inspired and happy to work in. There's nothing that transforms a small and featureless room more, in my opinion, than wallpaper. I'd wanted to use one of Anna Spiro's designs for Porters Paints for years. Damian wasn't sure about the pink so I compromised on the blue version. But when I found they were out of stock, I somehow managed to persuade him it was a good idea to revert to pink. At the end of the day, I'm the one who works from home so it's really my domain. That and the fact the garage has been earmarked as his man cave and I'll happily have nothing to do with what goes on in there!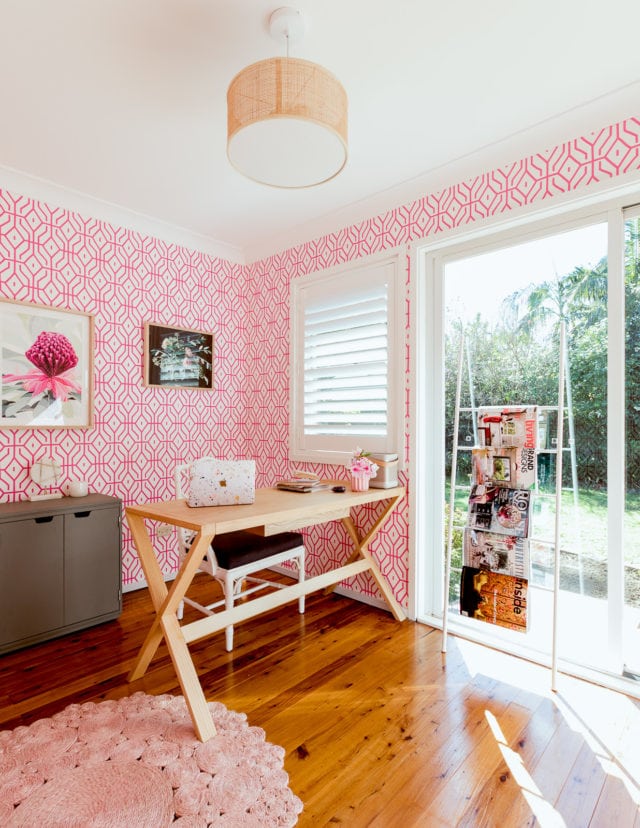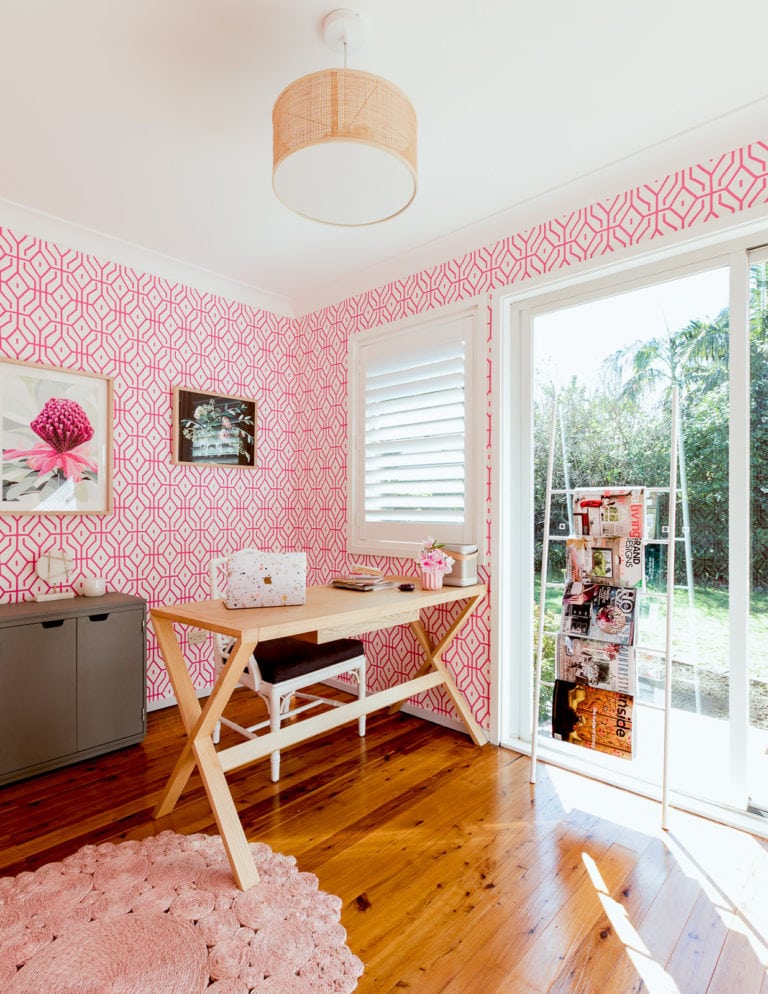 Before the wallpaper, I'd already had a plantation shutter put on the window. Since these photos were taken I've also had sheer curtains put on the sliding door. They filter the light really well because the sun can sometimes be a bit too much and soften the room nicely.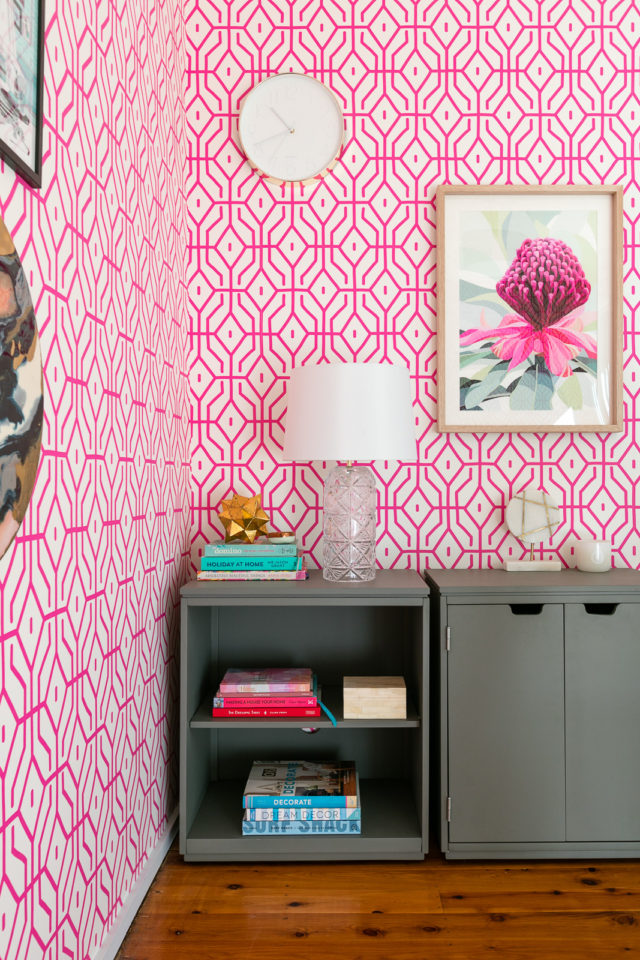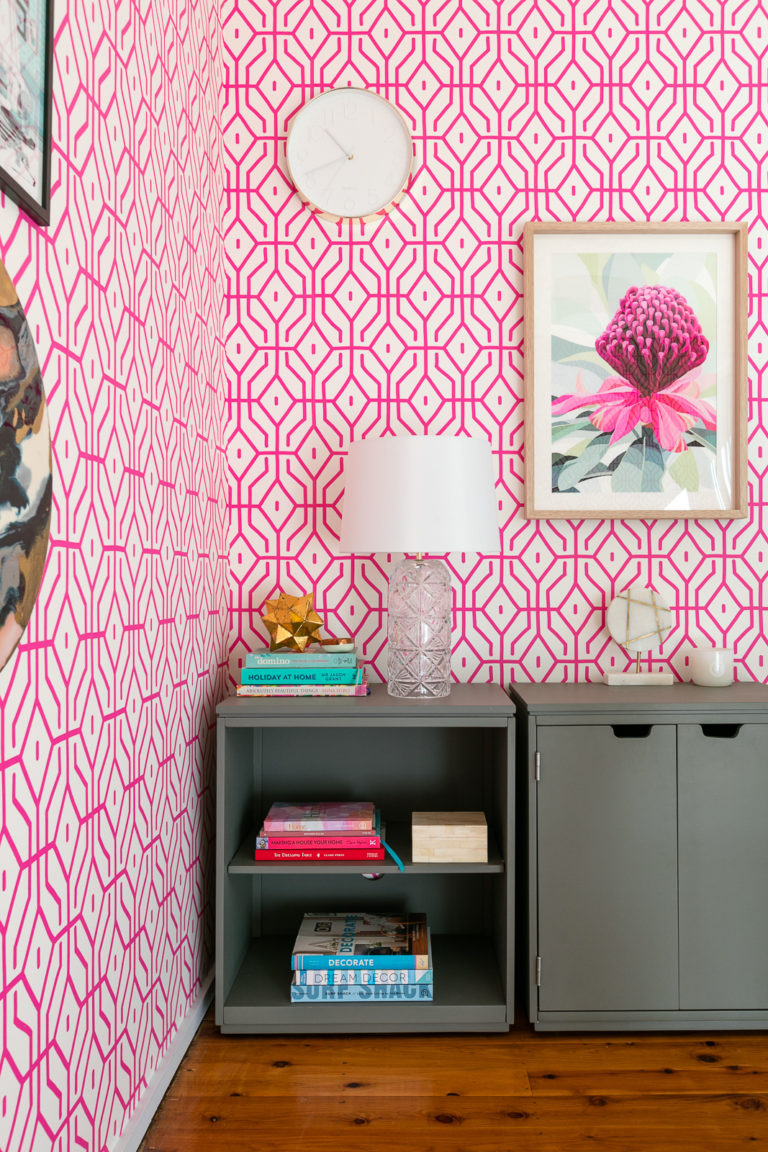 I don't need much furniture, being someone whose work is largely online and stored in the cloud. Laptop, printer, paper diary and a few notebooks and pens aside, I don't need much physical stuff. Which keeps things tidy! I already had the two grey home office storage units from Pottery Barn. I love them because they're grey and don't look too corporate or officey. The one with the doors neatly hides the printer (never a good look!) and even if you don't need storage, you've got to have somewhere to display pretty things, right?!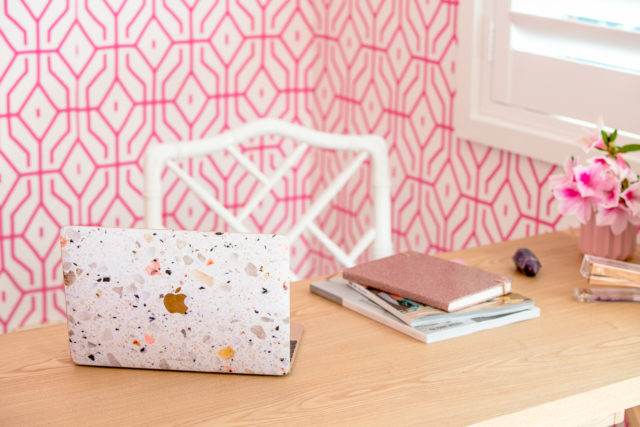 Speaking of pretty things, it was love at first sight for that cut glass lamp. Amazing. I'm still on the lookout for a more interesting shade to swap out for the white one it came with, just to mix things up a little. The rattan lampshade on the pendant light is the same one we've used in all the bedrooms. It's a nice textured neutral.
The magazine rack is actually a bathroom ladder. I think I saw it used this way in a magazine and stole the idea, but I can't remember which, sorry!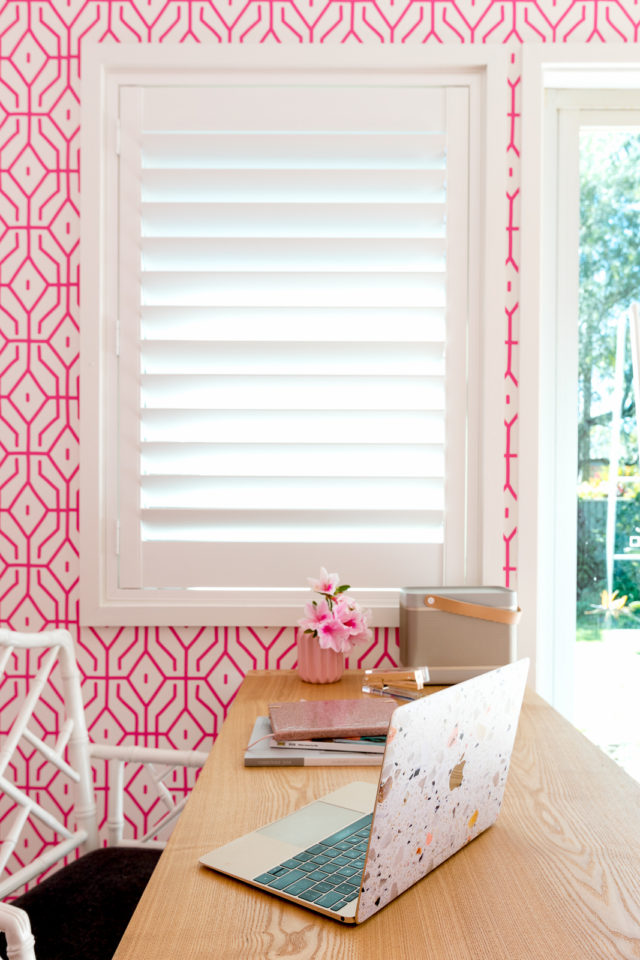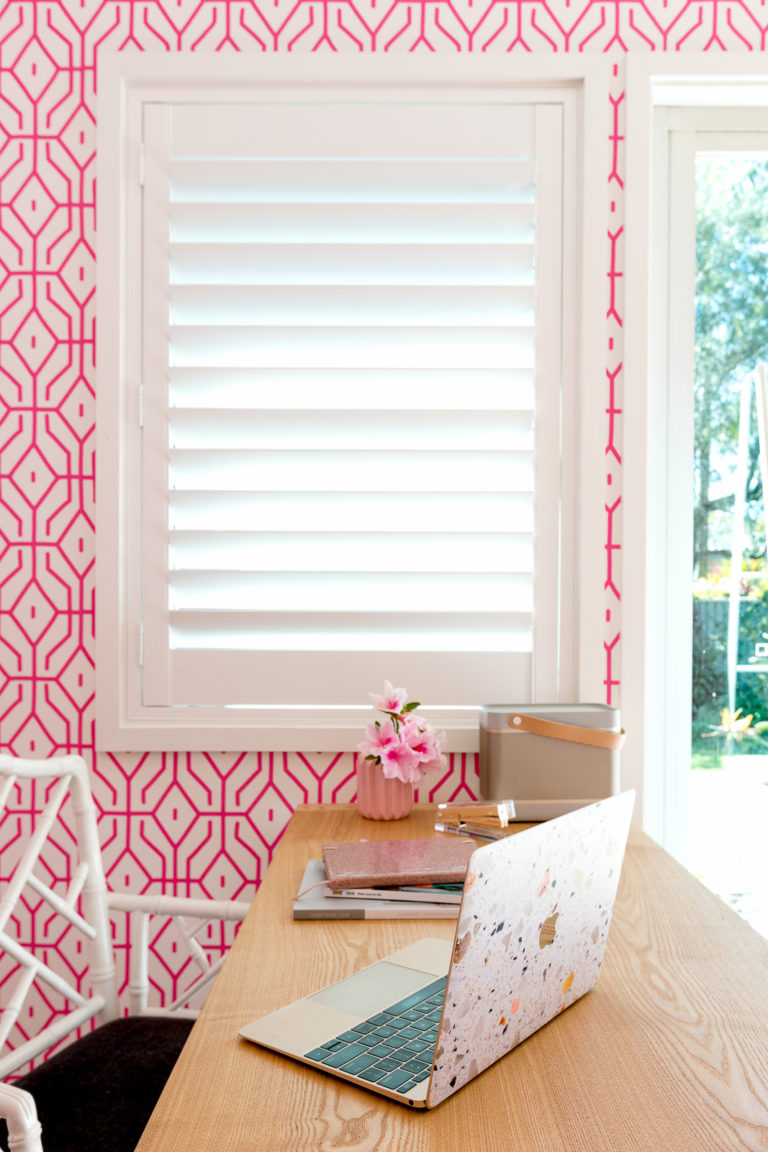 I'm having a major floral moment and these two prints by Kimmy Hogan (right) and Lamai Anne (left) seem to work well together and with the wallpaper.
It took a long time to work out where the desk should go (the doors make this room a tricky one to work with) but Damian finally cracked it and as soon as I realised the chair should be looking towards the door, that was it! I also have a thing about having my back to the door and not knowing who might creep up behind me, so this this works well! I imported that chair from Jonathan Adler years ago and while it is made of resin and thus super heavy and not ergonomically sound at all, I just love it so there. The desk itself is solid timber. I love its generous size, simplicity and the fact it has a small drawer where I store pens (not a fan of pen pots!).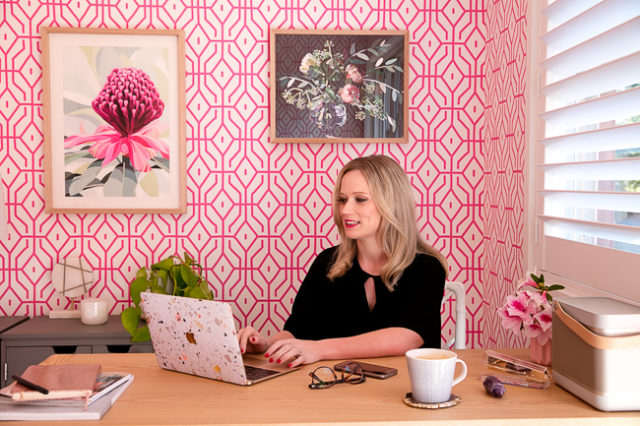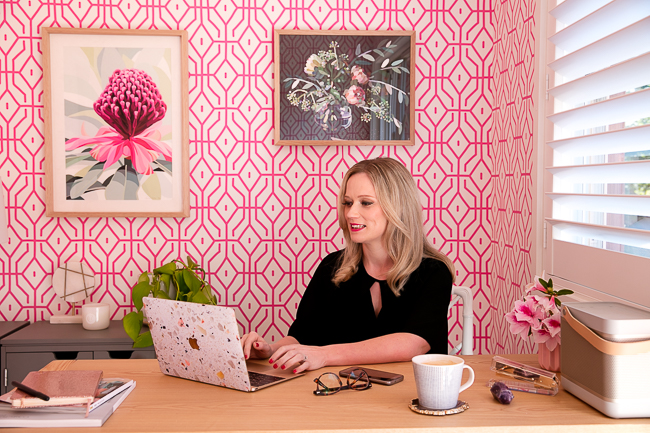 The round blush pink rug helps balance the room a little as most of the action is happening at the far end.
This room is definitely polarising but I'm unapologetic! This is my space where I get work done and earn money so it's important too. It doesn't have to be everyone's cup of tea! That said, I find most women love it and men just shudder and say the wallpaper would give them a headache! Each to their own!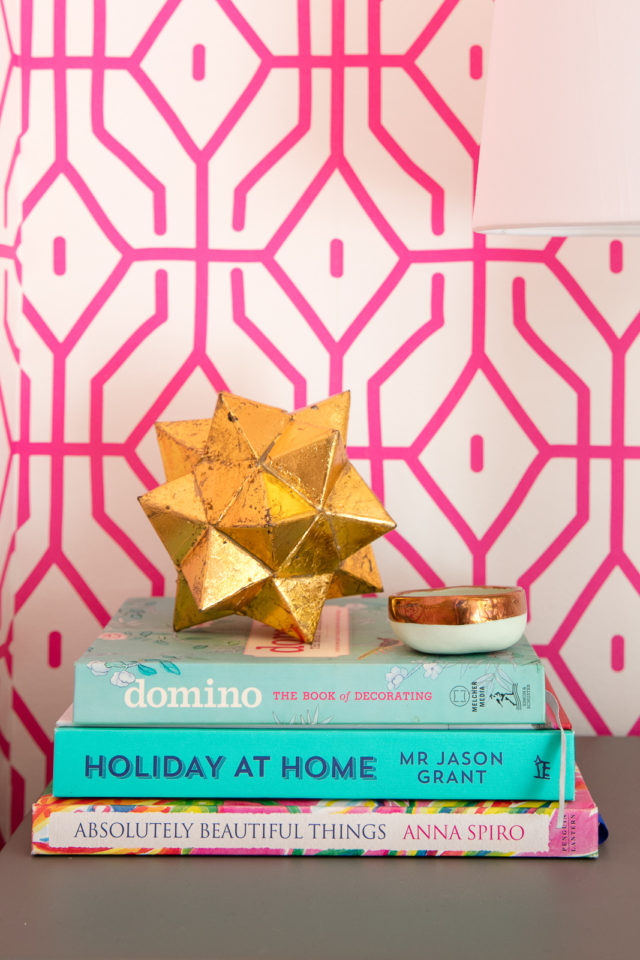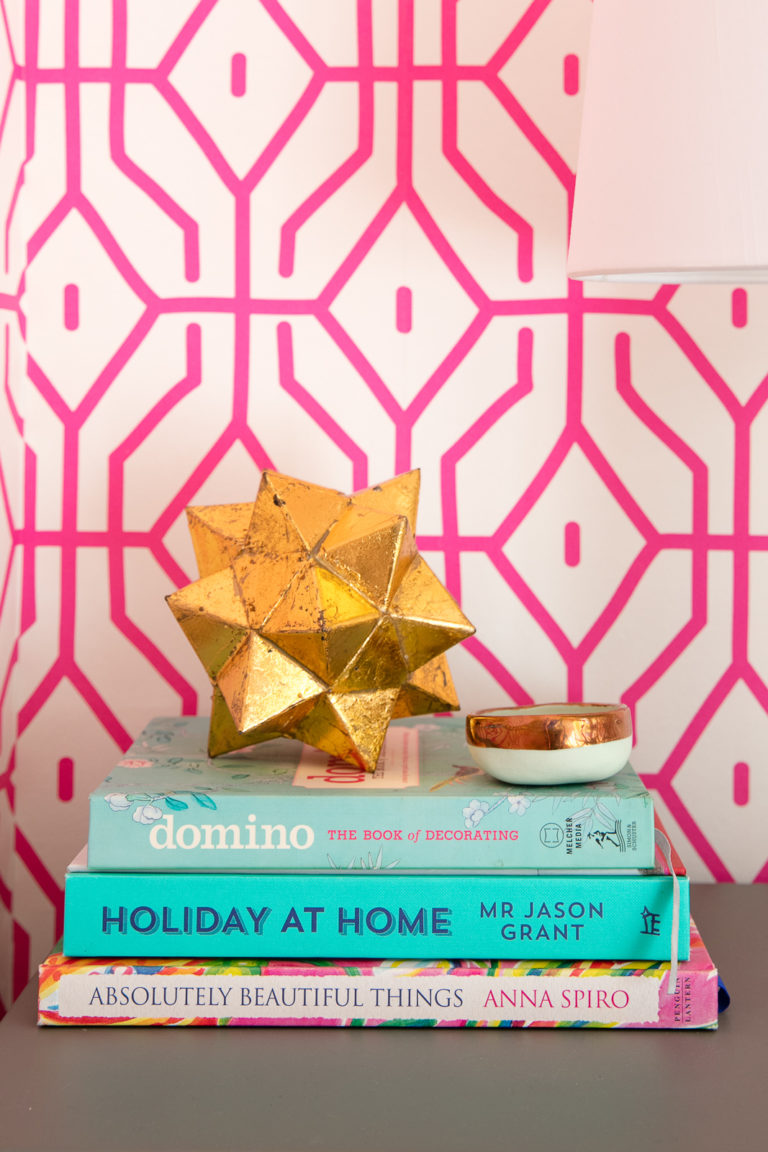 It's actually really fun and refreshing to have a room which can be so self indulgent (when you're in a couple you do have to be at least a little conscious of your other half's tastes!). And the fact that this room feels so good and is a pleasure to work in makes me happy every day. All in all, I'm glad I had the guts to go bold in this room.
The floors in here will be replaced with an oak laminate next month, and the sliding doors will eventually be replaced with French double doors.
What do you think?
Where's it from?
Wallpaper: Rosey Posey Trellis by Anna Spiro for Porter's Paints
Installation by AKRA Wallpapering
Grey storage units: Windsor range from Pottery Barn
Table lamp: Zoya table lamp from Lighting Lighting Lighting
Pendant light: Shore pendant in tan rattan from Beacon Lighting
Desk: Altar desk in natural ash from Contents International Design
Chair: Jonathan Adler Chippendale Armchair, available in Australia through Coco Republic
Plantation shutter and sheer curtains: DIY Online Blinds
Art: Kimmy Hogan and Lamai Anne.
Rug: Cochin blush hand stitched rug from Early Settler
Bathroom ladder (used for magazines): Home Republic Bath Storage Ladder from Adairs
Terrazzo MacBook Skin: Uniqfind
Gold stapler: Kate Spade (available at David Jones)
Bluetooth speaker: Bang & Olufsen (available at Myer)
Gold wall clock: Target