Even though our "nanna house" is nowhere near finished and very much a work in progress, I thought it was time to share some of what we've done with you. And sometimes, when you have a seemingly endless list of jobs and expenses ahead, it's really important to stop and look at how far you've come. It's only been six months, after all!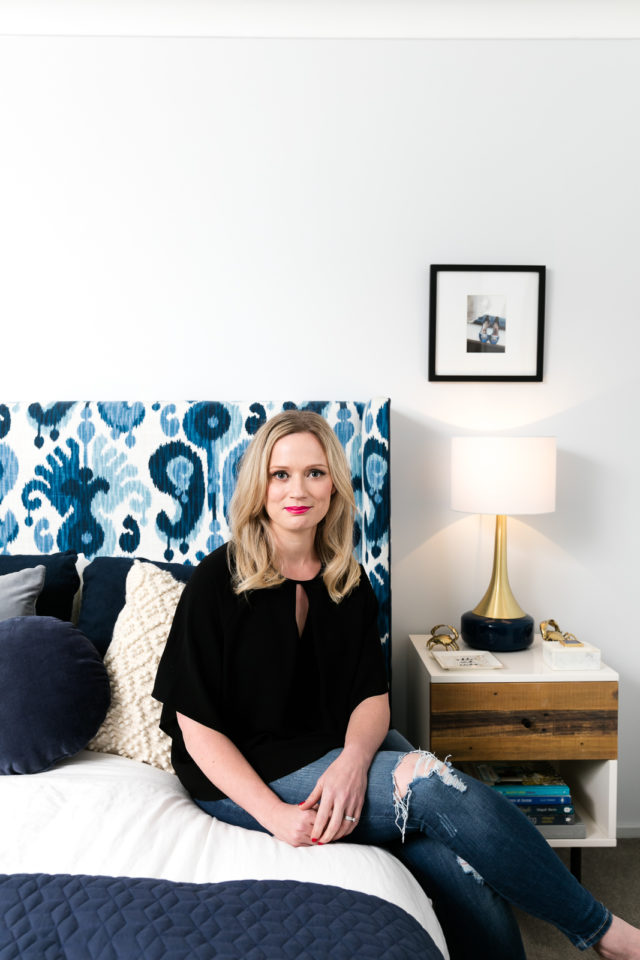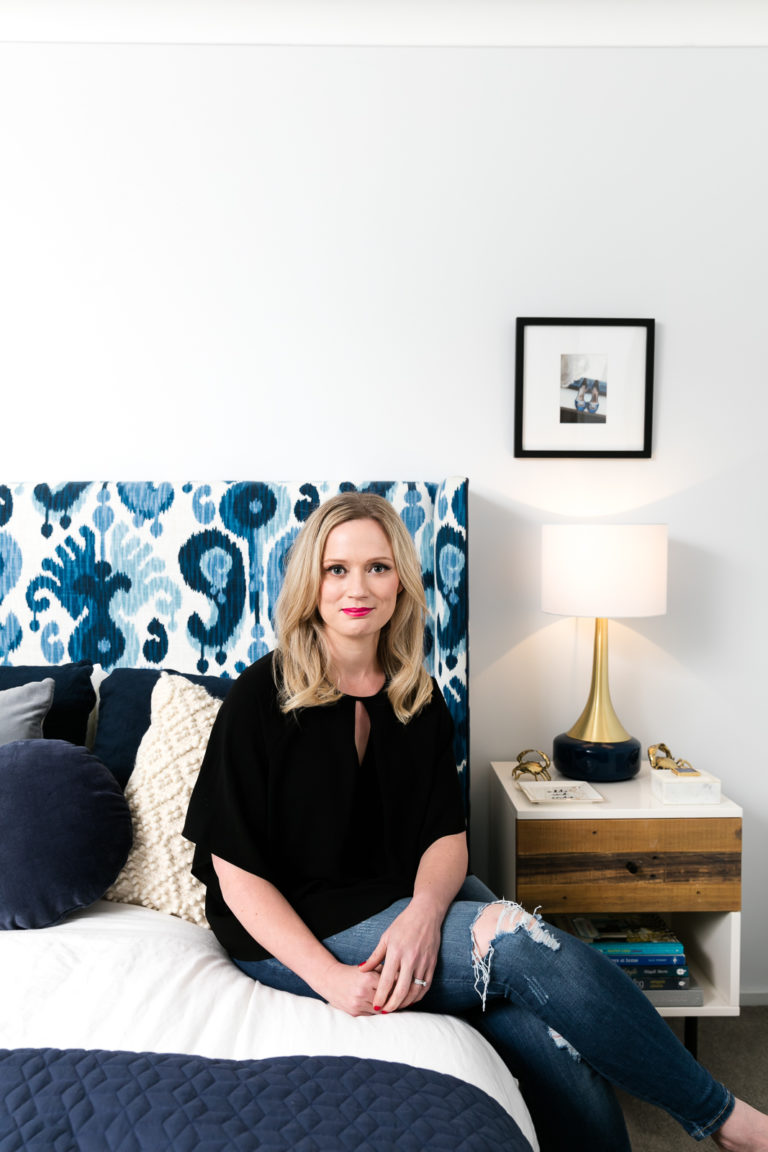 So, today, I'm sharing the master bedroom. Only it's not actually the master bedroom as per the floorplan. This brings me to a point about living in a new home as is for a while, if you can bear it, before getting stuck in. We immediately moved into the master bedroom (there are four all up) of this house because, well, the floorplan said so, it's the biggest, and we are the grown-ups, right?! It also has an en suite, which is a very functional but dated eighties addition.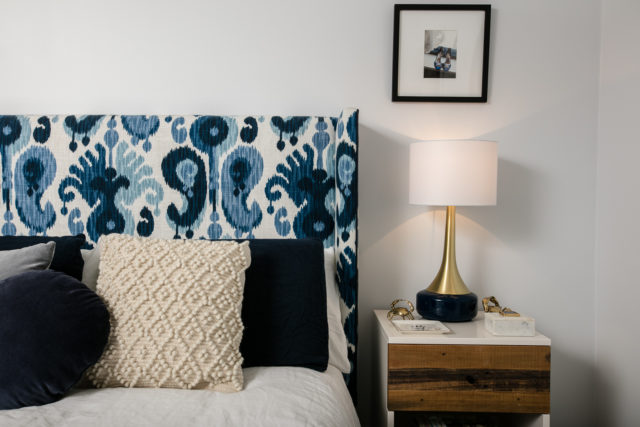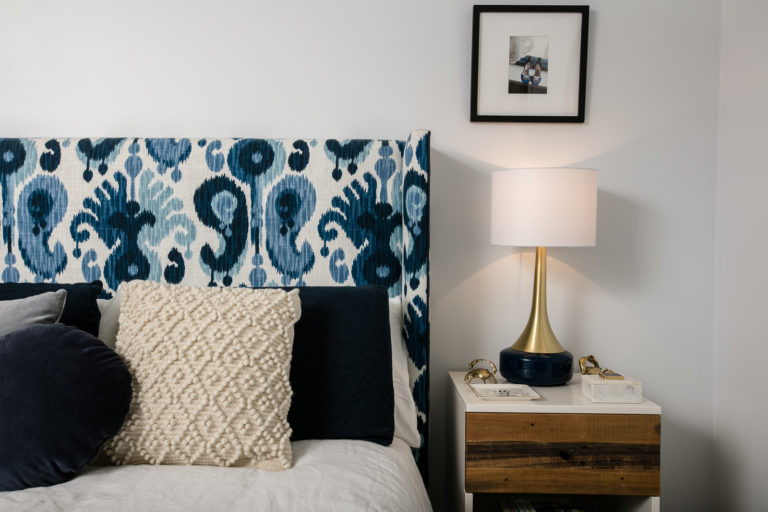 But the room just didn't work. It's all wrong with the feng shui and the only way to fix that will cost money. The same goes for the en suite. It's hardly the stuff of sanctuary! So we made the call to move into a smaller bedroom at the front of the house. It just feels better for now! And I'm not that fussed about having a big bedroom, just a nice one! One day, when we have the money, we will rip out the robes in the 'real' master bedroom and reconfigure it, re-do the en suite and move the en suite door. But for now, we are in our 'new' room. And the master is a spare room.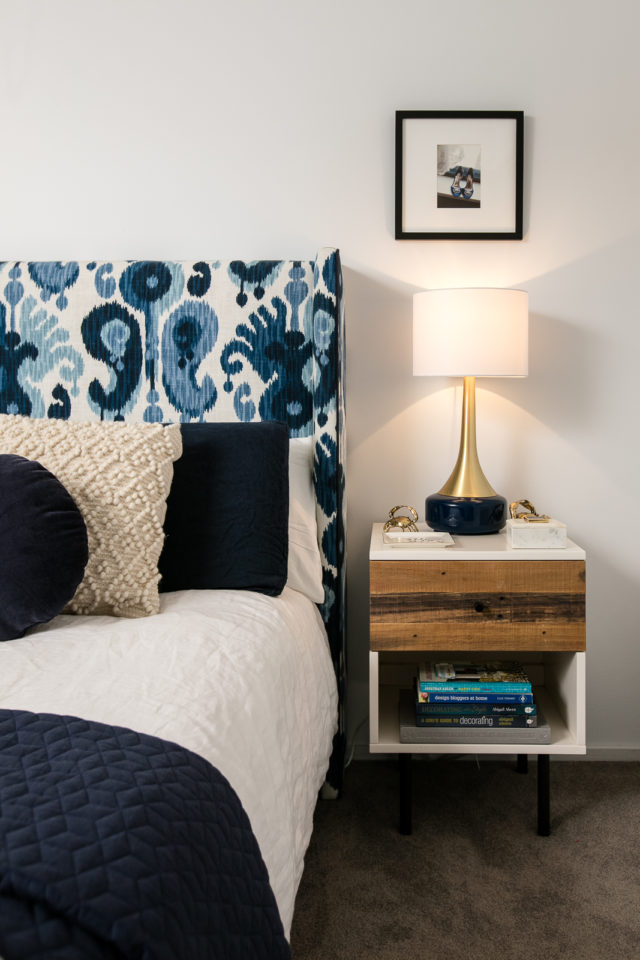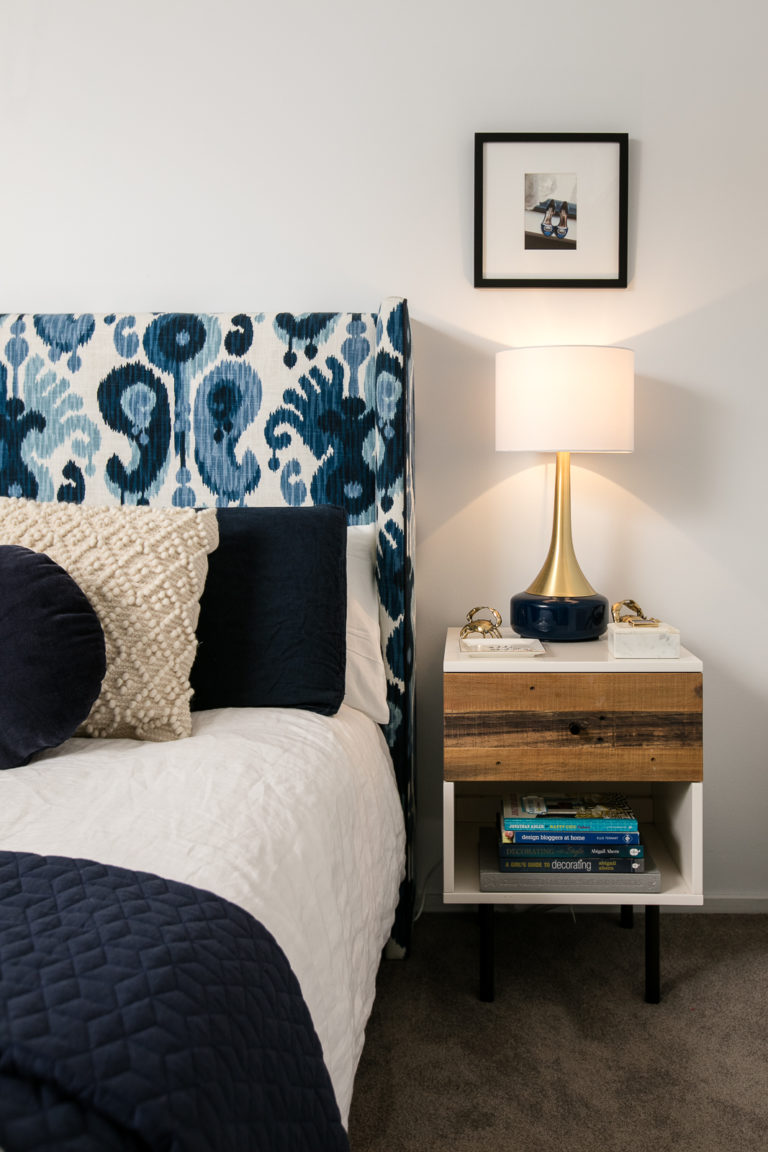 Because it's not that big, I didn't want to clutter it up, so it was always going to be all about the bed. We started with a neutral base of grey carpet, grey paint (Haymes Greyology 4), white plantation shutters (from DIY Online Blinds) and the rattan pendant shades we have in all the bedrooms, from Beacon Lighting. We didn't have carpet in the bedrooms at our old place, and I'm really glad we decided to have it in the bedrooms here. It's also much cheaper than hard floor! And I knew this room would feature my favourite colour: navy. And what goes perfectly with navy for a little luxe factor? My favourite gold accents!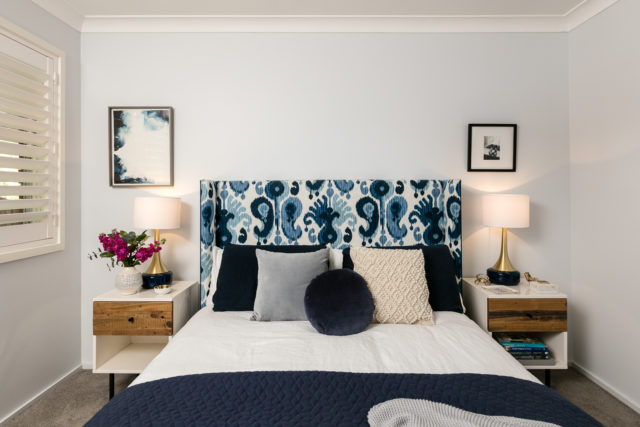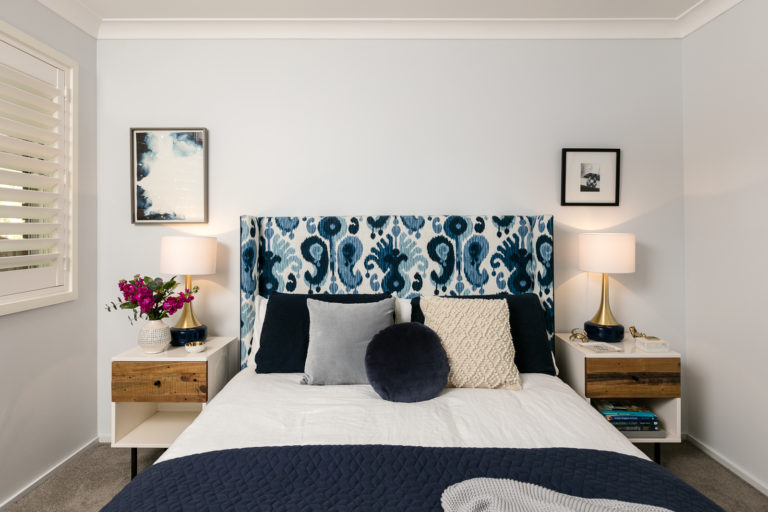 I had been drooling over Heatherly Design Bedheads' work for years, since we first featured them on the blog. When I saw the Sibella design it was love at first sight but I had to think about it for a while before I committed. I tend to play it safe and when I go a bit "out there" it doesn't always work! But months later, I still loved Sibella so it was time to order her! Even better, Damian also loved Sibella (which I was not expecting, to be honest!). I was careful not to overdo it, but the Galleria lamps from Lighting Lighting Lighting were just the perfect complement.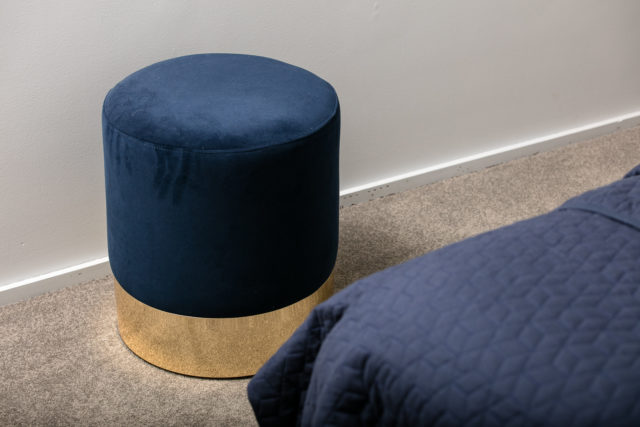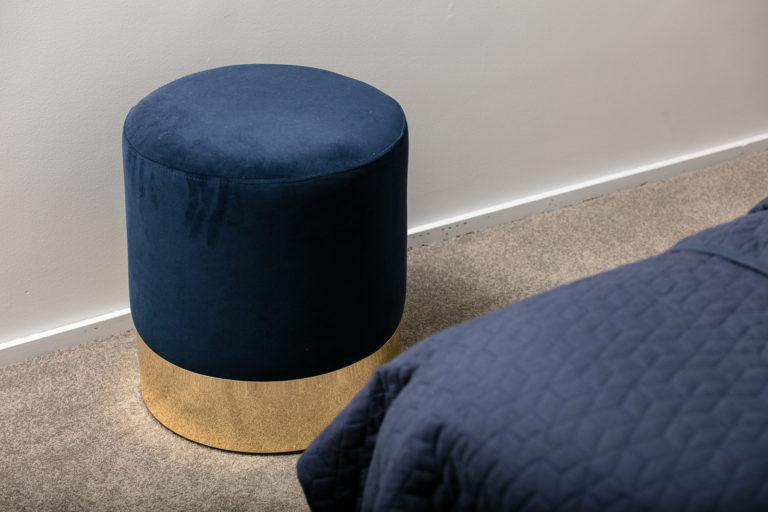 The mirror was a wedding present that lived in the dining room in our previous home. The white linen quilt cover is from Sydney brand Major Minor and it feels beautiful, I'm telling you! But it was too stark in contrast to the bedhead so I layered on this fab navy coverlet from my friend Naomi at Silk Home (she has her own made for staging). Rather than Euros, which would hide some of my statement bedhead, I chose kingsize pillows from The Pillowslip Store with their classic white cotton covers (they have some amazing patterned ones too, including gingham). Most of the cushions and the throw are from Adairs (their range is amazing, check it out).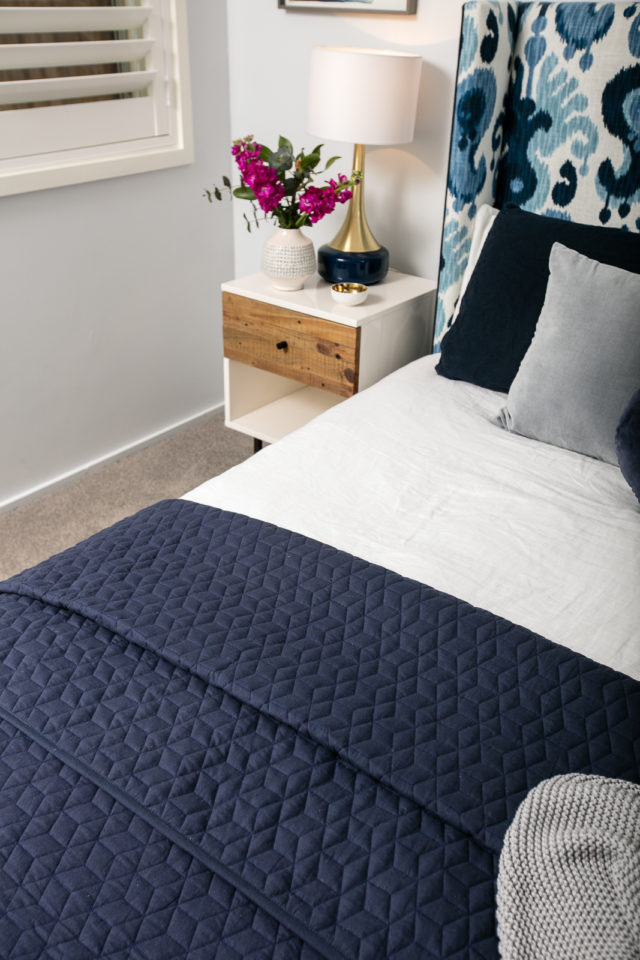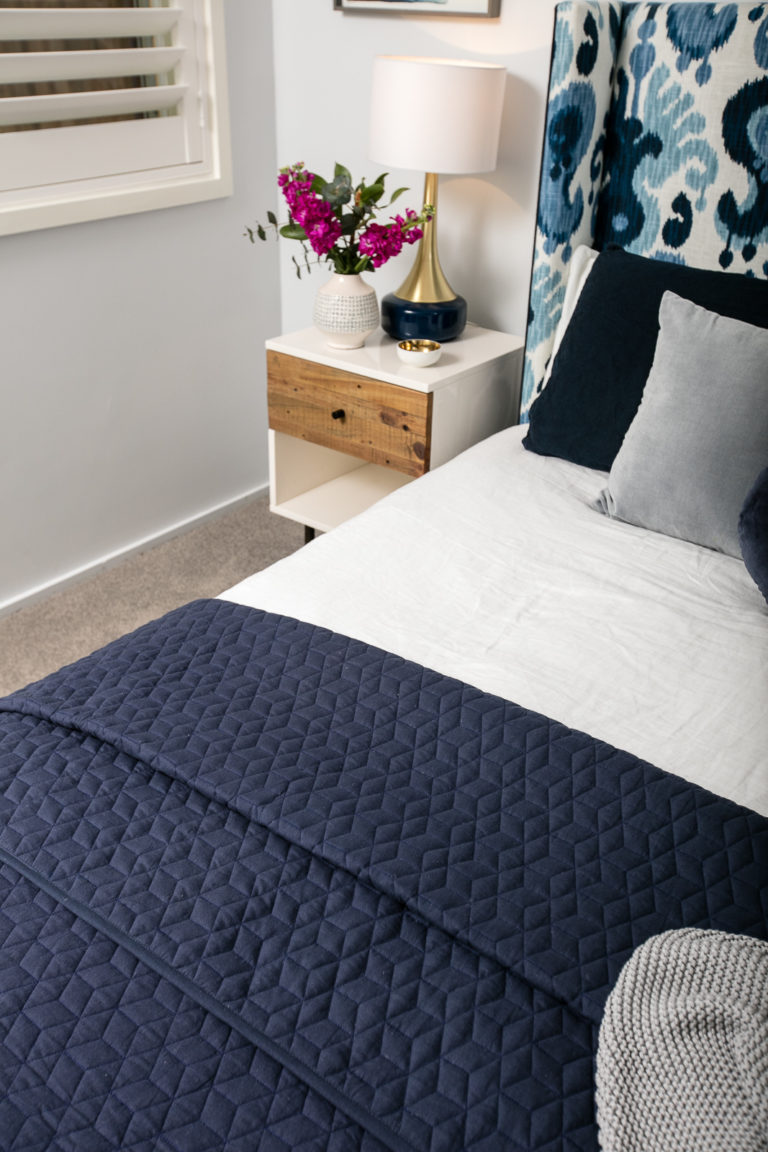 There are built-ins opposite the bed (not pictured) and we have plans to replace them one day, as well as the skirting throughout the house. I'm still working out whether and what kind of rug this room can take. This room is right next to a large walk-in cupboard which we may turn into a walk-in one day, but for now, we just love having somewhere to store all our, well, crap!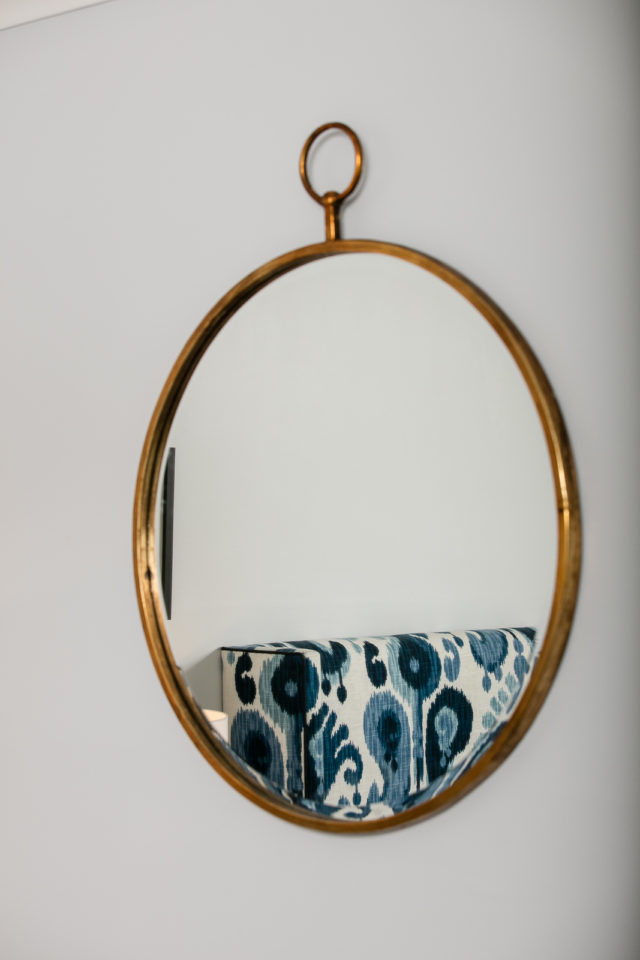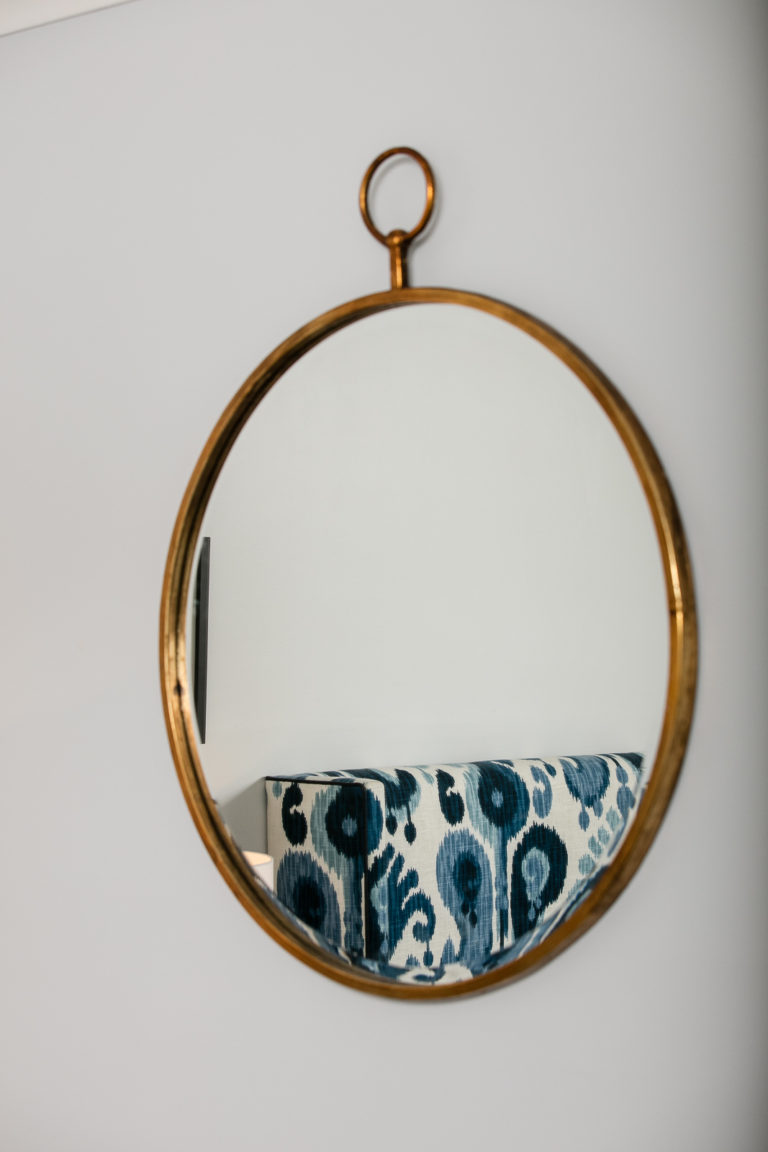 So while this room does not have the sheer size of our old one, as stop-gap master bedrooms go, I'm really happy with it, and find it a restful space which is easy to keep tidy because of its simplicity and lack of stuff. I have resisted adding my usual pop of pink and I think the all-blue scheme works nicely. I am considering a wallpaper feature wall (perhaps the window wall). It would of course have to be quite subtle. But we're almost done in here!
Love to know what you think (please be kind!).
Coming soon: home office and living room!
Photography: Jacqui Turk.