Sponsored by west elm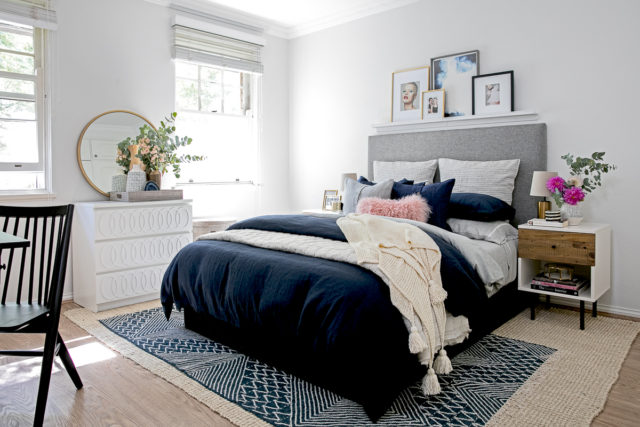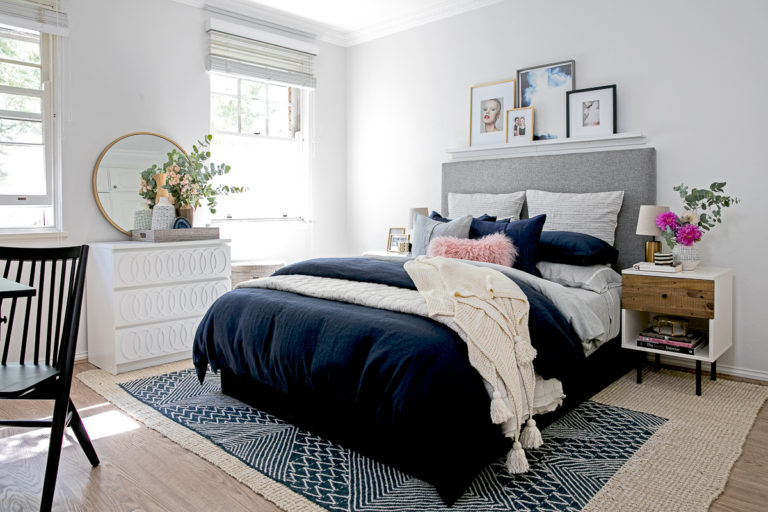 We recently bought our first home in Sydney and have been slowly but surely adding our touches to it. The biggest job is a full bathroom reno and we've just locked that down so you can follow its progress in the new few months! Onto less involved projects, and I was keen to make the most of our beautiful master bedroom. It's spacious and light-filled with two windows, and is definitely the largest bedroom Damian and I have ever had.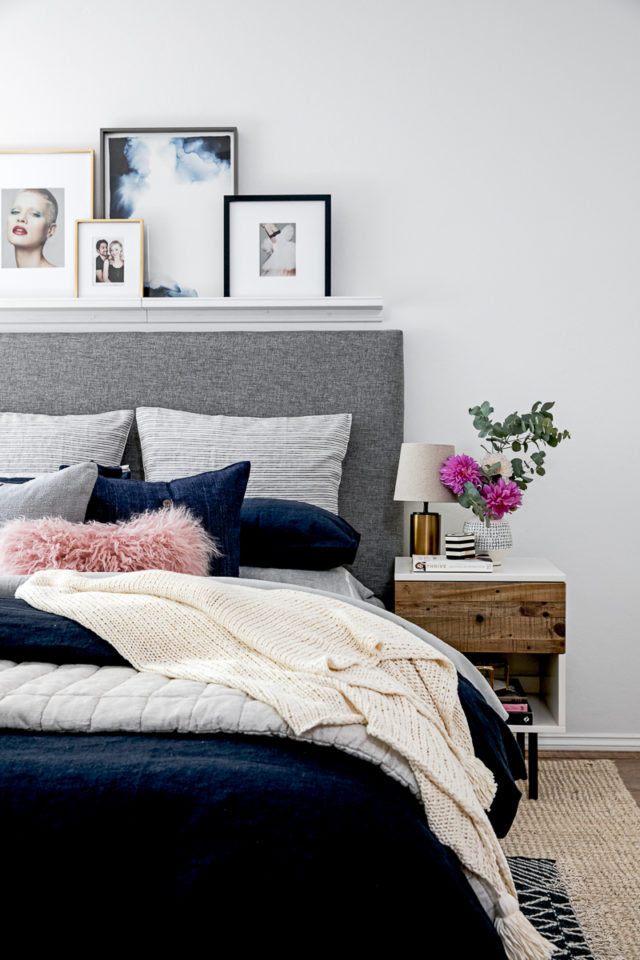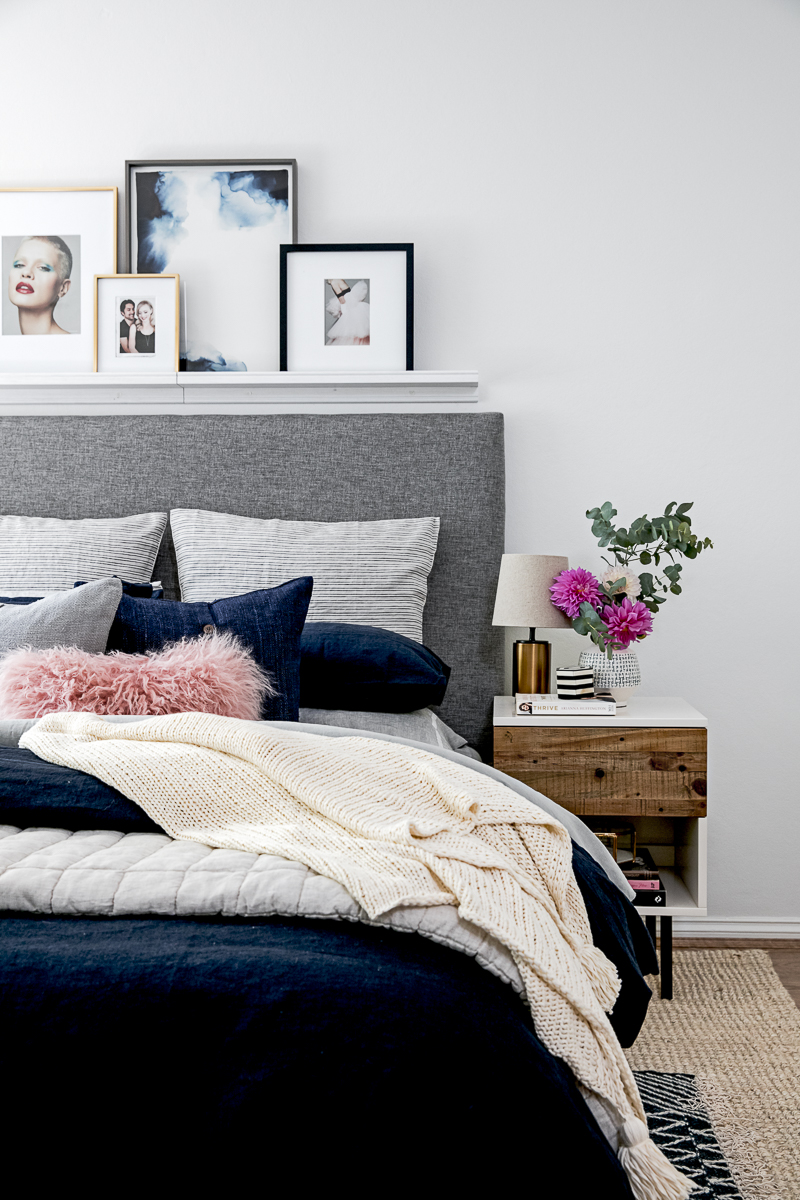 When we moved from our last place, I got ruthless at chucking out what I didn't need or love. Bed, drawers and desk aside, it was a pretty blank canvas in the bedroom. We had it painted (Resene's Black White) before we moved in, and installed new floors (natural oak laminate from Darren Palmer's Provincial Lane range for Carpet Court) and it was just crying out for those extra layers of warmth, texture, colour and interest. I couldn't think of a store I'd rather team up with to transform it than west elm as I pretty much love everything they do, so when they asked me, I leapt at the chance to work with them to turn my bedroom into a grown-up sanctuary (and the one place we try and keep the baby's toys out of)! I've also recently moved a secretaire desk into the bedroom and when our part-time nanny starts, I plan on sometimes hiding in there to work!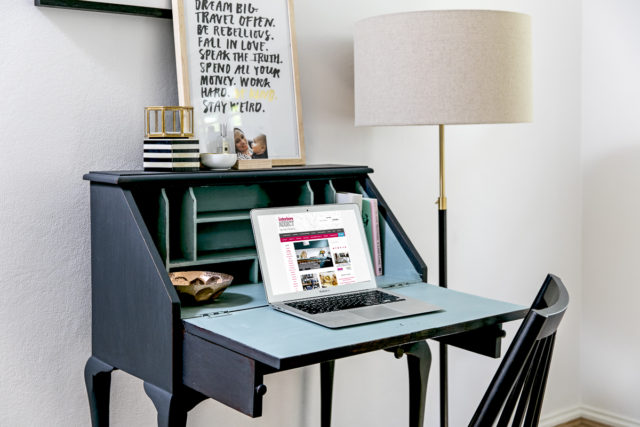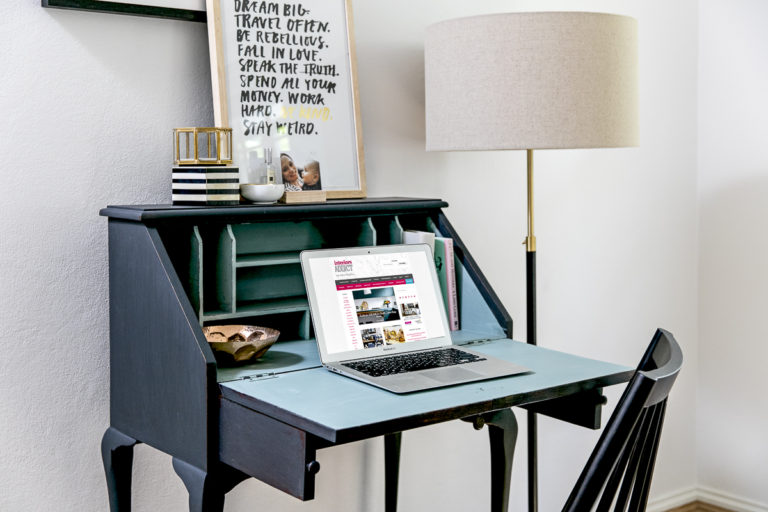 Their Design Services stylist, Brendan Nash, asked me what sort of look I was after before providing a mood board. I immediately loved almost everything on it, so after making a few tweaks, I left it all in his capable hands until makeover day! It was so exciting to have a professional style my bedroom; what a treat!
Regular readers will know my favourite colour is navy, which is convenient for a couple's room because it's nice and unisex! I also love gold accents and have them throughout our home, from my sofa legs to cabinet handles, accessories and so on. I wanted the room to feel calm and cosy, conducive to both relaxing and sleeping and focusing to write at my desk.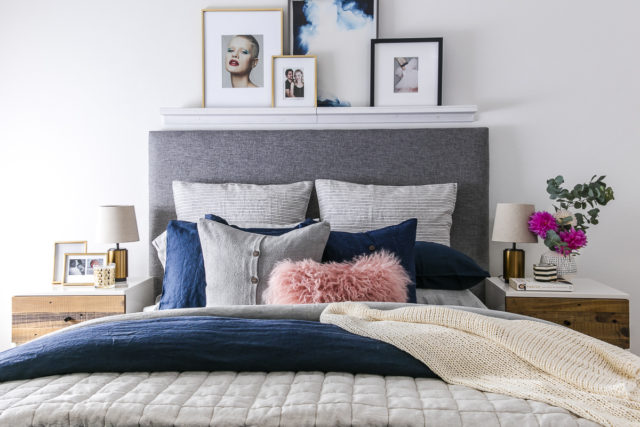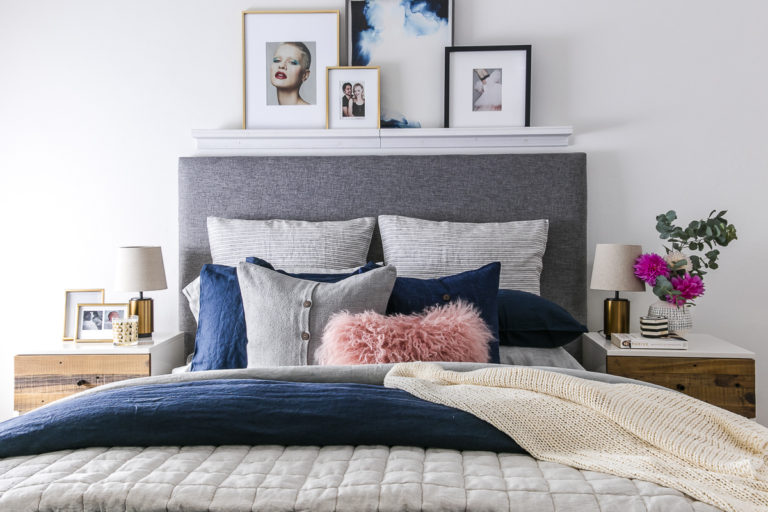 I think you'll agree, he nailed it! I absolutely love our new room and have found myself going to bed early a lot because I'm so keen to hang out in there! I also swear my bed is more confortable thanks to its new linen, although I'm not sure if this is in my head or the reality?! I'm also a definite convert to the top sheet, something I have never seen the point of having before with a doona! With winter drawing in, it was the perfect time to transform this space into a warm and inviting boudoir!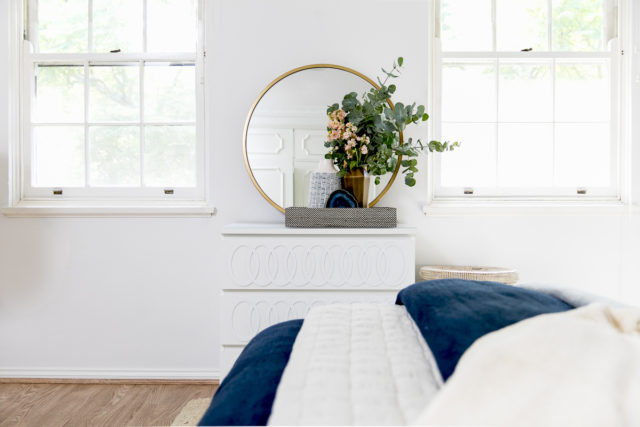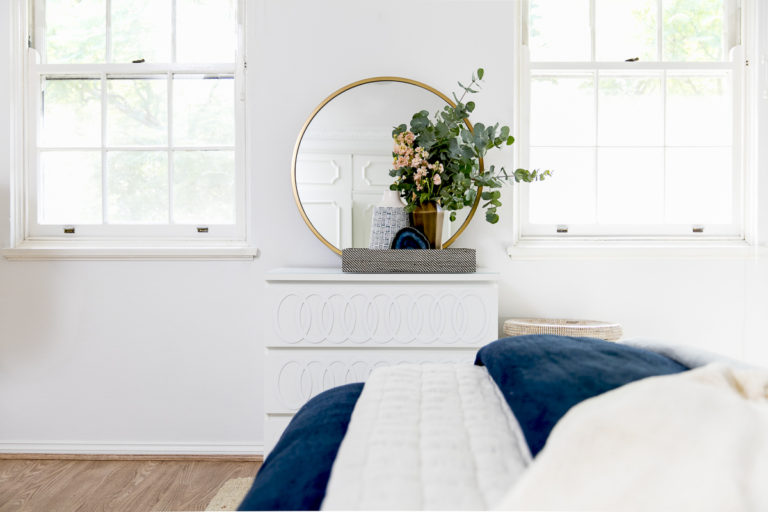 I love the layered rug look (something I wouldn't have been brave enough to try myself) and while I don't think I'd have picked the bedsides myself, they're a surprise hit! I love the texture and warmth added by the reclaimed timber, but the white lacquer is modern and light and easily wipe clean. I love the roomy drawer to hide away all those essentials, and the space underneath for books and mags.
It was a real luxury to have my bed made to look like one out of a magazine spread and I watched Brendan and his colleague Naomi Young carefully, making mental notes. I absolutely love the feel and laid back luxe look of linen but had never thought of choosing it in navy before, always playing it safe with white. I really love the colour injection in this room. Cleverly, the only touches of pink are in the one cushion and the flowers, so if I want to change the pink to a different accent colour down the track it'll be really easy (and let's face it, everything goes with navy!).
If you have a little bedroom envy (and frankly, I couldn't blame you!), then listen up, because west elm are giving you the chance to win a $1,000 voucher to spend on goodies for your own home. Simply enter using the form below by midnight Sydney time on 25 May 2016.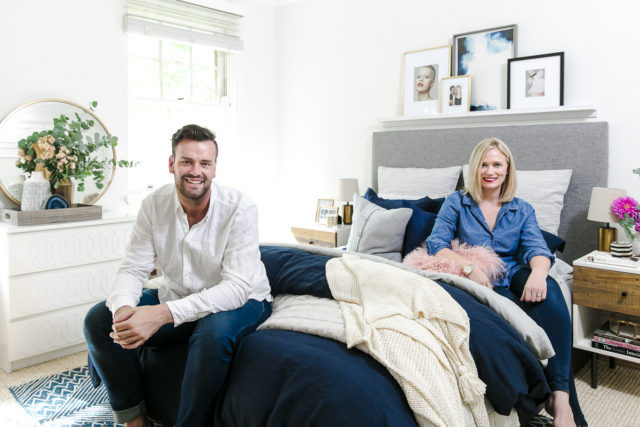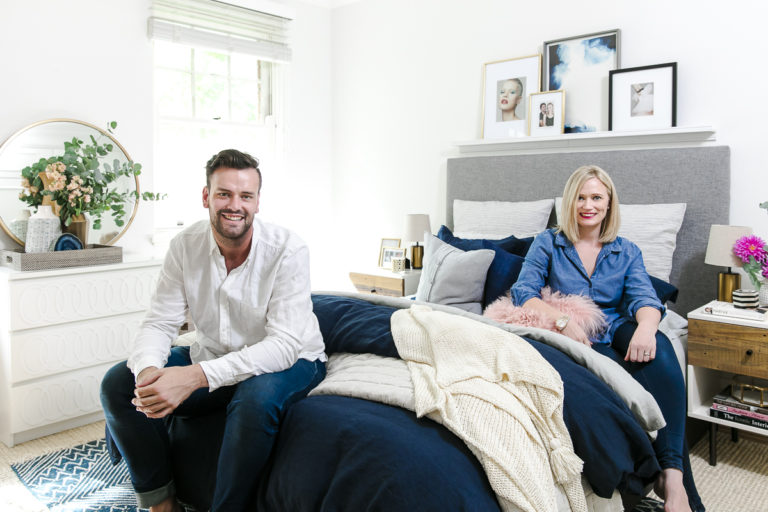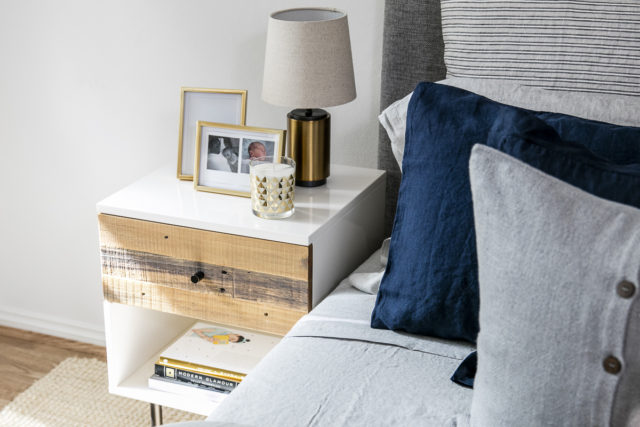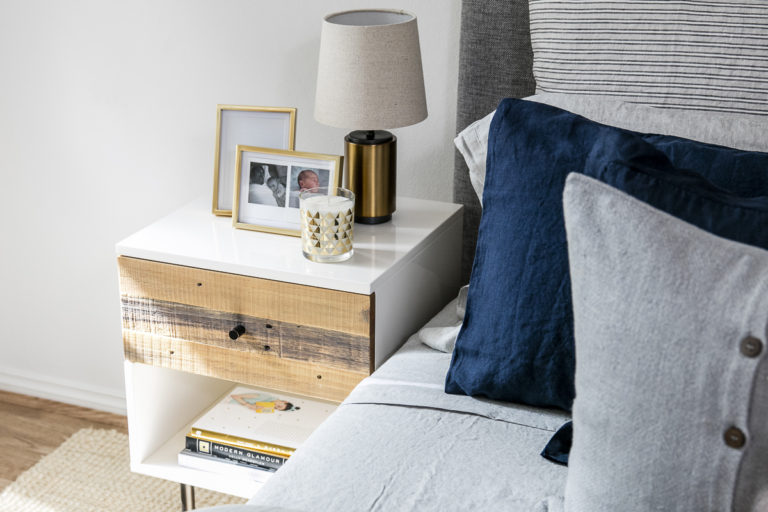 SHOP items from west elm: Reclaimed wood and lacquer bedside tables | Traced diamond kilim rug (layered on existing west elm jute rug) | Small pillar table lamps in antique brass | Telescoping floor lamp | Mongolian lamb cushion cover in Rosette | Belgian flax linen cushion cover in Midnight | Belgian flax linen quilt cover and pillowcases | Striped Belgian flax linen Euro pillowcases | Belgian flax linen border stripe sheet set | Belgian flax linen quilted coverlet | Cotton tassel throw in Ivory | Gallery frames in polished brass | Gallery frames in black | Glass hexagon shadow boxes | Woven tray | Metal framed round wall mirror in antique brass | Graphic printed basket | Basketweave ceramic vases | Faceted metal vase | Scissor spindle dining chair (at desk) | Glass decal scented candle tumbler.
All I want to change now is the blinds, but I can't decide whether to go for curtains or blinds or to splash out on plantation shutters! What do you think?
Everything else pictured is my own. Please ask in the comments if you'd like to know where something is from!
Did you know west elm offer a free design service, in your local store, your home or via phone?
Full competition terms and conditions. Entry form below.
Photography by Jacqui Turk