Sponsored by Trojan Tools
Want to really polish a room? Add wall art.
Make the big 'wow' statement with a dominant piece that turns a simple décor into something truly fabulous, or add warmth with a cosy scene, interest with a curious abstract or a sense of belonging with framed family photos.
What's so great about wall art right now is there's no right or wrong to what you hang. Mixing things up is a hot interior trend; putting cottage with contemporary, mid-century with minimalist. Whatever your wall art's style and desired effect, the key to it being great is how you hang it. Once you get the technique right, there's no end to the effects you can create.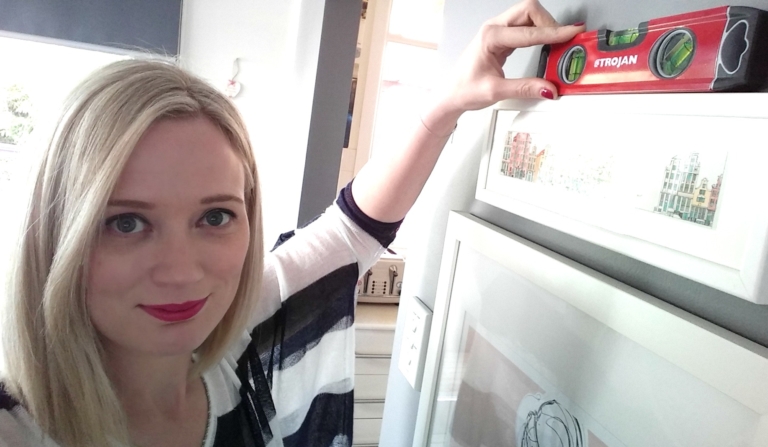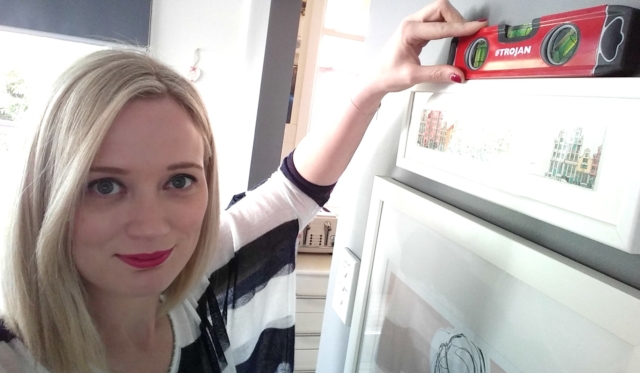 Whether you're hanging just one picture, lining up a series, or creating a cluster of different shapes and sizes hung at different levels to become a beautiful graphic feature wall, the basics are the same.
The first thing you need to decide is where on the wall you can hang your pictures. Ideally, you want to hang your heavier paintings on a wall that has one or more studs that allow you to securely anchor the wall hooks. The location should also be away from any heat source or direct sunlight, and in an area with reasonable humidity.
First, you'll need a Trojan Tape Measure and a pencil. Regardless of whether you want to centre your picture frame on your wall, or place it in an-off centre quadrant, it's really important to know how big your wall is and where the horizontal centre point is.
So decide if you want your picture centred, or to one side or the other, then use your Trojan Tape Measure to find the centre point in the wall, mark it with a pencil and use it as a guide. If, for instance, you want to hang your frame left of centre, consider hanging it at the midway point between the wall's left end and the marked centre point.
The eye generally loves geometry. This centre point is also important for creating picture frame clusters as even though they might look a bit random, you want some symmetry, evenness of spacing and order to prevent that from becoming chaotic.
Another really important tip: the best spot vertically to hang a picture is about eye level. Otherwise your picture will come off looking too high or too low. If doing a cluster, your central image should be at about this point.
Now that you know where you want to put your picture, use your Trojan Tape Measure to measure the width of your picture frame so you know where its centre is. You could mark this point on your frame with a sticky note or piece of adhesive tape.
Hold the frame against the wall in the position you want it and use your pencil to mark the centre point of the frame on the wall.
Take your picture down again. Put it on a table face down. Hook the tape measure onto the hanging wire attached to the back of the picture. Pull the hanging wire up towards the top of the picture and measure the distance between the top of the picture frame and the hanging wire.
Go back to the wall and measure that same distance down from your original marking. Mark this point on the wall with a cross; this is where you'll put your hook.
If you are using a nail and hammer, place the nail in the centre of the pencil marking and drive the nail into the wall at a 45-degree angle with your Trojan Hammer. If you're using a drill and screw, drill a hole in the centre of the pencil mark and use your Trojan Screwdriver to secure the screw or traditional picture hook into your wall. The nail, screw or hook, by the way, need to be suitable for the weight of your frame.
The hook is in? You're ready to hang your picture frame! Place it on the hook, then use your Trojan Magnetic Stubby Level to ensure the picture is straight. To do this, you'll run the spirit level along the top of the frame.
You're done! With the basics down pat, there's no end to what you can hang on your wall. If you're after trends in frames, look to nature inspired tones such as greys, greens and stone. Or try sheer finishes in glass and plastic for a serene look. Hot for colour? Go for terracotta, teal blue, burgundy or a classy navy blue. Or if you want to inject some glow, scour flea markets for copper and brass frames, a huge interior design direction right now.
Learning how to hang your picture frame is the easy part, choosing between so many style options will be the true challenge!