After spending a decade flipping houses in the UK and America, Claire and Derek O'Connell moved back to Australia two years ago and are working on their own family home for keeps! They've recently completed their first bathroom featuring an amazing upcycled vanity!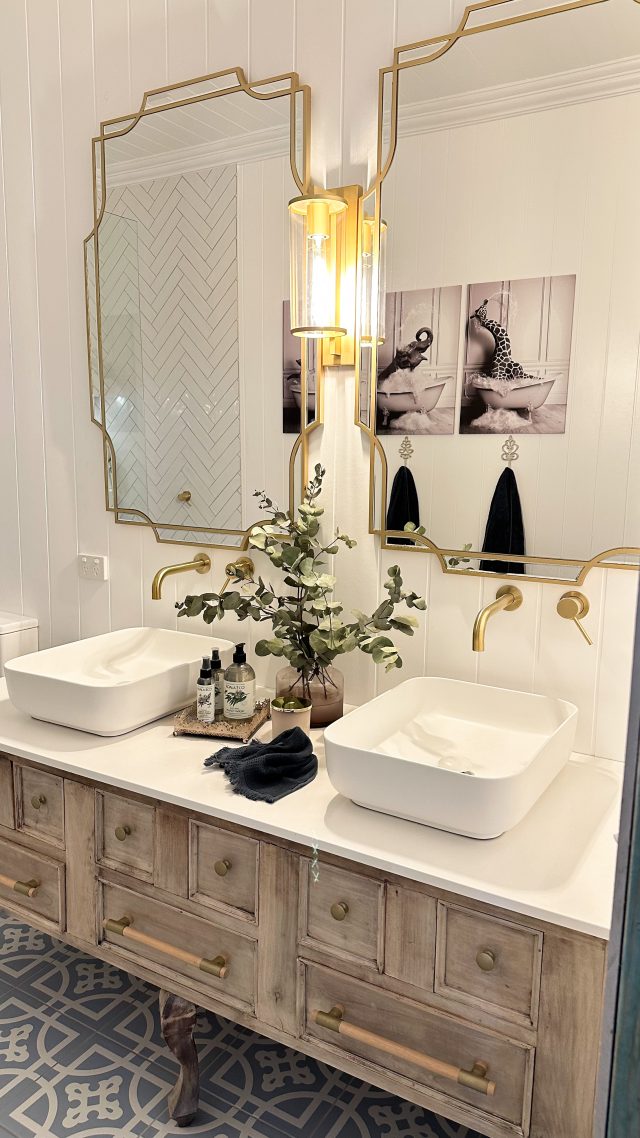 "The avocado bathroom, as it was affectionately known was a reflection of a typical 50s bathroom," said Claire. "You could see someone had taken time in designing and fitting out this bathroom but it just didn't work for our family. It was mouldy, old and had four entrance points! We wanted to create a bathroom that could grow with our family and this just wasn't it."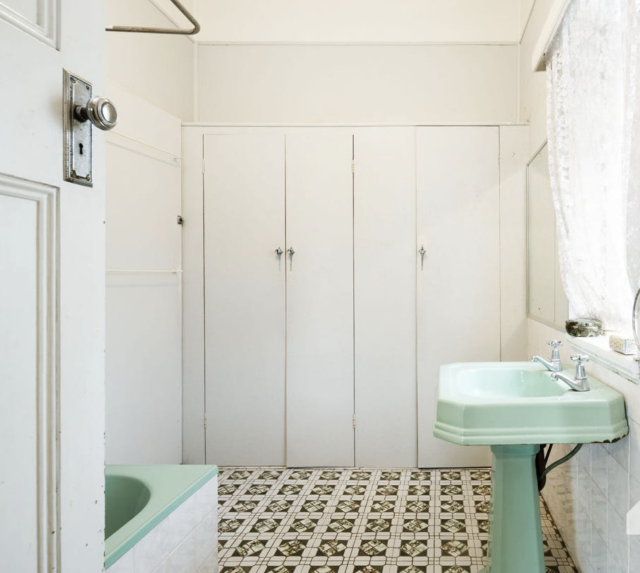 The pair decided to knock through a wall in the bathroom and create the new bathroom in the extension. "The original bathroom has become our master bath, yet to be built, and a hallway from the old house into the new extension. We had a similar footprint but opted to forgo the bath and instead install a large walk-in shower. Removing the bath gave us so much more floor space and the kids just love the shower now. We chose a dual head shower head to make it easier to shower them."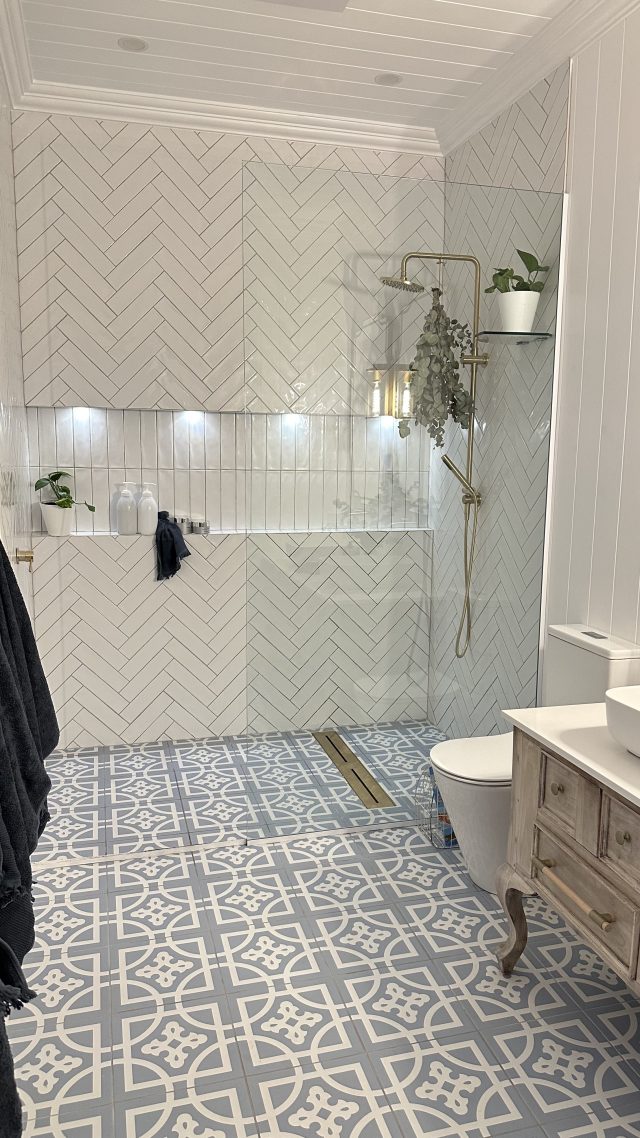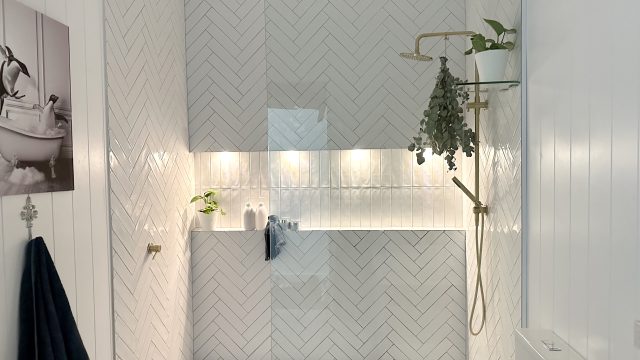 They designed and built the new bathroom themselves and love how it turned out. The biggest bargain was the upcycled vanity. "Originally I wanted to build the vanity but found this amazing sideboard on Facebook Marketplace so decided to upcycle it into a vanity. We also found a secondhand piece of quarterstone which we cut down as the vanity top, mounted some sinks, added new handles and we were away." (See more details on the vanity upcycle here).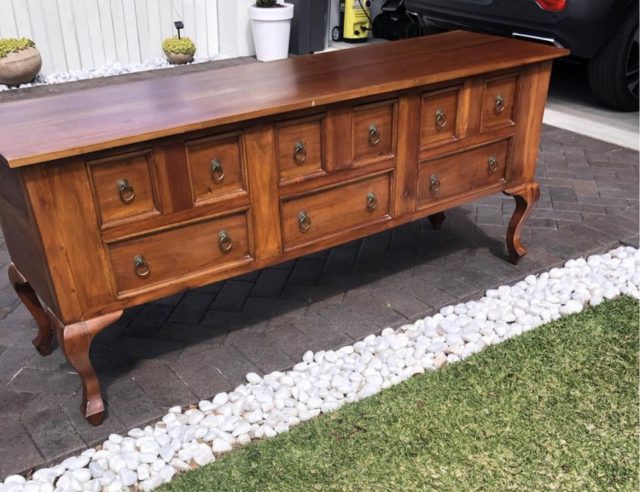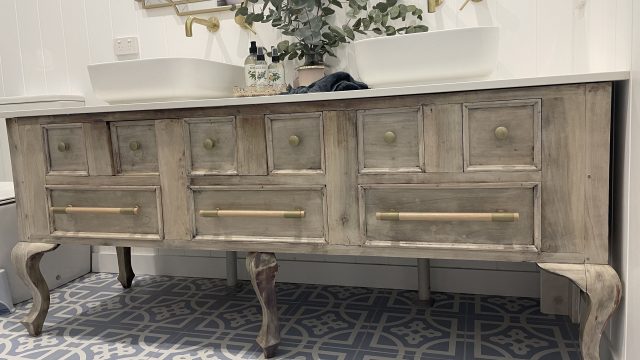 Claire loves everything about the bathroom, which cost around $6,000 due to doing the work themselves, from the shower niche lighting (low voltage exterior deck lighting) to the upcycled cabinet and the VJ wall and ceilings and Art Deco mirrors, which are both a nod to the original house.
Claire (Aussie) and Derek (Irish) bought the Brisbane home, site unseen. "Our only stipulation was that it needed to be a Queenslander and be renovation ready, the more work the better! I have pretty specific tastes and didn't want to come in and renovate an already renovated home," Claire says.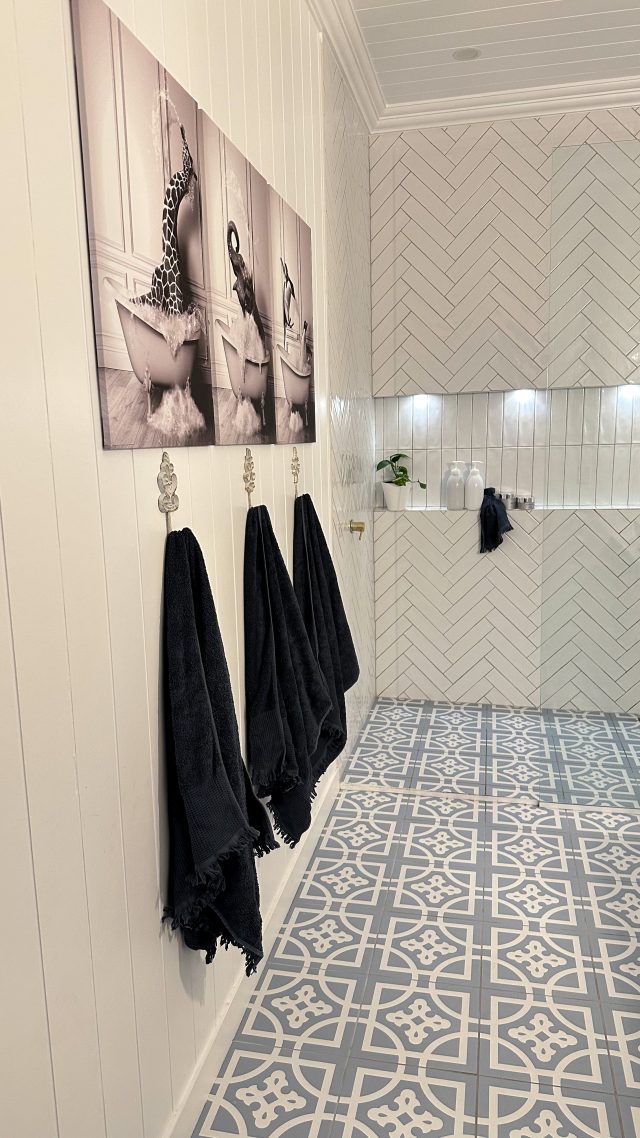 Once they moved in, they designed a new floorplan that included the house being raised and extended to the side. "We wanted to celebrate the Queenslander so designed the upstairs to include all of our living areas: kitchen, living area, bedrooms. Downstairs will be a hangout space/rumpus room, office, studio and guest room."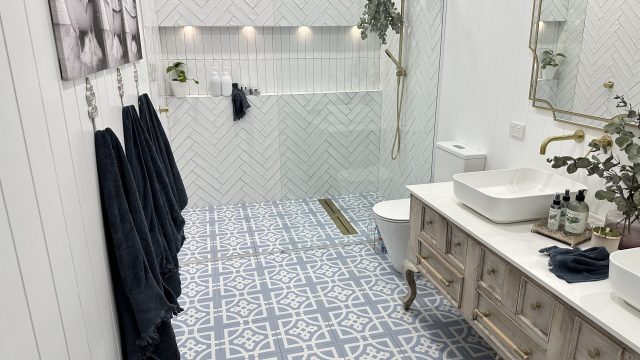 The couple and their three kids have been knee-deep in the DIY renovation for the last two years. They have finally surfaced from the construction jobs and can start to work on internal rooms. "Since we started this renovation, labour and material prices have quadrupled, sometimes increased even higher, so we have been thankful that we made the decision to DIY and have been shopping sales and secondhand items to include champagne finishes on a beer budget," Claire explains.
"We prioritised the kids' room and their bathroom as we have been living in the original part of the house and were excited to create more space to allow us to spread out."
We can't wait to see which room they tackle next!
What they used from where
Shower Tapware
On the Vanity
Hand Towels
Eco friendly handsoap, room spray and sanitiser
Follow the couple's reno adventures on Instagram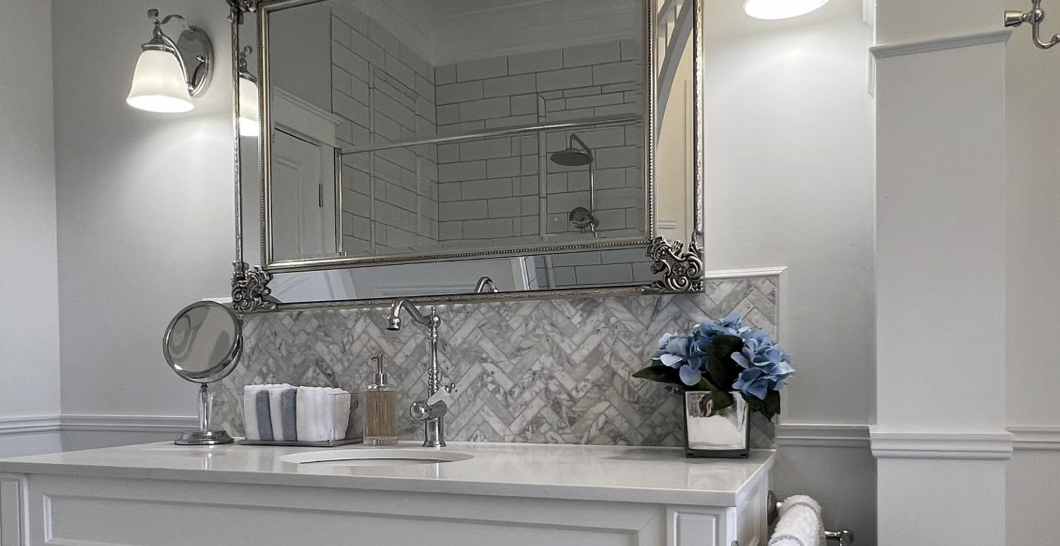 Luxury bathroom for half the price: couple's part-DIY triumph
This incredible bathroom makeover is just the start of what Leanne and Travis Reading have planned for their Brisbane home.…