Here's a great spring recipe from Australian Papaya: simple, healthy and fresh!
Serves 4 | Prep Time: 5 minutes | Cook Time: 8 minutes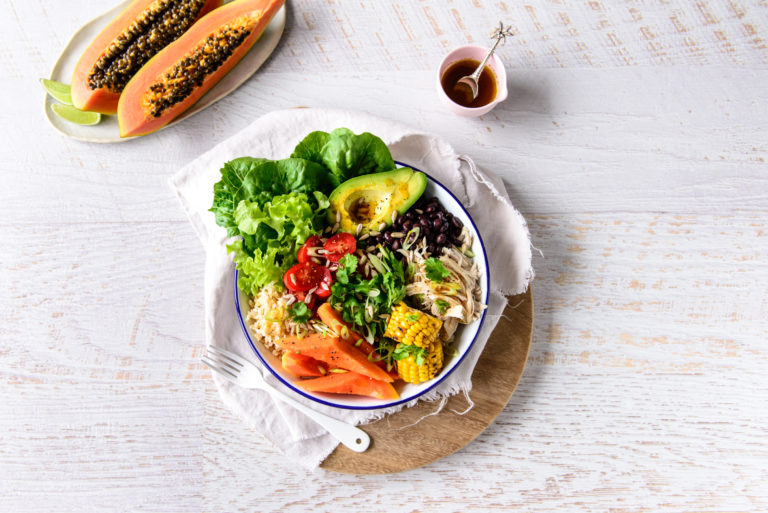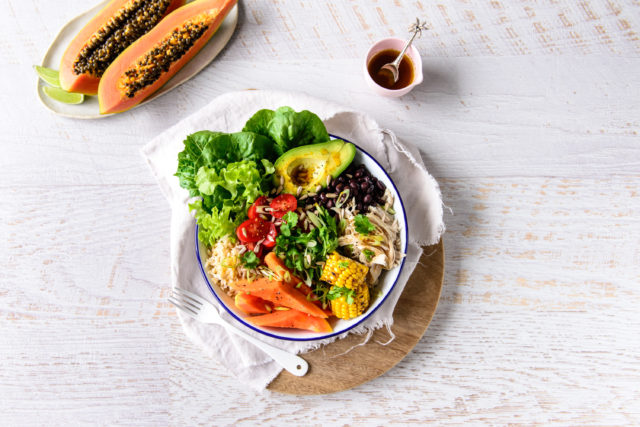 Ingredients
1 fresh corn cob
1 cup cherry tomatoes, halved
1 cup canned black beans, rinsed and drained
1/4 cup fresh coriander leaves
6 lettuce leaves
1 cup cooked brown rice
1 cup shredded cooked chicken
1 small avocado, halved
1/2 ripe papaya, peeled and cut in wedges
1 spring onion, thinly sliced
1 Tbsp toasted sunflower seeds
For the dressing
1/4 tsp sweet paprika
1/4 tsp cumin
pinch tsp chilli powder
pinch tsp sea salt
1/4 tsp maple syrup
2 Tbsp olive oil
1 Tbsp lime juice
Method
In a small jar whisk together dressing ingredients.
Bring a pot of water to the boil, add corn and cook for 3 minutes.
Drain corn and brush with a small amount of the dressing. Place in a pre-heated skillet over medium-high heat and cook for 5 minutes, turning a few times until the kernels are slightly charred. Cut into four rounds.
Divide ingredients into two bowls. Sprinkle with spring onion and sunflower seeds, and drizzle with dressing.
Serve immediately.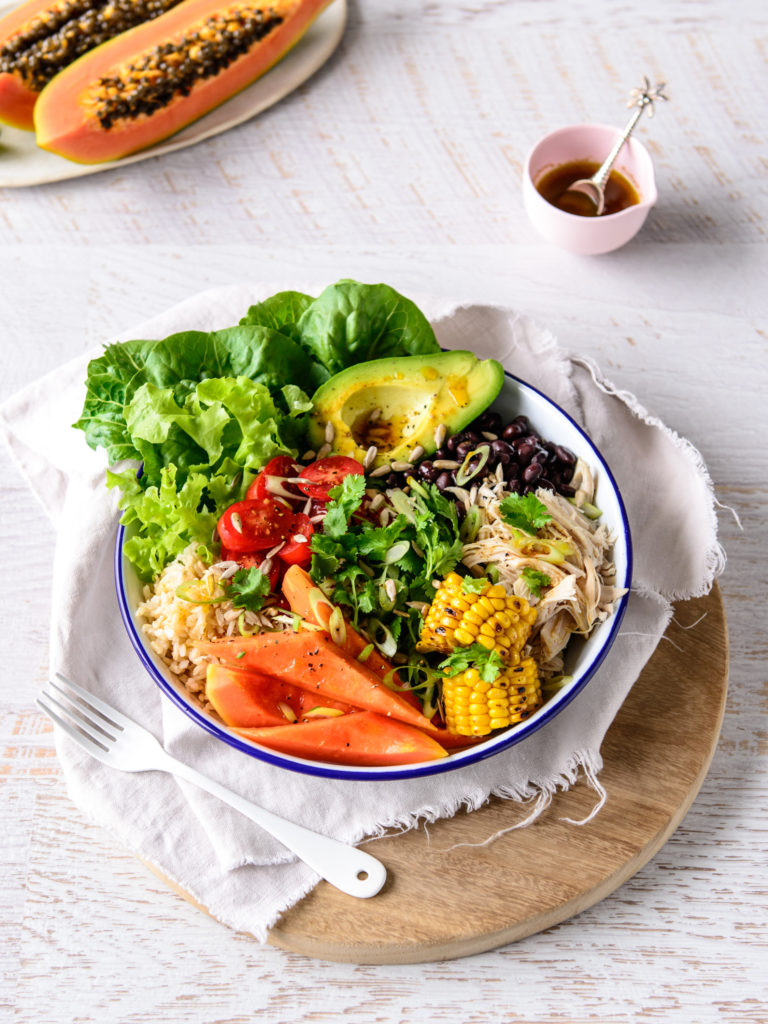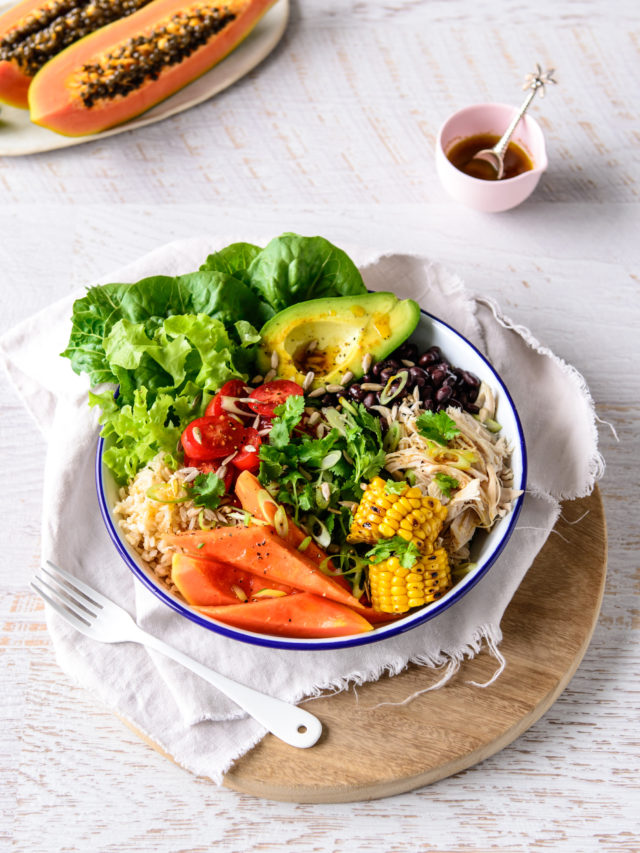 TIP: You can substitute frozen corn kernels for fresh and simply sauté them with a tsp of dressing before adding to the bowl.
HEALTH INFO per serve: 2250kJ; Protein 33g; Total Fat 26g; Saturated Fat 5g; Carbohydrate 36g; Sugars 11g; Fibre 12g; Sodium 155mg.
Good source of protein. Excellent source of fibre. Low sodium.
Love this? You might like these recipes too…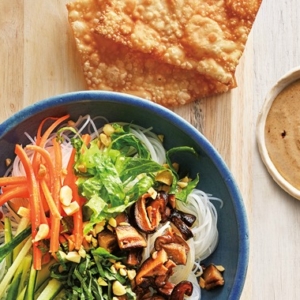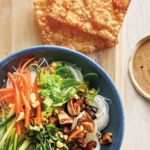 Foodie Friday: Spring roll bowl
This fresh-tasting weeknight meal is like a deconstructed spring roll in bowl form. Ingredients For the peanut sauce: 5 cm piece fresh ginger, peeled and grated 2 garlic cloves, grated…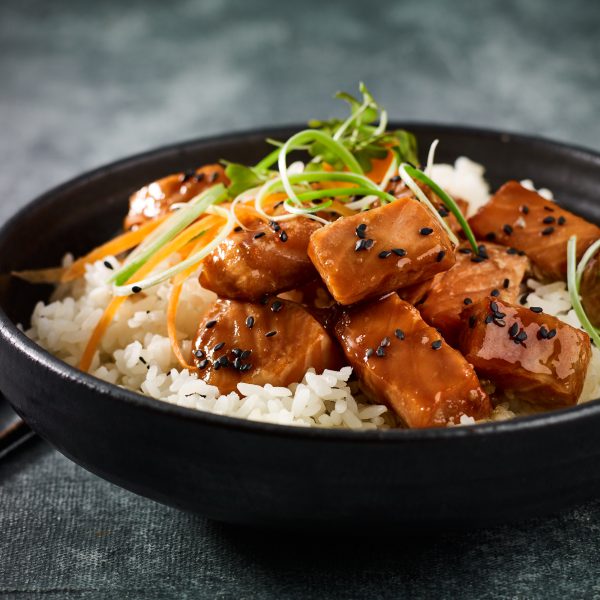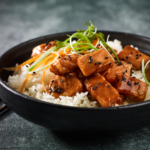 Foodie Friday: Teriyaki salmon bowl
In celebration of World Salmon Day last Tuesday, we're sharing this delicious recipe from Tassal. Serves: 2 Ingredients 2 x TASSAL Salmon Fillets Skin-off, cut into 3cm cubes 1 tsp…