This fresh-tasting weeknight meal is like a deconstructed spring roll in bowl form.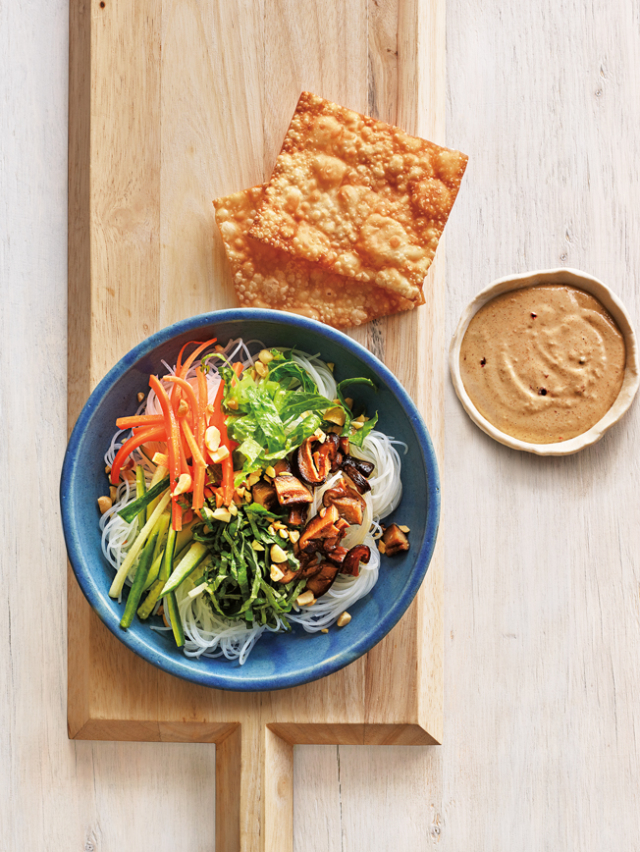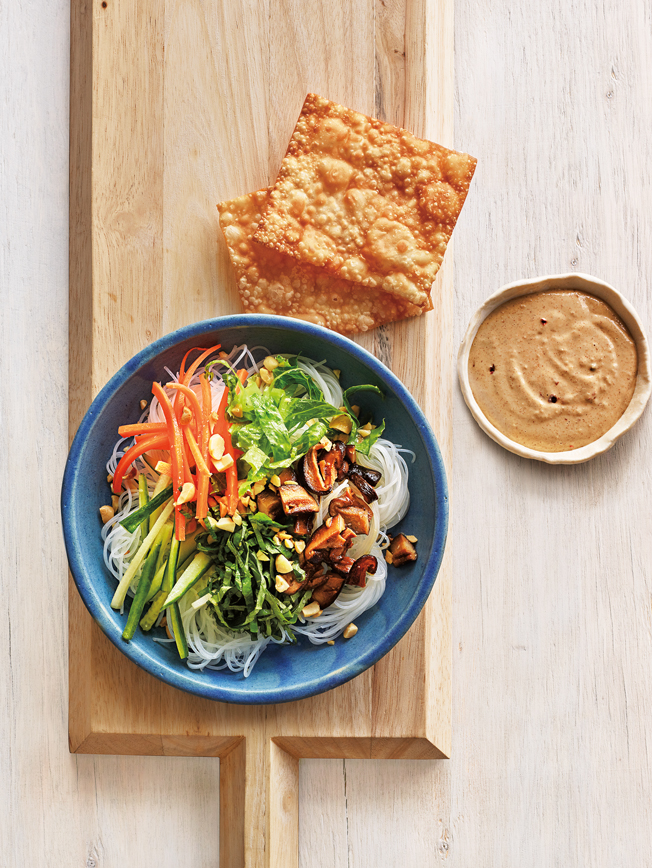 Ingredients
For the peanut sauce:
5 cm piece fresh ginger, peeled and grated
2 garlic cloves, grated
1/2 cup (155 g) creamy peanut butter
2 tbs soy sauce
1 tbs lime juice
1 tsp brown sugar
1/2 tsp. chilli flakes
2 tbs canola oil, plus more for frying
8 wonton wrappers
salt
250 g shiitake mushrooms, brushed clean, stems removed and coarsely chopped
2 garlic cloves, minced
5 cm piece fresh ginger, peeled and minced
1 tbs. soy sauce
250 g rice noodles
2 tbs rice vinegar
1 head cos lettuce, shredded
1/2 cup (15 g) mint leaves, thinly sliced
1/2 cup (15 g) basil leaves, thinly sliced
2 carrots, peeled and thinly sliced
1 cucumber, thinly sliced
1/2 cup (90 g) chopped roasted peanuts
Method
1. To make the peanut sauce, in a small bowl, stir together the ginger, garlic and peanut butter. Stir in the soy sauce, lime juice, brown sugar and chilli flakes. Stir in enough water to achieve a thick pourable consistency. Set aside.
2. In a large frying pan over medium-high heat, pour in oil to a depth of 1 cm and heat until hot but not smoking. Add the wonton wrappers and fry until golden brown and crisp, about 1 minute per side. Using a slotted spoon, transfer the wonton wrappers to a plate and sprinkle with salt. Set aside.
3. In a large sauté pan over medium-high heat, warm the 2 tbs. oil. Add the mushrooms, garlic and ginger and cook, stirring occasionally, until the mushrooms are tender, about 6 to 8 minutes. Add the soy sauce, toss to coat and cook 1 minute longer. Keep warm.
4. Cook the rice noodles according to the packet instructions. Drain, transfer to a bowl, add the vinegar and toss to coat.
5. Divide the noodles among 4 bowls and top with the mushrooms, lettuce, mint, basil, carrots and cucumber. Garnish with the wonton wrappers and peanuts. Drizzle with the peanut sauce and serve. Serves 4.
 
–From the Williams Sonoma cookbook One Bowl Meals