Bunnings partnered with Jaharn Quinn of Smor Home to bring us this guide on how to build your own marble effect plinth that you can use for displays at home.
Before you start this project, if you don't have a mitre saw at home, which will help you cut perfectly straight lines through your MDF panels, experts at hardware stores are able to cut the panels for you. You could cut the MDF panel using a jigsaw but it wouldn't create the perfectly straight edges you need for this plinth.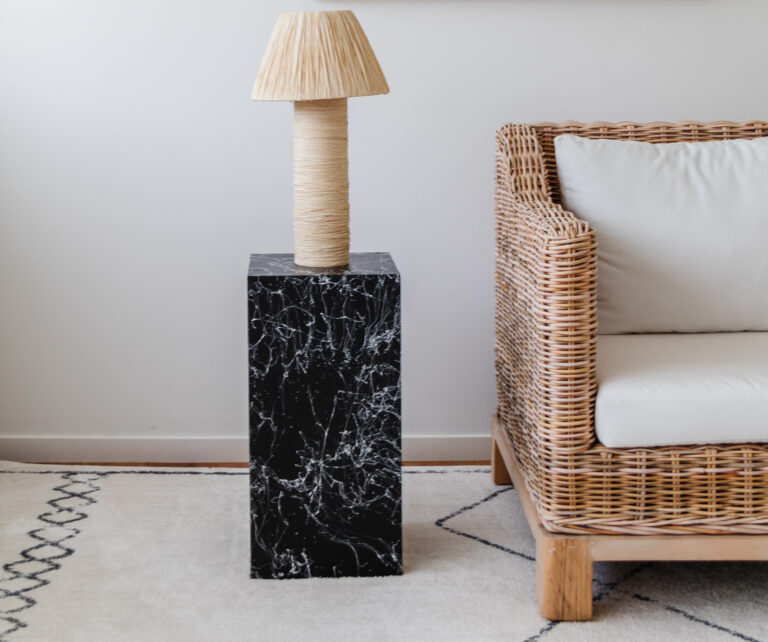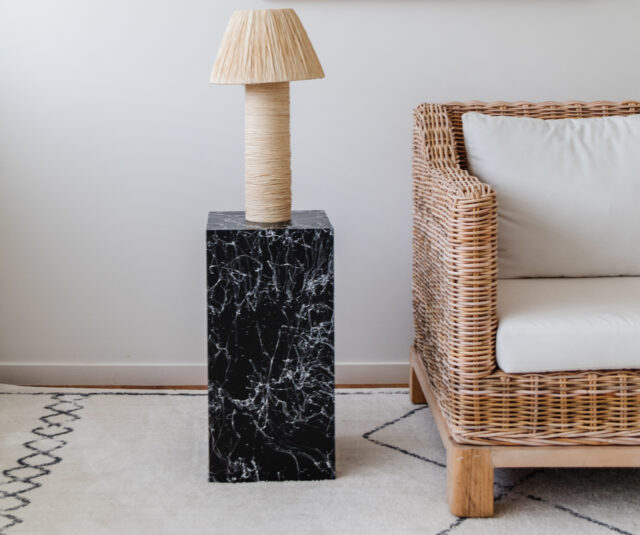 Materials
2 x MDF panel 1200mm x 600mm cut into 4 sides and 1 top (there are more details on this below). Preferably 12mm thick or more.
Measuring tape
Chipboard countersunk screws
Multipurpose filler
Microfibre roller
Paint tray
Black gloss exterior paint
Dulux DuraMax Marble Effect Spray Paint (or similar paint of choice)
You will need a sander, and a drill with a Phillips head bit and a multi-purpose drill bit for drilling into the MDF panels.
Measurements
4 x 600mm x 300mm
For the top of the plinth, you will need to mock assemble the four sides and take your measurement. The sides of the top of the plinth won't all be equal or a perfect square, rather e.g. 2 x sides 300mm and 2 x sides 310mm.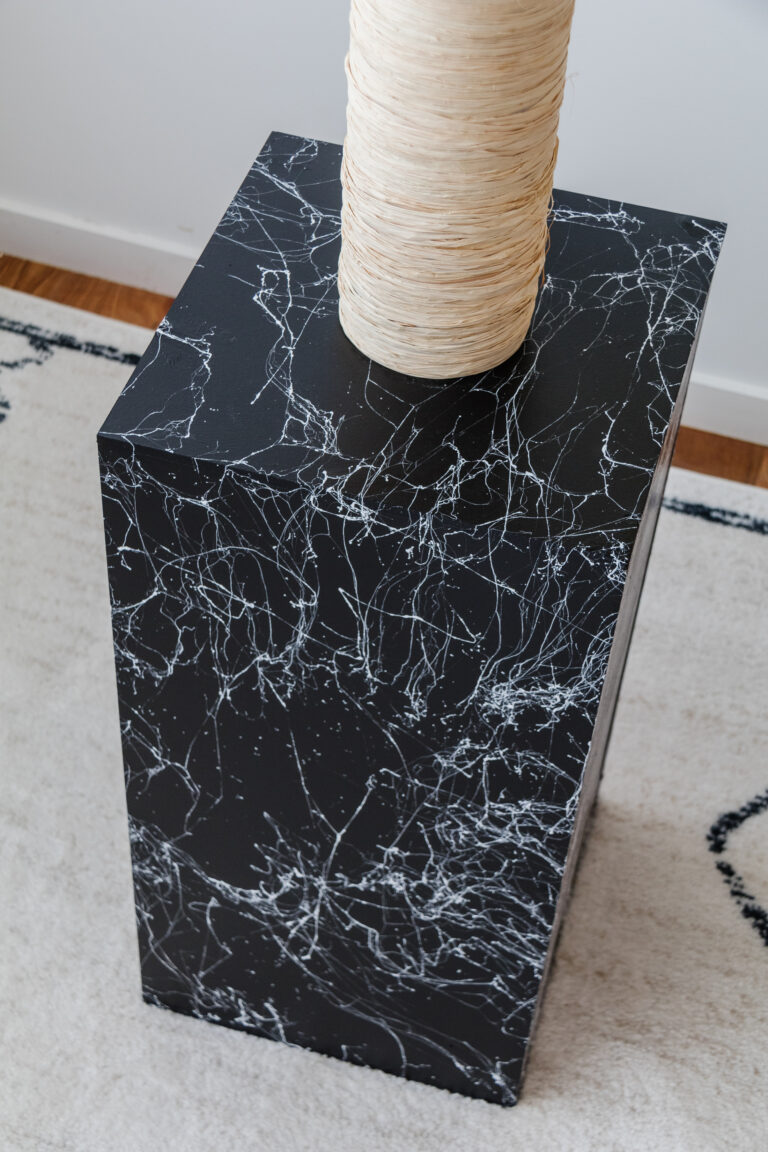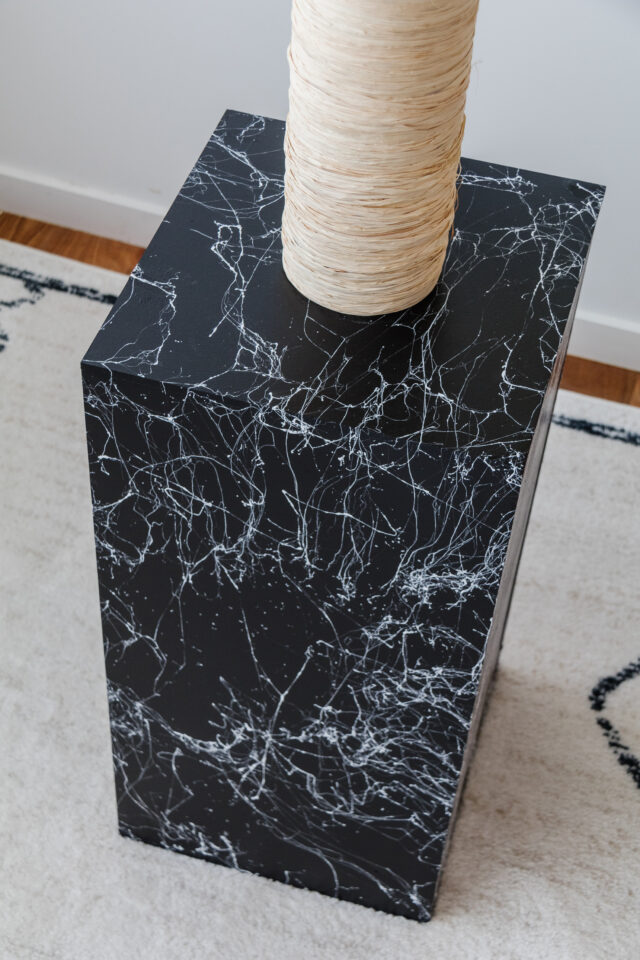 How To
The first thing you need to do is build the plinth. Drill three pilot holes along the length of one piece of MDF.
Prop this piece and another piece of MDF together at a 90 degree angle. Make sure the ends are lined up perfectly (or as best you can). Holding it together (it's a bit awkward but as soon as you get this done the rest is a bit easier), drill through the existing pilot holes and keep going so you drill further pilot holes into the second piece of MDF. Then you will switch to a phillip head drill bit, and drill a countersunk screw into each pilot hole. You will now have two pieces of MDF joined together at a 90 degree angle. Keep working your way around until you have created a plinth (without the top). Your goal is to drill the nails in so they are flush with the surface of the plinth. You may drill the screws too deep into the MDF, don't worry as we will fill these holes/gaps in with filler later on. You may not quite be able to drill the screws flush with the surface – keep trying and if all else fails, bang them a few times with a hammer.
Repeat the pilot hole process followed by drilling in the screws for the top of the plinth. You will now have a plinth!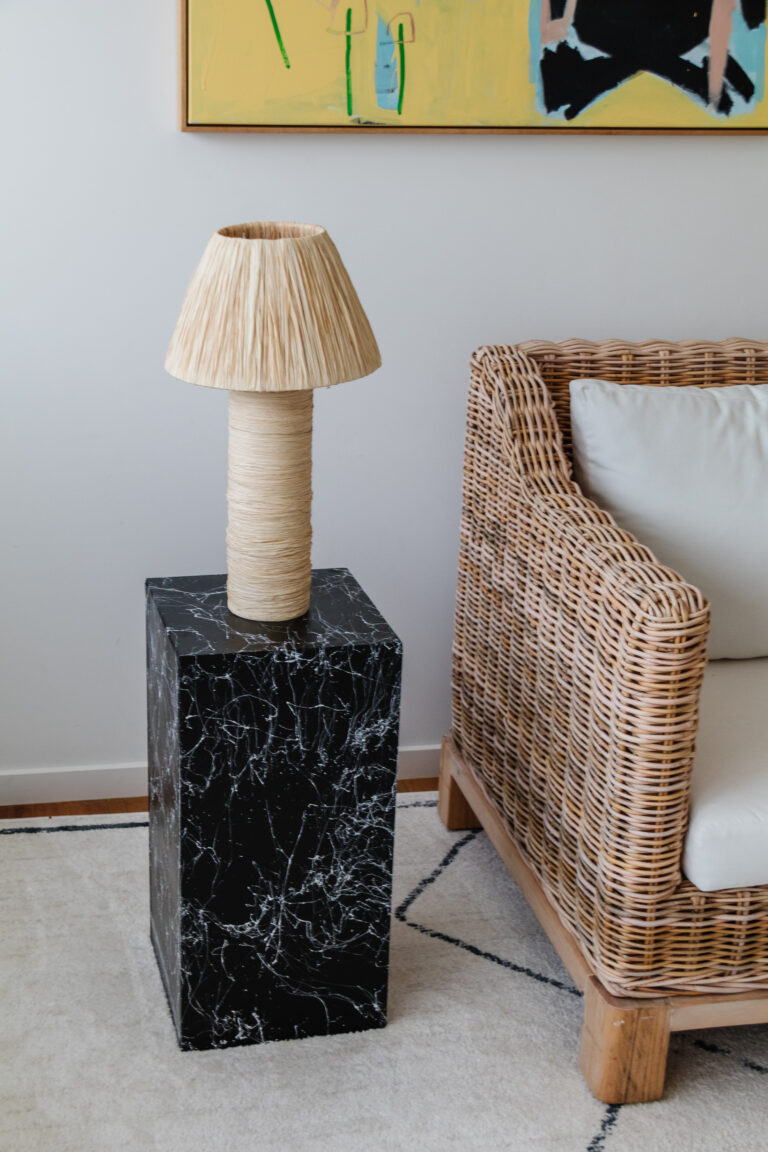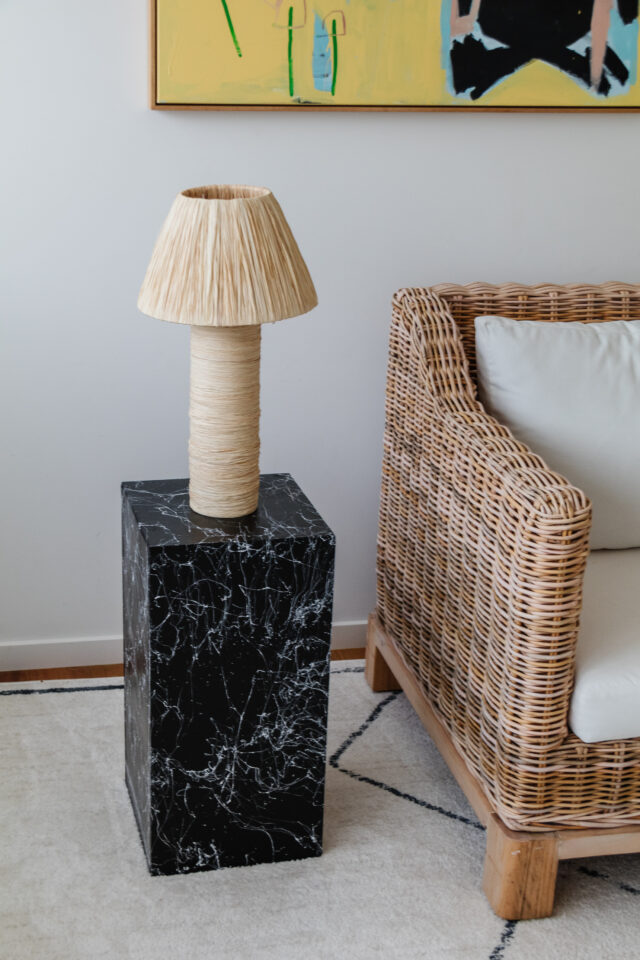 Fill in the screws and any deeper gaps using multipurpose filler. Set aside to dry for at least 3 hours, or less if the day is hot and dry. Sand the multipurpose filler so it's flush with the surface.
Paint the plinth with black gloss paint. Apply at least 2 to 3 coats. When the paint has dried, apply the marble effect spray paint as per the instructions. I recommend practicing on leftover MDF, and make sure the MDF piece is vertical when you spray as this will emulate how you will apply it onto the plinth. I found soft sprays and letting the air settle the marble effect spray paint really helped. Don't apply it straight on, too close or directly. Instead lightly spray it on from a good distance. if you find some of the marble effect hanging (you'll know when I mean when you use it), carefully lift it and let it drop naturally and organically. Try not to over spray otherwise it won't look natural.  The spray paint dries really quickly too so after a few minutes, you'll have a beautiful DIY Marble Effect Plinth!