Gosh, it was a good episode wasn't it?! Plenty of things which had to be redone because they weren't to code (including two shower screens so large and dubiously fixed they could probably kill a person!), the most expensive bathroom in Block history, THAT gleaming brass bath, a walkout by Sara in tears after her and Hayden came last for the third week in a row (after producing aforementioned $75,000 bathroom!), and a close win by Kerrie and Spence due to using their bonus point gnome. Reality TV at its finest!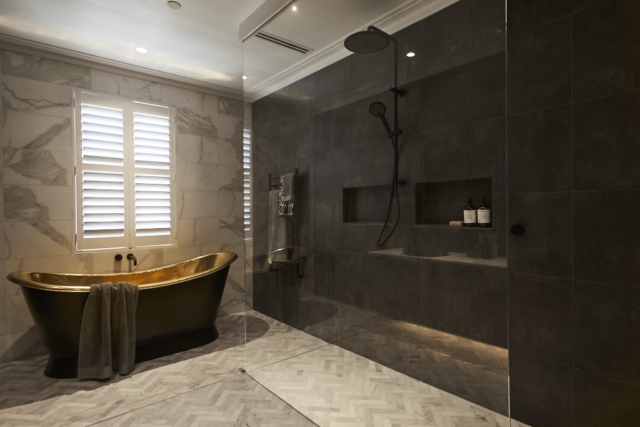 I can't not mention the Sara walkout. Will she really walk out on the show? I highly doubt it but time will tell. That's been left on a cliffhanger for obvious reasons! But I have to say, her attitude irks me. Yes, I realise people are passionate and criticism is hard to take (and boy that was some hardcore criticism last night) but they went into the judging way too confident they'd won and looking arrogant. And then the way she swore and carried on made it really hard to feel sorry for her, although I totally did (you'd have to be pretty cold not to feel bad when you see someone that upset) but I also wanted to her to stop embarrassing herself on national television! Gah!
Just goes to show, spending all of the money doesn't guarantee you a win. Or even a second or third…
I was impressed with the way other couples seemed to genuinely feel bad for them rather than revel in their continually coming last (it is a competition after all) and Bianca and Carla and Norm and Jess are fast emerging as my favourites in both the design stakes and in terms of seeming like genuinely good sorts!
This week, real estate veteran John McGrath stood in for Darren Palmer as a guest judge. Here's what they had to say about the master ensuite bathrooms.
KERRIE AND SPENCE: 1st
There was a lot riding on this for Kerrie and Spence, who used their bonus point to take out a win for their sophisticated bathroom, which featured a feature marble vanity top, herringbone tiles and matte-black finishes. Their simple, understated room was a big hit with all three judges.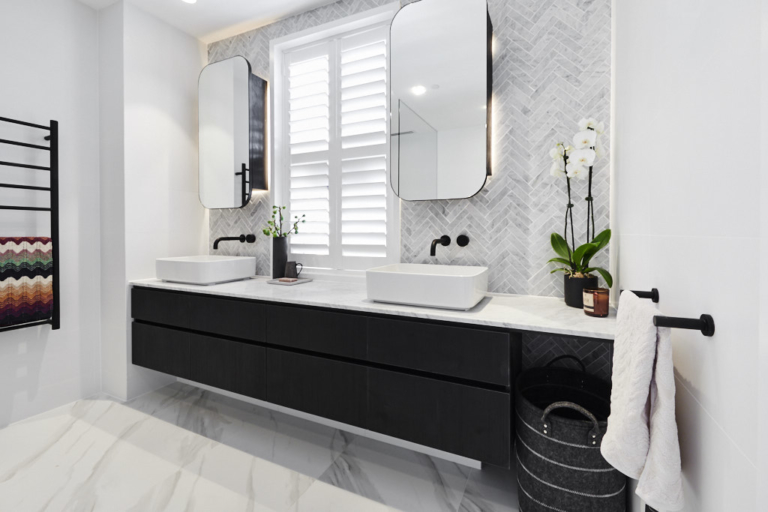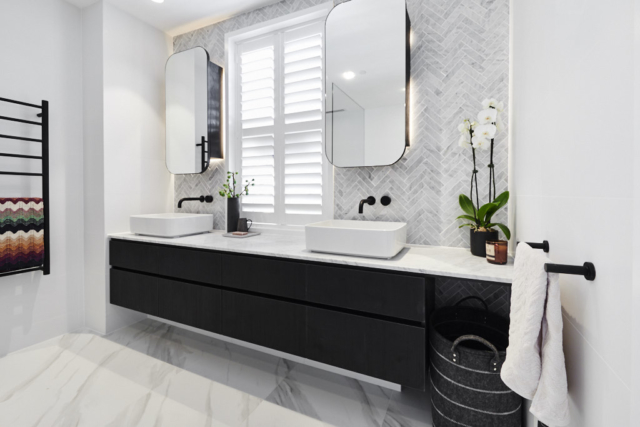 Shaynna Blaze used words like 'glamour' and 'beautiful'. Neale Whitaker said they'd taken it to another level and improved on the last bathroom.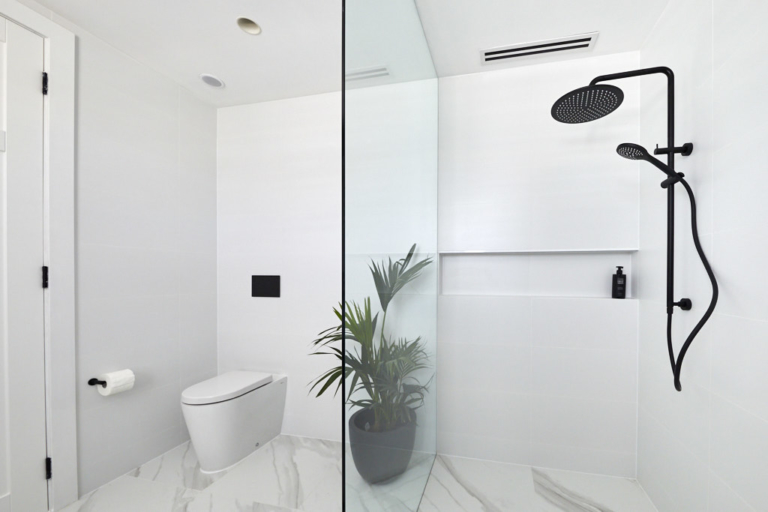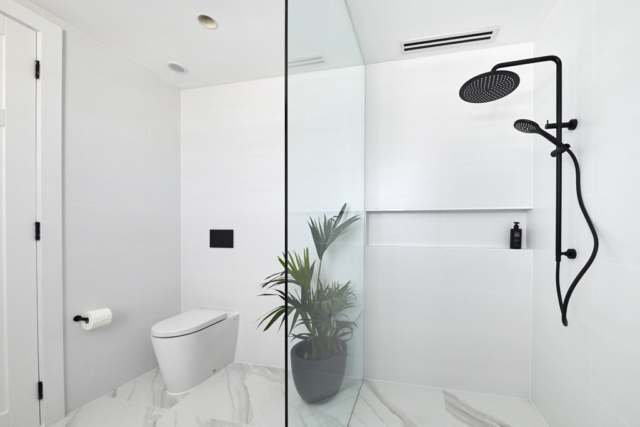 He loved the subtle details like the herringbone tiling. They all loved the face height cabinets, as did I! Divine! The curved edge! Shaynna said they'd nailed the styling.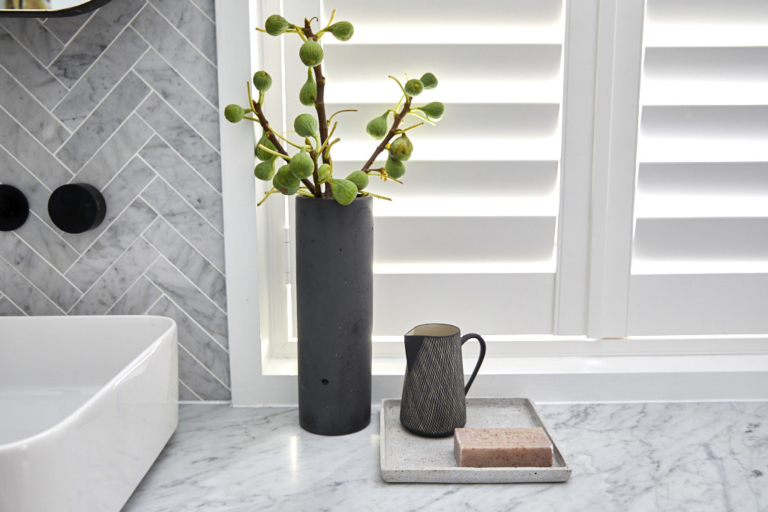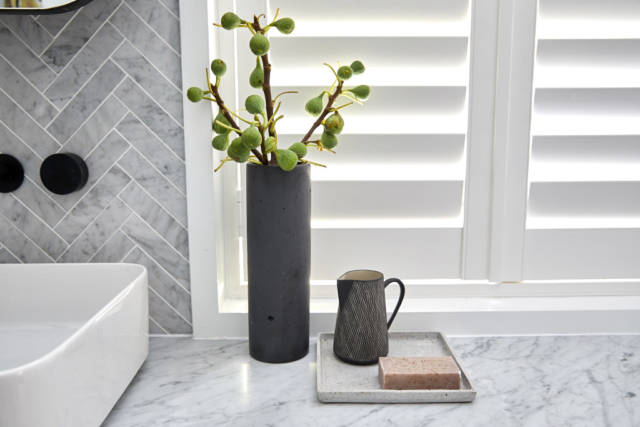 Shaynna did knock the too-obvious floor wastes though and would have preferred a tile version. John McGrath said he couldn't see anyone walking in and not being impressed from a buyer's perspective.
Our pick to buy: Missoni towels
HANS AND COURTNEY: 3rd
Topping their deluxe main bathroom was always going to be a challenge for Courtney and Hans, but they managed to deliver a striking ensuite, which featured more terrazzo tiles, simple white walls, a free-standing bath dressed with a wooden stool and a gorgeous double vanity.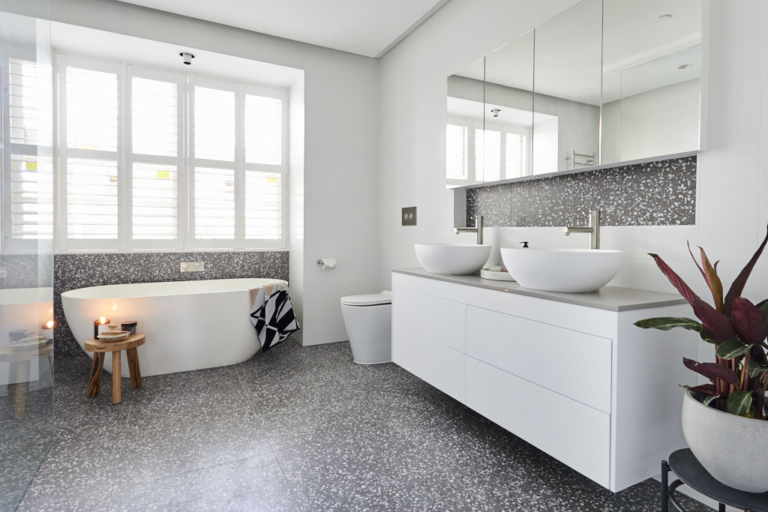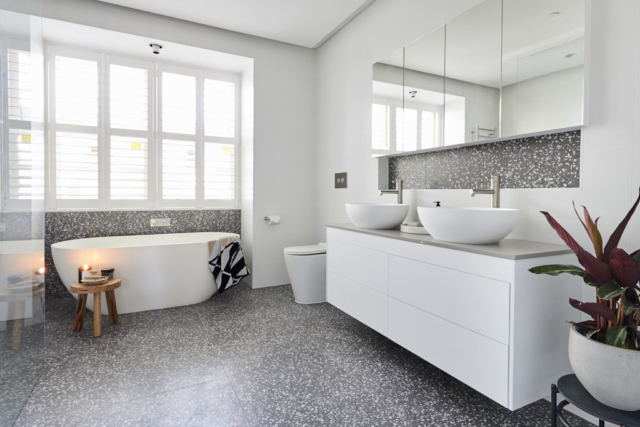 John thought the dark terrazzo might be polarising but Shaynna thought the St Kilda market would love it. Neale said the spaciousness was very luxurious. Shaynna thought the dead space was wasted and they should have had a bigger vanity. She also disliked the bulkhead for the glass and thought it looked clunky.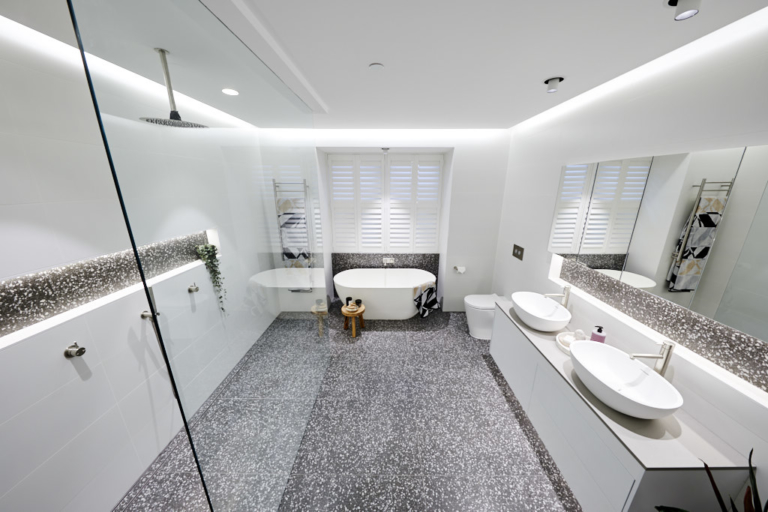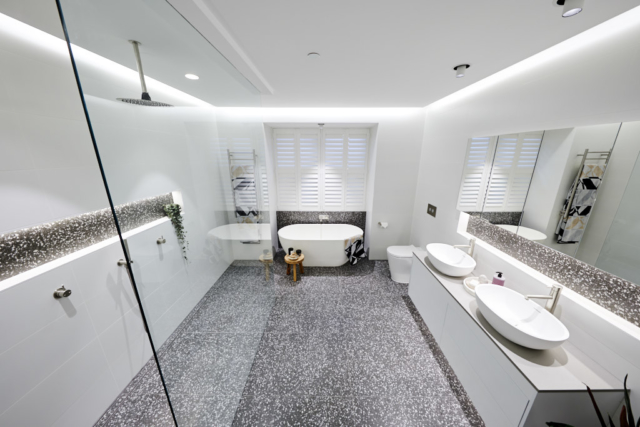 Neale and Shaynna agreed they should have amped up the luxury on the last bathroom and they'd relied too heavily on the scale and size of this room without doing that.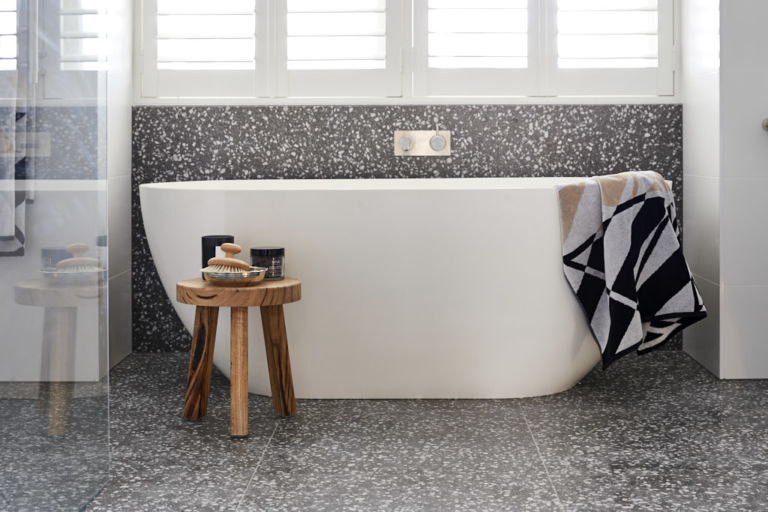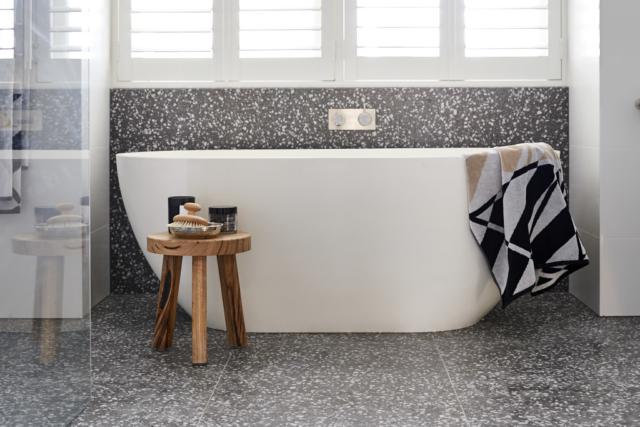 I personally much preferred this darker terrazzo and the contrast it provided. The bathroom was clean and spacious. but perhaps not quite luxurious enough.
Our pick to buy: Wooden stool
SARA AND HAYDEN: Last
Sara and Hayden might not have won over the judges but there was still a lot to love about the couple's ensuite, which included marbled herringbone tiles on the floor, black fittings and fixtures, a black vanity and that stunning (and indeed love/hate) brass bath.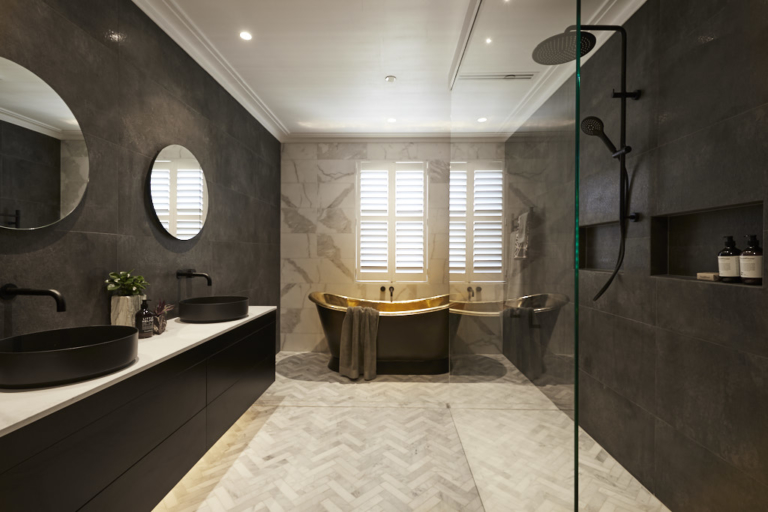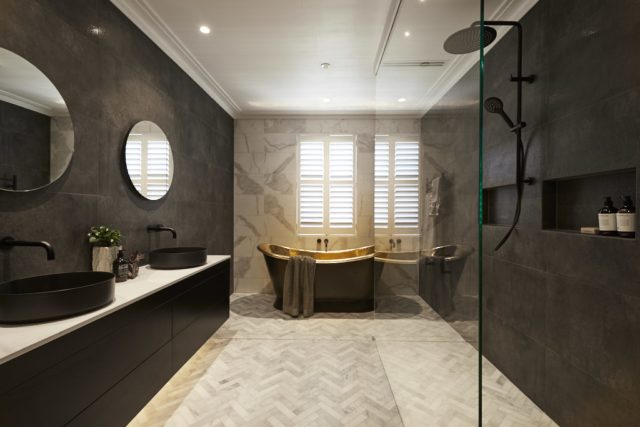 Shaynna's first words were "oh my God!" Neale said he'd never seen a bath like that before and "wow". Shaynna thought it was a feature and a different kind of luxury. Neale liked its placement on its own at the end of the room, allowing it to be the hero. John thought it was extremely memorable and something apartment three needed.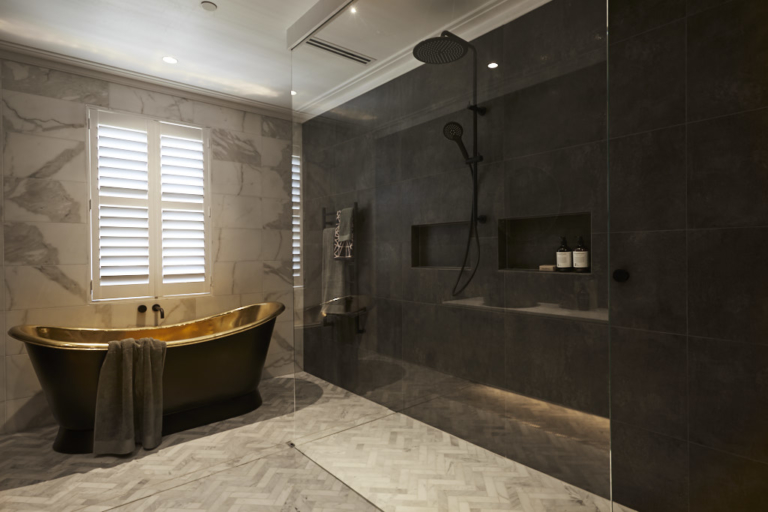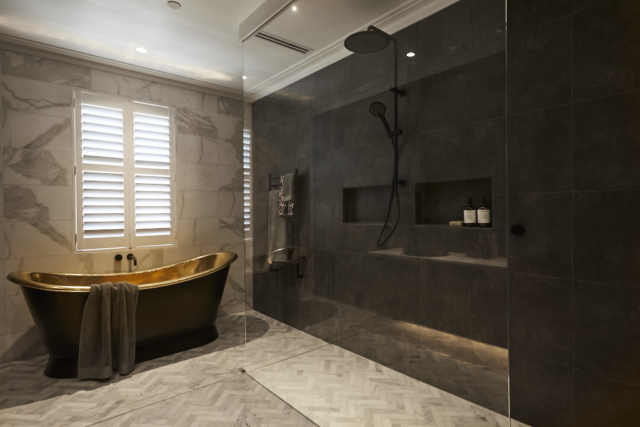 Shaynna loved the herringbone tiled floor. But then it all started to go downhill. Neale said the bath was a risk-taker but didn't think it belonged in that bathroom. The rest of it didn't feel like it worked and it wasn't coming together for him. He found the tiles very drab. John said three dark walls was hard to come back from and it was too much black overall. Shaynna agreed and would suggest that they overlay two of the walls with white tiles.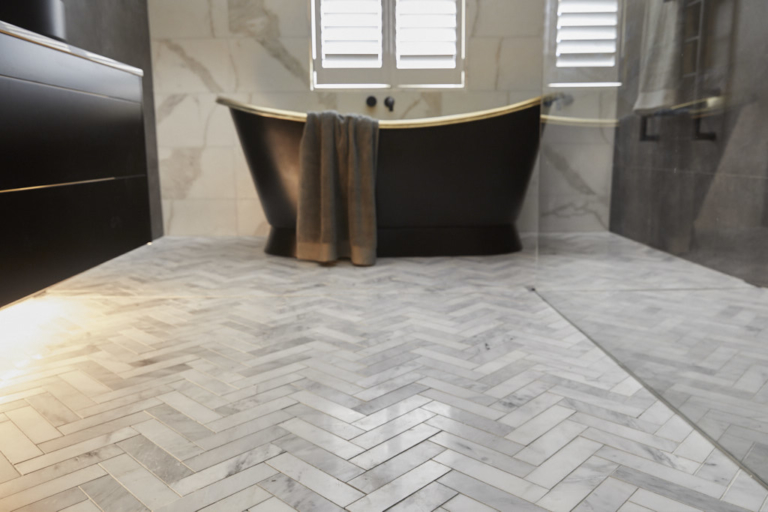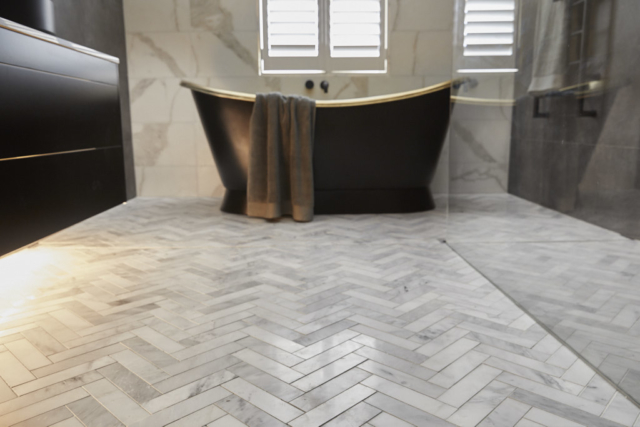 Neale said he felt like he had to like the bathroom because of the bath. But he still didn't! Shaynna offered to spend some time with the couple one on one to discuss their future apartment and the other couples (clearly feeling bad for them) generously agreed to let them.
Our pick to buy: THAT bath (if it floats your boat) and Triumph and Disaster toiletries
NORM AND JESS: 4th
It might be the smallest ensuite on The Block, but Norm and Jess made sure their space had impact, choosing a stunning four-metre piece of marble for a feature wall. They matched this with a marble vanity top and beautiful simple tile choice, producing what Neale thought was "a small bathroom punching above its weight."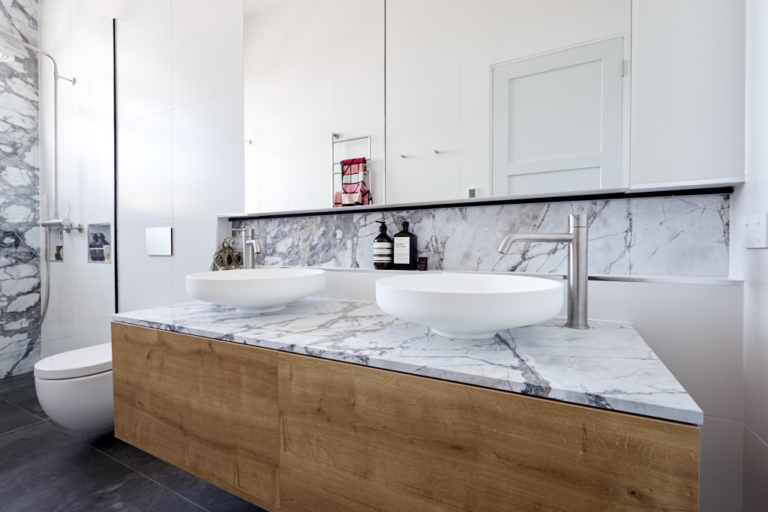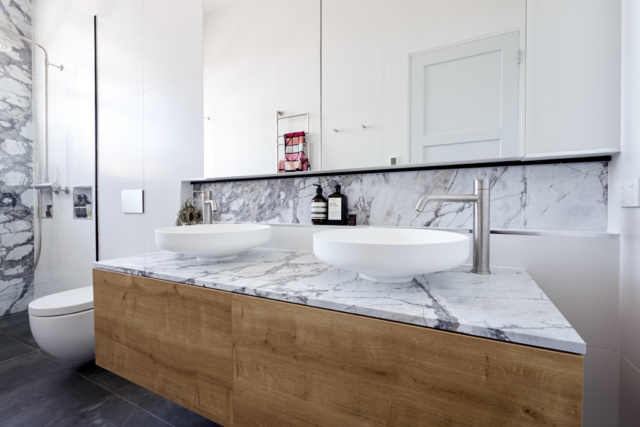 I really liked what they did in this small space and loved many of their choices. John said it didn't have the sense of luxury because it was small but it made a great first impression. All the judges loved the marble. Shaynna however felt the scale was wrong and it didn't need two basins. The lack of shower door also made  it impractical.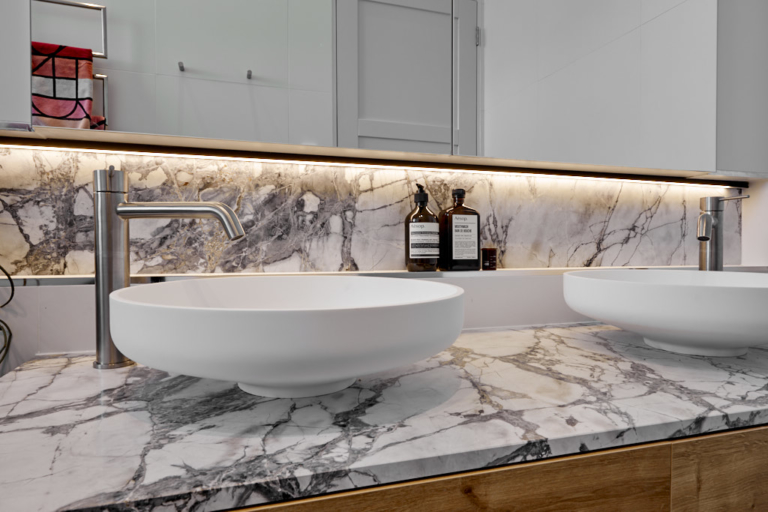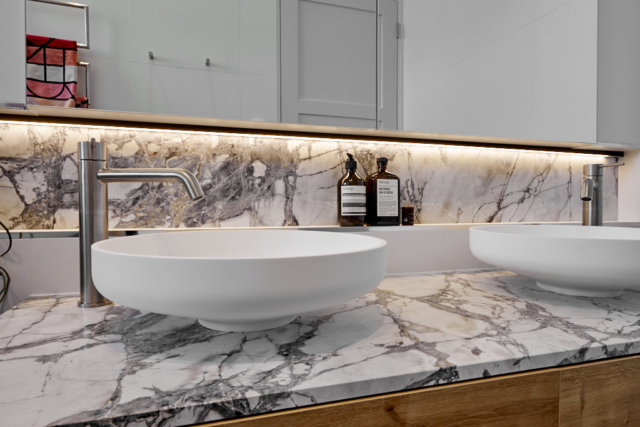 Shaynna couldn't understand why they would have a black trim on the shower glass when nothing else was black. And the brushed chrome next to polished chrome looked cheap.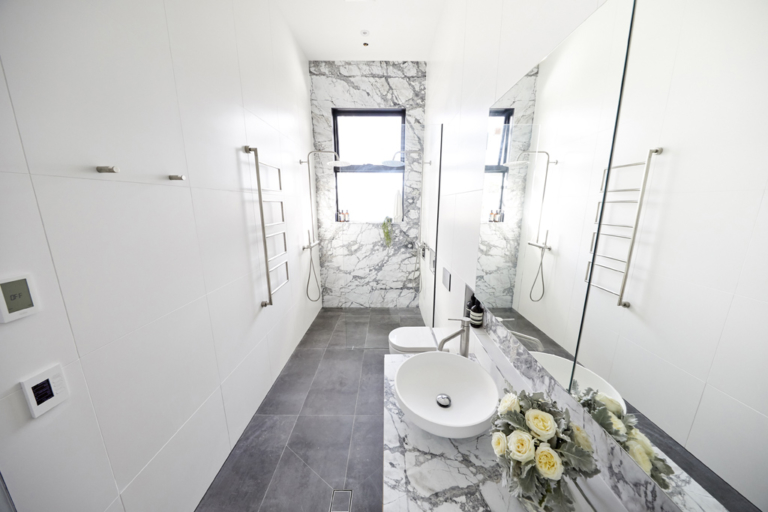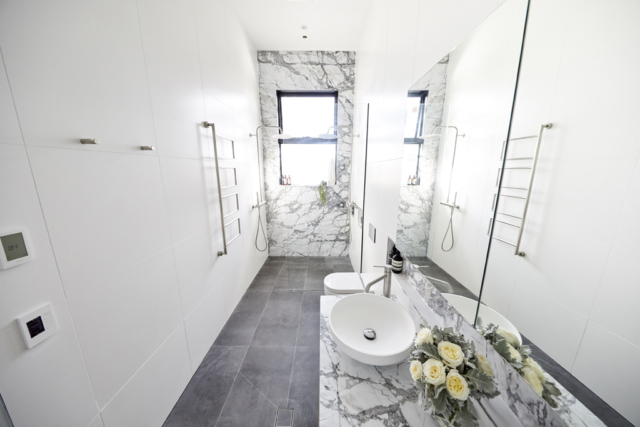 John said overall they'd started with a good palette and had a good feel. He and Neale thought they had done nothing which would cost them buyers.
Our pick to buy: Omvivo timber vanity from Reece.
BIANCA AND CARLA: 2nd
If Kerrie and Spence hadn't used their bonus point this week, the girls up in apartment five would have walked away with another win for their stunningly executed ensuite, which featured another, albeit smaller, marble feature wall, a custom-made vanity, double sinks and a gorgeous stone bench top.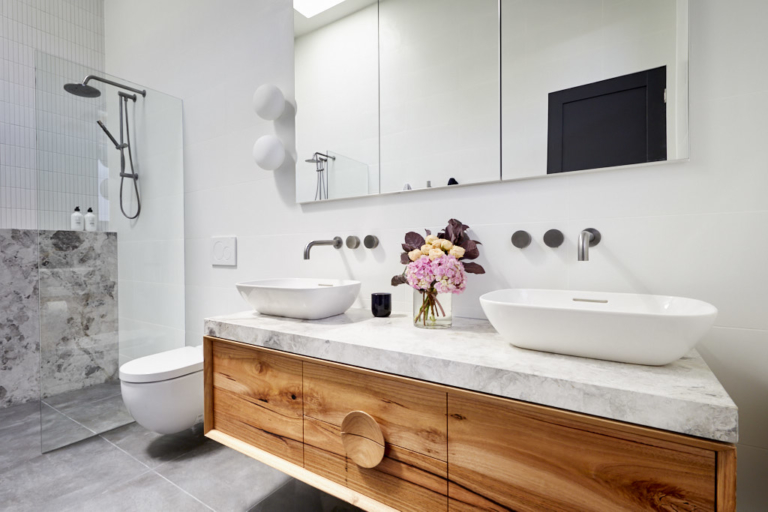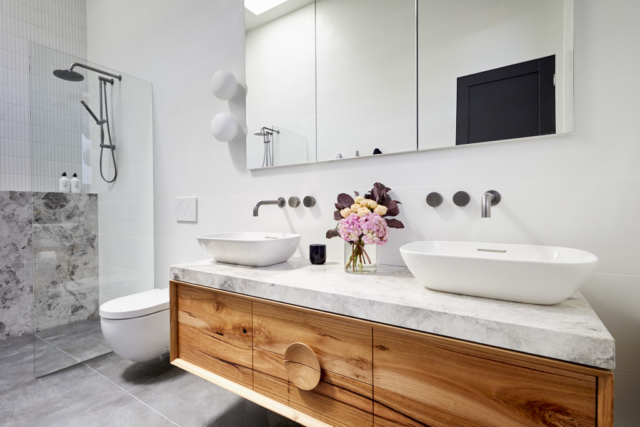 Shaynna and Neale were immediately in love with the stone bench top and the timber joinery. They also loved the long shelf on the marble in the shower.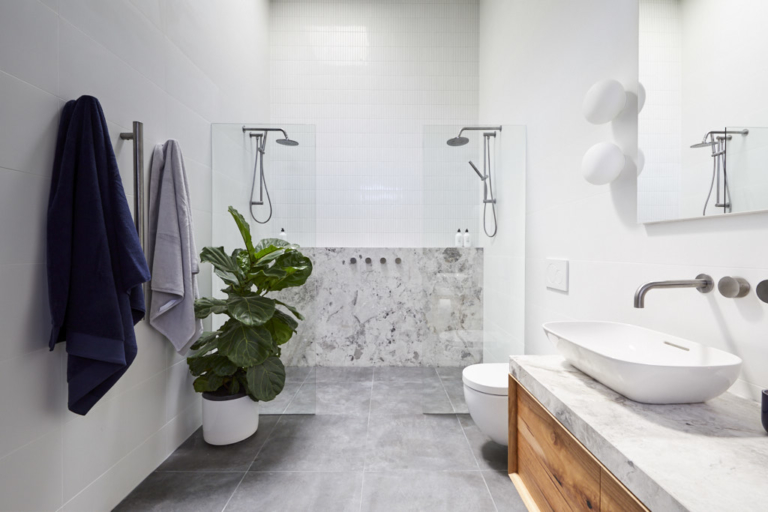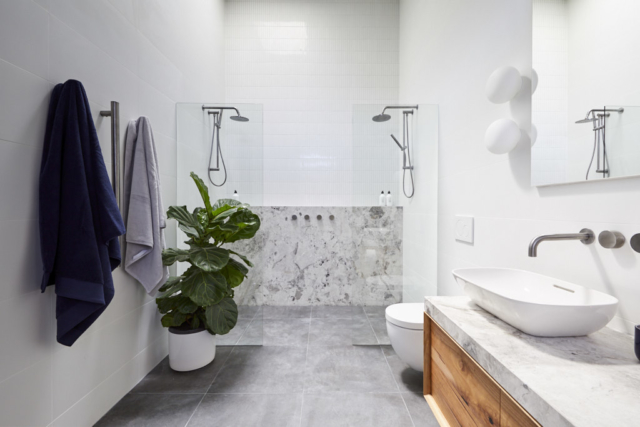 John said the palette was very complementary. Neale said the styling was less is more and the girls really understood luxury.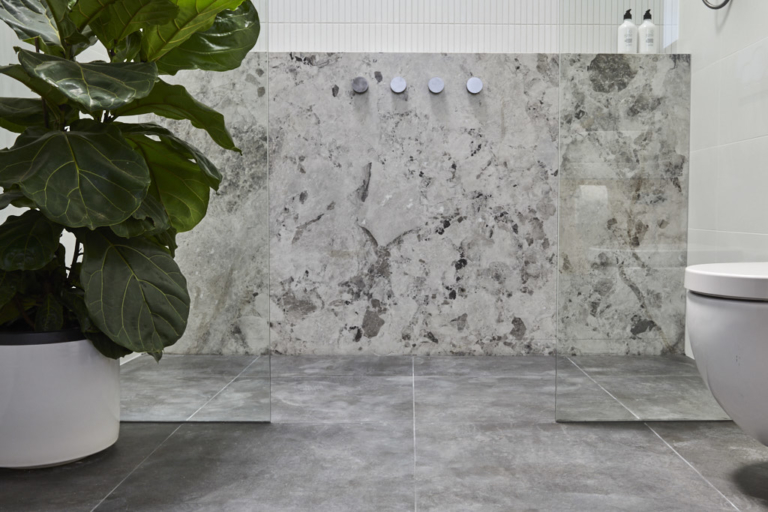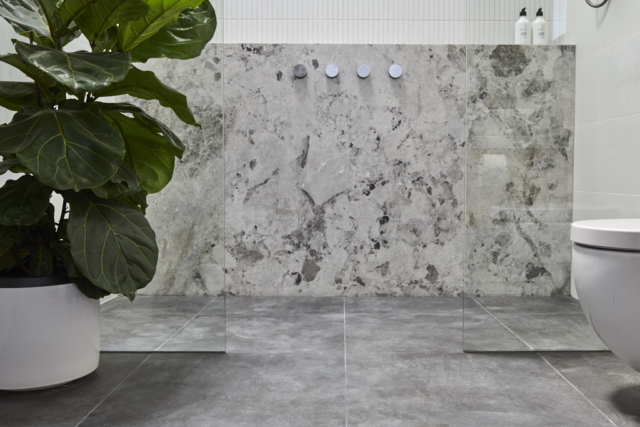 Then Shaynna noticed the strip drain and said it looked seamless but getting hair out of it would be a nightmare. John said the room was pretty close to flawless.
Our pick to buy: Custom timber vanity by our favourites, Ingrain Designs
What did you think? Are you annoyed Kerrie and Spence won due to using their bonus point? Was the girls' bathroom your favourite? What about that brass bath? I'd love to read your comments below!