How good was it to be watching the first proper room reveal last night? Loved it! Loads of renovating to watch, just enough drama and rookie errors, and some pretty impressive rooms (although there were things about most of them I'd personally change). But for so early on in the competition? Well done, I say!
BIANCA AND CARLA: Second place
My favourite! That timber ceiling! Loved it! That feature wall! OK, it fell down a little on storage but they should have won, right?! They only lost by half a point mind you.
The judges loved the feature wall. "This is heaven," said Darren. "Holy cow, that's two big slabs of natural stone. That's a massive decision." He said he was seeing big risks that had paid off in spades.
The frosted window offended Neale. "Peel that decal off ASAP because it's really spoiling this beautiful bathroom!" Agreed!
Shaynna said they were going for a corporate St Kilda market and they were onto a winner. The timber vanity was beautiful. And Darren spotted the speakers inside it.
They all agreed there wasn't enough storage and no face level storage (why hasn't everyone learned this from previous seasons?!).
Darren said he couldn't wait to see the rest of the apartment if it continued in this direction.
My pick to buy: The Northcliffe vanity by my friends at Ingrain Design who did the vanities for my old apartment bathroom. I'm still mourning them… And their Jersey timber stool.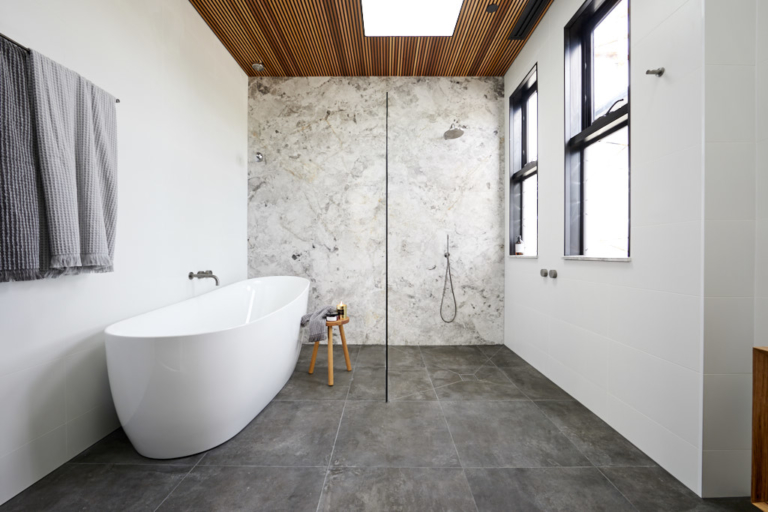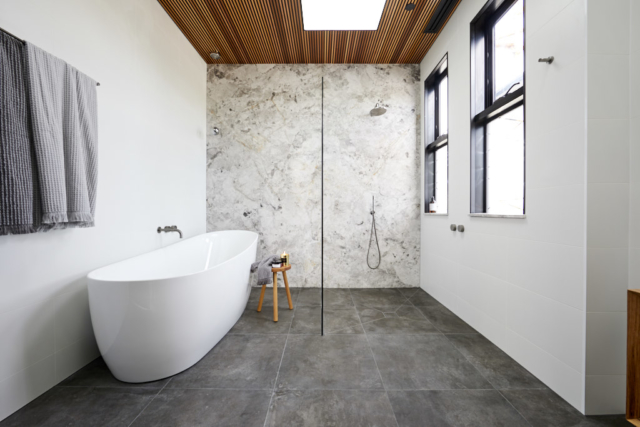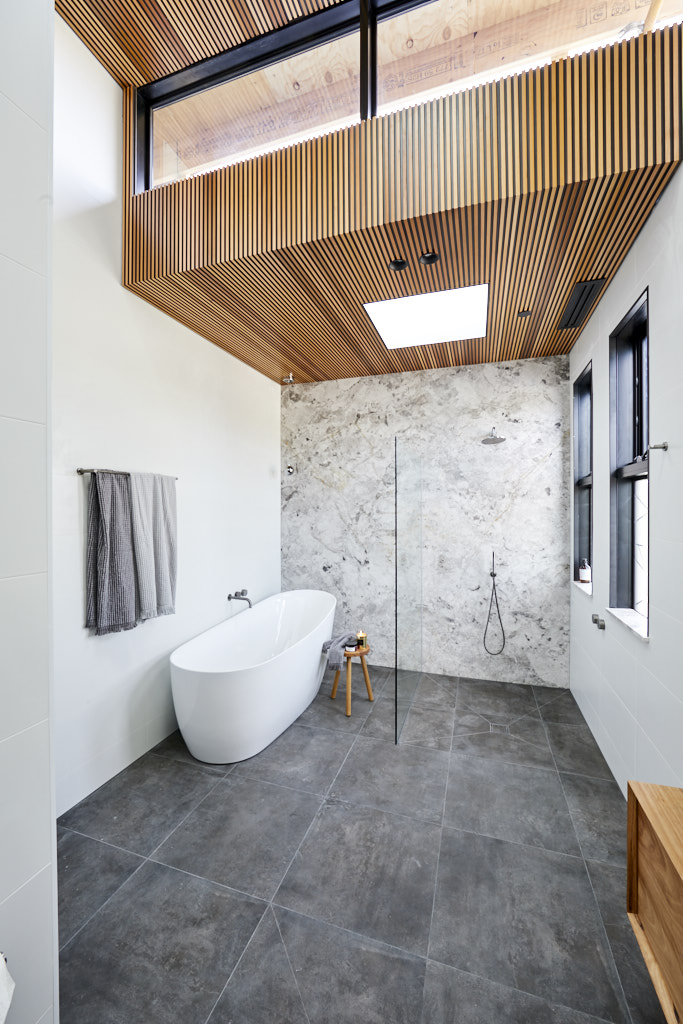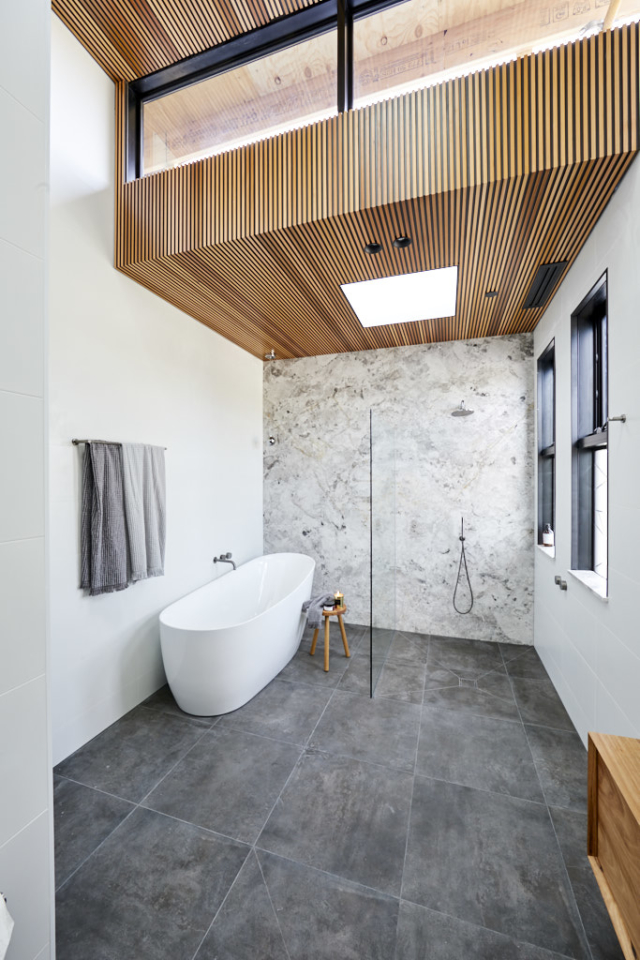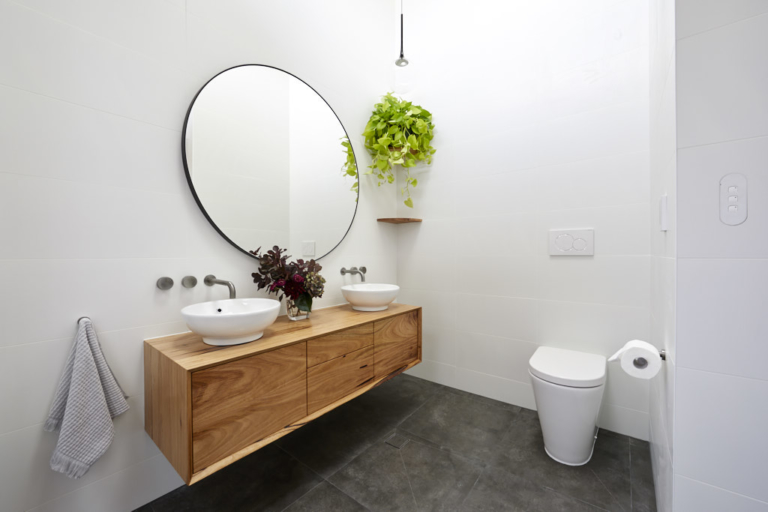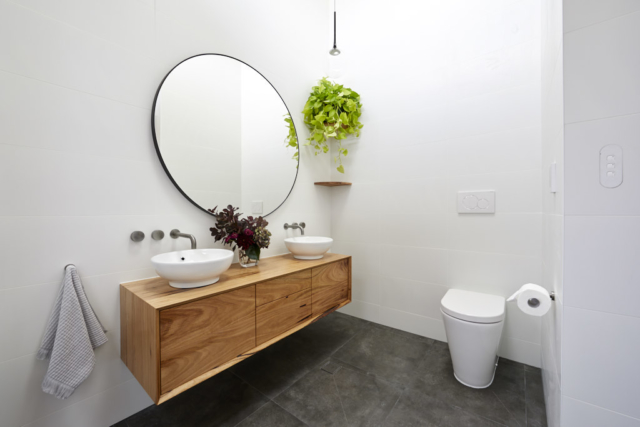 COURTNEY AND HANS: First place
OK, OK, it was a nice faux terrazzo floor and there wasn't much to fault but did it really deserve first place?! Even my husband was saying "come on, where's the contrast?!" The judges however, obviously thought differently!
Darren said "Well, that's more like it!" All three loved the terrazzo-style floor tiles. Darren liked that it was faux terrazzo which made it much more practical. Neale said the floor choice was exactly the thing to elevate the room. "They're doing a contemporary take on the original heritage of the building."
Shaynna said it was incredibly functional and the bath and vanity were inexpensive but didn't feel cheap. Darren liked the double vanity. He said the perimiter-lit dropped ceiling was a real success. And I have to agree, that was fab.
Shaynna liked the touch of personality from the quirky pot (jury's out there for me!) and the hanging plant which stopped it being a big, white, clinical box.
Neale said whatever happened to them last week they hadn't let get to them and they had delivered to a high level this week.
My pick to buy: Terrazzo soap by Fazeek and Rokha stool. We're still waiting on the tile details…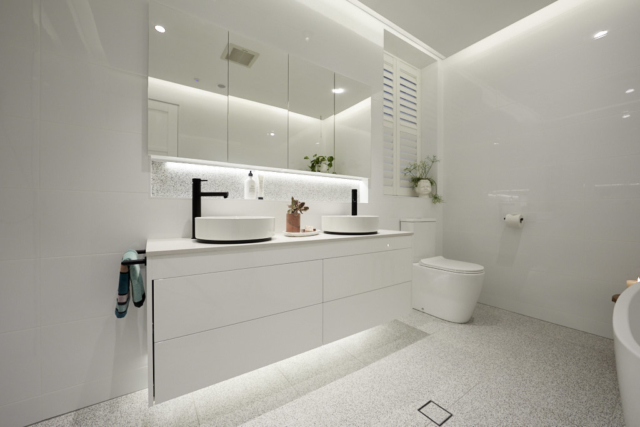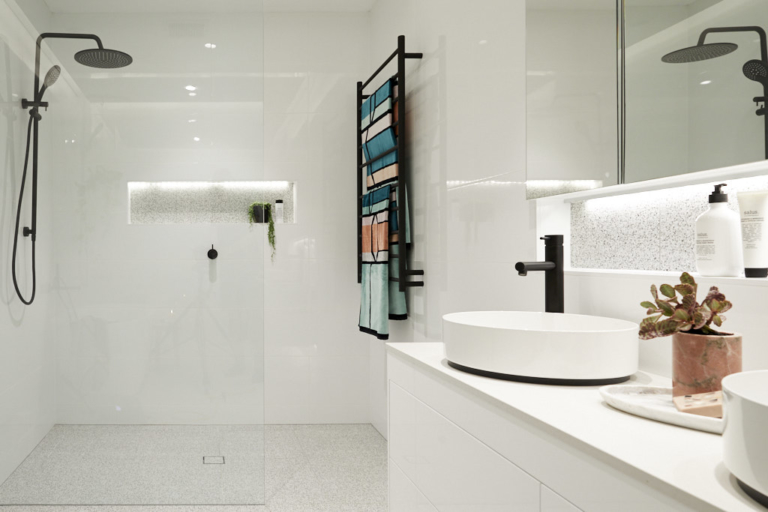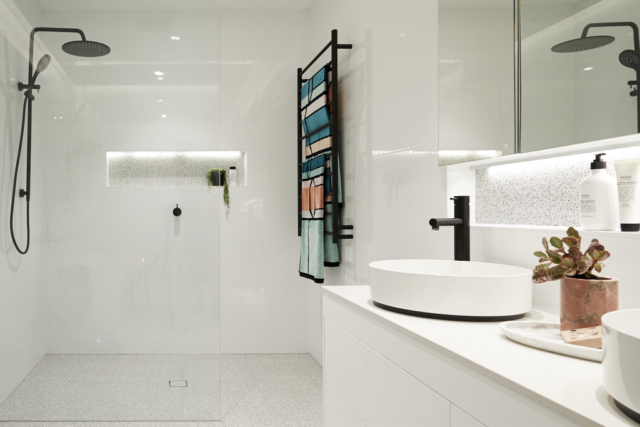 HAYDEN AND SARA: Last place
That green wall! I hated it! Eeesh. But I loved a lot about it. I'd have to remove that green wall though. And I wasn't alone in that view!
Neale walked in and said: "I'm not liking anything I'm seeing in here. I feel like this bathroom is not big enough. This thing (the green wall) behind me feels like two other people. It feels so over the top. It's just an ugly choice."
Shaynna said it was very weird styling. Neale said it was not high end and he found it quite dated. Shaynna said there were too many heroes (brass, tiles, green wall).
Darren said  he was feeling concerned looking at the very heritage feel of the lights and cornicing. Did they choose this apartment because the top floor was too modern for their plans?
Neale said you've got to know what your style is and who your buyer is. "I was expecting great things today and I'm disappointed."
My pick to buy: Scala tumbled brass tapware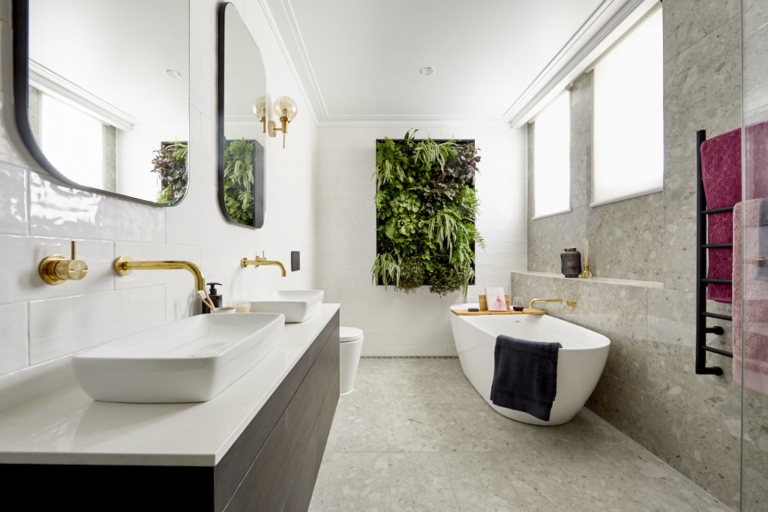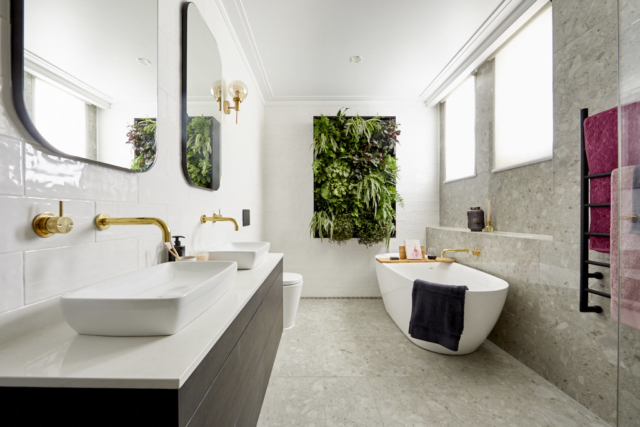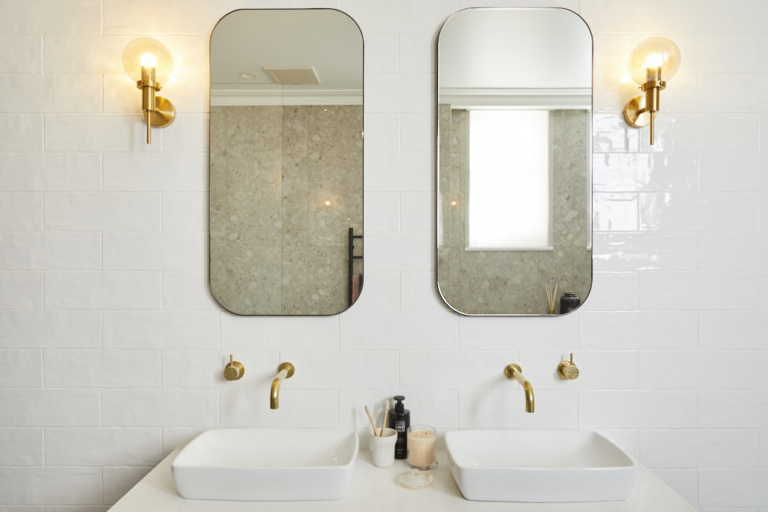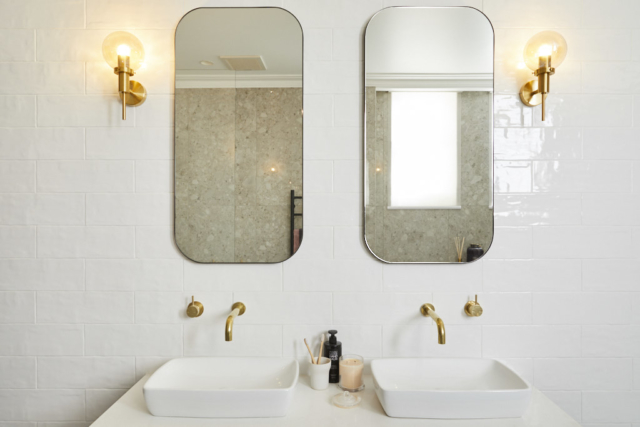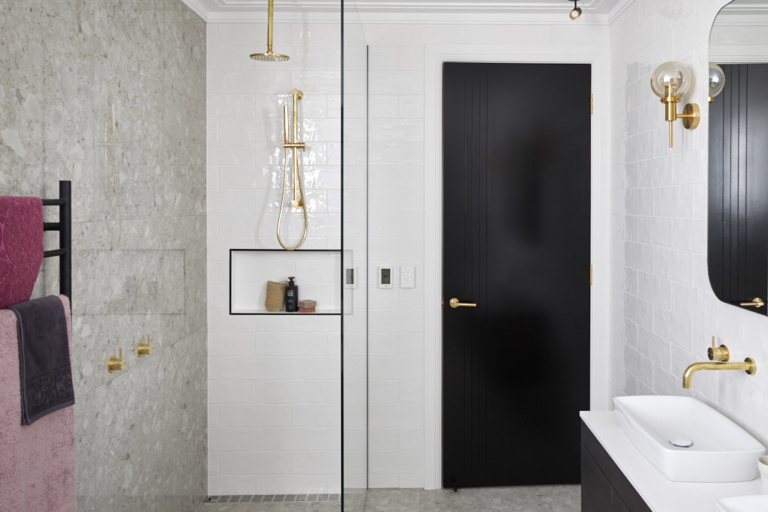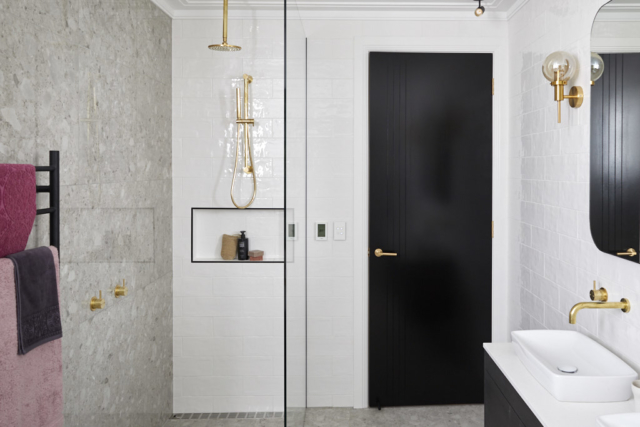 KERRIE AND SPENCE: Fourth place

Spence took on the lion's share of the building work this week, almost having a nervous breakdown in the process! They pulled off a great room (tiling aside) but maybe get a little help next week, eh?!
I loved the open and airy layout and feel of the apartment but the tiles and fittings weren't my favourite. It was all a bit too… basic? Well executed, very functional and practical; inoffensive but just a bit meh. The judges were on the same page.
Shaynna thought the quality of the room was amazing with "absolute knockout execution". It didn't feel hurried and was clearly done by perfectionists. Oh, the irony!
Neale said it was light, bright, spacious and functional, but very polite. He said he'd like to see them take a little bit of risk every now and again.
Shaynna and Darren loved the ample storage. Shaynna was also first to notice the floor and wall tile lines being out, saying it would drive her insane. Neale said he wished she hadn't pointed it out because now he couldn't stop seeing it!
(Tradies weigh in on the tiling stuff up)
Darren said it wasn't memorable enough and he would like to see them up the luxe factor.
My pick to buy: Erroll curve rectangle mirror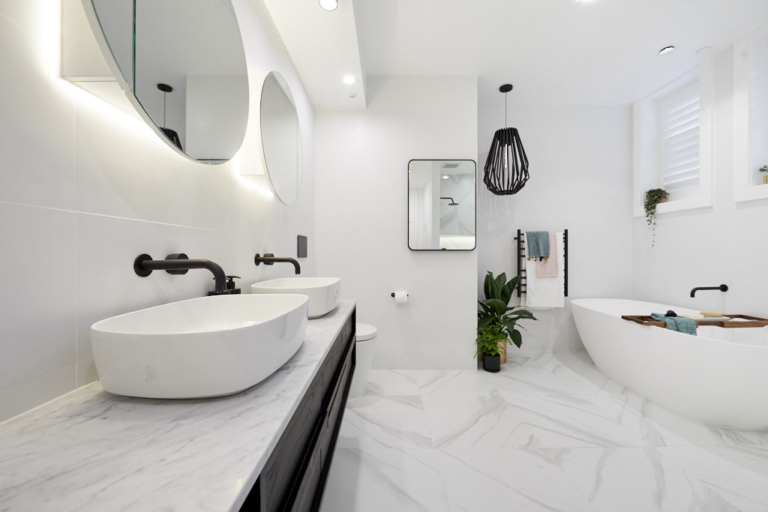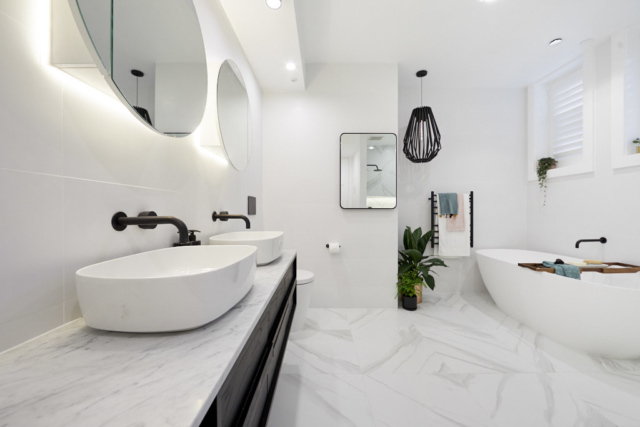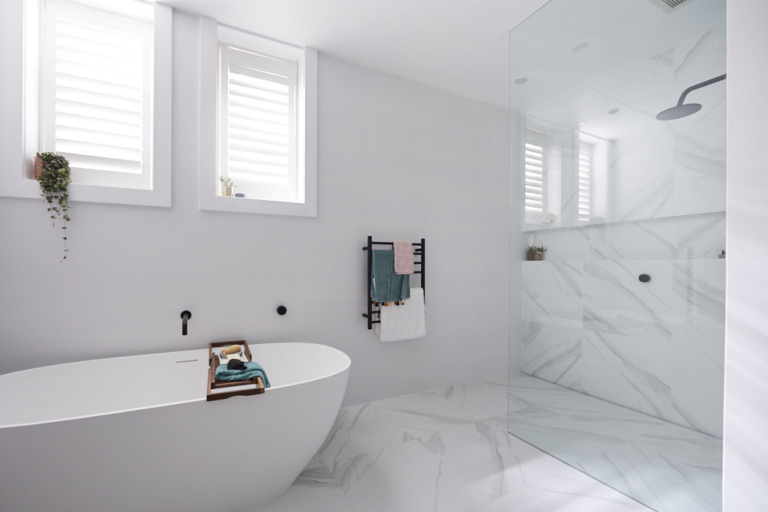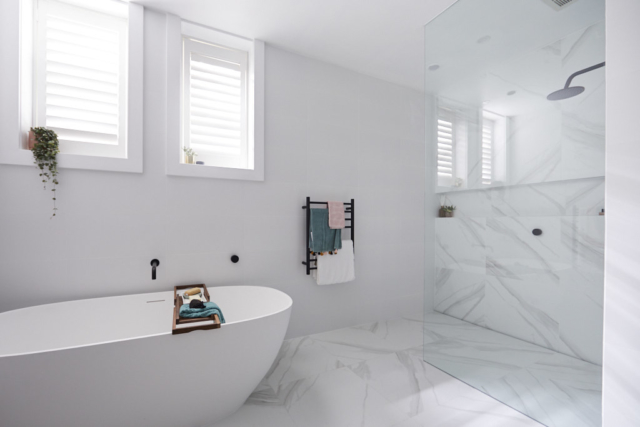 NORM AND JESS: Third place
Darren loved it, asking how could you not choose this apartment?! "Norm and Jess came second last last week but they've got the best apartment here!"
Neale said the bathroom had the luxury of extreme height. Darren said the Japanese maple was his favourite tree ever and Neale thought it looked stunning.
Shaynna loved the backlit marble in the niches and the simple styling; just the right amount. Neale said the level of sophistication was just next level.
Take that, any of you doubting the Queenslanders!
Darren realised the bath was plastic (which they hadn't! Seriously, how?!) but said: "It looks a million dollars." Shaynna said you'd never know. "It was a very clever and smart solution."
Oh, you've got to laugh!
She said they'd got the visual impact 100% but there were some functionality issues. The towel rail was too close to the vanity and there wasn't enough storage.
Overall, the judges said they'd thought about their buyer and that buyer would definitely want their bathroom.
My pick to buy: Concrete mirror by Nood Co.
Get the look with this grey terrazzo stone (this one's the real deal!) bath.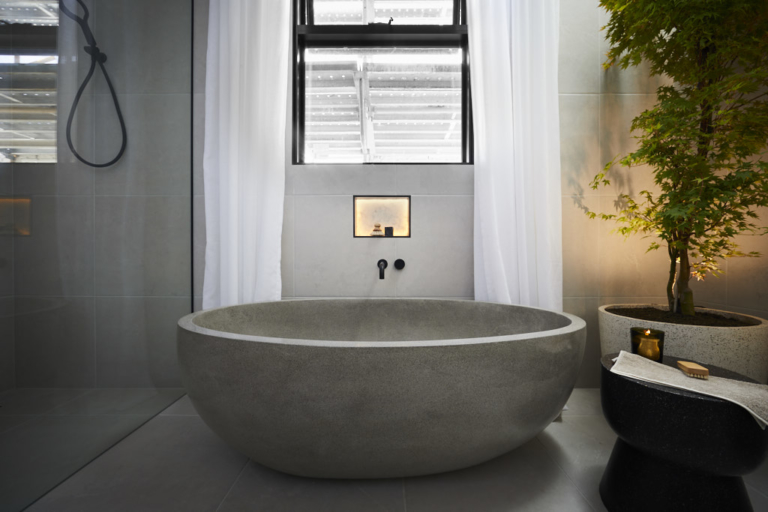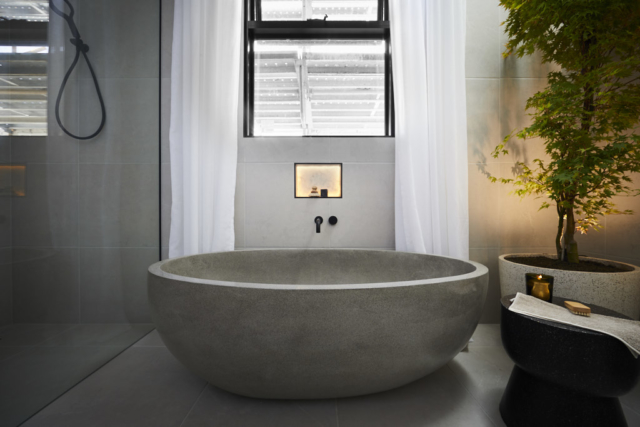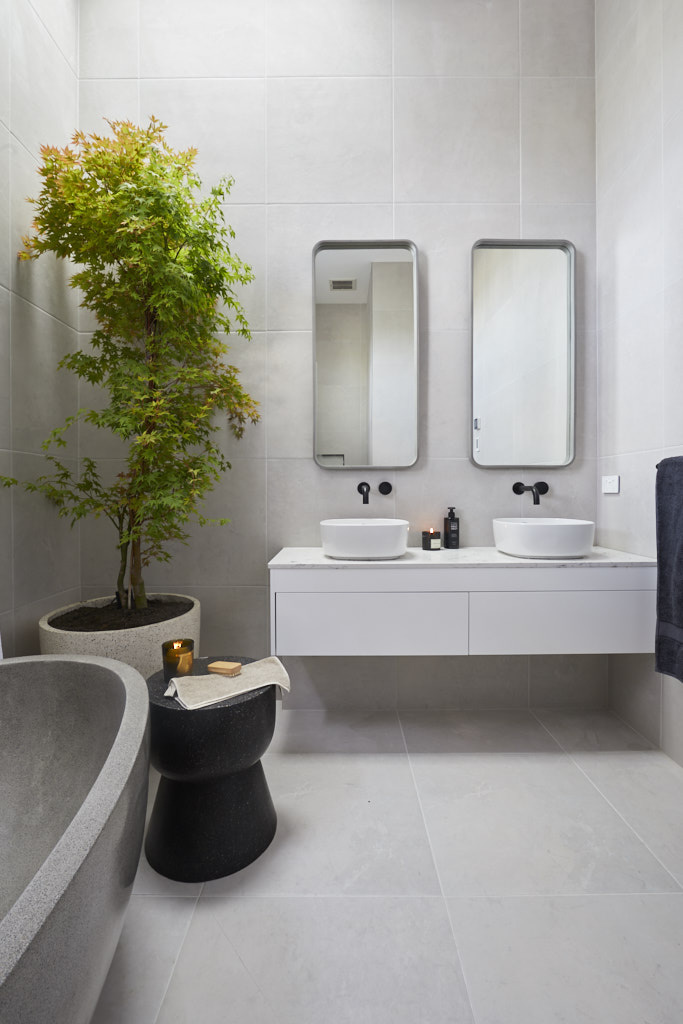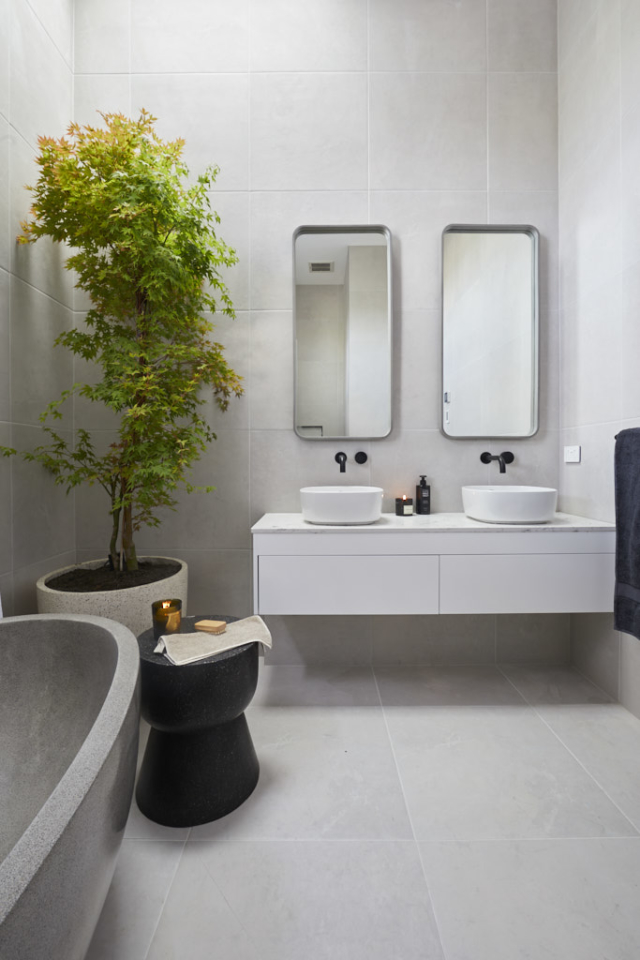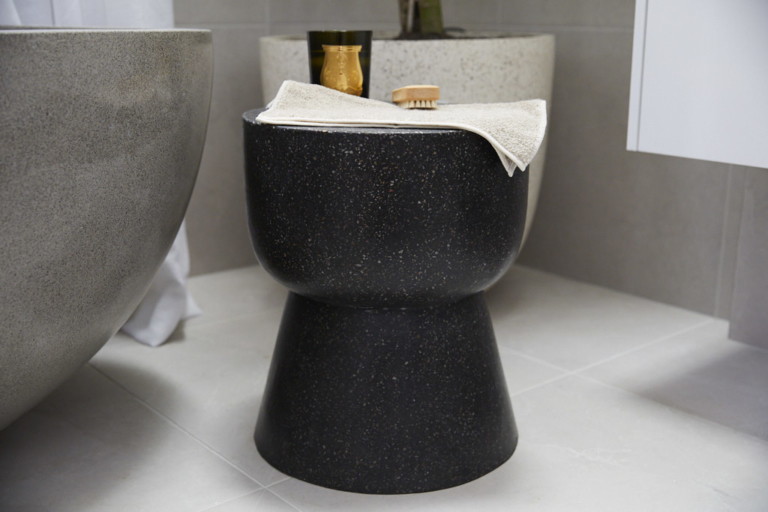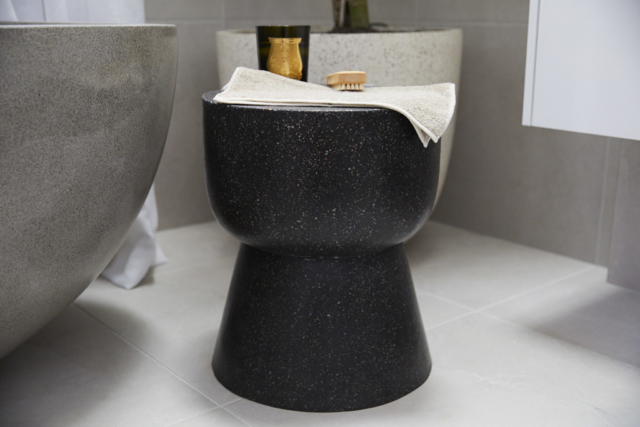 What did you think? Did the right couple win? Are you enjoying this season so far?
Can you really use timber in a bathroom?