It's been a long road to get there, but after months of working inside their homes, it was time for The Blockheads to head outside! Their first challenge was their backyards, which for most meant an army of landscapers working around pools, outdoor entertainment spaces and elaborate garden designs. And with garden guru Dave Franklin joining the judging panel, winning would be no easy task.
Steph and Gian (First place) 38/40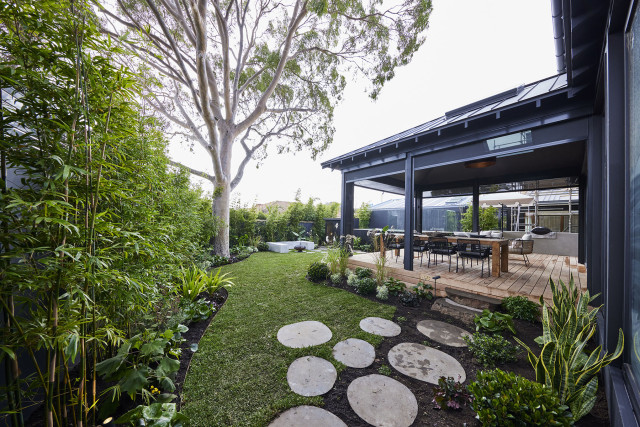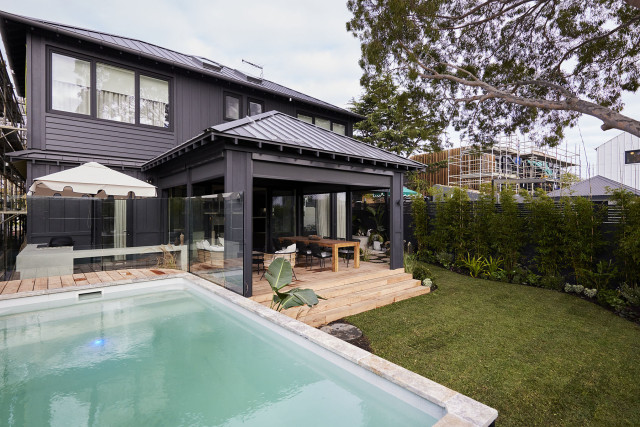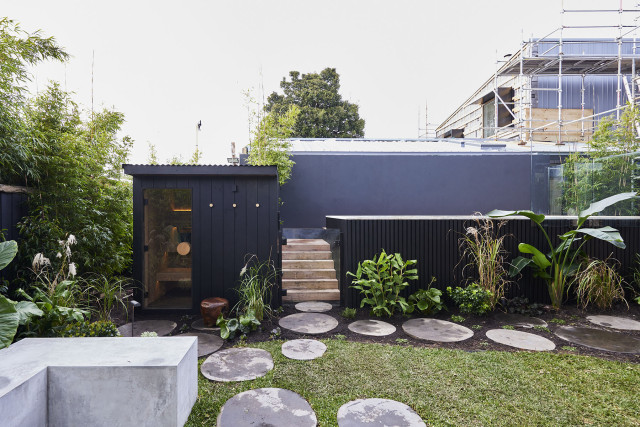 With its roll down awnings creating a whole new room, Gian and Steph's outdoor entertaining space is a game changer for the couple, the judges agreed. And beyond, Dave said, was a garden that showcased the importance of zoning, with its BBQ area, a dining room, firepit and pizza kitchen plus a pool and sauna. "It's like a wellness retreat!" Shaynna decided.
Combining round steppers, volcanic rock, timber and glass, this is a garden that could help House 4 break records for the suburb, Marty added, rounding off the universal enthusiasm all judges felt. Only the sloped concrete and a lack of heating let the space down, and otherwise it was, Dave said: "An almost perfect backyard!"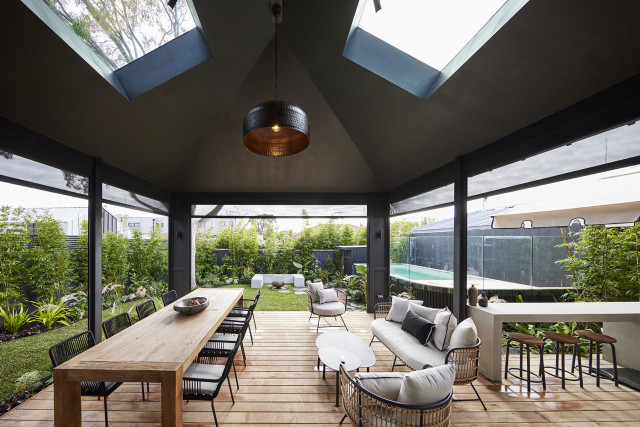 Get the look: 3 piece Arden bamboo wicker outdoor lounge setting ($2515)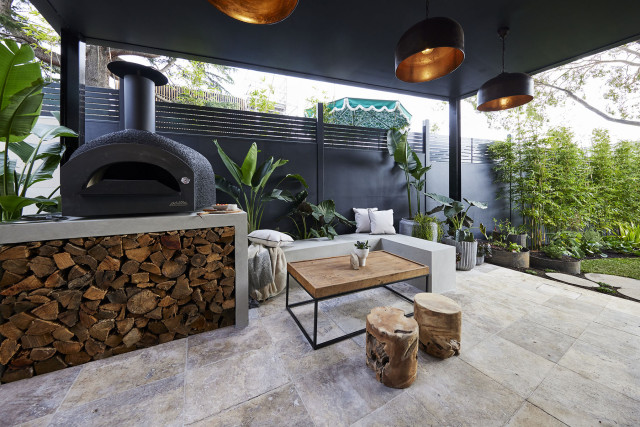 Leah and Ash (Second place) 37.5/40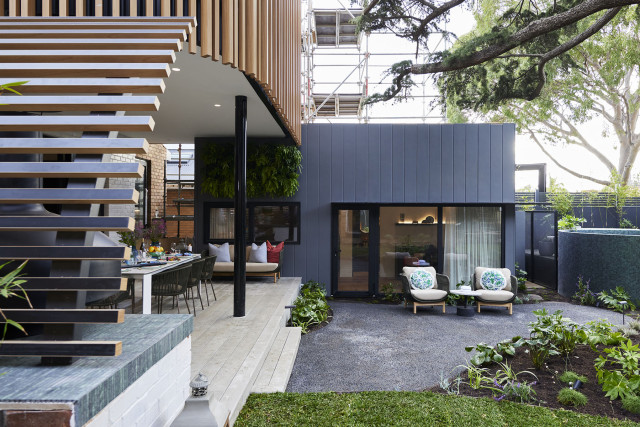 "Zen, very zen", declared Dave as he walked out of Leah and Ash's home and straight into an outdoor entertainment area with architecturally-designed barbecue area and deck framed by an enormous tree and the studio from week one, all leading to a pool clad in tiles that took his breath away.
With space for kids to play, Shaynna said: "It feels like an adult space that is also very kid friendly," pointing out there are five separate seating areas in the space for when the barbecue is in full swing. Paired with the Knotwood cladding, porous concrete patio and huge Camerich daybed, it's a space, the judges said, that delivers.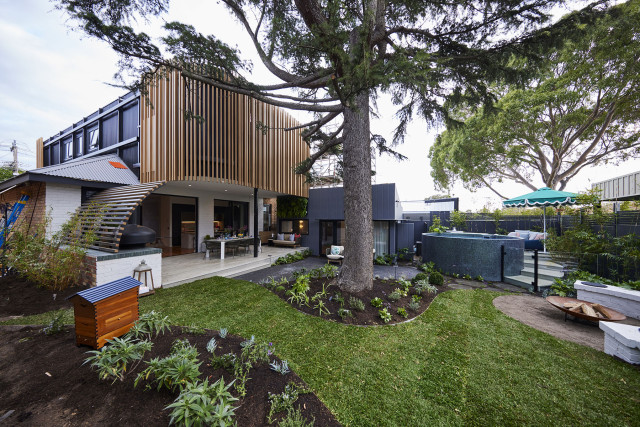 Get the look: Plungie Pool
Kyle and Leslie (Third place) 33/40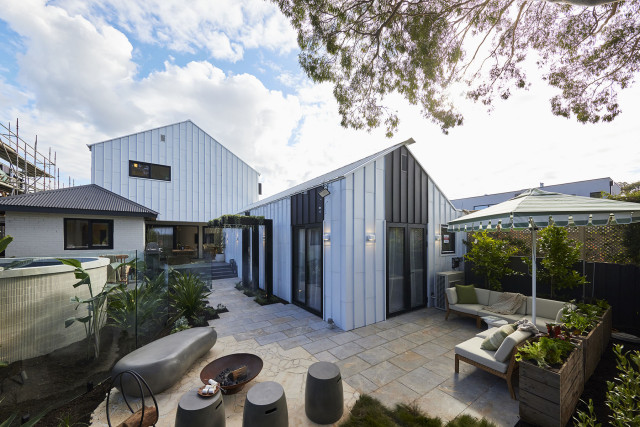 Get the look: The Brighton sage striped umbrella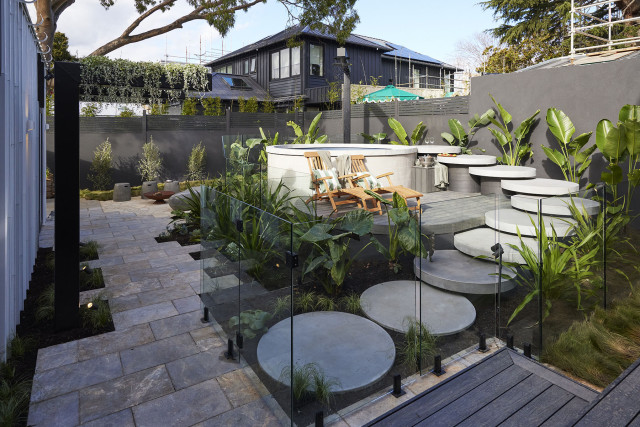 With a massive shower head over the circular Plungie pool, Kyle and Leslie's backyard certainly has the wow factor, Dave said, pointing out how the curves of the stepping stones and pool surround mirror the home's interior in a well-planned way. "This is a front cover!" Dave said when Marty brought up the inevitable sale brochure, noting the execution was spot on, with plants perfectly placed for now and when they grow and two separate seating areas.
Once again, the spatial planning let them down, Shaynna and Darren said, pointing to the pizza oven so close to the kitchen and issues around the veggie garden, but overall, it was "visually stunning".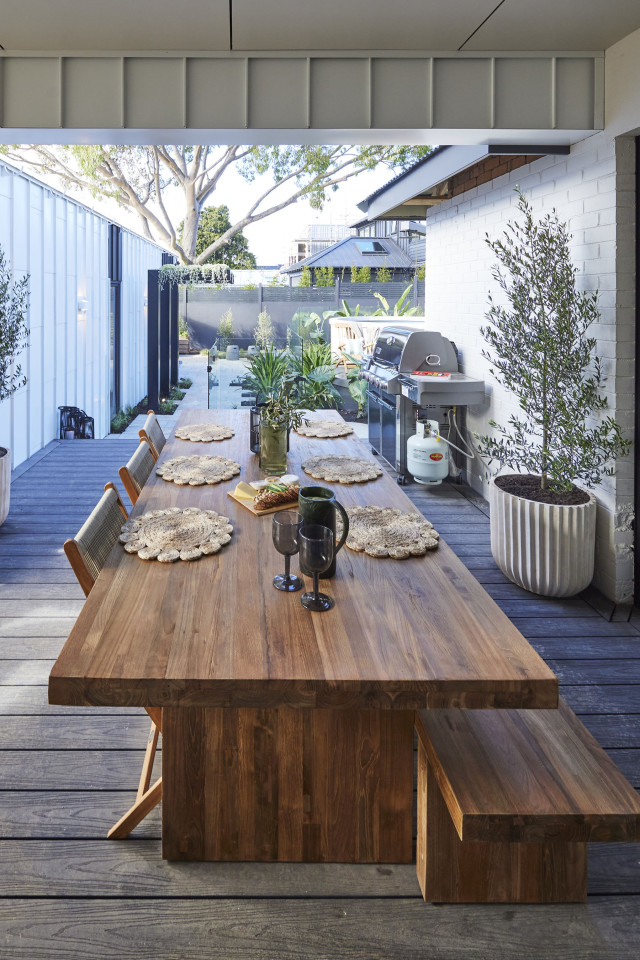 Kristy and Brett (Fourth place) 28/40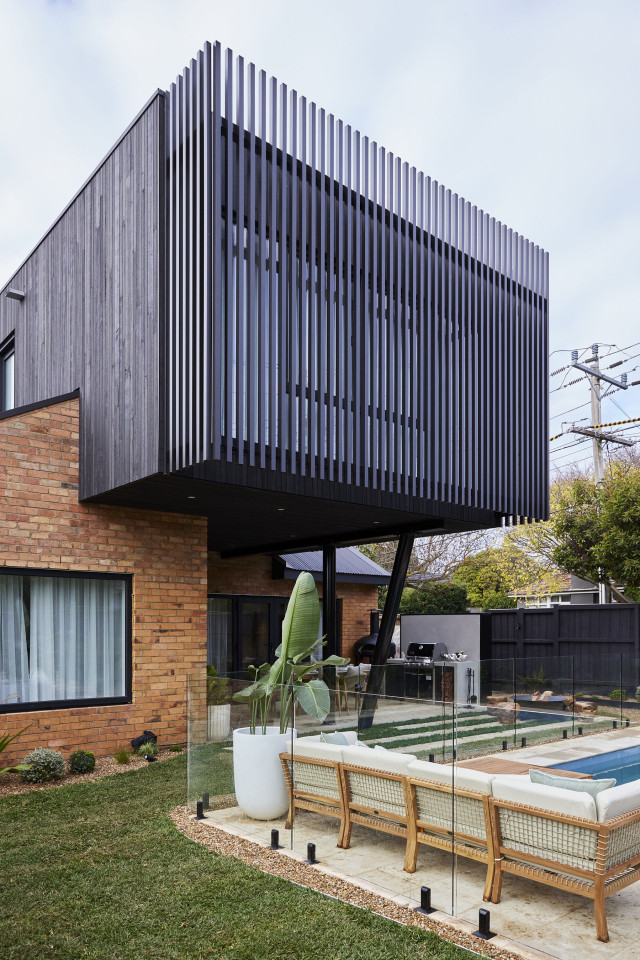 Get the look: Caracas outdoor dining chairs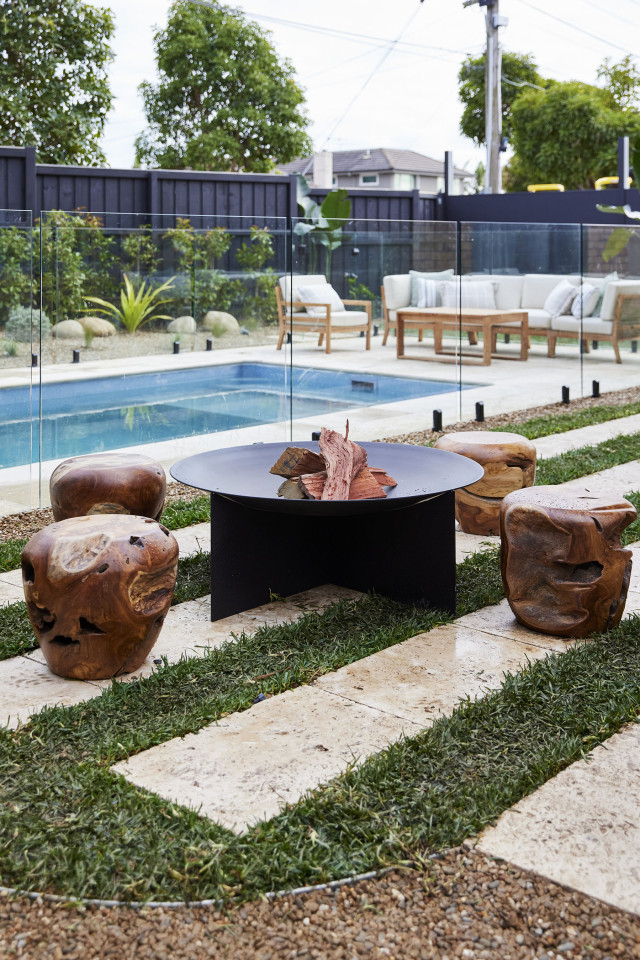 Using a design that gives two outdoor entertainment spaces, Marty declared Kristy and Brett's backyard – at the front of their house – gives them a superpower! But even with its easily-maintained pebble garden Weber barbecue area and porch space for watching the pool, Dave wasn't sold. "This does nothing for me," he said, with a planting schedule that was "a dog's breakfast!" The sheer size of the pool won Marty and Darren back, but Shaynna agreed the hedge against the fence just looked "wrong" while the firepit seating was too tight. "And what's with the fireplace stools?" she added. In all, they decided, much more was needed.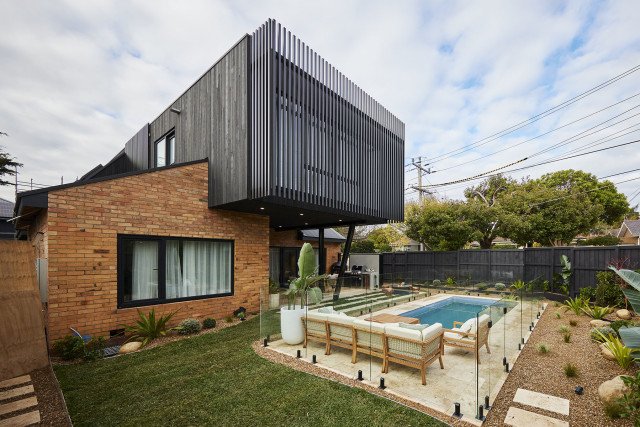 Eliza and Liberty (Fifth place) 27/40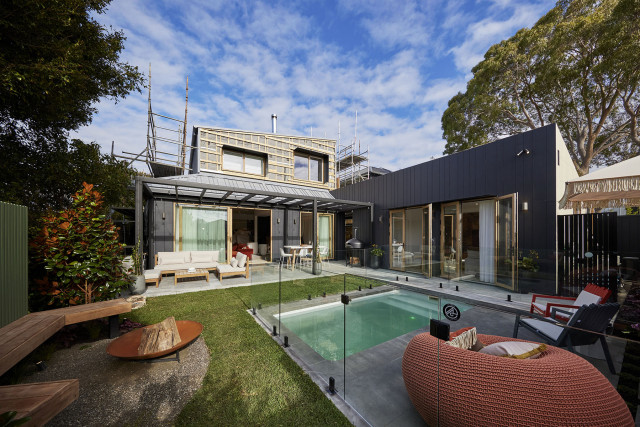 Battling budget and planning problems, Eliza and Liberty's pared back garden design won first impression points for its festoon lighting, but that impression didn't last. The concrete was too much, Dave said, the potted jasmine too little and all agreed the sharp angular design just wasn't inviting.
The firepit area, Dave pointed out, was too low to be comfortable and not deep enough to relax in, surrounded by rushed planting that just looked untidy. Even the undercover barbecue area didn't quite work, Marty said, feeling more like an echoing shed than a poolside retreat. Perhaps some timber decking might help, they suggested, because as it was, something more was needed.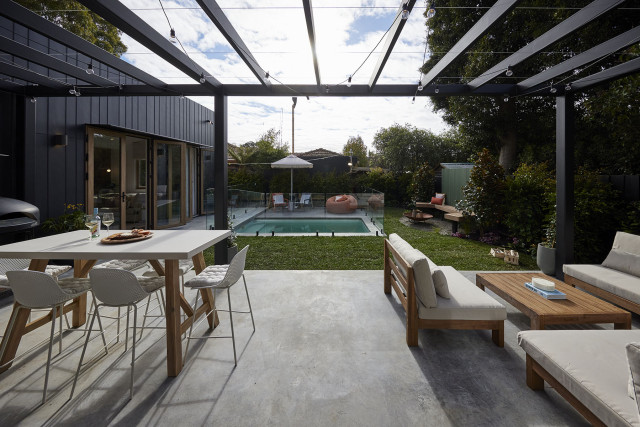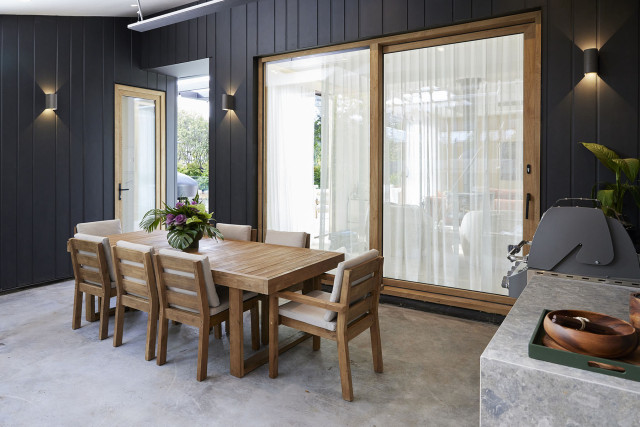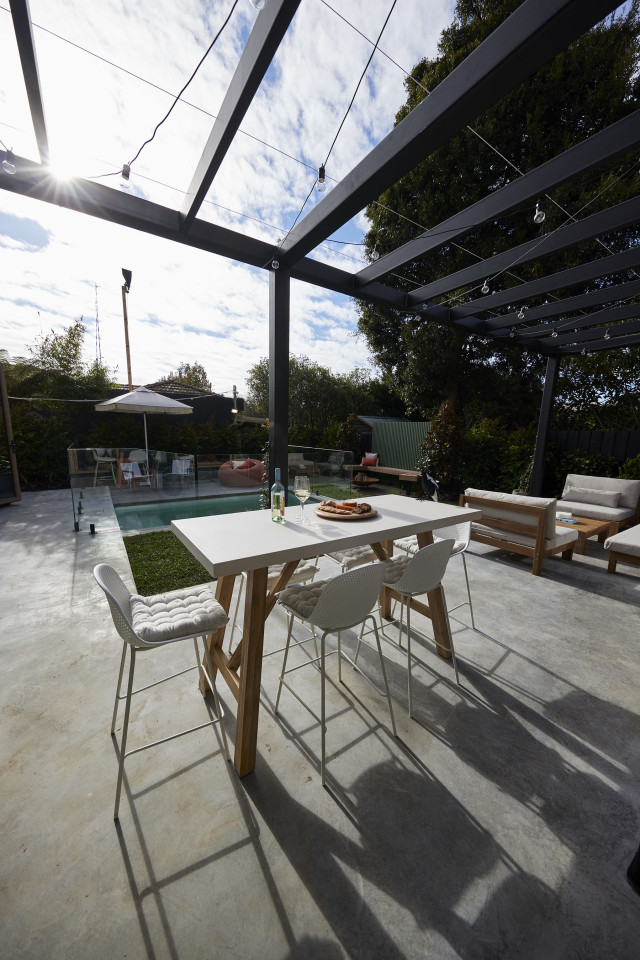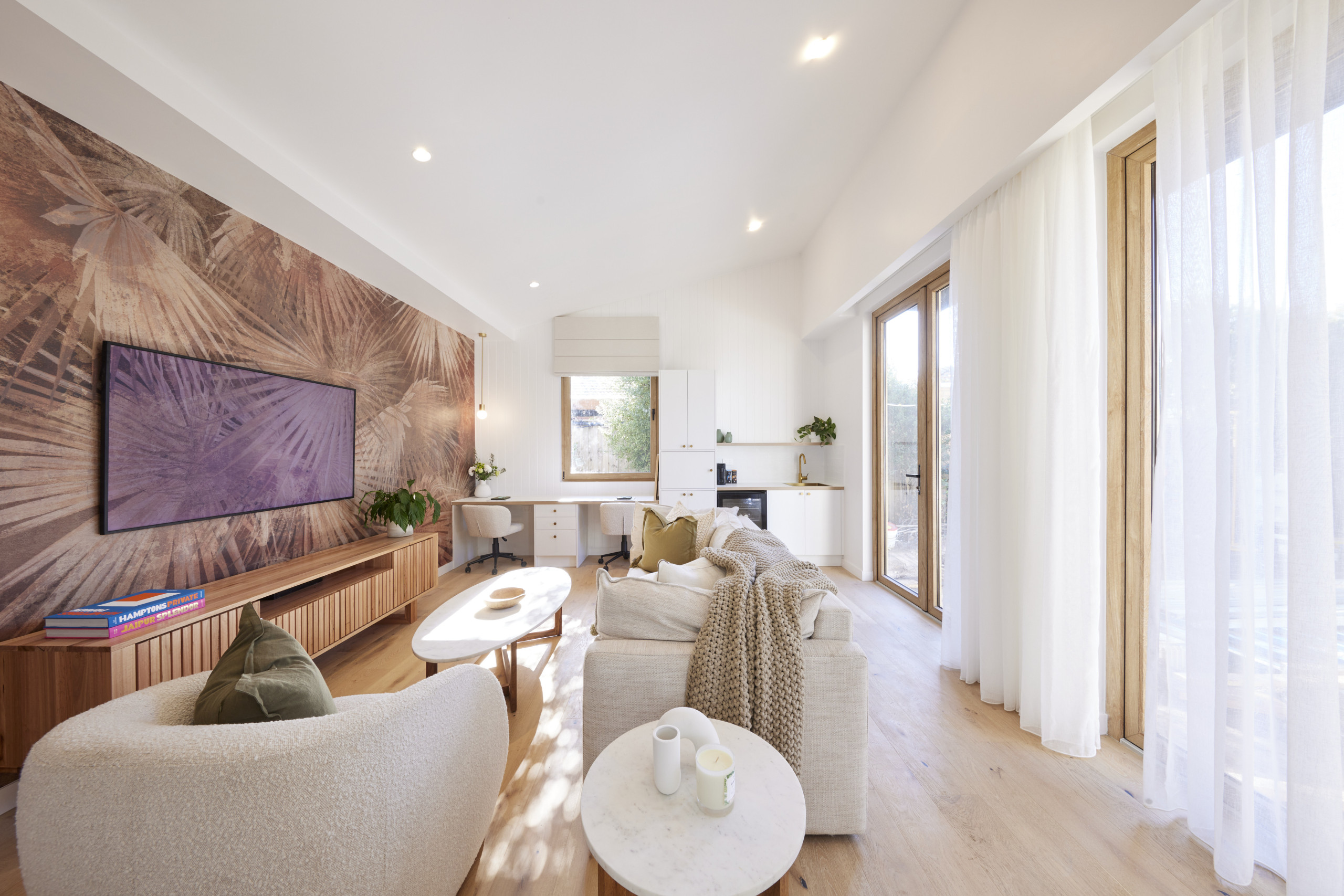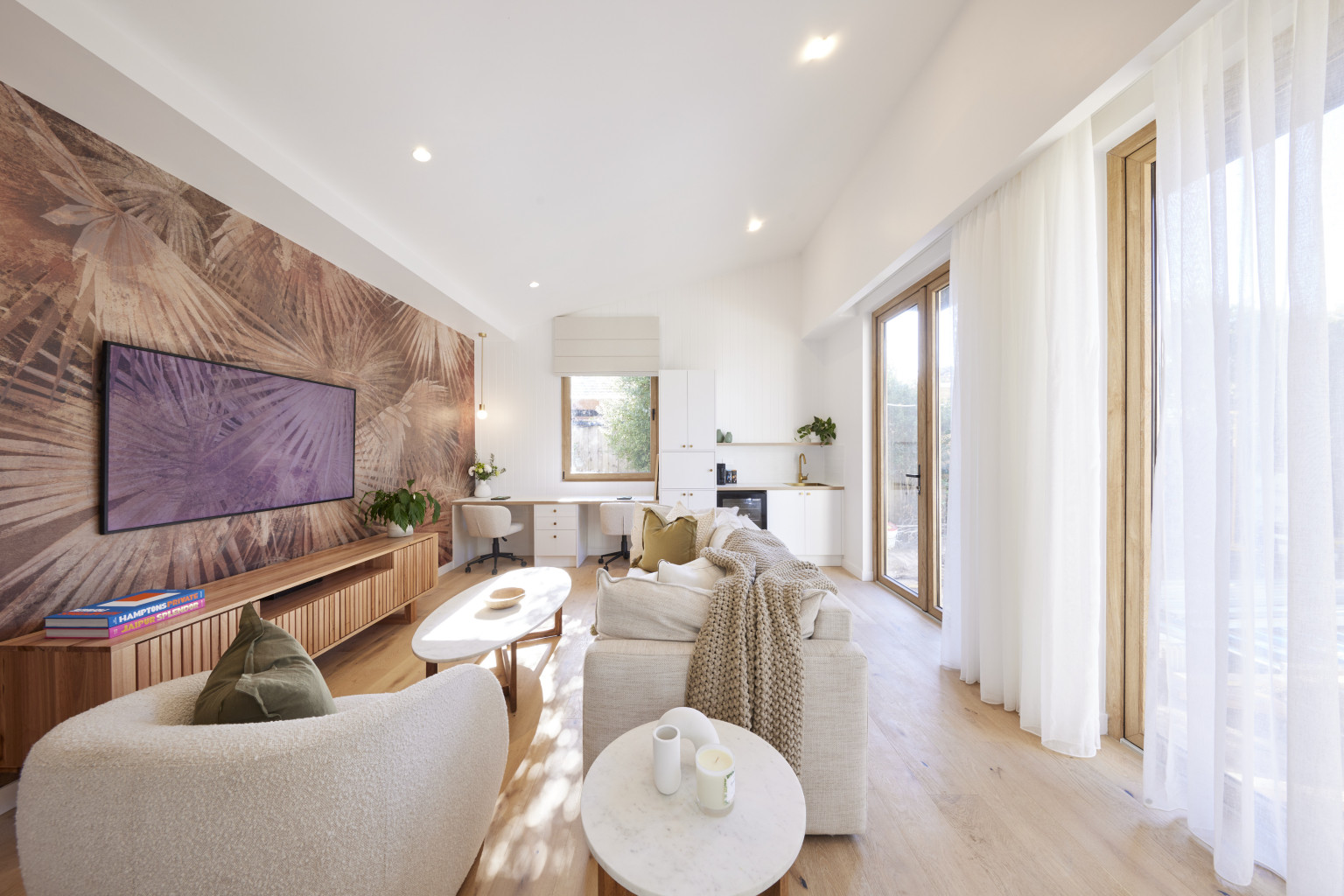 The Block 2023 is almost over as re-do rooms & bathrooms revealed
With The Block homes nearly done, it was time for one last bathroom and the much needed chance for the Blockheads …