It was a mixed bag last night! I started off feeling a bit "meh" about all these guest bedrooms. Let's face it; they're not always the most exciting rooms or best showcases of what a couple can do. They felt a bit formulaic: fancy upholstered bedhead, feature armchair, lots of cushions. You know what I'm saying! But there were a couple I really loved which turned it around for me, and they were Bianca and Carla's and Norm and Jess's. Here's what the judges had to say, what I thought, and what I'd buy…
I was so glad Bianca and Carla won, not just because I thought their room was the best, but because I (and at least half the country!) thought their bathroom should have won last week too! And I love how surprised and humble they were!
Bianca and Carla: 1st place, 26/30
Darren loved that they'd used timber panelling again. "That's awesome." Shaynna also said she loved the roof. Neale had one word: hallelujah! "Somebody has given us a room, finally, that feels modern, luxurious, glamorous and absolutely on brief," he added.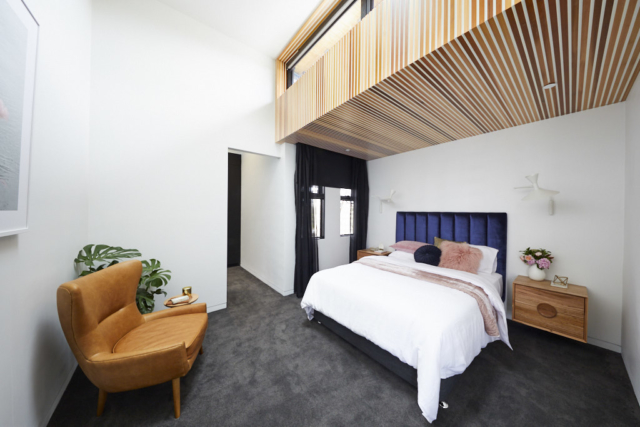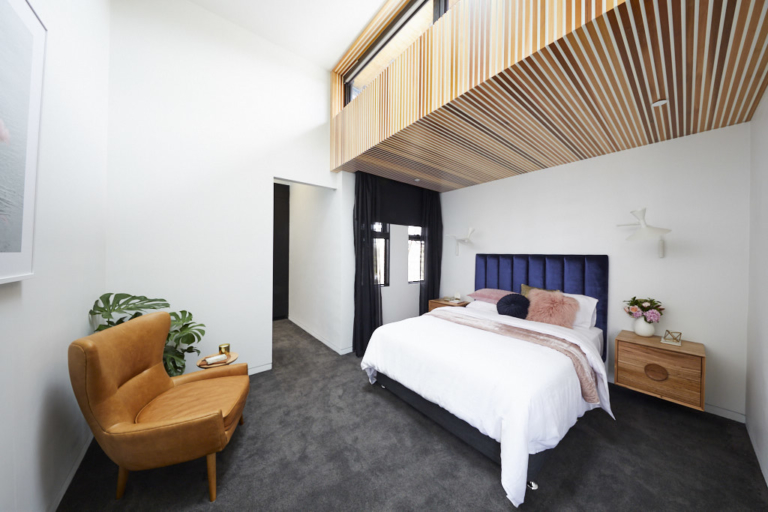 Shyanna said the bedsides were her new favourites ever. Darren noticed they were both floating and underlit. How cool was that?!
Neale agreed it was "next level".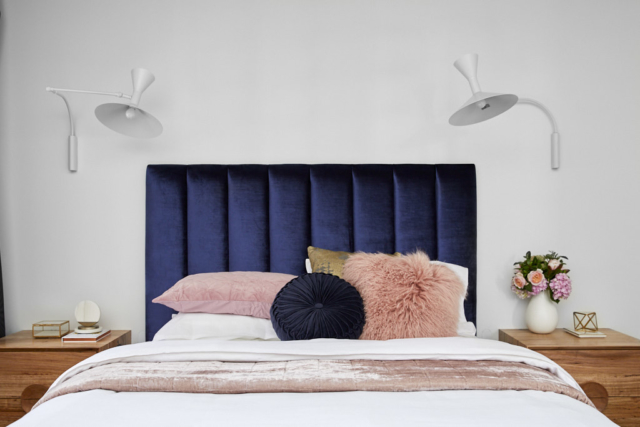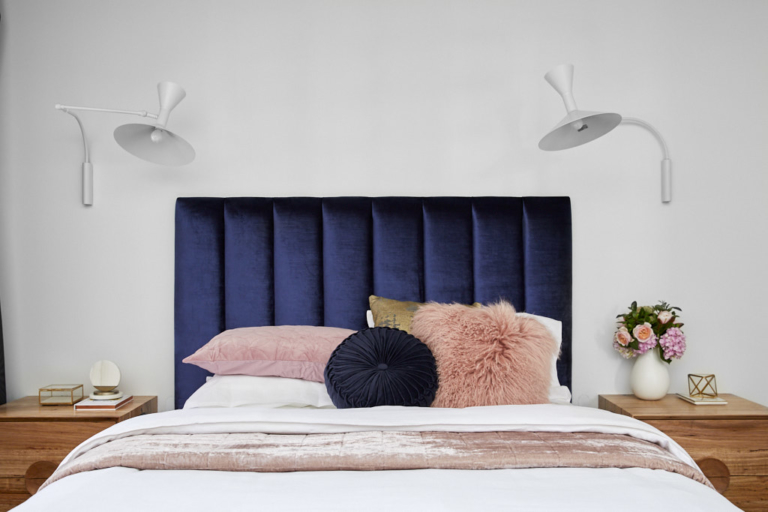 Shaynna was first to notice the bad paint job though. Whoops!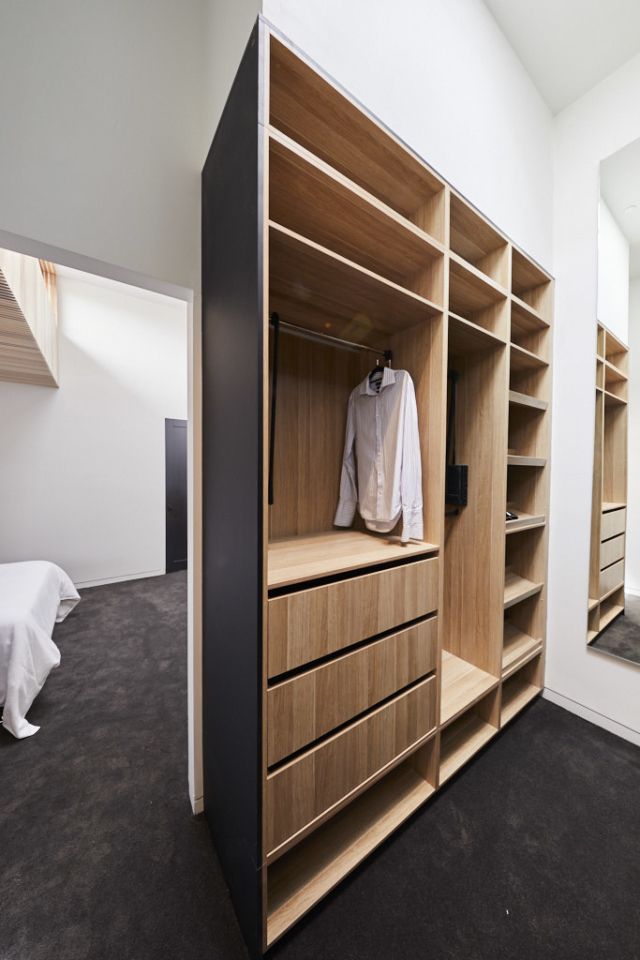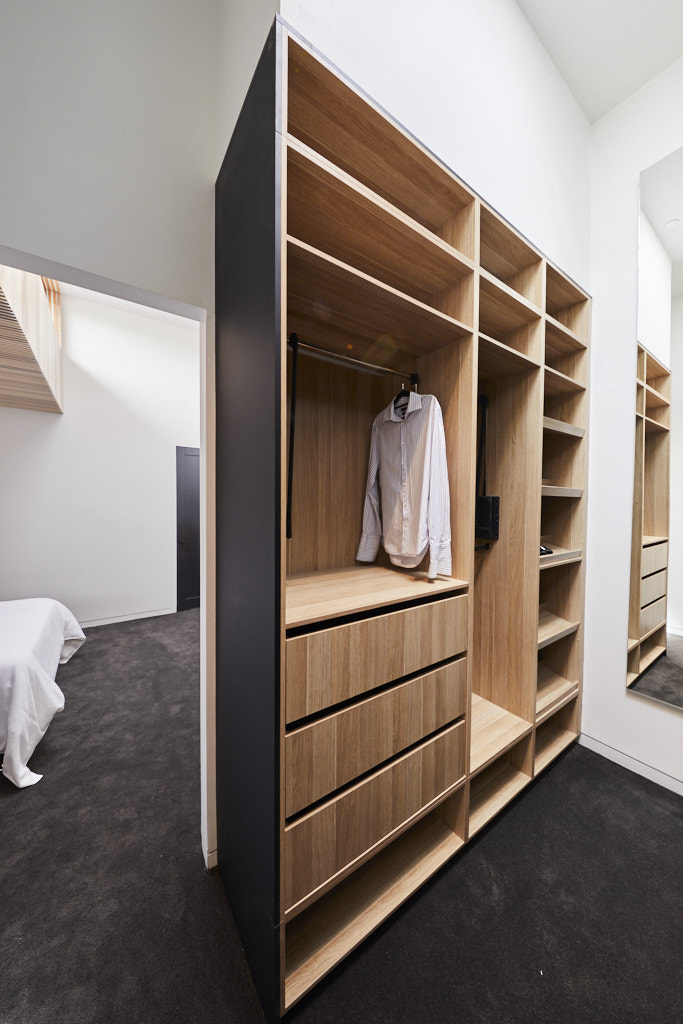 They all said the walk-in was beautiful. Shaynna was in storage heaven and Neale said it felt luxurious and and bespoke. Darren said the materiality was "just so good".
Our pick to buy: Bedside tables by our friends at Ingrain Designs (they can do no wrong!), Lincoln bedhead by another fave, Heatherly Design Bedheads (we have the same design in our new master which we'll get round to finishing and revealing one of these days!), and Lamp de Marseille wall lights.
Courtney and Hans: 2nd place, 25/30
Neale loved the "absolutely beautiful and sophisticated palette." Shaynna loved how they made the bed and thought they picked an amazing chair. The lack of styling on the side table didn't go unnoticed though!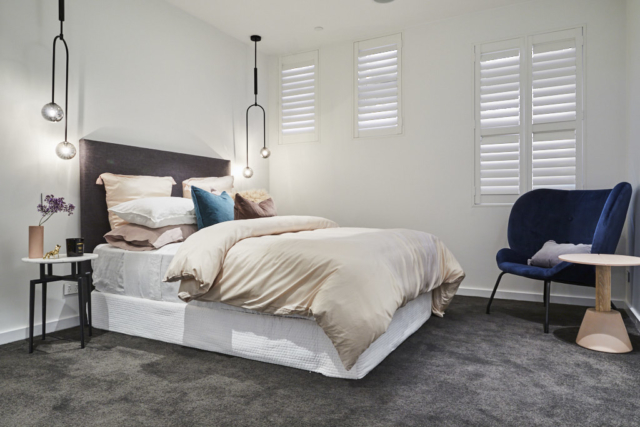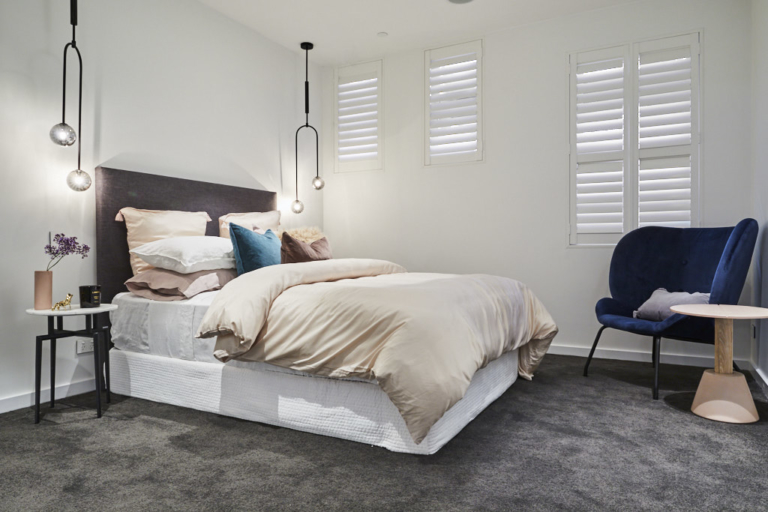 The judges loved the choice of laminate wardrobe colour and texture. Darren said the room diden't feel at all claustrophobic. Neale's only criticism was for the lights. He would have preferred lamps or sconces, not too-heavy pendants. Darren liked how they tied in with the other black in the room however.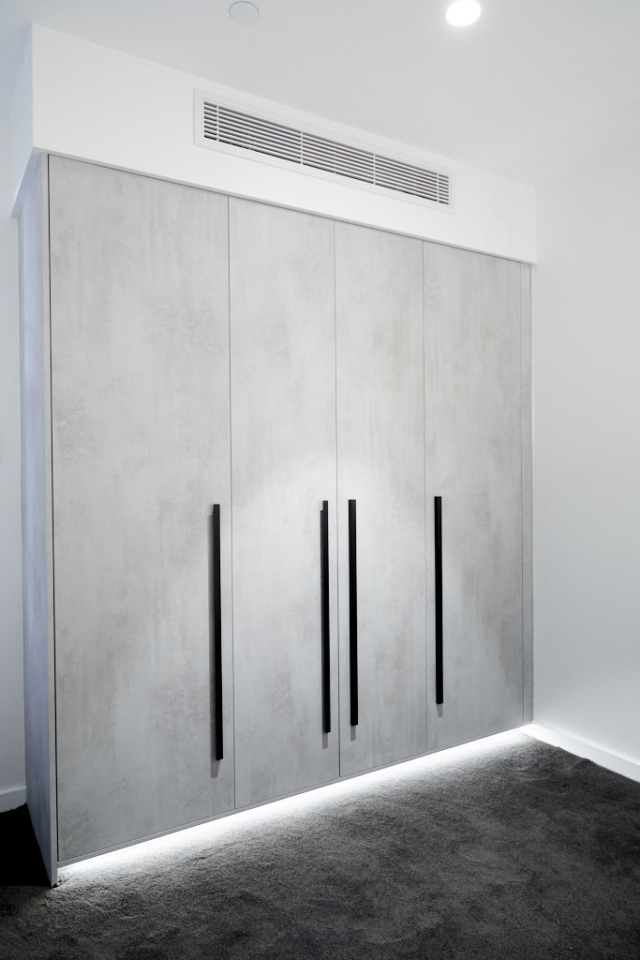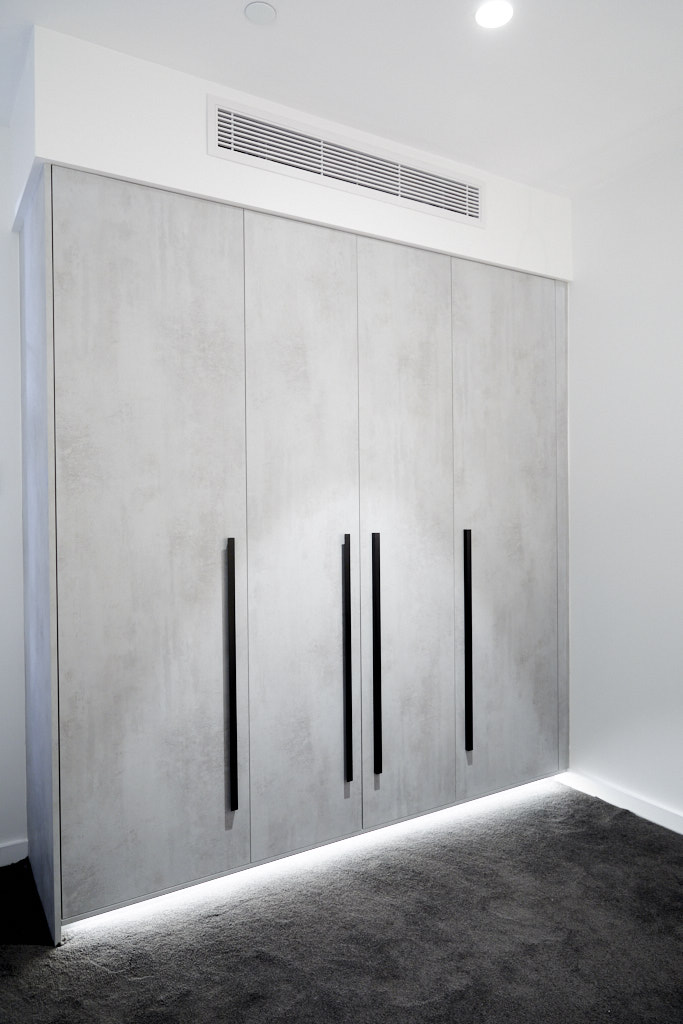 On the downside, the paintwork on the ceiling was woeful. Neale said it was well on its way to being lovely but was undercooked. Darren suggested they should sheer curtain the whole window wall. Agreed!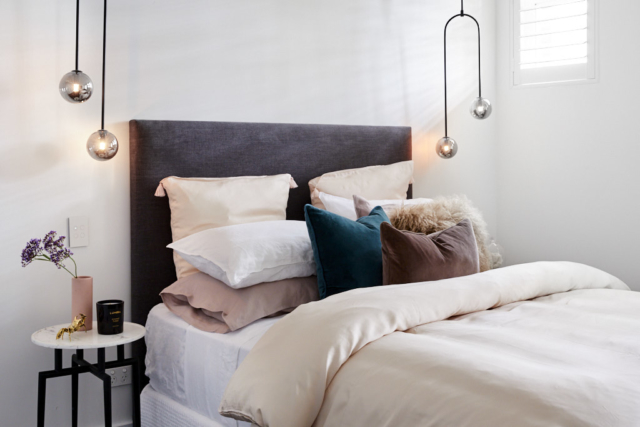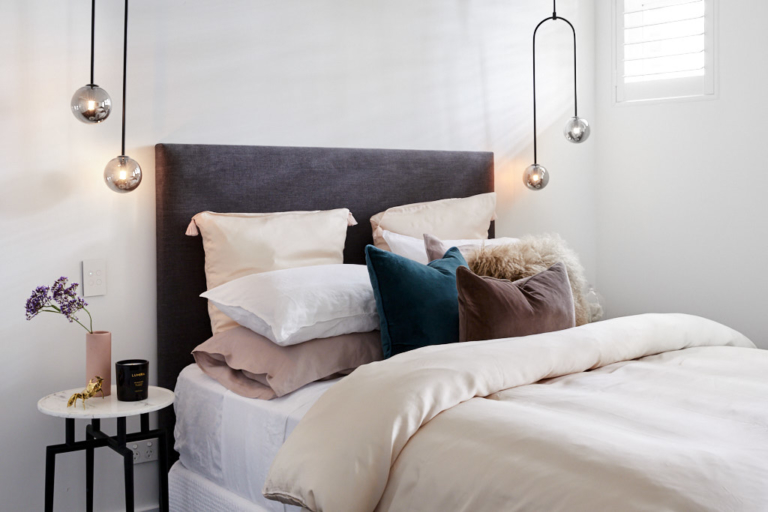 Our pick to buy: Halo wingback chair by Space to Create, Vintage rose linen by west elm and brass crab by Mr Pinchy (I have this at home in all three sizes!). 
Norm and Jess: 3rd place, 24.5/30
This would have been my second place.
Darren said: "Lush! Oh my God! This is hot! Somebody paid attention!"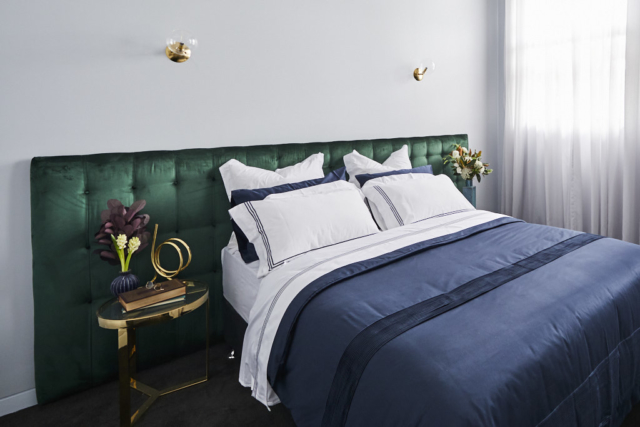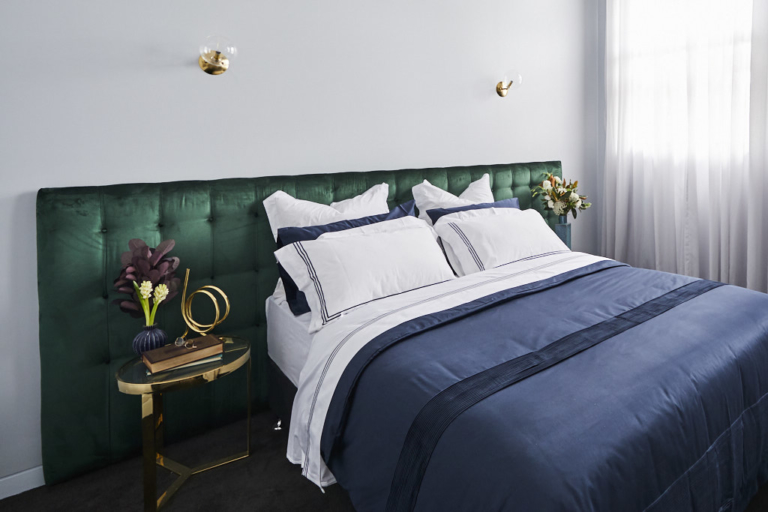 Neale said "suddenly the luxe factor has shot up".
Darren said there was lots of colour, lots of texture, but it wasn't overwhelming. "Can you tell I love it?!"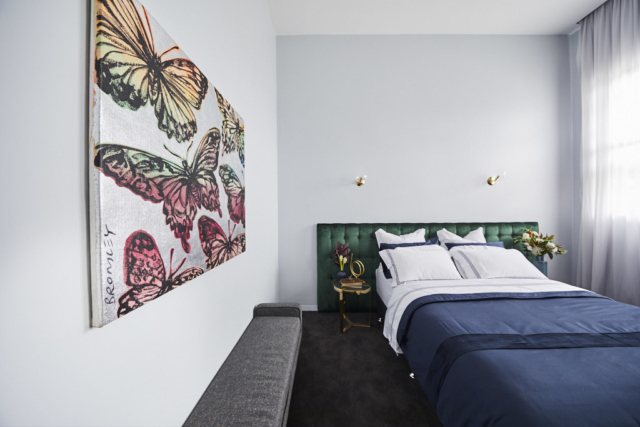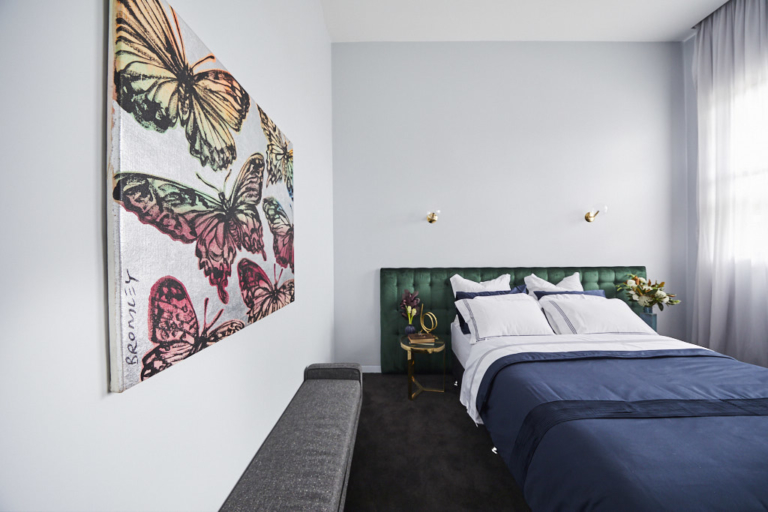 Shaynna said she always loves bedheads that go past the edges of the bed and behind the bedsides (thanks Shyanna, we have one of those!). "It's absolutely gorgeous and works really well." She loved the sconces but  thought the room would probably be a bit dark. And the powerpoint was in the wrong place. Darren was NOT impressed they'd tried to cover that mistake up!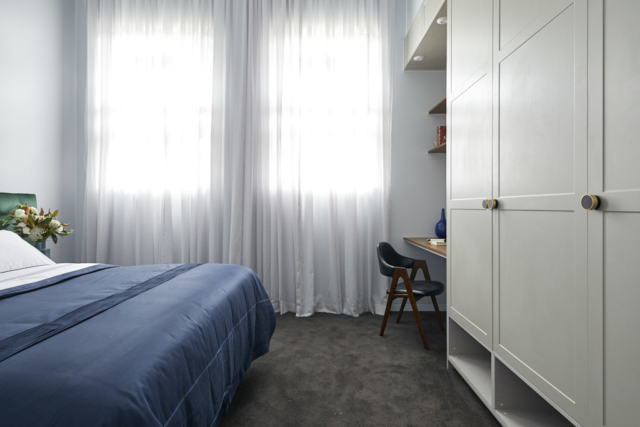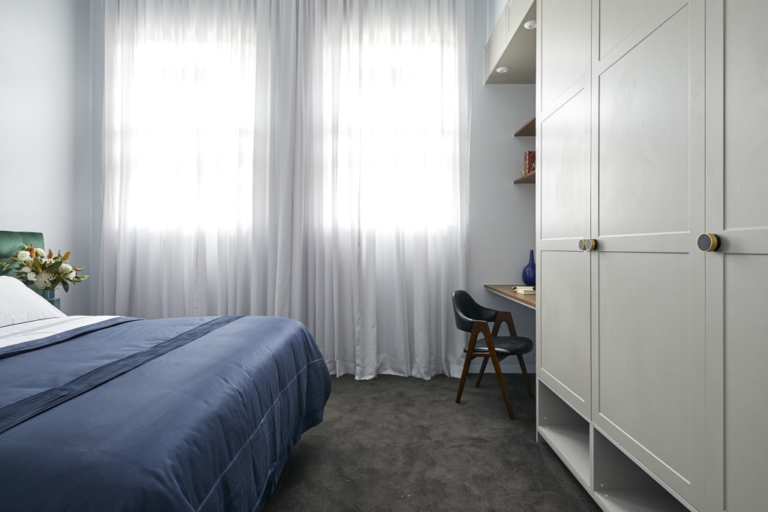 They all thought the wardrobe was amazing, Darren loved the the panelled profile and the handles. The drapery was very well executed and while the study area joinery was well designed, the styling was a letdown.
Big picture? "The room is very good and they deserve to be in the penthouse but they must pay more attention to functionality."
Our pick to buy: Brass wall lights from Beacon Lighting, THAT bedhead (of course) from Heatherly Design and Landry bench seat from west elm.
Kerrie and Spence: 3rd place, 23/30
The judges loved the library (so did I!), with Darren saying he was a "giant big fan" but Neale said the actual bedroom part felt a little claustrophobic. And it did!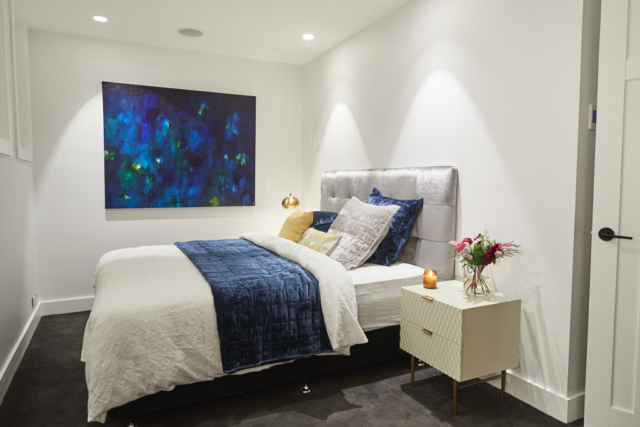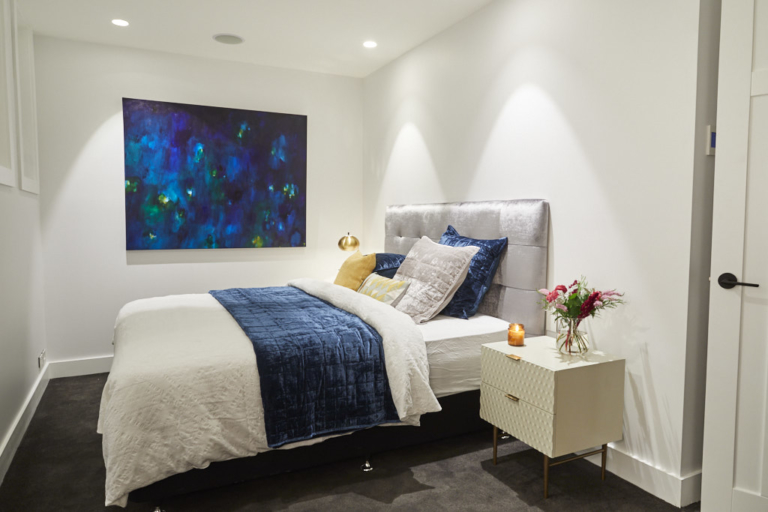 Darren was annoyed they didn't listen to their advice not to use a bedhead in an already cramped space. To make it worse, the bedhead overlapped the switches either side.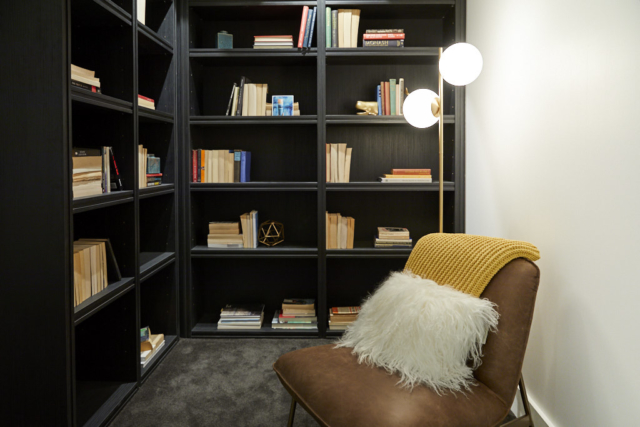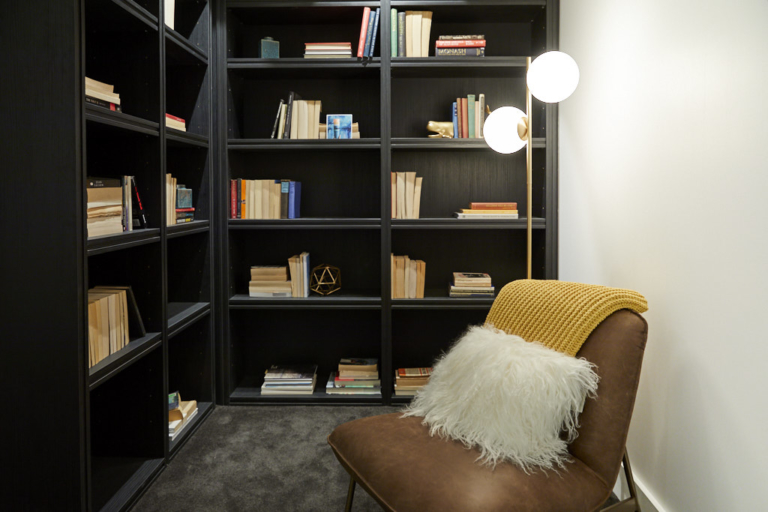 Shaynna loved the colour palette though and Darren said the styling was far more sophisticated than they'd shown before. Neale said it was nice. He didn't dislike it but nothing was wowing him. They needed a little little bit more warmth, spirit and soul.
The storage however, was excellent.
Our pick to buy: Audrey bedside from west elm (I have the navy version in my master and they're divine. Also have the dresser and cot from this range in our new baby room).
Hayden and Sara: Last place (second week in a row), 22.5/30
Shaynna said the recessed ceiling was the hero and they'd done a beautiful job with that. Darren praised the skirting, architraves, ceiling and cornicing, saying they were all beautiful. Shaynna added the execution was incredible.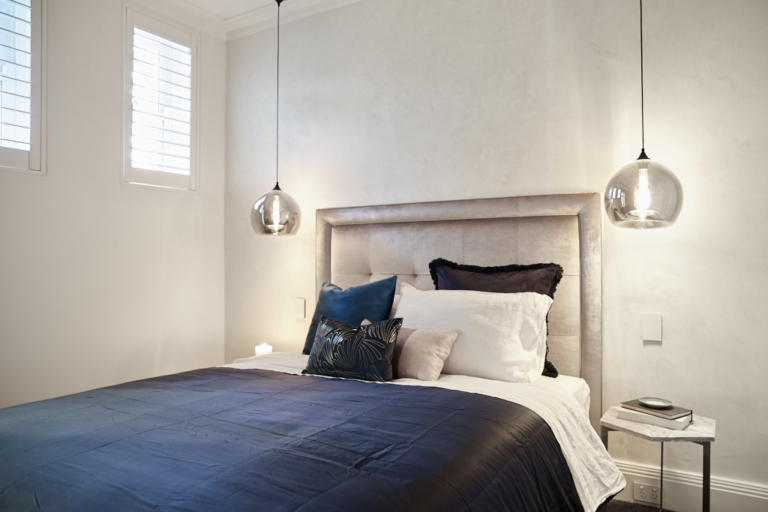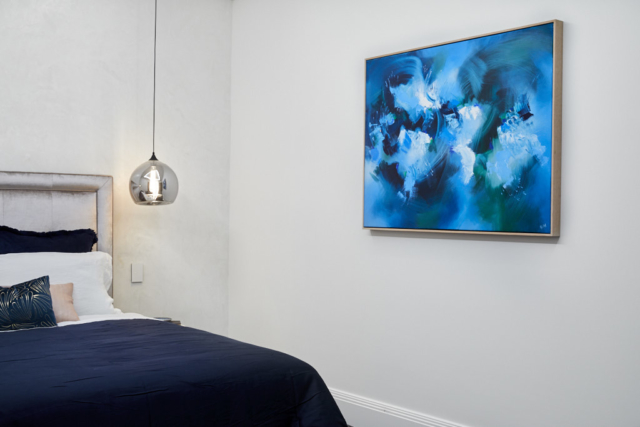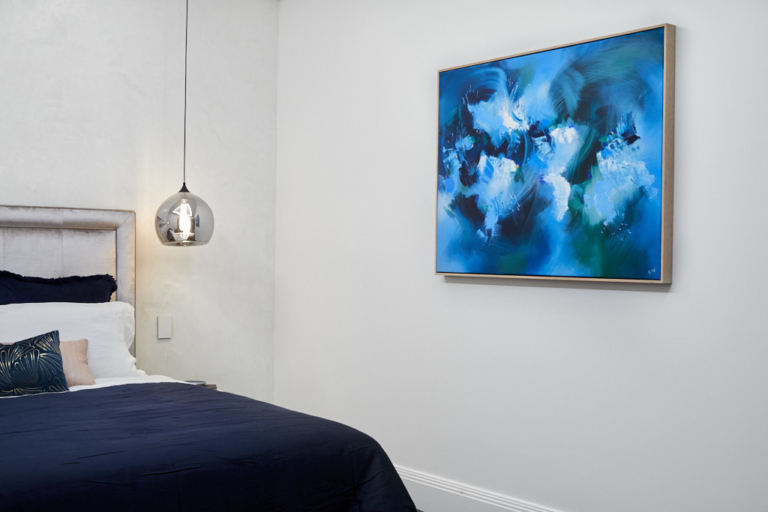 It was all going so well…
Seems the furniture and styling really let the room down. Neale said it felt flat. "It feels like a room in a boutique hotel ready to be renovated. It's boring and predictable. In paring back, they've thrown the baby out with the bathwater. What's left is pretty soulless."
It got worse. He compared the feature wall to the eighties rag-rolling paint technique. Shaynna said the shimmery velvet bedhead was fighting with it and that it felt like a display home. And not a high end one! Ouch!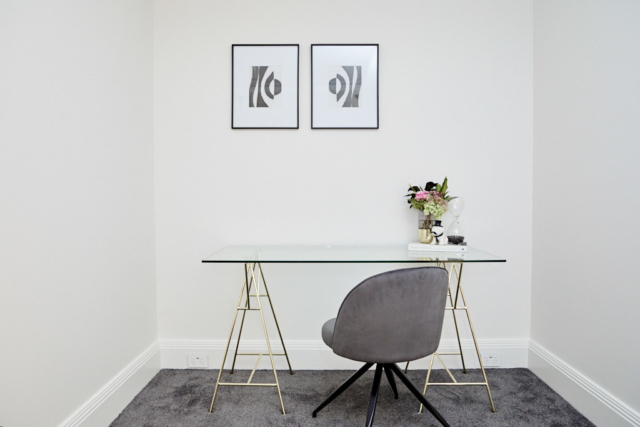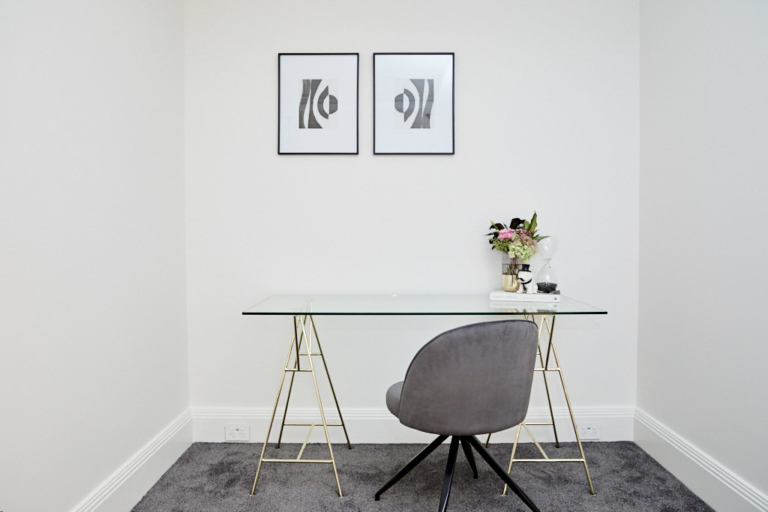 I have to agree, although I'd perhaps be a little kinder. It just didn't work! I particularly hated that feature wall and 'matching' bedhead combo. What were they thinking? Where was the contrast?
Shaynna said the bedsides didn't match the size of the lights. "It's top heavy." Darren said they should have put the feet on the bed. Neale said it felt as if the bed had collapsed.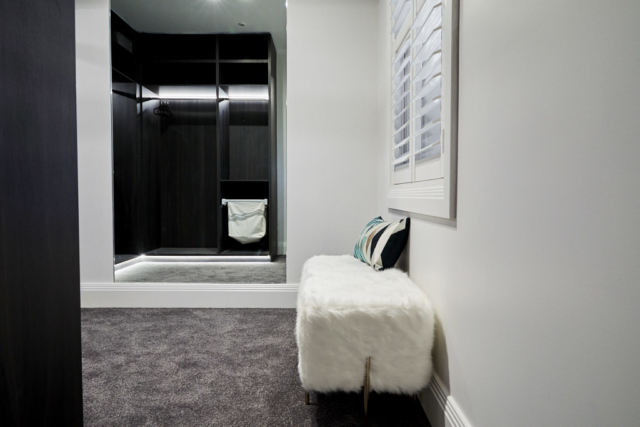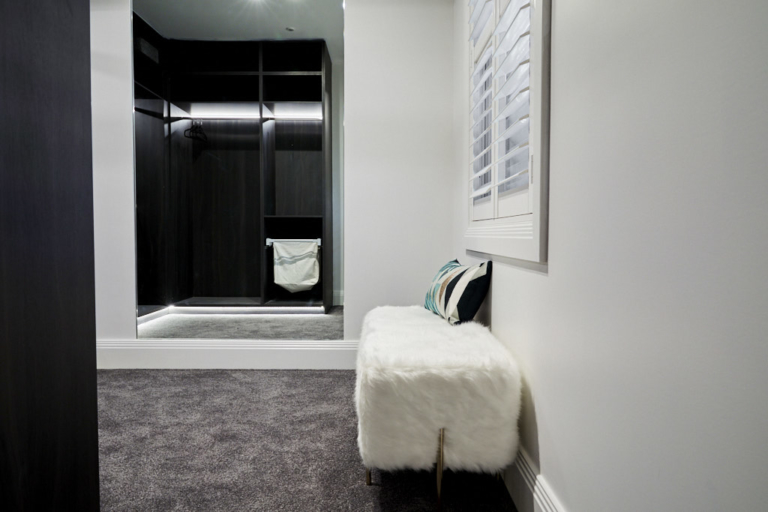 I had to agree that nothing in the study area made an impact. It was all just floating there, with the chair far too heavy for the desk.
Sara was NOT happy with that feedback! I foresee a lot of complaining and upset ahead.
The judges all seemed to agree that the walk in robe was probably the best bit. But Shaynna and Neale said they needed to style it at least a a bit to tell a story to potential buyers.
Our pick to buy: Brass gallery frames from west elm.
All this year's wardrobes are by Kinsman, who also supplied the kitchens for House Rules recently.
Love to know who YOU think should have won?