Photography by Sam McAdam-Cooper
There's a new room in our house which is calm, serene and incredibly tidy… because nobody uses it yet! I like to leave the door open and gaze smugly at its peaceful perfection, even if the rest of the house is increasingly becoming a bomb site as third trimester tiredness kicks in! It's our future baby boy's nursery and I'm thrilled to share it with you today.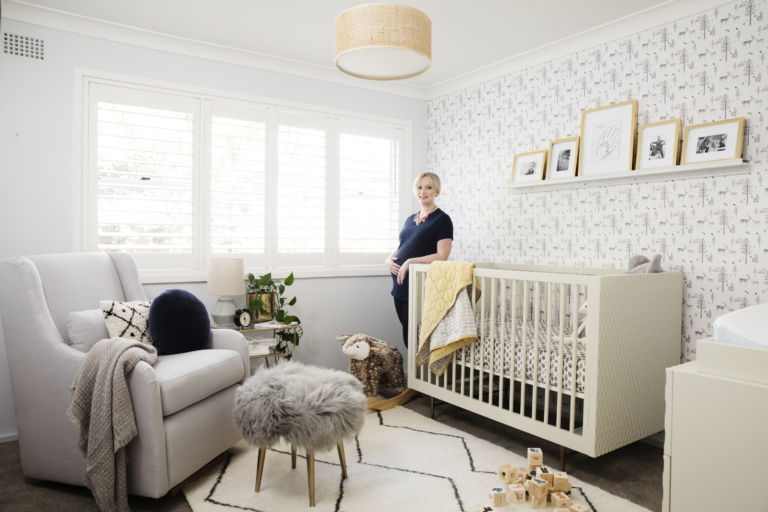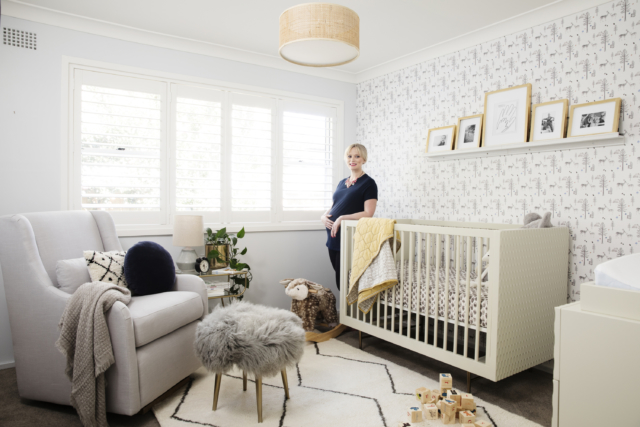 Everyone jokes about how the first baby gets the best of everything and the subsequent kids are lucky to get a brand new anything! This second baby was always going to have a nice room though because I obviously love interiors, and baby rooms are so fun and special to create, and part of the getting ready process (although I'm still in denial!). But I have to say, I wasn't in the crazy rush to have it all finished and perfect before the baby arrives because I know he'll be in a bassinet in our room for the first few months.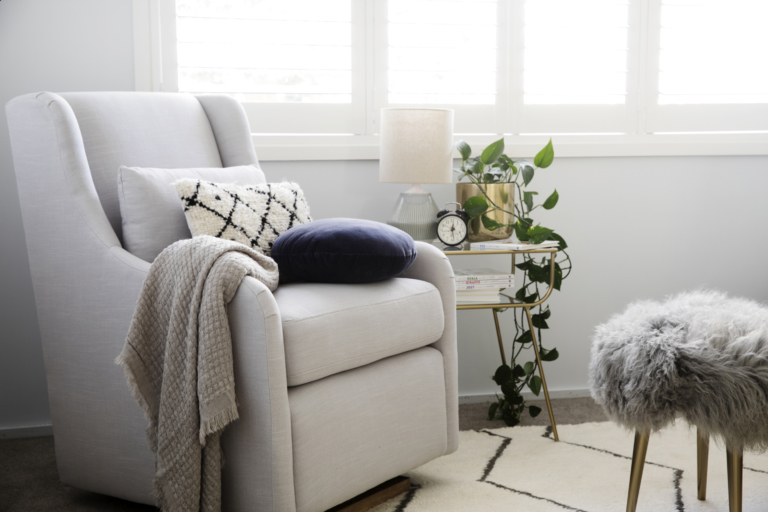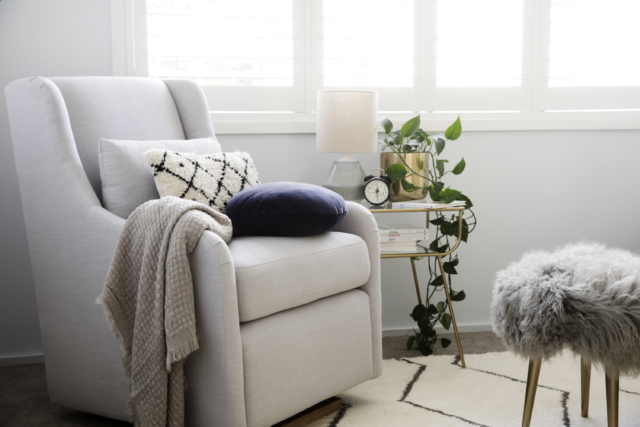 Goodness knows when I'd have got round to actually doing this room because I'm even busier and tireder than I was last pregnancy, so when west elm and Pottery Barn Kids announced their first collaboration it was like a sign! west elm are one of my favourite furniture and homewares brands and Pottery Barn Kids are my go-to for kids' decor (Seb's last three rooms, in three homes, have been mostly PBK).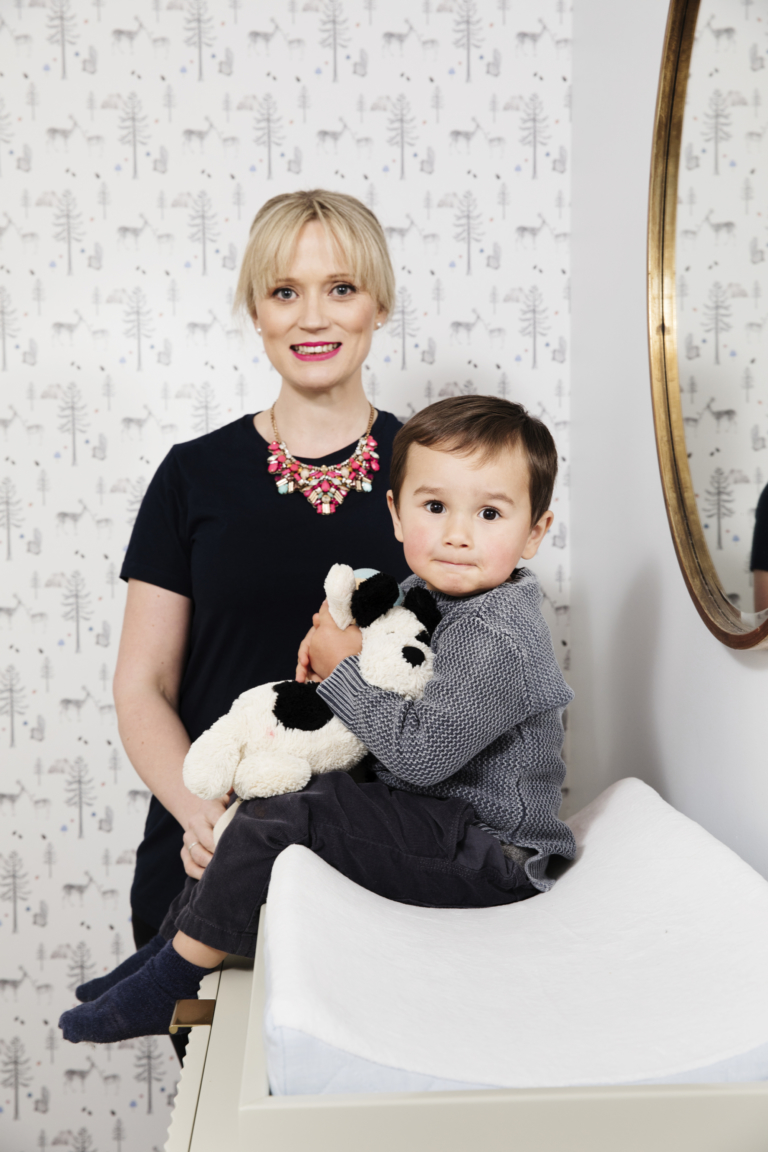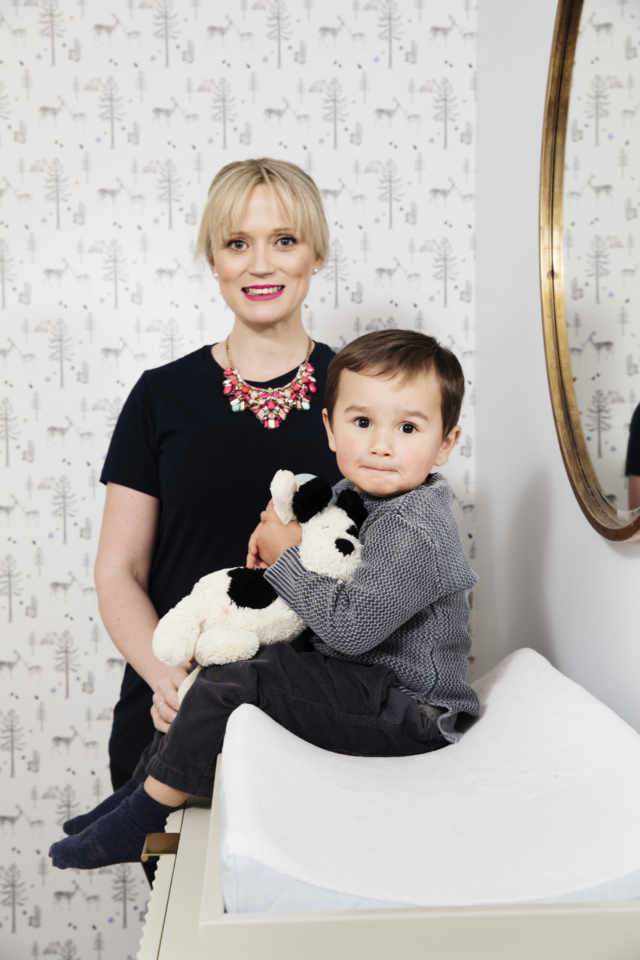 This collab was a chance for me to step outside my uber classic nursery style. I loved the idea of a less obvious nursery look and even though I knew we are having a boy, I wanted to try something more unisex. I firmly believe baby rooms should be calm and serene places, for both baby and sleep-deprived, nursing Mum (and Dad, of course). The colour and the fun can come later when they're older, and in our house, we're lucky to have a separate playroom where basically anything goes!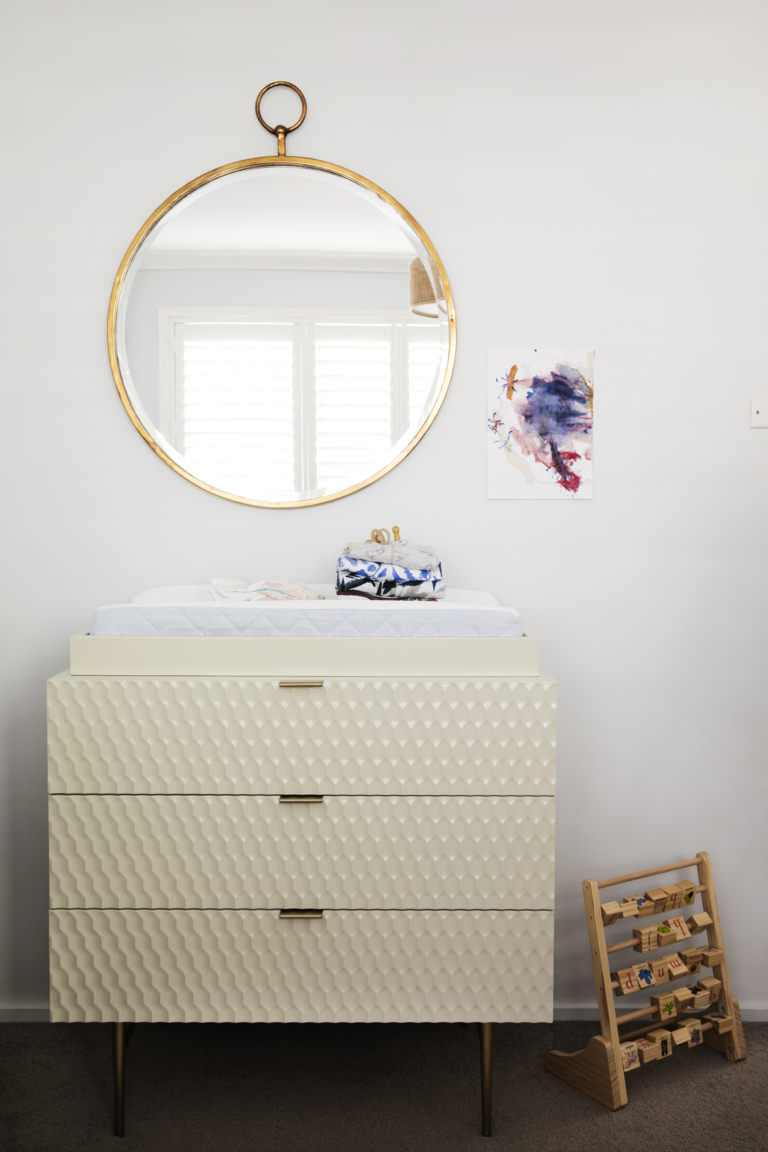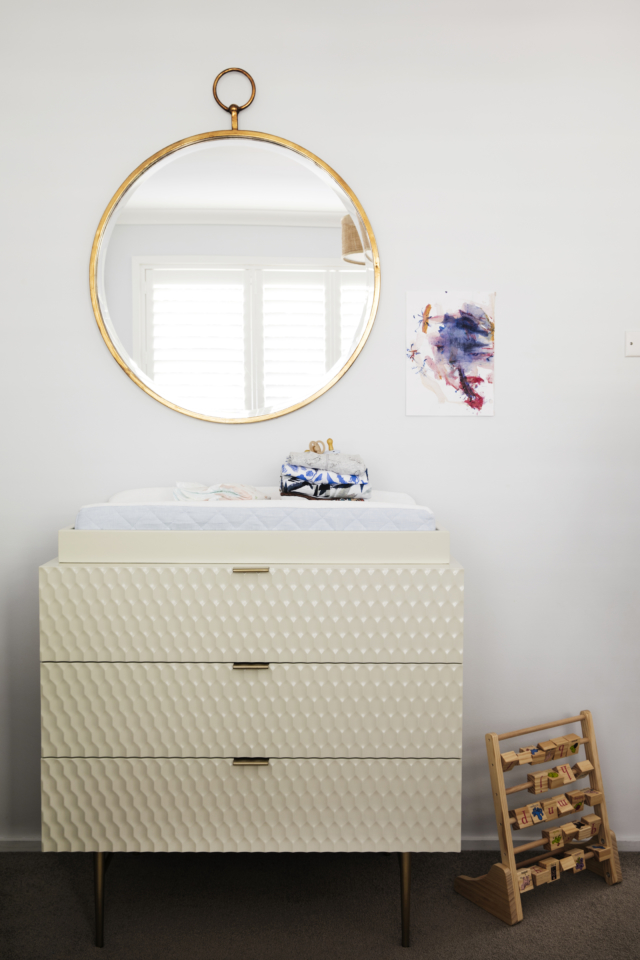 I immediately fell for the Audrey collection with its luxe style, lacquer finishes, brass accents (anyone who has been to our place knows I have a lot of those!) and glam geometric textures. I also happen to have bought the navy Audrey bedsides from west elm recently for our master, so it was like it was meant to be!
The cot is an understated design but its textured end panels and brass legs give it that little something-something. A toddler bed conversion kit is available too if you want to use it later. The three-drawer change table offers smart function with its removable topper that fixes firmly to the back but can be removed as baby grows to be a toddler (or you perhaps decide you want to steal it for your own grown-up bedroom…).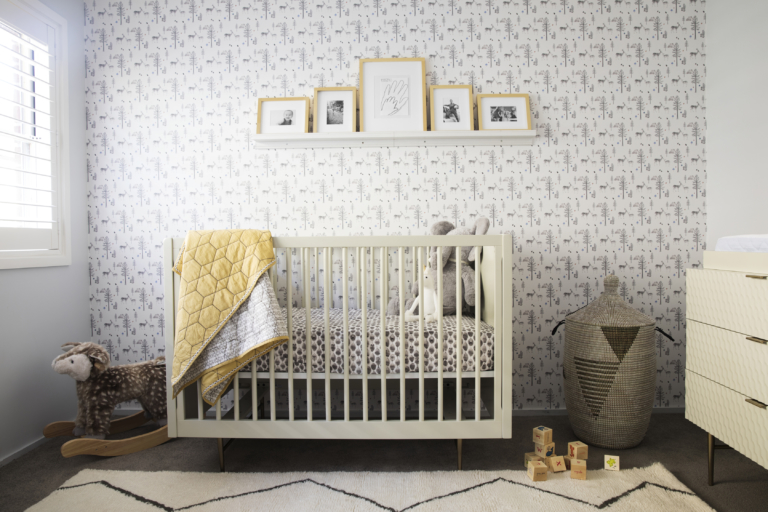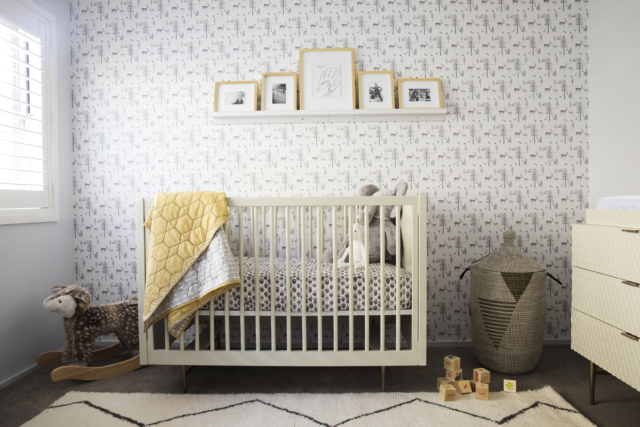 With this statement dresser and cot, I didn't want to have too much else going on in this room, but I knew I wanted wallpaper, and settled on Love Mae's Sleeping in the Woods design from Queensland-based Milton & King. It adds that essential bit of whimsy every child's room needs! Wallpaper is an investment, especially when you factor in hanging it (although this can be DIY-ed if you have the skills, time and confidence!), but a single wall is pretty affordable and makes a serious impact for the money. To give you an idea, this wall required less than two rolls and the labour cost $300.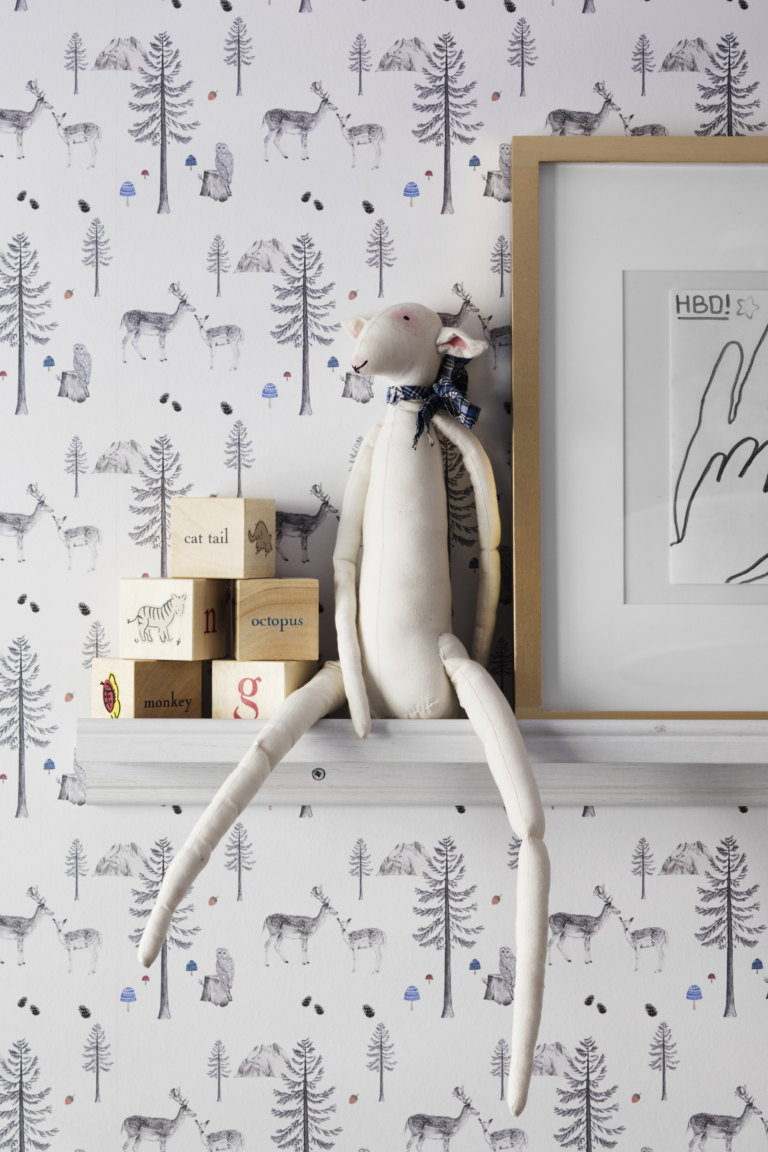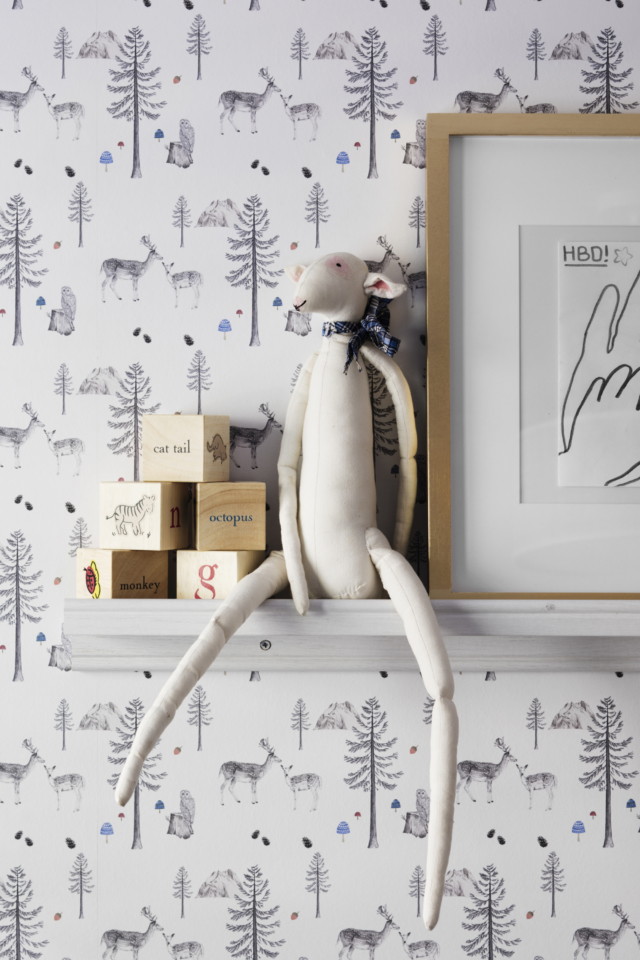 The Graham Glider chair (a matching ottoman is available too) is ridiculously comfortable and I love the Frankie side table (again, featuring brass) as somewhere to put bottles and all that other baby paraphernalia (let's not kid ourselves, the plant will soon be moved elsewhere as I clutter it and run out of space!) so I love that it has a shelf underneath too. The Mongolian Lamb Stool (currently on sale) adds some texture and is so cute-looking and super soft.
The white picture shelf (from IKEA) was already there when this was mine and Damian's bedroom, and it just worked to put it back above the cot so we could safely add some wall art (the frames can't fall off because there's a ledge at the front). The gold frames add to the sophisticated theme and we can change them up with family photos, big brother Sebastian's "art" and prints as the mood takes us. The fluffy white rug feels gorgeous underfoot and adds to the relaxing feel. Anything to make those middle-of-the-night wake-ups more comfortable, right?!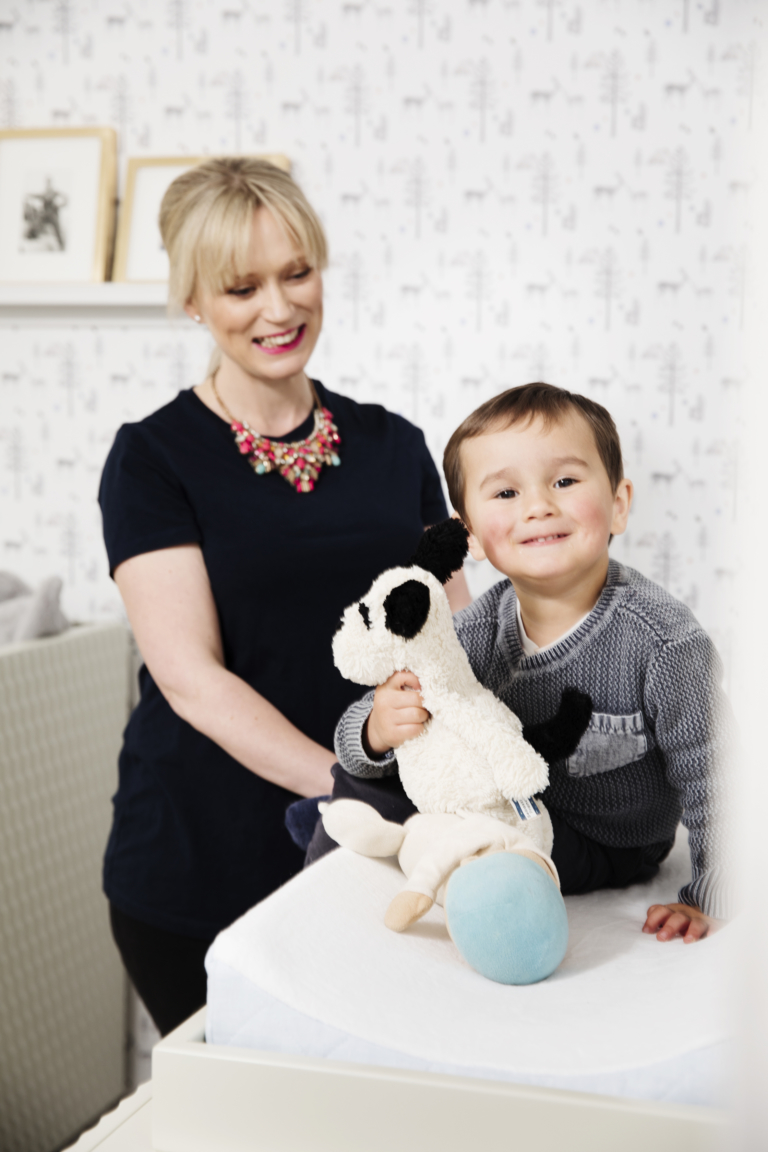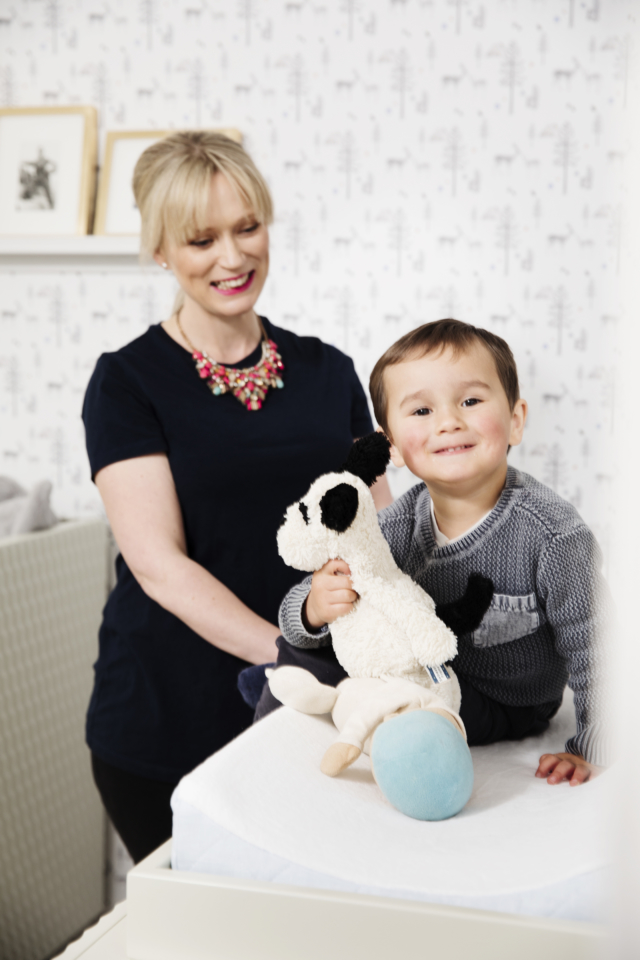 I picked the key pieces for this room and shortlisted some wallpaper options, then happily handed over the reigns to the experts. Jodi Hall, Design Crew lead for the Williams Sonoma brands in Australia, came up with a moodboard which we tweaked together, and she brought it all together on the day of the shoot. I couldn't have loved it more and it certainly feels more real now the room is sitting there finished and ready!
The brass mirror was a wedding present and before you ask, could not be more professionally or securely attached to the wall (safety first, always!). I wasn't planning on keeping it in there but when everything else went into the room, it was perfect!
I am so happy with this room. I love how peaceful and uncluttered it is and I'm so happy I went with something a bit different for this baby as I'm not planning on having anymore (famous last words!). It's so great to have it sitting there ready for 12 weeks' time (give or take) and even though he won't sleep in there for a while, we'll still do plenty of changing, feeding and playing in the nursery.
So, what do you think? I'm happy to answer any questions you have in the comments.
If you're struggling to pinpoint your nursery or kids' room style, why not take advantage of Pottery Barn Kids' free design service?
Disclosure: I was gifted some of the items from this shoot.
SHOP THE LOOK
west elm x pbk Audrey Convertible Cot in Parchment
west elm x pbk Audrey 3-Drawer Change Table
west elm Frankie nightstand (as side table)
west elm x pbk Graham Glider in dove grey Performance Velvet
west elm x pbk Honeycomb Baby Bed Linen in Horseradish
west elm x pbk Organic Stamped Owl Fitted Cot Sheet
Pottery Barn Kids Nursery Faux Fur Plush Fawn Rocker
Pottery Barn Kids Jumbo Elephant Plush (borrowed from Sebastian, who has had it since he was born!)
Pottery Barn Kids gold gallery frames
west elm Baby Souk Wool Nursery Rug
west elm Mongolian Lamb Stool in Platinum
west elm Roar + Rabbit Ripple Ceramic Table Lamp in Cool Grey
west elm Spun Metal Planter (borrowed from my living room).
west elm Waffle Weave Throw in Platinum
Pottery Barn Kids Change Table Insert and Belgian Flax Linen Cover
west elm Graphic Printed Basket 
Cream and black alpaca wool cushion on chair from Pipsqueak Home via Etsy