During every season of The Block, Kitchen Week is always one of the most exciting parts of the show. A lot rides on creating a great kitchen space. Along with the living room, the kitchen is really the centre of the home – a hub where we spend time entertaining, with family and cooking.
To help Aussies with their next kitchen reno, no matter what their style is, design expert and group design manager at Winnings Appliances Kate McGlone, speaks about the overall design of each house's kitchen, plus her top three tips to get the look.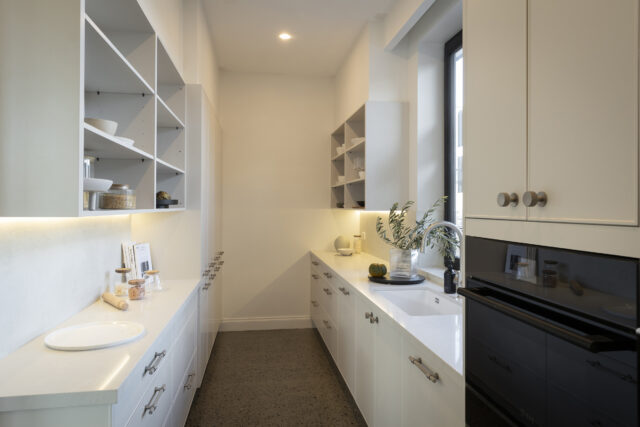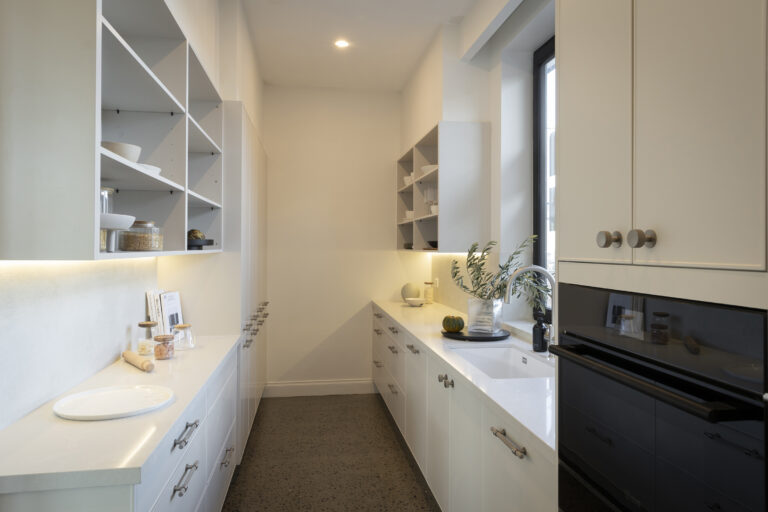 House 1: Tom and Sarah Jane (modern industrial farmhouse)
"Tom and Sarah Jane's kitchen showcases a traditional farmhouse look with an industrial influence. They have achieved a timeless look with the shaker style doors, an admired design feature in farmhouse kitchens. Their introduction of industrial copper pendant lights and a modern benchtop profile complement the shaker doors, combining traditional and contemporary design elements," explains Kate.
"They have added interest through layered styling which is a low cost, low commitment and high impact way to add personality to a kitchen. They've worked to create a liveable kitchen that can change from a family friendly kitchen to an entertainer's haven really effortlessly."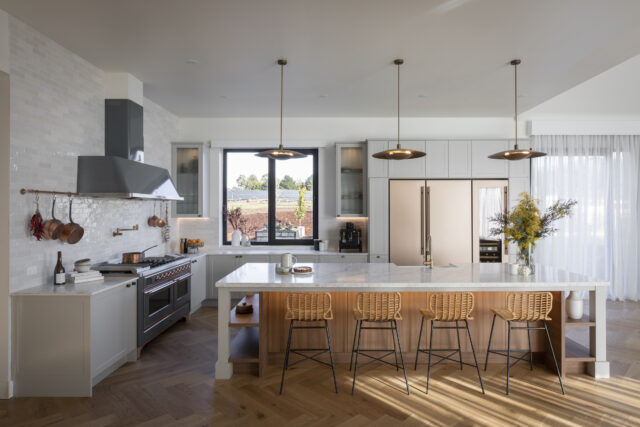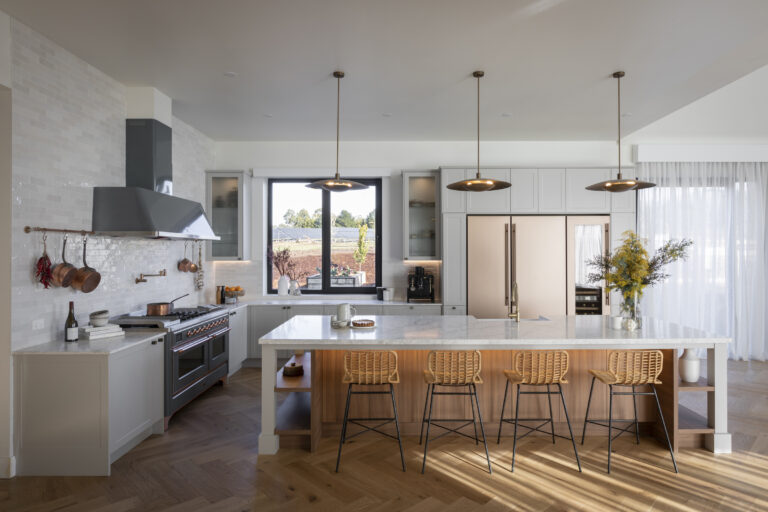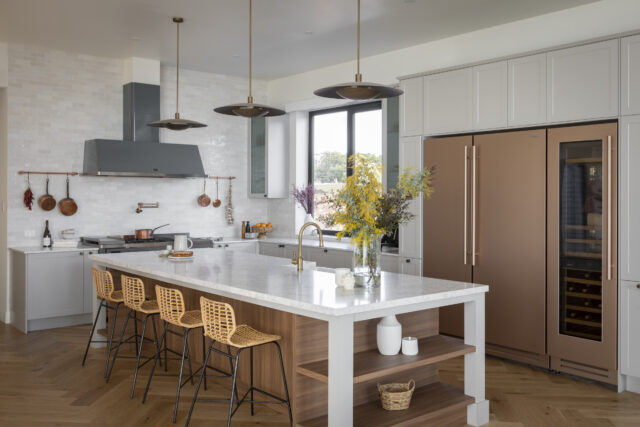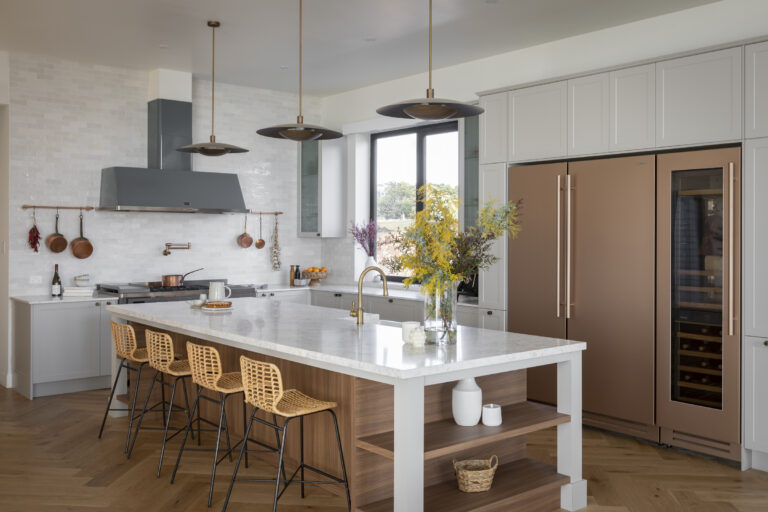 Get the look
Copper accents add an industrial, yet glamorous aesthetic that subtly elevate the farmhouse trend: consider tieing in accents like Tom and Sarah Jane have with pendant lights and larger appliances like their Fhiaba copper fridge and knobs on their deep grey Ilve Majestic double oven
A farmhouse style sink adds a nod to the country that will fit in many homes and has the added benefits of space for cooking and cleaning. Abey's ceramic single bowl sink lends itself perfectly to the farmhouse trend but will also fit in with a number of styles.
Create a liveable kitchen that is perfect for a big family or hosting multiple guests by opting for ultra-functional pieces, such as a Zip tap, providing boiled, chilled and sparkling water on demand
House 2: Ryan and Rachel (contemporary)
"Rachel and Ryan's kitchen features a contemporary, refined, yet timeless look, which has been achieved through a clean material pallete. The introduction of shadow lines throughout the cabinetry adds interest. The brushed stainless accent door hardware is the hero of this kitchen, contrasting elegantly against their matte joinery, adding a subtle yet impactful stainless accent to this clean kitchen design."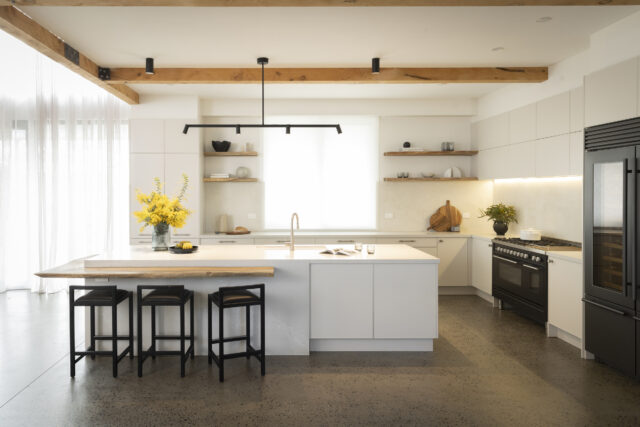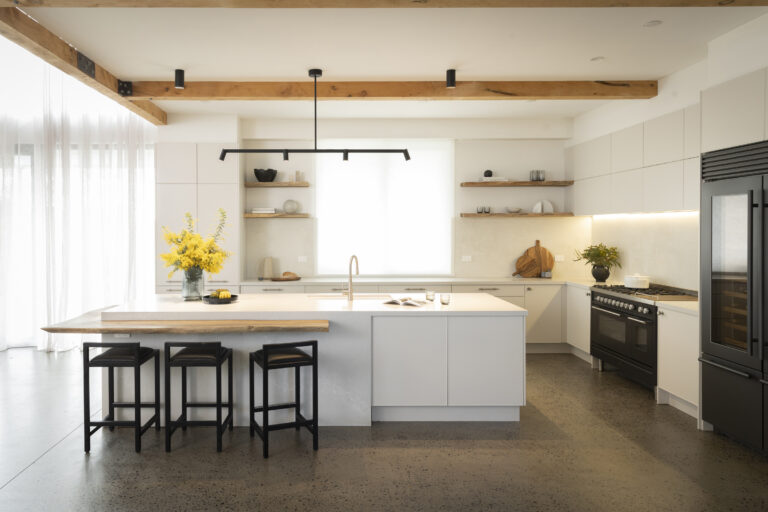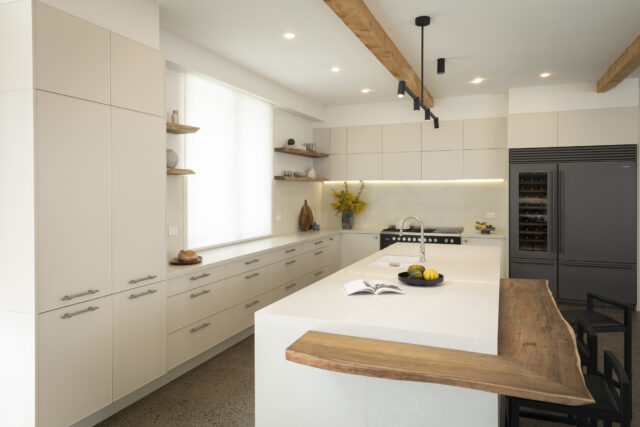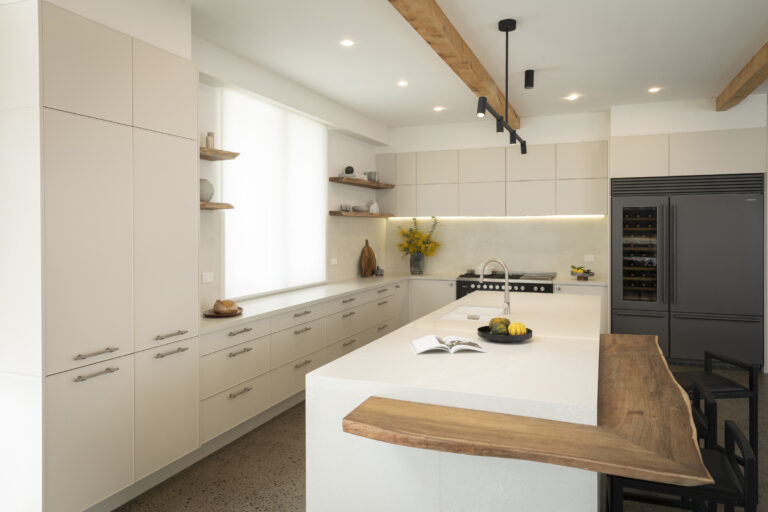 Get the look
For a contemporary space with Scandinavian nods, use blonde or warm wood accents in benches, shelving and beams; keep cabinetry light and bright; and pair with timeless yet impactful black and graphite appliances like in a statement Ilve oven and Vintec wine fridge
Opt for matte tap and sinkware like the Zip Hydrotap and Gessi pull out sink mixer in brushed nickel for a sophisticated yet contemporary feel
Add a bold fridge, such as the Fhiaba 561L X-Pro Fridge Freezer for a contemporary, timeless look
House 3: Sharon and Ankur (modern)
"Although there aren't too many nods to country, Sharon and Ankur's modern kitchen has a considered look as they share subtle ties between their door hardware and their appliances. Their kitchen consists of Smeg's Dolce Stil Novo range, which features minimalist styling in black eclipse glass and refined copper, creating a timeless, elegant aesthetic. Copper was then brought into the door hardware and the pendants creating one cohesive look. Their hero island bench stands out in the middle making it a perfect entertainer's kitchen."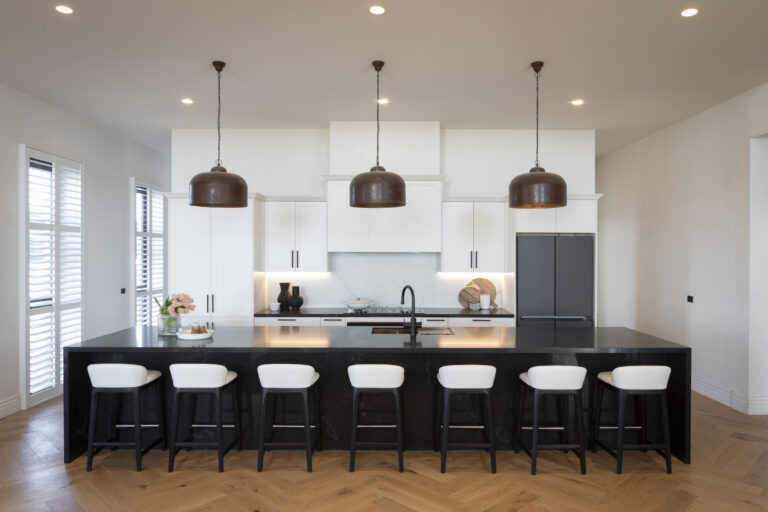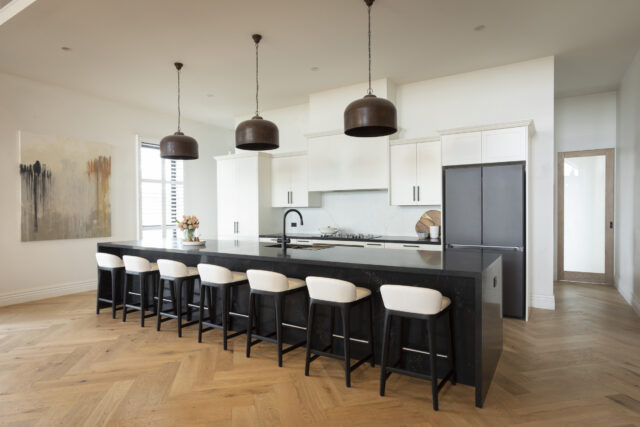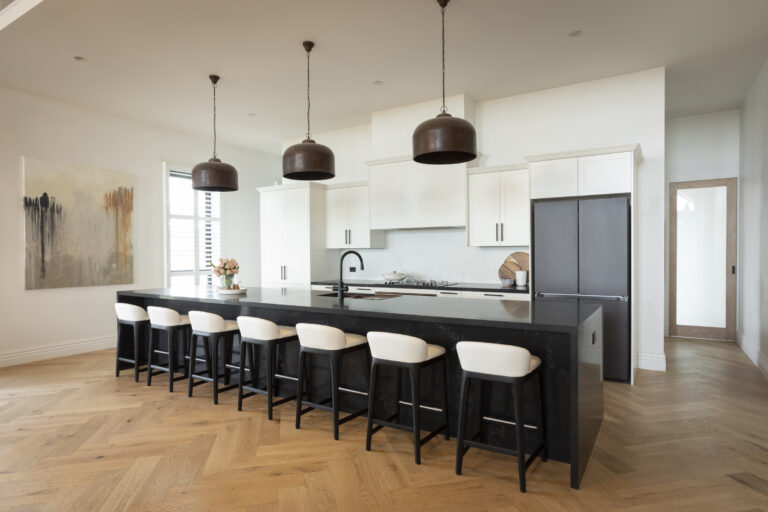 Get the look
Tie in copper and black for a modern aesthetic with a slightly industrial edge. Copper joinery on cabinets are harmonious with a sink 'moment' like Oliveri's single bowl sink in copper. Offset shine with dark, modern and minimalist black tapware like from Zip and a Dolce Stil Novo cooktop in black
If you fancy yourself as somewhat of a sommelier like Sharon and Ankur's imagined buyers, consider a forward-thinking sommelier drawer to house all your wine goods
Create functionality and added timelessness by opting for classic black appliances and ensure consistency in your appliances throughout the kitchen and butler's pantry. Like Sharon and Ankur, think of harmonious appliances from one range like they have with black Dolce Stil Novo appliances
House 4: Dylan and Jenny (modern farmhouse)
"Dylan and Jenny's kitchen showcases a true farmhouse aesthetic with a neutral colour palette with elements of popular sage green. They have used fluted glass on their overhead cabinets with a brass mesh interface on the island bench, creating beautiful texture through their materiality. Their attention to detail and careful material selection has elevated the overall finish, creating an opulent modern farmhouse aesthetic that would appeal to many buyers".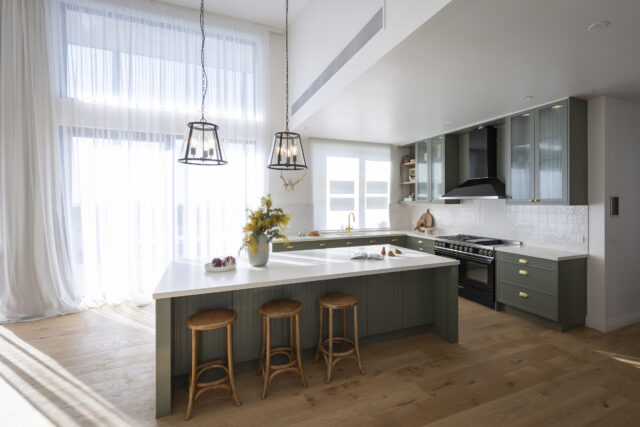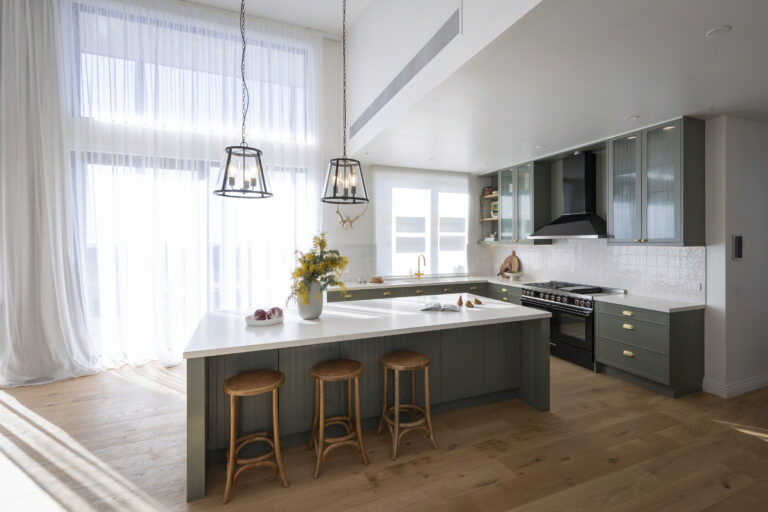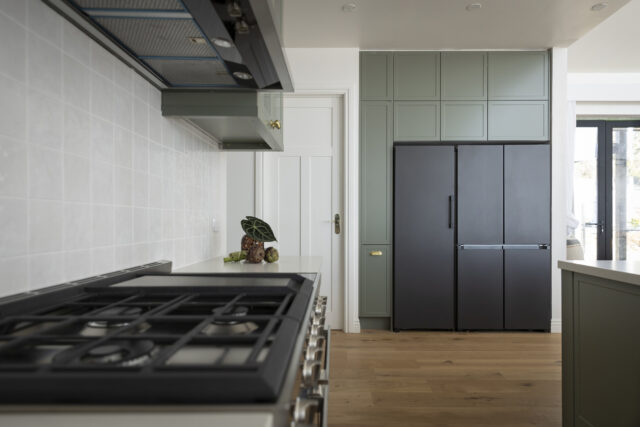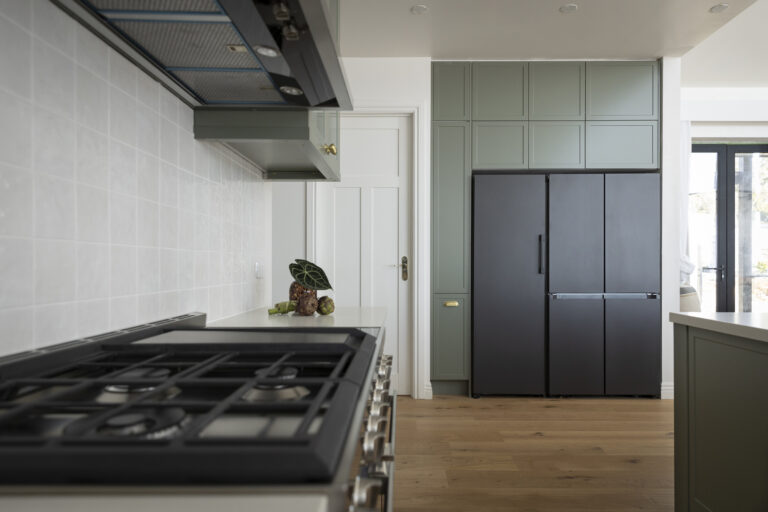 Get the look
Sage green is an ongoing trend of people's hearts. If you love Dylan and Jenny's sage green kitchen, consider warming up grey-ish, muted sage with warm brushed gold accents in your cabinetry and sink and tapware, like Dylan and Jenny have done with the Zip Hydrotap.
For a home cook or a lover of entertaining, consider doubling the size of your oven cooking space with a dual oven like Dylan and Jenny's classic black Smeg Portofino dual fuel oven and stove. Christmas lunches and dinner parties will become a breeze.
For easy entertaining, opt for a wine cabinet like this Vintec for a sleek way to store your favourite wines – an impressive way to showcase and serve wine at any party
House 5: Oz and Omar (integrated, industrial chic)
"Oz and Omar's kitchen is an entertainer's dream with a minimalist yet bold and timeless look. They have taken inspiration from metropolitan Melbourne and have created an industrial yet sophisticated space. Their integrated appliances allow for a seamless finish and were fundamental to achieving this sleek showpiece kitchen, fitting in perfectly with modern Australian lives. While moody and dark, their kitchen has clear nods to European design trends, which are bold, black, industrial and highly integrated."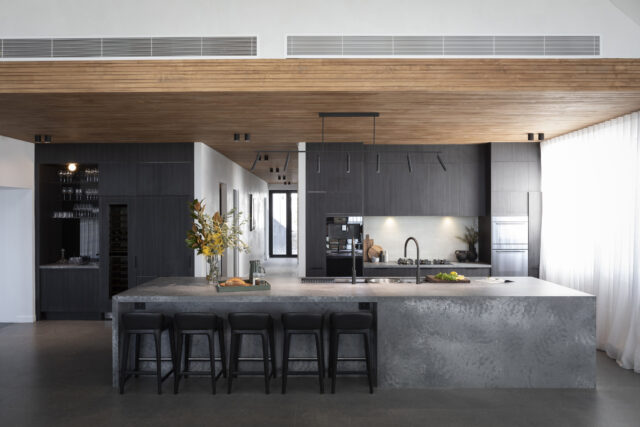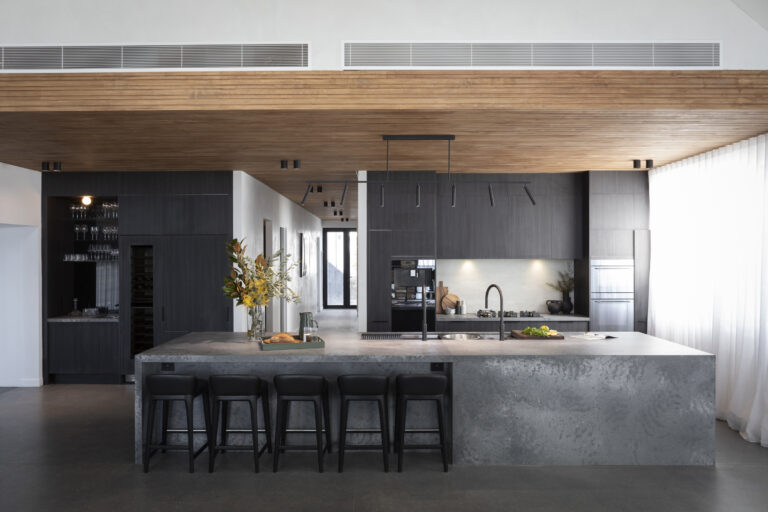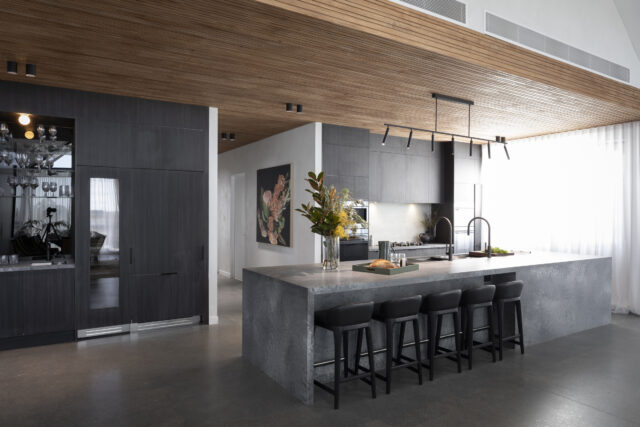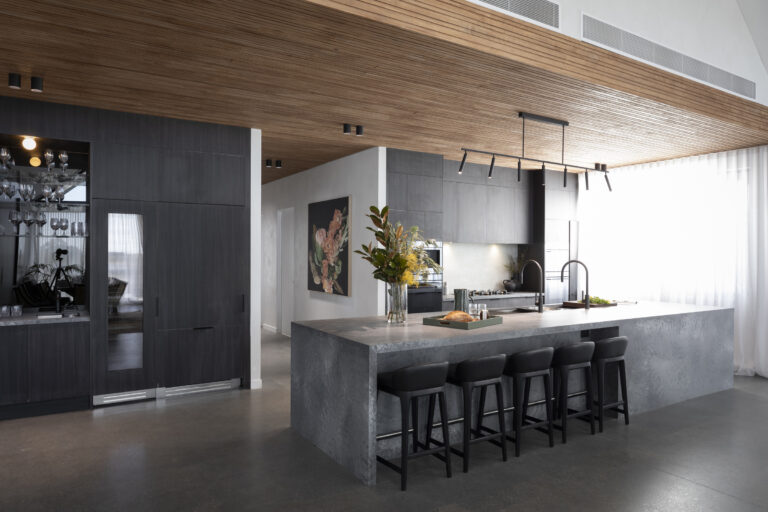 Get the look
Add clean lines for an industrial aesthetic by utilising integrated appliances that feel hidden, yet are very easily accessible. Oz and Omar did this with the likes of a V-ZUG integrated dishwasher, touch displays on ovens and matching V-ZUG appliances
For the perfect entertainer's dream, The Galley's Ideal Workstation sink adds a commercial-level feel with space and functionality that makes prep work and cleaning a joy
If you're a fan of Oz and Omar's moody, industrial kitchen, ensure you have ample natural light to offset the dark aesthetic and soften with textured stools and wooden features
For more on Winnings Appliances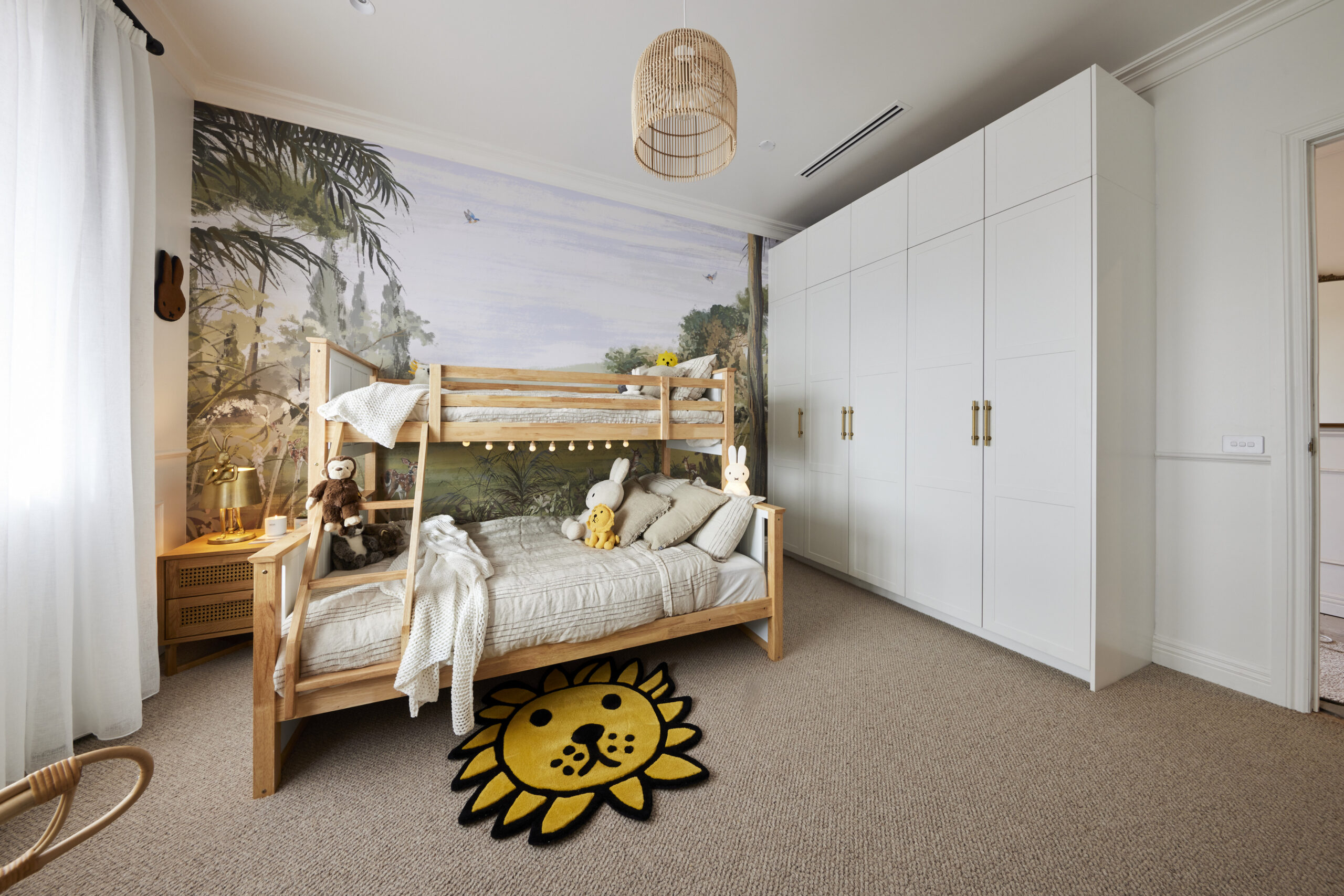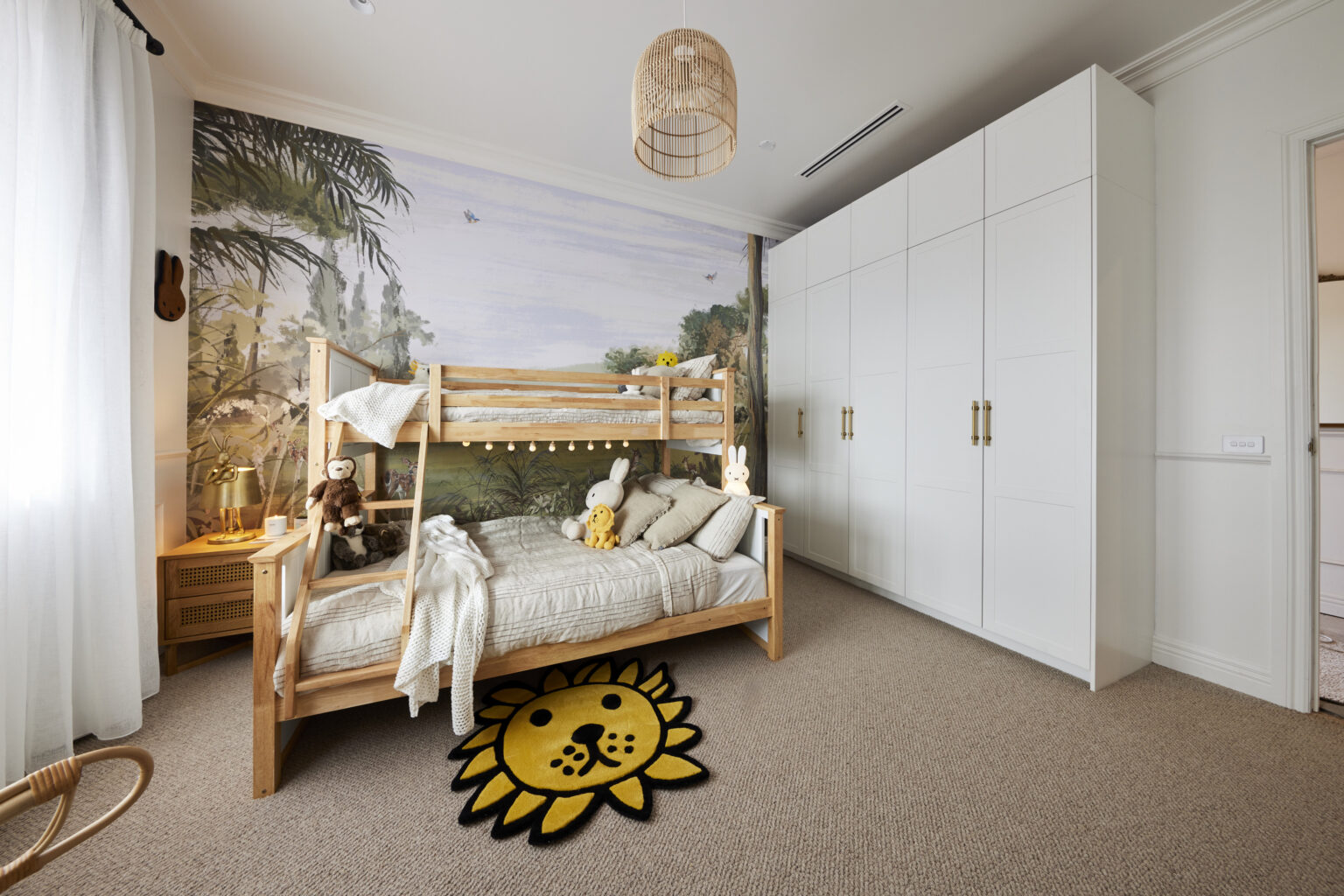 The Block 2022 tree change: guest bedrooms
So much cute on the The Block last night with the majority of the guest rooms presented as kids' rooms!…