You know they say you should live in a new home for a while before you do anything major? Because it's only by living in it day to day and seeing how you use the space and how it works for you, that you'll be informed to make the best decisions. And it's so true, but let's face it, we are impatient. Well, I certainly am!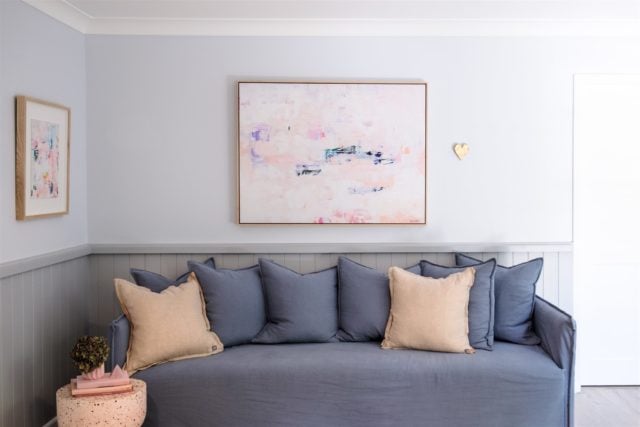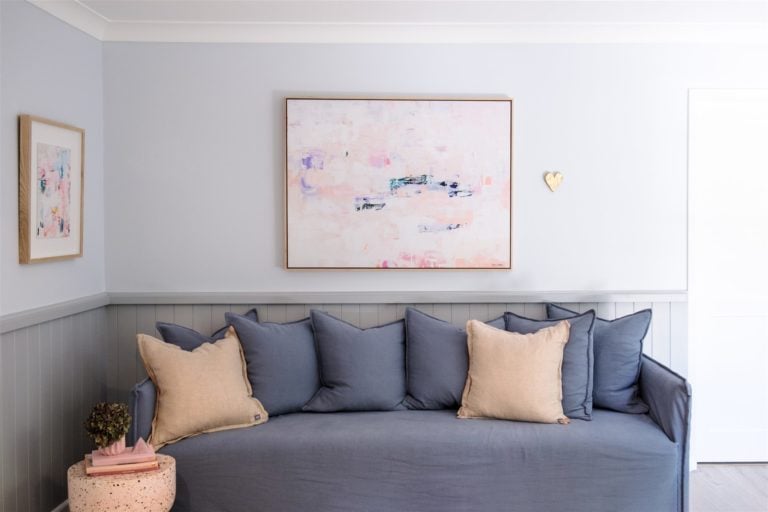 Our L-shaped kitchen/dining has been a sticking point for us for the 3.5 years we've lived here. The kitchen part (renovated shortly after we moved in) is possibly my favourite space in the house so that side of the L, we had covered! The dining part however, was tricky! We've tried the dining table in two spots: right opposite the kitchen (let's call that A!) and also further away by the French doors to the deck (let's call that B!). When the dining table was in spot A, we had a credenza in spot B and vice versa. We finally realised the spot B by the back door was the best dining spot (and three tables later we have the right one!), but the credenza thing wasn't quite right and mainly because it became a dumping ground for everything without a proper home. And having clutter opposite my beautiful, minimal kitchen? Not cool!
One day I just realised we needed a sofa there. I was thinking about how everyone naturally gravitates to this room when they come over. It has lovely light, the kitchen's a nice space to be, it's where the coffee is made and the drinks are poured and, as they say, the kitchen really is the heart of the home these days. But I couldn't find quite the right one.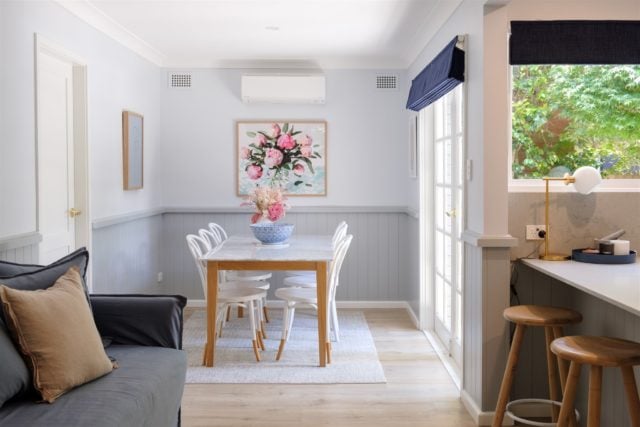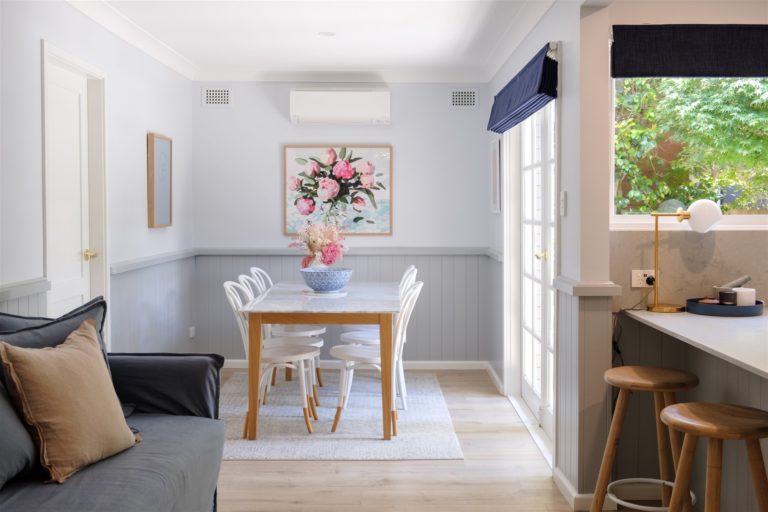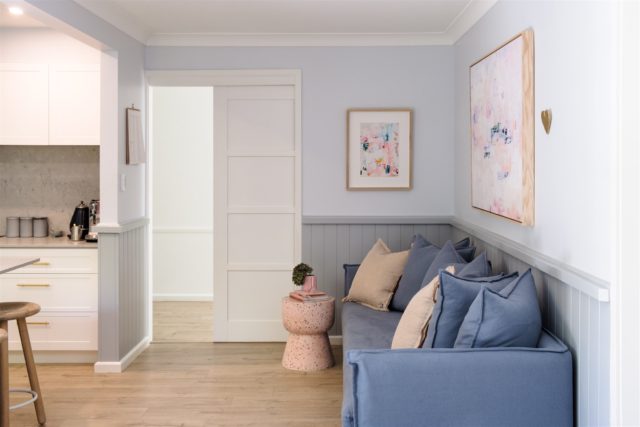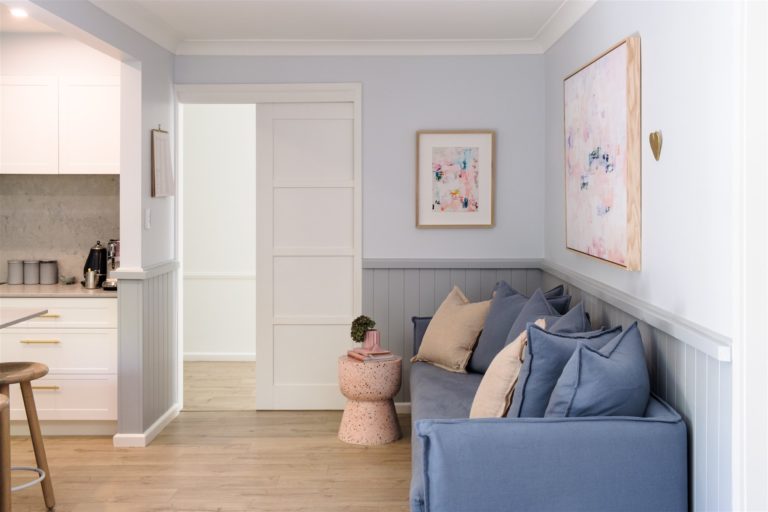 Enter Crafted Furniture, who make custom sofas right here in Sydney, and in only six-to-eight weeks, which is amazingly quick for a sofa these days, especially one made to your requirements.
We fell in love with the Slade Slipcover Sofa after having a good browse of their newest showroom in Paddington's Oxford Street. Its clean lines (love that arm profile!) just made sense to me for the space, it not being a traditional living room. But the plump back cushions mean it's still super comfy and frankly, the ideal spot for a nap! So, the sofa choice was pretty easy. The trickiest part was the colour because we could really have whatever we wanted.
I'm so glad that I went against my 'play it safe' tendancies to choose this gorgeous blue, because I would normally go for grey or my favourite navy (but I felt the latter would dominate the space too much). Speaking of which, I didn't want the sofa to protrude out into the space, which is a thoroughfare to the dining table, too much, and I'm talking about the way the space felt, as well as the actual physical space. So we asked for ours to be made 10cm shallower than this model would usually be. It still looks beautifully generous but it fits the space perfectly. We had more space to play with but I feel it would have felt too overbearing had we not made this small change. The length was easy: I just wanted about 30cm of breathing space at either end.
Another prerequisite was removable covers, like we have in the living room and have proven to be a godsend, especially in a room where food is allowed (by default!). This linen and cotton slipcover lifts clean off and can be machine washed on cool but personally, I'll be getting it dry cleaned when I need to.
The showroom experience was really enjoyable and helpful. They didn't even mind our two little terrors running around! I think when you're investing in a quality sofa it is a good idea to go and sit on it, and when you have the opportunity to make it any size to fit perfectly, and hundreds of fabrics to choose from, it's great to get some expert advice. We saw lots of fabric samples in store but they then sent us our favourites in the mail so we could see them in the context of our room, against the paint colours etc.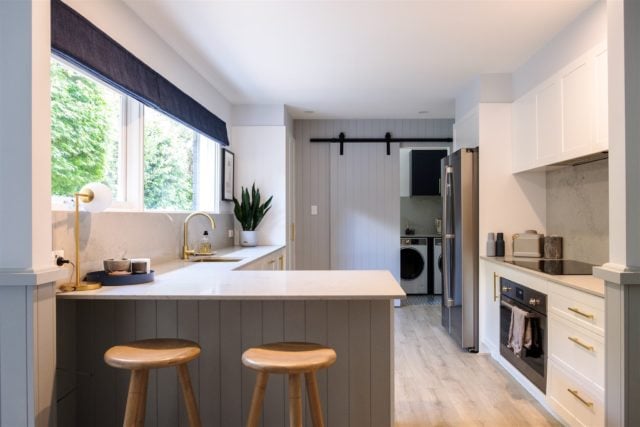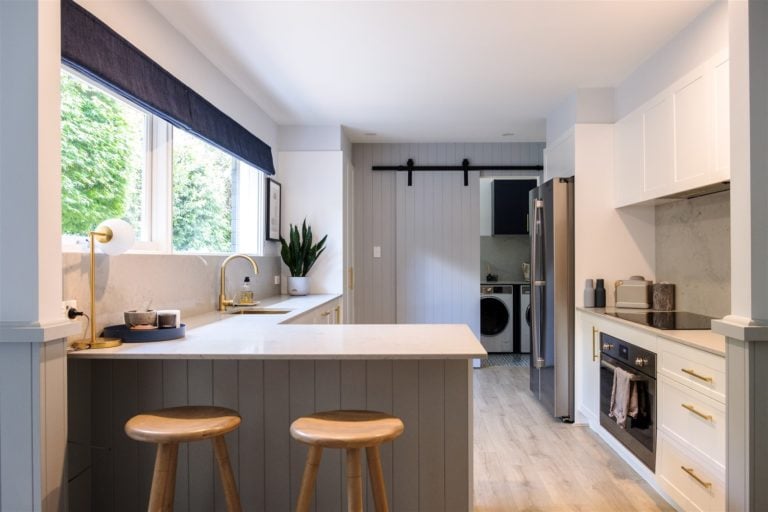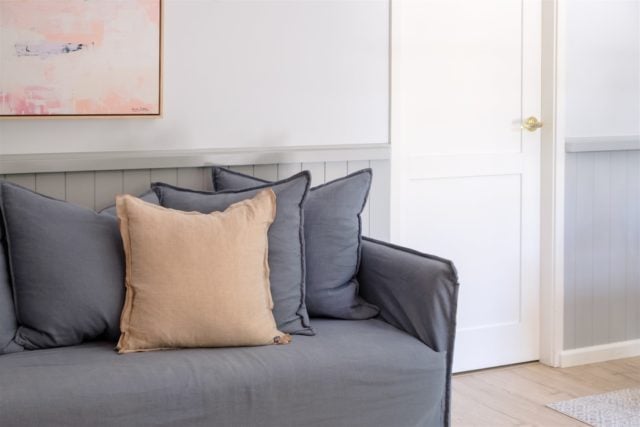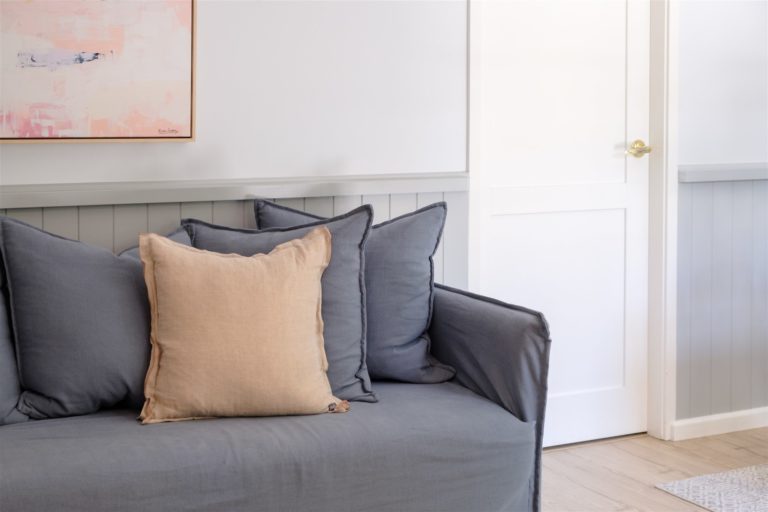 I knew I wanted a large artwork above the new sofa and couldn't resist a new one from Melbourne artist Kirsten Jackson. We have one of her much more vibrant works in our living room which takes centre stage and always gets so many comments! This is a lot more subtle and I've tied it in with the lounge and broken up the blue by adding a couple of soft pink Eadie Lifestyle linen cushions. Then I decided the pink terrazzo stump in the living room looked just perfect here so brought it in. Do you ever do that? 'Shop' from what's already in your home? I highly recommend it!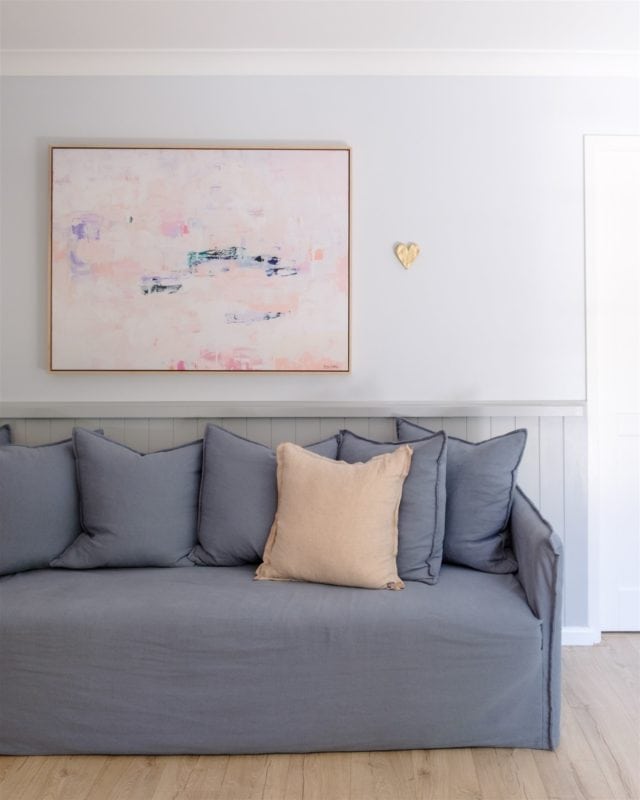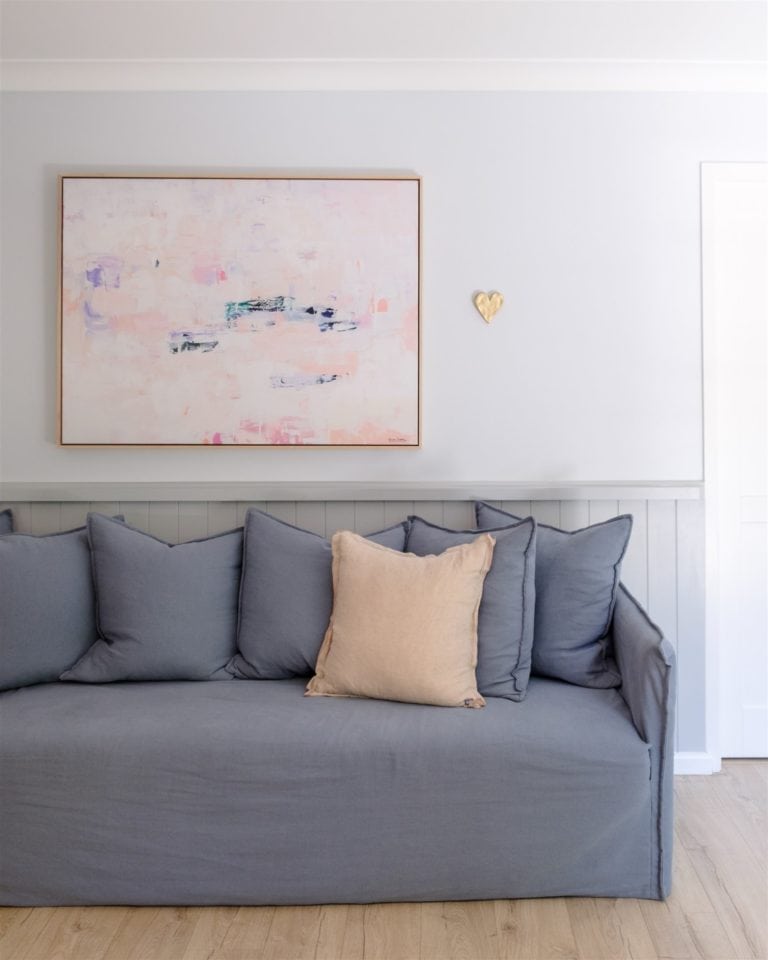 We are so thrilled with this new seating area in our home. What was just a spot for the credenza (which is now in the hallway so we haven't lost the drawer storage) now feels like a whole additional room! It is already very well used and many sticky fingerprints have already been spot cleaned off it without any drama. Phew! This area also looks so damn pretty and the colours work so nicely with the kitchen and the art. I also feel so smug that we have finally worked out how to best use this slightly awkward space for our family and visitors!
Now please excuse me while I go and listen to a podcast with a cuppa on my new favourite couch…
Photography by Joe Cheng
Crafted Furniture have a 15% off sale on until the end of the month if you're in the market for a sofa. Check them out online or visit their showrooms in Paddington, Crows Nest or Castle Hill. You can even arrange a consultation via FaceTime, Skype or Zoom.
The owners of Crafted have over 20 years experience in the furniture business and they proudly make everything here in Australia. An additional benefit of this is you only wait an average six-to-eight weeks for your custom sofa. Crafted also work with The Sofa Project charity to help re-home your old sofa to someone in need.
Disclosure: We received a trade discount on our sofa.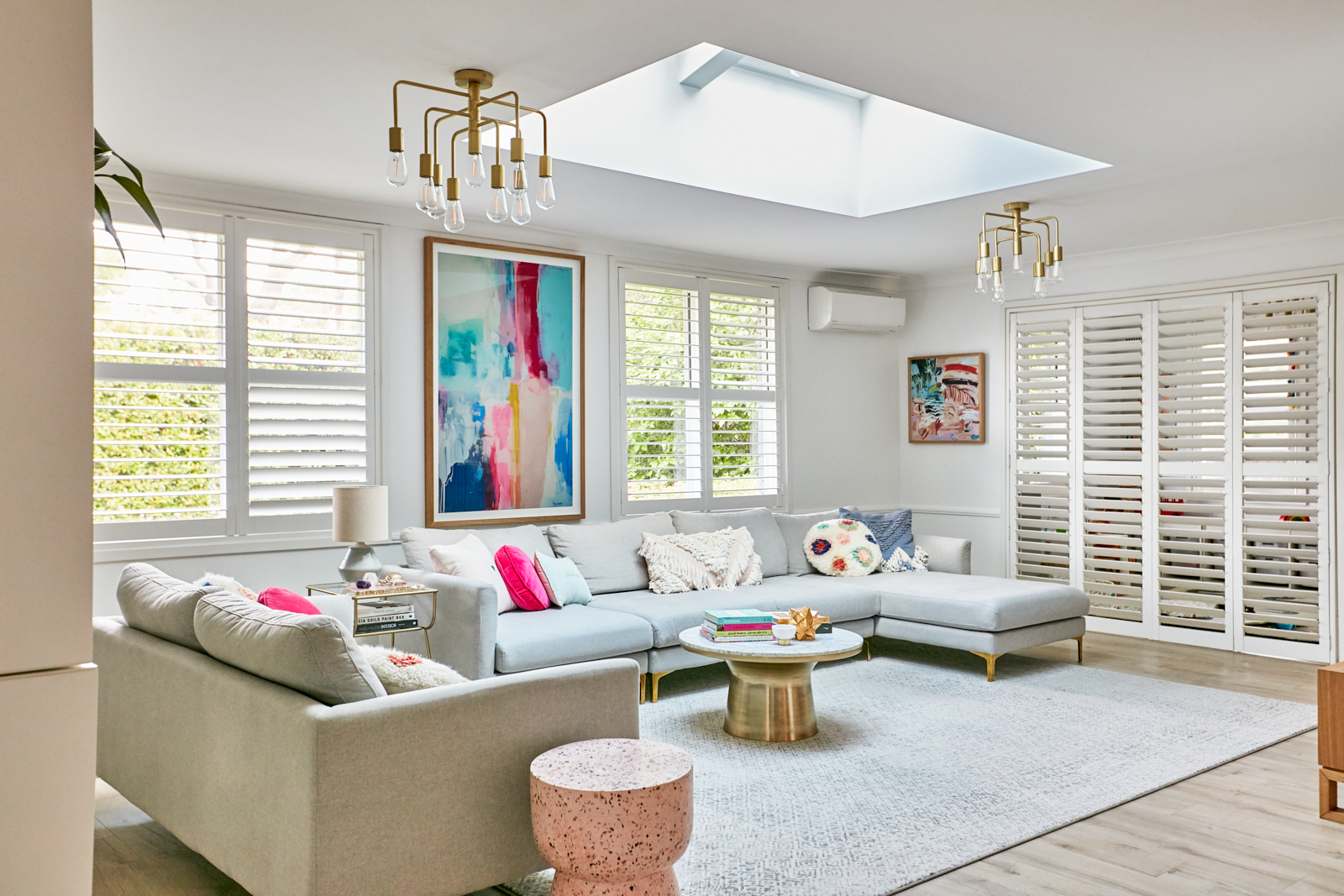 Skylights have transformed our living room: here's all the details – The Interiors Addict
Never underestimate the importance of natural light. You should never buy a house with poor natural light because once you're in, you can't do anything about it. Only you can.…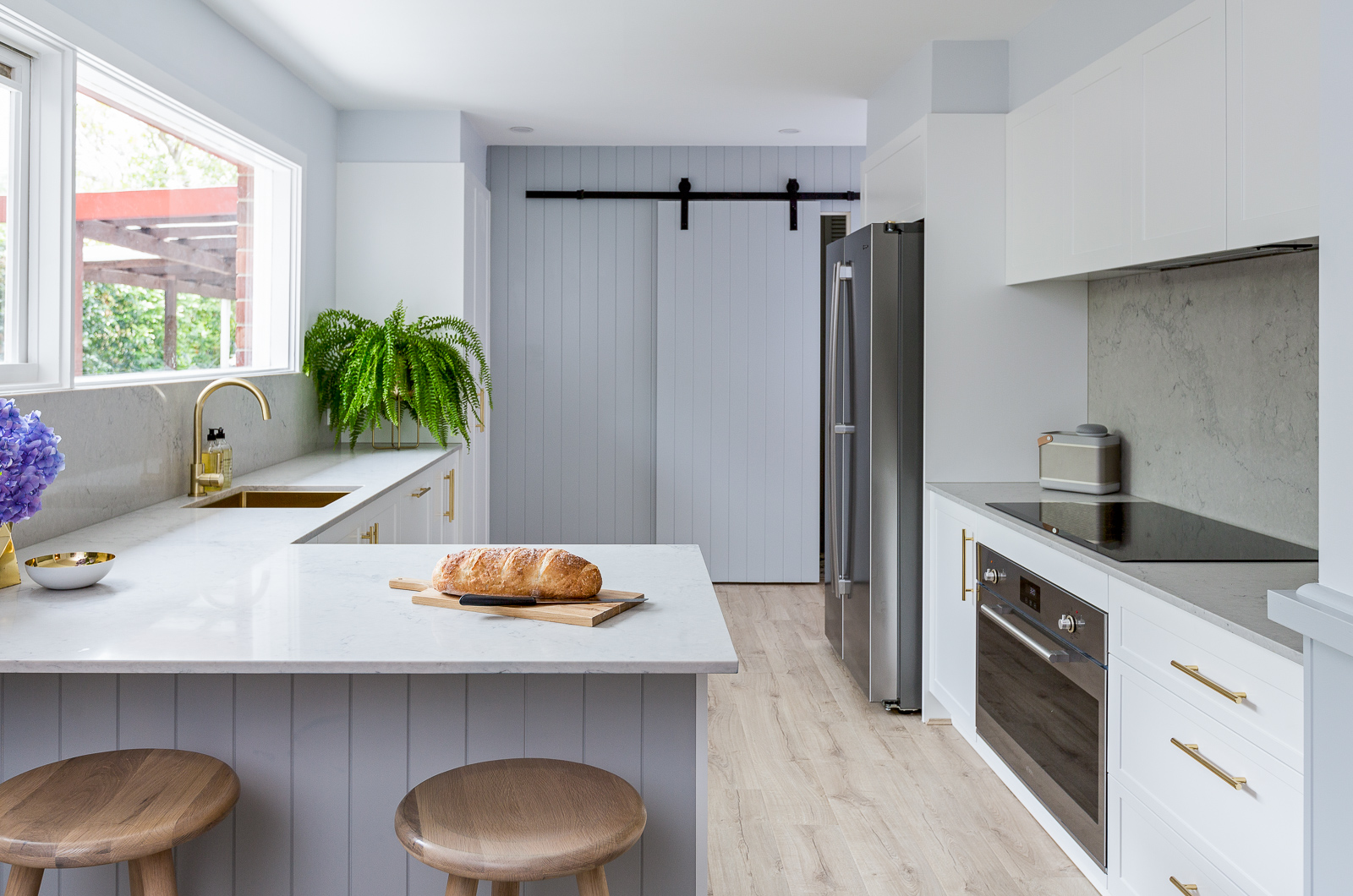 The big kitchen reveal – The Interiors Addict
Photography by Jacqui Turk I am so excited to finally share my new kitchen with you today! Seeing these beautiful pictures makes the last two months of mess and chaos…