Welcome to the third and final Monday in a row (for a while, anyway!) of sharing a project from my very own home! I hope you enjoyed the flatpack built-in entertainment unit and the navy and gold laundry earlier in the month!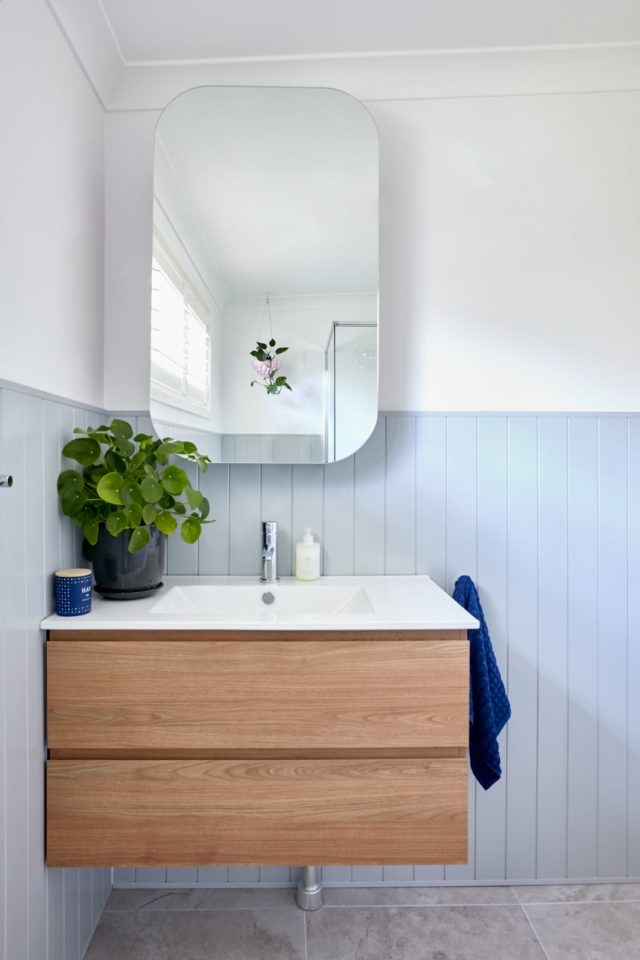 Today, I'm sharing our en suite, which probably involved the most thought, planning, work and money, of the three projects we completed just before Christmas. Funnily enough, this room was the most modern (I'm guessing an 80s/90s extension) of them all when we moved in. Which is pretty funny when you consider the before pictures below! Hello, beige and brown!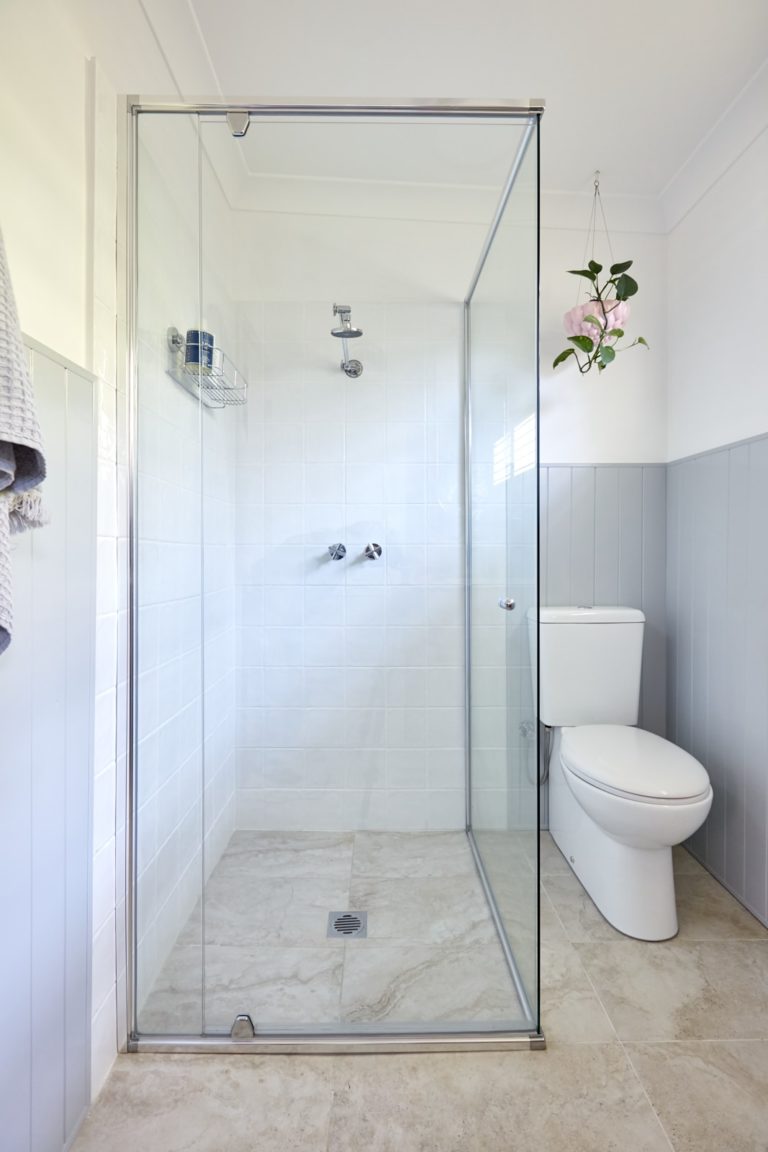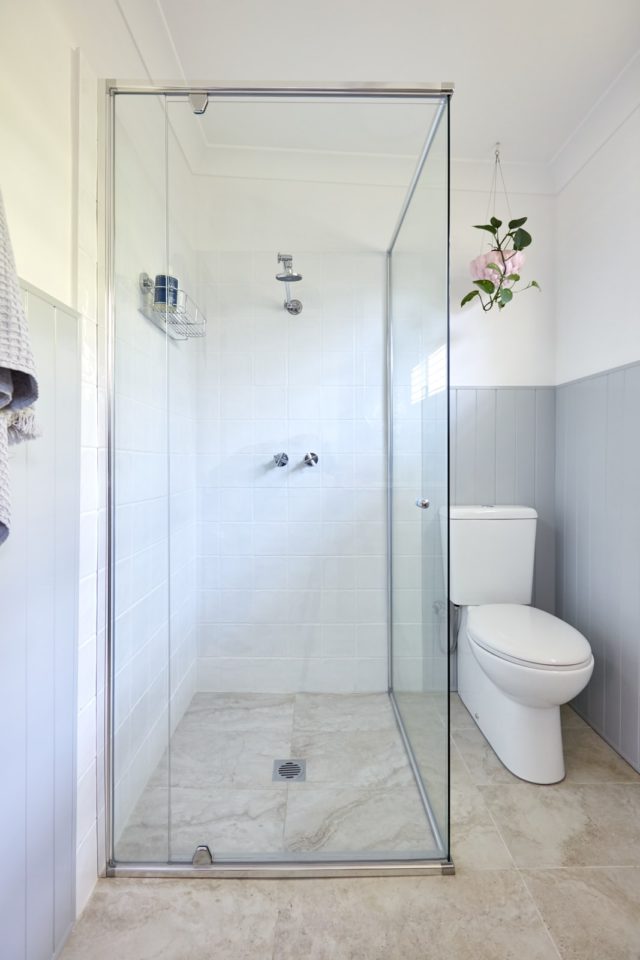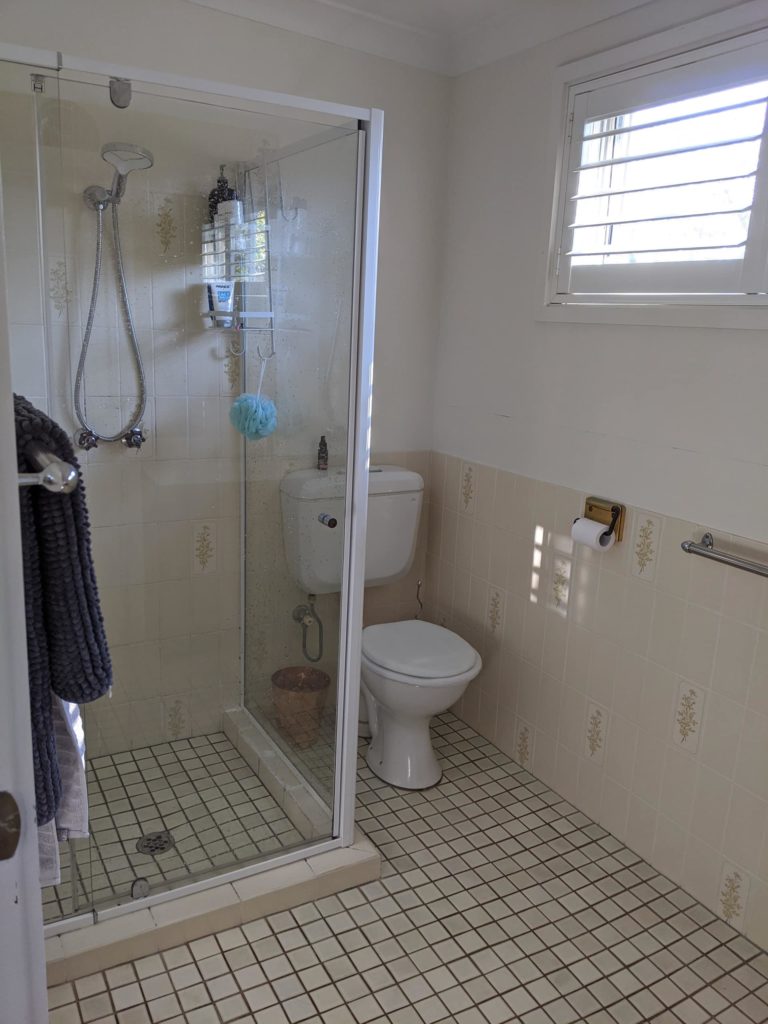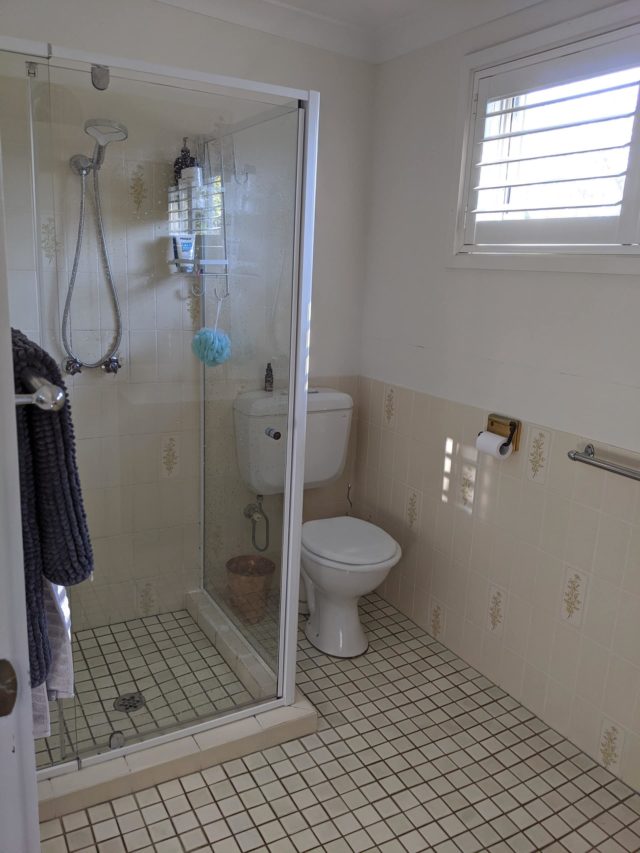 Bathrooms are, by their very nature, bloody expensive rooms! And while we did a complete rip out and re-do with our main bathroom, we didn't have the funds (nor did we consider them worth spending) to do the same for our en suite. But after almost four years, we really wanted to finally finish off the two remaining very dated rooms of this "nanna house," this and the laundry. They were definitely a couple of pimples on an otherwise pretty face!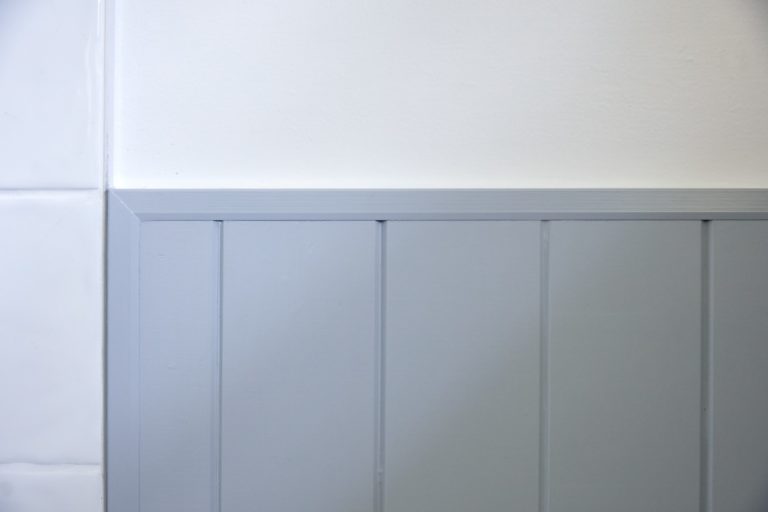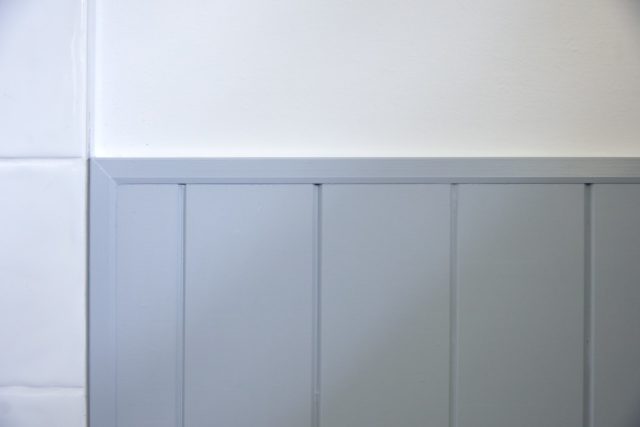 We all know tiles and particularly tiling, add up in a bathroom reno. In a bid to avoid some of this cost, as well as the time and mess involved in a "real" bathroom reno (I have limited patience!), we decided to tile over the existing tiles (which is perfectly fine to do if your tiles are sound), and we did that with the floor tiles. The new floor tiles from TileCloud are as similar as we could find to the ones we used in the main bathroom.
We never considered DIY-ing this part and left it to a professional tiler. And yes, we waterproofed underneath, especially as we also took the opportunity to remove the hob around the shower! It was reassuring to find a quality copper fold shower tray underneath! The tilers did our laundry and front porch at the same time which cost less than doing the three jobs separately.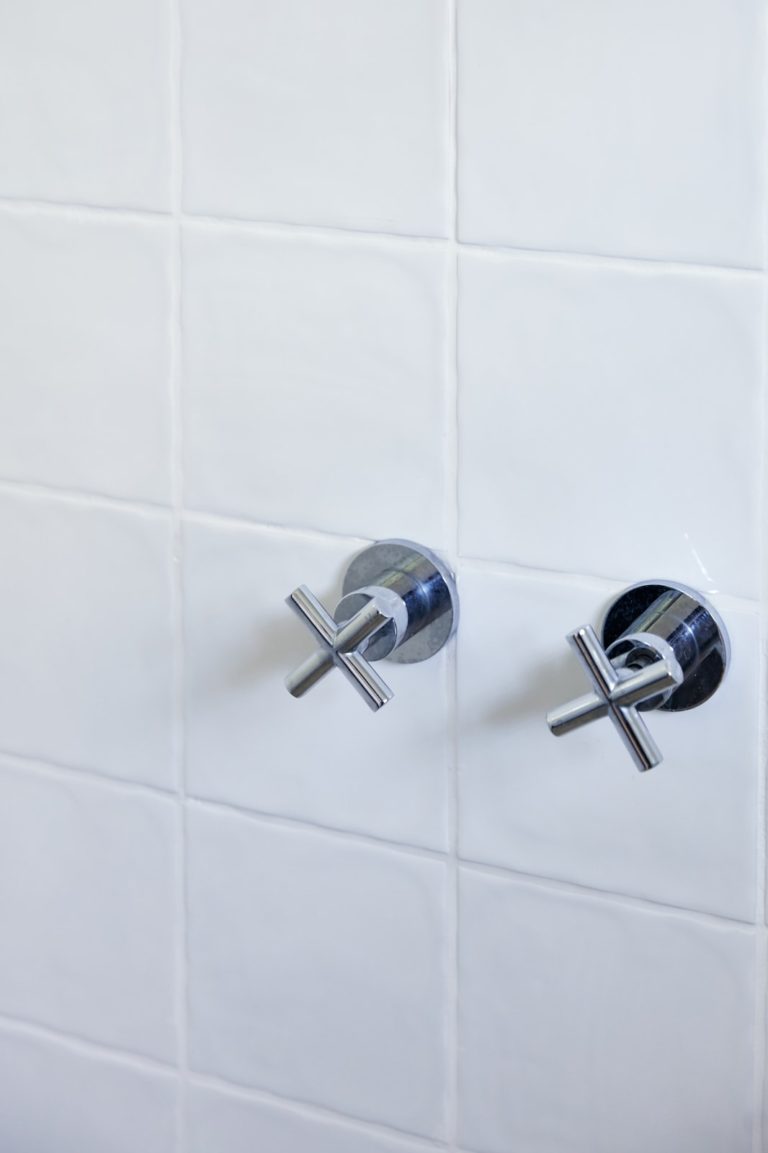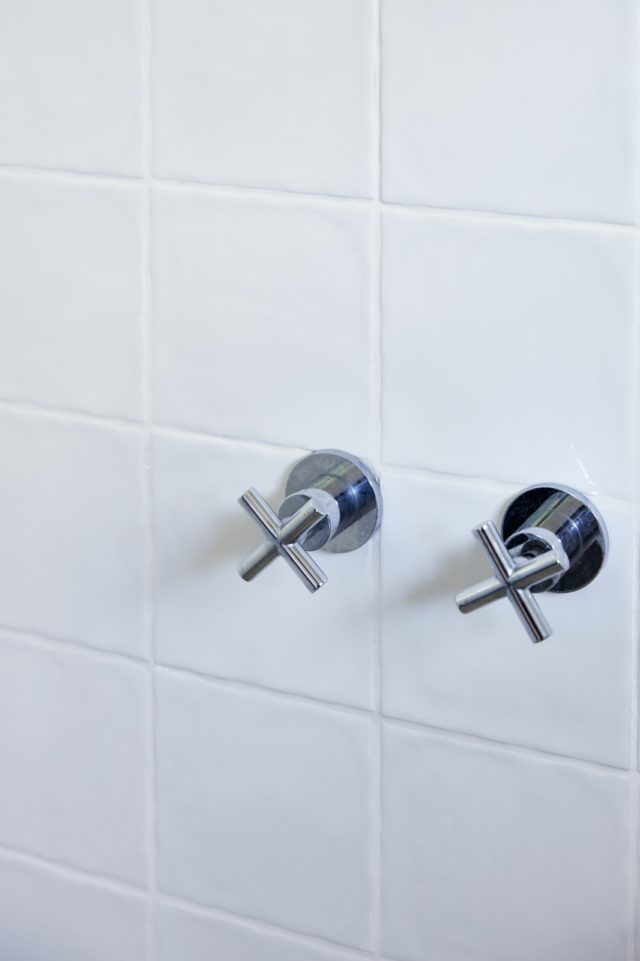 Despite this whole tile-on-tile situation making me stress out a bit over how it would come together, it all worked out really well. We also tiled over the tiles within the shower itself. Again, we chose tiles as similar as we could to what we used in the main bathroom, again from TileCloud, for some continuity, keeping it all very simple and clean.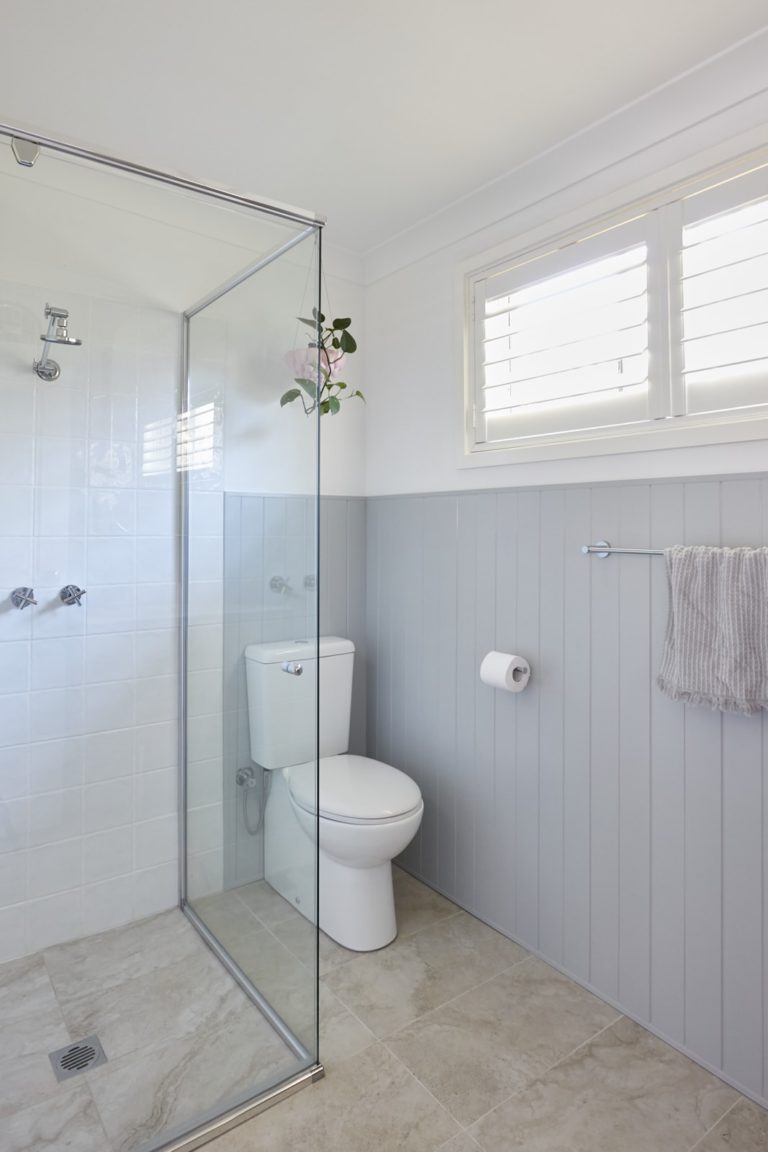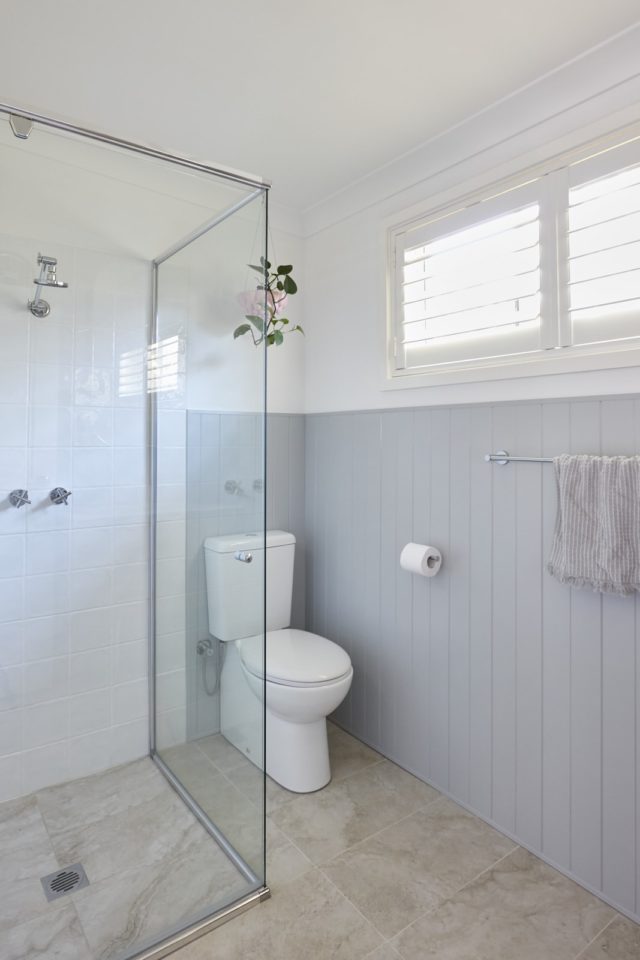 Where we really saved money (and also got a great look aesthetically), was in going over the remaining wall tiles with VJ panelling (which we painted the same blue/grey as the other VJ in our kitchen, dining and living rooms). While floor to ceiling tiles always look great, they're really not that necessary unless you plan on throwing water around your room in a big way! And of course the cost of the tiles, and the tiler, adds up.
I initially planned for this paneling to be painted the same navy as our bedroom in order to achieve a nice flow from one room to the other, but I made a last minute call to go grey instead because I felt the dark blue would overpower the small room. I think this was a good call. The lesson learned here was not to feel you have to stick rigidly to your plan! Although we already had the navy paint and it feels a waste (I'll find somewhere to use it with my love of navy!), we had leftover grey paint so thankfully it didn't cost us any more.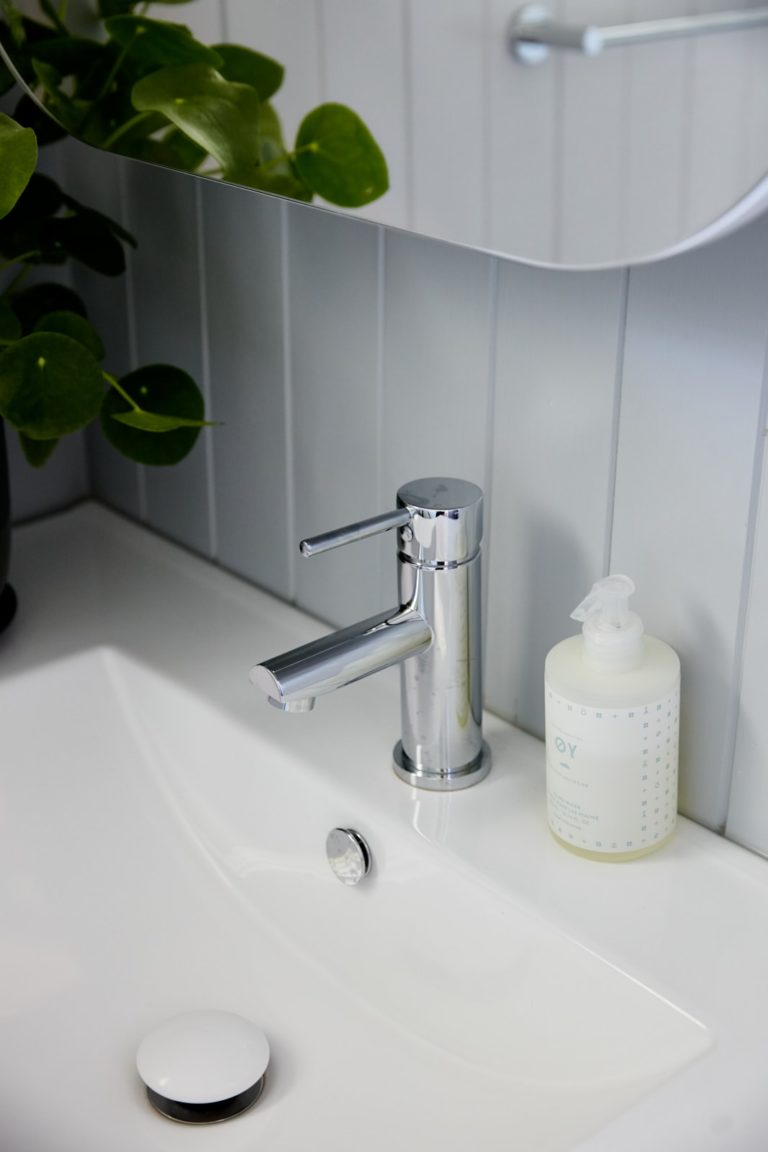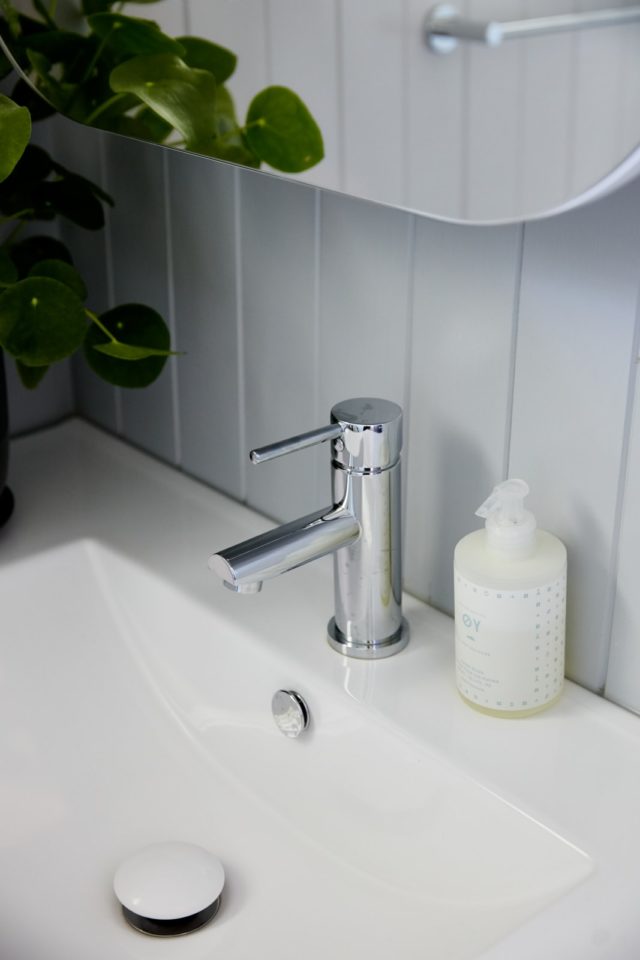 We didn't use Intrim's VJ Board Pro in here (like we used in the living room) because MDF and wet rooms are not a match made in heaven. Intrim advised that a much more sensible option was their timber lining boards (their LB03 lining board in 185mm wide panels) which click together and come pre-primed and ready to paint any colour you like.
We kept everything in the same spot, just replacing with new, to save time and money.
The trickiest part of this entire room was working out how to attach the lining boards safely to the wall, covering the tiles, and how and where the shower tiles would meet the panelling without looking clunky. Lucky I had my superstar tradesman Trent Ayton from Pure Renovation Group on hand to come up with the solution because I sure didn't have a clue! He didn't feel that simply gluing the panels onto the wall tiles and adding a chair rail was secure enough.
He explains: "We made sure the existing tiles were sound and cleaned them well. Then we used a U-shaped metal tile trim that was both glued and screwed onto the existing tiled walls, then fit the VJ using quality adhesive. We used the same trim top and bottom and painted this the same as the timber so it all blends in well and you don't even notice it's metal."
Trent looked after everything except the tiling, plumbing and electrical (really just replacing light switches and sockets with new, disconnecting the old mirror light and connecting the new, under-vanity LED light. Trent also gave me very helpful direction on which trades I needed and when in the process, allowing me to confidently project manage the job myself and save a lot of money.
We had hoped to use a Bunnings off the shelf shower screen (we replaced what was there when we moved in with one of these because the door kept getting stuck!) but after tiling over tiles on the wall and floor, things were not plumb enough! So that cost us more than we hoped ($800) but having semi-frameless does look much more streamlined.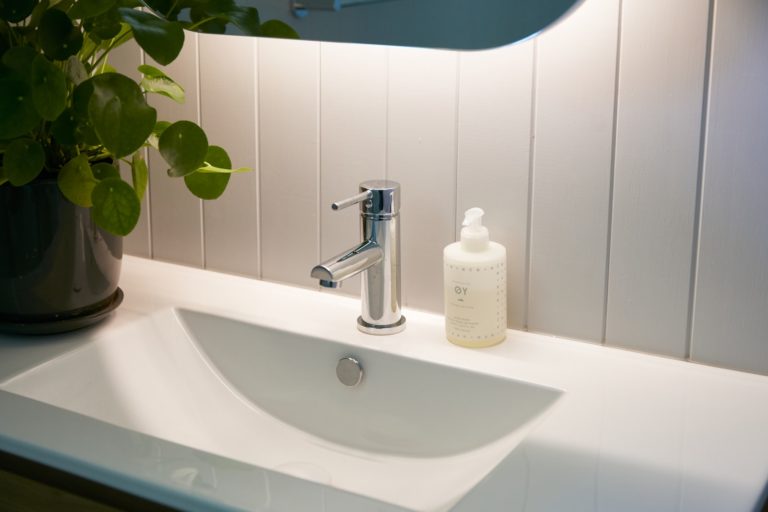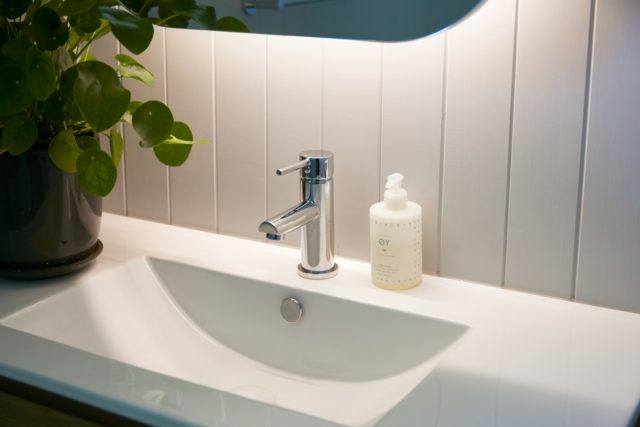 The look and feel of this bathroom is very clean, light and modern (but also quite classic!). I really love the look of the VJ panels and I feel we added some important warmth and a bit of wow-factor with the beautiful vanity and mirror cabinet (thanks to Matt Michel for suggesting this size and style and letting me bounce ideas!) from The Blue Space. I loved that we were able to customise these Timberline products online, choosing options like the LED lighting (which is perfect for going to the bathroom in the middle of the night!), a white ceramic waste (which we also have in the main) and the timber veneer colour, which I'm thrilled with. I also love how the timber veneer is the same on the outside of the mirror cabinet to match the vanity below. It's a very similar look to our more expensive solid timber vanity in the main bathroom.
We decided to use chrome tapware rather than matching the brass in the main bathroom, mainly to save money on having to replace the shower, and gold shower options are limited. We also avoided moving any plumbing unless we really had to (we had to move the plumbing up behind the vanity because we replaced a floor standing one with a floating option). We chose Meir tapware though, as we have for our kitchen, laundry and main bathroom, because we love the look and quality and it provided continuity in style if not colour. The wall hooks, towel rail and toilet roll holder are also from them.
I am delighted to say someone took the old vanity off our hands via Freecycle (who doesn't hate landfill?) although the same cannot be said for the old toilet with the padded seat!
To avoid drilling into two layers of tiles (nerve-racking much? Plus, maintaining the integrity of the waterproofing), I researched the suction options and this Fusion-Loc brand from Bunnings (about $40) gets rave reviews, actually stays on, doesn't rust and looks pretty good for a stick on option!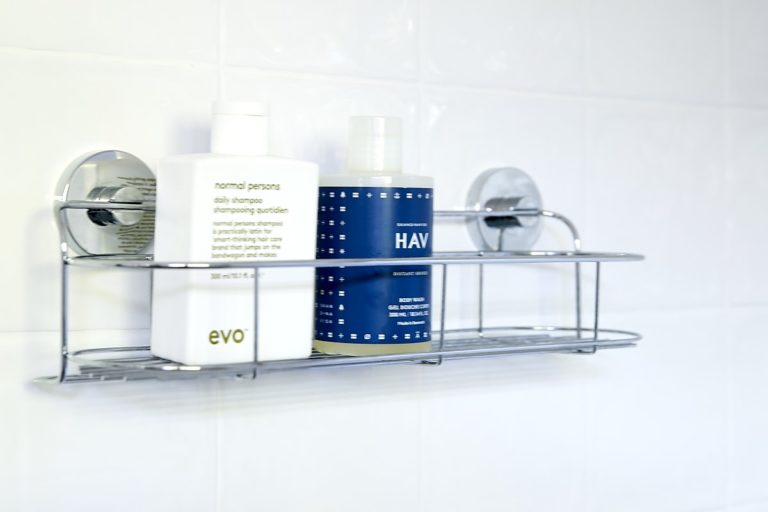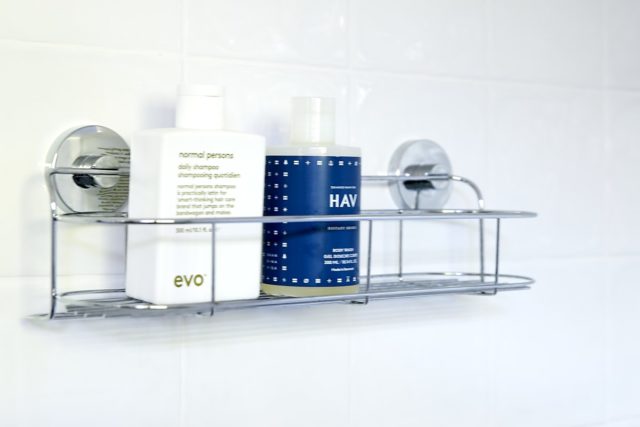 Every decision we made with this bathroom was a careful weigh-up between aesthetics and cost. This bathroom is not the showstopper the main bathroom is, but it wasn't intended to be and frankly, we didn't need it to be. We do really love it though, and the colour palette means it's really light and bright, a far cry from the beige and brown!
However, as it didn't end up being a navy bathroom to tie in with the navy master bedroom, I'm now thinking about re-painting the bedroom the same blue-grey to tie it back in with the bathroom (It never ends in this house!)! I have loved having a dark and moody bedroom but maybe I'm ready for a change! Dark walls also show up dust!
We finished off with a few accessories from my favourites Oliver Thom, including the navy Zone bin, Skandinavisk toiletries and Norm toilet brush. The Angus & Celeste pink jelly planter was a Christmas gift from my dad and adds a nice pop of colour.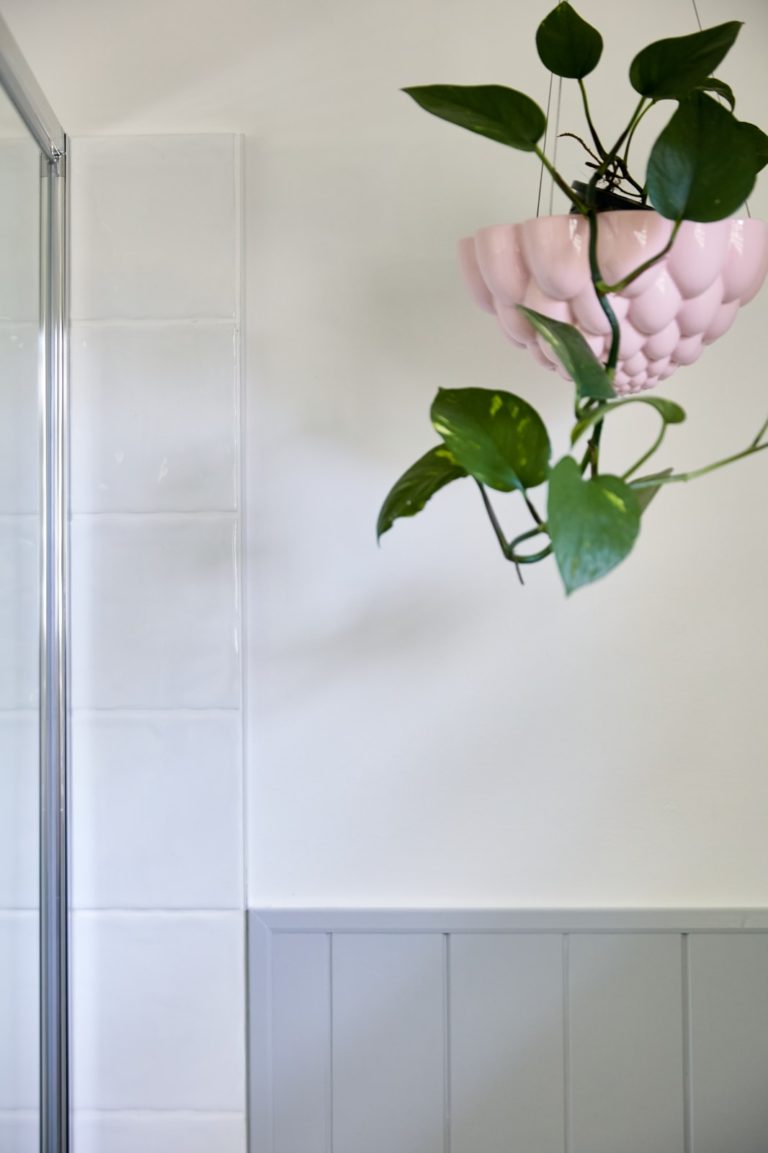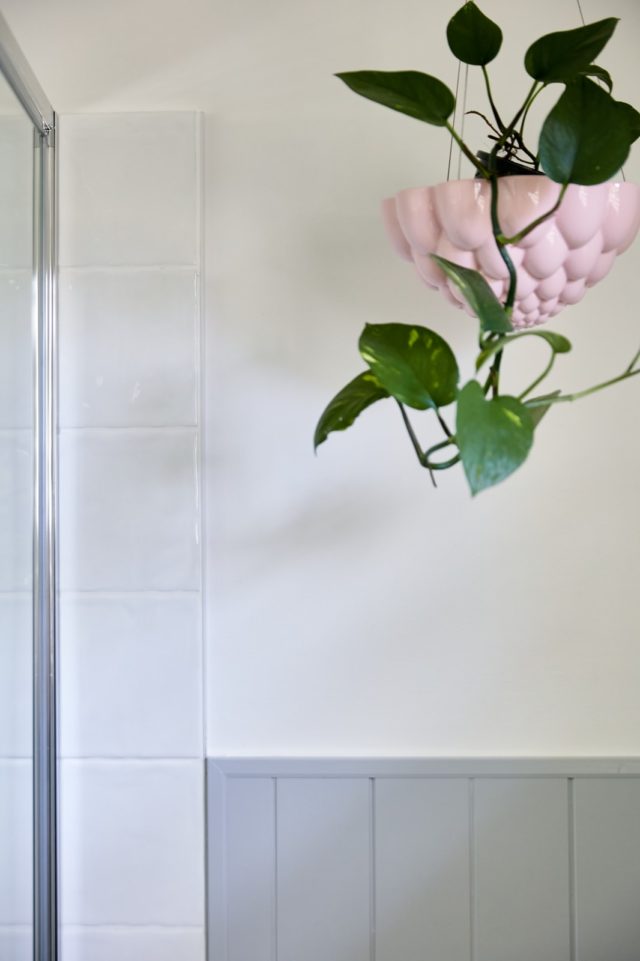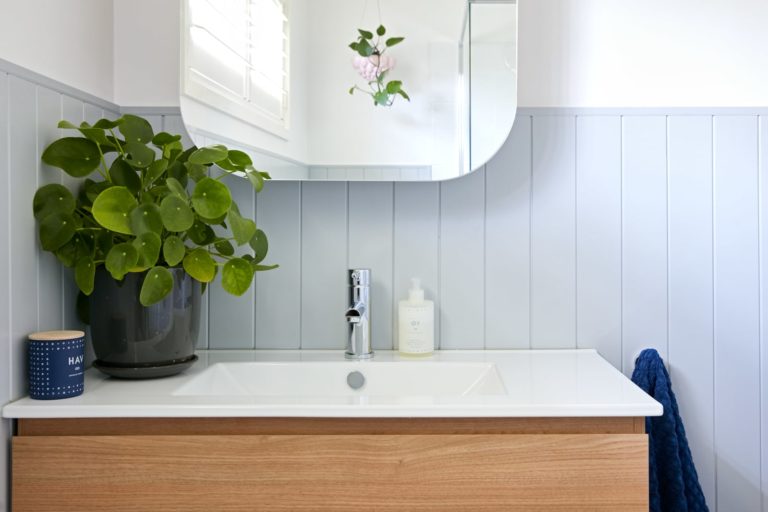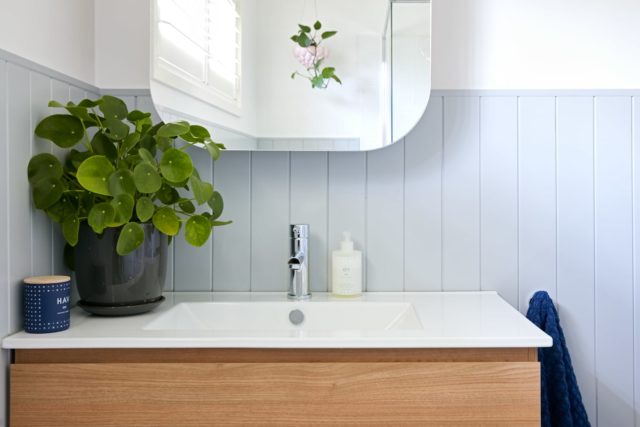 We are replacing our old windows later this year and I'm looking forward to swapping the older sliding window (nicely hidden behind the shutters) with louvres. At this point, I'll probably ditch the shutters as privacy and keeping light out aren't considerations and louvres and shutters would be a bit much. What do you think?
I hope you get some ideas from our semi-budget en suite reno! Feel free to ask any questions in the comments!
The finer details
Vanity: 900mm Timberline Nevada Plus Wall Hung Vanity with Alpha Ceramic Top from The Blue Space.
Mirror cabinet: 600mm Timberline Jazz Arch shaving Cabinet from The Blue Space
We chose the Tasmanian Oak Woodmatt finish for both the above
Tiles: (Floor) Byron Travertine Look Ivory Matt and (Wall) Newport Gloss Large Square from TileCloud
Wall panelling: Intrim's LB03 lining board in the 185mm wide panels
End trim to fix the panels to the wall: Roberts 12mm x 3.3m end trim from Bunnings
Paint: Chinchilla Fur in semi gloss from Haymes Paint (panels) and Light Frost by Haymes Paint (walls).
Taps, towel rail, robe hooks and toilet roll holder: from Meir
Trades: Pure Renovation Group
Accessories: Oliver Thom and (towels) Aura Home.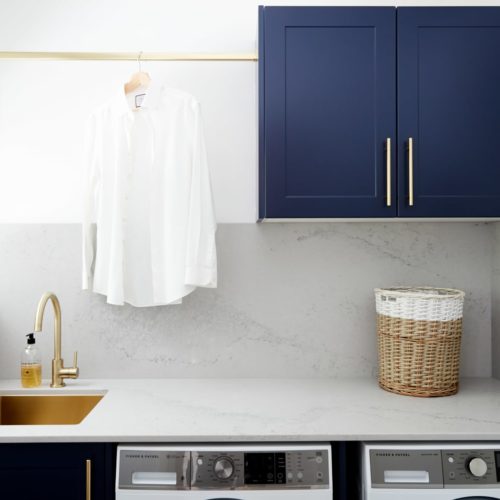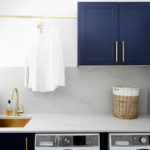 My new navy and gold laundry revealed: before and after
Our kitchen was the very first room we renovated in this house, almost four years ago. It was a case of "I'm not buying the house unless we can afford…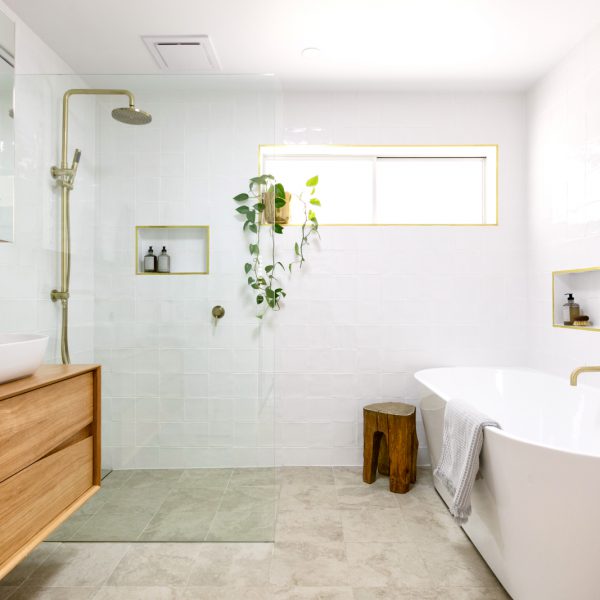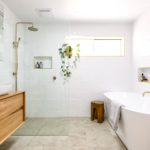 Interiors Addict bathroom reveal: before & after
You know that old cliché about saving the best until last? I think we may have just done that with our family bathroom! This was the last major (indoor) project in our…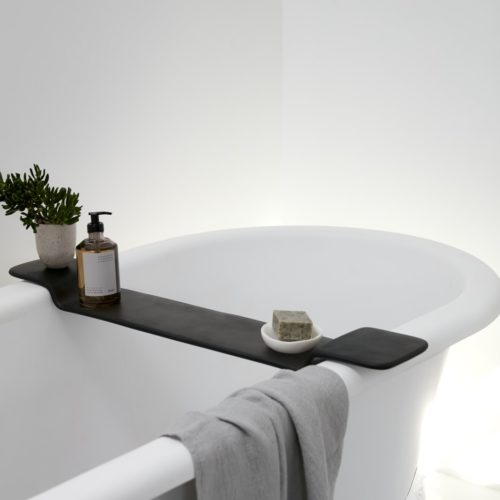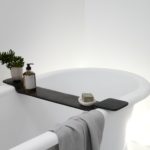 Designer toilet brushes and bins the new must-haves for a stylish bathroom
While Australia's homewares scene has continued to dramatically improve over the years, when it comes to bathrooms it can still be a little tricky to find stylish wares to put…