Got a gorgeous outdoor setting that's seen better days? Or perhaps you've scooped up a battered but beautiful metal planter that needs some TLC to be restored to its former glory. Restoring metal and metal products used to be a job best left to the professionals but thanks to a troupe of new products, quick and easy metal restoration projects can be completed by even the most novice DIY-er.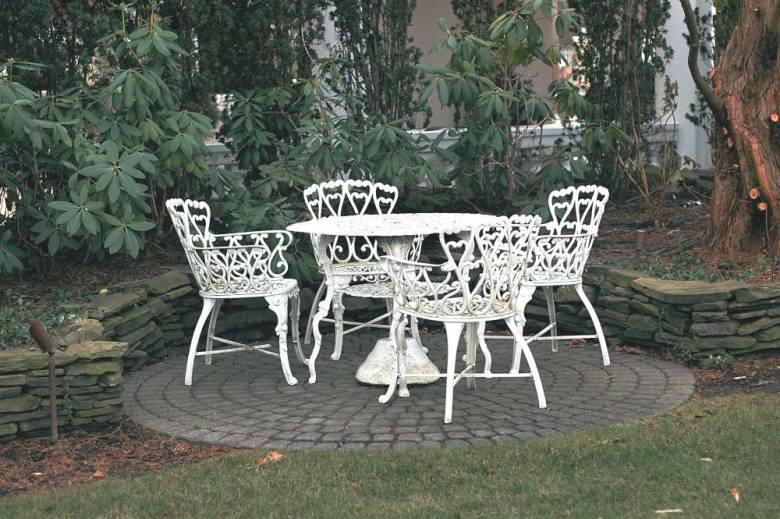 Image source: NorthJersey.com
We've got the scoop from the team at Hammerite on how to restore your tired old metal outdoor setting to its former glory using Hammerite Direct to Rust Metal Paint. This brand new formulation is a 'one tin' solution, performing as a primer, undercoat and top coat – saving time and money. Hammerite Direct to Rust also utilises DUALTECH technology which provides two way protection by repelling water and stopping rust, keeping the metal stronger for longer with up to eight years guaranteed rust protection. Quick drying and easy to use, you can restore a table and chair set in the space of 48 hours.
Here's how:
Materials
Wire brush or sandpaper
Bucket
Dishwashing detergent
Newspaper or drop-sheet
Face mask
Hammerite Direct to Rust Metal Paint Aerosol
Method
Store aerosol at room temperature for two hours prior to use.
Remove rust and loose paint with a wire brush or coarse sandpaper.
Using water and a diluted detergent wash down thoroughly to remove all dust, grease and dirt which may prevent the paint from sticking to the surface. Rinse with clean water.
Place a drop-sheet or newspaper around the surrounding area to catch any spills or drips.
Ensuring the surface is dry, test spray on a small inconspicuous area to ensure surface compatibility and finish suitability.
Shake can vigorously, in a vertical motion until the agitator ball is heard and then shake for another three minutes.
Apply light even coats, from a distance of approximately 15cm to 30cm and keep the aerosol moving, ensure not to concentrate spray in one spot.
Apply several thin coats paying particular attention to corners and edges and allow 15 minutes between coats.
Between coats (and after final use) invert can and spray for two seconds to avoid blockages.
Quick and easy!
For more information about Hammerite products call 1300 745 536 or visit www.hammerite.com.au