Photography by Jacqui Turk
Yes, even an interiors blogger gets it wrong. In fact, I hope half the reason my blog resonates with you is that I'm not a stylist; I'm an ordinary person who has a bit of an eye for a nice room and what works well together, but no design training and frankly, I often make some real dud decisions before I finally settle on something that works. Lucky I'm only let loose on my own home, right?!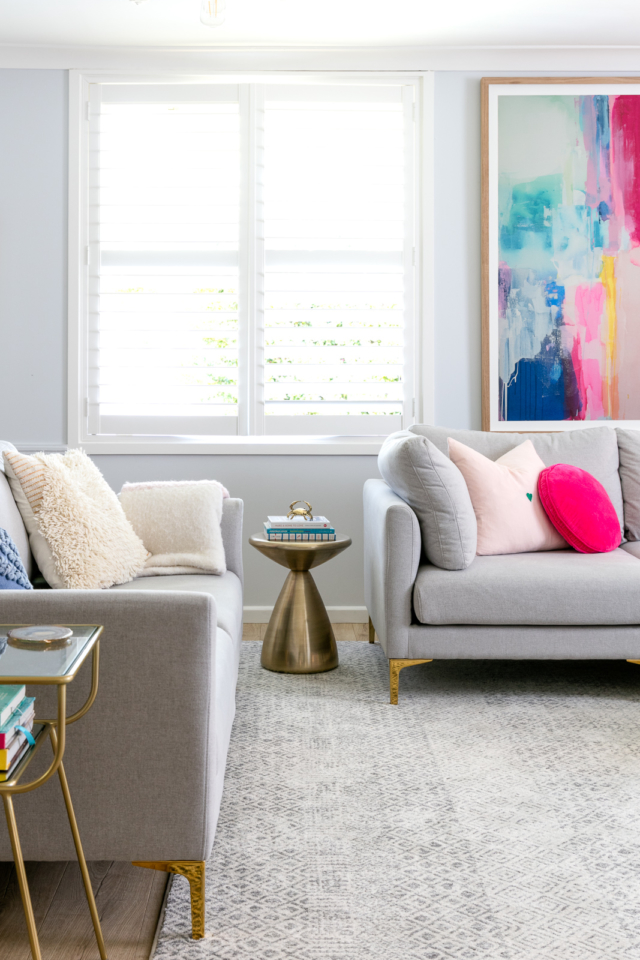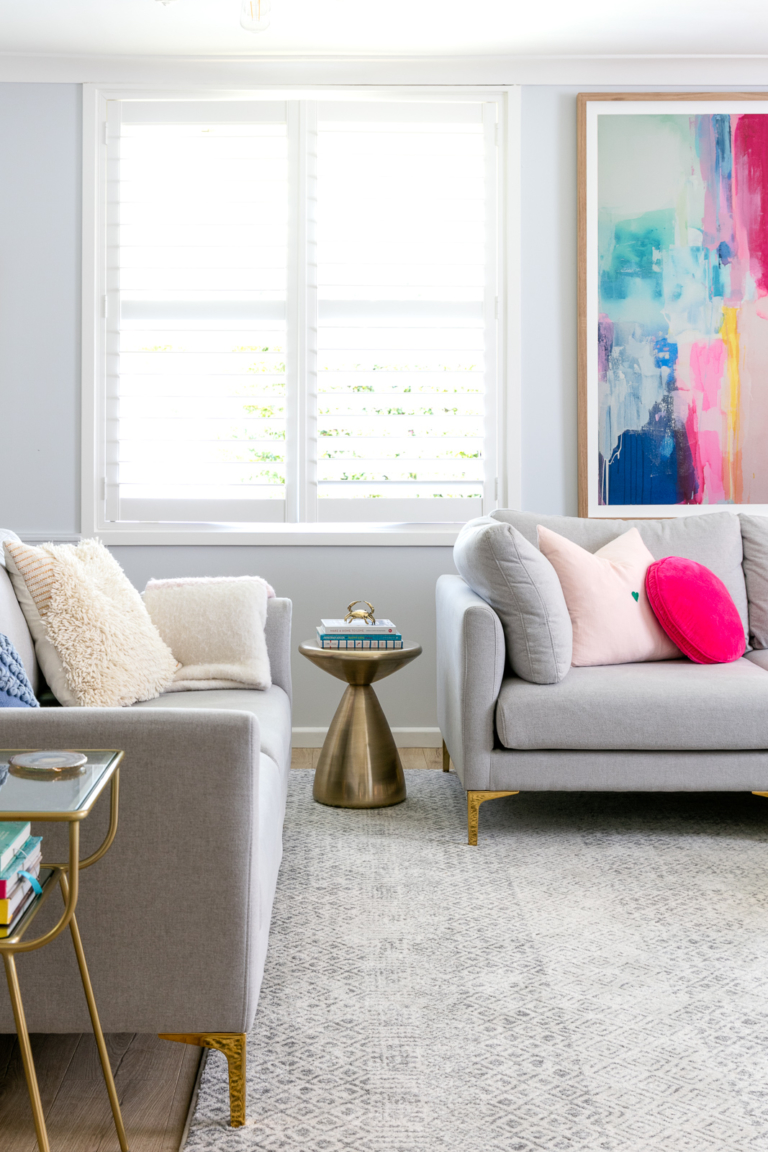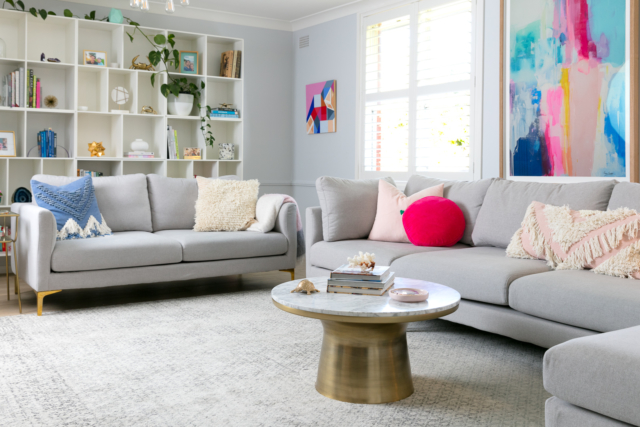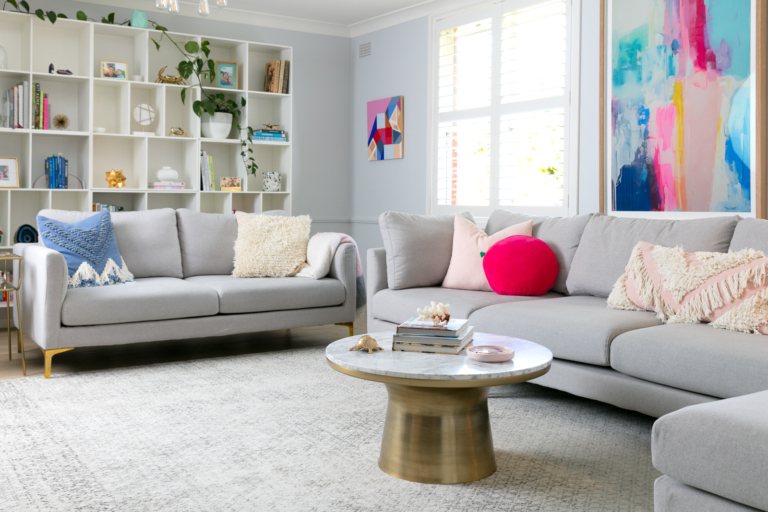 You may recall the story of my disastrous blue master bedroom (please buy your sample pots!), but I also learnt from that experience, finally getting it bang on (if I don't say myself) with the right navy wall colour and the custom fuchsia velvet headboard which set it off like a dream (pardon the pun).
So today I wanted to share my new and improved living room and the story behind how many things I got wrong before I got it right. And I (and my husband) am finally really happy with this room now. It only took two years (and a bit)…
I'm not going to dwell on before photos for the purpose of this post BUT I have to share just this one to show the true scale of the transformation from when we bought. There's a reason we called her the nanna house, right?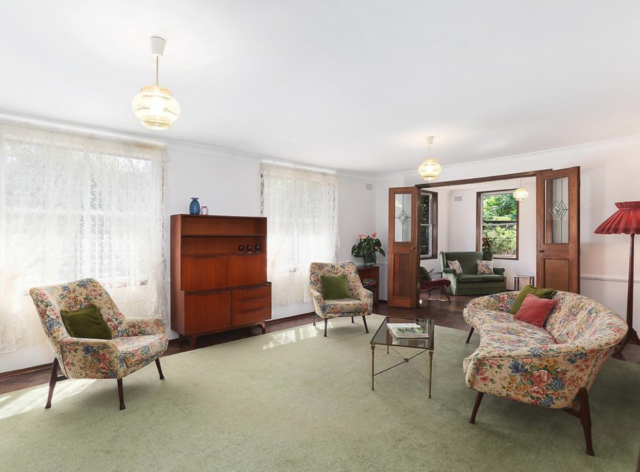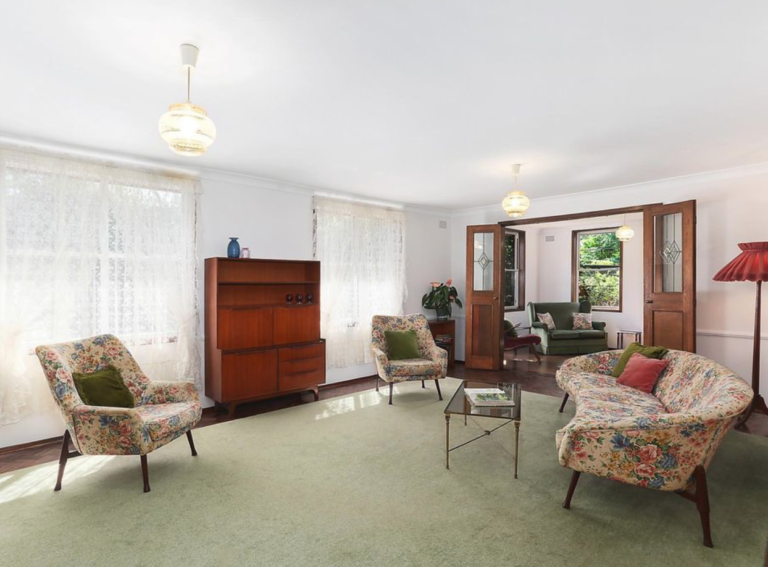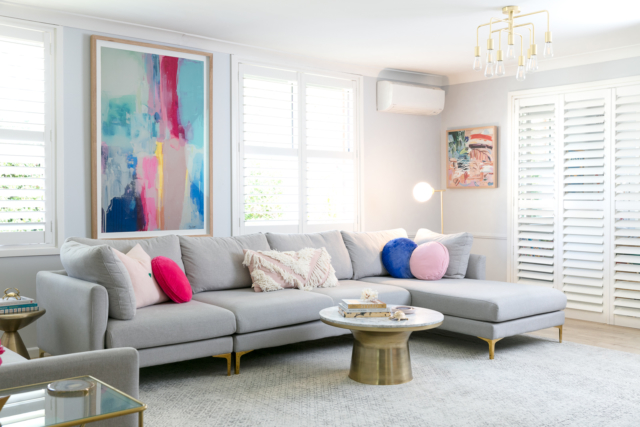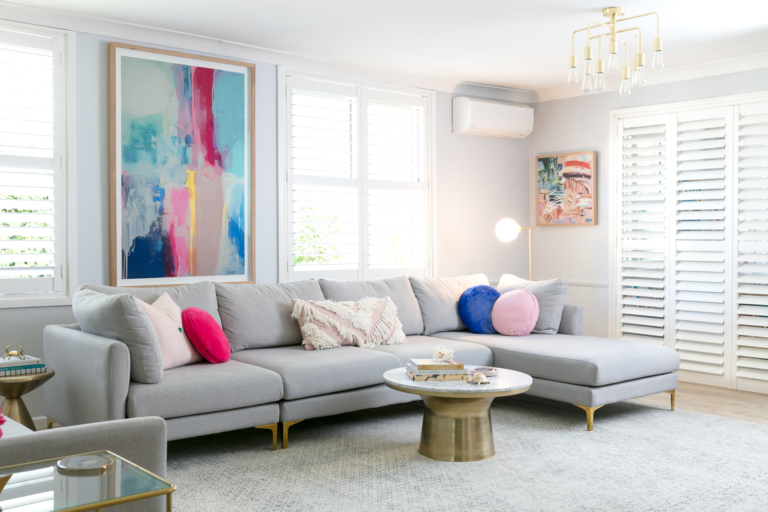 It's a big room –almost seven metres long– so filling it was always hard. It felt impossible to start with. I even thought about sticking the dining table in there to fill it but we already had a dining room off the kitchen so it made no sense. Getting the floating shelves installed made a huge difference. But our original, L-shaped modular lounge was all up at one end and the room felt really imbalanced. The worst thing though, was how inappropriate it was for entertaining. One L-shaped lounge with no armchairs is not conducive to conversation at all, and whenever we had people over at least one person would end up on the floor facing the sofa! I mean, it's not like everyone sits in a line when they're socialising! And there wasn't really an obvious place for armchairs.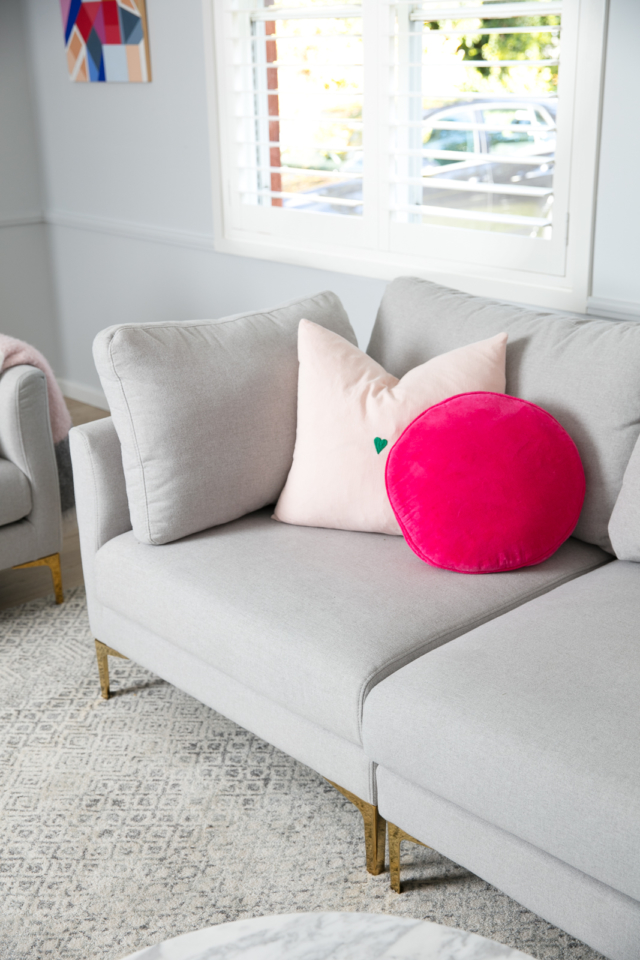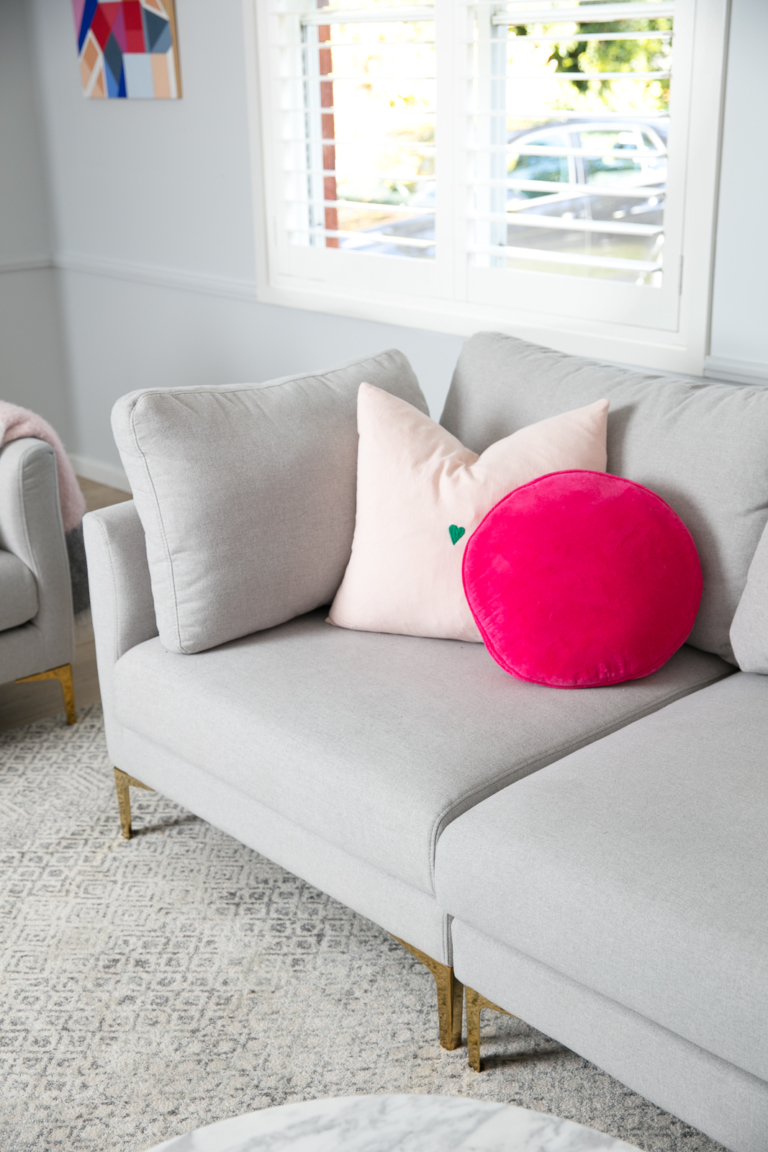 Eventually we changed that modular for two separate couches. Now, we were right in thinking that we needed a three and a two-seater lounge and we waited so long for them to arrive (as you usually have to with sofas). They were so squishy and comfy but they were huge. And even though they could physically fit, they were too big; both physically and visually. Too much couch! Even though everyone loved them!
The style also wasn't right for the rest of our house. They were very casual and I have to admit my style is bit more (low key) glam. You know me and my gold accents! We really wanted to love those couches and make them work but sadly, they just kept bugging me (not to mention I couldn't squeeze behind them to open the shutters).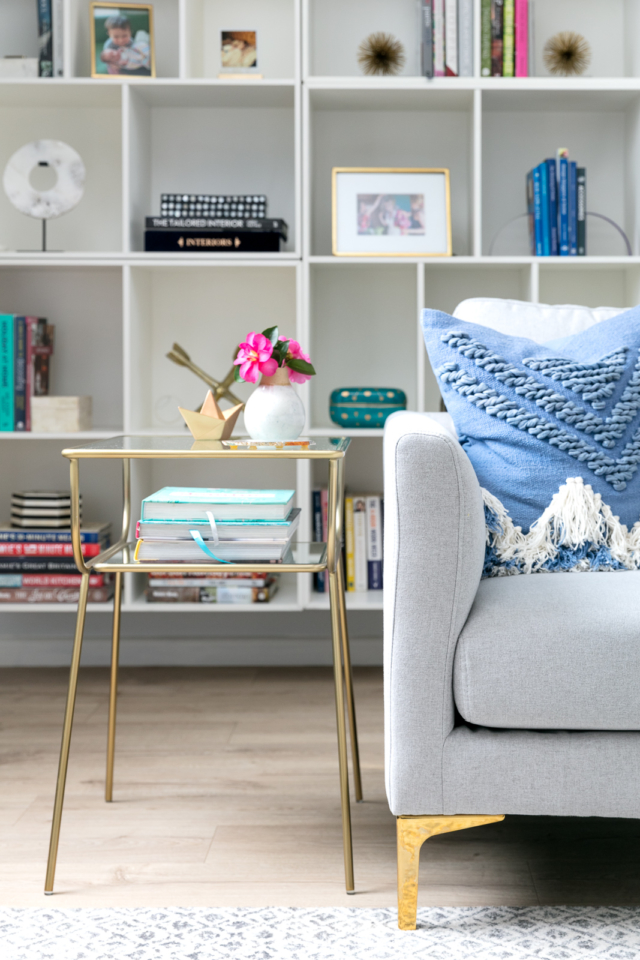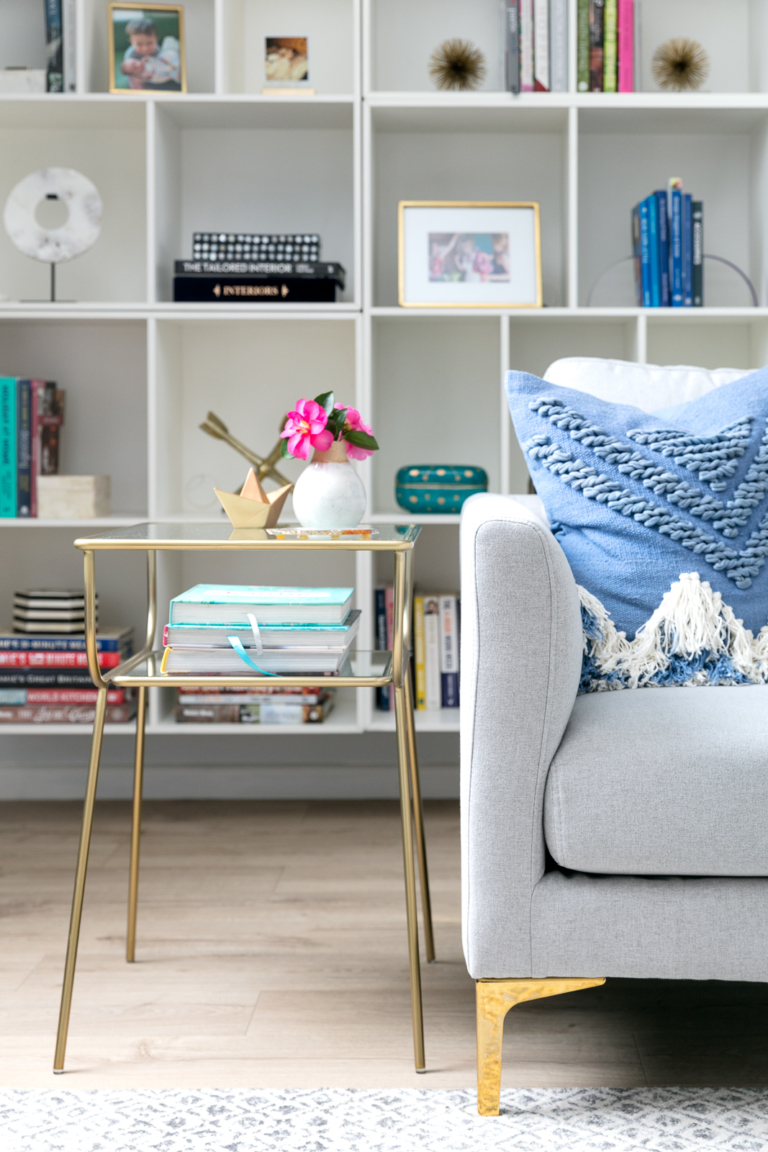 Of course once we changed the couches to these winners, everything else needed to change too, as is so often the way! These are the Adams from Castlery and they're amazing value. It's also possible to create a great number of configurations and the best bit? They were in stock for immediate delivery (they're currently available for delivery by the end of this month, but obviously stock levels are always changing). None of this 12-to-16-week waiting (which is then often delayed longer in reality)! I couldn't have done it again! And can we talk about the gold legs? They're so me! They actually came with a choice of silver, black or brass, which is so simple but can make a huge difference to personalising your couches to your style.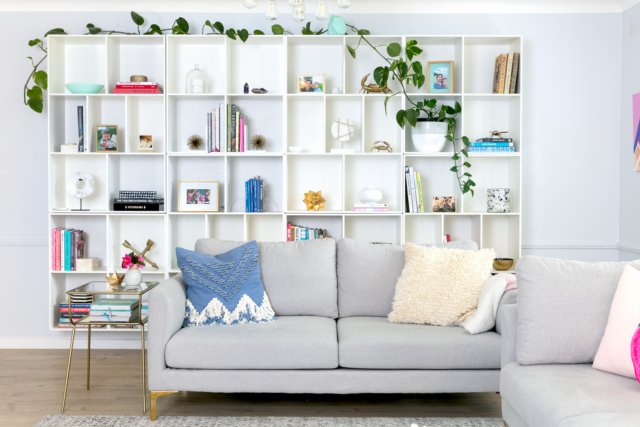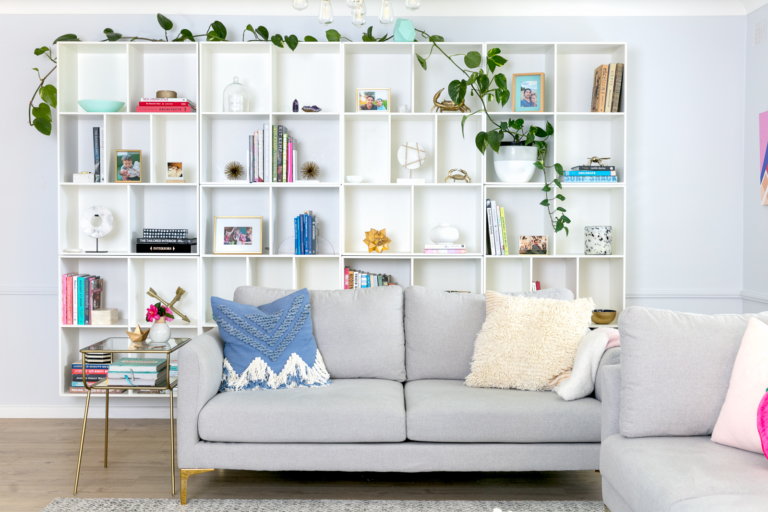 We're really happy with these couches. We won't be precious about them because we have kids and because they didn't cost a fortune, but they're still a great looking and comfy couch for this stage of our lives. The fact they have removable covers was non-negotiable and within a month of getting them, a friend accidentally spilled red wine on one of the seat cushions at a party. Well, I whipped off the cover, washed it on a cold wash, let it dry overnight and you would never know. I'm sure it won't be the last time and next time it'll be a child… I'll admit it has even crossed my mind that if something really bad happened to the sofa, we could just replace one section…
So yes, you can have a pale grey sofa with brass legs in a family home. Why not?!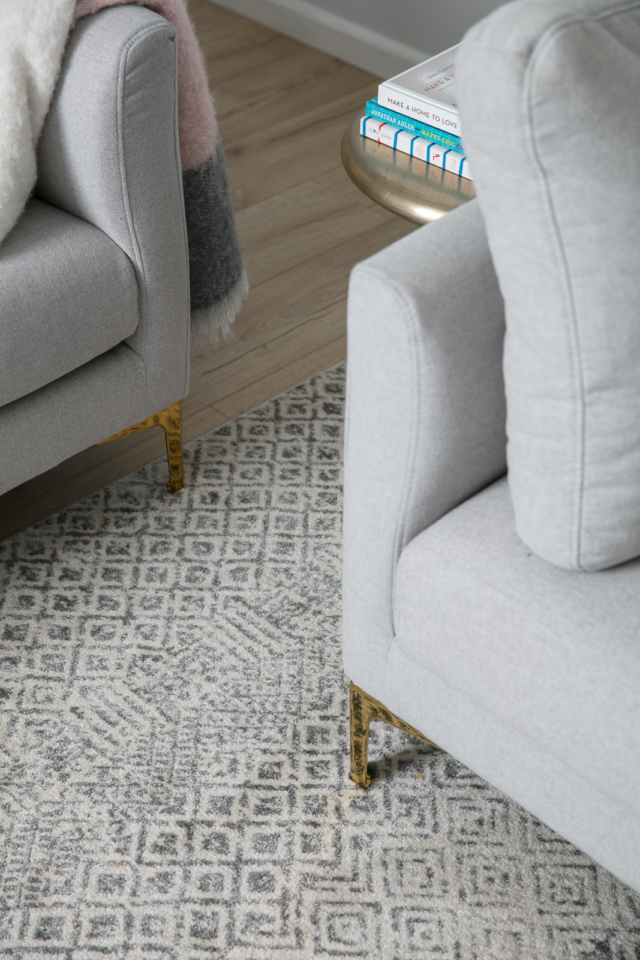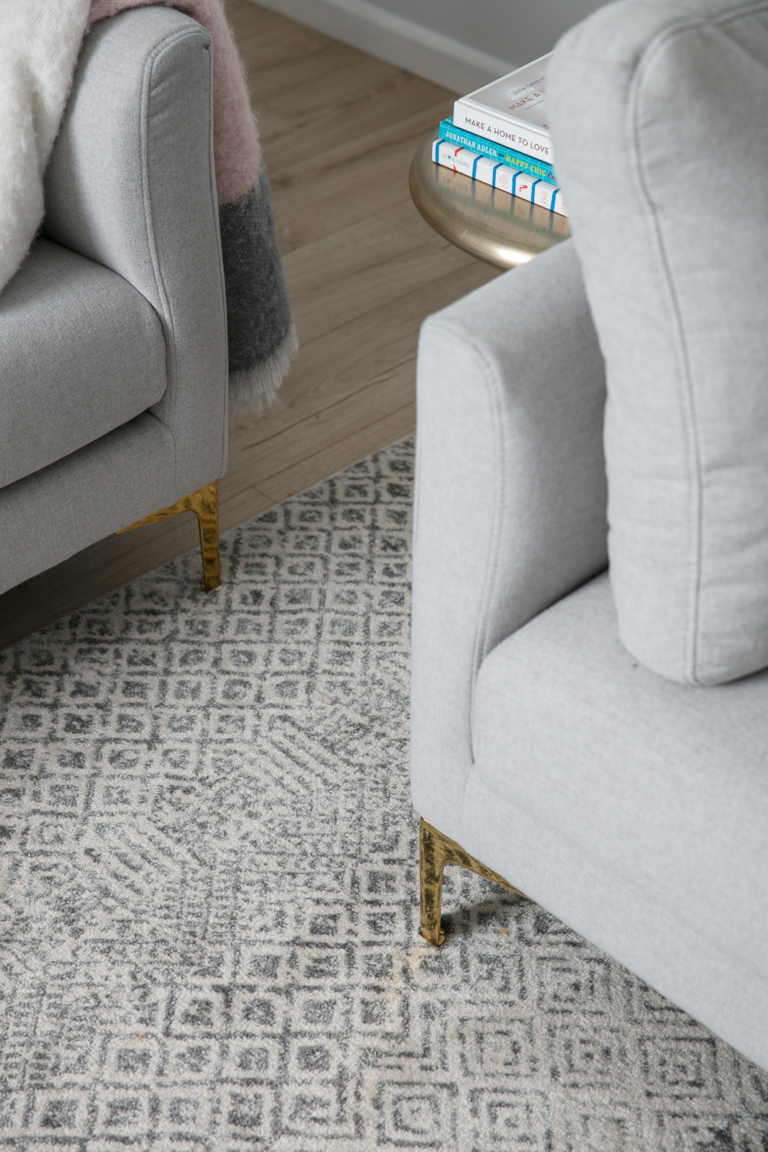 The previous rug went brilliantly with the old sofas but looked really bad with these. It was also wool and cotton and let me tell you, natural fibres are not your friend when spills and mess are frequent. While this room looks perfect and spotless in these photos, it isn't always the case, and this poly rug (The Nile Grey Diamond Ivory Distressed from Miss Amara) is not only soft for the kids to roll around on (and us to sit on with them), food comes off it really easily, usually with no more than a baby wipe! I don't think this rug looks cheap at all but frankly, $671 for a 3×4 metre rug is a steal! I've actually just purchased a smaller sized version for under the dining table, which may be a little too optimistic but we'll see!
The huge Kirsten Jackson print of course plays a major part in the overall look of this room, and I chose the cushions from Sage x Clare, Langdon Ltd, west elm and Rachel Castle to complement it. The other artworks are by Jasmine Mansbridge, Casey Burrill and Celeste Wrona (sadly out of shot). The coffee and side tables and floor lamp (the tall version of my bedside lamps!) are all west elm. The lights are Beacon Lighting but now discontinued, the floating shelves are BoConcept and the wall colour is Greyology 4 by Haymes.
What I learned from getting this room wrong
It's really important to measure properly for couches. Not just measuring in my opinion, but marking them out on the floor with tape. I think if I'd done this, I would have realised they were going to be too big, both too long and too deep. You can also achieve the same thing by using a to-scale floorplan, even just in pencil.
Couches are an important purchase and  they can really set the tone for your living room and therefore the rest of your home. Grey couches with gold feet are so me, and they really work well with the rest of the greys and gold accents in the house.
If you let your kids in your living room (and that's most of us!), then an easy-clean rug is going to make your life a lot less stressful.
What I already knew and had right
Start with a neutral base (see grey walls, rug and couches and white shutters) and add colour with art and accessories. In my case, I also tend to add gold accents (sofa legs, lights, decor pieces, coffee and side tables).
Sofas with removable, washable covers are a lifesaver with kids (got to say I've been responsible for a few coffee spills myself too!).
And if you're wondering how I keep it so tidy, it's became the playroom is behind those shutter doors and it is CHAOS. As a side note, I've found having a more colourful and bright living room means plastic toys stick out way less!
I feel really happy coming home to this room now. It feels good to have finally got it right, I've been much braver with colour than usual and it definitely affects my mood in a positive way, and it's great when we have people over. I'm also not precious about what's in it because the things that can get dirty are easy to clean.
I'd love to know what you think and if you have any questions, feel free to ask.