This post is sponsored by IKEA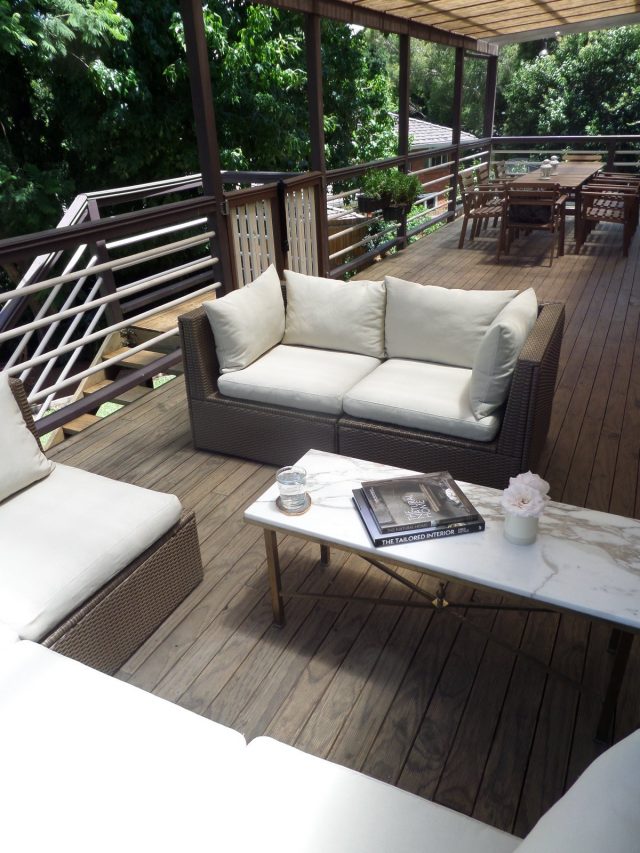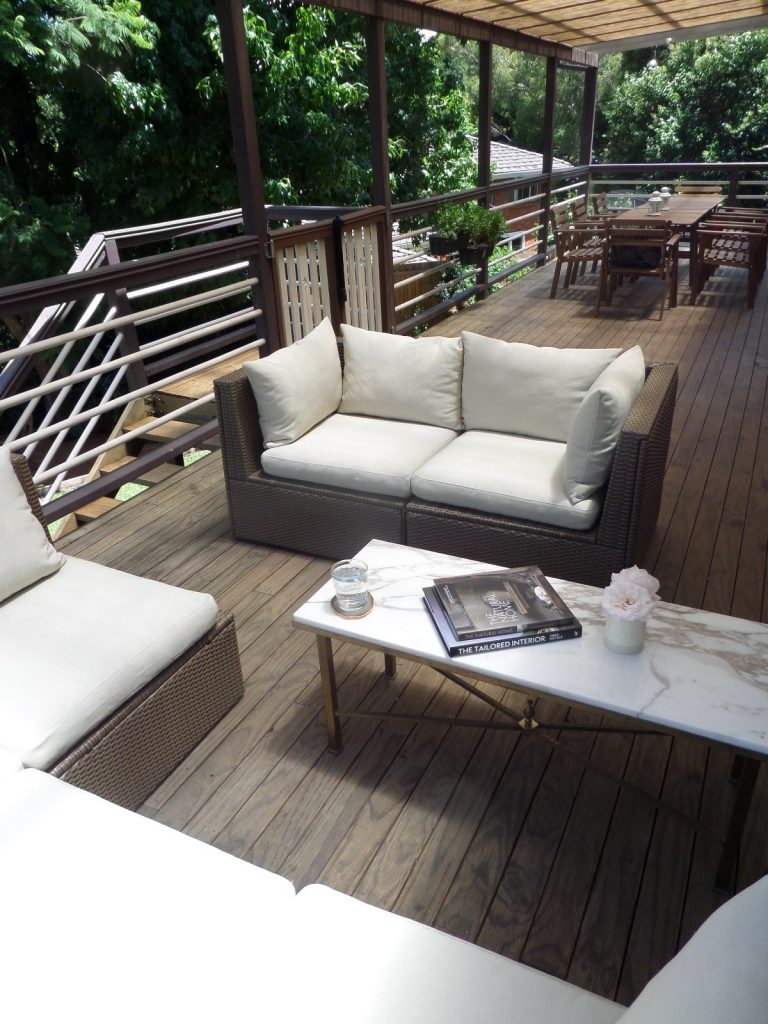 We recently moved into our first house in Sydney. While the huge deck that runs the length of said house seemed fantastic at first, having come from an apartment with a small, square balcony, we didn't have much to fill it. Our Weber Baby Q still looks very lost and sorry for itself! We rushed out and bought a cheap and large dining solution (who has money when they've just moved, right?) at IKEA which gave us a taste of the range and value on offer. We opted for two lots of the ASKHOLMEN table and four chairs ($149 each) and put them together, which gave us a long, solid timber dining set for eight for less than $300! I know!
But our massive deck (first world problems) still looked empty and we really wanted a nice, cosy, outdoor-room type, relaxing space for morning coffees and lazy Sundays with friends. I wanted to be able to walk outside the back door and slump into something comfy on a nice afternoon. So when IKEA offered to help me out with some furniture, I couldn't refuse.
I started by looking online for inspiration and quickly settled on the ARHOLMA modular lounges which have a million options, from a neat two-seater which would fit a balcony (and comes in two pieces so could actually get up stairs!) to something, well, as big as you like. You basically buy units of it, and corners, and make an L-shape, U-shape, or just a regular lounge shape from two seats and up. We went for a two-seater and a slightly larger four-seater L-shape to sit opposite it for a nice social setting. We mixed things up a bit by using a much treasured vintage, marble-topped coffee table bought on eBay years ago (which doesn't work in our new lounge room indoors) and I really love how it looks. It cost me $60 so I'm not too precious about how it fares outside and it kind of adds to its character!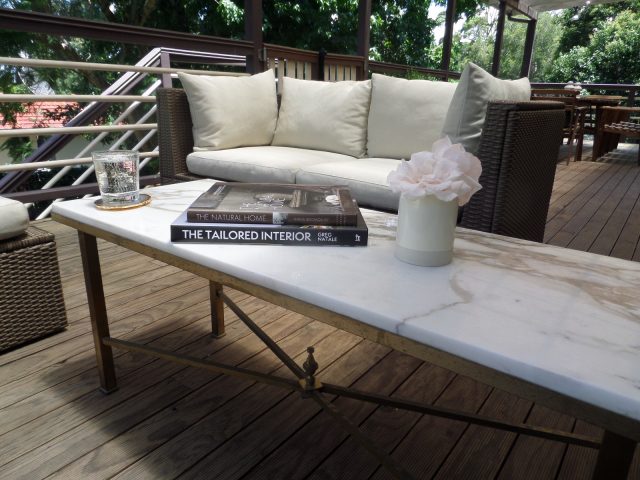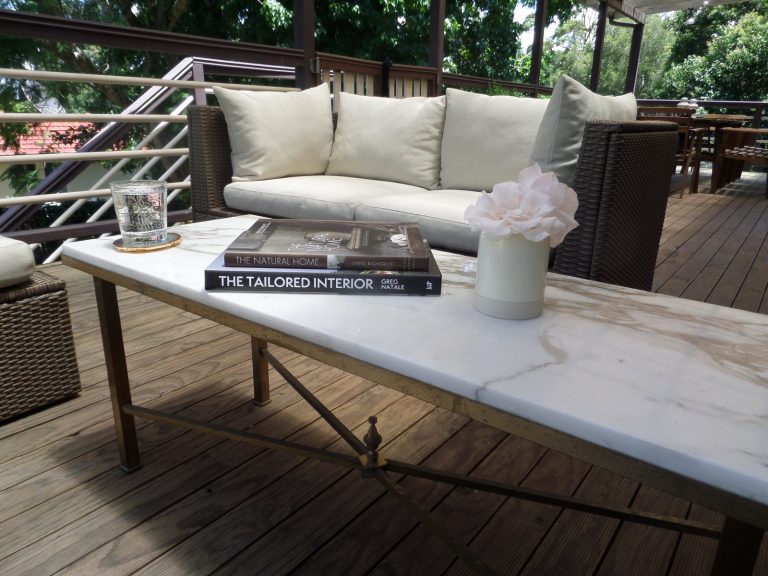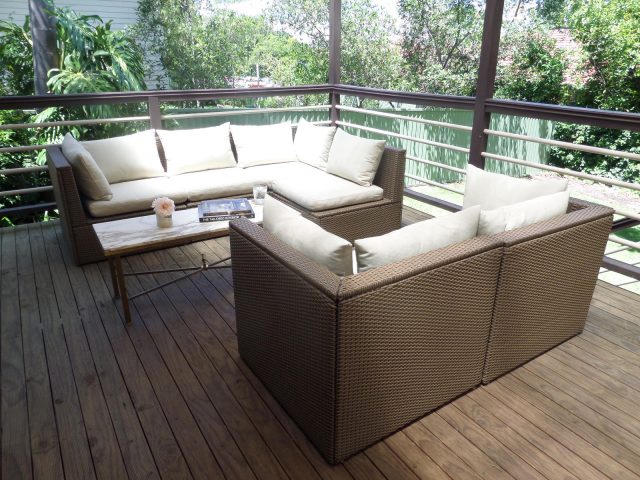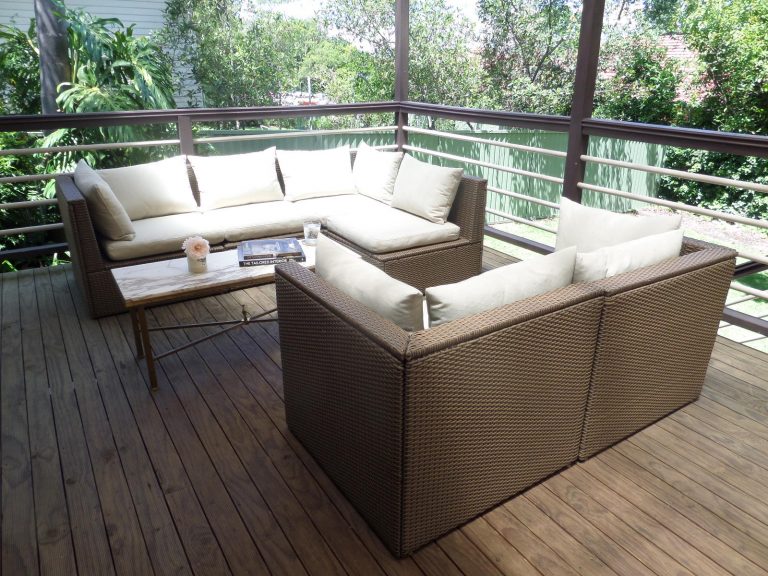 There is a matching coffee table available for ARHOLMA however. Well, it's actually a unit which can be the L part of an L-shape lounge or you can buy the glass top and make it a table. Again, flexibility wins!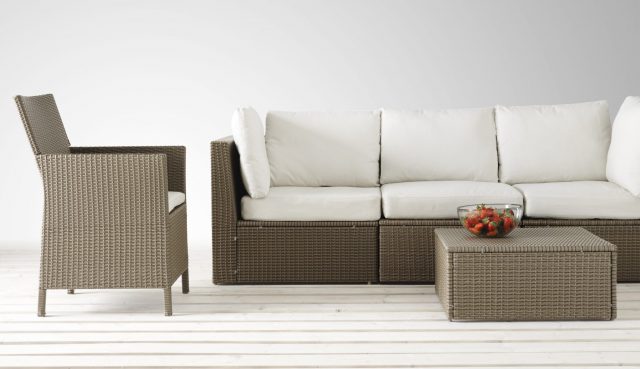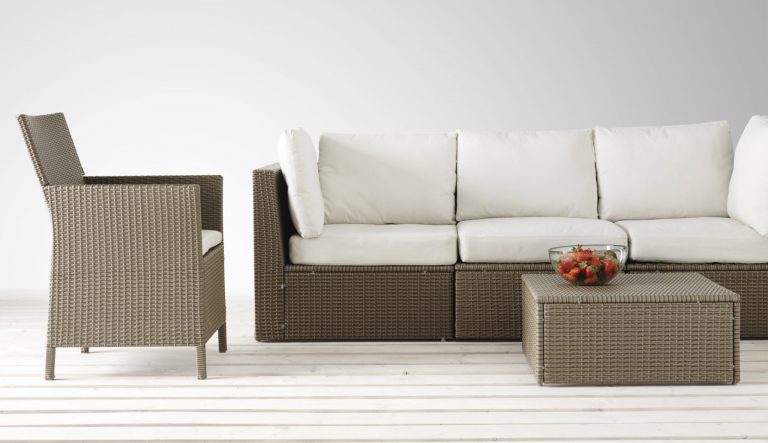 I love neutrals outside. Let nature do the talking and make the colour, I say. How about you? If you're the same as me, Into the Fold have some fab monochrome outdoor cushions.
When you think about it, it makes sense that IKEA, with their European heritage, design plenty of outdoor furniture for small spaces and balconies. Although we're definitely a nation of outdoor entertainers in Australia, it can be hard to find solutions for tighter spaces and there are no shortage of apartment dwellers, alongside those lucky enough to have a spacious back yard. IKEA has both covered.
Amanda Grant, IKEA's sales leader for outdoor furniture, says alongside its European background, one of the brand's biggest advantages when it comes to outdoor furniture is its vast experience in indoor furniture. "We have an amazing range around different style preferences and price points, from basic modern to more traditional, to suit different lifestyles and wallets." There are plenty of larger, more substantial dining and lounging solutions if that's what you're after.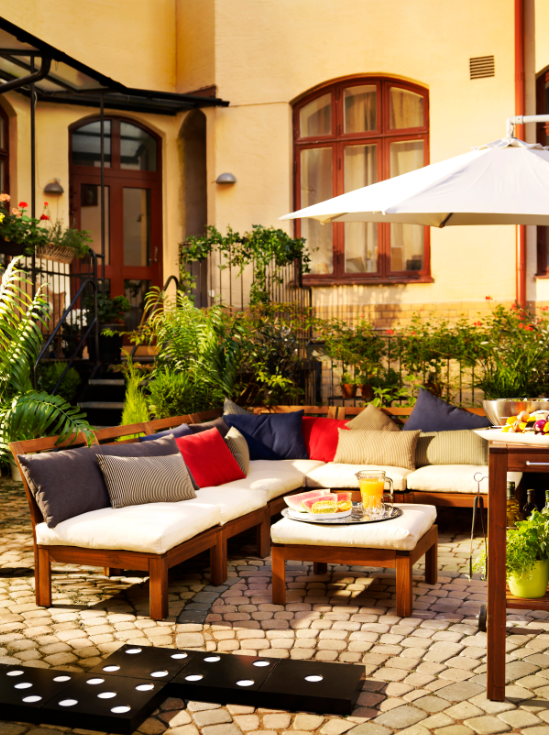 There's a core range of outdoor available at IKEA year-round and then extra things are introduced around summer time. But from this year, for the first time, there'll be new ranges added in July/August as well as February, which makes sense considering Australians only really stay inside for about two or three months of the year!
Amanda says while their outdoor dining range is already well known, they hope customers will come to look at them as an option for great lounging options as well.
Personally, I think the ARHOLMA is great value ( a three-seater sofa is just $412 for example) and so flexible. It's good to know we can change it around at a later date or add to it if we move house etc. I'll be honest with you, it is not easy to put together and requires serious patience (lucky husband and brother-in-law got this job!) but it does all go together in the end, no missing parts, just fiddly! And that, in my opinion, is the price you pay for such good value. You can't have it all! They do offer a paid for assembly service or I'd suggest trying Airtasker for someone to do the job for you as an alternative.
We also picked the cute timber ASKHOLMEN (tying in with our existing dining set) table ($39) and two chairs ($30 each) for a shady spot under a tree at the bottom of the garden beyond the deck.
And there are many other finishing touches available for your yard, deck or balcony too, from solar and LED lighting to hardy outdoor plants to sun shades (parasols and gazebos), planter boxes and lanterns.
Something you might want to check out is the great value instant flooring, perfect for disguising an ugly old concrete balcony floor in minutes!
We're so happy with our new chillout area and feel we've gained a new outdoor room and some extra livable space. And while we still need a bigger barbecue, we'll get there eventually!
Next stop: get tired-looking deck stained! The shame…
Until TOMORROW (22 January 2015) only, if you're an IKEA Family member (it's free to join) get a $50 voucher for every $250 you spend on outdoor lounging furniture. See website for terms and conditions.