Rugs wield so much power. They can: ground a room, add warmth, texture and colour, reduce echo, define a space, play off existing palettes and they also feel great underfoot.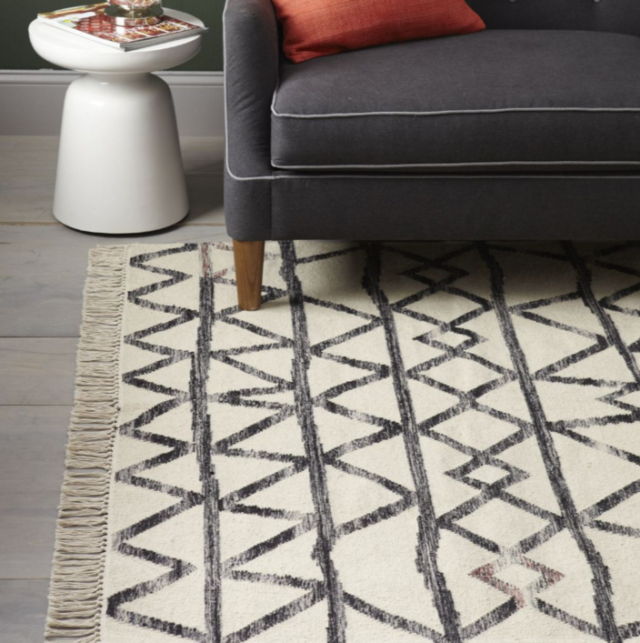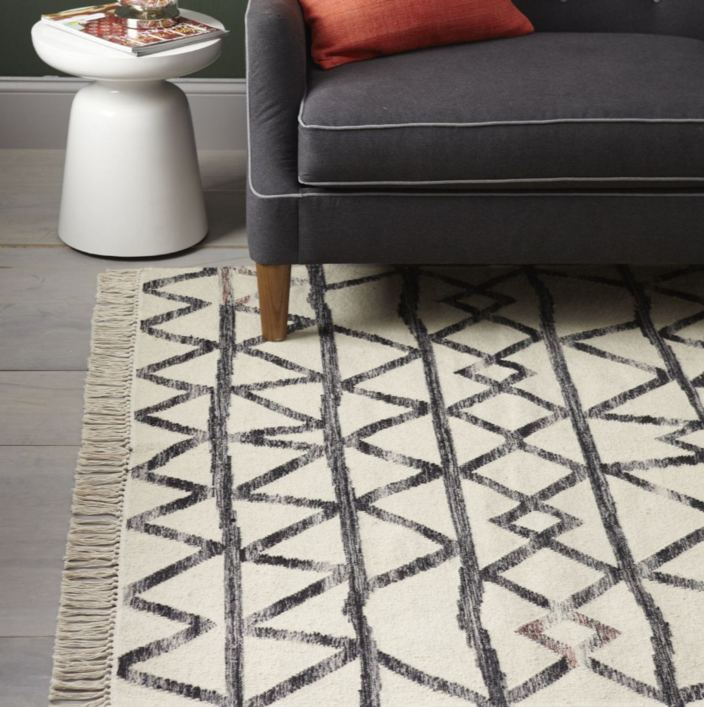 But just how do you choose a rug? Do you go for a larger rug? A round rug? A colourful rug? Neutral? Wool? Jute? It can become overwhelming if you don't know the rules to buying a rug to suit your home – that will last.
Brendan Nash, west elm Bondi's home stylist, knows his way around rugs! Every day he works with customers to create beautiful homes. With an eye for accessories, together with his know-how on the how-to when it comes to rug shopping, he can help you go from bare floor to brilliant in just five easy tips.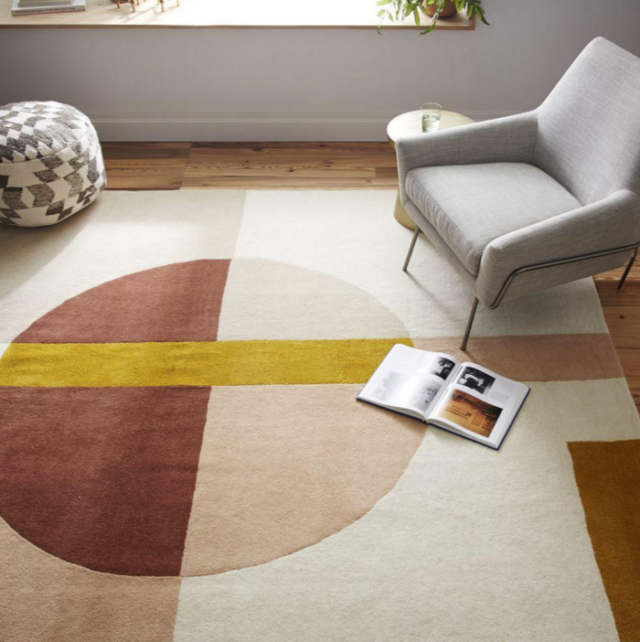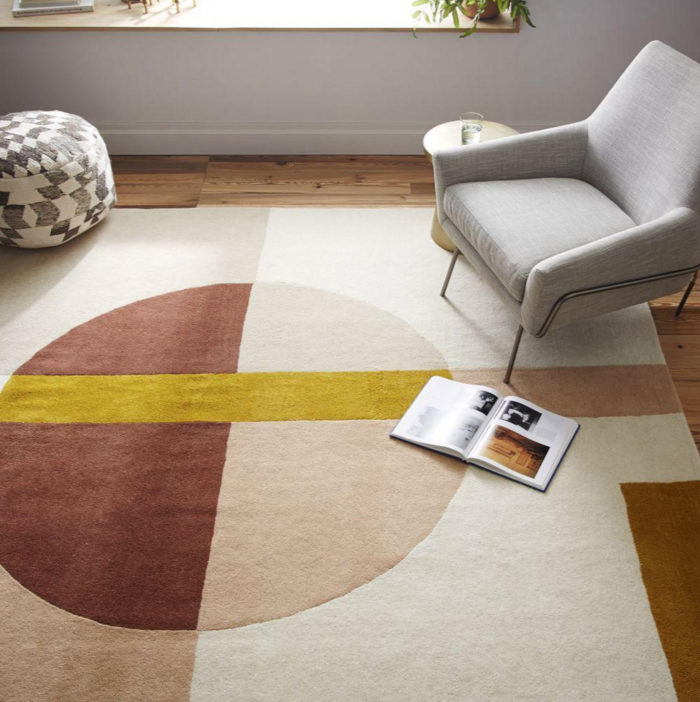 Size. Don't skimp! Size is important. Size is THE most important. A large rug can make a small room feel larger! How your new rug fits your space will completely change the way it feels.
As a general rule, I tend to go for the largest size that you can comfortably fit, that you can afford, and fits proportionally with your existing furniture. The legs of your sofa and your coffee table should always land on the rug which will help the space not only feel a little more finished, but also give the illusion of more space. Buy larger – a small rug can look really mean in a large space. Unless it's a hallway – then a rug runner is perfect.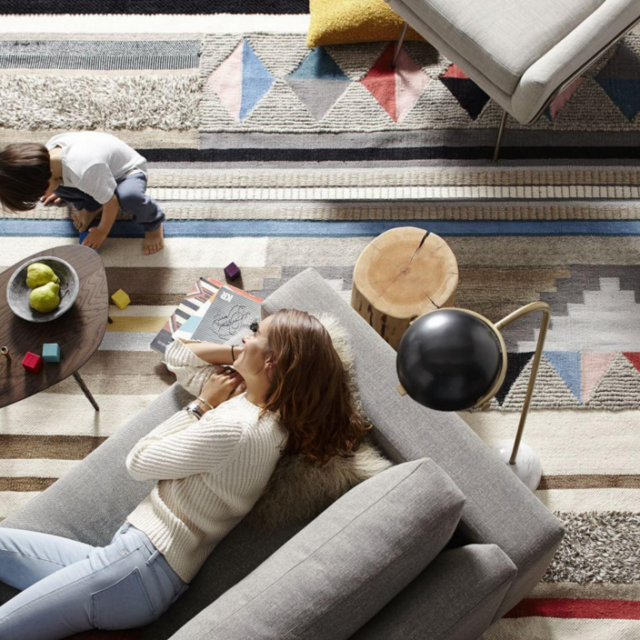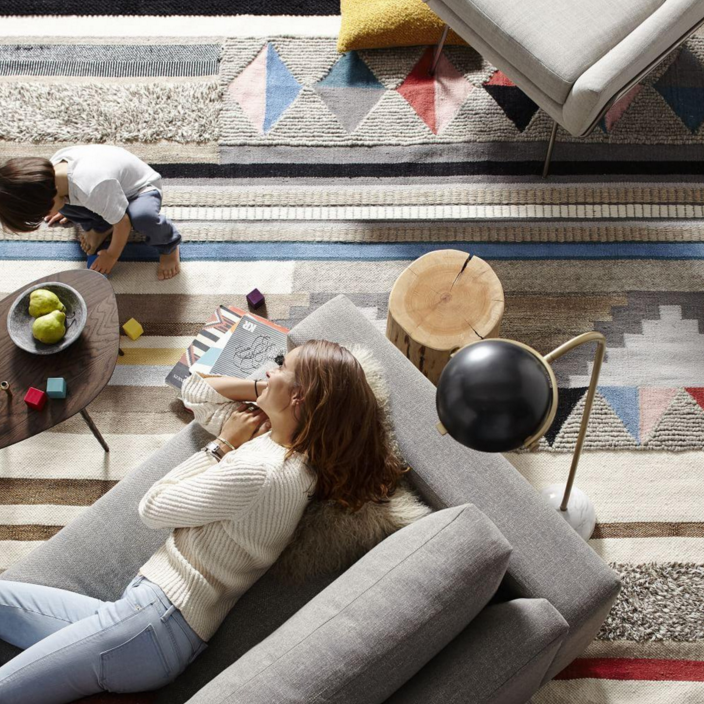 And always, always measure up before you go shopping. I also really love when customers bring a photo of their room with them. It helps me visualise how the rug is going to work within that space.
Style. What's the look you are trying to go for? Take a look at your room and your furniture – then decide what direction you want to go in. Are you after a woven natural fibre rug that works back well with your light and airy home, or are you after something a little more wild to complement your eclectic style? Either way, rugs are generally an investment piece so it's important to get something that will complement your space.
Consider shapes too – if you have a round dining table, a round rug will work to accentuate that statement piece. Patterned rugs work really well with glass top tables for extra visual interest.
Practicality. Think about where the rug will live, and how you live in the space. Does durability factor into your decision? Jute's a great option – and so is wool! Is it a high traffic area? Go for wool. It's easy to maintain. Bedroom comfort? Think about who will use the rug, how often it's used and the upkeep factor to help guide the material and style you decide on. Plus nice soft rugs always work well in the bedroom.
If you have an open floor plan – a rug really helps to define spaces. A rug has the power to anchor the space – and differentiate between living, dining and relaxing areas.
Budget. Sometimes what we dream of and what we can afford are two very different things. My biggest advice is to set a realistic budget on what you can afford but will still very much fit the brief. A rug will live in your space for quite some time – and therefore should be seen as an investment piece. Shop smart! Invest in a good quality product that will stand the test of time. Like anything, it's easy to get swept away in the moment, and the next thing you know – that vintage persian rug from Sotheby's is on its way to you! Think calmly and pragmatically, and plan out your purchase.\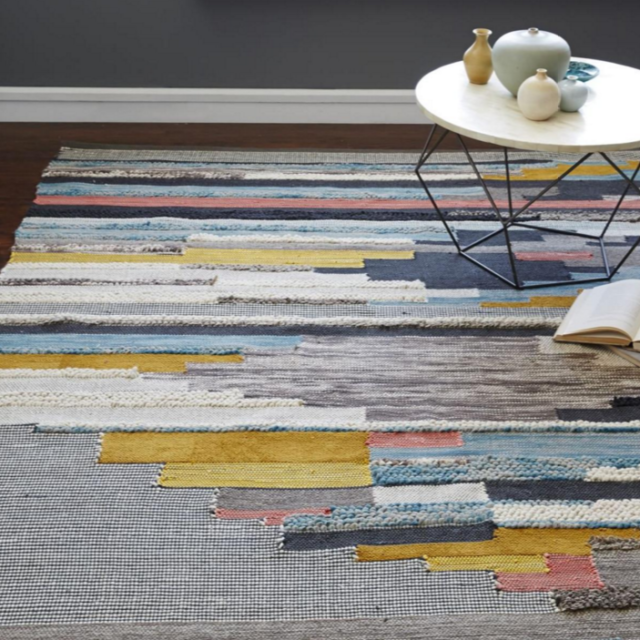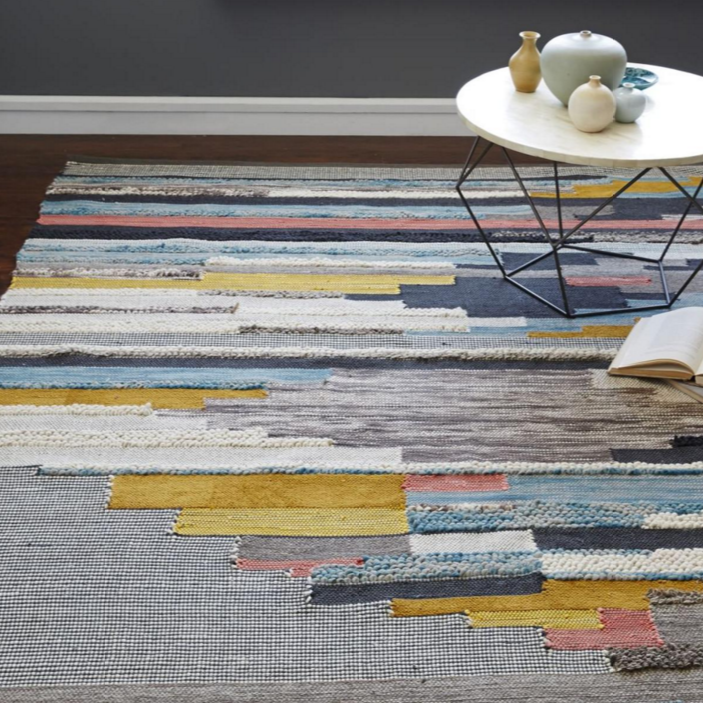 Try before you buy! To give you an idea of the dimensions of a rug and how that size and shape looks in your home, map out some painting tape and newspaper on the floor – exactly where you would place the rug, to give you more of an idea whether that size will work. This gives you a better idea of dimensions instead of having to visualise.
Given rugs always look different in your home than they do in store – lighting, furniture and your space will all factor into how the rug looks – west elm offers customers samples to take home and try before committing.
—west elm offers free design services to all customers – from picking colours and palettes, to designing your whole home.