Gold accents have been gracing the most enviable bathrooms since, well, forever. While metallic embellishments have been trending over recent years, gold is making a huge comeback in the bathroom — but there's more than one way to get the look.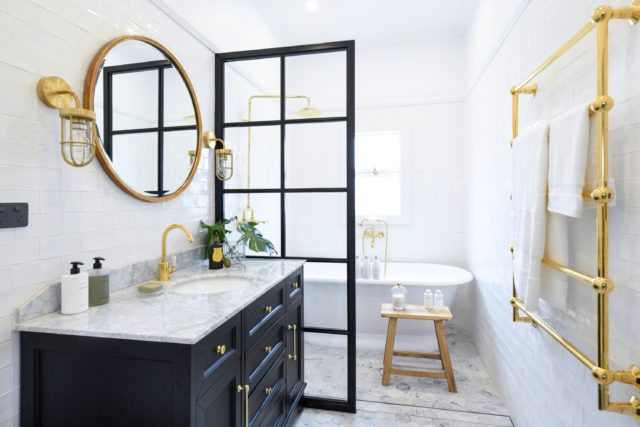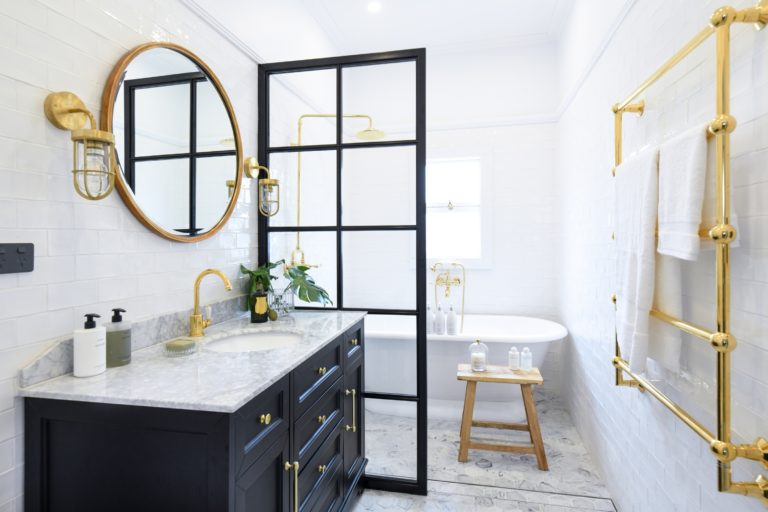 Emma Joyce from luxury bathing brand Victoria + Albert Baths shares some of her favourite gold accent bathroom designs, with tips on recreating this touch of luxury in your own home.
Dark + Moody
Designed by Heirloom Studios, this modern oasis is the epitome of a moody masterpiece. Elements like charcoal floor tiles, a deep black vanity, and 'midnight' mirror-framing transcend the space into a calm depth of darkness. Lightness is re-introduced through an almost full-wall window, which floods the room with a natural glow.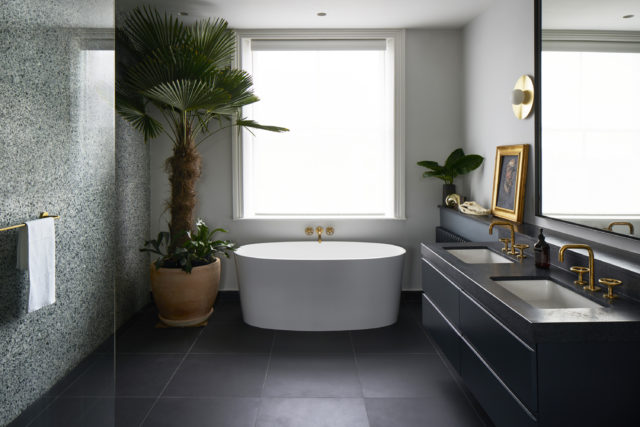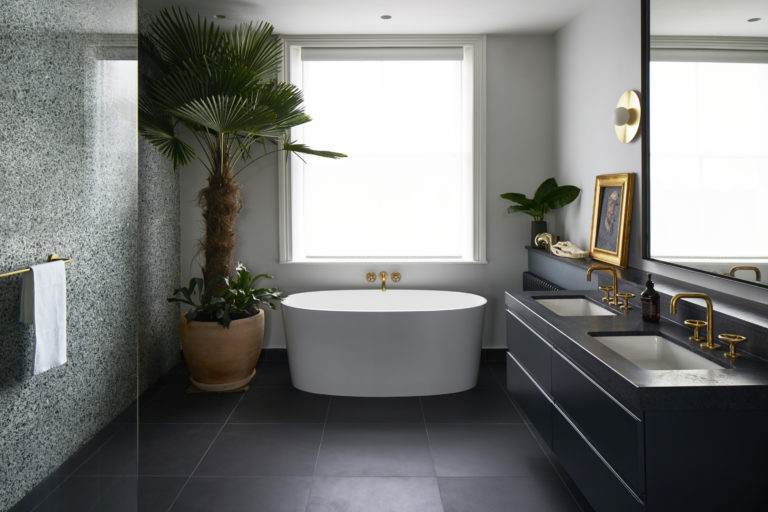 The dark and deep statement pieces are offset by lighter elements, including a turquoise and black penny round mosaic feature wall, tropical plants, and of course the soft, gold finishes of the tapware and fittings. Victoria + Albert's ios bath creates a dramatic feature as it stands pride of place in gloss white against its moody surrounds.
Recreate the look: There's a pre-conceived idea that gold accents will create a 'kitsch' look, when, really, they can complement so many interior styles and are flexible to most people's tastes. If you like a more sombre aesthetic, look to colour blocking with dark charcoal and light greys. This bathroom is a great example of using soft, warm finishes to bring life to a dark and moody space. The designer has chosen to use gold accents on the faucets, wall light, and through decorative pieces as supporting elements to elevate the ambience.
Light + Airy
Crafted by M James Design Group, this modern take on traditional Victorian design creates a 'new age' spa-like retreat that is all about luxury. A grand space deserves grand features, which is established here through the floor-to-ceiling marble-look walls and the gold-plated tapware finishes.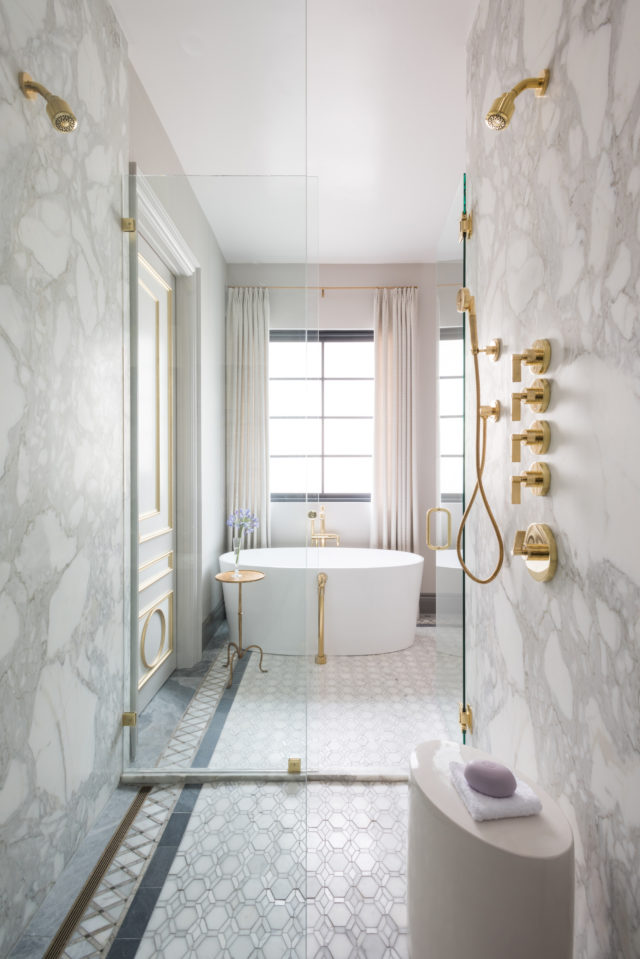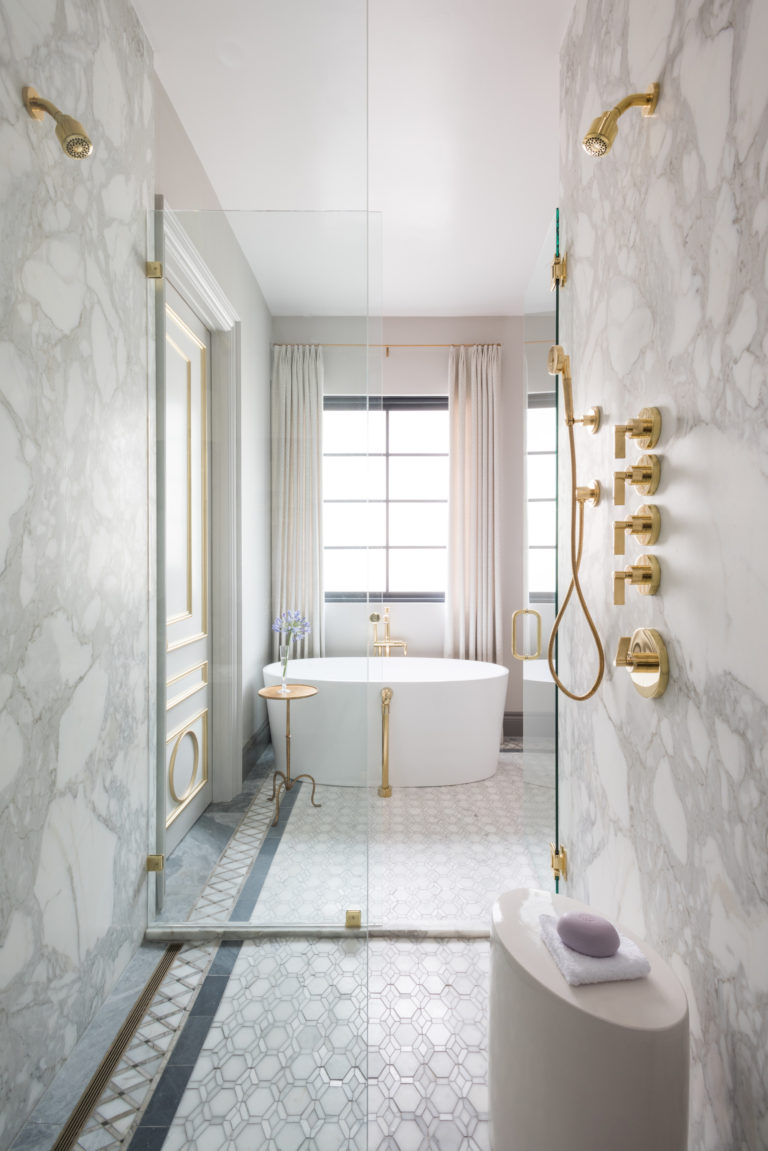 These striking elements are softened through the layering of flowing white sheer drapes, white and navy patterned tiles, and the striking Victoria + Albert ios bath in gloss white drawing the eye into the space.
Recreate this look: If you want to keep things neutral, a splash of colour isn't the only way to make a space pop. Texture is key when it comes to adding depth to an interior and is an easy way to introduce different materials like marble surfaces, patterned tiles, and crown mouldings.
In this bathroom, the designer has taken it up a notch by adding finishes and fixtures with a modern golden accent. If you're after a 'less is more' aesthetic, stick to the same finish throughout the space and hold back on introducing more than three shades into your bathroom's colour palette.
Mixed It Up
The recently refurbished Orchard Cottage, an Airbnb rental property in Australia's Blue Mountains, is the perfect embodiment of how the finer details can elevate any bathroom.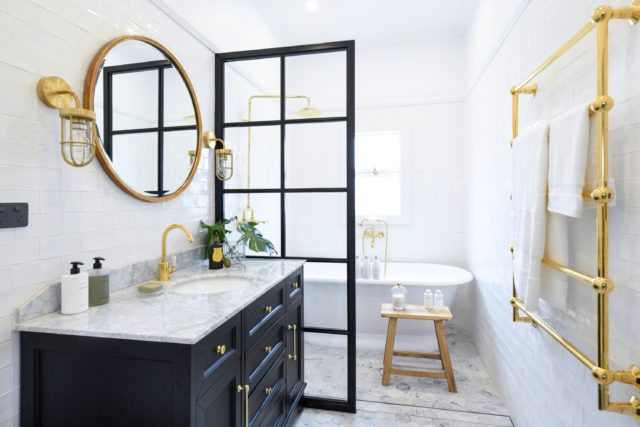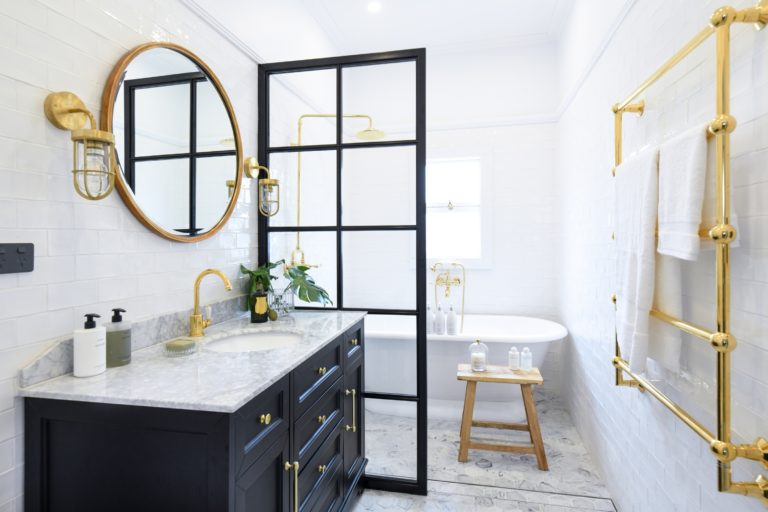 White tiled walls and a high ceiling give a feeling of light and space, while a Crittall-style shower screen in black divides the bathroom, creating a separate cocoon for shower and the York freestanding bath by Victoria + Albert.
Warmth and personality are introduced for balance through natural wood and gold brass fittings, including striking antique lights above the vanity unit.
Recreate this look: The crucial element to mixing finishes is to not go overboard, keeping to the rule of two to four varieties of gold finishes. An easy way to keep your bathroom stylish is through matching; notice how the towel hanger and taps pair nicely and the wall lights and mirror have a similar brushed gold look? This helps create a refined feel in the bathroom.
Another rule of thumb is to have a foundation palette contrasting the gold elements. For example, if you're going to install high-shine finishes, complement this with a timber vanity or matt-finish basin or bath.
Play With Pattern
Designed by Leanne Ford Interiors, this stunning Moroccan-inspired bathroom takes the user to a luxurious Marrakesh spa. In this compact space, a sense of depth is created through the striking turquoise and white mosaic feature wall, which is surrounded by white gloss landscape subway tiles.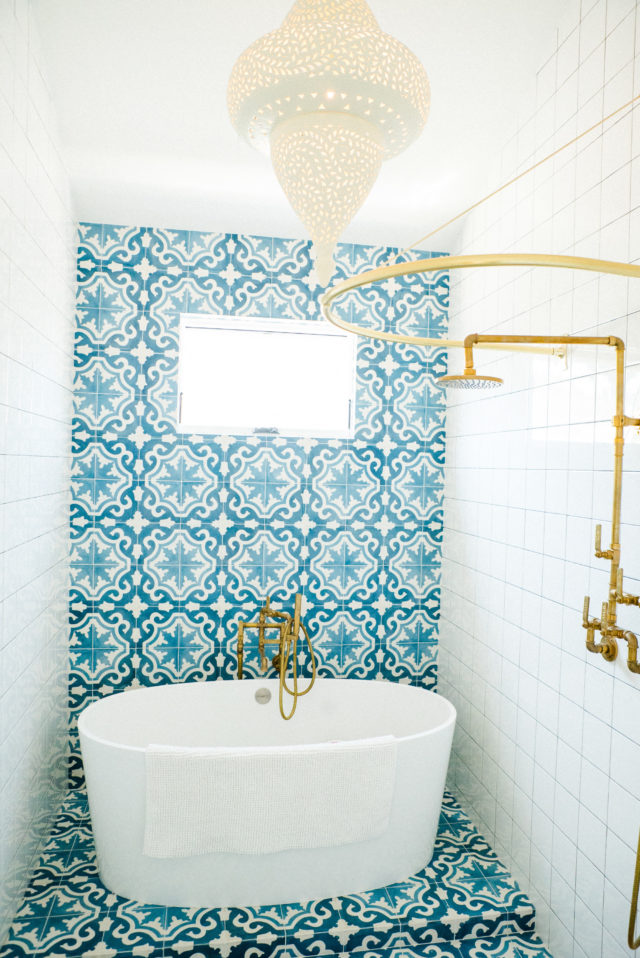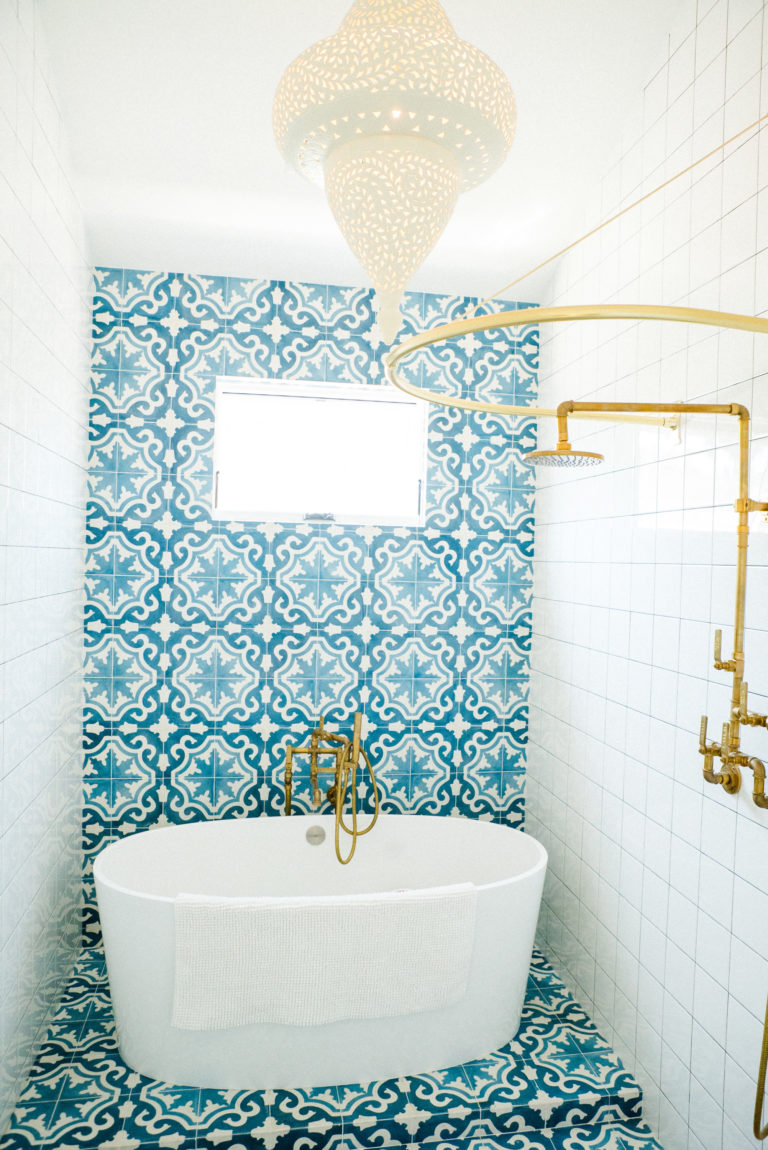 Personality and texture are introduced through the vintage feature ceiling light and satin brass mixer, which creates a sense of old-world luxury.
Standing pride of place on its own elevated step is the Victoria + Albert ios bath in gloss white. A modern freestanding bath brings an air of luxury to any space.
Recreate this look: If you want your space to reflect your inner 'maximalist', try a tile feature wall in a block colour or pattern finish. Take cues from this exquisite bathroom by adding gold exposed piping for a bold feature. If a white tiled bathroom is your dream, add subtle features by layering the tiles in a herringbone or crosshatch pattern to bring dimension to the space. Subway tiles in a landscape or vertical pattern are also making a comeback.
For more on Victoria + Albert's luxury bathroom collections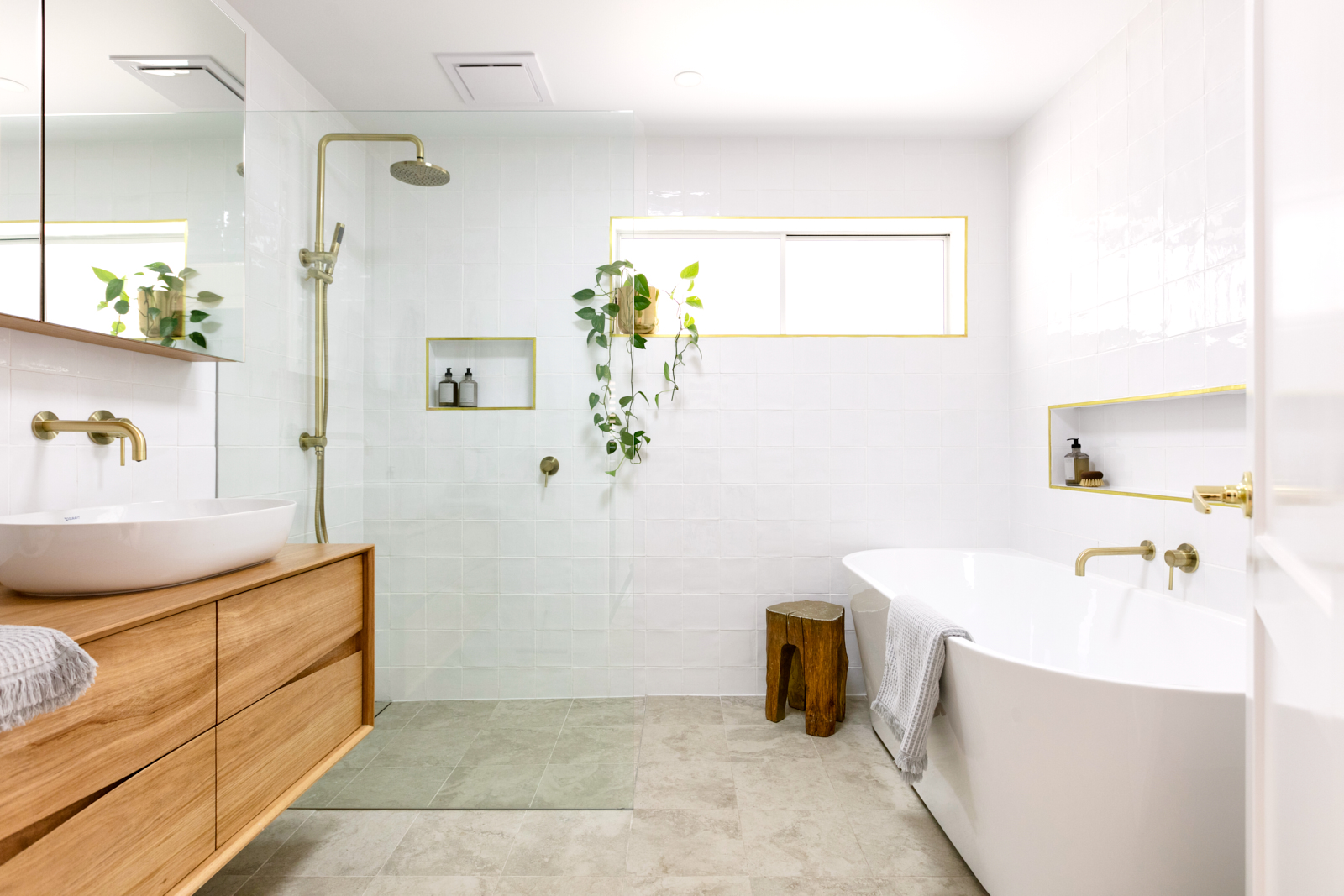 Interiors Addict bathroom reveal: before & after
You know that old cliché about saving the best until last? I think we may have just done that with our family bathroom! This was the last major (indoor) project in our…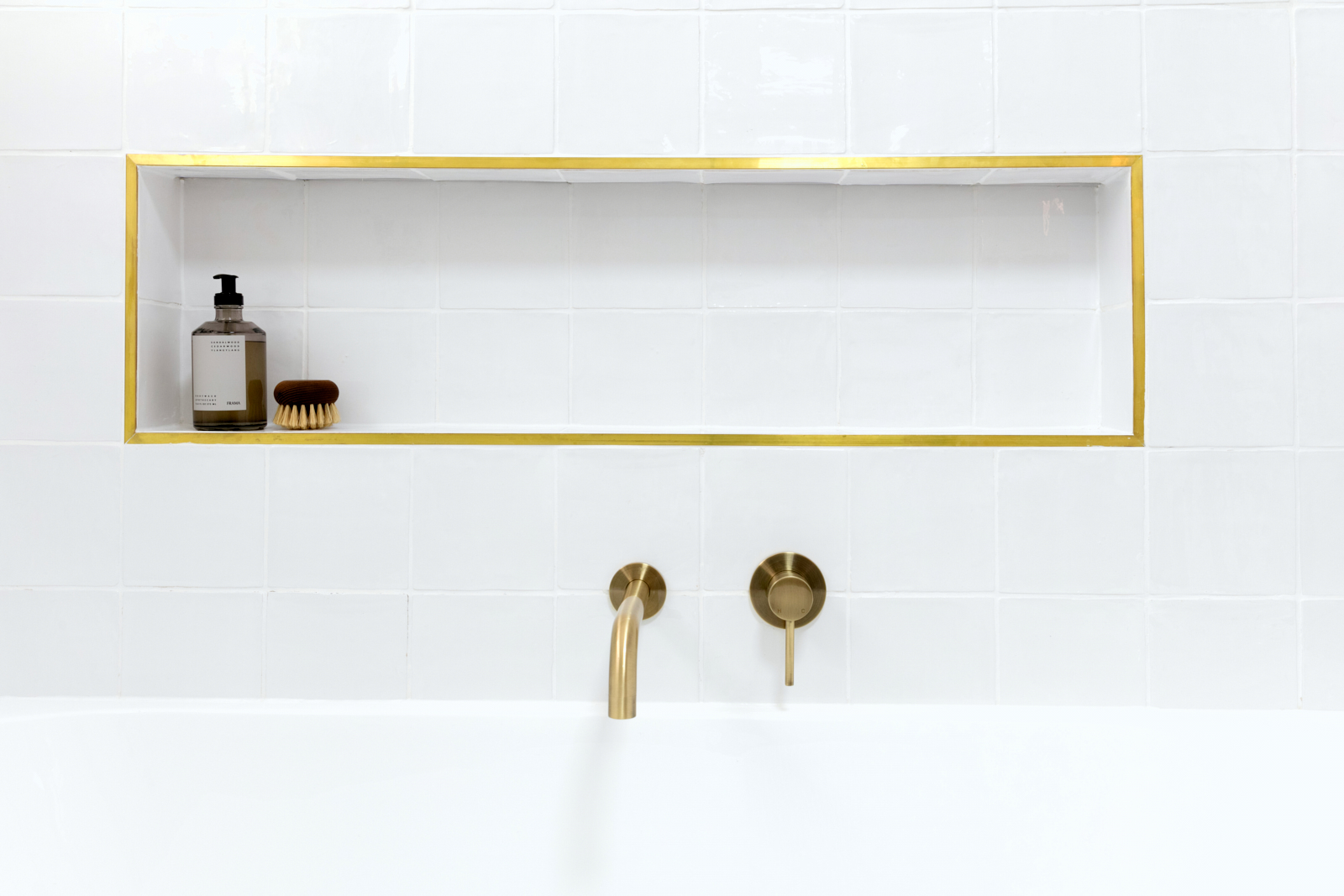 Interiors Addict bathroom reno 2: what I chose and why
There is so much to share about my recent bathroom reno and I couldn't possibly fit it all into the reveal post, so I'm sharing a little more detail today,…