This week's recipe comes to us courtesy of Australian Pears and Masterchef winner Larissa Takchi. Known for her original and striking desserts, Larissa has created this pear-driven version of the classic sticky date pudding, just in time for the entertaining season. "Pears work wonderfully with the spices in the pudding!" says Larissa.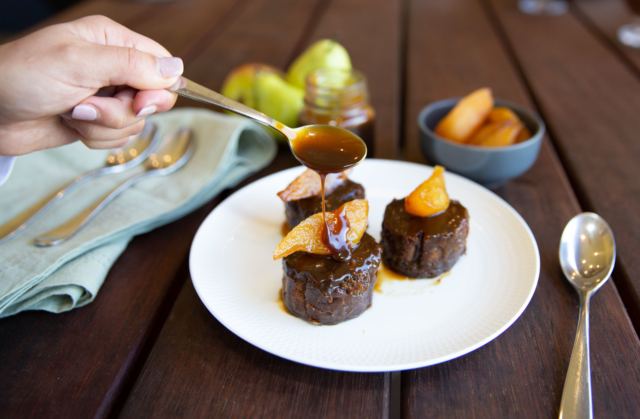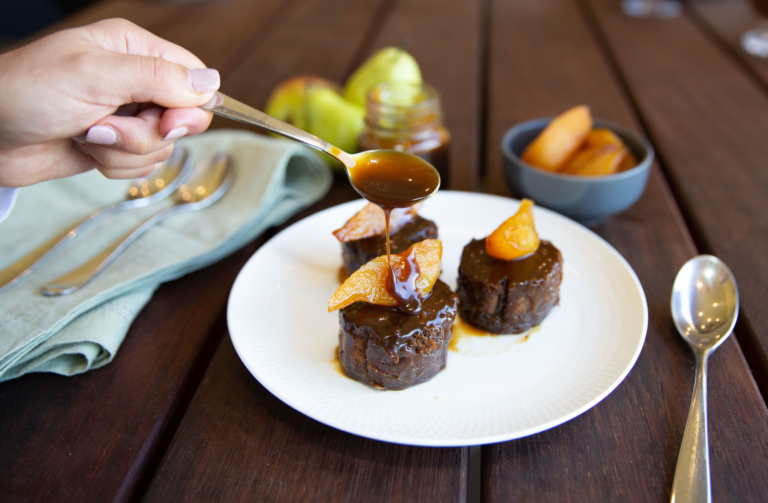 Serves: 8 | Preparation: 15 minutes | Cooking: 30 minutes for individual puddings
Ingredients
Pear and Ginger Cake
3 pears, grated with a box grater or mandolin
165g caster sugar
125g unsalted butter, cubed, softened
2 eggs
60g golden syrup
150g plain flour
1 tbsp. ground ginger
2 tsp. ground cinnamon
3/4 tsp. bicarb soda
Pinch of salt
Caramel Sauce
150g unsalted butter, softened
300g dark muscovado sugar
1 tbsp. golden syrup
200ml double cream
Method
Pre-heat the oven to 180oC fan-forced.
For the pear and ginger cake, lightly spray an 8-cup mini loaf cake tin with canola spray and set aside.
Place the sugar and butter into the bowl of a stand mixer fitted with a paddle attachment and beat until light and fluffy.
Add the eggs one at a time and beat well after each addition. Add the golden syrup and mix to combine. Remove the bowl from the mixer and sift in the flour, spices and bicarb soda. Fold through gently.
Add the pear, a pinch of salt and 160ml hot water and fold through until just combined. Pour into prepared tins and bake until cooked through, about 20 minutes.
Meanwhile, to make the sauce, melt the butter, muscovado sugar and golden syrup over a very low heat in a heavy-based saucepan. Once the butter's melted, stir gently until everything else is melted too. Now stir in the cream, then turn up the heat and when it's bubbling and hot, take it off the heat.
Remove from the oven and place the tins on a wire rack for 5 minutes. Invert cakes onto wire rack.
Plate up each cake and serve with sauce on top.
Note: You can serve hot or leave to cool. If you don't have a mini loaf tin, you can use a muffin tin.