Here's a Mexican-spin on a summer-perfect salad that's flavourful yet refreshing after the excesses of Christmas. From start to finish, this can be on the table in less than half an hour. Thanks to Williams Sonoma.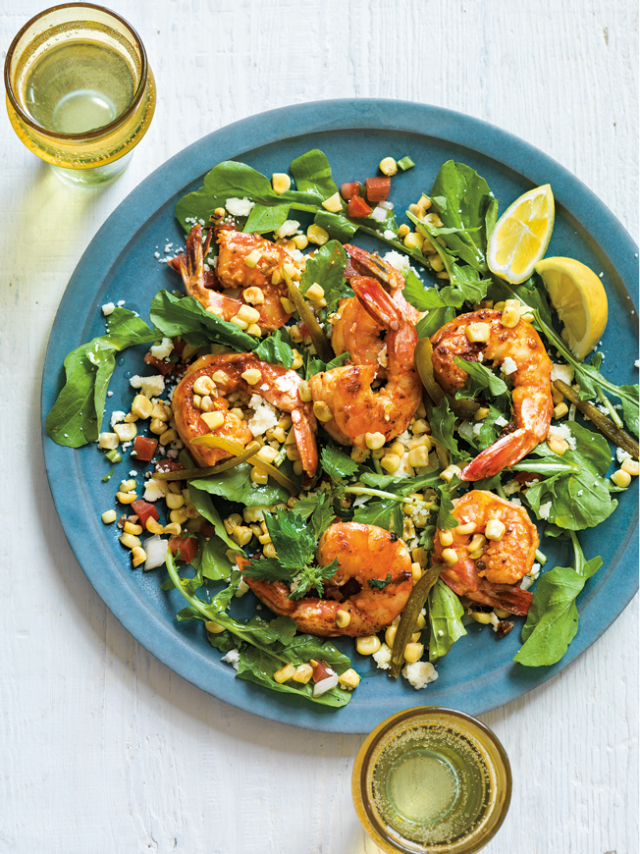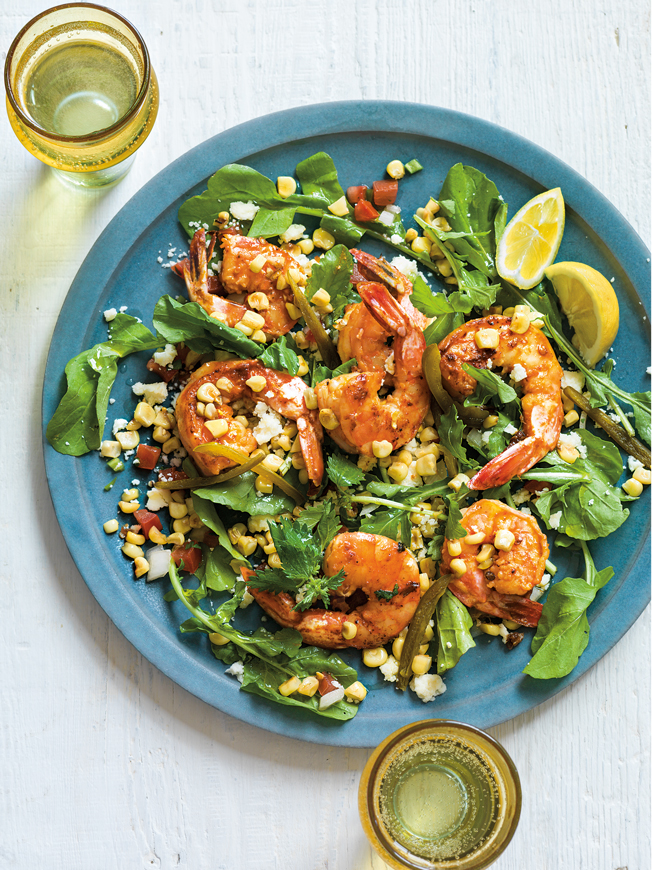 Ingredients
For the corn and prawns:
2 ears fresh corn, husks and silks removed
2 tbsps olive oil
500g medium prawns, peeled and deveined
2 tsps minced garlic
Fine sea salt
1/4 cup (45 g) chipotle chilles in adobo, or to taste, pureed
1/4 cup fresh coriander leaves, coarsely chopped
For the salad:
500g rocket
60 to 80ml extra-virgin olive oil
2 lemons, halved, plus 4 lemon wedges for serving
1/2 cup (60g) grated pecorino cheese
3/4 cup (200g) seeded and diced roma tomatoes
2 whole pickled jalapeño chilles, seeded and cut lengthwise into strips
Method 
1. To prepare the corn and prawns, heat a heavy frying pan over high heat until very hot. Hold the shucked ear of corn upright on a cutting board or in a small bowl and, using a sharp knife, cut off the kernels, keeping the blade angled inward so you get the whole kernel but none of the tough cob. Toss the kernels with 1 tbsp of the olive oil. Add the corn to the hot pan in one layer and allow it to sear without stirring, then remove from the pan. (Some of the kernels may pop.)
2. Place the same pan over medium heat, add the remaining 1 tbsp olive oil, and sauté the prawns, garlic and 1/4 tsp salt until the prawns just start to turn pink. Add the chipotle puree and cook and stir. Remove the pan from the heat and stir in the chopped coriander and the seared corn. Set aside.
3. In a large bowl, toss the rocket with the olive oil and 1/4 tsp salt. Squeeze the lemon halves over the greens, add the cheese and toss again.
4. Divide the salad among 4 plates. Top each with an equal amount of the corn and prawn mixture, a couple strips of jalapeño and a lemon wedge. Serve immediately. Serves 4.