Today's recipe is from Kirsten Tibballs. Proclaimed by MasterChef Australia as 'the Queen of Chocolate,' she is one of Australia's most celebrated and internationally respected pastry chefs and chocolatiers. In between television appearances and judging world class competitions, Kirsten teaches at Savour Chocolate and Patisserie School in Melbourne.
This is a simple raspberry and coconut baked tart, easy to create with beautiful textures and flavours.
Yield: 12 tarts  |  Preparation time: 40 minutes  |  Difficulty: Beginner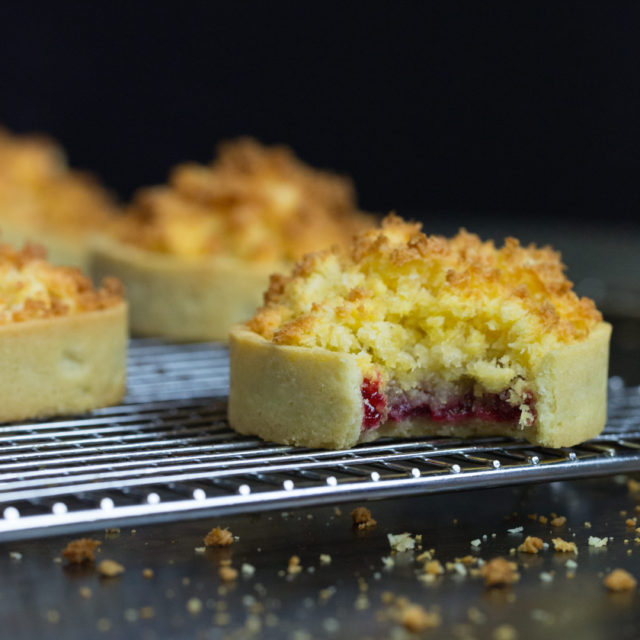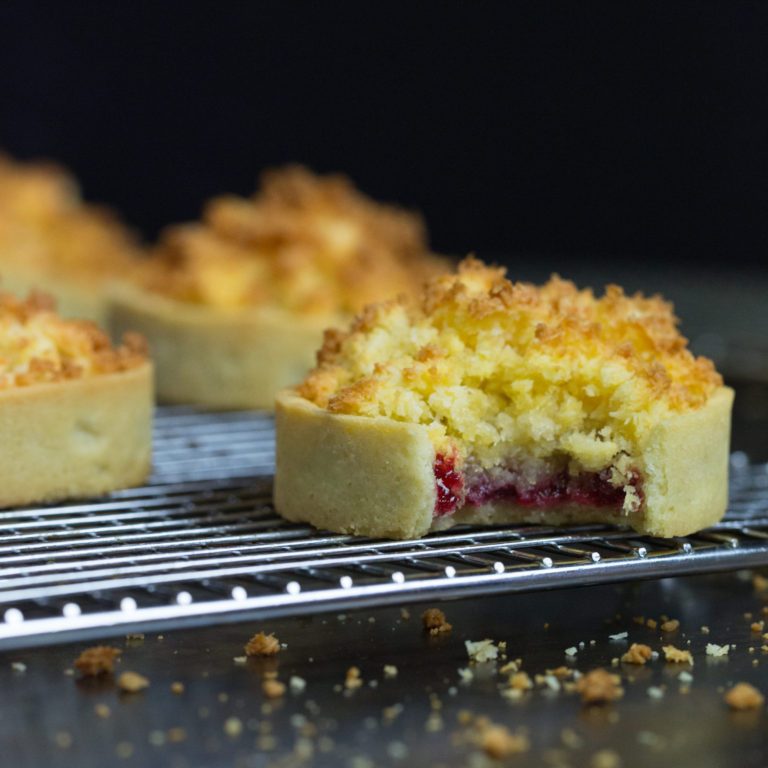 Ingredients
Shortbread pastry
168g Unsalted butter

104g Icing sugar

35g Almond meal

50g Eggs

3g Salt

75g Plain flour (A)

215g Plain flour (B)

Plain flour for dusting
Method
Place 12x 80mm tart rings on a lined flat tray.

Place the butter and icing sugar in a mixing bowl or food processor.

Combine until you have eliminated all lumps of butter.

Add in the almond meal, eggs, salt and plain flour (A).

Once combined add in plain flour (B) and stop mixing.

Once it comes together as a dough, press into an even flat square and wrap in plastic wrap.

Place in the fridge for approximately an hour for the pastry to firm up.

Lightly dust the bench surface with flour and roll out the pastry to 3mm thickness.

Cut the pastry 120mm in diameter. Line the tart cases with the pastry and place them in the fridge before trimming the excess off the top.

Line the prepared tarts with baking squares on a heat proof plastic wrap and fill with rice or baking beads.

Bake at 165

°

C

for 8-10 minutes. Remove the lining and set aside.
Raspberry Jelly
265g Fresh or frozen raspberries

185g Caster sugar

45g

 

Liquid glucose (light corn syrup)
2g

 

Citric acid
Method
Bring the sugar and raspberries to a boil, add in the glucose.

Boil to 103°C while stirring on a medium to high heat.

Remove from the heat.

Stir in citric acid.

While it is still hot, divide the jelly between the 12 tart cases.

Fill tarts halfway, place in the fridge to enable the jelly to firm up.
Coconut Topping
140g Caster sugar

210g Whole eggs

225g Desiccated coconut
Method
Combine all the ingredients together by hand.

Spoon on top of the raspberry jelly, evenly divided between the 12 tarts.

Bake at 165°C for 10-to-12 minutes or until a light golden brown colour is achieved.