What are the weekends for if not for a little indulgence? These Italian-inspired doughnuts are filled with good, wholesome ingredients and they're not overly sweet, making them the perfect treat for any time of day – even breakfast. Yep, we're going to say it, they're almost good for you.

Ricotta is a perfect ingredient for spring, being the most simple fresh cheese around. Traditionally, it's made with the whey left over from the production of other cheeses and always is best when it's freshly made. You can easily make your own, too, by heating cream and full-cream milk, adding vinegar and salt, and then draining the mixture over cheesecloth. There are countless recipes online to try.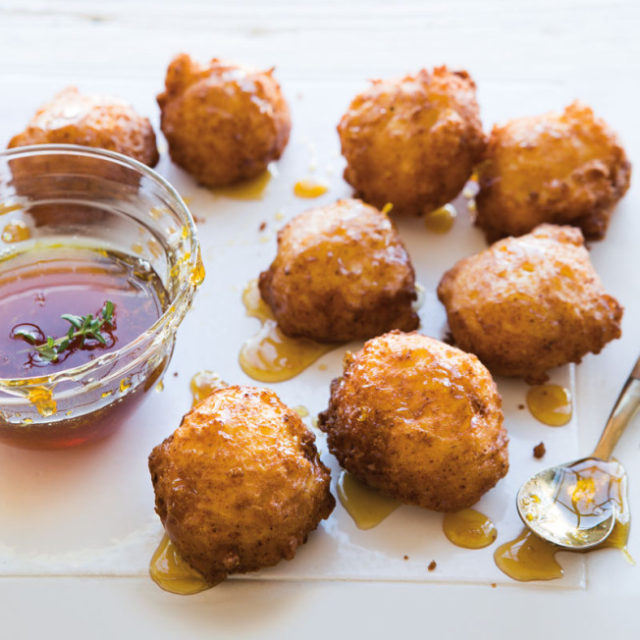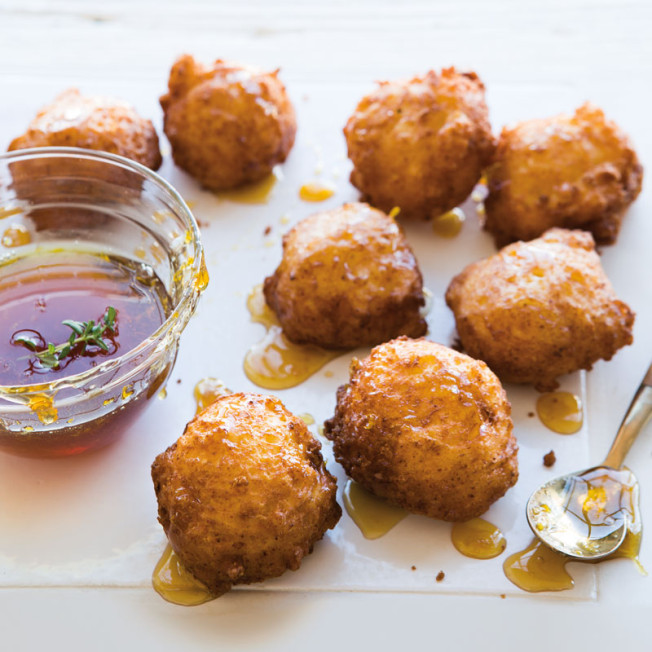 The addition of ricotta makes this dough light and tender, which is perfect for yielding deliciously fluffy fritters with a sophisticated tang. The flavour is further elevated by the lemon zest (you could substitute orange zest) and fresh thyme. Choose a neutral-tasting honey so it doesn't overpower the delicate flavour of the fritters. Or you could ditch the honey drizzle altogether and simply finish with a dusting of icing sugar.
STYLING TIP These delicious little morsels should be served and enjoyed as quickly as possible after cooking. They are a rustic dessert, so keep presentation casual and simple. If you're serving to guests at the table, consider presenting the honey drizzle in small shot glasses garnished with an extra sprig of thyme.
Ingredients
Canola oil for deep-frying

3/4 cup (125 g) plain flour

2 tsp baking powder

2 tsp finely grated lemon zest

1/4 tsp salt

1 cup (250 g) full-cream ricotta

2 eggs, lightly beaten

2 tbsp sugar

1 1/2 tsp vanilla extract
For the honey drizzle:
1/4 cup (90 g) honey

1 tsp coarsely chopped fresh thyme

1 tsp finely grated lemon zest
Method
Pour oil to a depth of 4 cm into a deep, heavy saucepan and heat to 190°C on a deep-frying thermometer.
In a bowl, whisk together the flour, baking powder, lemon zest and salt. In a large bowl, whisk together the ricotta, eggs, sugar and vanilla. Add the dry ingredients and whisk until well blended.
Working in batches, gently drop level tablespoonfuls of the batter into the hot oil and fry, turning occasionally, until golden, about 3 minutes (be careful, hot oil will spit). Using a slotted spoon, transfer to paper towels to drain. Allow the oil to return to 190°C between batches.
Meanwhile, in a small saucepan, warm the honey, thyme, and lemon zest, stirring occasionally, until a thin, fragrant sauce forms. Serve alongside or drizzle over the finished doughnuts. Makes 24 doughnuts.
–This recipe is adapted from one in Dessert of the Day by Kim Laidlaw.  Head to Williams-Sonoma  for more foodie inspiration, or book a cooking class in their Sydney Cooking School.