I'm not into resolutions, but I would like our family to start eating less meat this year, for health and environmental reasons. And recipes like this Lentil Shepherd's Pie from our favourite nutritionist Rosie Eyre, make me think it's totally doable! Over to Rosie…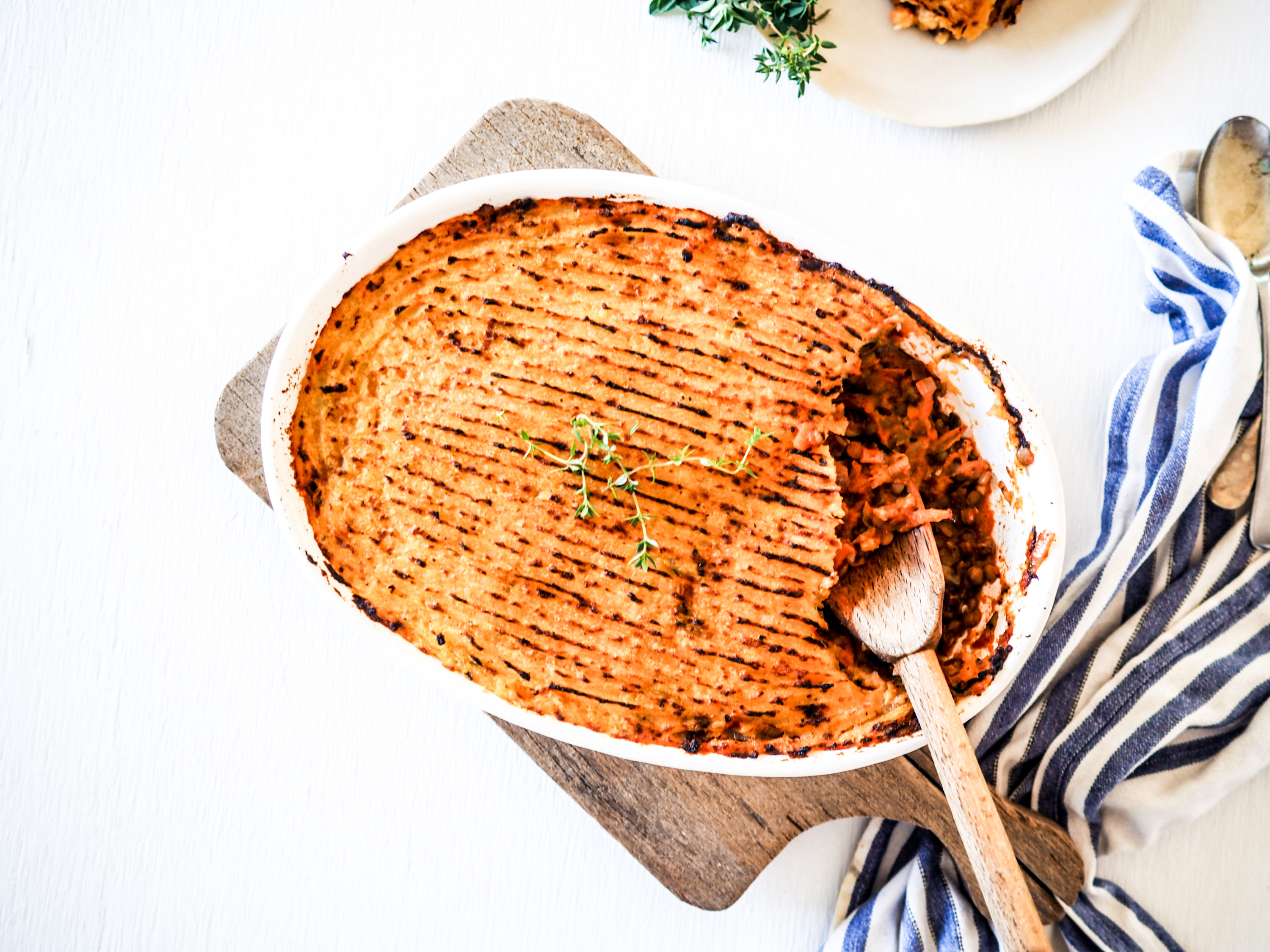 I love this take on shepherd's pie without the meat. You can really bulk it up with a good selection of reasonably priced vegetables that are available all year round. Grating veggies gives good texture, perfect to hide from fussy eaters, and creates a good consistency in a pie like this. I love this nutrient dense, meat-free meal which is suitable for all the family and really budget and time-friendly too.
Ingredients
For the mash:
400g sweet potato (can also be 200g sweet potato and 200g white potato), washed well and chopped into 2cm cubes
20g butter
1 heaped tsp Dijon mustard
Salt and pepper
For the veggie filling:
1 red onion, peeled and diced
1 medium zucchini, grated
1 medium carrot, grated
1 tin brown lentils, drained and rinsed well
2 tbsp tomato paste
2 garlic cloves, peeled and minced
1 tsp cumin
2 tsp smoked paprika
1 tsp oregano
200ml tomato passata
2 tbsp water
20g butter
1 tsp honey or brown sugar
Serve with:
1 bunch of broccolini, steamed
1-2 bunches of asparagus, steamed
Olive oil
Salt and pepper
Takes: 30 minutes | Serves: 2-3 people
Method
Bring a medium saucepan of salted water to the boil. When boiling, add potatoes and boil for 10-12 minutes until soft to prod with a fork. Once soft, drain with colander and add back to saucepan with butter, mustard and good pinch of salt and pepper, mash until smooth. Place lid on to keep warm.
Turn grill onto high. Whilst potatoes are boiling, preheat stove top, medium high heat. Add a large frying pan with a good splash of olive oil. Once hot, add onions for 2-3 minutes, stir often until soft and fragrant. Then add carrot, zucchini and lentils and heat through for 2 minutes. Followed by tomato paste, garlic, paprika, cumin and oregano, stir well and heat for 1 minute to get all the spices fragrant.
Once spices are fragrant, add passata, water and butter, stir well to ensure all ingredients are covered, turn down heat to medium, simmer for 3-5 minutes until thickened.
(Tip: If too thick add another tbsp of water)
Season to taste with honey/sugar and good pinch of salt and pepper.
Spoon lentil mixture into a medium baking tray (that is safe to go under grill). Carefully spoon mash on top of lentils and spread evenly with spatula. Finish off with a fork to make ridges and place under grill for 8-10 minutes until crispy and browned.
Serve with steamed greens drizzled in olive oil and a pinch of salt and pepper.
If you're interested in going meat-free, or eating less meat and more plants, Rosie has a great new eBook out for just $10, packed with recipes like this one. Buy your copy.