Simple yet sophisticated, the spiced keftas combine with fresh greens and a zingy dressing for a play on classic Middle Eastern flavours. This recipe was created by Shane Delia of Melbourne restaurants Maha and Biggie Smalls in partnership with Australian Lamb. It's an impressive looking dish that's ideal to cook when you're having family and friends over for Sunday night dinner.
Serves: 4-6 |  Prep: 30 mins  |  Cooking: 30 mins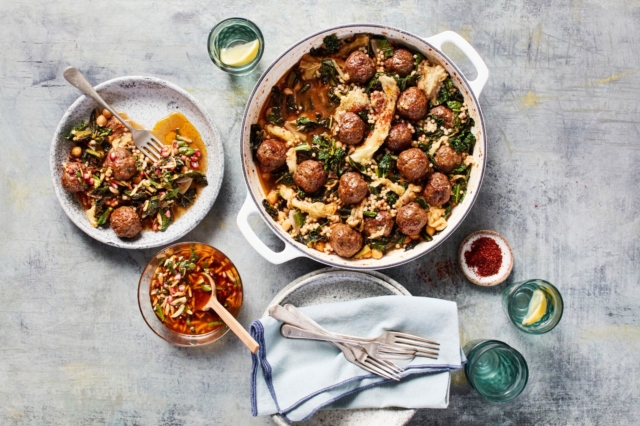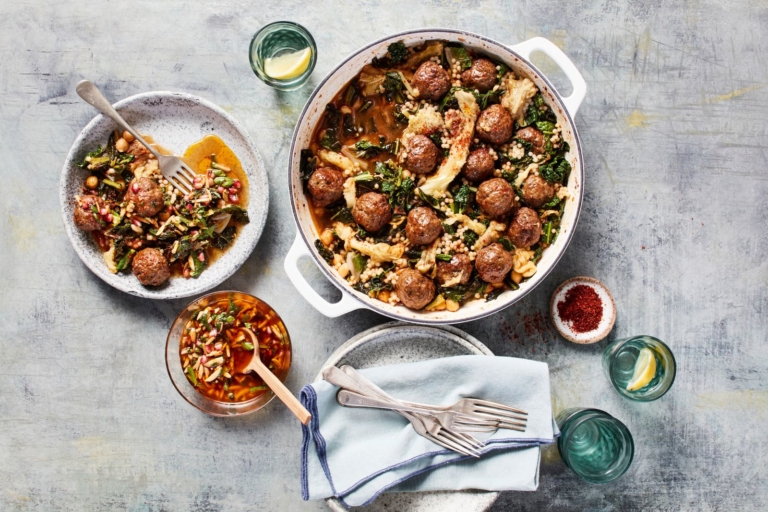 Ingredients
Lamb kefta
600g lamb mince
20g cumin powder
10g coriander powder
10g flaked salt
10g chopped parsley
2 garlic cloves, peeled and crushed
Sauce
2 eggplant, chargrilled and peeled
2L lamb or vegetable stock
200g dry chickpeas soaked and cooked
200g pearl couscous blanched
1/2 bunch silverbeet
1/2 bunch cavolo nero (black cabbage) or kale
Lemon juice
Red Aleppo or paprika
30g butter
1 tsp cumin
1 tsp coriander powder
Dressing
30g slivered almonds or roughly chopped almonds
30g pomegranate seeds
5 sprigs parsley leaves, finely sliced
4 sprigs coriander leaves, finely sliced
100ml Olive oil
Lemon juice to taste
Salt to taste
Method
Place all ingredients for the kefta in a medium sized bowl, mix and knead very well for 3-4 minutes. Roll into small balls and rest for at least 20 minutes.
Heat up a medium sized pot and sear lamb kefta until golden brown on all sides, set aside once all are golden.
Place same pot back on the heat, drizzle olive oil and add butter. Sauté chickpeas, couscous, spices and salt.
Put the lamb back in the pan and add the stock, bringing to the boil. Simmer for 5 minutes or until the stock has reduced by half.
Add silverbeet, eggplant, cavolo nero and season with salt and lemon juice.
Place into a serving dish and dress over the top with almond and pomegranate dressing.
Tips
The key to this recipe is working the spices into the lamb to get the best flavour. This means getting hands on and massaging it through the meat with your fingers at least 20 minutes before cooking.
Make sure the lamb kefta are browned off evenly all around to create a caramelised lamb flavour throughout the dish.
Instead of the silverbeet or kale, you can use any greens you come across in the supermarket like fresh chard, spinach or cabbage.
You can make this recipe gluten-free by using lentils or dried beans instead of couscous, or swap the couscous for a side of rice.