Jessica Nguyen's adaptation of the iconic French dish coq au vin, where chicken is braised in red wine with onion and mushrooms, is perfect for a winter dinner party or a date night in. Recipe created exclusively for Tussock Jumper Wines.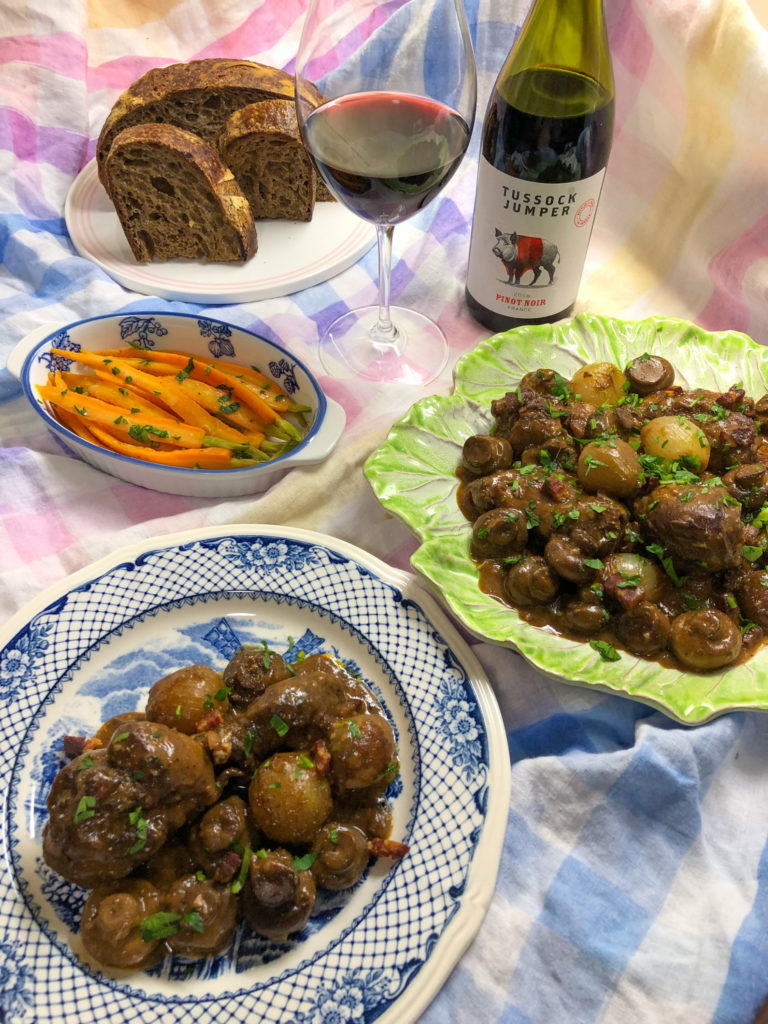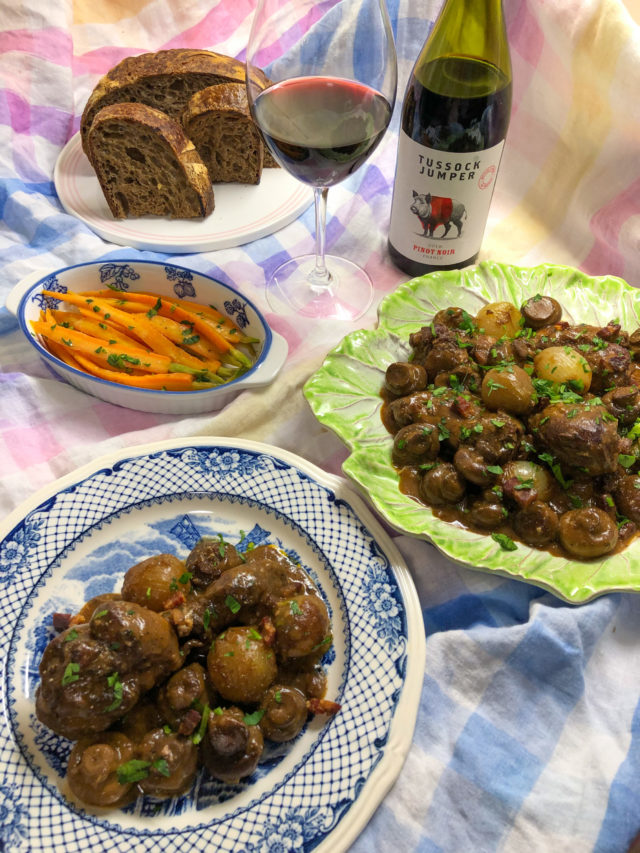 Cooking time: 1 hour 15 minutes | Serves: 6 | Skill level: easy
Ingredients
1 strip (100g) of pancetta, cut into lardons or matchsticks
3 cups (400g) of mushrooms. Preferably small button or Swiss brown mushrooms
10 baby brown onions, peeled and whole or 4 medium brown onions peeled and quartered
10 pieces (1.5kgs) of skin-on, bone in chicken. I've used a mixture of drumsticks and wings but you can use anything you want
150ml of brandy
600ml (2.5 cups) of Tussock Jumper Pinot Noir
2 cups of chicken stock, either my homemade recipe otherwise store bought is fine
3 bay leaves
4 garlic cloves, finely minced
2 tablespoons tomato paste (Jessica also recommends Mutti Double Concentrated paste tubes)
1 small bunch of thyme
3 tablespoons of flour
3 tablespoons of butter
1 small handful of parsley, finely chopped
Method
Begin by heating a large pan and adding in the pancetta to render out the fat to cook with. Use a pan that is big enough to fit the meat along the bottom of the pan and that has no plastic handles as you will need to cook this in the oven after. A shallow cast iron casserole pan works best for this kind of recipe. Cook on medium for about 8 minutes or until golden and crispy and most of the fat has rendered out.
Whilst waiting for the pancetta to render, peel and prepare your onions. If you have baby onions (which is what Julia Child calls for in her traditional recipe) peel and keep them whole. If you have medium or large onions, peel and quarter them.
Remove the pancetta from the pan using a slotted spoon.
Reheat the same pan, add a teaspoon of butter and once melted, add in the onions and brown on medium for 5 minutes. Stir them to make sure they brown evenly.
Then add your mushrooms and continue to cook them with the onions for another 5 minutes. During the 5 minutes you'll notice your mushrooms soak up all the moisture in the pan but after a few minutes they will release the moisture and sweat back out. Make sure you cook them to this point.
Remove both onions and mushrooms from the pan using a slotted spoon, we will add these back in later.
Preheat your oven to 200 degrees Celsius. Reheat your pan and add some olive oil or butter back into the pan if your pan looks a bit dry. Now its time to brown your chicken. Place your chicken pieces skin side down and cook in the pan on high heat for a few minutes until browned. Make sure to not overcrowd your pan, cooking in 2 batches otherwise your chicken will steam rather than brown. Flip your chicken and cook for another 5 minutes on the other side until browed. Once all your chicken is browned on all sides, place all chicken pieces into
the pan.
Now we deglaze and flambé! Pour your brandy over the chicken into the pan and light chicken with a lighter. The chicken will flame for 2 minutes and once the flames dies out it means your alcohol has cooked off.
Now add in your Tussock Jumper red wine! Pour at least ¾ of the bottle of the Tussock Jumper Pinot Noir into the pan. Half of your chicken should be submerged in the wine. Now add in your chicken stock until the chicken is submerged.
Bring the pan to the boil and add in your bay leaves, stir in your finely minced garlic. Once your sauce is boiling, lower to a simmer. Add and mix in your tomato paste and then add in your thyme leaves. I like to turn my thyme into a 'Bouquet Garni' which is French for 'garnished bouquet'. You simply tie your thyme into a bundle using cooking string which makes it easier to fish out of the sauce at the end.
Finally add back in half of the pancetta into the pan. Place the lid onto the pan and cook in the oven for 45 minutes at 200 degrees Celsius.
Take your pan out of the oven after 20 minutes and add in your onions you browned before. At this point your sauce should look less purple/red and now more orangey brown in colour. Place it back into the oven to continue cooking.
At the 35 minute mark, take your pan out of the oven, stir in the mushrooms and place back into the oven with the lid for the last part of the cook.
Whilst waiting for it to finish cooking, prepare your Beurre Manie, which is a simple paste of equal parts flour and butter and the traditional French method to thicken soups and stews.
After 45 minutes, check on your chicken. Once it is tender and pulling away from the bone easily, it's ready to take out.
Place your pan back onto the stove with the heat on low. Remove your thyme bouquet and now stir in your beaurre manie. You'll notice after 2 minutes your sauce will thicken and easily coat the back of your spoon.
You can serve hot and immediately with some finely chopped parsley sprinkled on top with crusty bread and some vegetable sides. Alternatively, you can make this ahead of time the day before because like all stews, this one tastes even better the next day which makes it a great dinner party dish! Finally, pour the remaining glass of Tussock Jumper Pinot Noir from the bottle and enjoy with your Coq au Vin.
Serving suggestions and recommended sides
Serve with crusty bread to mop up the sauce or mound the casserole on top of rice or a thick pasta like pappardelle.
Serve with vegetable sides such as glazed carrots, steamed green beans and roasted or mashed potatoes.
Enjoy with a glass of Tussock Jumper Pinot Noir.
Melbourne home cook Jessica Nguyen adapted this recipe from Julia Child's original recipe in 'Mastering the Art of French Cooking'.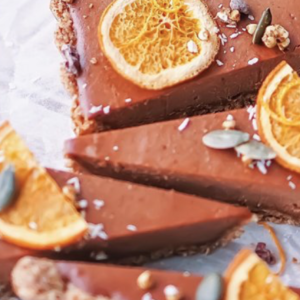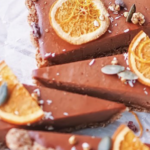 Foodie Friday: Choc Orange Tart with Hazelnut-Oat Crust
This recipe was developed by Minako Umehara @365cleaneats for Naked Foods. This cake is kind of like the lovechild of a jaffa and a hazelnut – except creamy and fudgy, with a subtle…