It's very rare I encounter criticism on the internet, which makes a me a lot luckier than many bloggers. But what does happen, and it winds me up a bit I must admit, is people complaining about seeing Block "spoilers" on our social media accounts.
Earlier this month, for example, we published an interview with last series' Glasshouse winners Shannon and Simon Vos. It seemed nice timing with the new series about to start. What I hadn't even considered, being that they won back in October, was that I would get a whole host of sad faces and "thanks for ruining it for me" comments on Instagram when I shared the interview. These were from our New Zealand readers who are, incredibly, still only part-way though The Block Glasshouse. Sigh.  Is it really reasonable for an Australian blog to be expected to be careful about revealing the winner of a show more than three months ago?
I totally get that it would be annoying to find out early, but the comments, the real despair, anger and sad faces which people articulate is a little over the top. It's just a TV show!
But maybe I am being unreasonable? What do you think?
I cannot tell you quite how much our readers love the The Block and our traffic goes through the roof when it's on (which is excellent news for us bloggers!). So we really want to bring the fans all the latest news, opinions, interviews and any exclusives we might get, as quickly as we can.
I'm really happy we have readers from NZ and all over the world, but I do think it's a bit much to hold off for a quarter of a year to ever mention who won the episode while another country catches up? Seeing spoilers on social media is just part of life these days isn't it? And if you really don't want to know, it is probably wise to unfollow media outlets who write about TV shows relevant to their genre in real-time?
We get the same with those in different states who have to wait an hour or two to watch what we're watching here in New South Wales and I have more sympathy for that. This is why we will always endeavour to bear all the Australian timezones in mind before posting about winners of room reveals or series. But again, if you really care about not finding out, just stay off Facebook for an hour or two? It's what my husband does if (God forbid) he has to miss a Formula One race and wants to watch it later without already knowing what happened. Because I can't promise the rest of the social media-using world will be as careful as we will. Why should they? If you don't want to know, isn't it your responsibility to avoid the place where everyone is likely to be talking about something?
Or maybe all our social shares of Block posts should carry a #SPOILERALERT? Would that help perhaps?
I did find this article on CNET which explains how you can avoid social media spoilers if you use Google Chrome. I haven't tried it myself but it might be worth checking out.
I don't really understand how people get their knickers in such a twist about TV shows anyway. The sheer venom I see posted by viewers (and directed towards contestants and judges) on The Block Facebook Page never fails to shock me. If you don't like it, just change channel!
Like this guy, for example, who sent me a private message on Facebook last week: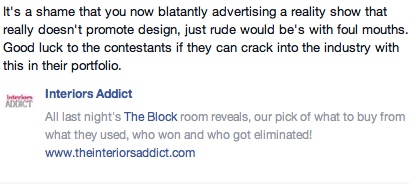 Um, it's not advertising (that's paid for), it's writing about what my readers are interested in and I can pretty much write about whatever I like, thanks very much!
Love to hear your views below but please, no sad faces?!