Kristin Pfannenschmidt of Revived Furniture believes that upcycling reflects the mood of the moment: people are preferring to save things rather than throw them away, as well as liking the idea of owning a one-off piece. "Something that allows them to express their individuality," she says.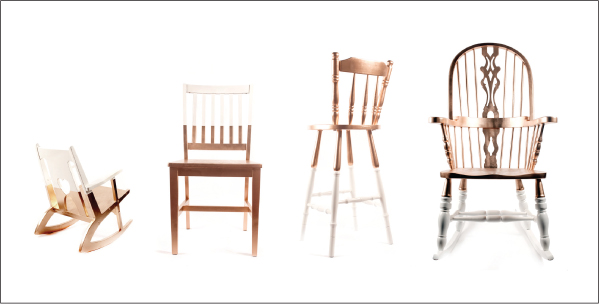 Expressing her individuality with interior design is a trait that German-born Kristin has been honing for many years. At the age of 11, she spent hours poring over IKEA catalogues, curating themes for the different rooms in her family home. "I picked furniture and accessories to go with my themes, presented it to my parents and was very disappointed when they refused to buy what I had 'sourced'!"
This passion saw Kristin do a stint with a cabinetmaker in Leipzig, Germany. "He taught me how to make furniture in the traditional way, which I really enjoyed as I'm a very hands-on person." After studying Furniture Design at Birmingham City University in the UK, and with a term at the Politecnico di Milano in Italy under her belt, Kristin took a role with English furniture company OKA, travelling around the country styling their room sets, windows and product displays. "Again, a very hands-on job, moving furniture and painting walls all day, but I loved it," she says.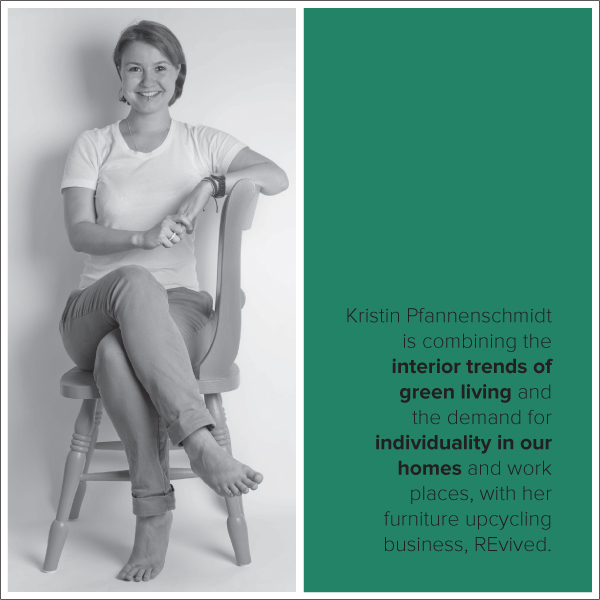 Having started her upcycling brand in London, Kristin took the plunge and moved halfway across the world to Sydney (much like editor Jen did!), and has brought Revived Furniture with her.
"I love stories and upcycling gives me the opportunity to create new chapters in the lives of pre-loved treasures and, of course, there is also the eco-friendly aspect that is extremely important to me," says Kristin. "The collections give me a chance to be creative and I love how I am able to unify different styles of furniture with my unique colour and design concepts."
Kristin operates on demand, sourcing pieces and upcycling them according to her client's brief; "Maybe you've got a piece that has sentimental value or maybe it just needs to be tied in with your new colour scheme – I'm happy to help either way. I also work directly with interior designers and we come up with concepts for their clients. Eight Pink Ladies (pictured below) was a project I did for a client of Sydney-based Two Studio.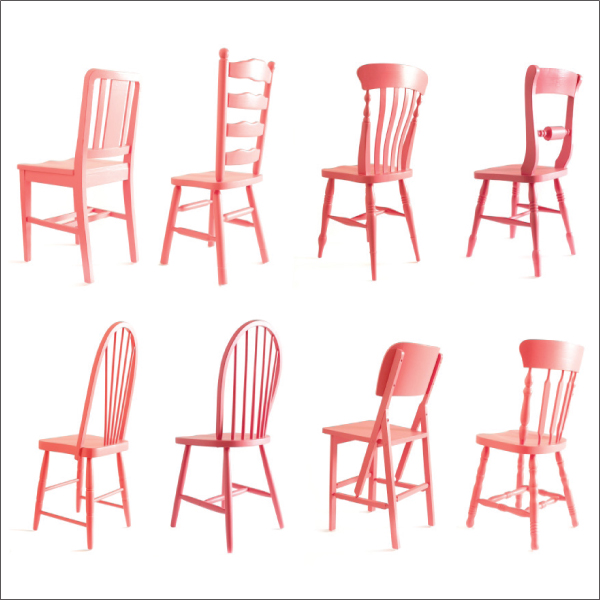 The typical cost for transforming a dining chair depends on the complexity of the design and the time Kristin spends realising her vision, but as a general indication, prices start from $250. Each design concept has its own inspirational background.
"The concept for my favourite, the gold and white collection (at the top of this post), started when I found the rocking chair. I wanted to turn it into a golden throne but at the same time keep it crisp and contemporary, so I combined it with white."
Revived Furniture is based in Surry Hills, Sydney.