When I first saw Georgia Ezra's perspex, customisable furniture, I fell in love with it immediately and had to find out more. Little did I know the young designer behind the CAJA brand would also turn out to be a trapeze artist! Seriously cool, no?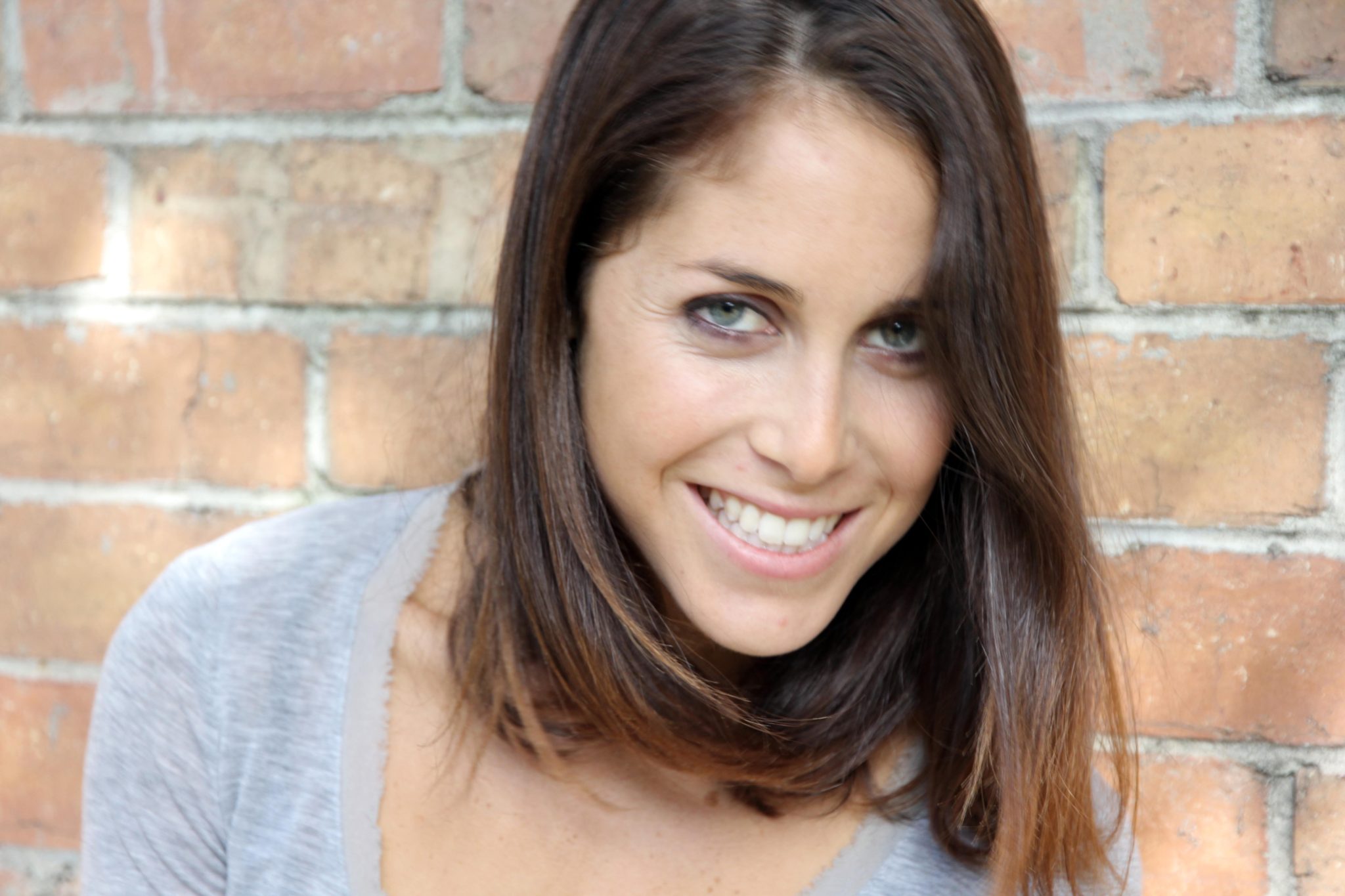 Georgia, 25, studied at UNSW and graduated with a Bachelor of Interior Architecture, first-degree honors. The following year, she moved to Melbourne for her first job, where she completed many award-winning designs, one of which (Suds Launderette) was shortlisted in the 2011 IDA Awards. Then in November last year she went out on her own and started up G.A.B.B.E Interior Design, a multidisciplinary practice, which prides itself on a creative approach. "I always explore ways to look outside the conventional box," she says. "I concentrate largely on custom made design, placing incredible attention to detail."
Being a trapeze artist, she says the colours, costumes and choreography of Cirque de Soleil inspire her. She is also influenced by the 10 months she spent living in Spain. "I am absolutely influenced by European culture. I draw Inspirations in all my designs – interior and furniture. I am incredibly passionate about textures, colours and art."
Her original perspex bookcase design, Camouflage, was inspired by the illusion of books piled one on top of the other with no support system. "As the books are consciously organised in a shifted manner by a hidden system, there is a sense of structured and controlled chaos. The image of the stacked books draws a strong sense of visual aesthetic and thus it was felt necessary to house the books by a perspex box, framing the beauty of the ordered book spines," she explains. "As the product is constructed for the placement and stacking of books, it mainly acts as a bookshelf. The size, form and thickness of the perspex structure allow it to take on other functions too." An artwork and display unit in itself, the unit also works as seating, bedside tables or occasional side tables.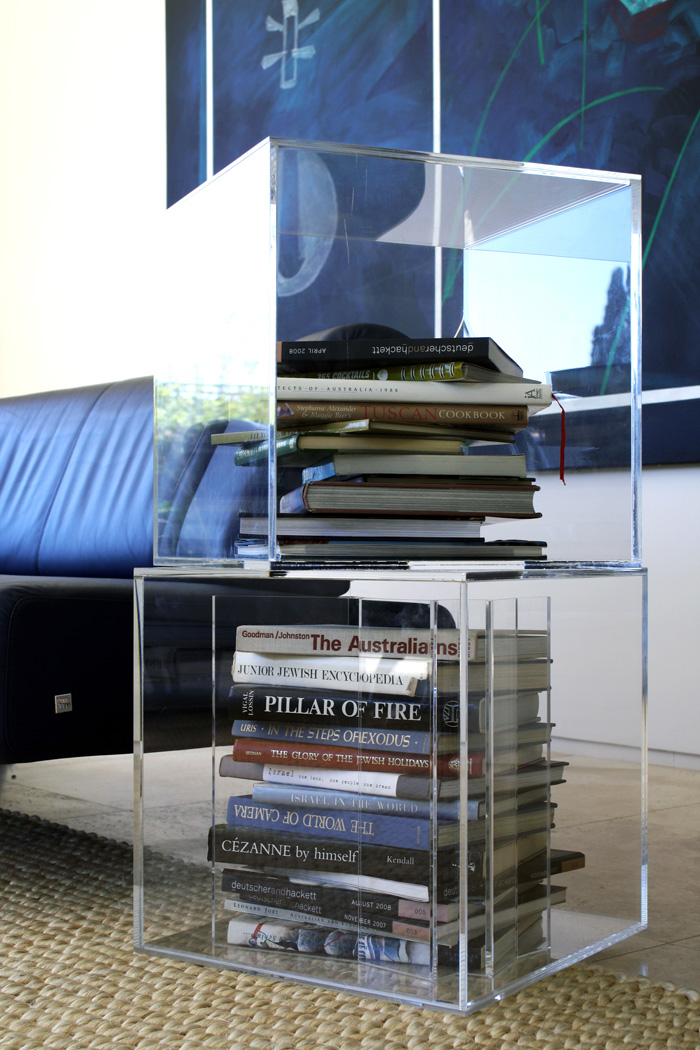 Going out on her own brought with it "a whirlwind of thoughts" about how to extend and push her CAJA furniture line. It was then Georgia came up with the idea of adding mix and match lids to the perspex boxes. "An important element that I wanted to transpire was a sense of versatility and client ownership. I specifically wanted the buyer to be able feel that they could take part in the design of their own unit and have the freedom to mix match and change their piece to reflect their style, lifestyle, space etc," she says.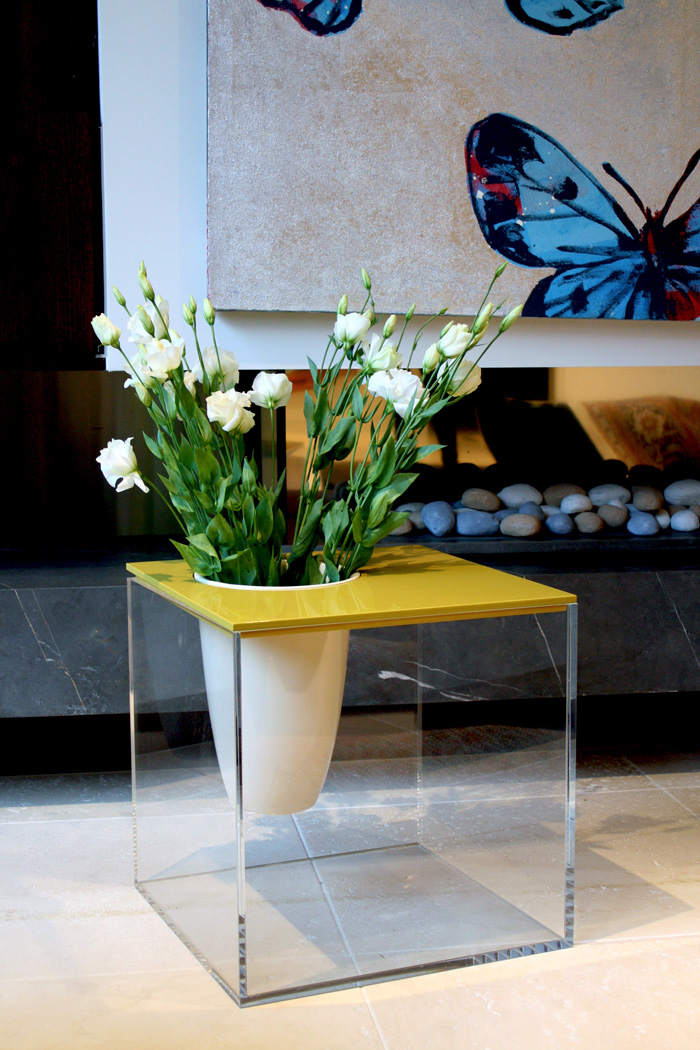 "I was fascinated by the mix between the sleek and modern appearance of perspex and the warmth and exciting quality of the wood and bright lid colours. I was even more fascinated by the idea of inserting varying homewares into these lids – the beauty of their profile – which is exposed through the perspex, and their aerial plan – looking down. There is a sense of illusion as the inserts hang from the lids."
Her Spanish influence led her to name the range El Tapar, meaning lid. "The word tapas stems from the noun el tapar and so each lid option and insert almost serves as an individual tapas option," says Georgia.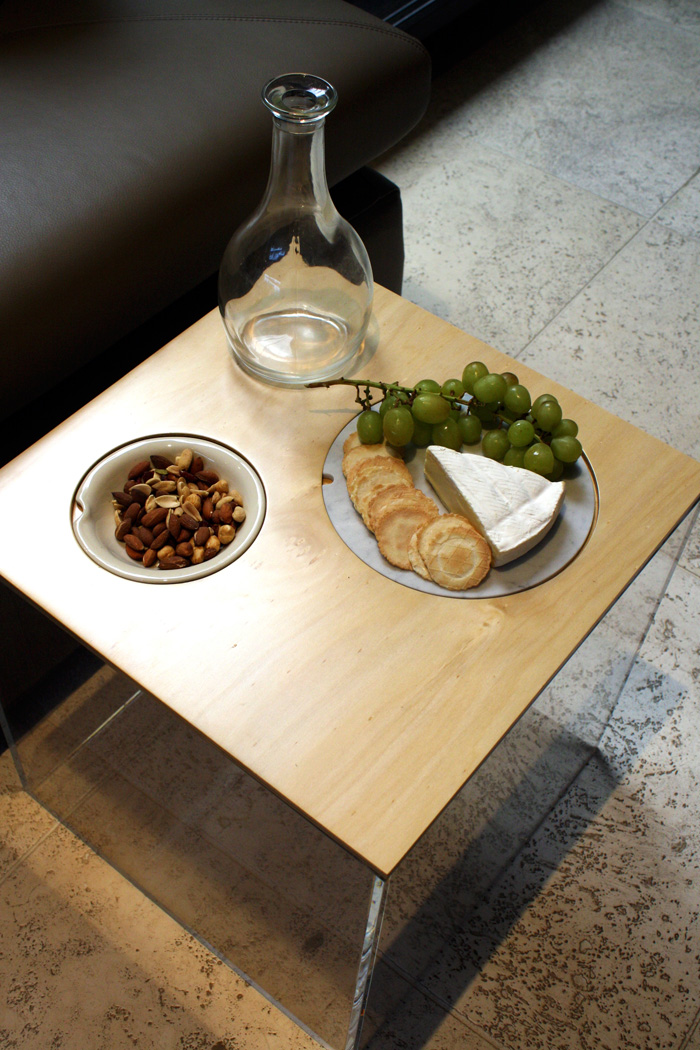 She loves working with perspex. "The beauty of it is the space and/or the books placed in the unit direct the aesthetic of the furniture. If you place it in either a contemporary or a traditional house the unit will ultimately take on the style which surrounds it. In addition, the style, subject and colour scheme of the books used in the perspex absolutely direct and shape its appearance." One client wanted a grey, yellow and black room, so Georgia filled two side tables with National Geographic magazines! "It looked sensational!"
The young designer, whose target markets are homeowners and event planners, has had a fantastic reaction so far with some impressive CAJA stockists on board such as top3 by design and fenton&fenton. The most popular design is from the El Tapar range (Lid Option 4/5 – with the vase insert).
Being an Australian made product is incredibly important. "I strongly believe in supporting local trade and having full quality control on manufacture. Incredible effort has been made to select the best manufacturers of each of the different parts that make up the whole that will provide me the quality and standard that I require." She adds: "When you have a beautiful product where the details have been successfully translated all the way through from design to the final product, this coming together is far more important to get 100% right. As a result the client will walk away with a unique product of an incredibly high standard."
While CAJA Design is still just Georgia, she is excited about the potential to grow and expand, and if the positive reaction continues, I'm sure she'll be hiring before too long.
Find a full list of stockists at the CAJA Design website. Georgia will be at Design Made Trade in Melbourne in July. What do you think of this new concept?