One of the most used spaces in any home, the living and dining rooms are where families spend the majority of their time and they need to be well-planned, well-executed and tie the whole home together. While one room disappointed, it was thumbs up for the other four, and the winning room certainly didn't play it safe.
What did I think? I didn't love Leah and Ash's winning room to be honest. It was great that they didn't play it safe, and it certainly looked very Fenton & Fenton. I liked some elements but I just couldn't get as excited as the judges did?! And as for last place? Yes it was definitely too cramped, but otherwise had a lot of great things about it. And Eliza and Liberty's second place room with the weird fireplace seating area behind the couch? Not vibing that either I'm afraid! What did you think?
Leah and Ash (First place): 29/30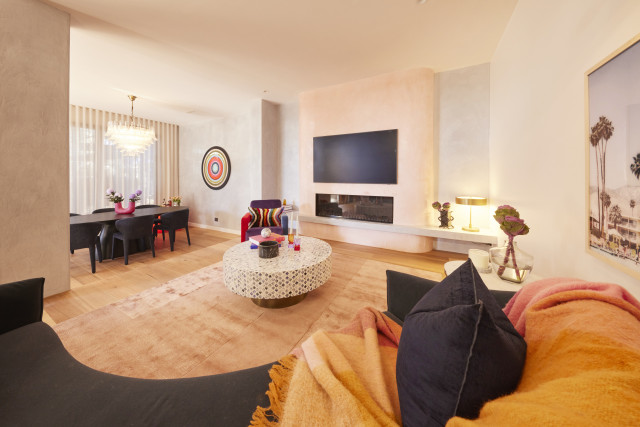 If ever there was a space that stamped Leah and Ash's intention of making a statement, it was their living and dining room. "I am so glad I came back today!" said Neale as he celebrated his return to The Block with a visit to House Two's brightly coloured, pop art inspired space. "It's definitely polarising," he said, "but they've pulled it off!". And it wasn't just with styling, Darren said. By changing the original plans, adding a chandelier alongside downlights then removing nib walls, they'd created more space and given the home a better flow from downstairs to up.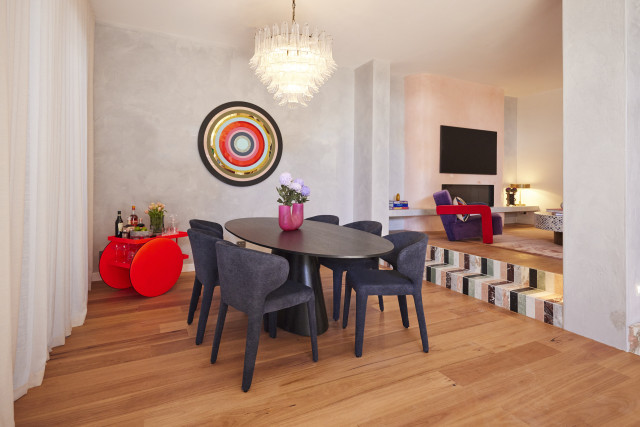 Get the look: Velvet couch | Red bar cart
Eliza and Liberty (Second place): 27/30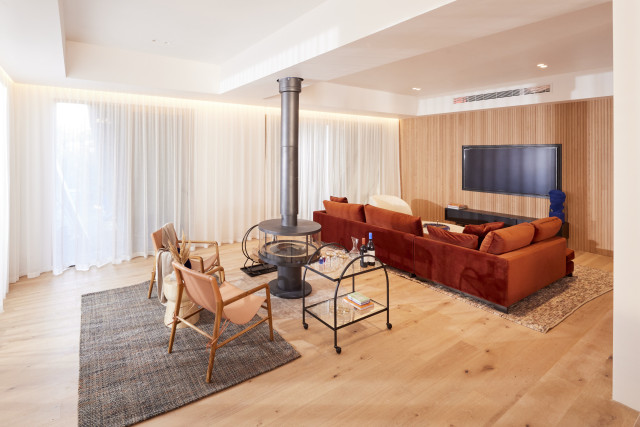 The one thing that screams luxury in a home, the judges agreed, is space. And Eliza and Liberty's huge living dining area certainly delivered that. "This floorplan is the gift of all gifts," Darren declared, "and you haven't messed it up!" Looking out over what will be their backyard and with a central freestanding fireplace, the space is punctuated by a huge couch, Rosenberg art and a Camerich sculpture plus a porta timber feature wall with a generous inset television. It's a sophisticated space, they all agreed, that's going to work very well against the kitchen to come.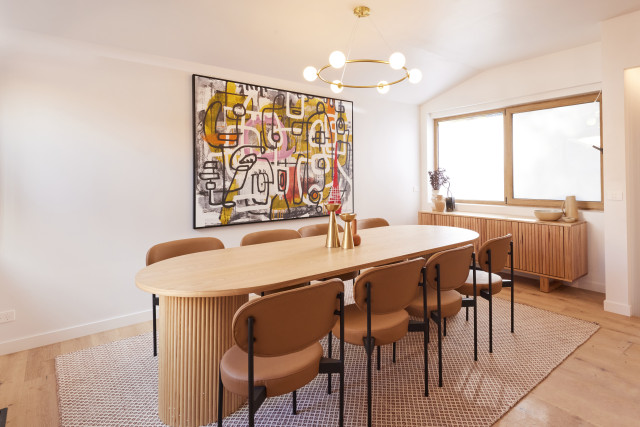 Get the look: Magic wool rug | Easytime sofa
Kristy and Brett (Equal third place): 25.5/30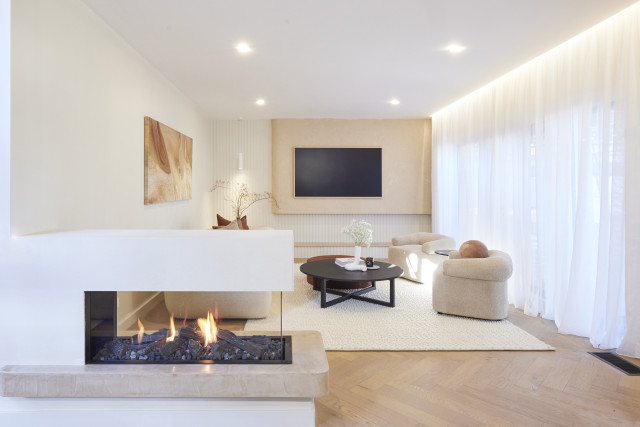 From the three-sided Stoke fireplace with polished plaster hearth to the adjacent textured wall, this was, Darren declared, a room to die for. Just one of two living spaces planned for downstairs, it was, Neale added, just perfect for servicing what will be a pool area outside the Aluplast windows. The lighting plan left Shaynna flat, suggesting the downlights could have either been pushed the room's edges or made more central. But even with that, there was a warmth and depth to the colour palette that made it a room: "with a lot to love!"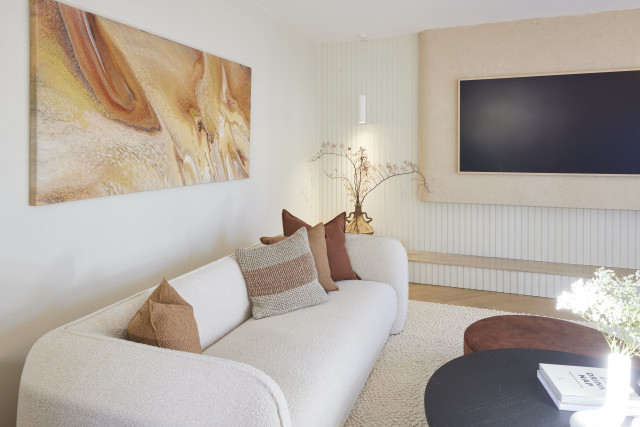 Get the look: Multi-sided fireplace
Steph and Gian (Equal third place): 25.5/30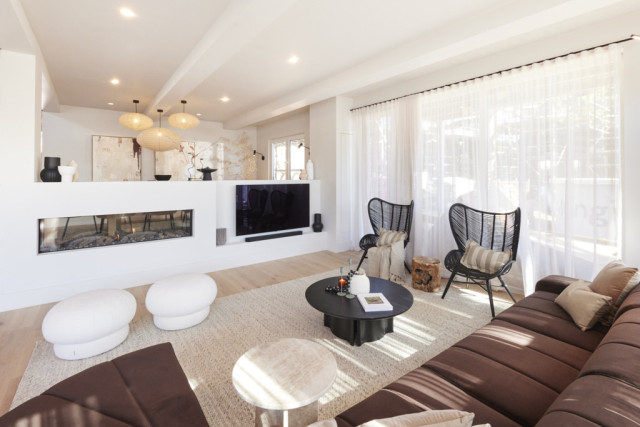 With an elevated dining room overlooking the sprawling living room, Steph and Gian had hoped to showcase their Japandi aesthetic, but instead, all Neale could do was question the reason behind its placement. "Does it improve the flow of the house?" Neale asked, "maybe not". And then there was the styling, he added, with so many ceramics in one place: "It feels like a retail space!". They were won back by the execution and the adjacent living room with its wraparound glazing looking out onto the back yard, with Neale happily settling into the wingback chair to take it all in.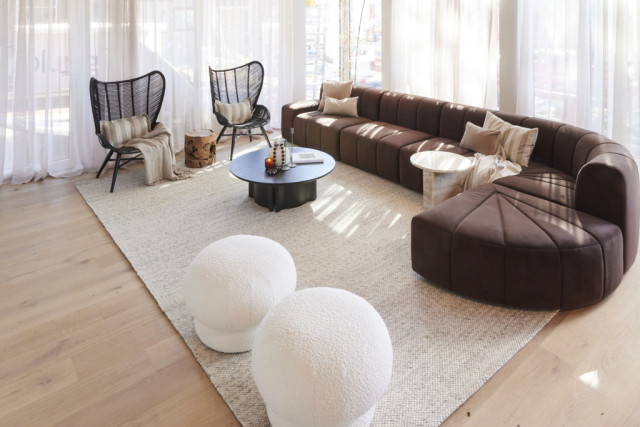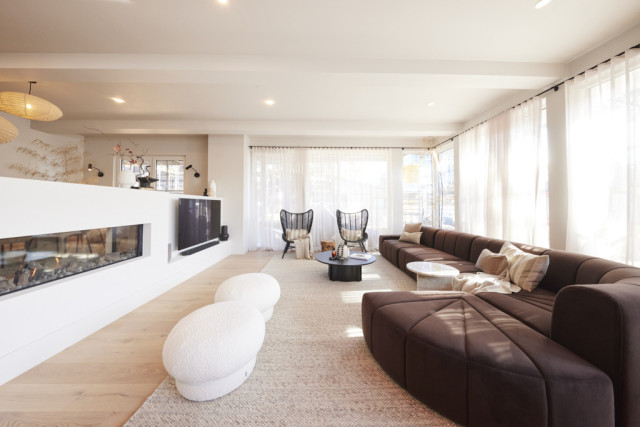 Get the look: Jackie Green artwork
Kyle and Leslie (Fifth place): 20/30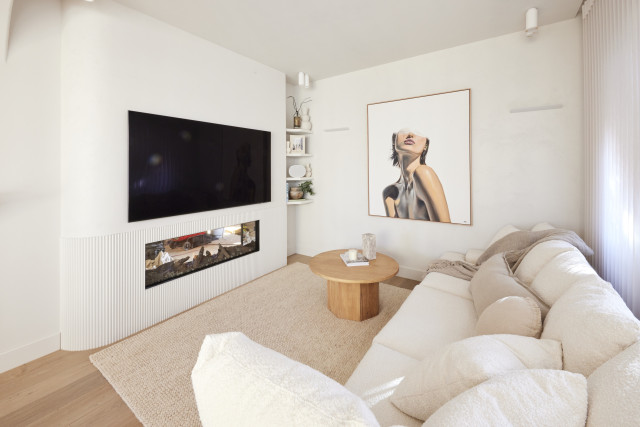 Light, bright and welcoming, the judges felt an immediate warmth from Kyle and Leslie's living and dining space, but it was, Neale quickly pointed out, too constricted. Tiny, in fact. With its hero Christian Cole dining table dominating almost the entire dining space and the living area taken up by a small lounge aimed at the television leaving no room for anything else, this was not a room the house deserved. Keep the colour palette and the curves, they urged, but "it's a beautifully styled and built disaster" Neale summed up and something that needed a rethink. Shaynna said this room was the Titanic for them if they didn't get it right. Eek!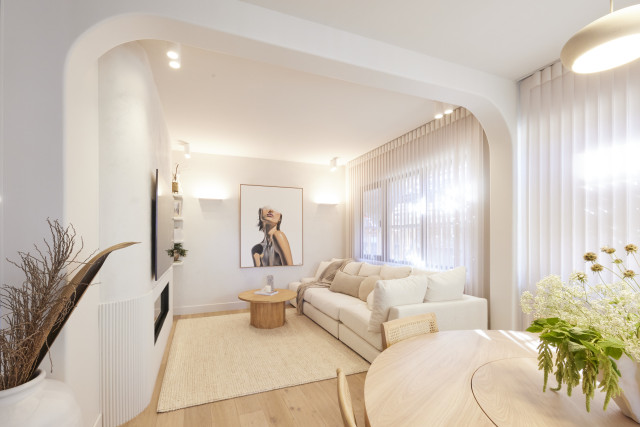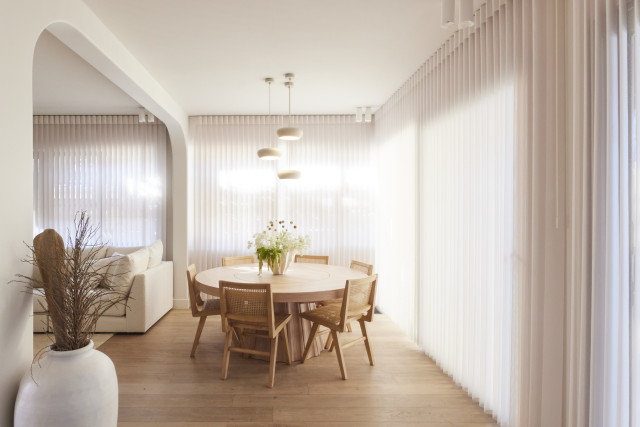 Get the look: Christian Cole dining table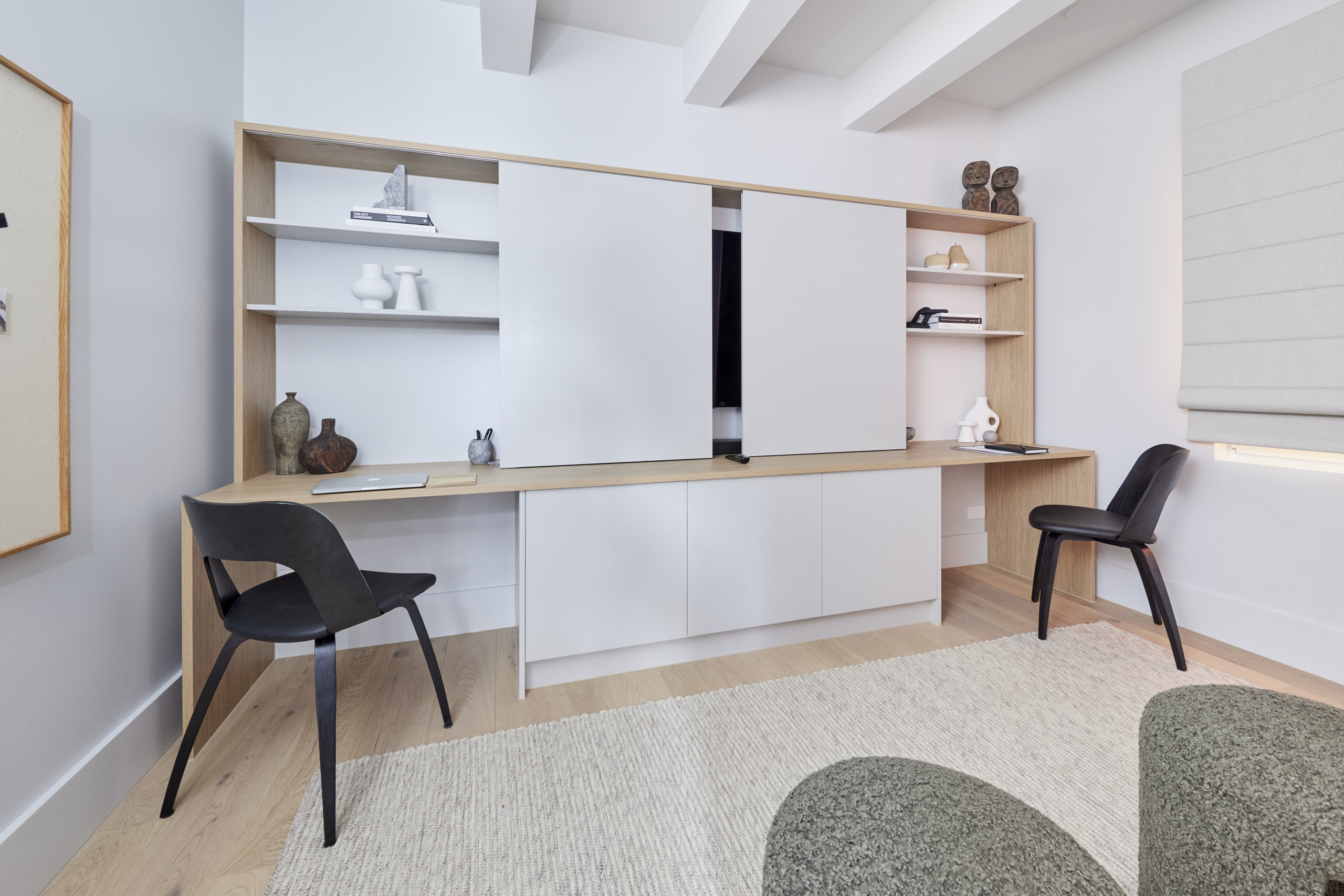 Work from home spaces: Block 2023 week 3 room reveals
We all know work from home spaces have never been more talked about or valued since you know what (the c-word!), so there was always going to be a lot of interest in this week's Block room reveals. …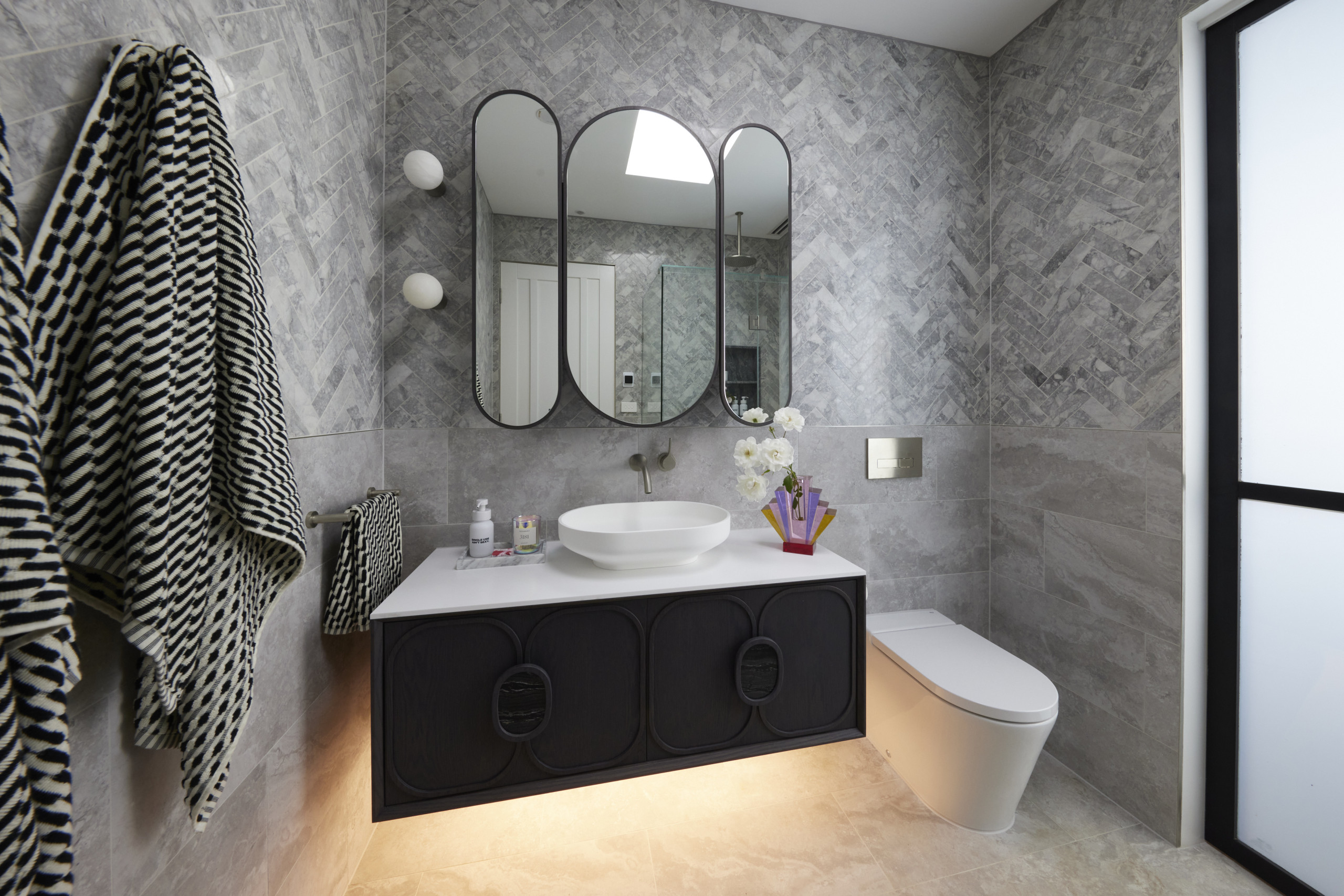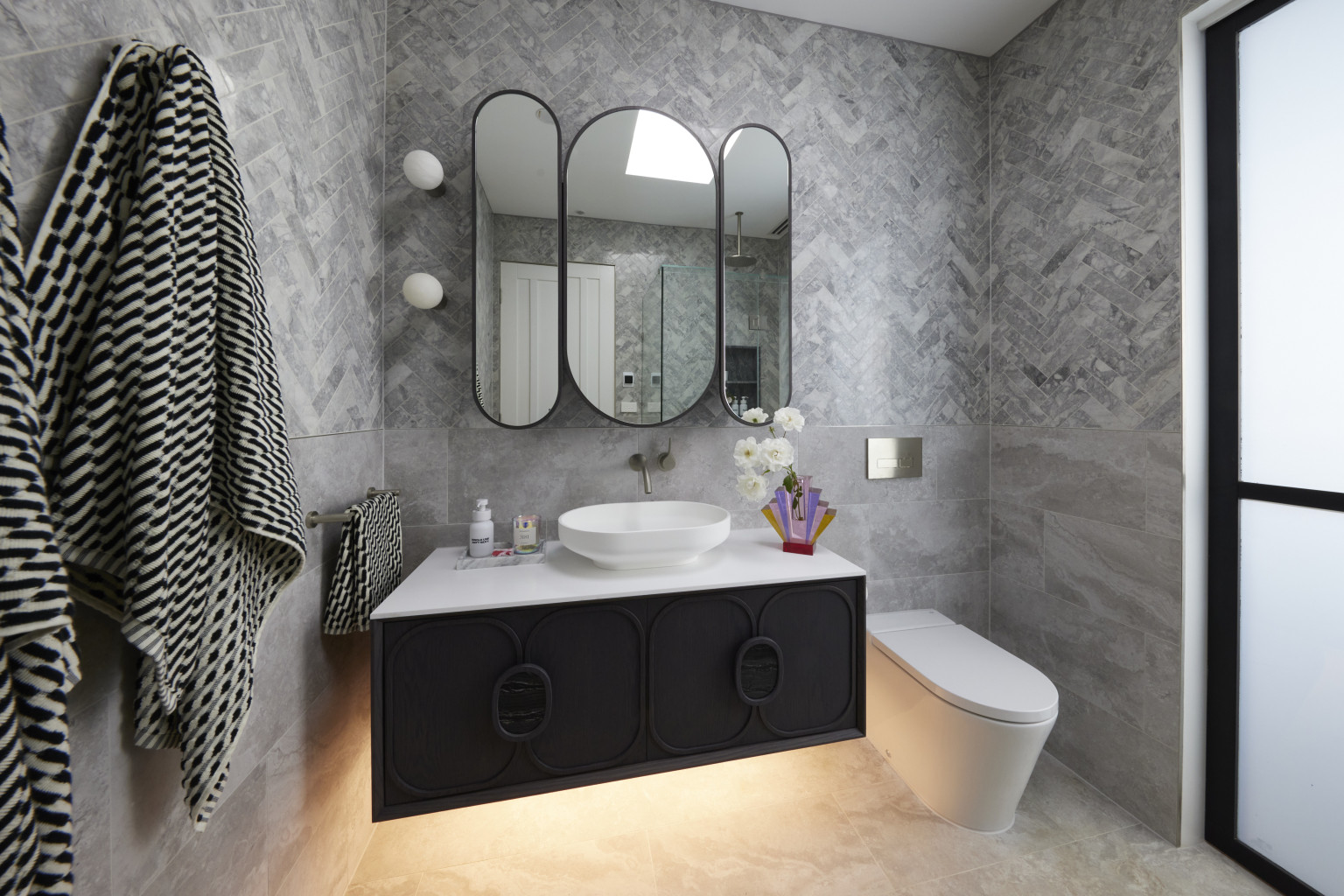 The Block 2023 second bathroom reveals: high scores all round
The main downstairs bathroom, serving the most used parts of their homes, these rooms were a chance for the Blockheads to set the tone for their build, and from small but simple to over the top, they certainly did that. From a compact powder room …