We all know work from home spaces have never been more talked about or valued since you know what (the c-word!), so there was always going to be a lot of interest in this week's Block room reveals.
For some contestants, it was a chance to get into the new steel framed sections of their homes, while others battled the older areas. The result was a range of solutions with varying degrees of success. And, after their rocky start, Steph and Gian won for the second week running!
Steph and Gian (First) 26.5 points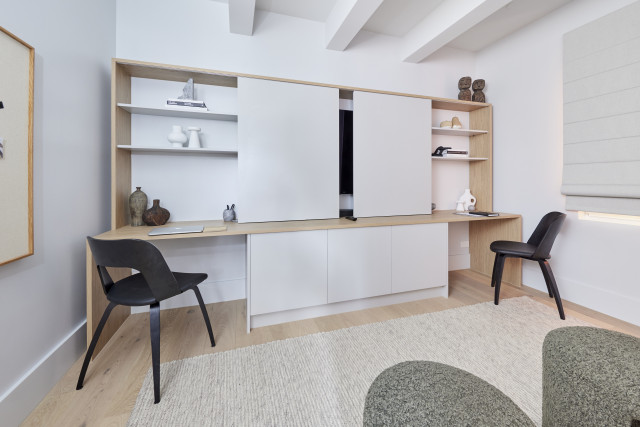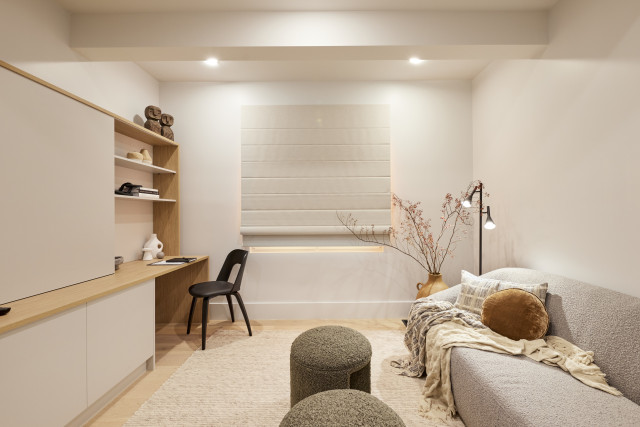 From the sliding panels to hide either work spaces or the television, to the under floor power points for a desk or bed, Steph and Gian's office space showed thought, flexibility and a level of sophistication the judges are starting to expect. And while Shaynna might have found the style a bit "flat" and "corporate", Marty disagreed, saying it was a room that had zero confusion and immediately told the buyer what it was – and he loved what it said. For Darren it was the soft and warm laminates matching the curtains, that have a utilitarian space warmth, with all agreeing this could be the start of an amazing build.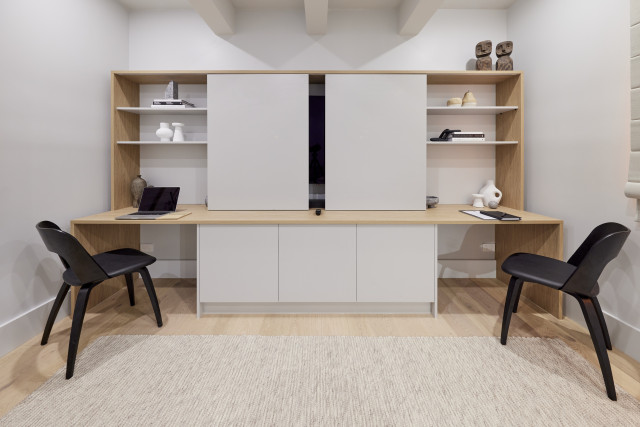 Shop the look: Visionary pinboard in natural oak | Aurora stool in sage green | The Muse footed oval tray
Kyle and Leslie (Second) 26 points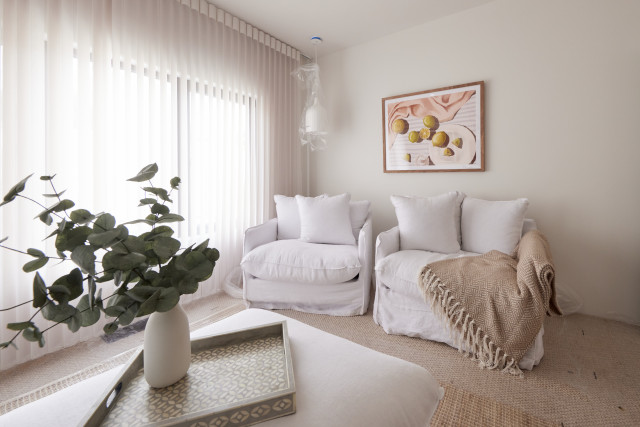 Light, bright and consistent to the rest of the house, Darren immediately loved Kyle and Leslie's combination office/second lounge for its sense of casual comfort, declaring: "this aesthetic is so suitable for the market." And, he happily added, it's a room that could easily be adapted to become an extra bedroom if needed.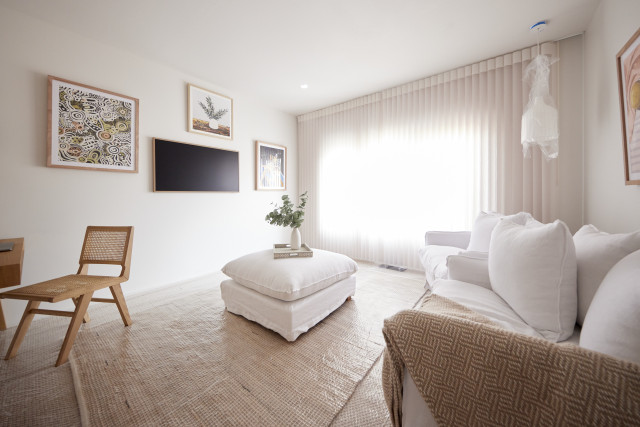 "This house will photograph so well!" Marty summed up, noting for a room so sparse – there were no built-in robes, no TV cabinets, just carpet, one panelled wall and four pieces of furniture – it felt surprisingly complete. Aside from missing skirting boards, both Shaynna and Darren said, it all adds up for a "luxurious" feel.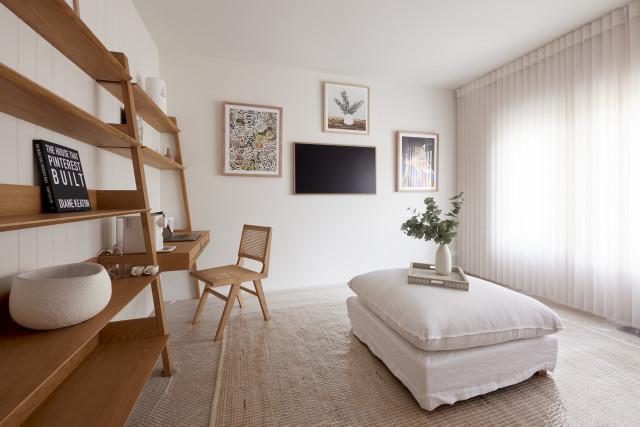 Shop the look: My Country Green framed art print | Olive Branch 9 print by Angela Hawkey
Kristy and Brett (Third) 24 points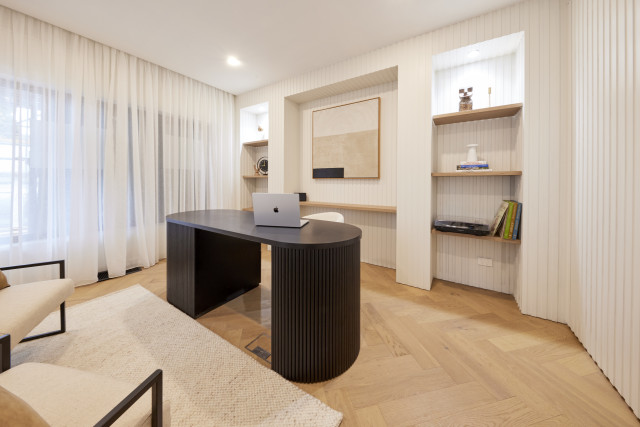 Using Laminex panels to accentuate the room's height and space, the judges agreed Kristy and Brett's dedicated office space worked for working… but sadly left little room for anything else. Where were the fixtures to allow it to be converted to an extra bedroom, they wondered. And what about using it as an entertainment space given it sits next to the front yard and future pool?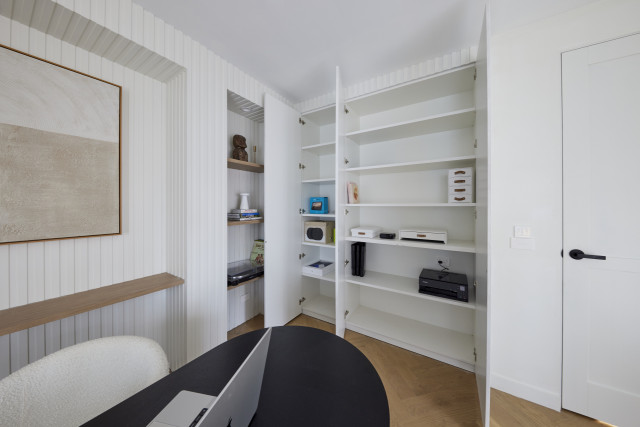 "You have a quirky floor plan," Marty advised, "you need to own it." No major changes were needed, Darren added, but the furnishings and styling should be changed to better reflect the multi-purpose potential of the room. Get that right, they agreed and this could become the focus of the house.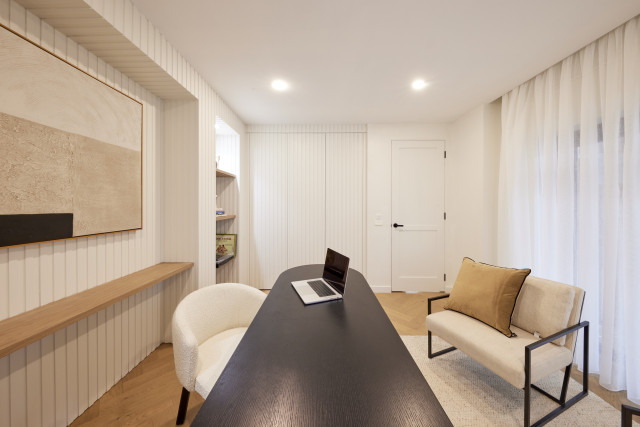 Shop the look: Ajay table lamp | Formation Black 2 framed painting
Eliza and Liberty (Equal Fourth) 22.5 points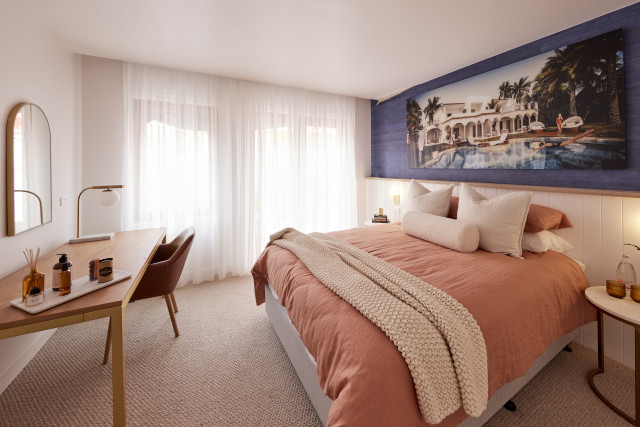 Swapping a dedicated office for a guest bedroom that could be easily adapted, Eliza and Liberty went for a soft colour palette with complementary carpets and well-planned lighting to create a space that gave them, Marty was happy to point out, a genuine five-bedroom home. But what was sacrificed to get there, he asked.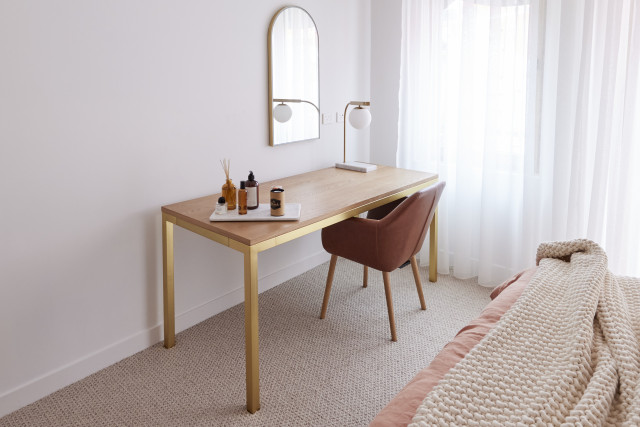 The desk and mirror combination, Shaynna said, reminded her of a hotel room. For Darren however, the tall doors, Hardie Groove panelling and recessed curtains combined with well-selected artworks for a fun and playful space. Not everything was perfect, he agreed, but what was there elevated the room and added to the home.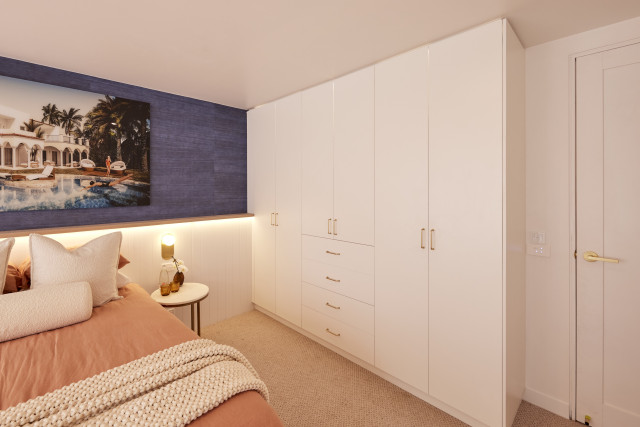 Shop the look: Marco throw in ivory
Leah and Ash (Equal Fourth) 22.5 points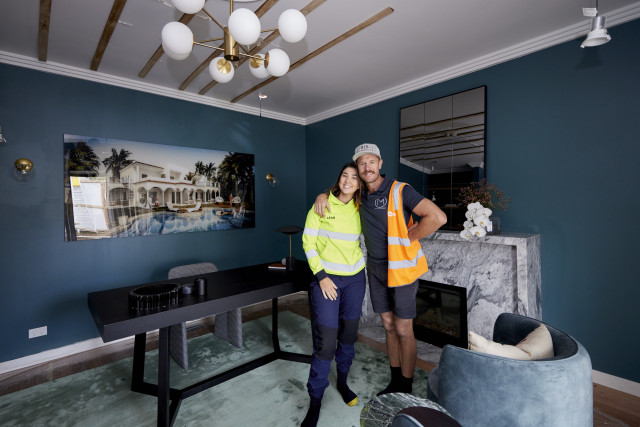 After a week of battling downpours – some inside their home! – the fact Leah and Ash managed to finish their room at all left the judges speechless. But what they saw inside their working from home space left them with plenty to say. From the bold paint choice to the Cammerich artwork and tactile marble fireplace surround, this was an office space that skirted the corporate standard and could easily become a second loungeroom… or even a bedroom if needed, something they all agreed should be considered if their neighbours are boasting more beds. What's there is elegant and bold, Shaynna said, but an eye to the market should be used.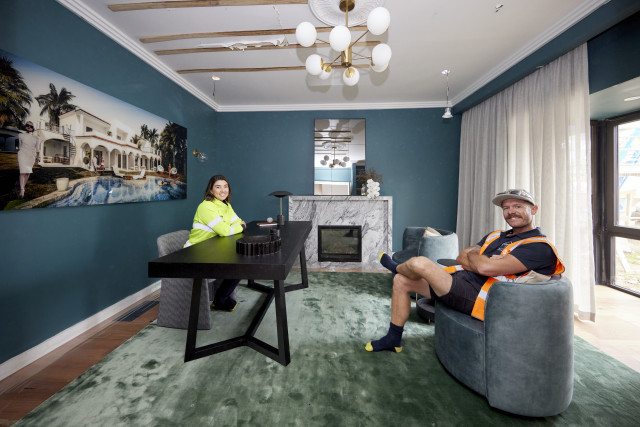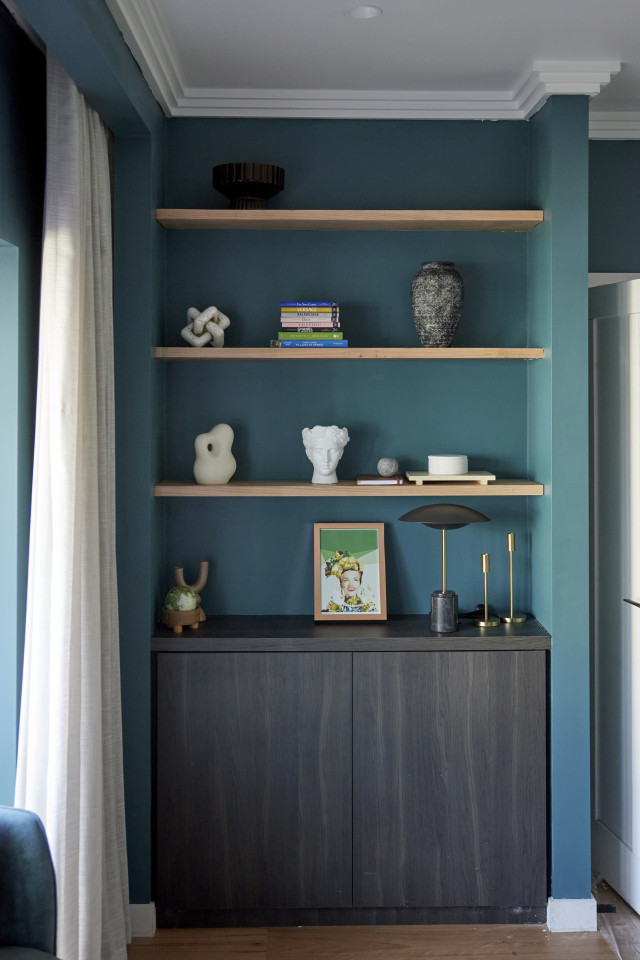 Shop the look: Panelled leaner mirror | Audrey swivel chair
What did you think?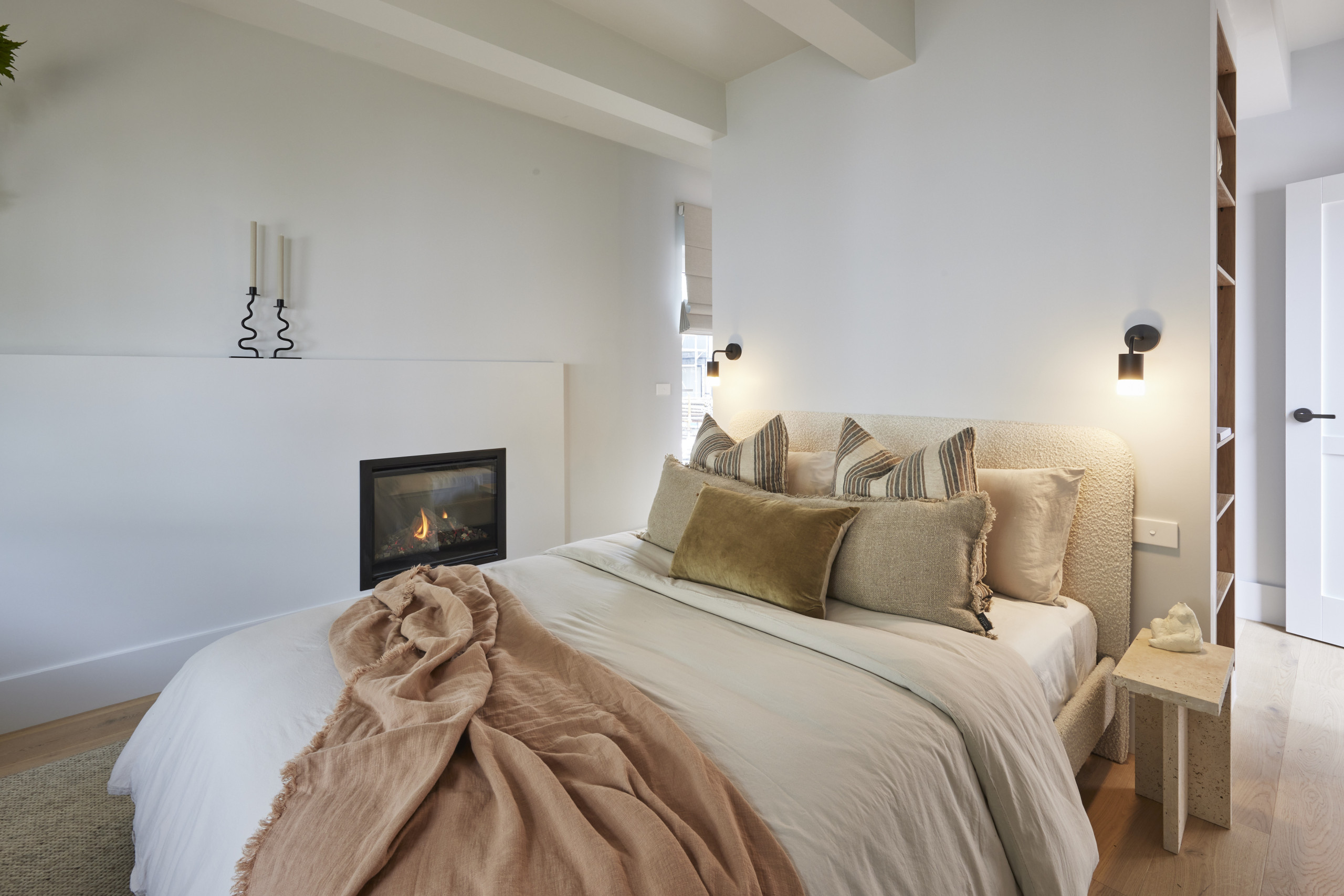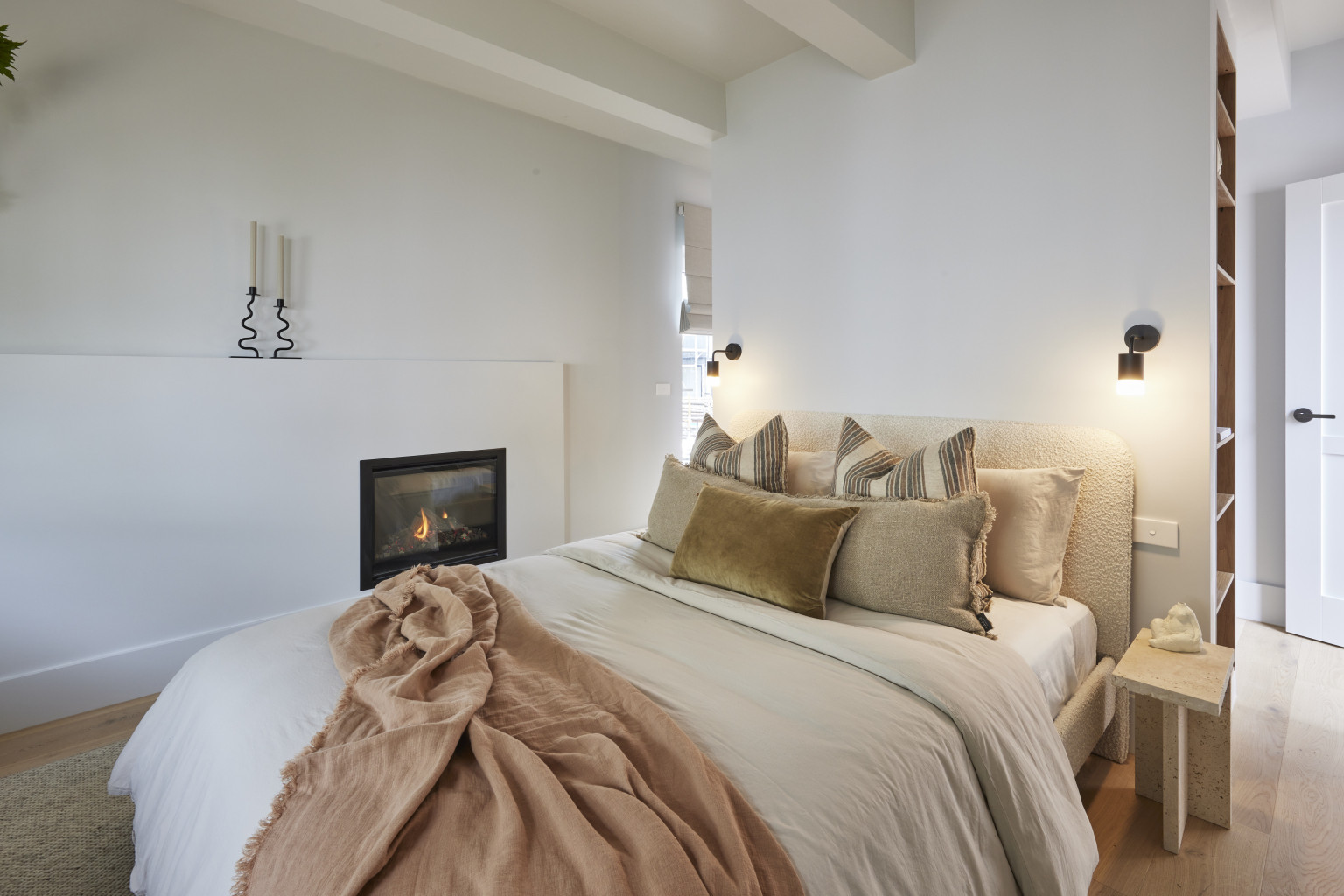 The Block 2023 studio reveals: pretty over practical
This week, the Blockheads tackled their studios; self-contained apartment spaces once combined with last week's guest bathrooms.