This week's reveals took us inside the couples' sheds with most couples turning these into either a second living or work from home space. Or both! Guest judges this week, standing in for Shaynna and Neale, were former Block contestants and winners, fan favourites Alisa and Lysandra.
If there's one thing the pandemic has taught us, it's that homes need a space to get away from the living areas to concentrate on work if needed or just escape for quiet reflection. And this week's working from home spaces, – plus one with a twist – showed that lesson has been well learned. From functional offices to separate work precincts and a wine lounge with a view to die for, the Blockheads made the most of the ample space they had to deliver just what their high-end homes needed, with the judges stunned by the variety of solutions they saw.
Tom and Sarah Jane (first place) 26 points
Built around a walk-in Vintec wine cellar, house one's television room built into the Stratco garage space is the perfect getaway, the judges agreed, ideal for teenagers or anyone wanting a break from the rest of the home. The twins weren't sure they liked the black wine fridge sticking out like sort of a sore thumb, and Darren didn't feel it was defined as a wine-drinking area. But they had a lot of good things to say about the finishes.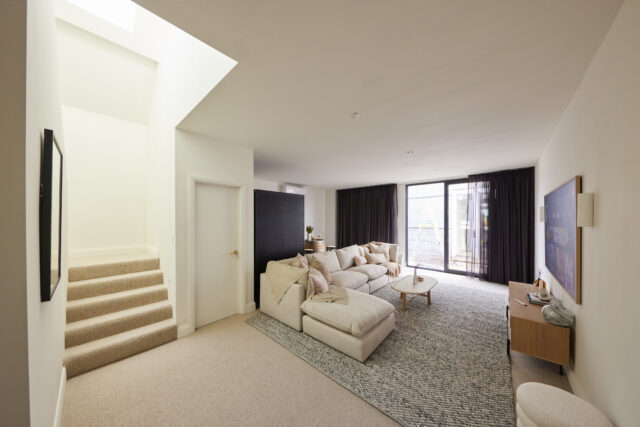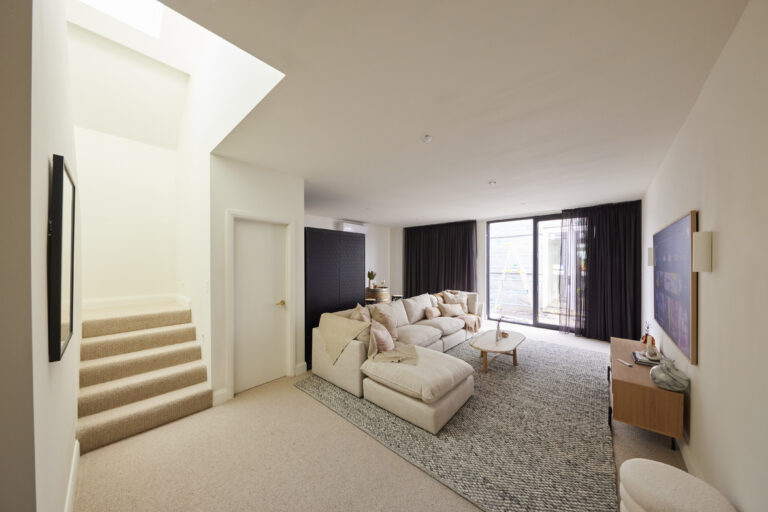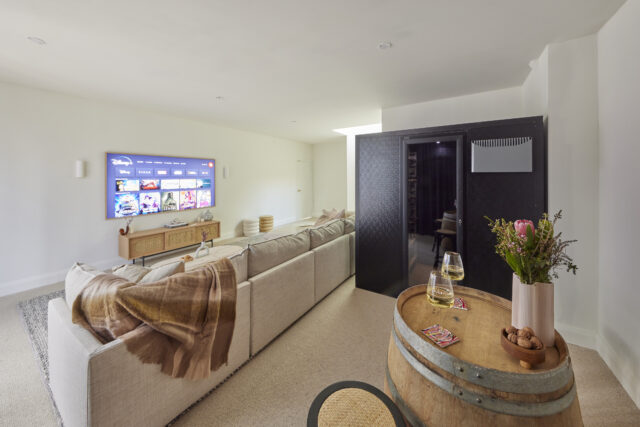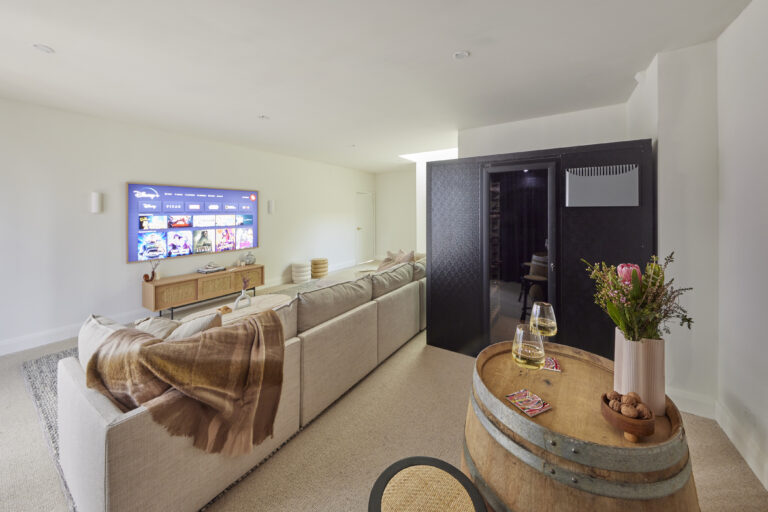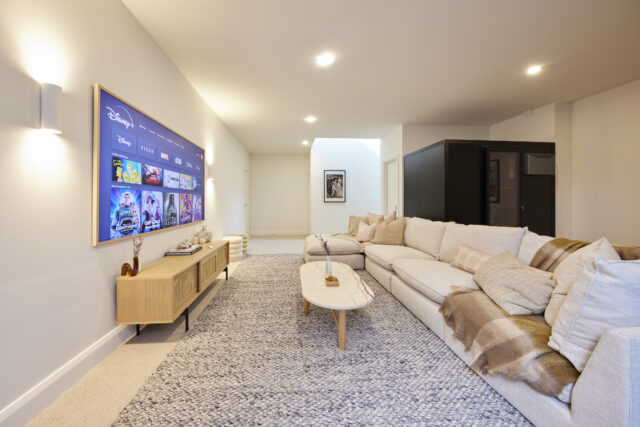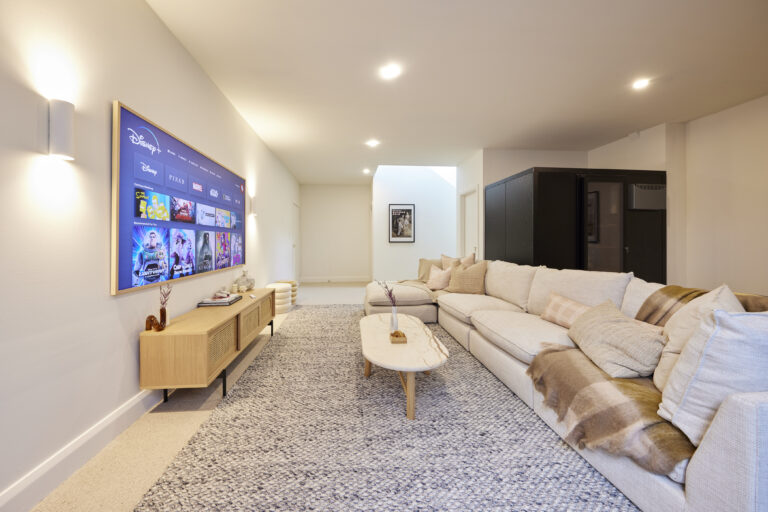 Past the powder room and upstairs however was where their addition really shone. The only home with a second level thanks to early engineering planning, this is a complete office that could easily be converted to a guest apartment, with eight eye-level Velux skylights, two separate work stations and kitchenette. A potential office? Definitely, the judges agreed, a nanny (or granny) flat? Why not! Either way, all agreed it's a definite value add to the home. I have to agree it was pretty damn gorgeous!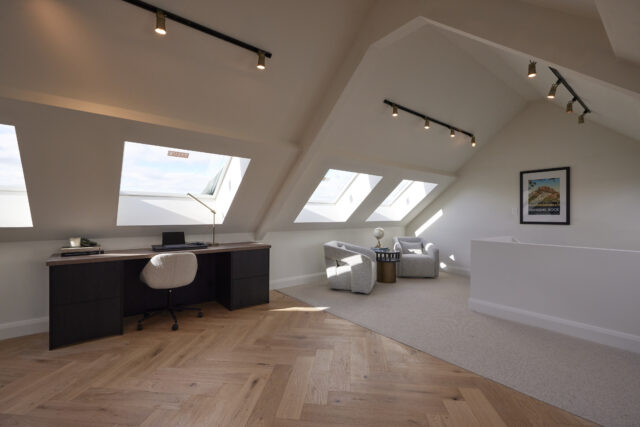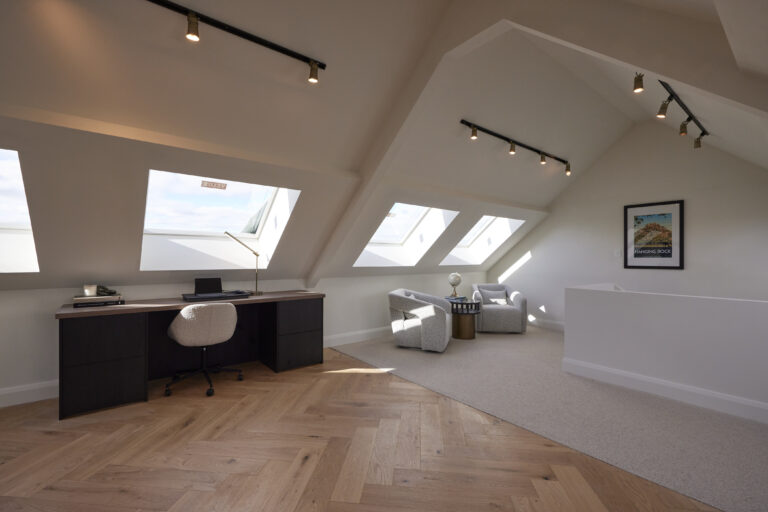 Alisa said it was like they'd created a whole new apartment in a shed in a week and hats off to them for thinking outside the square. Darren said the view from the skylights was insane. And Alisa went one further saying the space was enough for them to win The Block. Darren agreed it could tip them over the edge.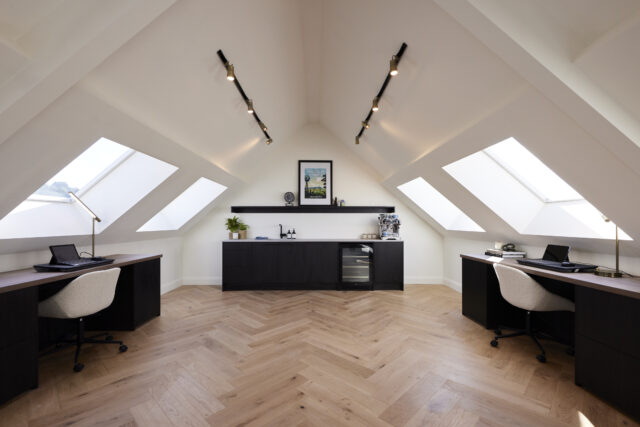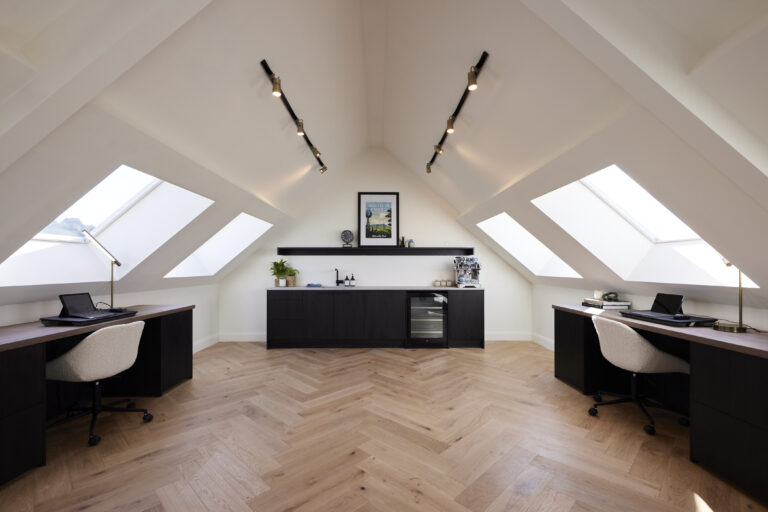 Shop the look: Frank armchair in boucle | Artie oval marble coffee table | Palamas wool rug
Rachel and Ryan (second place) 24.5 points
If a home has a winery, Rachel and Ryan thought, why not add a wine room to enjoy the end results? Down the landing steps into a cosy space featuring a full-wall Grafico mural and spectacular view over the vines to Mount Macedon beyond, this is a separate entertaining space perfect for showcasing the micro-winery the house boasts. With a benchtop area for preparing the drinks, huge couch in front of a wide television and a woodfired stove to give country ambiance, this space is less about work and more for play, the judges agreed… but is that enough? A work space would have added value, the judges agreed and adding a desk in here may not work.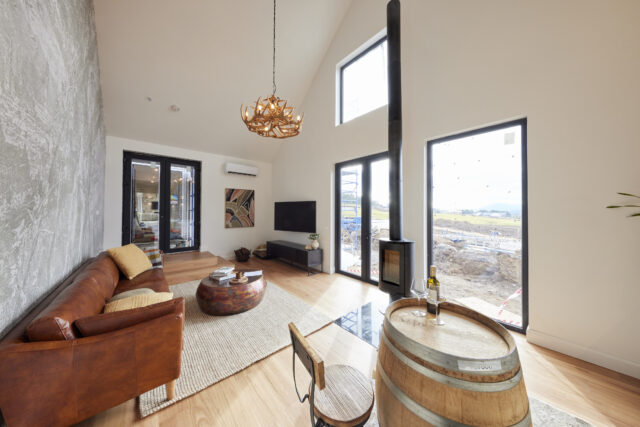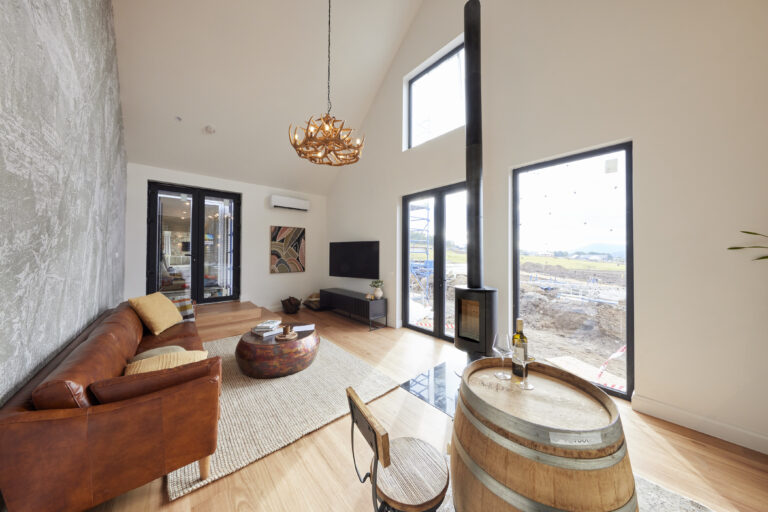 Lysandra said it had wow factor and was very welcoming. Darren noted it looked nice but it didn't have a sink in the bench top. Lysandra didn't love the "harsh" fire hearth either. And while she would normally hate the pendant she loved it in the context of the room. Darren really liked the timber. "design wise and styling wise and selling a dream it does everything it's intended to do," Darren said.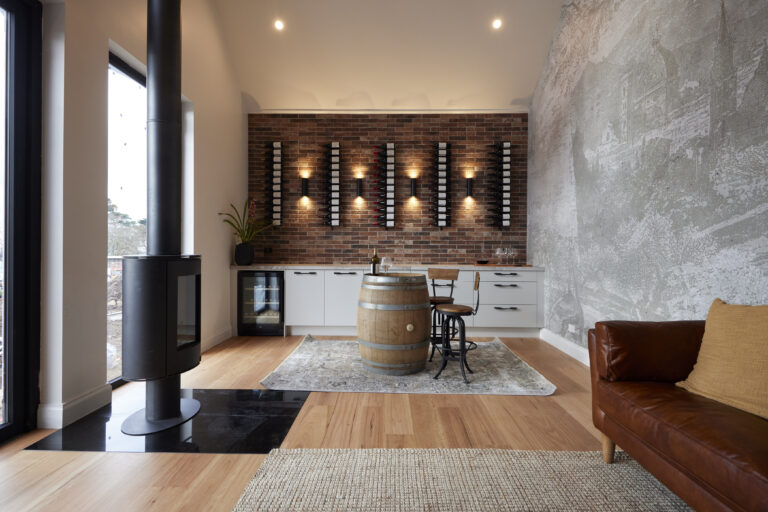 Alisa thought the room was good at selling the dream of a country lifestyle as a place to drink with friends. They all agreed it was well designed and well executed.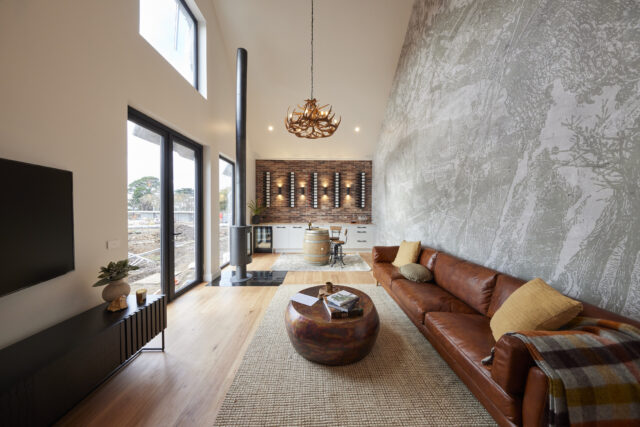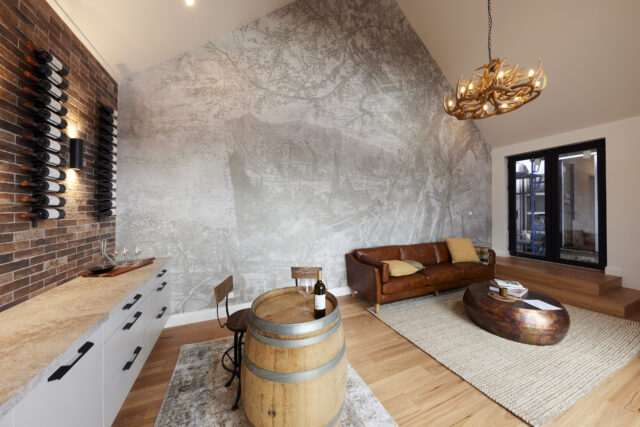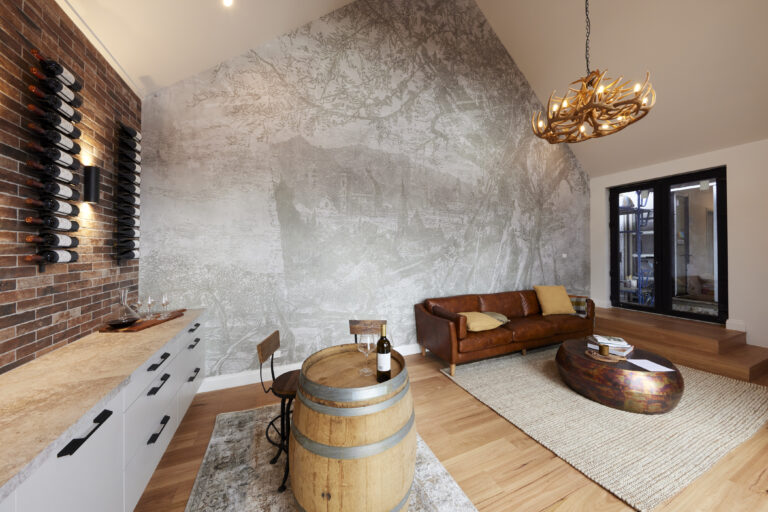 Shop the look: Cradle display wine rack | Delano framed cavas print
Omar and Oz (third place) 24 points
A textbook example of a room that was just too much for this mammoth Block challenge, Omar and Oz's huge home office space was nowhere near ready, the victim of build problems way out of the boys' hands. What was theirs however, still left the judges underwhelmed, with artwork choices too big for the space, a desk way too big for just one person but too small for two and a nautical feel that's out of place in a country setting. Once it's finished, the judges hoped, the room could be a showcase for living and working out of the city, with more than enough scope to do both.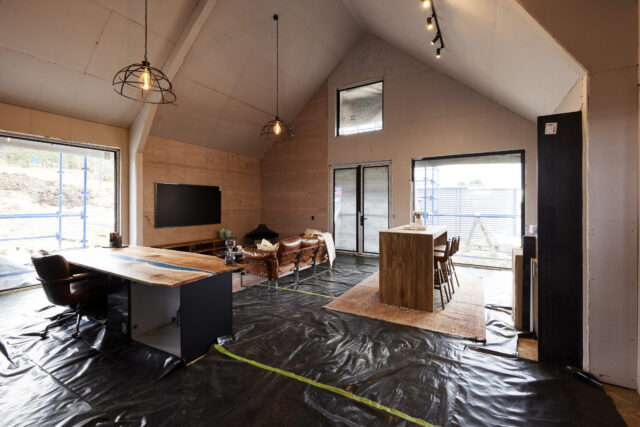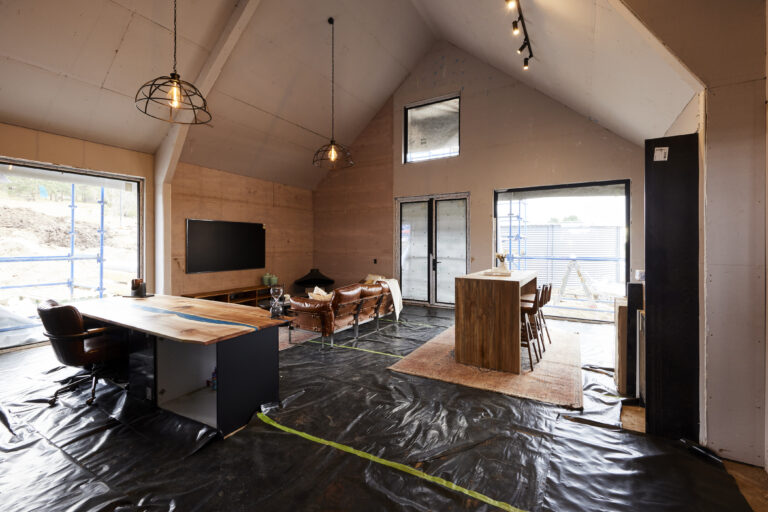 Darren made sure to tell the twins it wasn't the boys' fault. Though the twins pointed out the questionable artwork was not The Block's fault!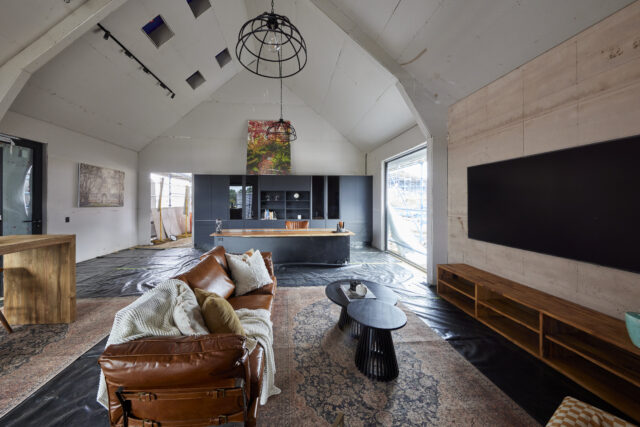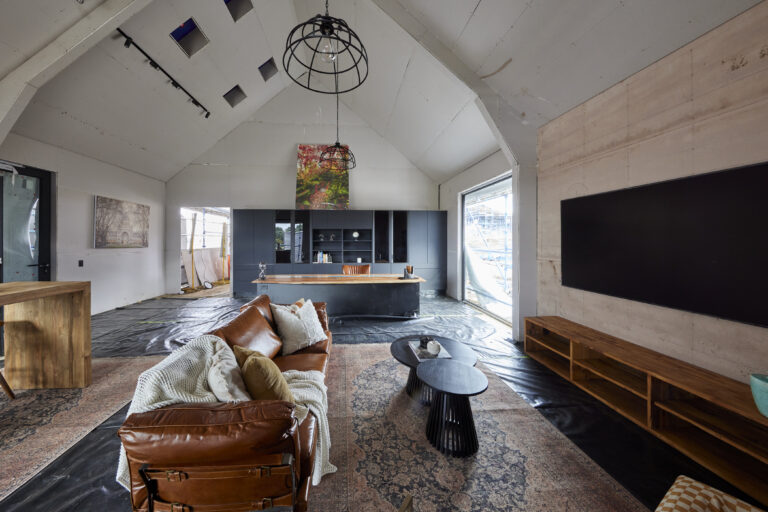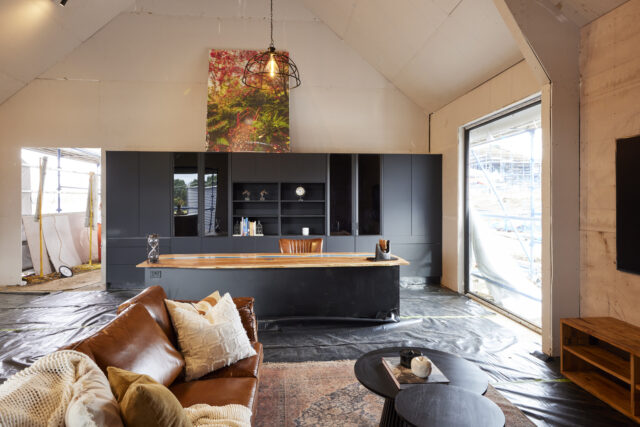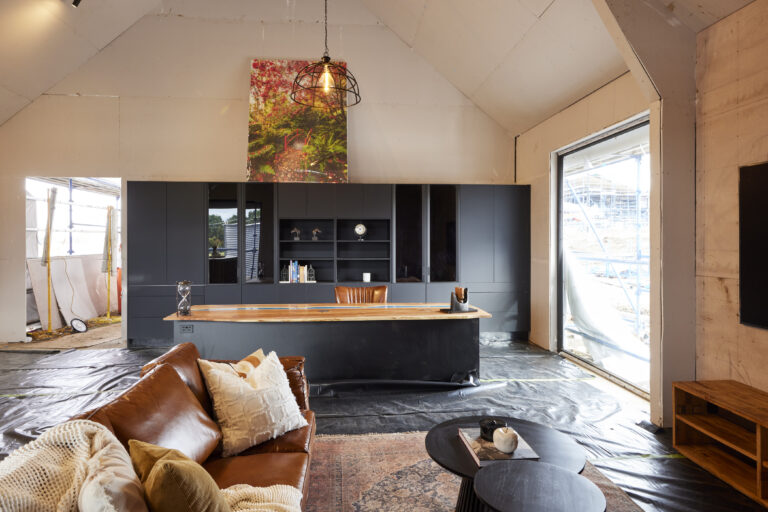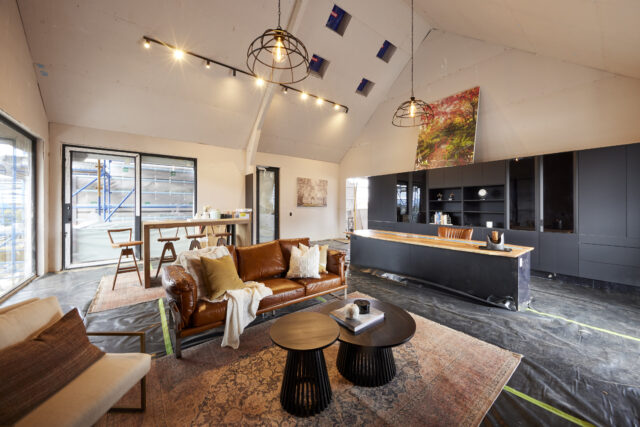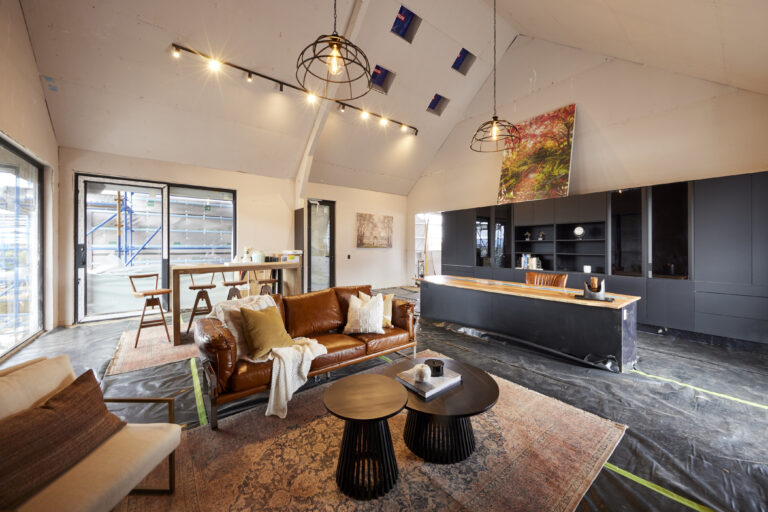 Shop the look: Pedie slat coffee table | Victorian Blackwood resin river desk | TH Brown Danish stool
Dylan and Jenny (fourth place) 22.5 points
In a year when home cinemas had been downplayed, Dylan and Jenny's 98-inch monster television took the judges' breath away and helped give the new space a double use – as an office or screening room. The lack of fireplace lost points from Alisa and Lysandra, as did the "dead space" in the room's centre, something that could be remedied with the addition of a dining table perhaps, or a larger version of the bar area. Once again the Caesarstone desktop felt cold to the judges, but a few styling touches – and a repair to a cracked ceiling – could have pushed them higher up the scores.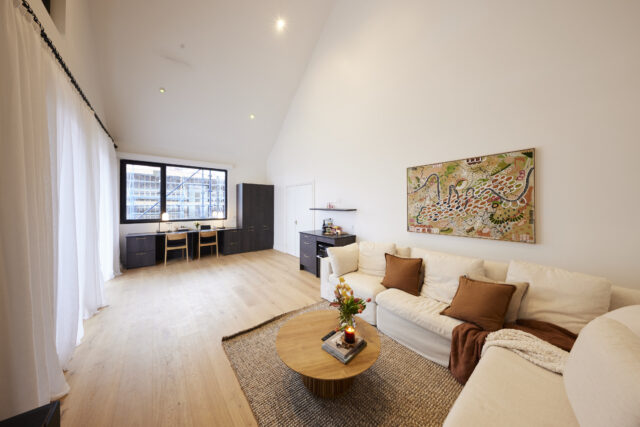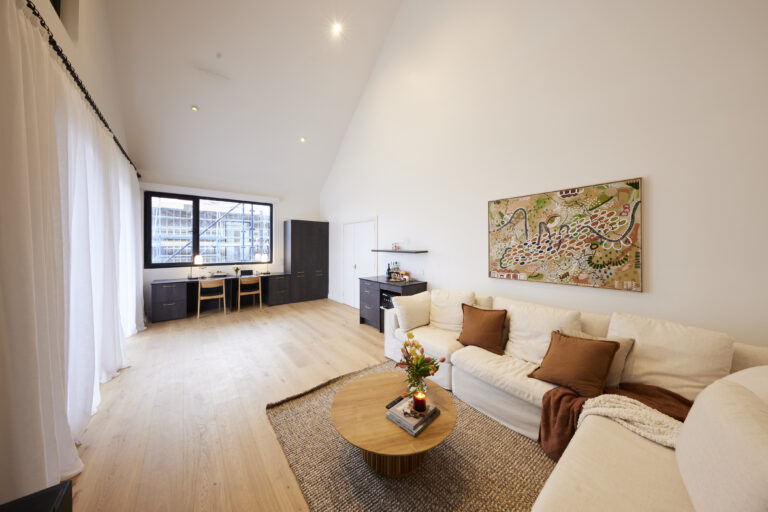 Alisa liked that they combined the living area and home office together but it wasn't really making her feel anything and was nice but a little undercooked. Darren said the bar area didn't really make sense and they could have made more of it. Darren said the TV wasn't enough to sell it. The twins agreed a lot of finishes were great despite the ceiling crack!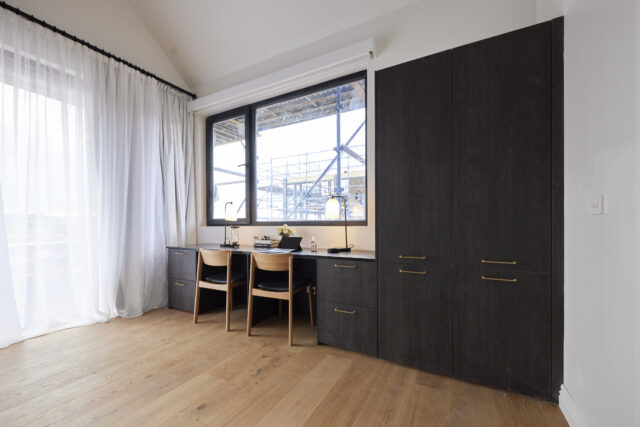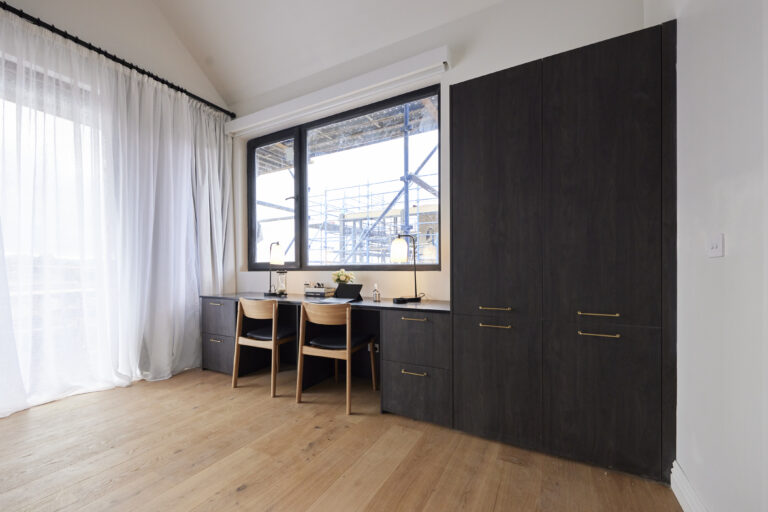 Darren said it was good but probably wouldn't be shown on the marketing brochure. Alisa said it was a big effort for one week.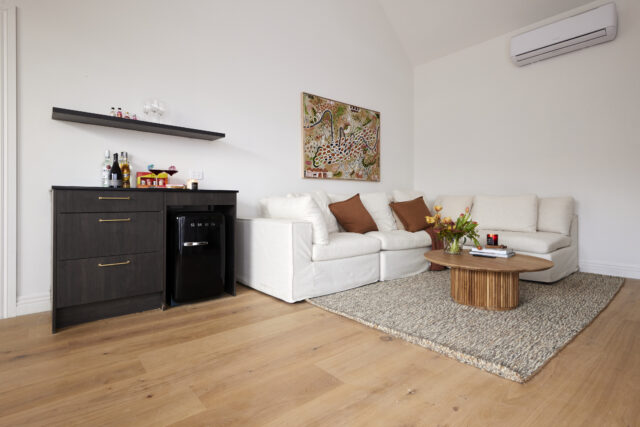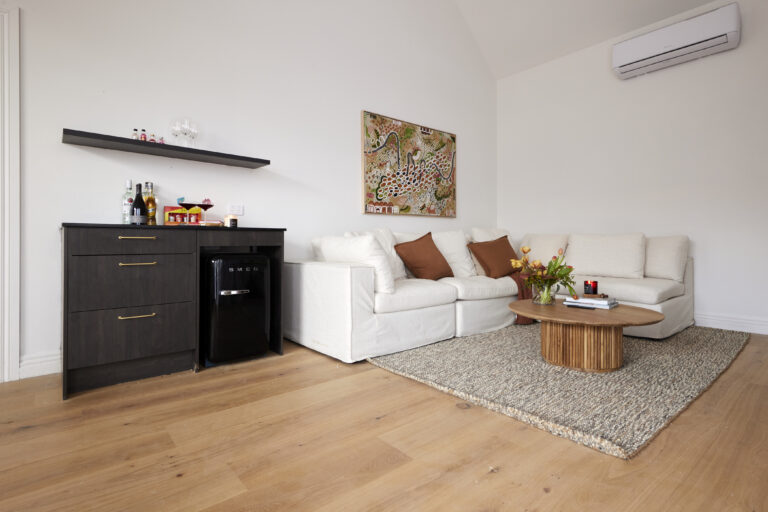 After watching the judging, even Jenny agreed the room was undercooked!
Shop the look: Tully coffee table | Siggy canvas print
Ankur and Sharon (last) 19.5 points
As a work from home space, Darren said when he took in House 3's shed addition, "this is a killer". But the layout left him wondering. With a television in a corner as opposed to on one of the two available walls, a huge Caesarstone desk (which they first thought was a kitchen!) dominating and a cocktails area to one side, the orientation seemed confused, they felt, and didn't make the best use of the fireplace at the other end.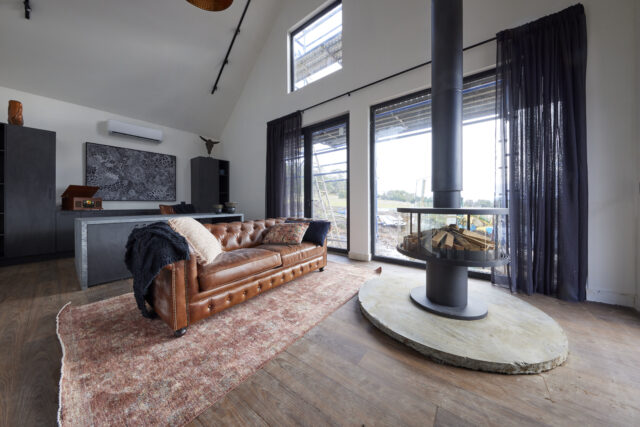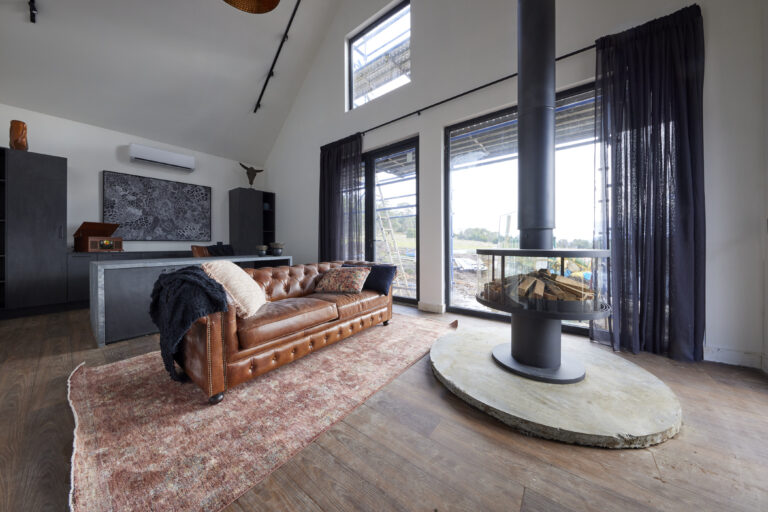 Alisa said the concrete Caesarstone was too cold a surface and very unusual for a desktop. Darren wasn't a fan either. And there were no powerpoints to be seen near the mammoth desk either! "An epic fail."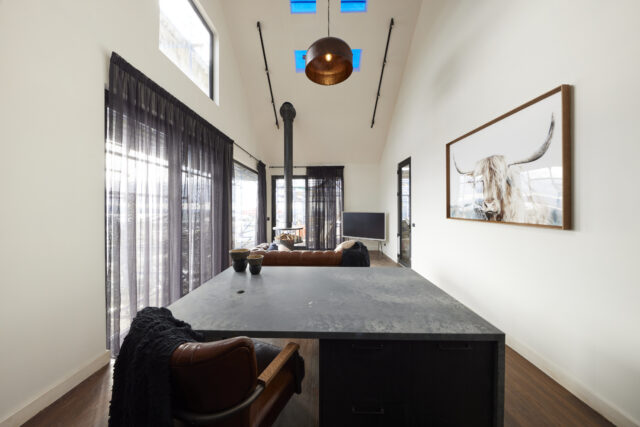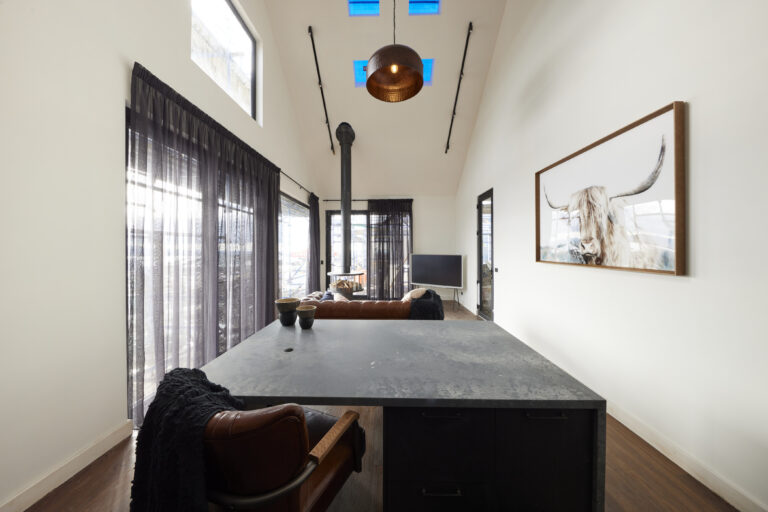 Lysandra thought the fireplace was stunning but in the wrong spot. It made the room really inflexible too and it should have been in the other corner.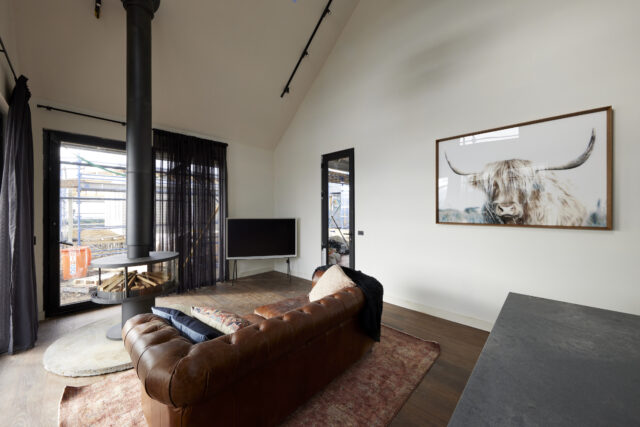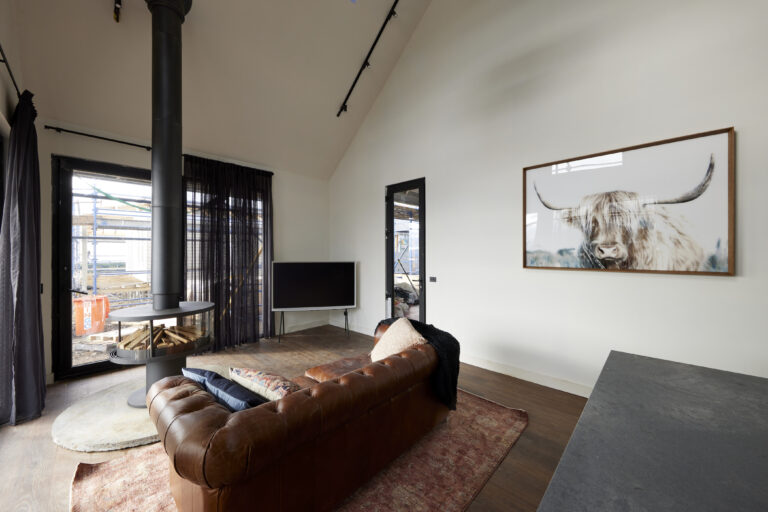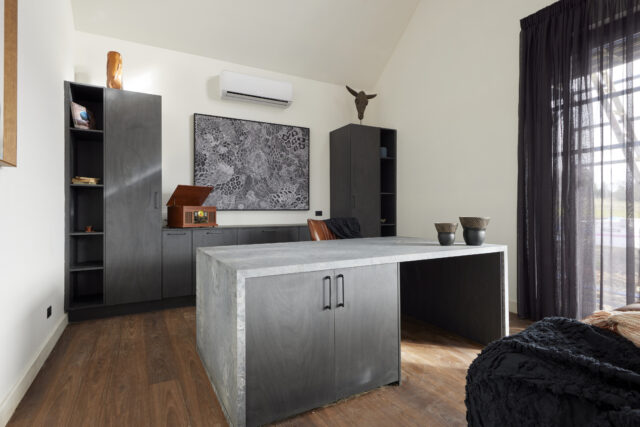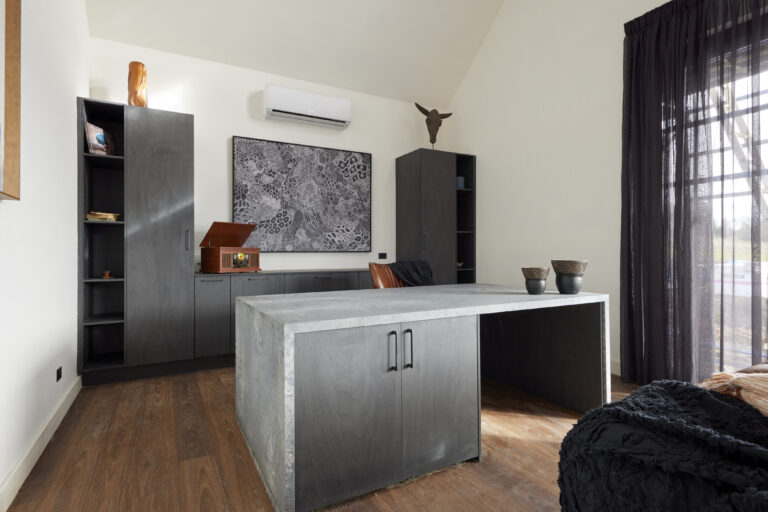 Shop the look: Stanley framed print | Rondella wood heater | Azrou hammered iron pendant light
Shop the looks at The Block Shop
Win Embracing Change by Lizzie Alsop
Each week we're giving away our favourite art from the reveals thanks to The Block Shop and Artist Lane. Enter here.