Another cracking project from the team at The Stylesmiths, this sub penthouse is perched atop a gentle rise in Fairlight and its minimalist aesthetic allows for its glorious views of Sydney Harbour to take centre stage. Part of a worn-out 1970's apartment block, this home had an outdated interior and layout that was begging for renewal. The Stylesmiths' lead interior designer Rose Sorkeh breathed new life into the space creating a home that is timeless, stylish and functional too.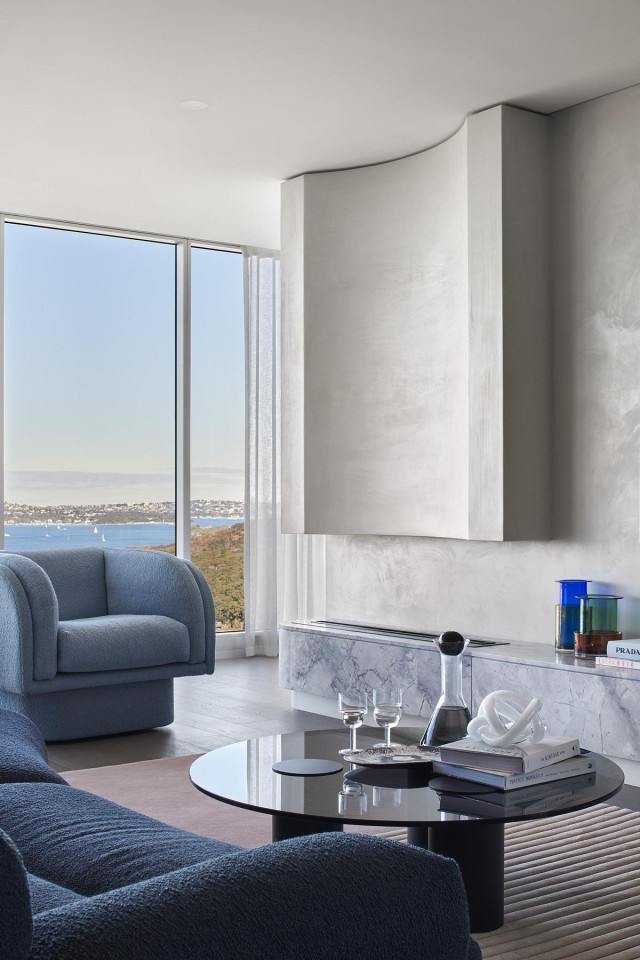 "The overarching design needed to cater for our clients' changing dynamics as their children had grown up and moved out, embarking on their own paths. An empty-nester couple with a penchant for simplicity they sought an open-plan haven that celebrated the expansive ocean vistas, sunrise, and sunset," says Rose.
The kitchen is a standout space – Calcutta marble graces the countertops, backsplash and the curved kitchen island that sits atop a fluted ivory marble base. Bespoke walnut timber cabinetry and burnished steel fixtures and appliances add drama, and the sculptural island bench is complemented by Grazia & Co bar stools cloaked in fluffy wool.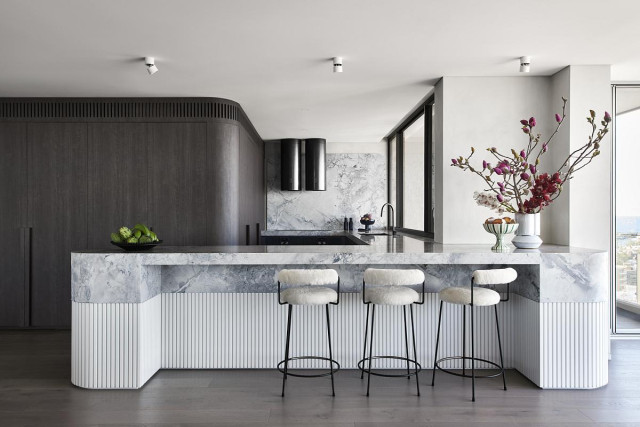 Nearby, the living room is bathed in sunlight – a Jardan curved boucle wool sofa, Grazia & Co armchair, and a pink ombre hand-carved wool rug from Designer Rugs add texture and depth. A marble plinth provides functional storage while showcasing the fireplace and an artwork by Sue Beyer complements the space.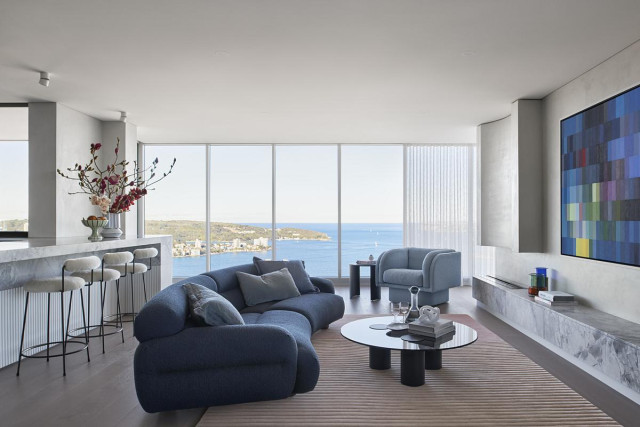 The dining area is nestled against the rear of a bespoke walnut timber bar that is adorned with reed glass. Gubi boucle wool dining chairs are paired with a Grazia & Co dining table and a Articolo Studios pendant light. "I had to fashion an interior for the open-plan living space that exudes a beauty on par with the breathtaking view, all the while orchestrating a seamless harmony between the two," says Rose.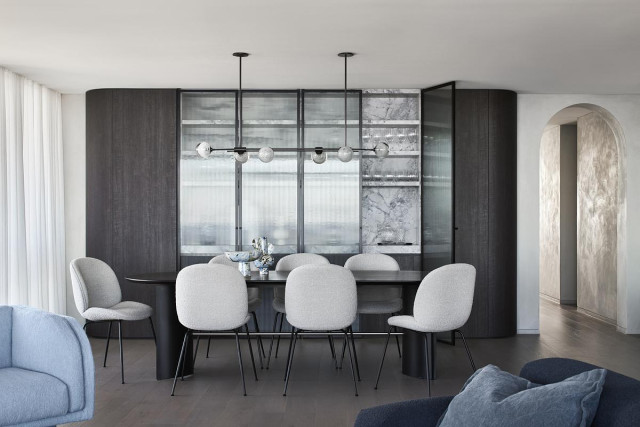 The master bedroom features a bespoke upholstered headboard and a walnut bedside table while the nearby ensuite has a handcrafted marble vanity adorned with burnished taps that rests on marble flooring. A gorgeous floating wall sconce casts a warm glow in the room.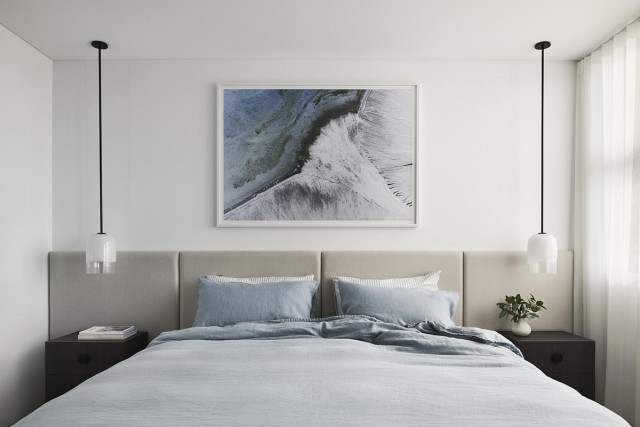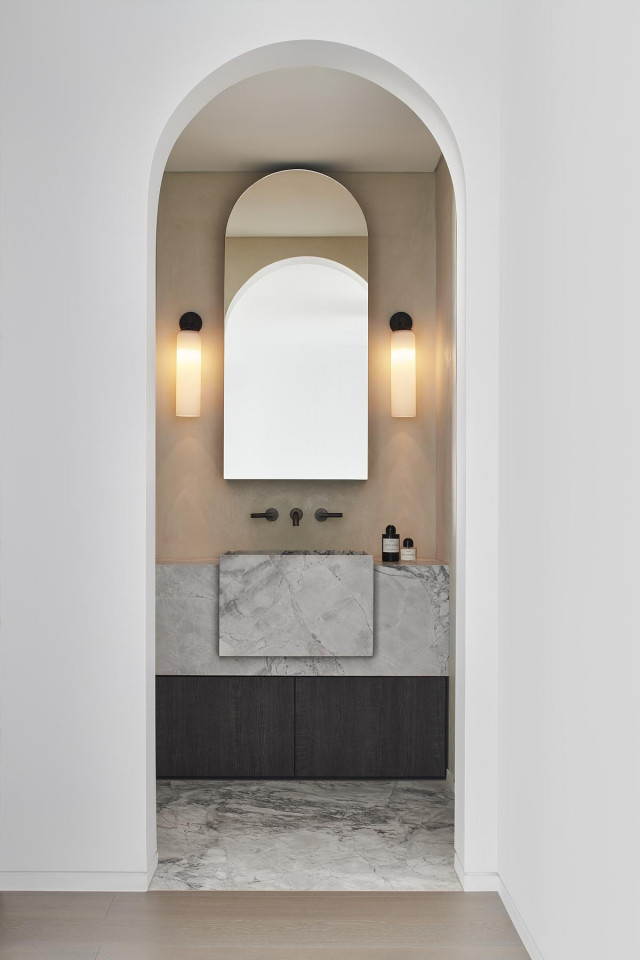 The main bathroom features a trilogy pendant light, mosaic Piketto grey kitkat tiles, walnut timber and iron bronze tapware. Also, the renovated laundry is quite unexpected. "What was once an unremarkable space has now evolved into a sanctuary that nourishes the client's passion for both coffee and wine, eloquently illustrating the transformative potency of design in elevating everyday existence," says Rose of the space that features similar materials to the rest of the home and works to bind the spaces together.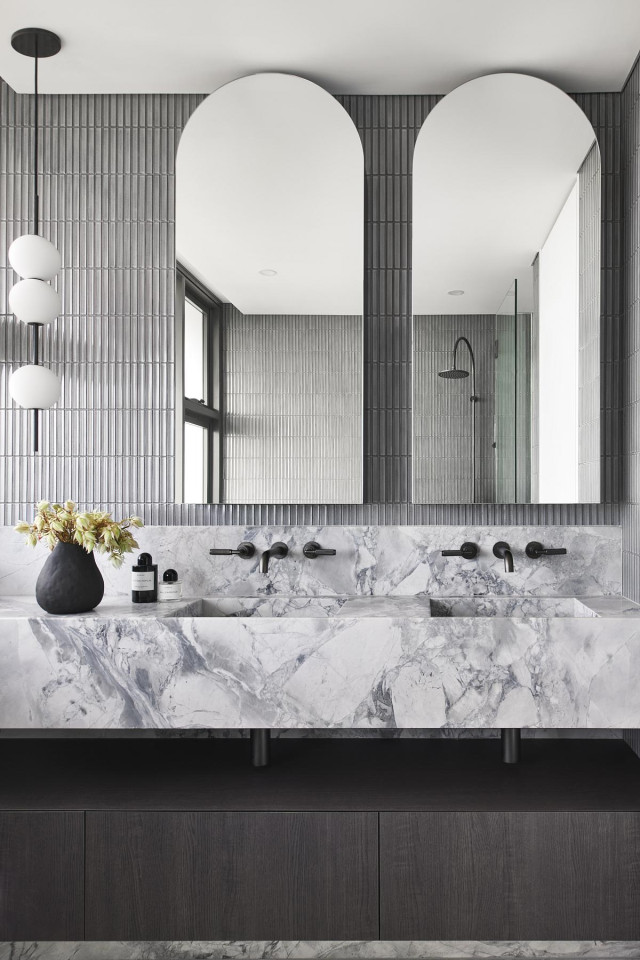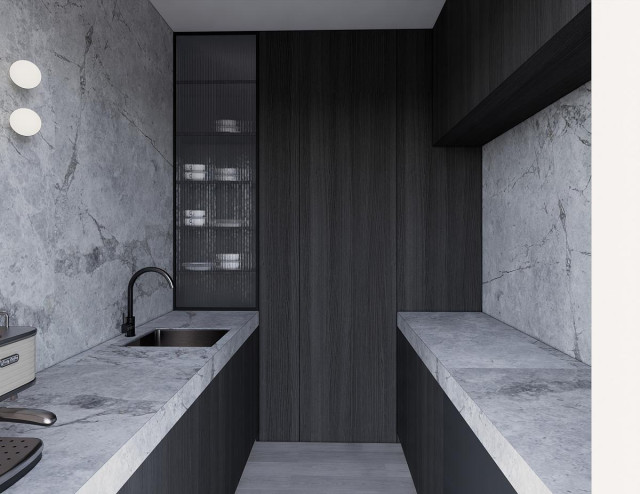 Photography: Nicole England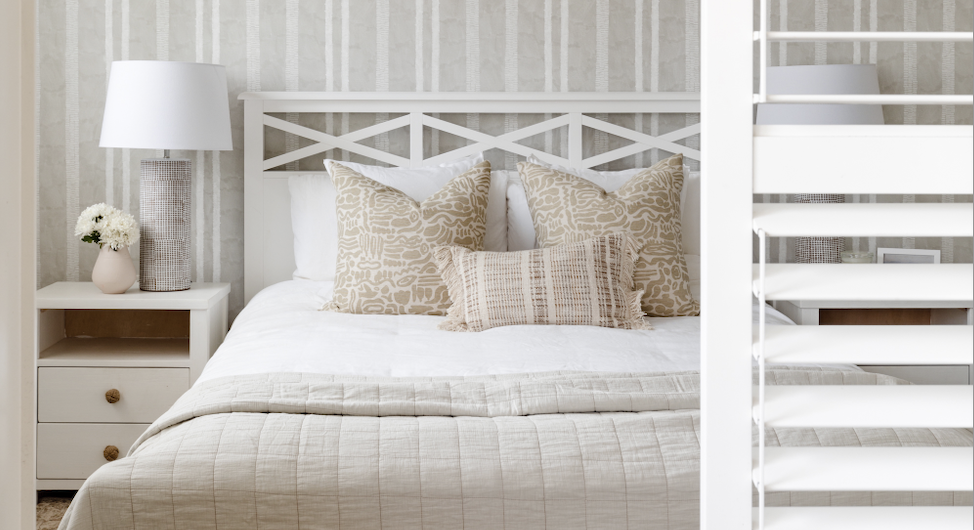 Apartment master bedroom given luxe new look with wallpaper
Kym Kitching-Downs redesigned this master bedroom as a calming sanctuary for her clients and now they feel like they're coming home to a luxury hotel! "The apartment is a spacious three-bedroom home set out on two levels