This Northern Beaches Sydney home with the ocean view front and centre, has gone from a 1950s beach shack to an open plan home large enough for its family of six.  And importantly, it's both beautiful and low maintenance.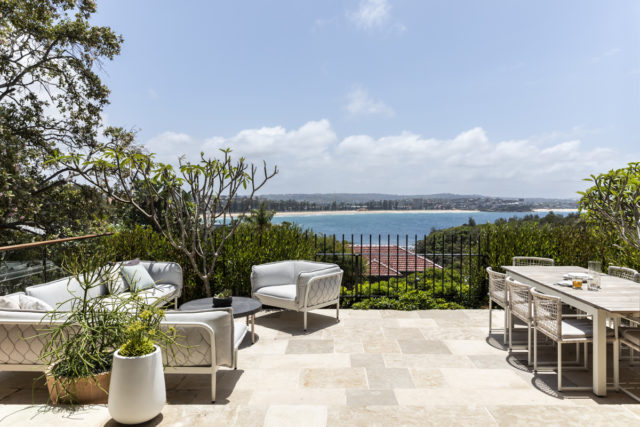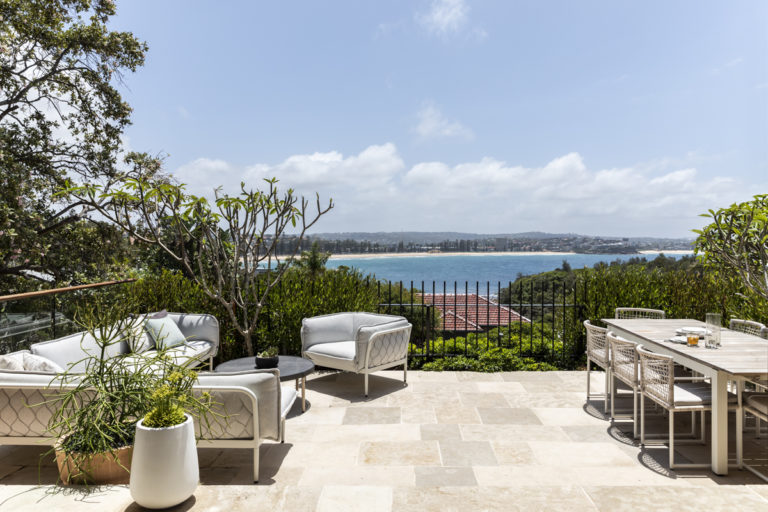 Lizzie and Michael Taylor and their four children (aged 12 to 21) didn't want just another beaches Hamptons home and they very much wanted to add soul as well as a better flow. At the same time, they didn't want to have to be precious about their new digs.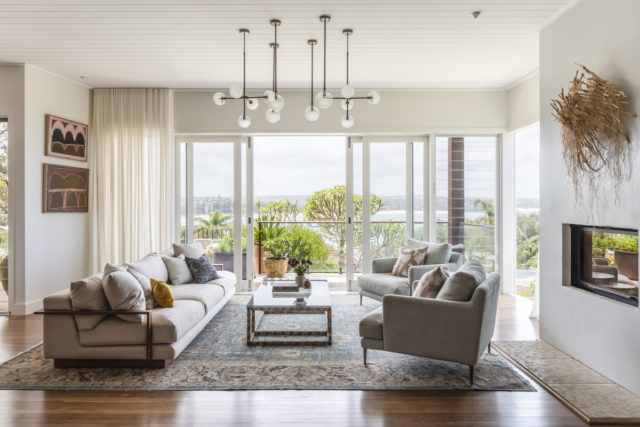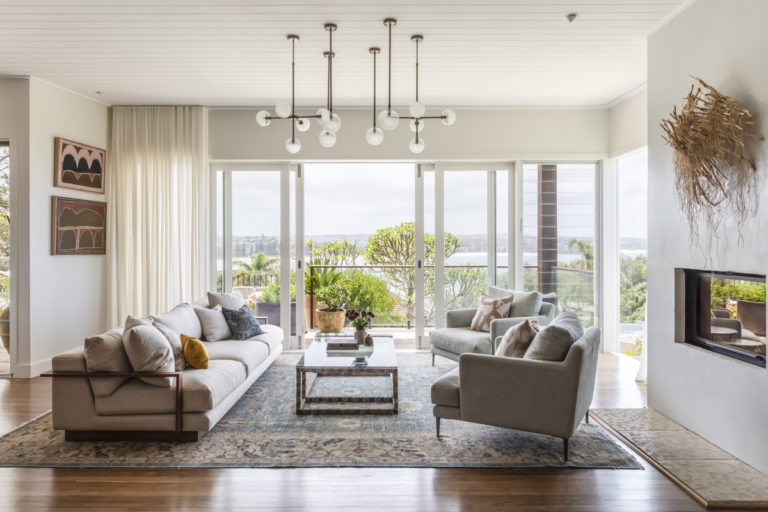 Alex Gourlay of Vellum Interiors was one of a team of experts who helped them achieve their vision. She explained that the original 3-bed, 1-bath home had a layout typical of its heritage: "Quite choppy and rabbit warren-y and didn't take full advantage of the proximity to the outdoors and the incredible ocean views."
Practically, the owners wanted to create more connection with outside; the garden, the national park to the back and the ocean to the front. It was also important to create a better flowing floorplan, and enough space for the family of six to each have their own space, while also having plenty of spots for them to come together and connect.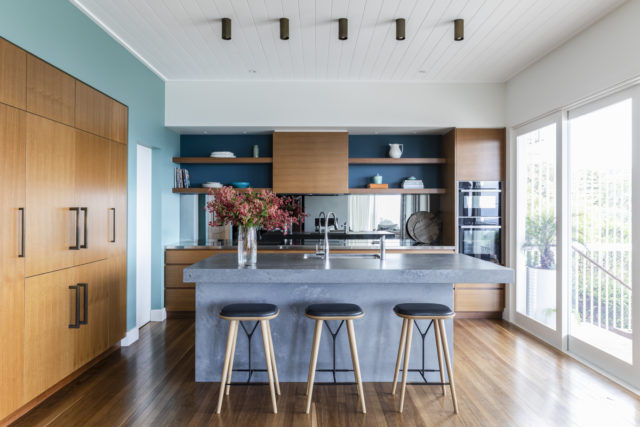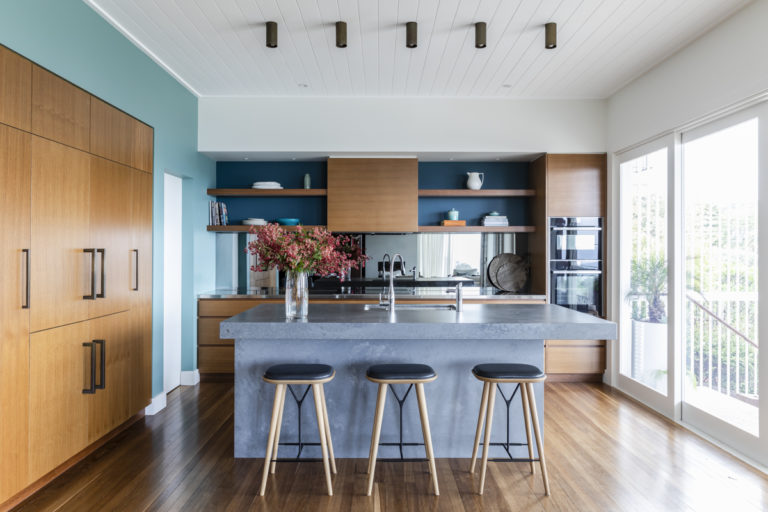 Alex loved that they wanted it to be a unique expression of who they are, while also considering and honouring the home's location and its past. "The Taylors had a vision of how they wanted to live, and trust in their chosen team of experts to bring that to life."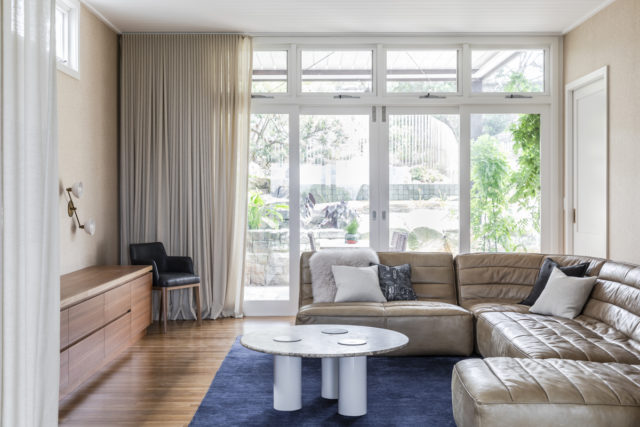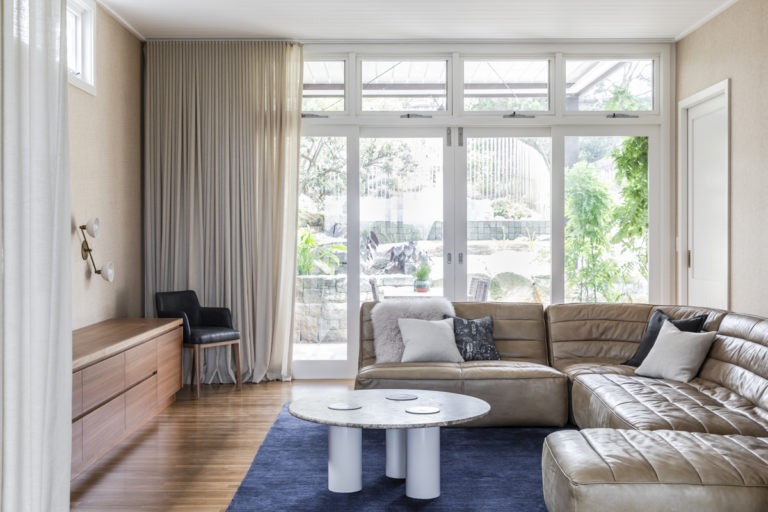 The new house is quite open plan, so one of Alex's insights was to delineate the areas as much as possible. "I like to think of this as giving each space a role to play. One example of this was installing curtains in the TV room, both on the external doors and internal doors. This made the space cosier and fully enclosed. The idea for this room was to be more fun and casual, and a place where the kids could hang out with their friends."
Consideration was also given to the types of materials used, and where. "For the furniture, either leather or fabric that included polyester was used throughout. Fabrics with synthetic materials are more durable and hardwearing than natural fibres. The rugs and furniture were also treated with a very high quality fabric protection which gave the materials even more durability, protection from the sun and a level of water-proofing."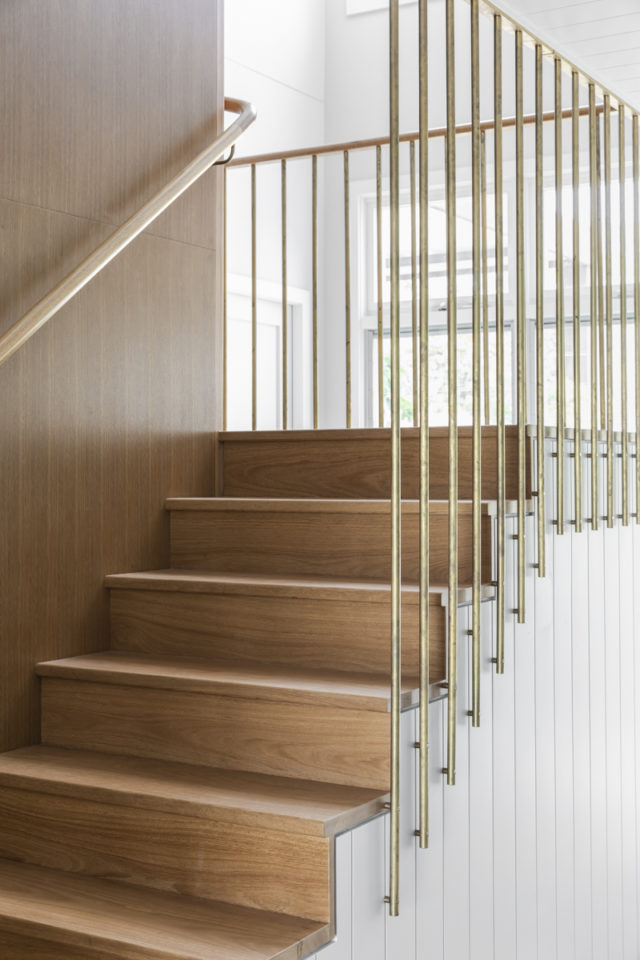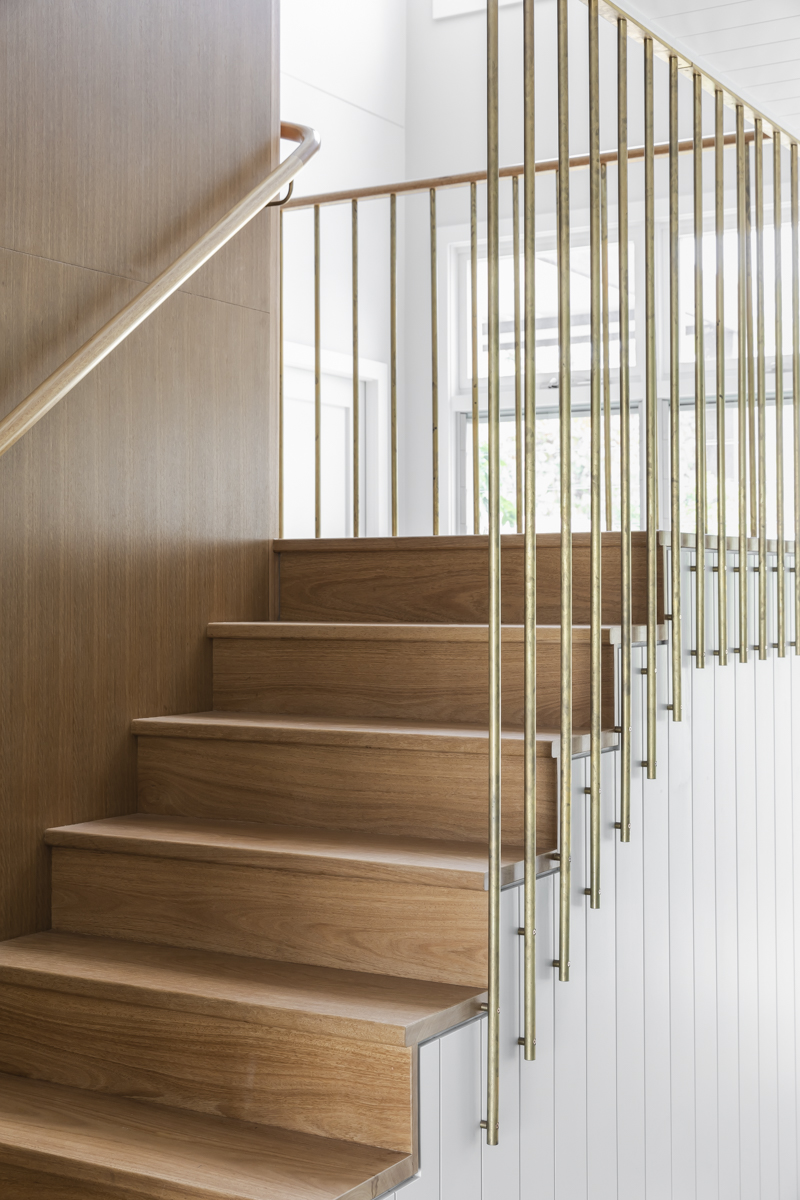 Original floorboards were kept from the old house, and in the kitchen, they used engineered, rather than natural stone, and stainless steel for super practical benchtops.
"The Taylors understand that their home's main purpose is for living, so they're not concerned with keeping it pristine and perfect, which is why the result is one that's both sophisticated and laidback at the same time," Alex says. "I love the fact that the end result is a true expression of my clients and of the natural surroundings of the home."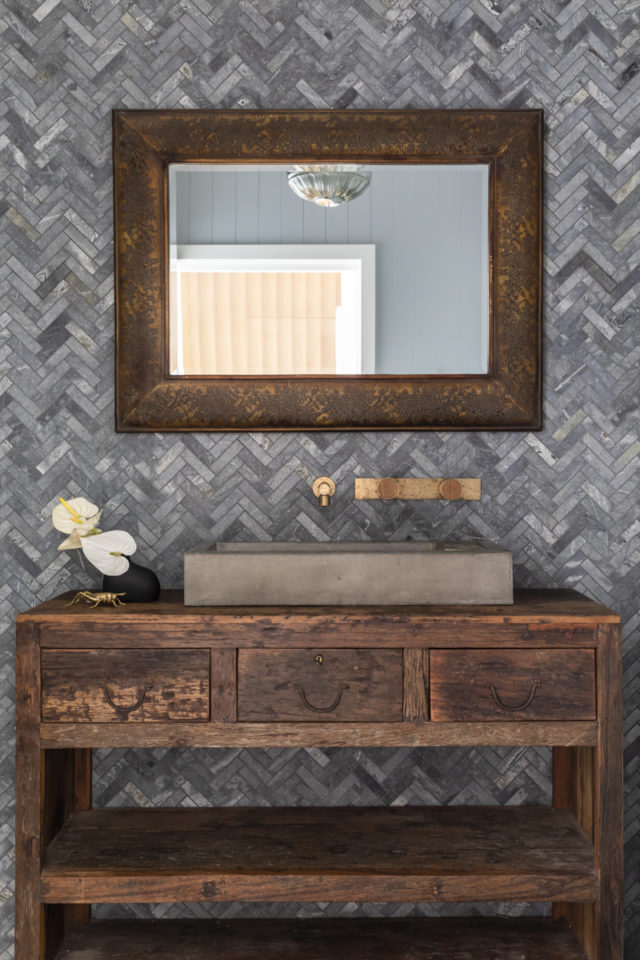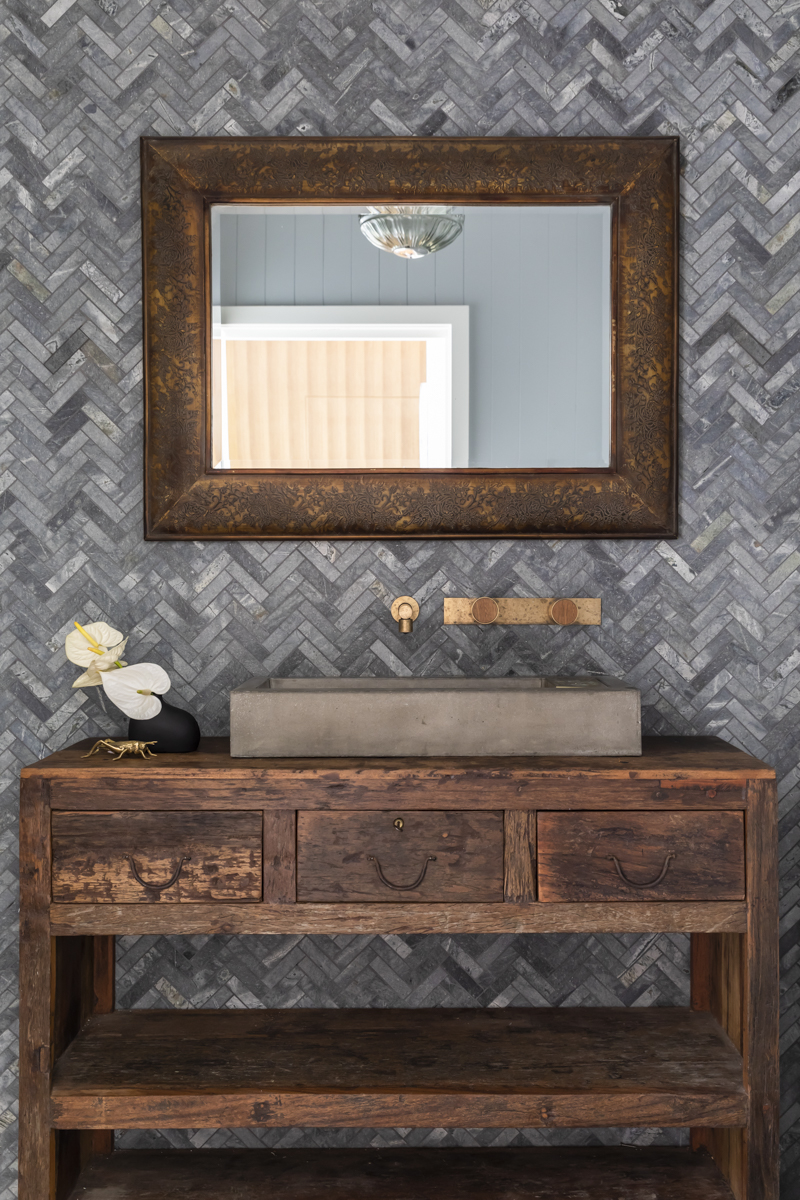 With the view being the main focal point, Alex created spaces which would complement, rather than compete with it. "The way I did this was through the use of colour. The colour and materials palette remains the same throughout the house, and I have dialed up or dialed down the use of those colours in each space in order to best highlight the views and the surrounding natural environment."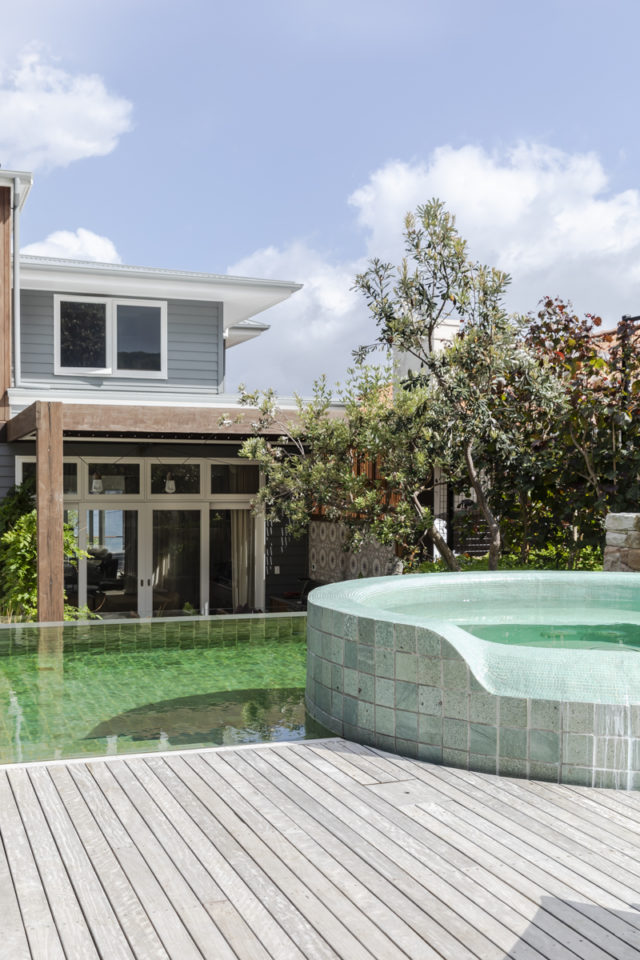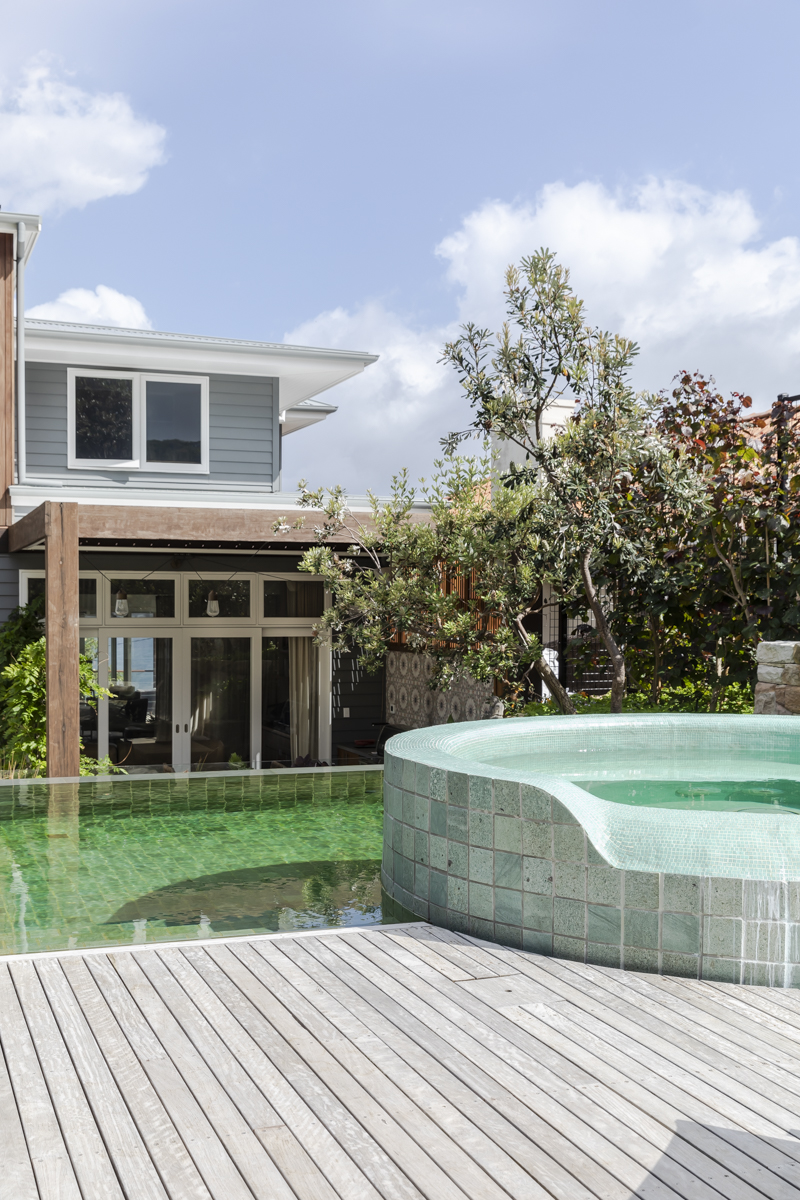 The result isn't typical of the sort of coastal style home we're now used to seeing. "It's intentionally void of any of those classic coastal elements like the tried-and-tested blue, white and marble combo," Alex says. "The clients were really courageous and visionary in this way, because they were determined to create something that truly reflected their family and how they live, as well as a coastal, relaxed feeling."
Team: Architect Caroline Pidcock | Alexandra Gourlay of Vellum Interiors | Anchor Building Co | Julien Roy of Landforms | Photography: Pablo Veiga