"As my son is half Zimbabwean, I wanted to include African animals in his room as a nod to his father's heritage. In Zimbabwe, each family has a totem and the Gwisai totem is the elephant – a wise animal with enormous strength," says Fleur Madden of her son Josiah's gorgeous nursery where elephants feature on everything from the sheets to the mobile, rocker and toys.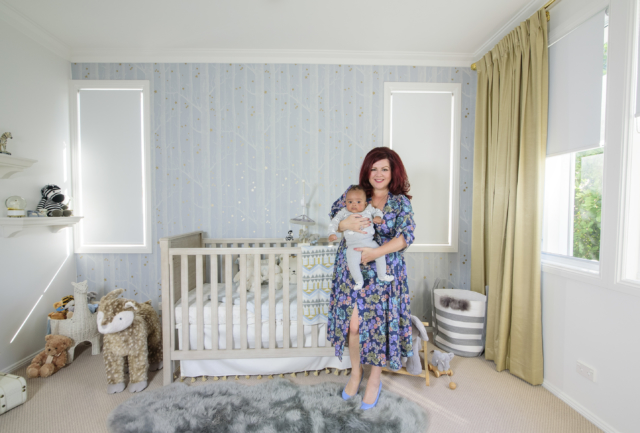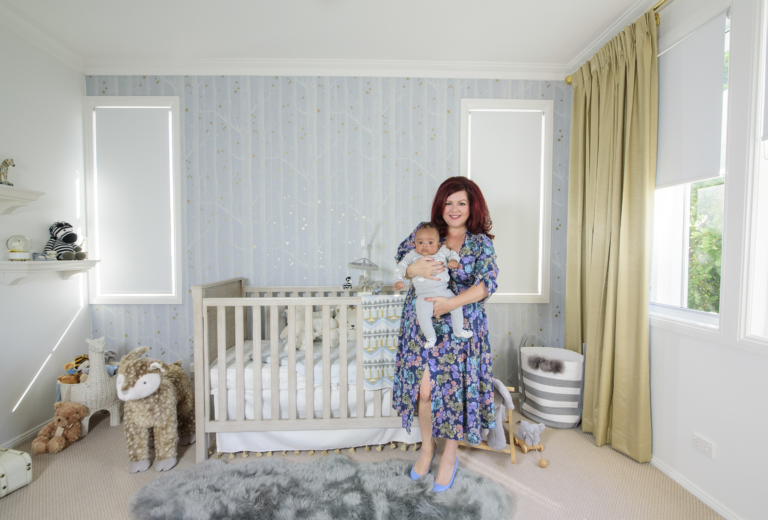 As CEO of The Red Republic, a national PR and brand agency with offices in Australia and LA, Fleur is a busy woman so when she found out she was having a little boy she enlisted her mother, interior designer Tracy Madden, to help with the project.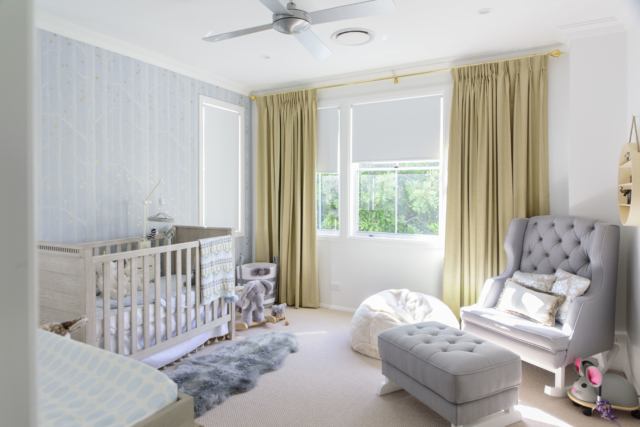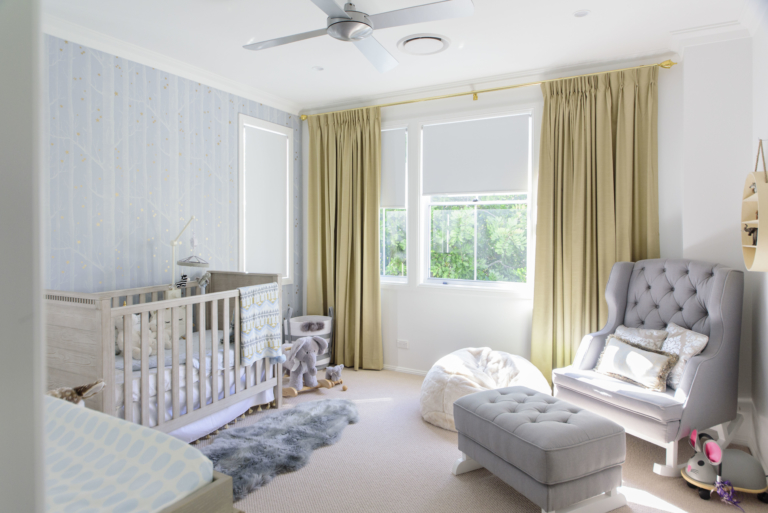 "We found out at 10 weeks that we were having a boy and I absolutely loved decorating his room over the months that followed. My mother is an interior decorator, she owns Tracy Madden Interiors, so her sense of style had definitely rubbed off on me over the years and with her assistance we worked to bring my vision to life for Josiah's room," says Fleur.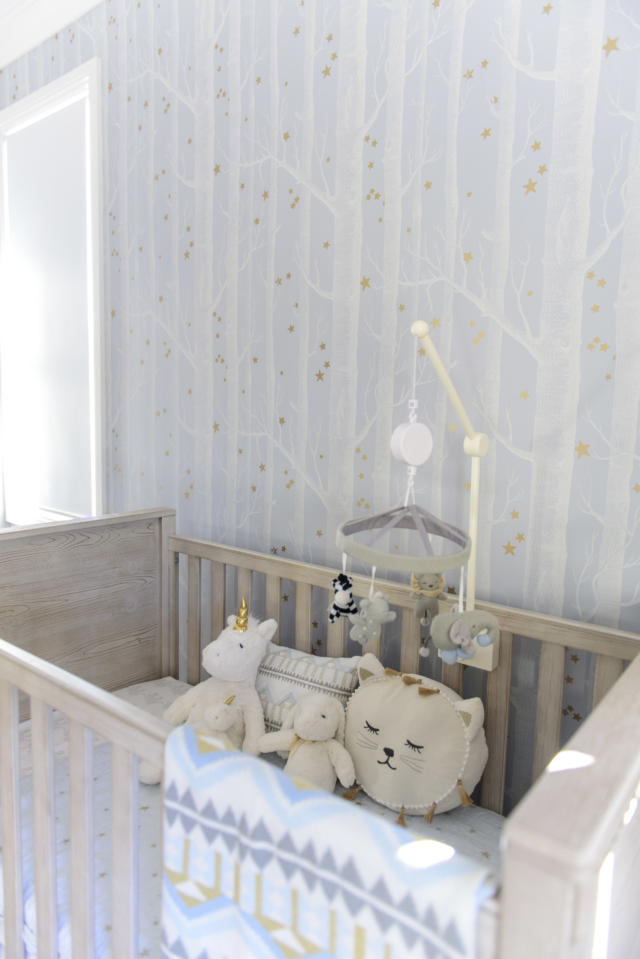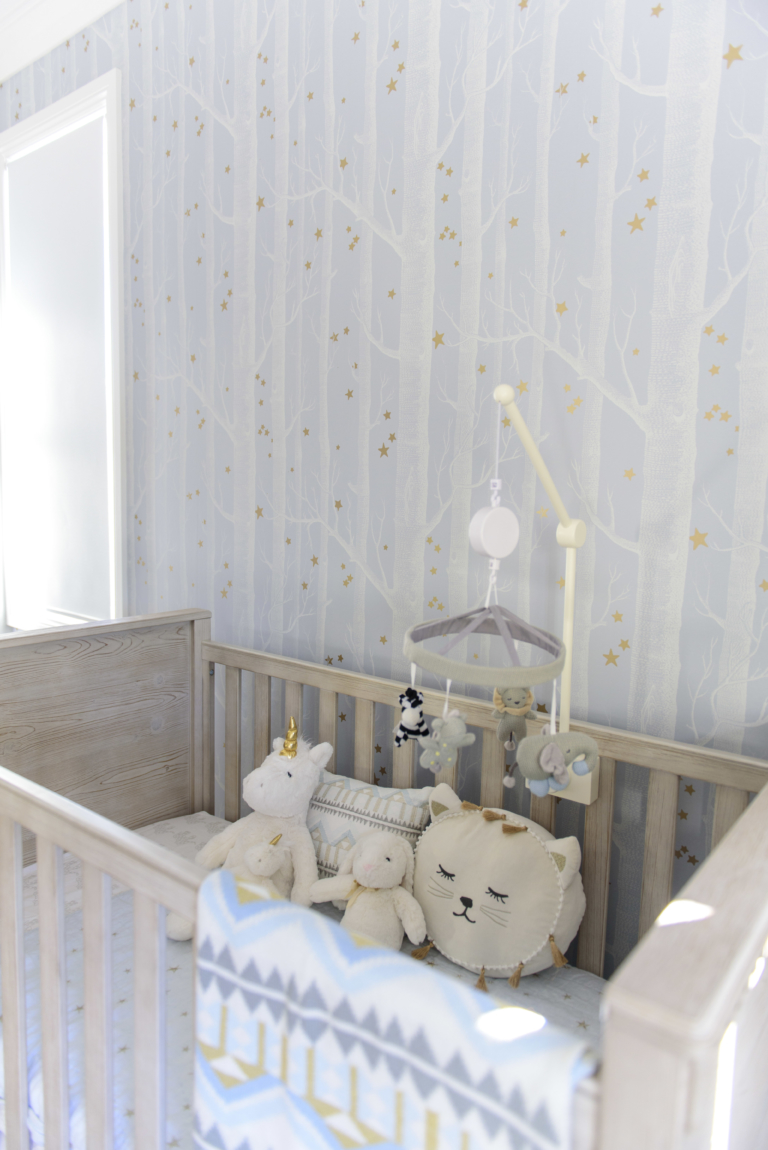 "It was important to me to create a serene and calming space for Josiah to sleep, play and dream in that was also functional and would not date too quickly for the little boy he will grow into. My colour palette was light blue, grey and gold."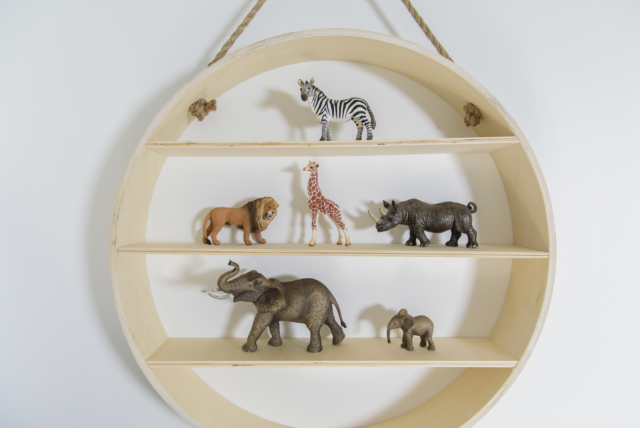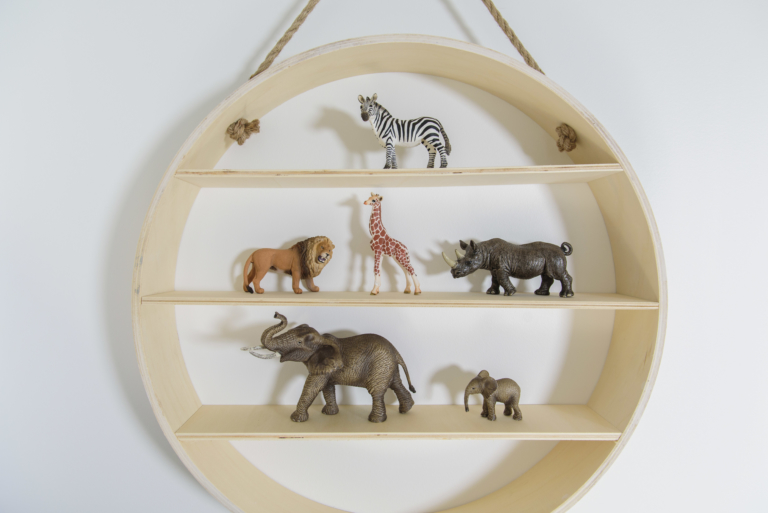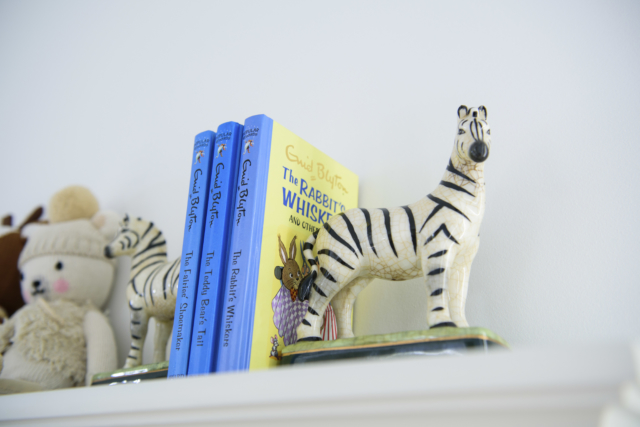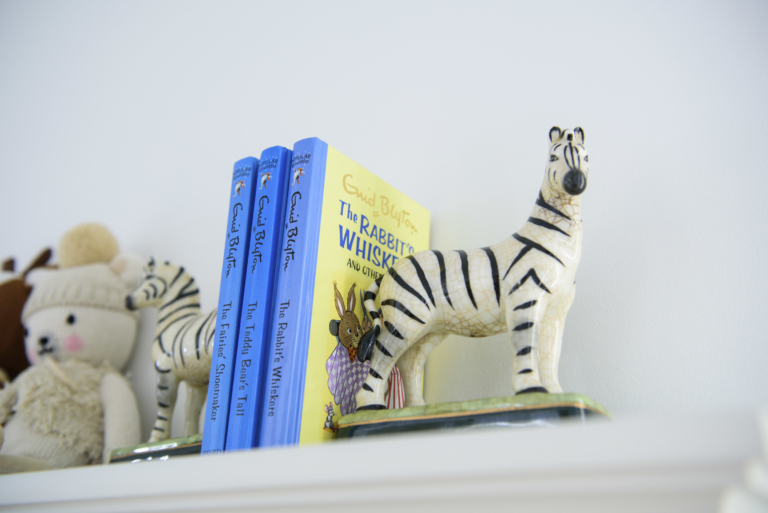 "I am a mad wallpaper fan, I love the glamour of it and the immediate impact it makes. I have it throughout my home so I wanted to select the wallpaper for Josiah's room first to set the tone and work back from there. I was having a real moment with several Cole & Son wallpapers, but really loved their light blue 'Wood & Stars' wallpaper with gold stars so when I found the matching linen at Pottery Barn Kids, I felt it was meant to be!"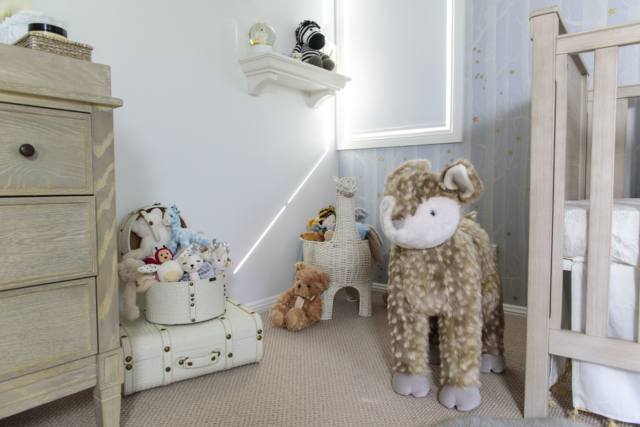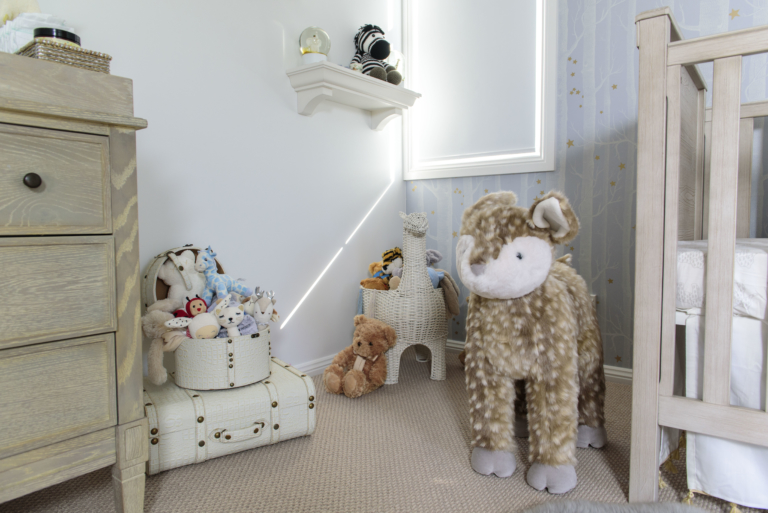 A big fan of Pottery Barn Kids, Fleur sourced most of the room's larger items from there – the cot, dresser, shelves, bed linen, mobile, elephant rocker, bean bag, llama storage and large toy deer. "I think I am their best customer in Brisbane! I went with the light grey wood for the nursery furniture as it matched back with the woods in the wallpaper and I felt it was nice to have something a little different. The gold curtains tie back to the wallpaper also with the gold stars," says Fleur.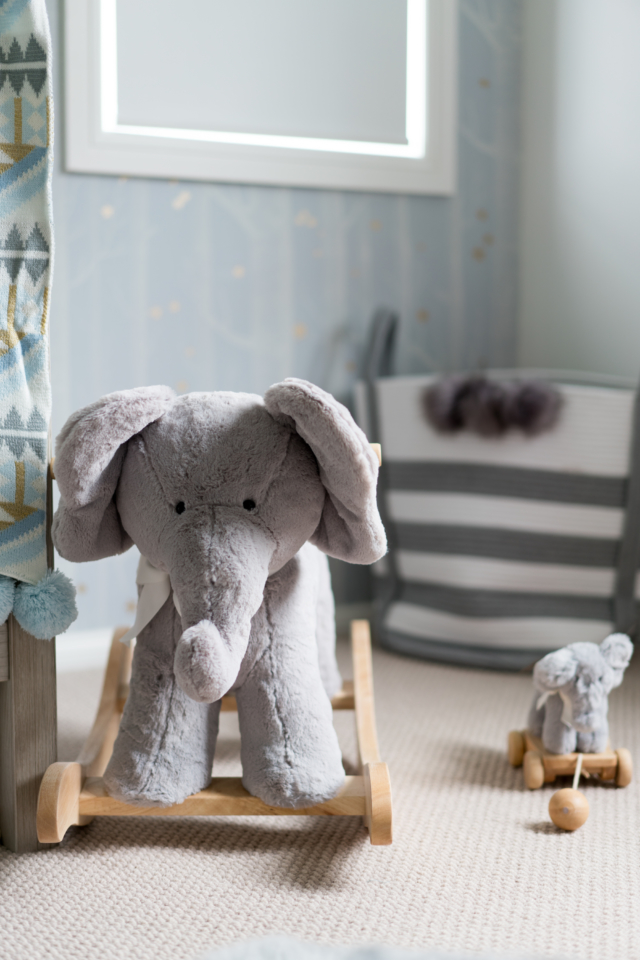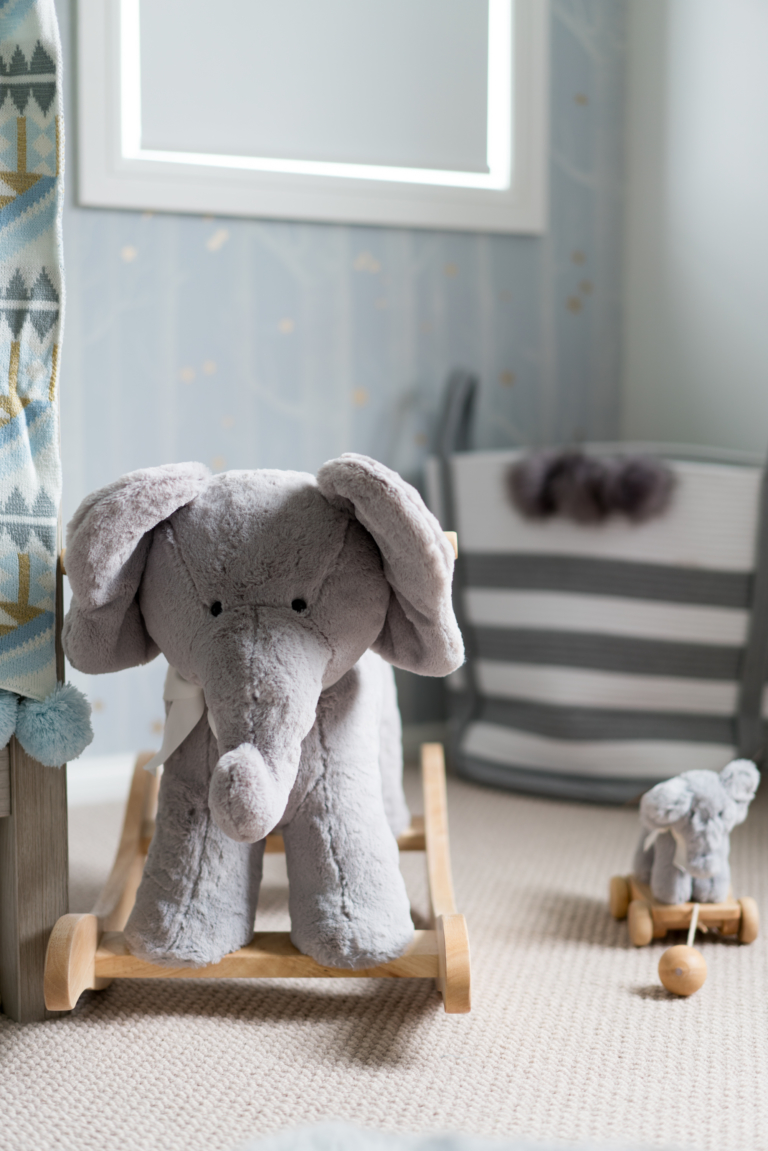 The grey rocking chair was purchased from Hobbe and it is an item that has special significance for Fleur. "My friend Samantha owns Hobbe and I had been wanting one of her rockers throughout our journey to have a baby. The rocker became a symbol of pregnancy success for me, so it was the first item I purchased for his room," says Fleur, who took a little longer than expected to be blessed with her baby boy.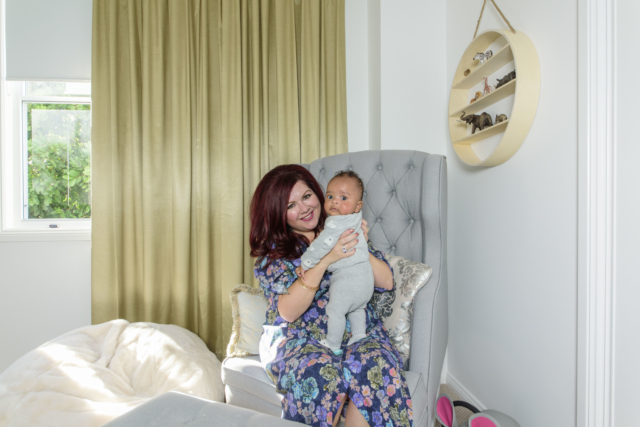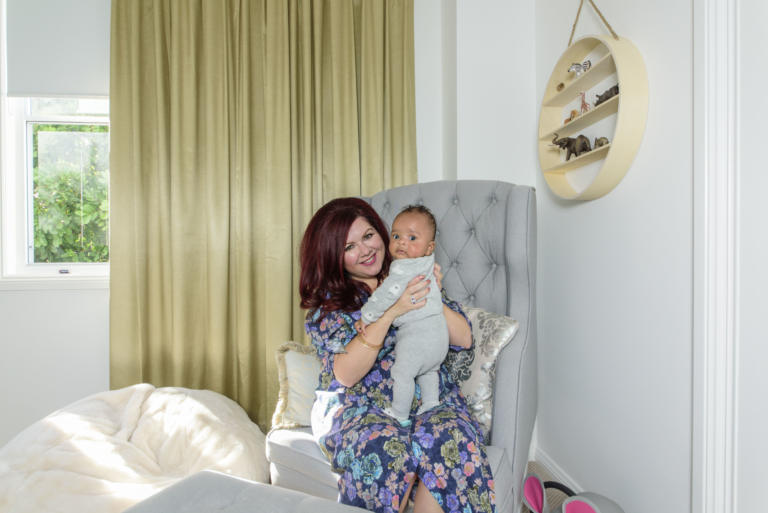 "My favourite part of the room is probably the baby that sleeps in it, but I do love the wonder of the wallpaper and that it sets the tone for some magic in his life and dreams," says Fleur.