A quarter of the way through the build and last night saw one of the most important rooms of the Block build – the master ensuite. I do love a good wet room reveal!
A space that completes the owner's new sanctuary, the ensuite will help form that emotional connection that will bring in buyers on auction day.
For some, it was a room that proved way more complex than they thought, with the huge spaces nearly too much, but with a lot of effort and a mix of styles, another week of beautiful spaces showed the judges this year's Blockheads are here to win.
Read to the end for your chance to win the artwork from Tom and Sarah-Jane's master ensuite.
Omar & Oz (first place)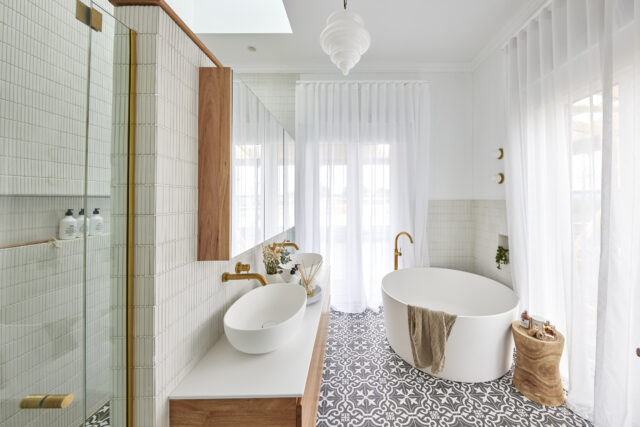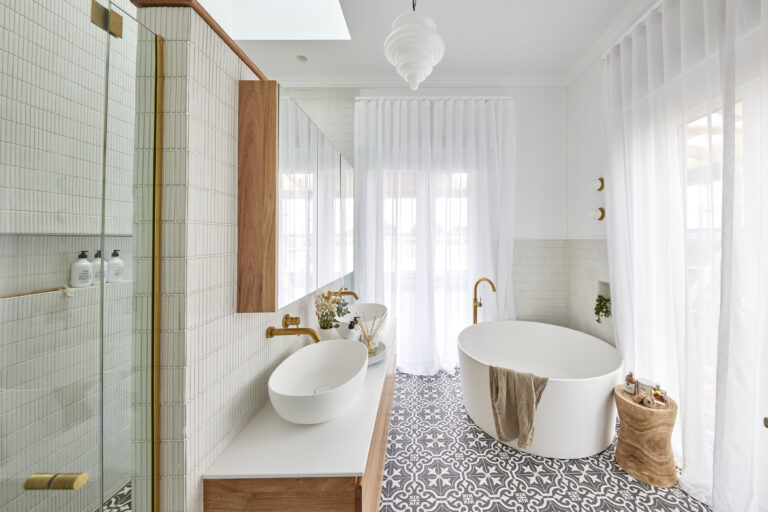 All hail the bathroom kings, with another wet area to blow the judges away. "Boom!" said Darren as all three admired the best layout they saw on the day, taking in the bench seat under dual showers, a corner bath looking out on spectacular views, kitkat tiles playing off HardieGroove panels, and a natural colour palette.
Despite their tilers' massive fail, they came back from the brink to achieve such a beautiful space. Bless Keith and Dan for helping out there as it really wasn't their fault!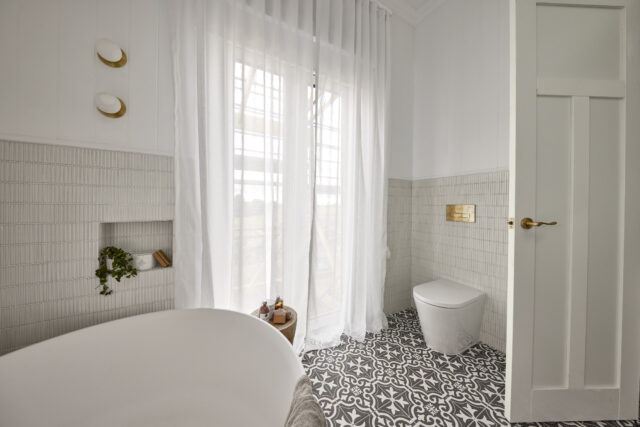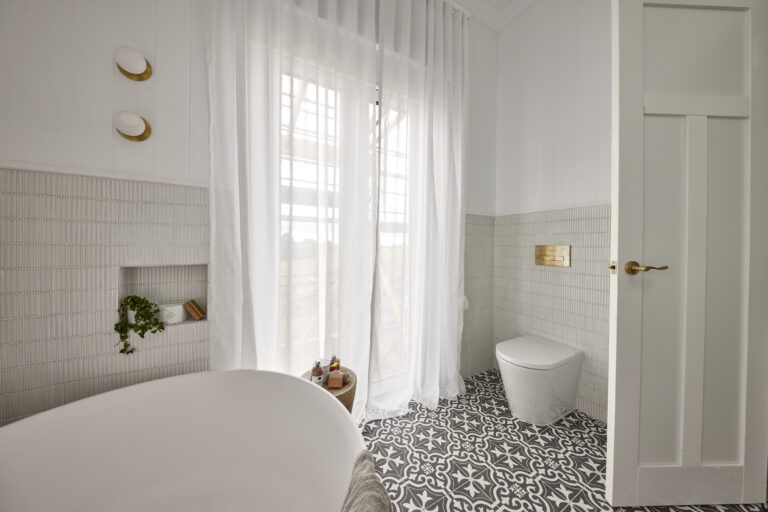 Missing only a few face-level lights and a bathrobe hook for the door, there was a lot to love, the judges agreed, with Darren declaring this was a room that would "photograph like a dream" and help buyers fall in love with their home.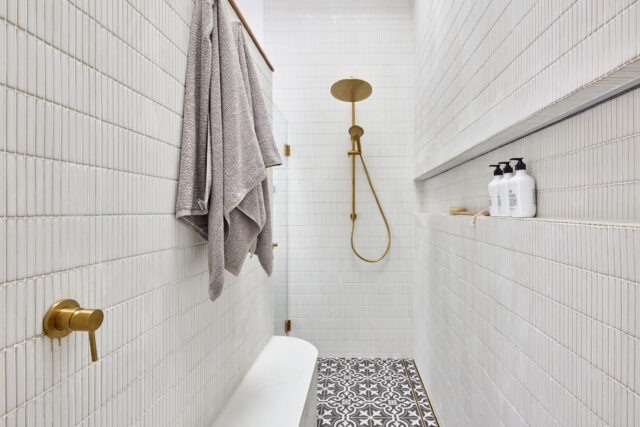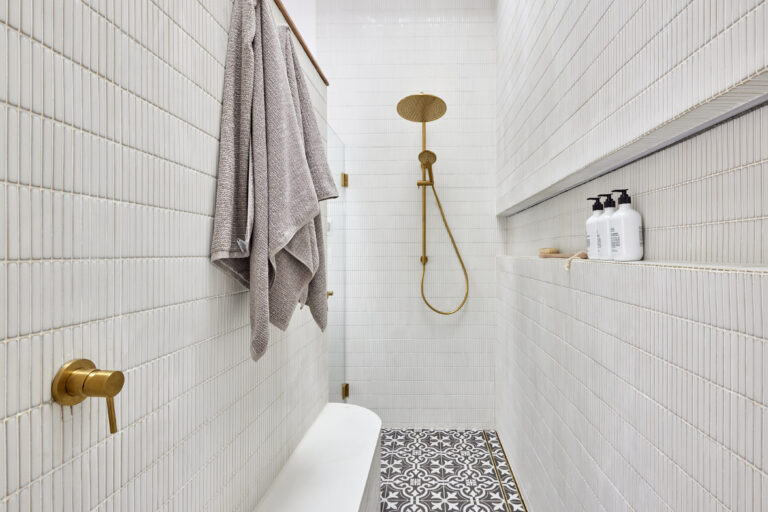 Sharon & Ankur (second place)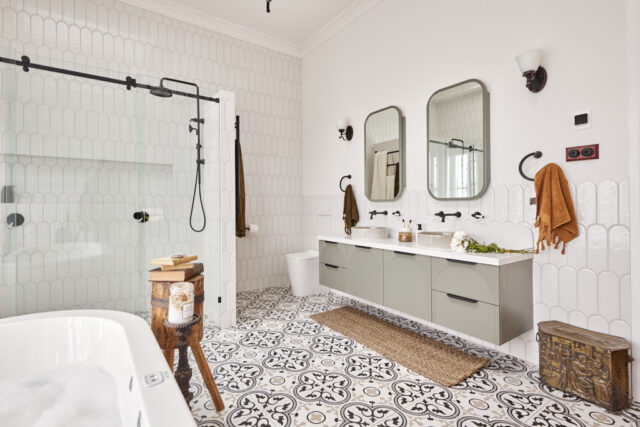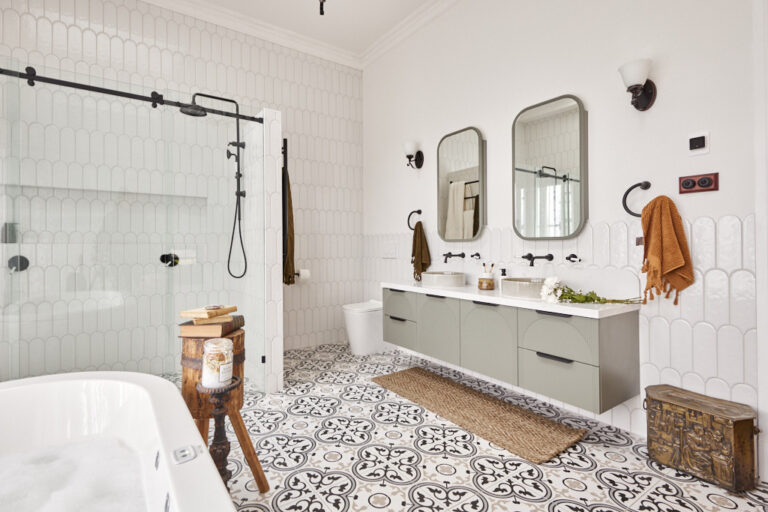 "I would never design this bathroom in a million years!" said Darren, taking in the statement wall tiles and basins, the spa bath with a view, black tapware and Grafico mural of the Macedon ranges, "but it works!"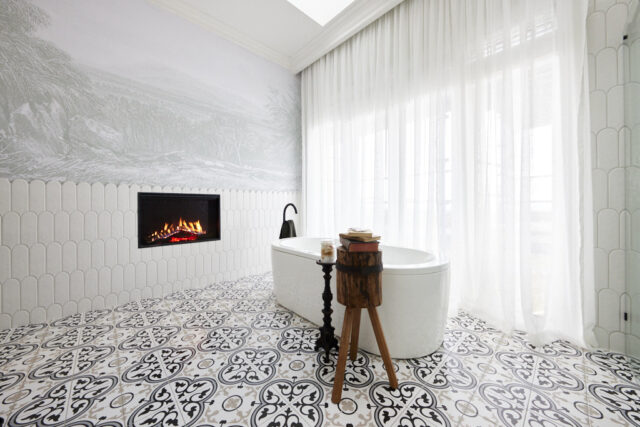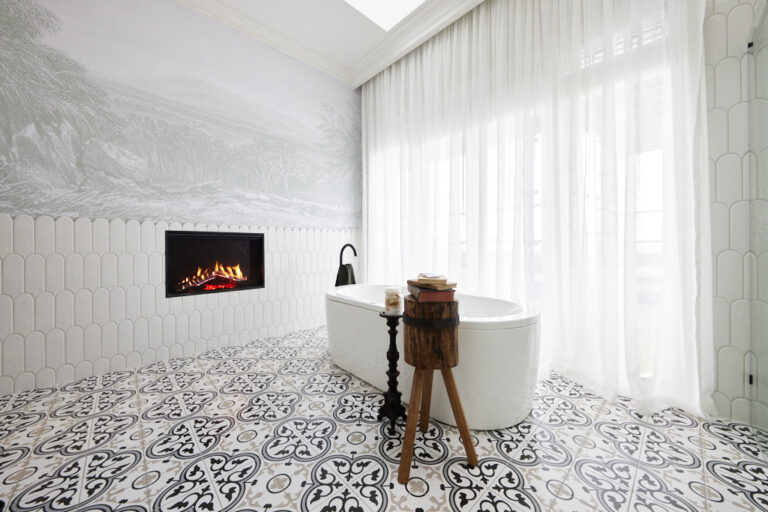 Shaynna and Neale were worried it all might be a bit too much, but agreed it's a statement space, particularly loving the addition of a fireplace… right up to the point where Shaynna noticed the fire's double-sided glass would give a view of the toilet to anyone in the master bedroom! Be careful of those choices, she warned, and be mindful, Darren added, of the line between eccentricity and saleability.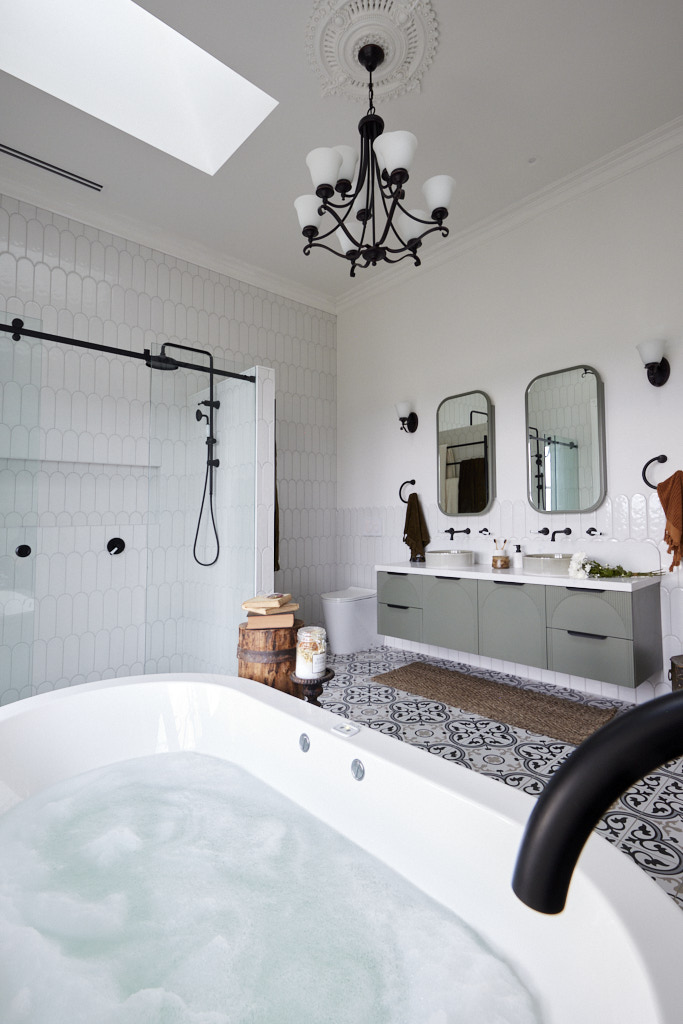 The French doors looking out from the bath do it for me! I too feel like it's too much but it does kind of work!?
Shop the look: Robert Gordon basin
Sarah-Jane & Tom (third place)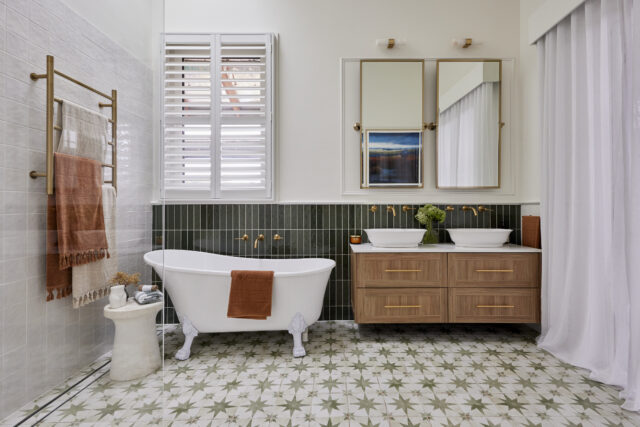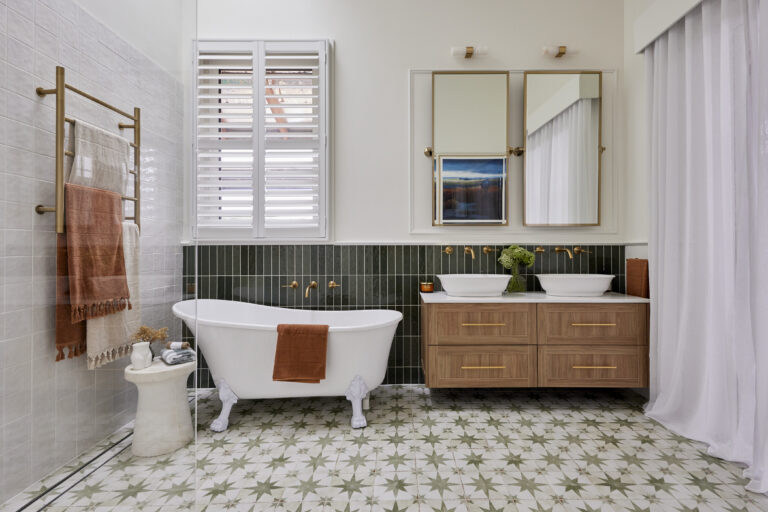 With what Shaynna called "a timeless colour palette" and a mix of gloss tiles on the walls and matte on the floor plus a very country mix of timber and brass, this was a room that grabbed the judges from the moment they walked in. "Yum!" said Darren from the door. "I love this!" Neale said he felt the couple's confidence in how they wanted their home to feel.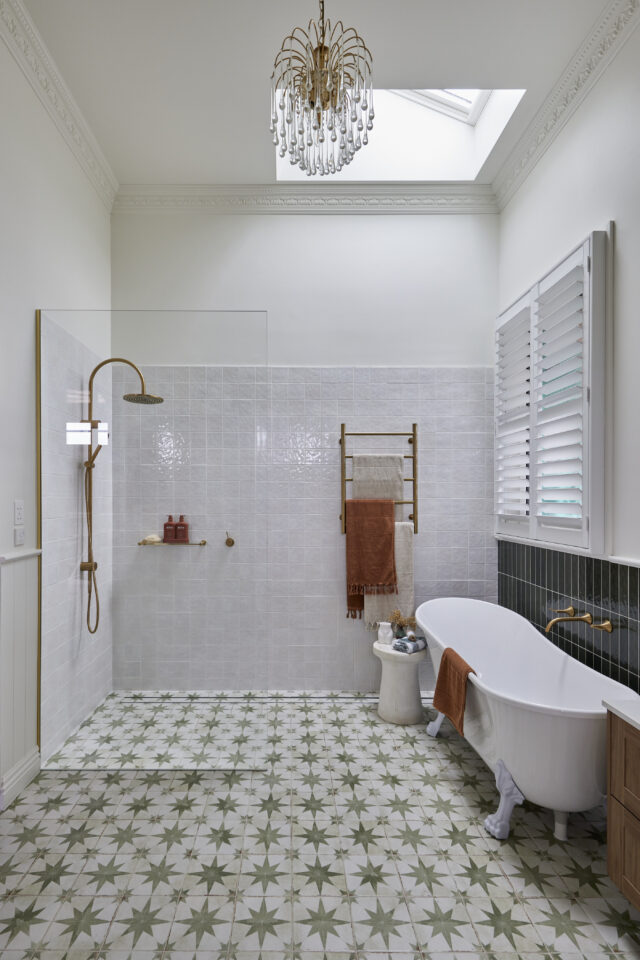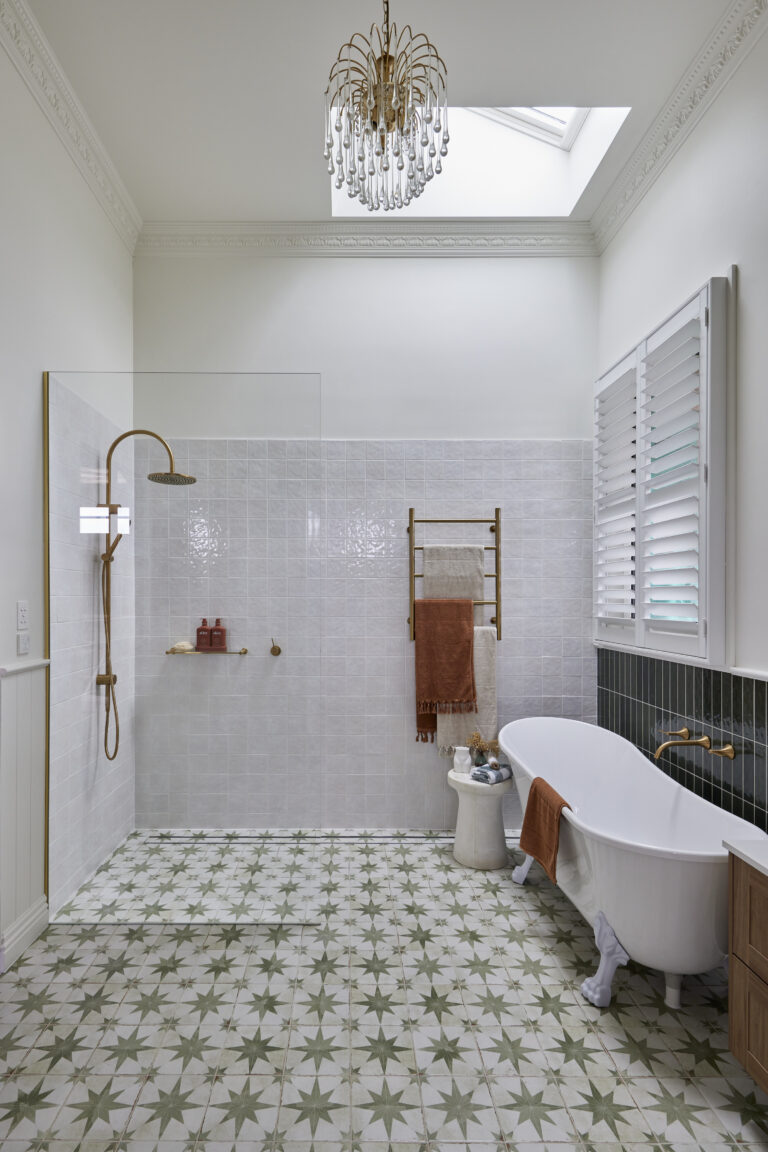 But not everything got their approval, with Neale noting that once again the pair had decided against face-level storage in vanity cabinets, the sconces were just too high for her and the pelmet, Darren said, was "pretty chunky". It's a room that set a high bar for the others to follow, but the functional flaws kept them from the win.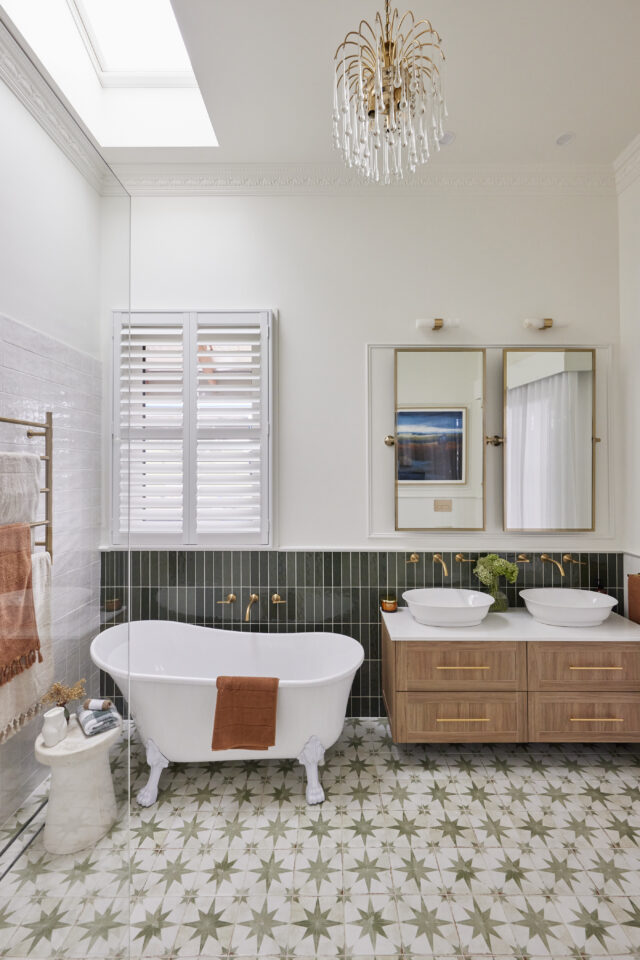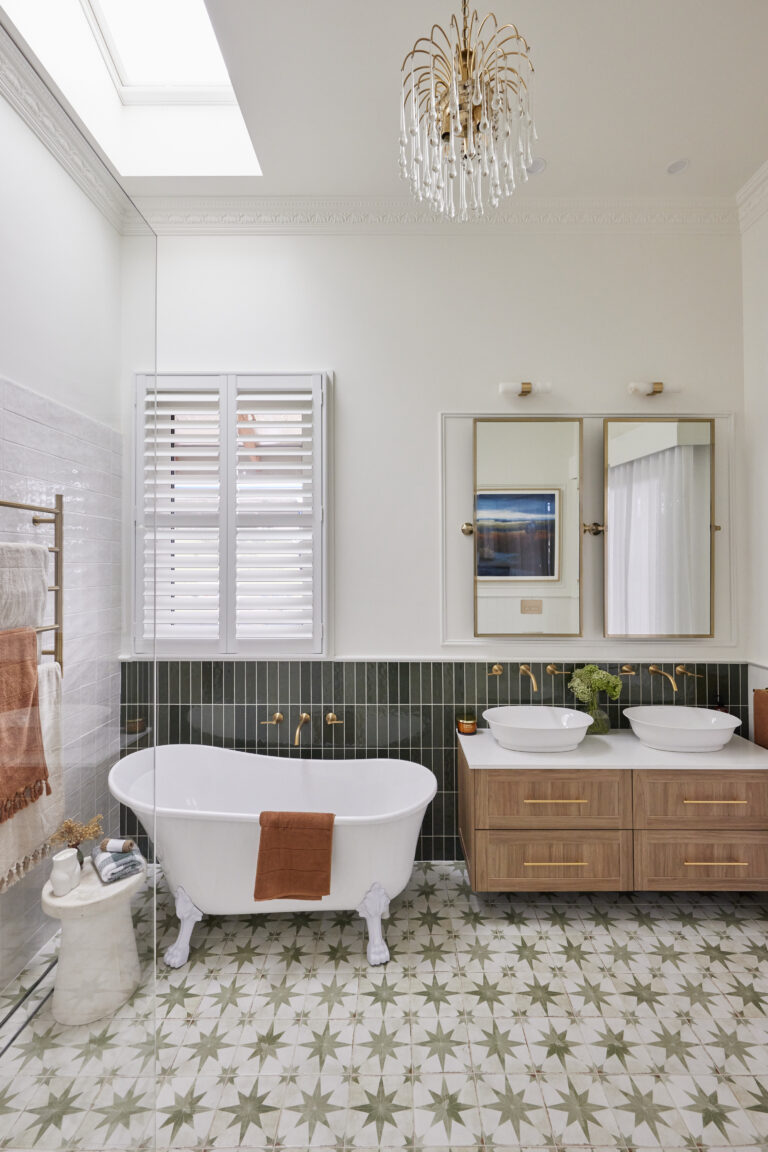 Shop the look: Linen Breeze canvas print by Lydia Ben-Natan by Artist Lane and al.ive body wash and lotion duo
Rachel & Ryan (joint fourth place)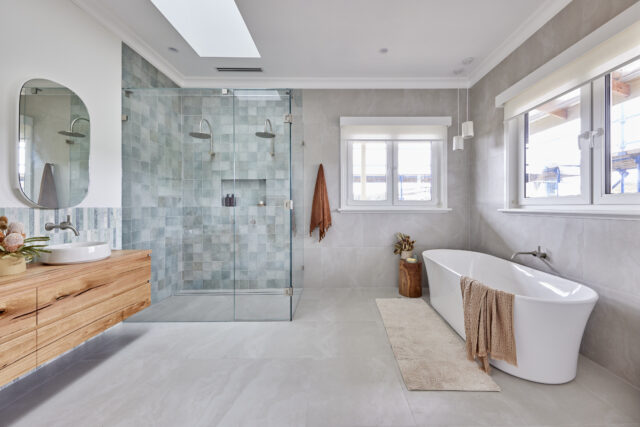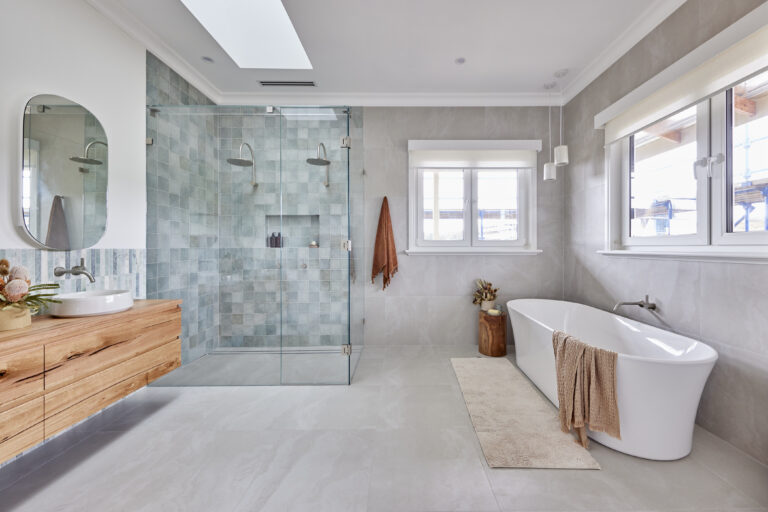 "Feels palatial," the judges said as they walked into the vast space of Rachel and Ryan's ensuite, taking in the heritage details of cornices and architraves, the timber vanity, and feature tile.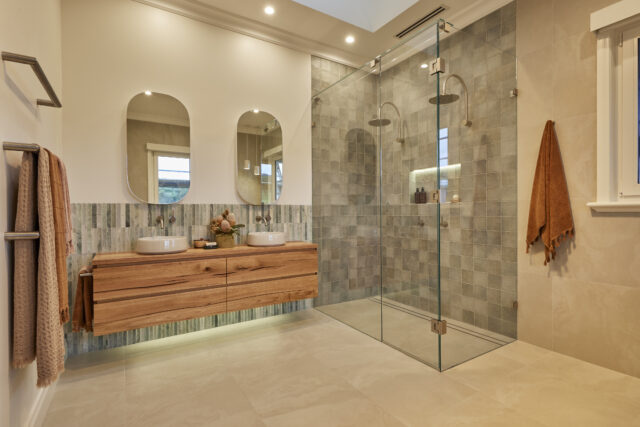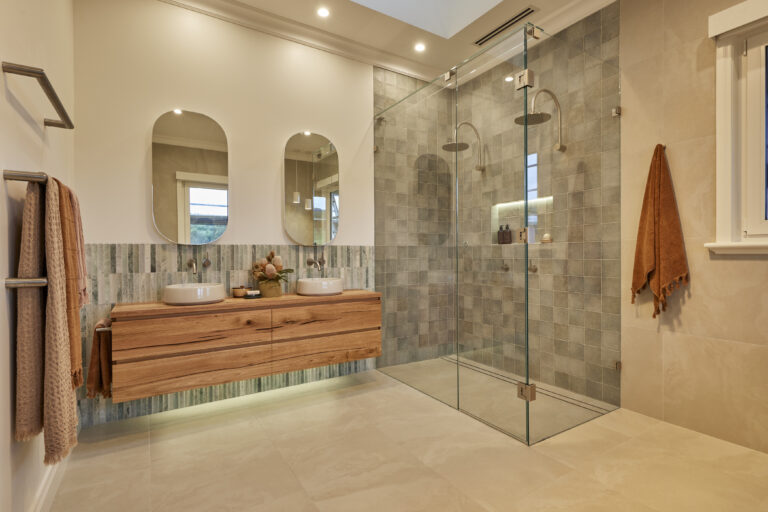 But while Darren was impressed by the contemporary luxury, with the shower heads in what he said was just the right spot, the inclusion of an IXL heater lamp and pendants over the bath, both Shaynna and Neale weren't convinced. For Shaynna is was a case of things being half right – she loved the vanity area, but nowhere else. And Neale said he found the sea of grey "a bit bland". It's in keeping with the house, they said, but just not quite there.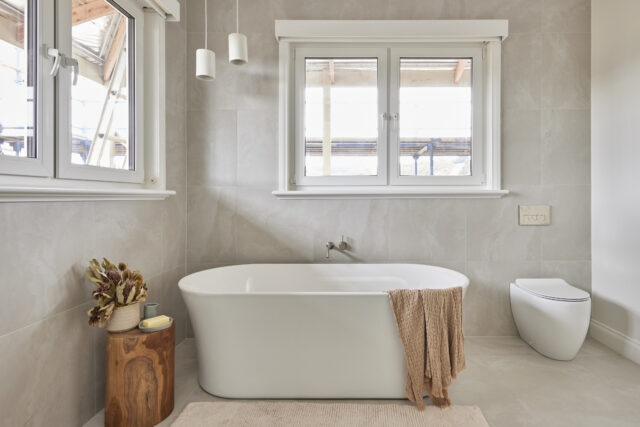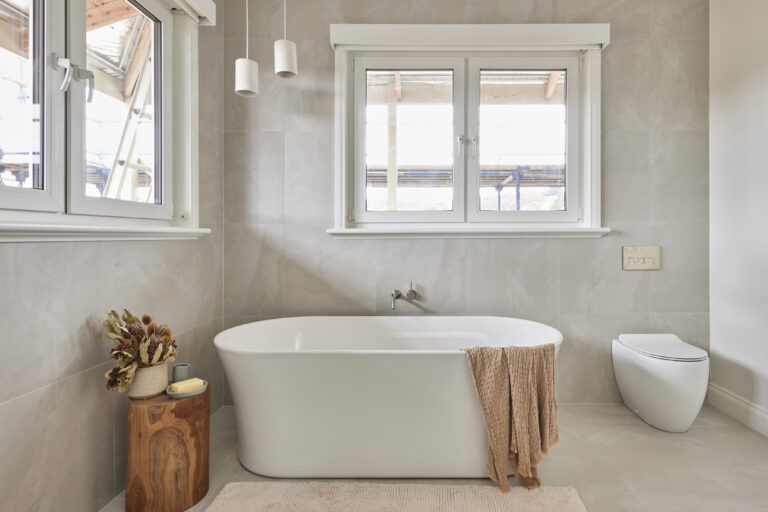 Darren said he liked seven eighths (so precise!) of the room while Neale said he only liked three eighths, and that it had no charm or personality! He said it needed another layer and some more pizazz. Shaynna was more 50/50 and in the middle!
Jenny & Dylan (joint fourth place)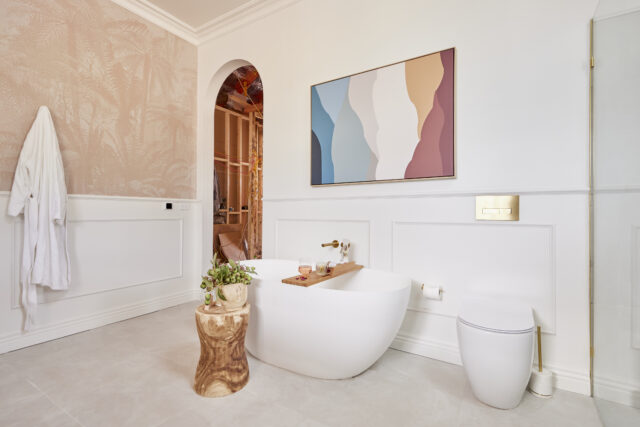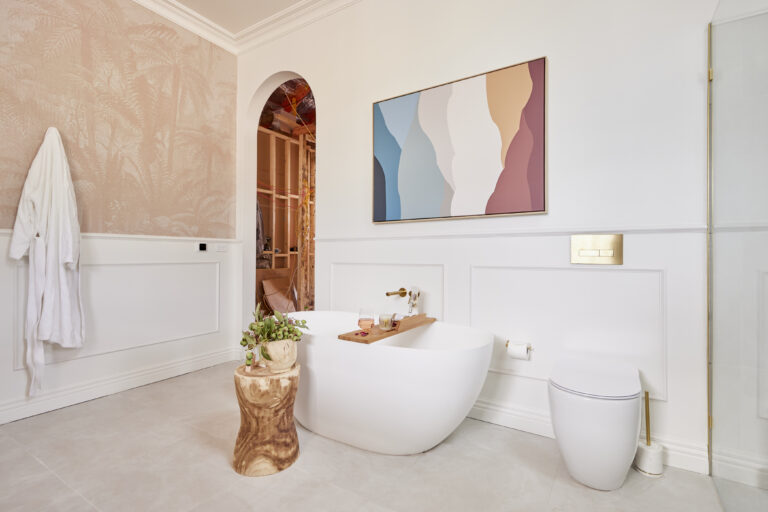 With a luxury benchseat shower area, double shower heads and plenty of space, this has "day spa potential", the judges agreed. Mixing the same tile Ryan and Rachel had chosen, but not going full height, then blending in a mushroom tile in the vanity area, with oak and brass touches and the couple's signature arches, the combination is understated elegance, Neale said.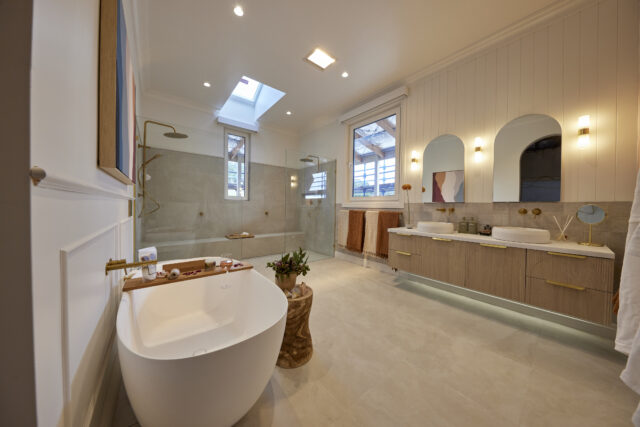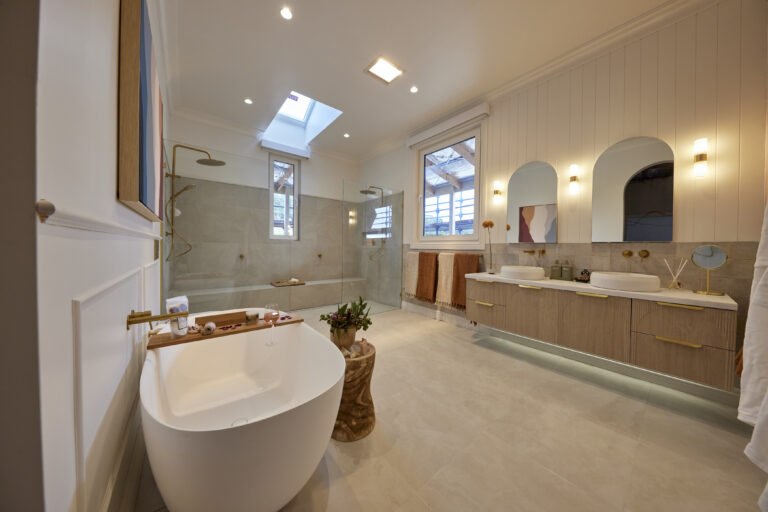 Not everything won their approval however, with the bath too close to the wall and toilet – hard to understand with so much space, Shaynna said – and both caulking and grout incomplete. But with styling on point, right down to a real chrysanthemum, it was, Neale summed up: "A contemporary room with just enough heritage touches."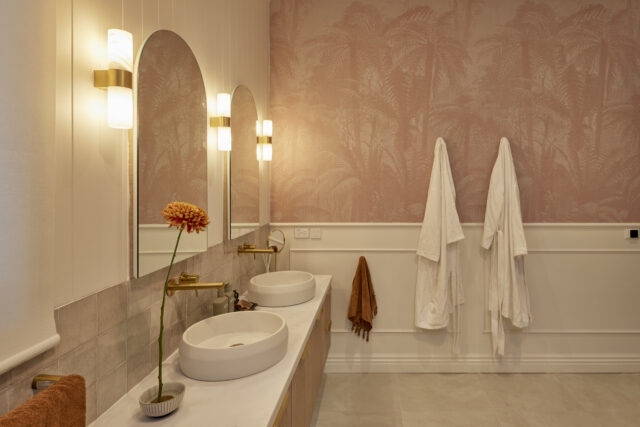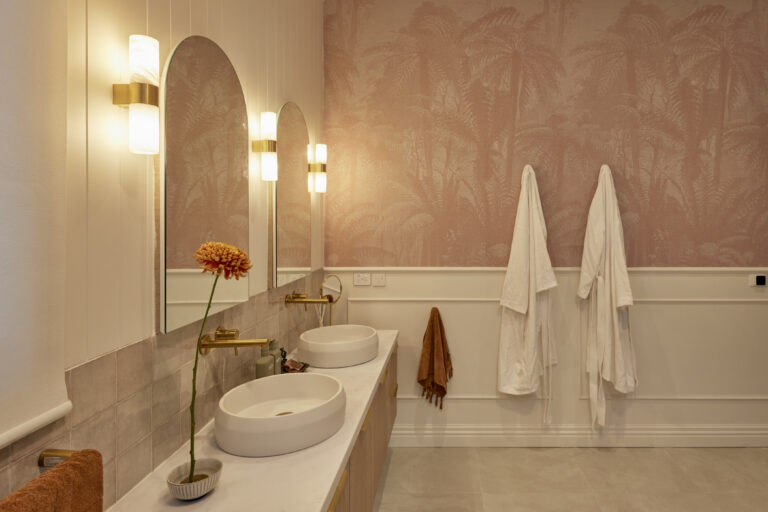 Shop the look: hardwood bath caddy and Terracotta Slice framed canvas print
There were plenty of former Blockheads Alisa and Lysandra's al-ive body duos to be seen and you have to admit, they always look great!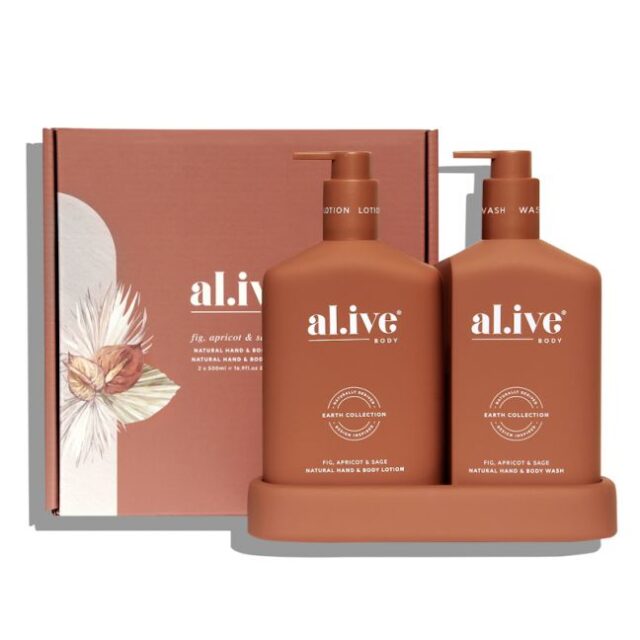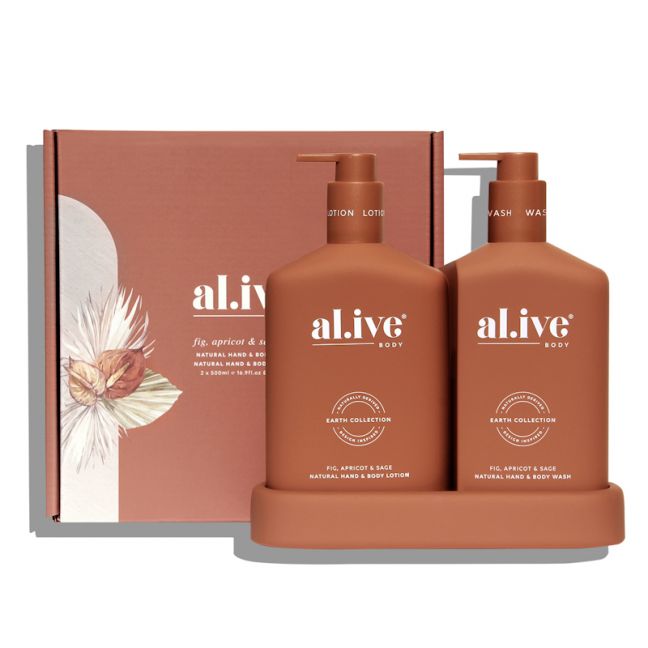 Which was YOUR favourite bathroom?
Shop what you saw on the show at The Block Shop
Win the art from Tom and Sarah-Jane's master ensuite!
This week's art giveaway in association with Artist Lane and The Block Shop is Linen Breeze by Lydia Ben-Natan. For your chance of winning, enter here.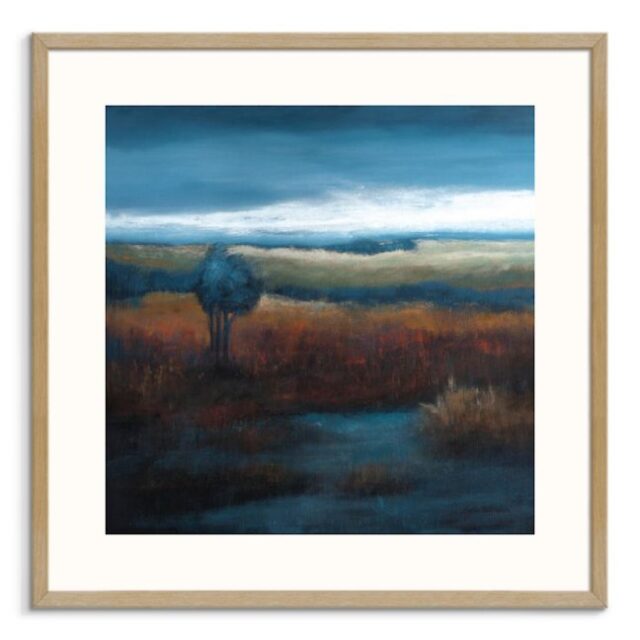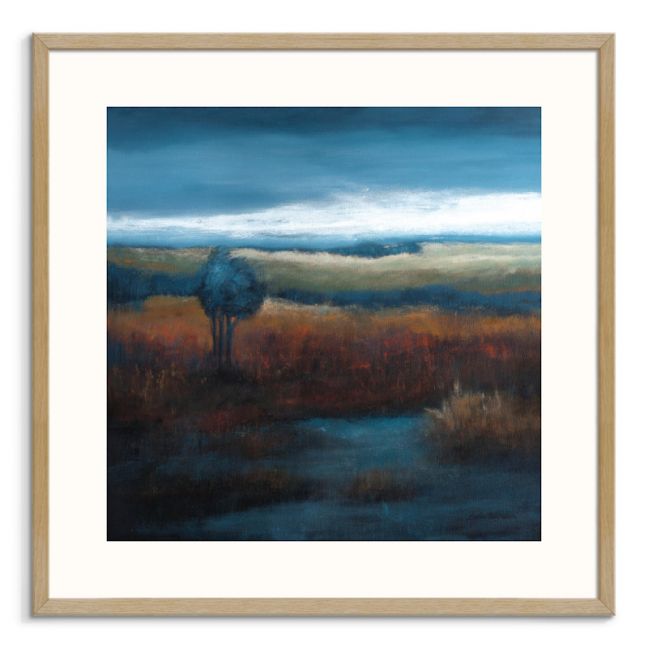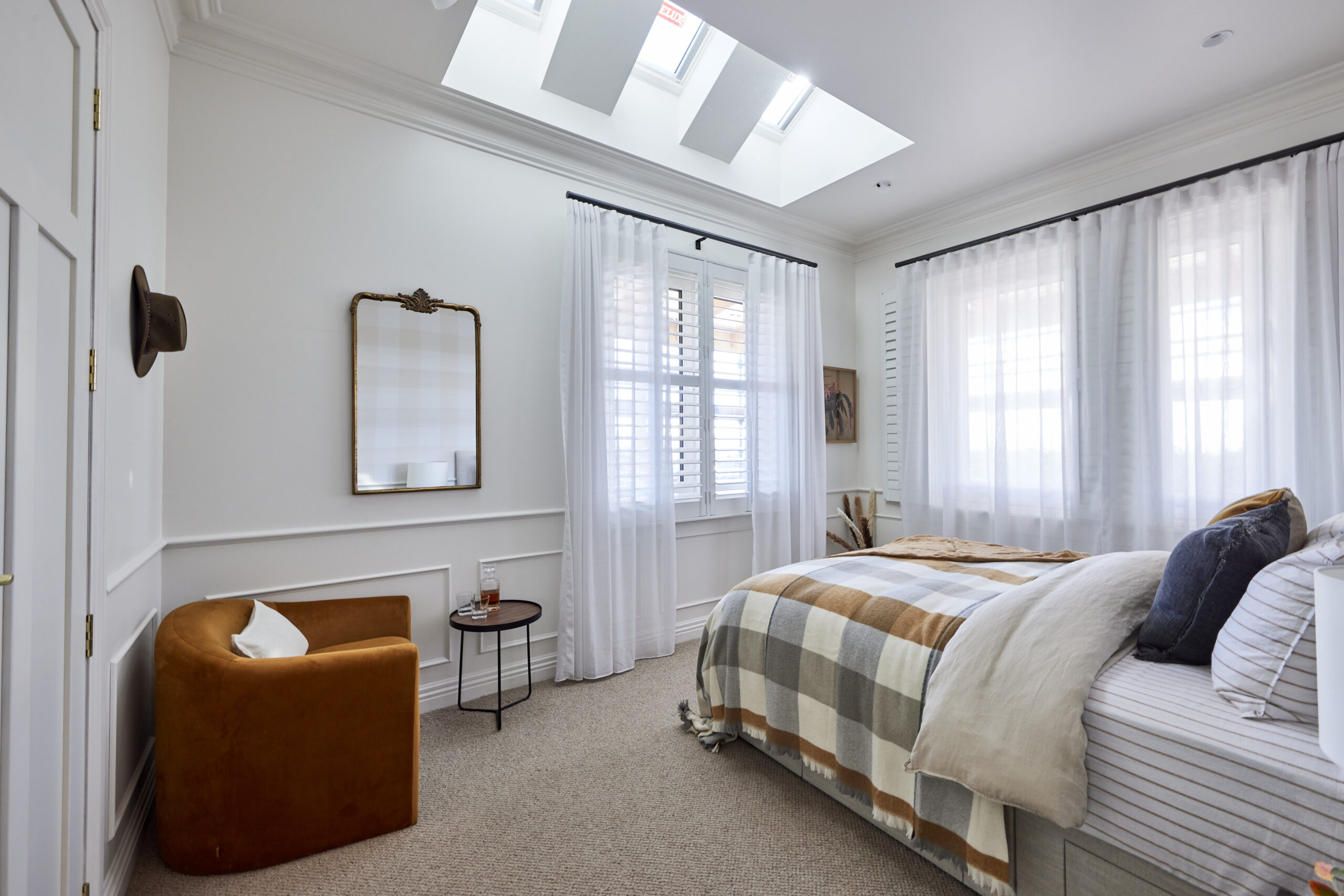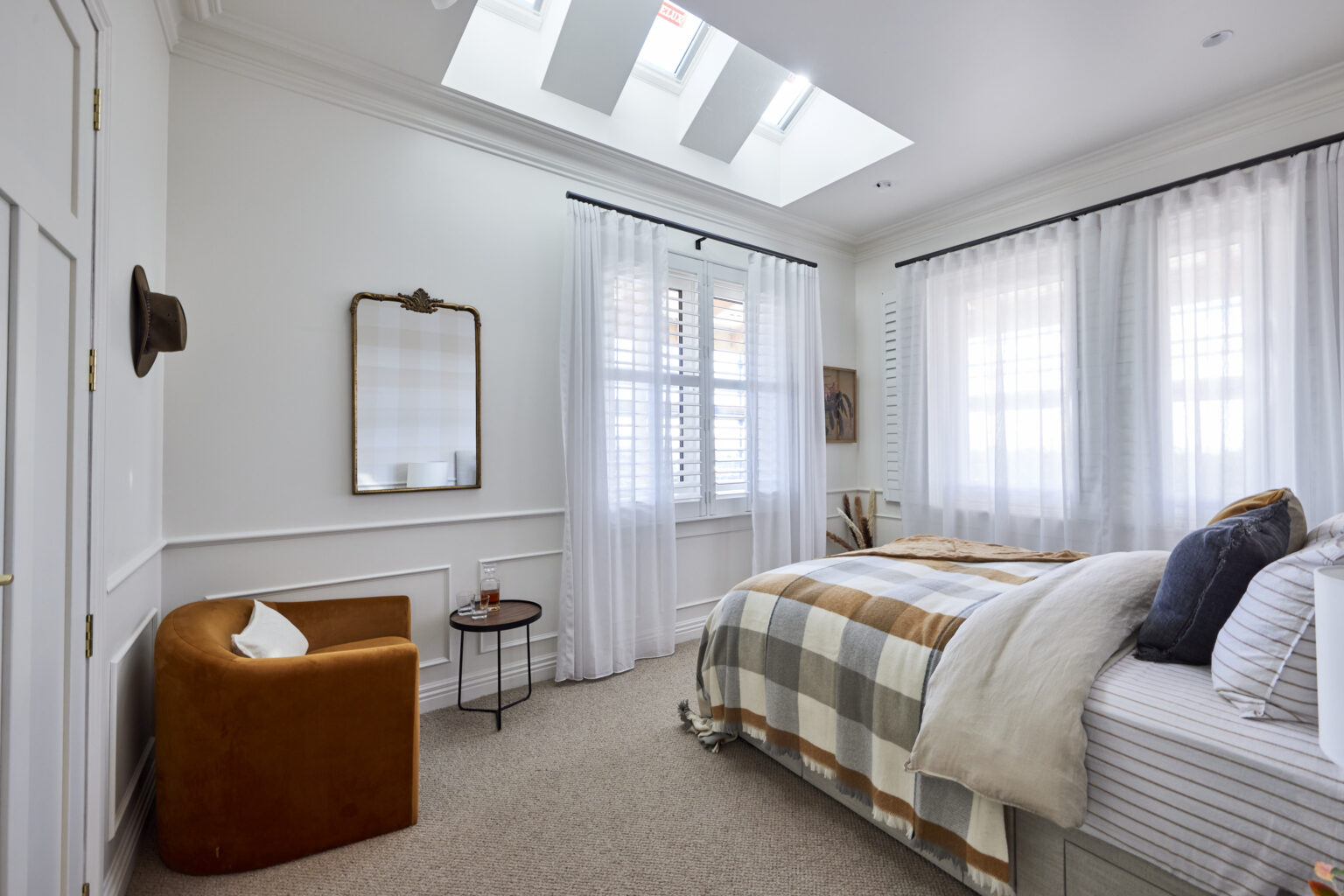 The Block Tree Change 2022: week 2 guest bedroom reveals
I feel like this week's Block rooms looked much better on the TV (and hopefully in real life!) than they…