It's been fabulous following the journey of Julia and Sasha's latest Melbourne renovation and this is the last instalment from the lovely Julia before the stunning Little Willow goes under the hammer this weekend.
There are some words I never thought I'd utter like, 'Taylor Hanson actually gets better with age,' or 'Please pick me up from the party before 9pm because late nights are for suckers'. Alas, here we are and I'm ready to shout it from the rooftops – Little Willow is finished and finally on the market! It's been a gruelling 12 months but the end result is to die for and I can't wait to show you through. Hop on this tour with Realestate.com.au and I'll meet you on the other side.
Bathrooms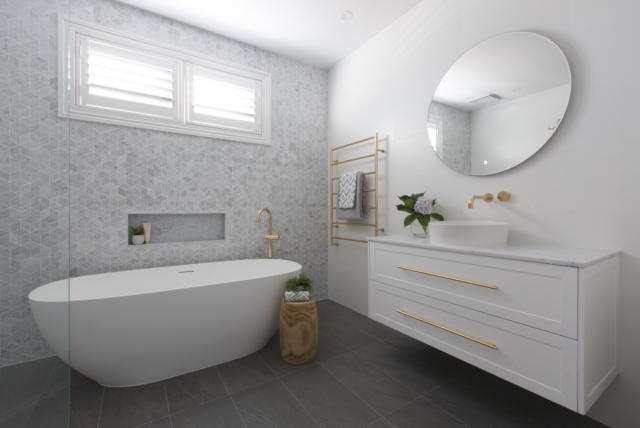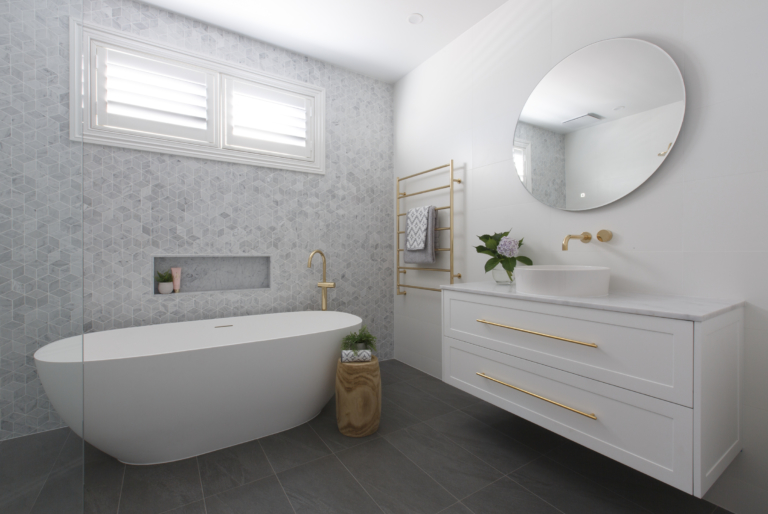 Look, I'll be honest. I haven't always been a pro when selecting tiles but as the saying goes, you learn from making mistakes. Call me Kanye but our bathrooms are utterly divine and I bloody nailed it. Our general rule is to pick a certain material and use it throughout the entire home – in this case, marble. Rather than using the same tile however, we mixed up the shapes, installing a selection of rhomboid, diamond, and fish scale. The bathrooms feel unique yet cohesive and set the chicest tone, marrying well with the kitchen and laundry.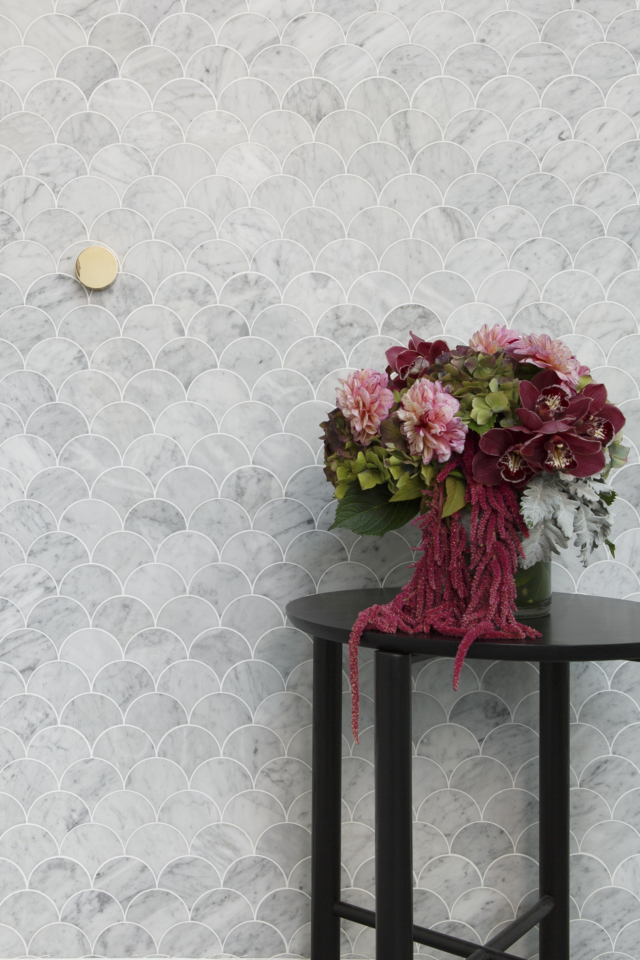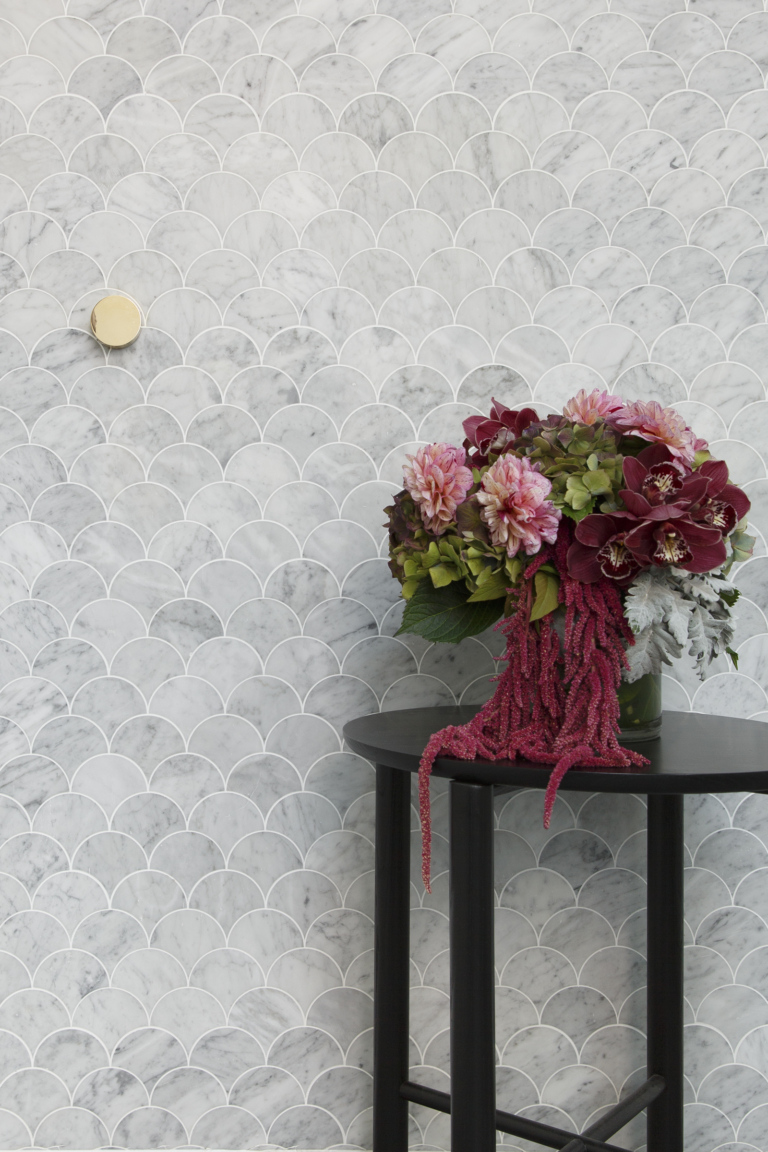 Another tip we employed is to use no more than three different tiles per space. Any more and you risk turning your bathroom into a confused, gaudy mess. We opted for mid-grey on the floor and white matt on the walls. Given they weren't the focus, we used subtle grout in complementary shades so as not to elicit contrast. They allow the champagne gold tapware to shine and let's be real, that was always the M.O. A shout out to the lovely folk at Beaumont Tiles for taking me back so willingly (or at least pretending to).
Living zones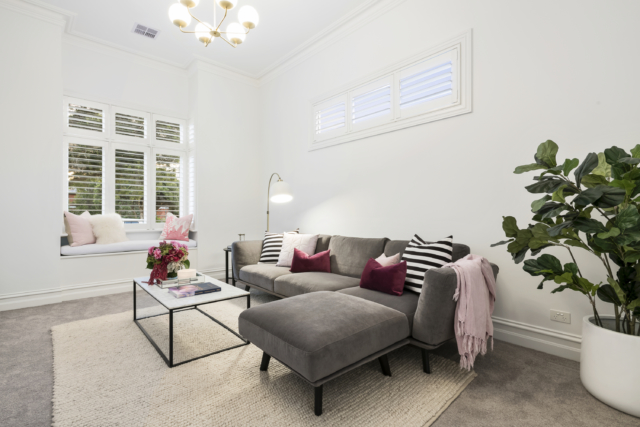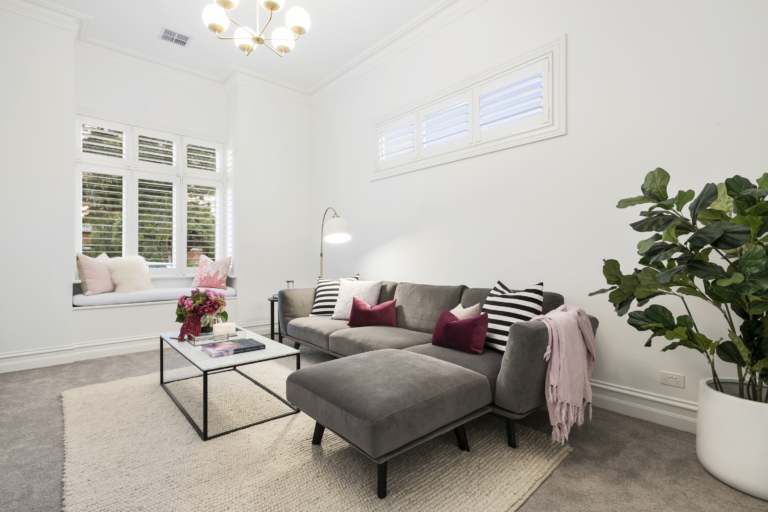 Little Willow has two distinct living areas, one being the formal sitting room from the original house. The proportions in there are incredible and allowed us to reinstate the deep gutter cornice and ceiling rose. Of course the star of the show is that bay window, complete with bench seat and the most divine plantation shutters from DIY Blinds. The guys gave me a lesson in how to angle blades and it turns out I'd been doing it wrong my whole life. For maximum light, the blade should be slanting down into the room not up towards the ceiling.
Another hot tip when designing living rooms is to wire for infrared technology. We've done it in our last few renos and absolutely swear by it. Essentially it means all your cabling, pay TV boxes, and DVD players can be stored out of sight yet will still respond to remote controls. It eliminates the need for unsightly cords which is a big tick in my Virgo book.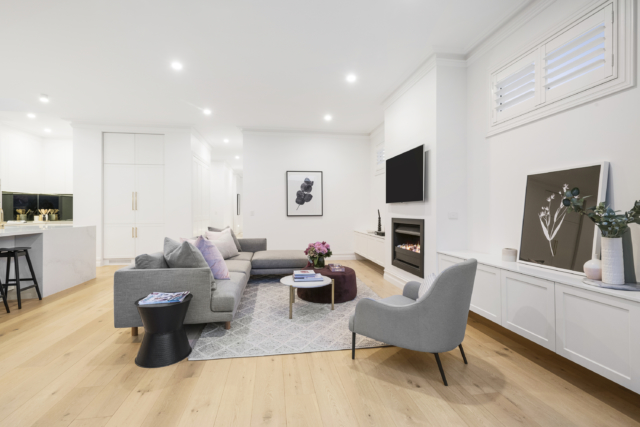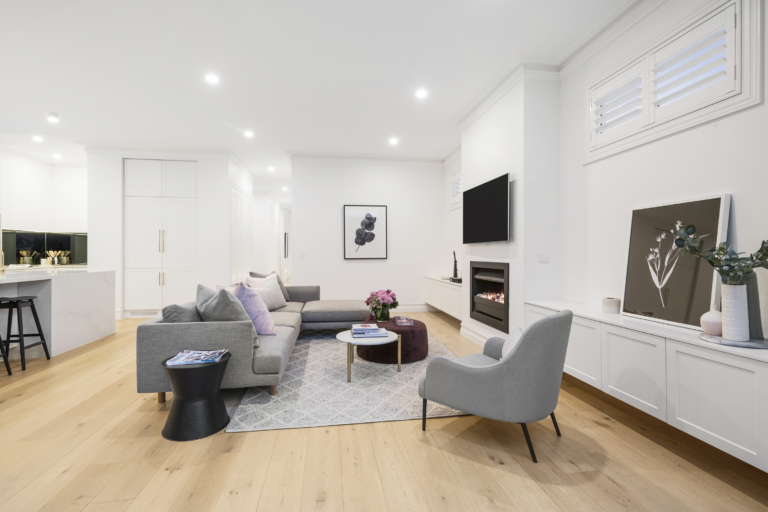 Speaking of which, we wanted floating cabinetry to sit alongside the fireplace in the open-plan living zone. We were running with the Shaker theme so called our mates at Cabinetmakers Choice. They saved our skin big time on The Block and donned their shining capes once again. The joinery is beautiful and balances the space incredibly well, offering more than enough storage whilst appearing subtle and refined. You can't tell but there's a Foxtel box in there and it works without opening the door.
Bedrooms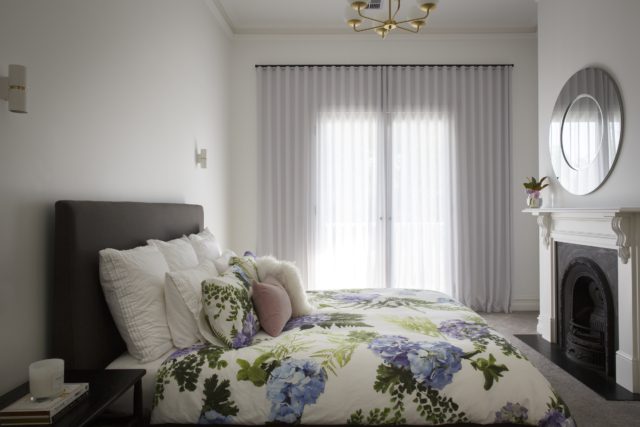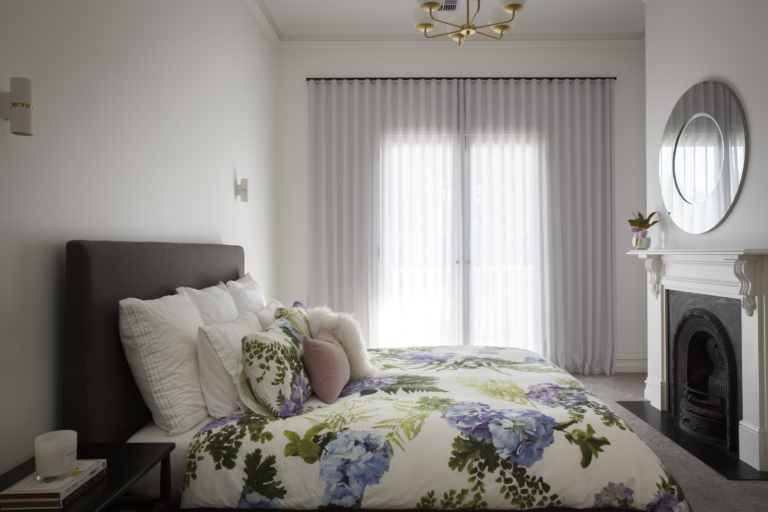 There are four bedrooms at Little Willow and they're all massive. The master sits at the front of the house and boasts the addition of the breakfast balcony. It allows more natural light into the zone and creates a feeling of indulgence. DIY Blinds provided the stunning sheer curtains but it's the black rail I've fallen hardest for. Another lesson: never install a curtain rod directly above your window if there's extra height to play with. Doing so will only shrink your space rather than making it soar.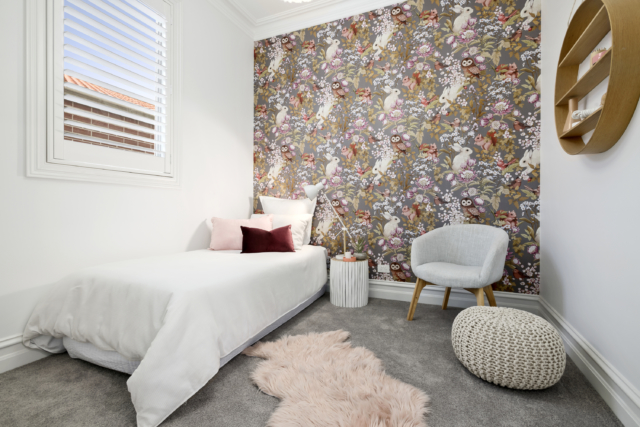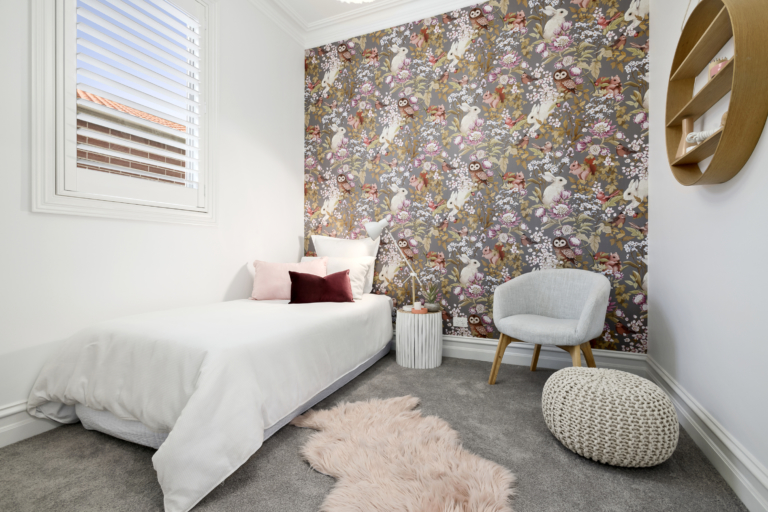 The second bedroom is for little people, complete with the sweetest wallpaper and a whole lot of storage. Venture upstairs and you'll find the third and fourth bedrooms finished with plush carpet and built-in desks. Thought we'd already used all the Shaker joinery in the world? Think again! Cabinetmakers Choice raised their hands a final time and created some truly exquisite robes. They boast the perfect blend of drawers and hanging space and are of the highest quality.
Front door and externals
We've been obsessed with colourful front doors for as long as we can remember. They exude a certain charm and give off that Notting Hill vibe we all love. I was set on lilac from the get-go but Sash wasn't too keen given the general resentment towards all things purple. I've never understood it and am on a mission to alter the common misconception that purple is the devil. I'm pretty sure that accolade goes to yellow but that's a fight for another day. Anyway, we eventually settled on the most gorgeous shade with a tiny hint of neon. It looks so SO good and the brass hardware takes it next level. See what I mean, jelly bean?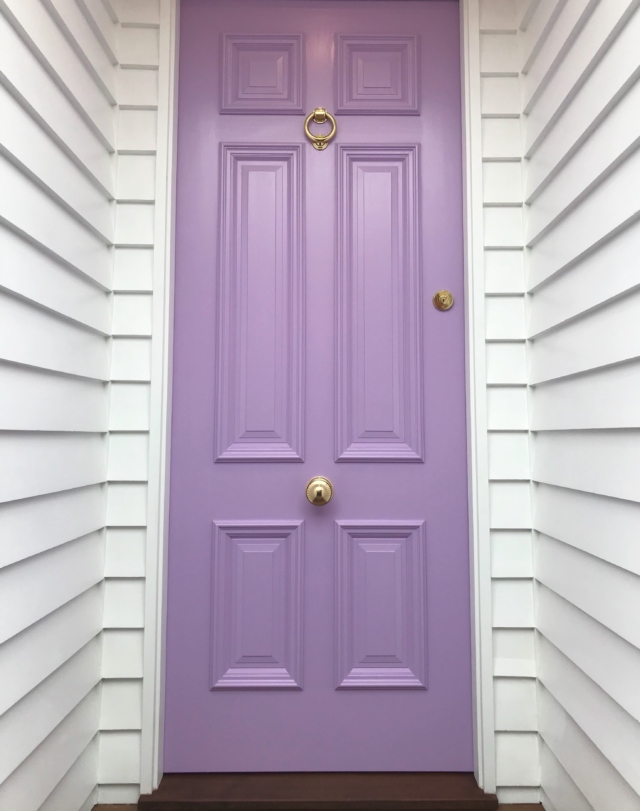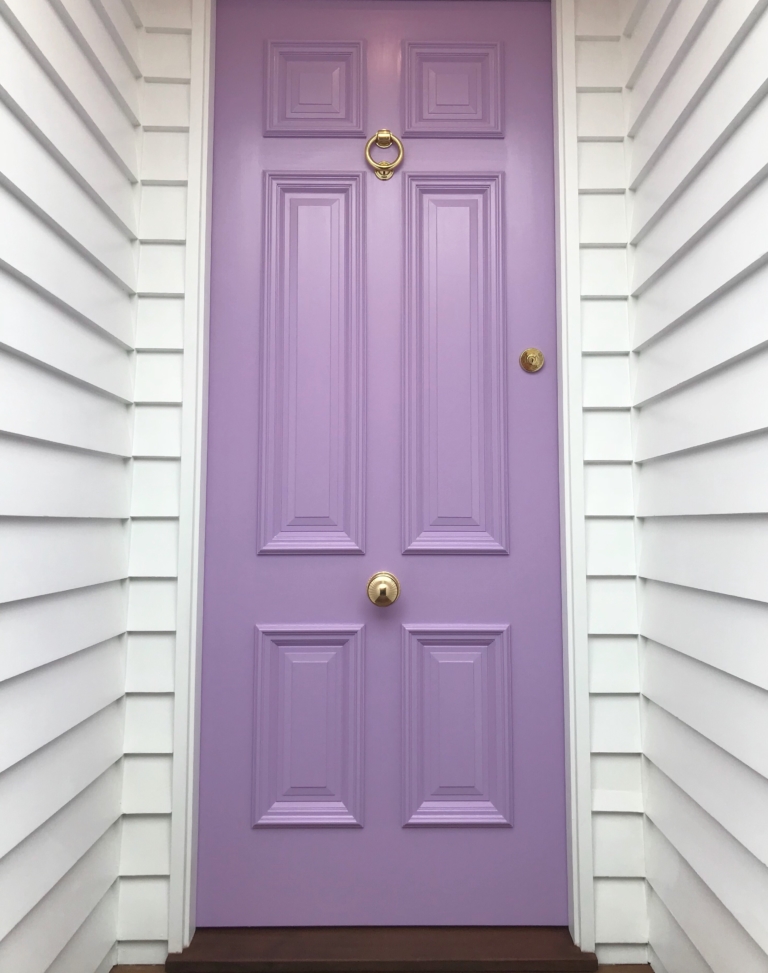 Little Willow's exterior was cute to begin with but now she's a knockout. We wanted to blend the Edwardian details with a hint of the Hamptons so it made sense to use a fresher palette instead of something more traditional. We opted for a crisp white as it blends the two eras and works well with our cool-toned décor. Is it too… plain? No way. It's striking in its simplicity, exuding an elegance and ease all its own. The two-toned roof provides more contrast than a Margaret Atwood novel and the landscaping continues to do its thing. Also, there's light purple wisteria around the breakfast balcony so that'll be all sorts of special come spring. #InstaWorthy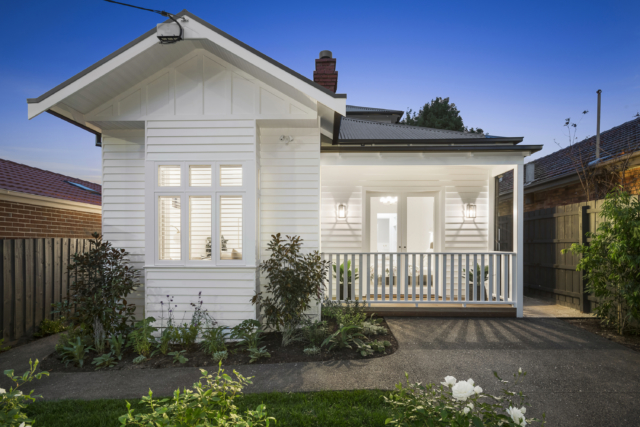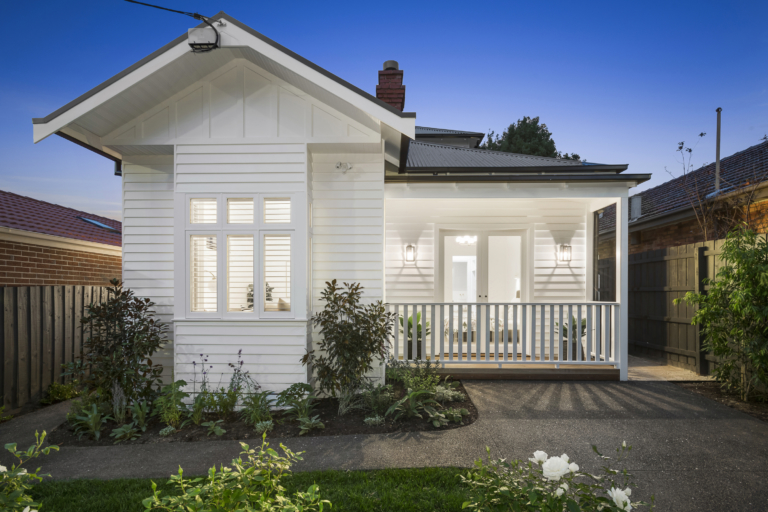 Well, gang, I think that's a wrap from me. We were hoping to flip another property in Melbourne this year but life has a funny way of turning things on their head. A few months ago Sash was offered a job in Seattle and after much debate, decided to take it. It's been an absolute whirlwind and we're still trying to catch our breath. Once Little Willow has sold, we'll reassess things. There's ample scope to build our business in the US so that's certainly on the cards. Our philosophy is simple – create something beautiful wherever you go. There's no reason that can't extend to the Pacific Northwest so watch this space.
Until then, thank you for showing Little Willow so much love. It's been a pleasure sharing it with you. Now cross your fingers for auction day!
Final inspection and auction details.
Julia xx
Photography: Marcel Aucar and Urban Angles
Check out the home's other reveals: Week 1 | Week 2 | Week 3 | Week 4 | Week 5 | Week 6