Kids, pets, shopping bags bumping against the wall – a busy hallway can take a battering. "Whilst it might not be a functional room, your hallway is a hardworking space that deserves decorative attention," says Andrea Lucena-Orr, Dulux colour and communications manager. "It's the first thing guests see and it sets the tone for the rest of your home." Is your hallway looking a little worse for wear? A fresh coat of paint and a few decorative tweaks can make all the difference.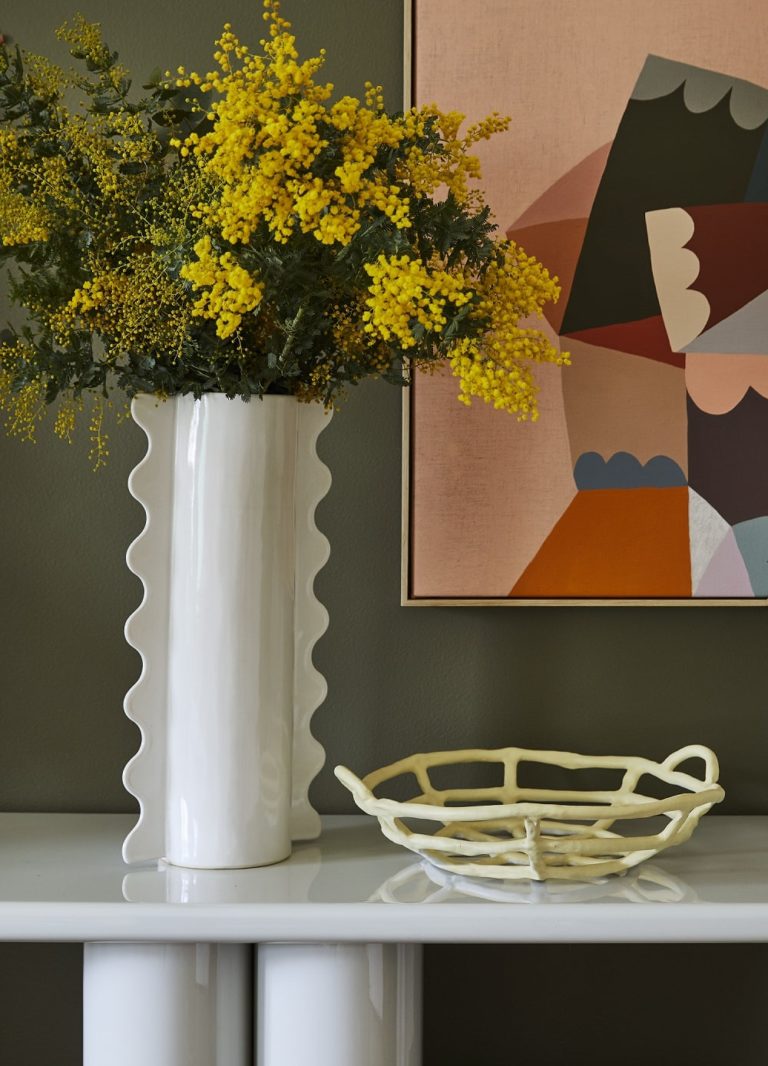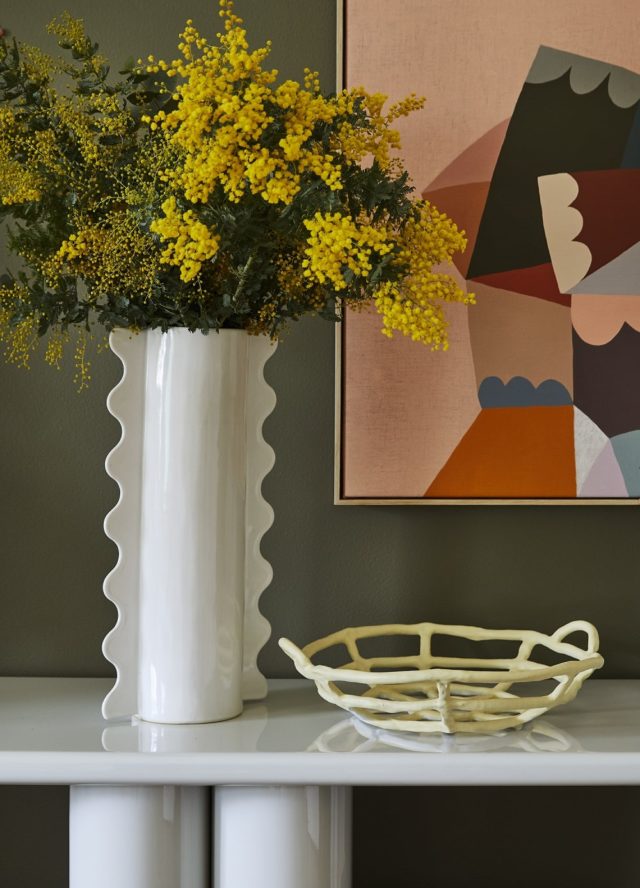 Stylist Julia Green gave a classic hallway three inviting looks using different palettes from the Dulux Colour Forecast 2021 to show you just how easy a refresh is to achieve. "This hallway had great bones – a high ceiling, decorative mouldings and trims, with a generous width – but it lacked energy. Being a relatively small space, it didn't take much time, effort or outlay to jazz it up, and livening up the colour was the perfect place to start," she said.
"Colour is such an emotional thing. It's really about identifying those hues you instinctively respond to and having the confidence to use them in your home. And remember – it's not a lifelong commitment. If you change your mind, you can simply paint over it."
Look 1
For the first look, she chose colours from the Reset palette to create a cosy and contemporary feel. She ran deep, dusty pink (Dulux Wash&Wear in Terra Rose) up to the picture rails, and warm white (Dulux Wash&Wear in Snowy Mountains Half) on the upper section of walls and the ceiling. She used the same white to highlight the beautiful original mouldings and trims.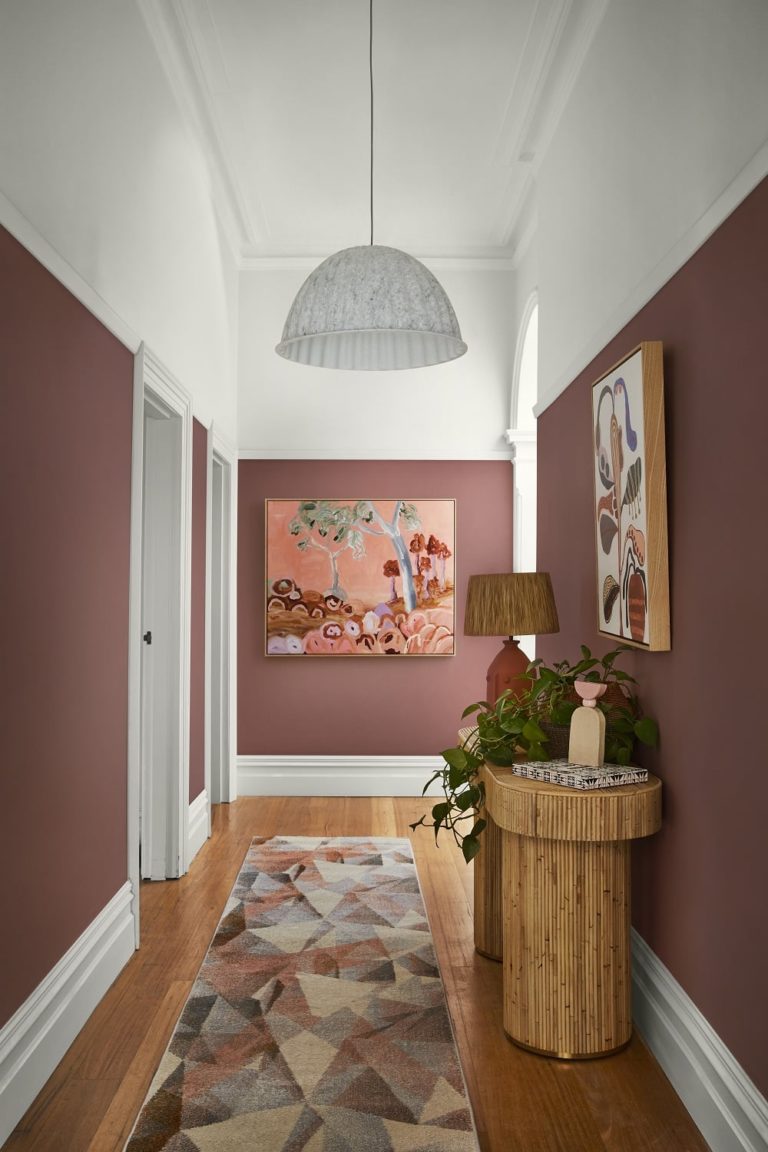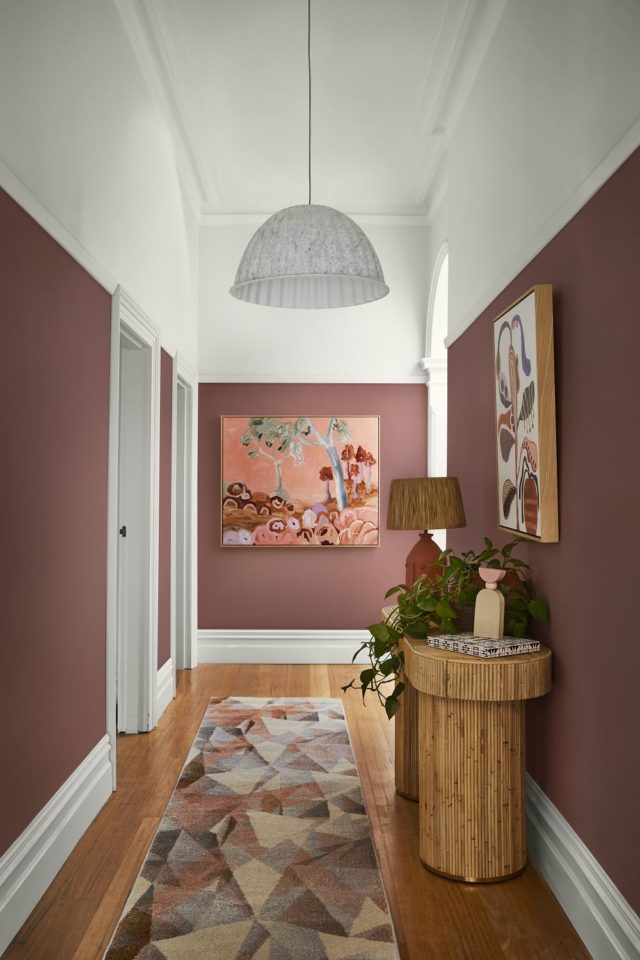 "Choosing a darker colour for the lower part of your walls can be a great way to disguise scuffs and marks, while a lighter colour above keeps your hallway feeling open and airy," Julia said. "A few smart styling touches completed this look. You don't want clutter in a busy hallway, so I kept my focal points to the walls, floor and console table. A joyful artwork at the end of the hall adds interest, whilst a geometric-patterned rug creates softness and hides a multitude of sins in a high traffic spot. All these elements are in tones of pink and coral, creating a lush, layered effect against the dusty pink walls.
"To create a cohesive feel, look for opportunities where you can replicate shapes and themes. Here, I chose a curvy console table that echoes the arched doorway. The ribbed base adds texture, whilst a pretty vignette consisting of a lamp, vessels and a trailing plant makes for an easy-to-achieve and eye-catching feature on the tabletop."
Look 2
"I wanted to give the second look a more luxurious feel whilst drawing attention to the home's original features, so I selected timeless colours from the Retreat palette. Rich bottle green (Dulux Wash&Wear in Mangrove) on the walls picks up on the tones in the stained-glass window, and warm white (Dulux Wash&Wear in Whisper White) above the picture rail keeps the entrance light and inviting.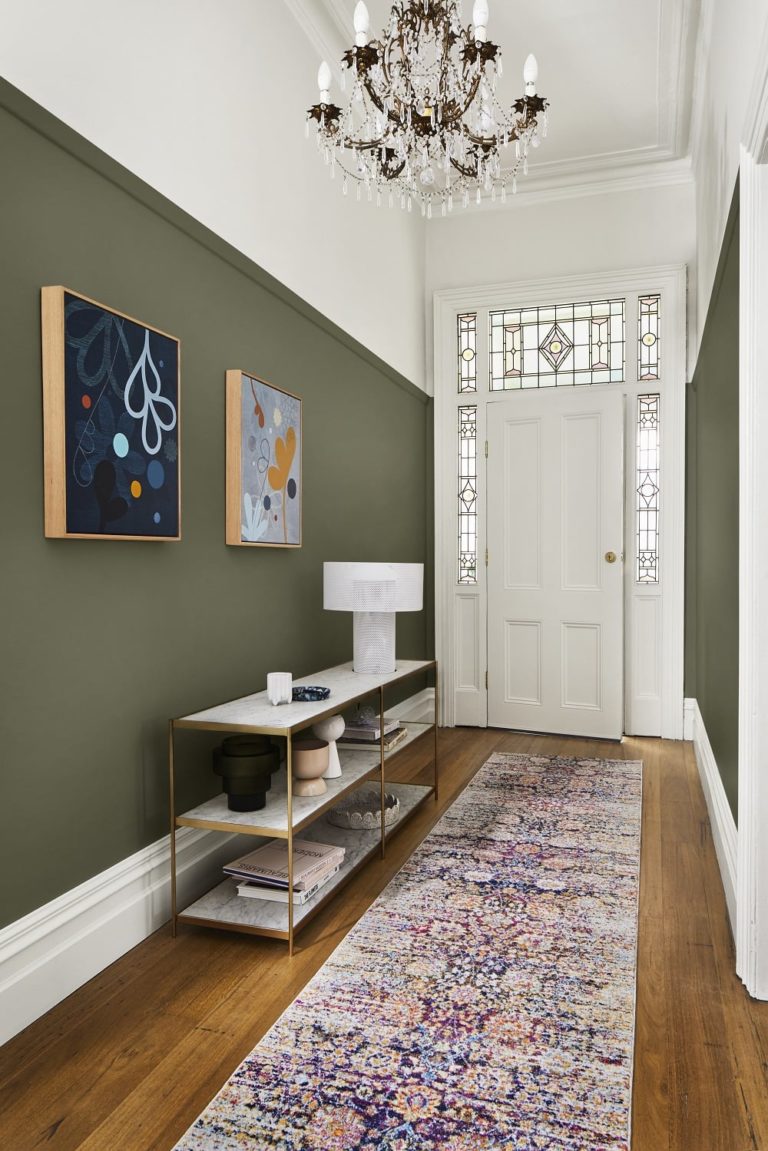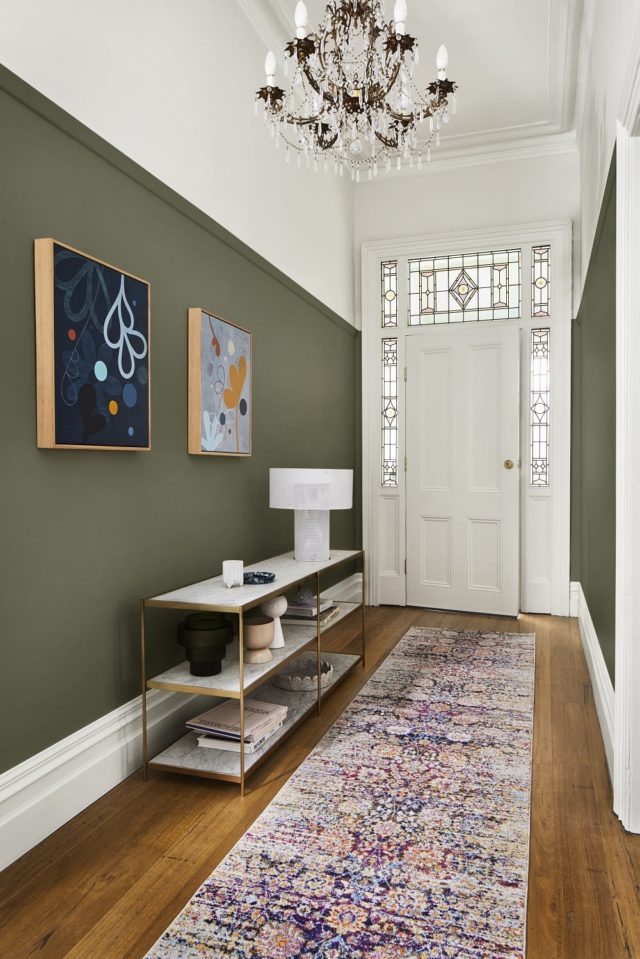 "Mixing old and new elements is a great way to add character. An ornate chandelier contrasts beautifully with a sleek modern table lamp, while graphic, contemporary artwork adds a touch of the unexpected. The old-meets-new runner has a traditional look, but in bright, modern colours.
"If space or budget is tight, invest in one or two pieces that really make an impact. Here, I splashed out on a marble and brass console – it feels luxurious and contrasts beautifully with the green walls," says Julia.
Look 3
"To provide a calm and comforting welcome, I chose soft, nature-inspired colours from the Nourish palette for the third look. These tones are incredibly easy to work with as they sit comfortably alongside the whites many of us already have in our homes. Plus, they bring a sense of the outside in – which you can emphasise by styling with natural textures and greenery.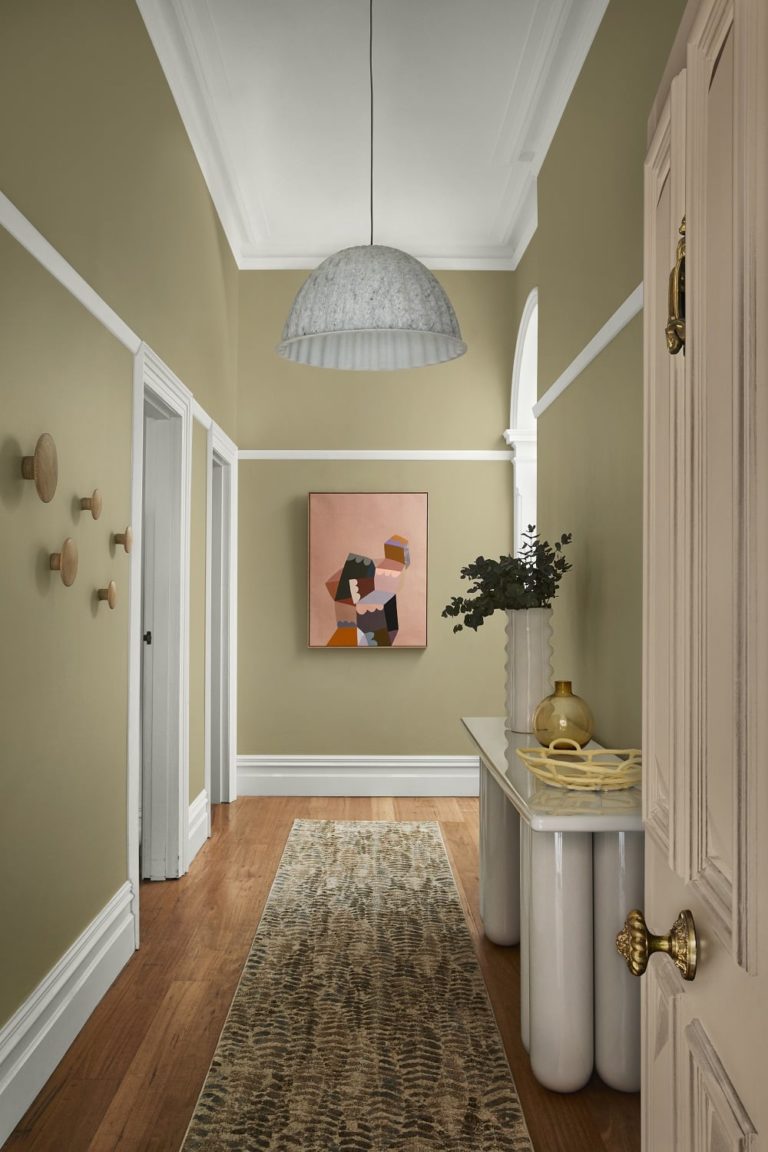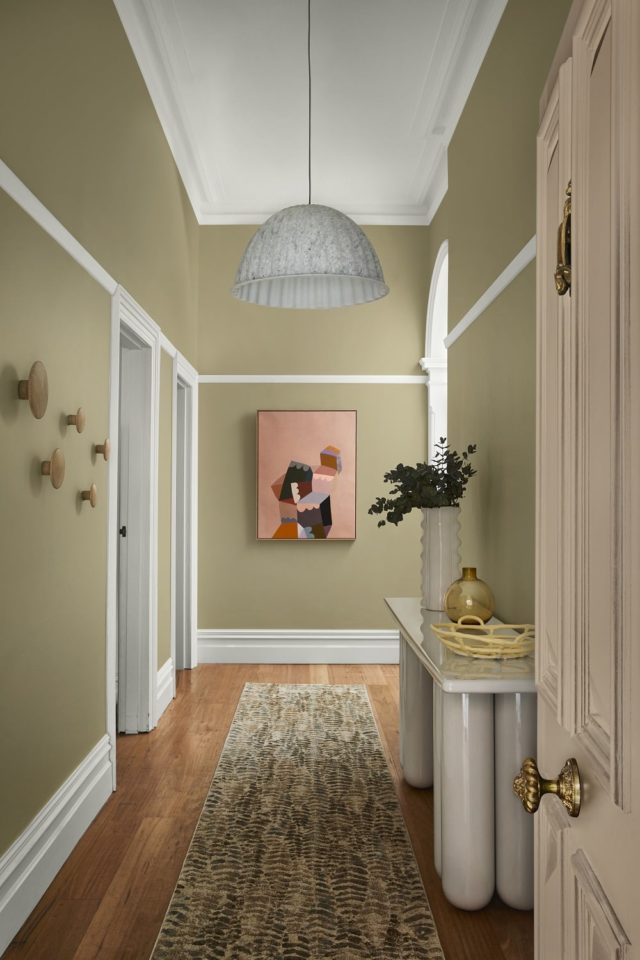 "I used soft pistachio on the walls (Dulux Wash&Wear in Sedia), pale pink (Dulux Aquanamel in Skip To) on the front door, and cool white with a neutral undertone (Dulux Wash&Wear in White Exchange Half) on the trims and ceiling.
"To boost functionality without sacrificing precious floor space, I added timber storage hooks to the walls for coats and bags.
"A bright and cheery painting picks up on the pink of the front door and draws guests into the home. I chose a console with curved legs to add volume without crowding the space, in a grey-white that matches the trims. A fern-print rug ties in with the natural theme, and its busy pattern means it won't show every bit of dirt and dust.
"Each of these looks took less than a day to create – and turned a drab hallway fab."
Which is your favourite?
Julia's top hallway styling tips
Create a focal point:
Draw guests into your home with a striking artwork, a gallery wall or a mirror at the end of the hallway.
Choose a durable paint finish:
Busy hallways require a tough, washable paint finish – Dulux Wash&Wear Low Sheen has a velvety finish and it's hardwearing and easy to clean.
Test it out:
Purchase a sample pot or colour sticker online and live with the colours for a few days.
Choose the right rug:
A robust, flatweave rug in a forgiving colourway is the best choice for a high-traffic area.
Light it right:
Add warmth with a layered lighting scheme consisting of overhead lighting and lamps at different heights.
Mirror magic:
Make a narrow hallway feel bigger and brighter with a strategically placed mirror.
White and bright:
One of the best ways to visually lift a low ceiling, bounce light into a space or for colour contrast is to have a white ceiling – from the picture rails to beyond.
Learn more about Dulux's 2021 Colour Forecast
Styling: Julia Green of Greenhouse Interiors | Photography: Armelle Habib