In exciting news for tech lovers, Google Home Max launches tomorrow and not only is it the loudest smart speaker yet from Google, it's also the best looking and debuts some fabulous new features.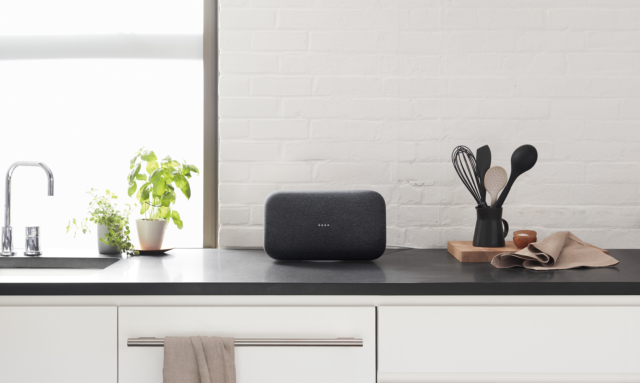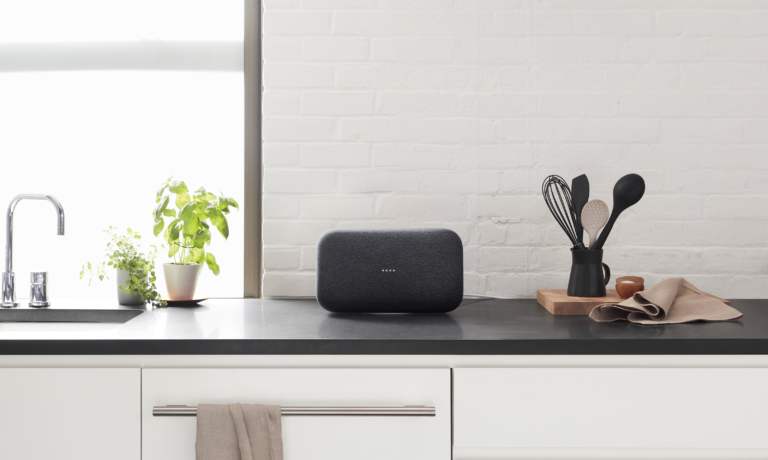 Smart Sound
The first Google speaker with Smart Sound, it's helpful to think of it as AI for your ears. Once you've set the speaker up, it adapts to your home environment and will automatically tune itself based on where you've placed it in the room. If you move it to the other side of the room it will adapt within seconds.
It's loud!
With two 4.5-inch woofers (each with 22mm of excursion), the speaker delivers an extremely high range for its size, with particularly powerful bass that sounds clean at high volumes. And at 20 times more powerful than the original Google Home, this little guy is extremely loud and will fill any room with pumping audio.
It's super stylish
If you could call a speaker beautiful, with its minimal lines, Google Home Max certainly is. And not only can you stand it up vertically or place it horizontally to fit in your space, it's made from gorgeous, durable fabric too.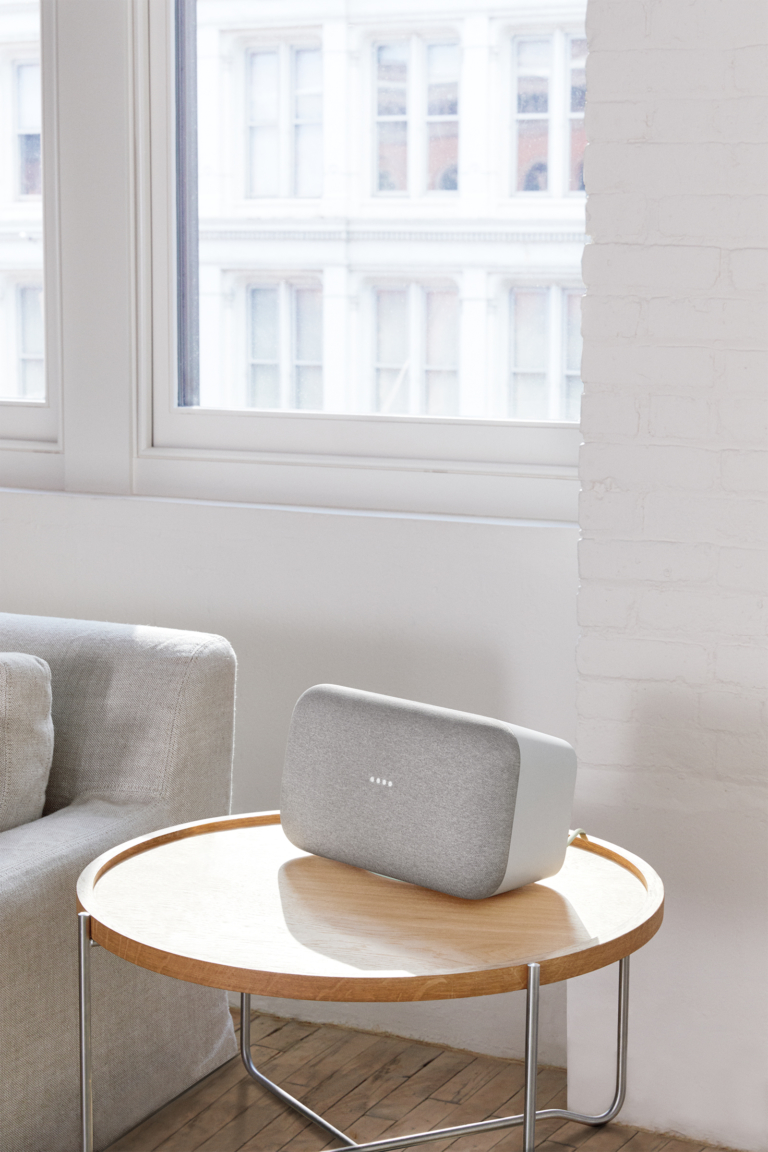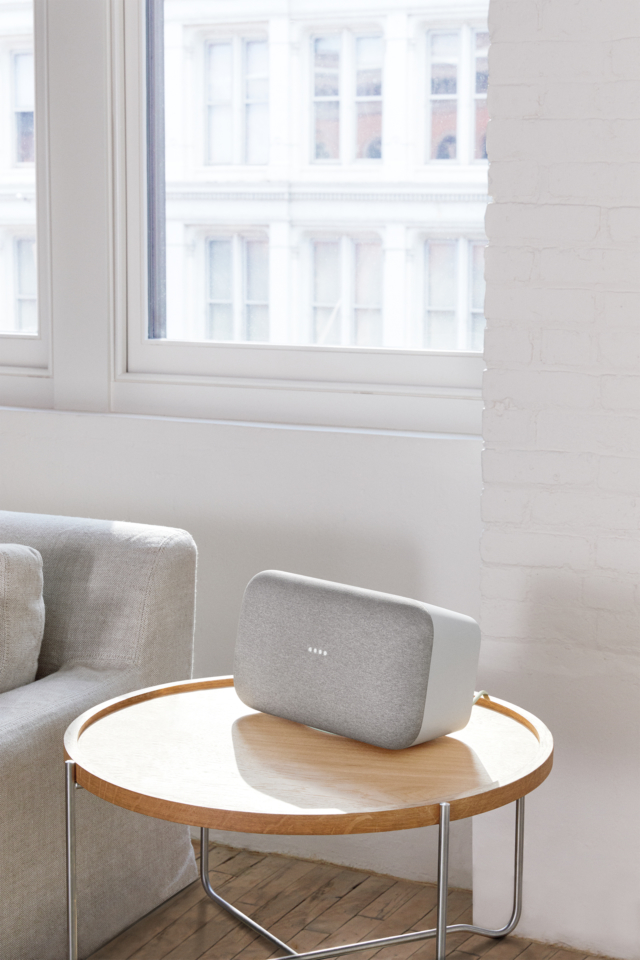 Voice technology
Google Home Max contains a built-in Google Assistant that is always ready to start your favourite song, pause or turn it up – all with just your voice. Possibly the coolest function is the Assistant's ability to find a song with just a line of the lyrics or a few small details. Just ask "Hey Google, play that song that goes, 'Rebel just for kicks,'" for instance. What's even more impressive about this functionality is that it works even when the speaker is blasting. The technology is able to separate your voice from the background noise, even if you're across the room!
Using the Voice Match technology, the Google Assistant can recognise your voice and up to five others within your home so you can all access your music services and personal playlists. When Voice Match is set up, the Assistant will play your favourite playlist, and not your partner's, for example.
Endless music options
You can use your voice to play music services such as Spotify or YouTube Music through the speaker. Through casting, you can access hundreds of compatible apps to stream in high-quality over Wi-Fi from your phone, tablet or laptop. You can also listen to songs over Bluetooth, or plug in your record player using an analogue stereo cable.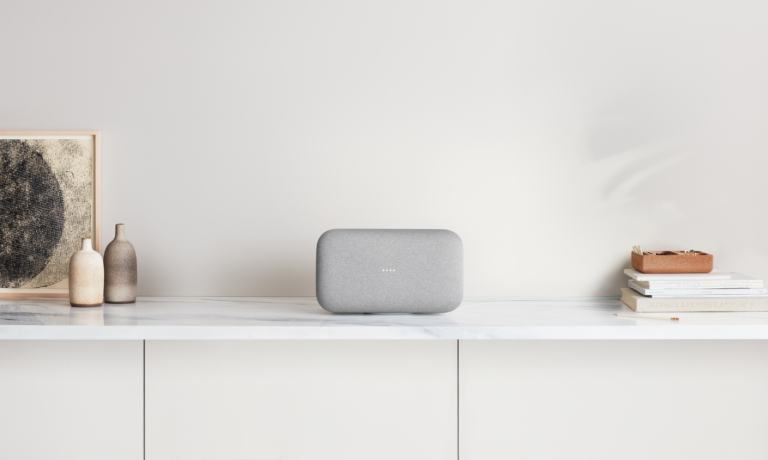 Seamless pairing throughout the home
Google Max works seamlessly with Google Home, Google Home Mini and hundreds of Chromecast built-in speakers. All you have to do is create a speaker group in the Google Home app and you can play the same song in sync on all the compatible speakers in your home. You can also stereo pair another Google Max for an even wider soundstage.
Control your smart home
You can make the speaker the centre of your smart home as it works with more than 5000 devices worldwide, and more than 100 home automation devices from more than 50 brands in Australia including Nest, Belkin TP-Link and Phillips Hue.
Also, if you have a compatible smart plug and bulbs, try saying, "Hey Google, dim the lights, play a summer time playlist," for impressive multi-tasking.
Google Home Max, RRP $549, is available from JB Hi-Fi, Harvey Norman, David Jones, The Good Guys, Officeworks and The Google Store. 
REVIEW TIME: Jen just got her hands on a speaker to review and her husband Damian, a former consumer tech journalist, will be reviewing it for us later this month! They're already fans of the affordable Google Home Mini but let's face it, it's not the best sound quality!