If you've resolved to eat a little more mindfully this month (and who hasn't?) then you're going to love this delicious, carb-free "faux pho" from Williams-Sonoma. Rest assured, you won't miss the noodles. Unconvinced? If you've never tried fresh zucchini noodles (made using a spiralizer), then your scepticism is understandable. But trust me, the spiralizer magically transforms the firm flesh of the zucchini into long, curly strands, which soften to the perfect al dente texture when combined with the hot, hearty stock.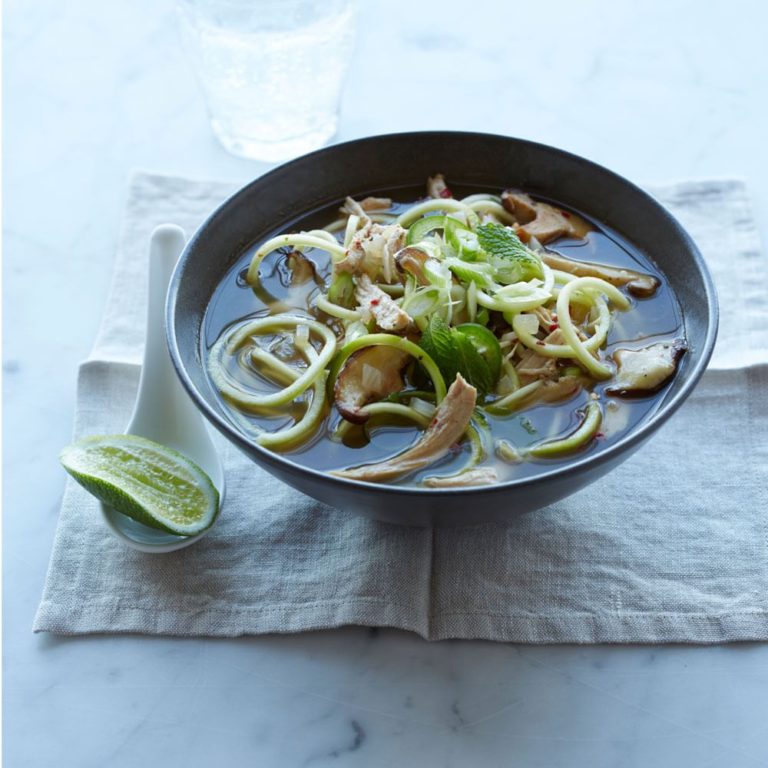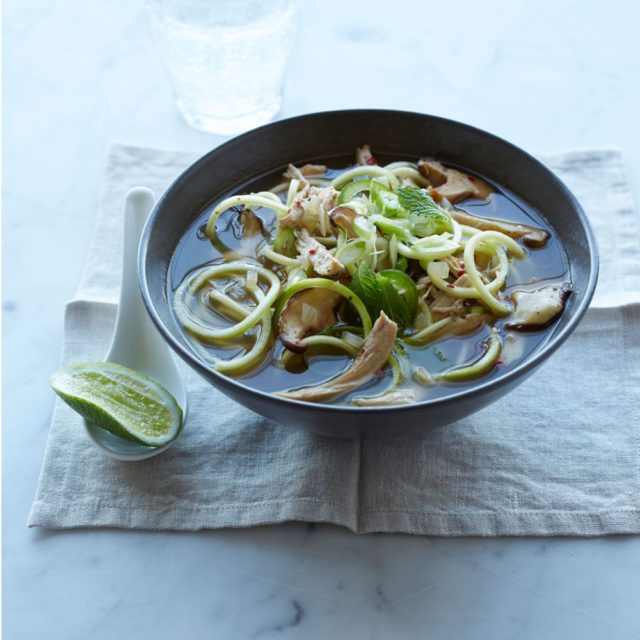 The spiralized faux noodles aren't the only cheeky shortcut in this simple take on a traditional pho. In the authentic Vietnamese version, the stock would be carefully and lovingly prepared over many hours, producing a rich and flavoursome broth with plenty of complexity. This cheat's version is still packed with plenty of flavour and health-giving nutrients thanks to the ample quantities of fresh veggies, herbs and spices. And if you're really short on time, it can be made in a snap using good quality store-bought chicken stock and leftover roast chicken.
STYLING TIP Two words: big bowls. The key to a satisfying faux pho is generosity. Lovely deep bowls like these are perfect, and be sure to have plenty of extra chilli, herbs and lime wedges on hand so everyone can flavour their pho to taste. Chopsticks and ceramic soup spoons will really make the "faux" feel real. Happy slurping!
Ingredients
2 tbsp olive oil
1 onion, finely chopped
2 tsp finely chopped garlic
250 g shiitake mushrooms, stemmed and thinly sliced
1 star anise
1/4 tsp ground cinnamon
Pinch of chilli flakes
2 bone-in, skin-on chicken breasts, about 750 g total
6 cups (1.5 litre) chicken stock
1.5 cm piece fresh ginger, sliced into coins
Pinch of salt
2 tsp fish sauce
500 g zucchini, trimmed and run through the fine grates of a spiralizer
Your choice of sliced spring onions, sliced jalapeño chilli, fresh mint leaves and lime wedges for serving.
Method
In a large pot over medium-high heat, warm the olive oil. Add the onion and cook, stirring occasionally, until the onions are translucent, about 3 minutes. Add the garlic and mushrooms and continue cooking until the mushrooms soften, about 3 minutes. Add the star anise, cinnamon and chilli flakes and cook for 30 seconds more. Add the chicken, chicken stock, ginger and salt. Bring the mixture to the boil, then reduce to the simmer. Cook until the chicken is cooked through, about 25 minutes.
Using tongs, remove the chicken breasts from the liquid and transfer to a plate. Let cool slightly, then carefully remove the skin from the chicken and discard. Remove the meat from the bones and tear into bite-size pieces.
Add the shredded chicken, fish sauce and zucchini noodles to the pot and stir to combine. Serve immediately with your choice of spring onions, jalapeño chilli, mint leaves and lime wedges. Serves 4.
–If you have a New Year's resolution to cook more at home and eat out less, book yourself into a class at the Williams-Sonoma Sydney Cooking School. There's a range of classes for both beginners and experienced cooks, where you can up your culinary game in a fun and relaxing environment.