Our love affair with Vietnamese pho continues and this recipe features a distinctly Australian spin on the dish courtesy of Australian Lamb. Rather paradoxically, research has also found that eating spicy food can help you cool down in the heat. Essentially chilli triggers an immediate response from the thermoregulatory system making your body sweat, which in turn cools down your body as sweat turns to water vapour. Genius!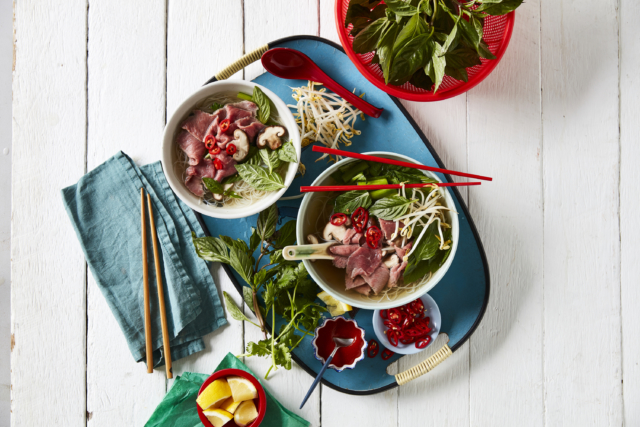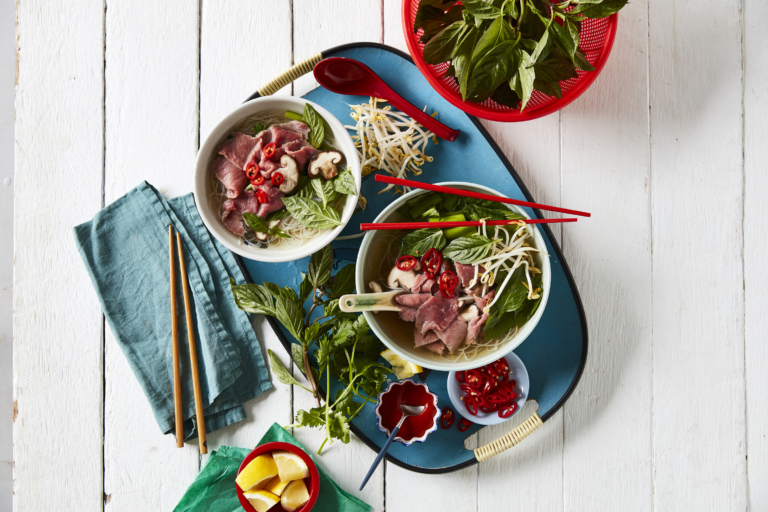 Serves: 4
Preparation time: 10 minutes
Cooking time: 25 minutes
Ingredients
400g lean lamb backstrap, very thinly sliced
200g dried vermicelli noodles
1.5L (6 cups) vegetable stock
5cm piece fresh ginger, thinly sliced
3 star anise
1 cinnamon stick
1/4 cup (60ml) fish sauce
3 green onions, cut into 3cm lengths
1 bunch Asian greens, cut into 3cm lengths
150g Asian mushrooms, thinly sliced
250g bean sprouts
Long red chilli (thinly sliced), coriander, Thai basil leaves, hot chilli sauce and lemon wedges to serve
Method
Prepare noodles according to packet instructions. Drain and set aside.
Meanwhile, place stock into a large saucepan. Add two cups (500ml) water, ginger, star anise, cinnamon and fish sauce. Bring to the boil over high heat before reducing heat to a simmer. Simmer, uncovered, for 20 minutes. Strain broth and return to pan. Return broth to the boil, add onions, greens and mushrooms and simmer for 2-3 minutes or until softened.
Divide noodles and 3/4 of sprouts between four large soup bowls. Top with lamb and ladle over hot broth. Serve topped with remaining sprouts and your choice of sliced chilli, coriander, Thai basil, chilli sauce and lemon wedges.
Extra tips
Depending on how much heat you want, you could substitute the hot chilli sauce for sweet chilli sauce.
To achieve that essential finely shaved texture, place the meat in the freezer for 15 minutes before slicing to achieve paper-thin slices.
For tender lamb, ensure you slice the meat against the grain.
Lamb rump, backstrap or leg steaks would also work well in this recipe.
Serve with hoisin sauce, if desired, for extra sweetness.