Styled on the brand's colourful new range Majolica, today's tasty vegetarian recipe (vege-packed tacos) is brought to us by Maxwell Williams. Inspired by the traditional Italian majolica tin-glazed ceramics, this statement table top collection features bold floral designs perfect for a communal feast.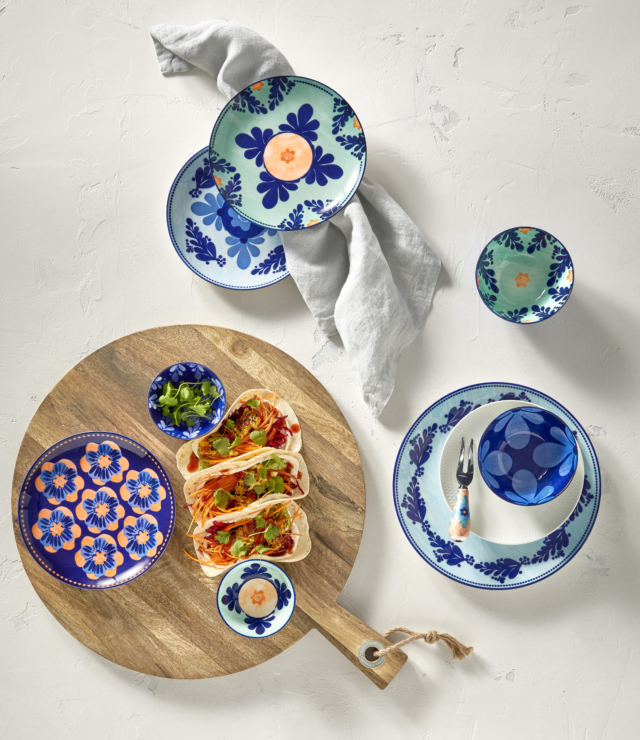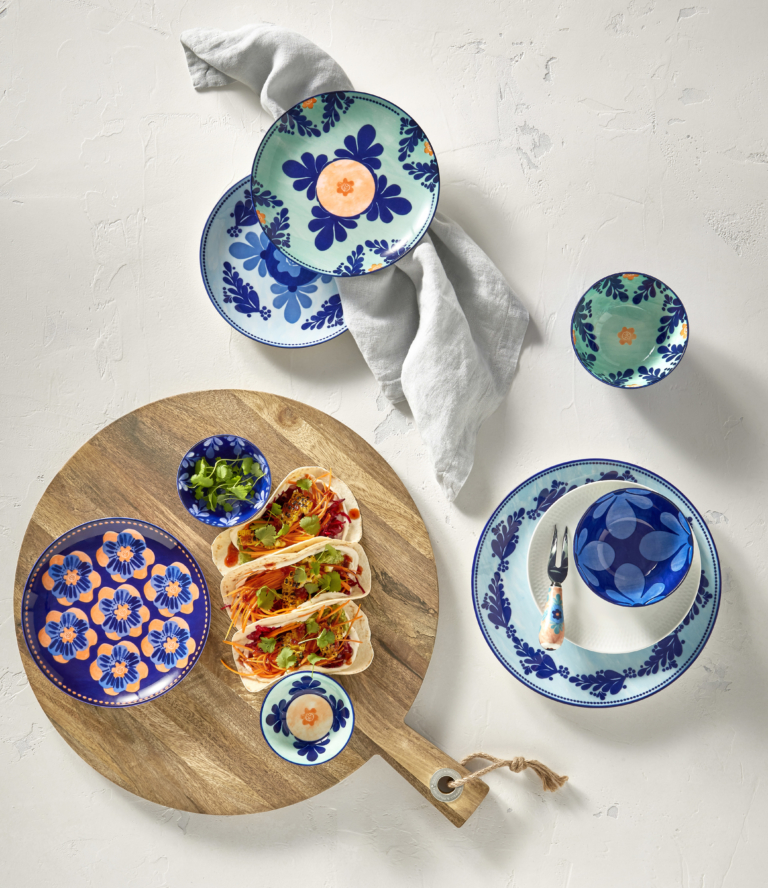 Preparation: 15 minutes | Cooking time: 20 minutes | Serves: 6
Ingredients
2 corn cobs
Olive oil spray
1 carrot, julienned
2 avocados, mashed
Juice of 1 lime
Salt & pepper to taste
12 tortillas
200g sour cream
Red cabbage pickle
To garnish
Coriander sprigs
Chilli sliced – optional
Chilli sauce drizzle – optional
Method
1. Bring a pot of water to the boil. Add corn cobs and simmer for 10 mins. Drain and set aside.
2. Heat the grill pan on high heat. Lightly spray cobs with olive oil and chargrill on all sides. Set aside to cool, then cut corn off the cob. Set aside.
3. Julienne the carrot, cover and set aside. Peel and de-seed avocados then, in a small bowl, mash the avocados with a fork. Add the lime juice and season to taste. Set aside.
4. Lightly toast tortillas on either side in a pan or on a grill plate. Your tacos are ready to assemble. Cool slightly in the trays, then invert onto a wire rack to cool completely.
5. On top of the warmed tortillas spread a generous spoonful of sour cream. Dollop the avocado, add the pickled cabbage, julienned carrot and grilled corn.
6. Top with a garnish of coriander (for a spicier finish add chilli and a drizzle of chilli sauce.)