This delicious feast of twice cooked Jacks Creek Wagyu short rib, turmeric, chilli and grilled flat bread was created by Louis Tikaram for Jacob's Creek. This light aromatic coconut-based curry from Thailand is a great way to showcase beautiful braised meat. The Thai flavours and use of fresh Aussie ingredients are inspired by his multicultural background and experience with cooking both here and in LA.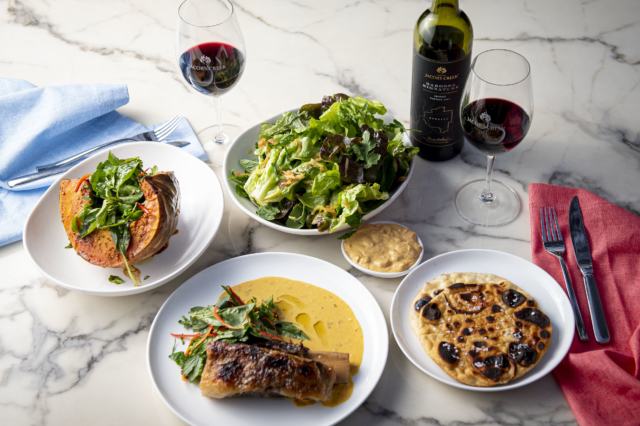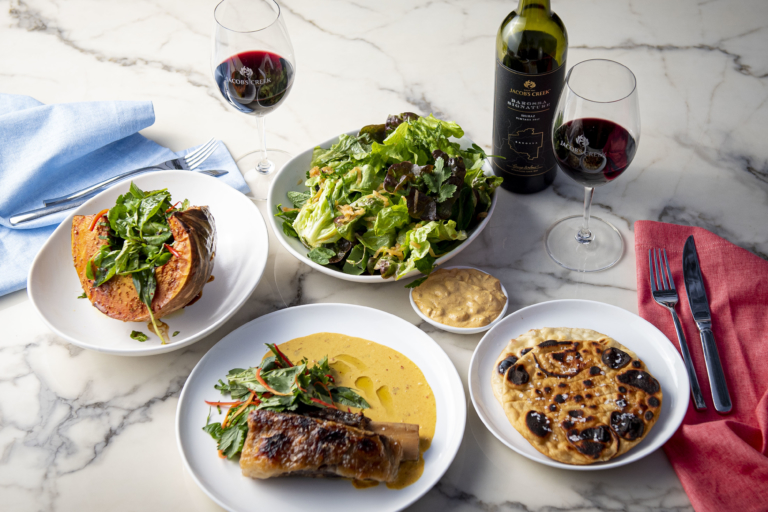 Dan Swincer, chief winemaker at Jacob's Creek, recommends pairing with Jacob's Creek Barossa Cabernet Sauvignon and Jacob's Creek Barossa Signature Shiraz.
Serves: 4 as part of a shared meal
For the braised beef rib
Ingredients
2 pieces of Jacks Creek beef short ribs (bone in)
2 litres chicken stock
150ml fish sauce
150ml oyster sauce
2 tablespoons of sugar
2 sticks lemon grass (bruised)
1 hand full kaffir lime leaf
1 knob galangal
2 red birds eye chilies
Method
Bring all the ingredients to the boil and let simmer for 10 minutes to infuse the flavors.
Preheat the oven to 180 degrees.
Place the short ribs into a baking dish and pour the aromatic broth over the top include the lemongrass and other ingredients to braise with the beef.
Cover with grease prof paper and foil then braise for 3 hours.
The rib bone should move freely from the piece of meat when it is ready.
Remove from the liquid and cool on a wire rack, this step can be done a day before and refrigerated if necessary.
To finish
Chargrill the ribs on a BBQ or wood fired grill or you could simply pan fry them in a heavy based fry pan or grill plate on the stove till they are caramelized with a good char on the outside this should take at least 5 minutes frequently turning.
Curry paste
Ingredients
1.5 Cup dry long red chilli peppers, seeded.
1-cup galangal peeled and sliced.
1-cup lemongrass outer tough leaves removed and sliced.
0.5-cup turmeric peeled and sliced
0.5-cup garlic peeled.
0.5 cup sliced wild ginger (Karachi) *You can find this at your Asian grocer in a small jar
1 tbsp. cup shrimp paste
Method
Soak the dry seeded chillies in warm water for 20 minutes then drain and add all the ingredients together, blend in a food processor until a smooth uniformed paste, if too dry add a little water to help blend.
Turmeric and coconut curry sauce
Ingredients
2 x braised short ribs (recipe above)
1 x liter Chicken stock
1 x cup Coconut cream
2 x Lemongrass stick
¼ cup x Kaffir Lime leaf (whole)
2 tbsp. Tamarind liquid
2 tbsp. Fish Sauce
2 tbsp. Oyster sauce
1 tbsp. white Sugar
½ cup coriander leaves
½ cup Thai Basil leaves
2 x Fresh long red chilies (sliced)
Method
Bring stock & coconut cream to the boil in a medium sized saucepan with lemongrass & lime leaf to infuse.
Once boiling add 4tbps of curry paste and cook till aromatic and no longer tastes raw.
Season the broth with oyster sauce, fish sauce, tamarind and sugar then let boil for 5 minutes.
Adjust the seasoning if necessary; serve with the braised short rib and a fresh herb salad of Thai basil, coriander and sliced long red chilli.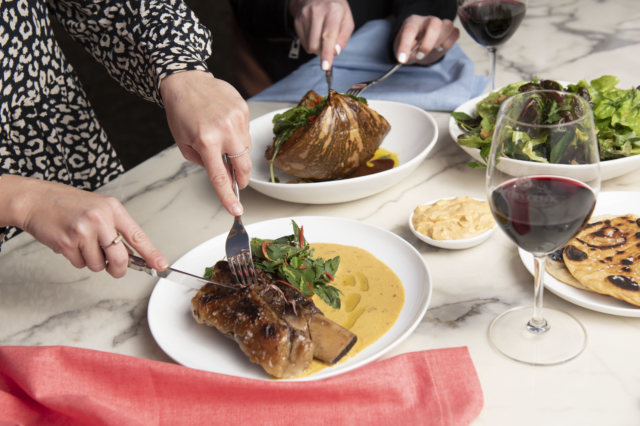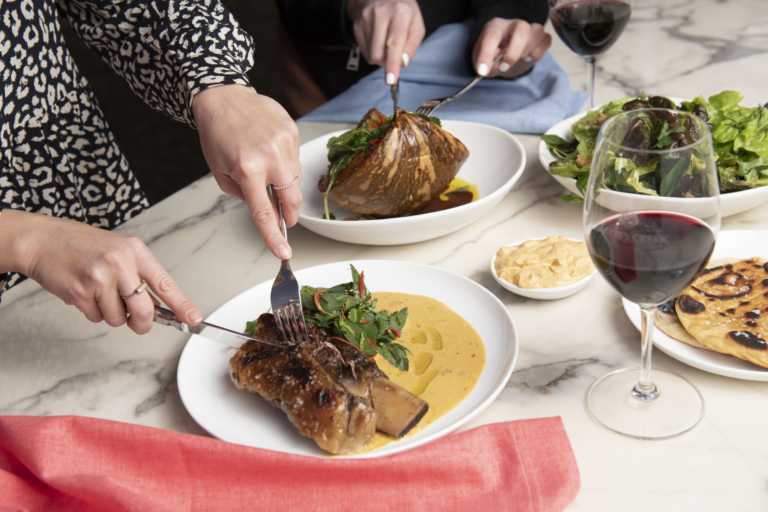 Flatbreads
Ingredients
*Makes 12 flatbreads
350g self-raising flour, plus extra for dusting
1-teaspoon baking powder
350g natural yoghurt
Method
Add all the flatbread ingredients to a mixing bowl and mix together with a spoon, then use clean hands to pat and bring everything together.
Dust a clean work surface with flour, tip out the dough.
Knead for a minute or so to bring it all together (this isn't a traditional bread recipe, so you don't need to knead it for long – just enough time to bring everything together).
Put the dough into a floured-dusted bowl and cover with a plate, for 30 min.
Dust a clean work surface and rolling pin with flour, then divide the dough in half. Then further divide each half into 6 equal-sized pieces (roughly the size of a golf ball).
With your hands, pat and flatten the dough, then use a rolling pin to roll each piece into 12cm rounds, roughly 2mm to 3mm thick.
Use a knife to cut 6 lines into the centre of each round, leaving about 3cm at each end.
Cook on the flat top for 1 to 2 minutes on each side, or until bar-marked and puffed up.
Brush the flatbreads all over with ghee or butter & serve immediately.
TIPS:
In this recipe I am using Australian beef short ribs, though you could substitute it with and kind of fish, chicken or even squid.
In my kitchens we make all our curry pastes fresh daily, it is an expensive and labour intensive process though the result is delicious, when I am making a quick curry at home I use a store bought yellow curry paste which does the job.