If you, like us, are an interiors addict (we already know the answer to that one!), then it won't take much scrolling through your social media feed before you're inundated with inspiring images of pumpkins gracing door stoops and mantels. For our North American friends, the pumpkin is a symbol of their current autumn season, and a stalwart of both Halloween and Thanksgiving celebrations.
Here in Australia, we're fortunate that fresh pumpkins are available year-round, but it might be for that very reason that we tend to take them a little for granted. Pumpkin soup aside, when was the last time you made pumpkin the star of your meal?
The great thing about this Thai Pumpkin Curry from Williams-Sonoma is that you can really amp up the spice and Thai flavours to suit your preference. It's also incredibly easy, making it a great option for weeknight dinners or as an extra dinner party dish to cater to vegetarian friends.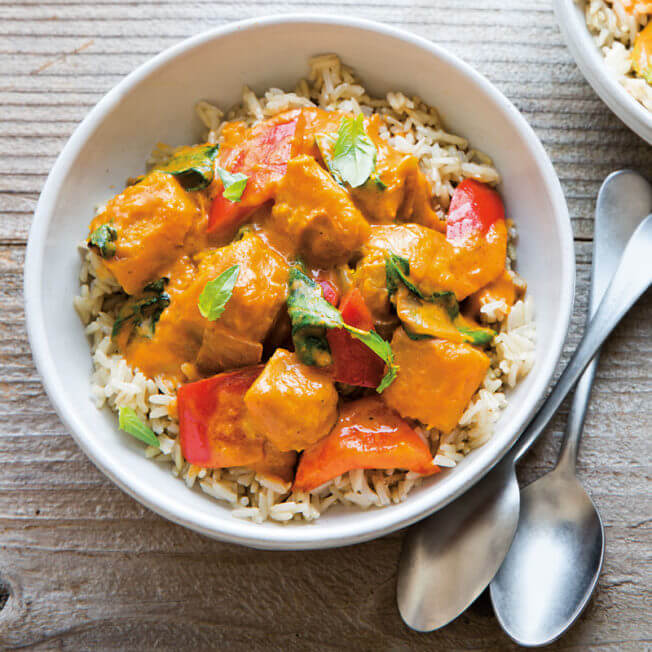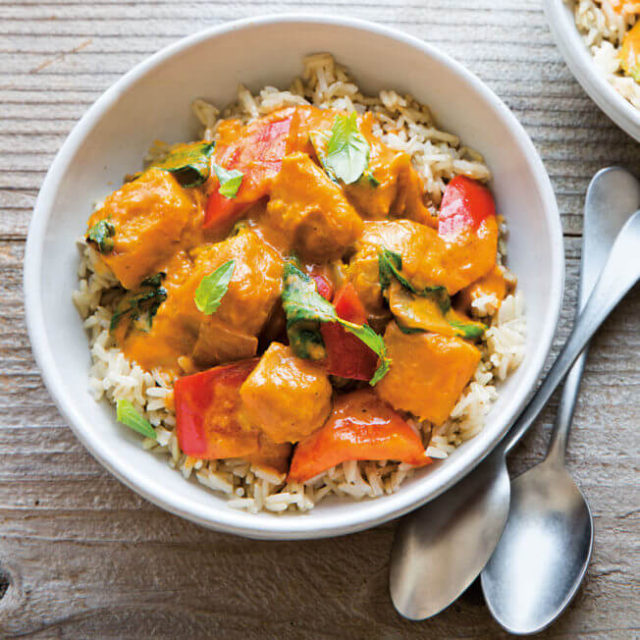 If you really want to be organised, make it a day or two ahead of time and keep it stored in a covered container in the fridge – it will become even tastier with time. Serve with steamed white or brown rice and, to really round out the meal, a side of green beans sautéed in a bit of vegetable oil and a few drops of sesame oil. 
Ingredients
600 gm pumpkin, cut into 2-3cm cubes

2 Tbsp canola or vegetable oil

1 small onion, cut into large chunks

1 red capsicum, seeded and cut into 2-3cm pieces

Salt and freshly ground pepper

2½ Tbsp of your favourite yellow or red Thai curry paste

1 can (400ml) coconut milk

1 cup (250 ml) low-salt vegetable stock

1/4 cup fresh Thai basil leaves (or use regular basil)

Steamed rice for serving
Method
Bring a large pot of generously salted water to the boil over high heat. Add the pumpkin and cook until soft but not completely cooked, about 5 minutes. Drain well and set aside.
In a heavy saucepan over medium-high heat, warm the canola oil. Add the onion and capsicum, season with salt and pepper, and sauté, stirring occasionally, until soft, about 6 minutes. Add the pumpkin and curry paste, stir until the vegetables are well coated with the curry paste, and cook for 2 minutes longer.
Add the coconut milk and vegetable stock and bring to the boil. Reduce the heat to low and simmer until the pumpkin is fork-tender but still holds its shape, about 15 minutes. Stir in the basil and season to taste with salt and pepper. Ladle into bowls over steamed rice and serve hot.
Serves 4 to 6. 
This recipe is adapted from one in What's for Dinner: School Night by Kate McMillan, available online from Williams-Sonoma.