This is a fast and easy dish perfect for any weeknight dinner, from the Williams Sonoma test kitchen. Larb is a much-loved South-East Asian salad that can be made with almost any type of minced meat. Here, we use chicken, and wrap the savoury meat mixture in lettuce leaves for a fresh and light take on this dish. For a casual dinner, place the chicken mixture, lettuce leaves and garnishes on the table and let diners help themselves.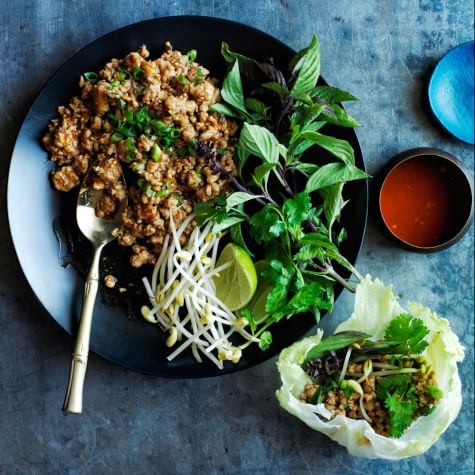 Ingredients
6 Tbs. (80 ml) soy sauce
2 Tbs. rice vinegar
2 Tbs. sesame oil
1 Tbs. fish sauce
2 tsp. sugar
Juice of 1/2 lime
2 Tbs. vegetable oil
1/2 cup thinly sliced green shallots, white and light green portions
1 1/2 Tbs. peeled and grated fresh ginger
2 garlic cloves, minced
1/2 tsp. chilli flakes
625 g minced chicken
Lettuce leaves for serving
Bean sprouts and fresh coriander and Thai basil leaves for serving
Method
In a bowl, stir together the soy sauce, rice vinegar, sesame oil, fish sauce, sugar and lime juice. Set aside.
In a wok or large fry pan over medium-high heat, warm the oil. Add the shallots, ginger, garlic and chilli flakes and cook, stirring constantly, until fragrant, about 2 minutes.
Add the chicken and cook, stirring occasionally, until the chicken is no longer pink, about 5 minutes.
Add half the soy sauce mixture and cook 1 minute more.
To serve, spoon about 3 Tbs. of the chicken mixture into a lettuce leaf, top with bean sprouts, coriander and basil, and wrap the lettuce around the filling. Repeat with the remaining chicken mixture, lettuce leaves, and garnishes, or allow diners to assemble their lettuce wraps themselves at the table.
Serve the remaining soy sauce mixture alongside for dipping.
Serves 4.