Doesn't this look delicious? The team at Williams-Sonoma know that nothing beats a steaming bowl of savoury noodle soup, especially when it's laden with mountains of fresh and delicious ingredients. 
Slowly simmering onions, ginger, garlic and miso paste in water creates an easy, savoury broth that forms the basis for this comforting, Japanese-inspired recipe. A beautiful cut of seared steak is the centrepiece here, and a little goes a long way.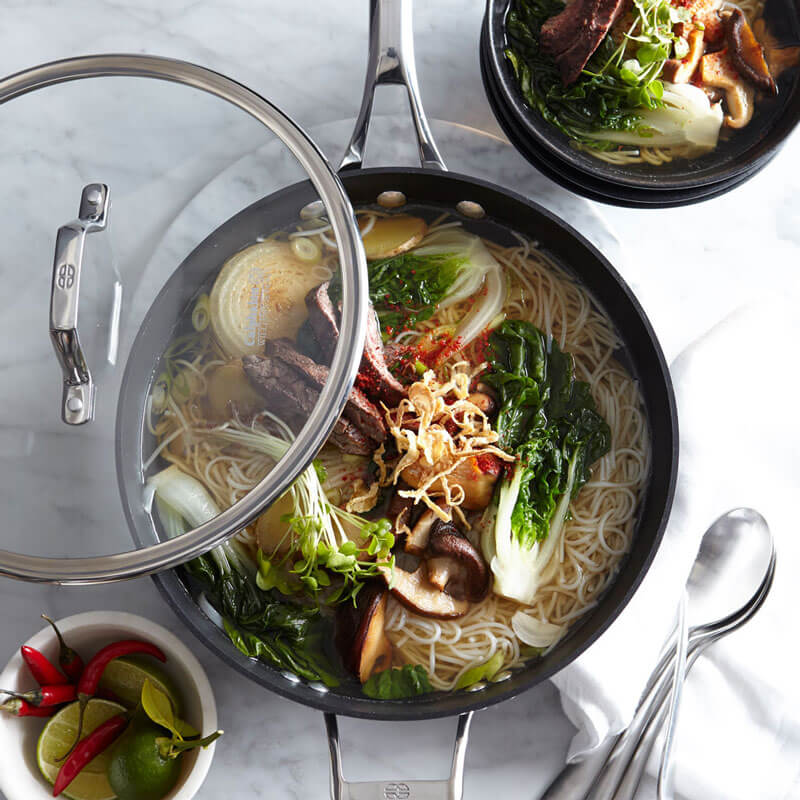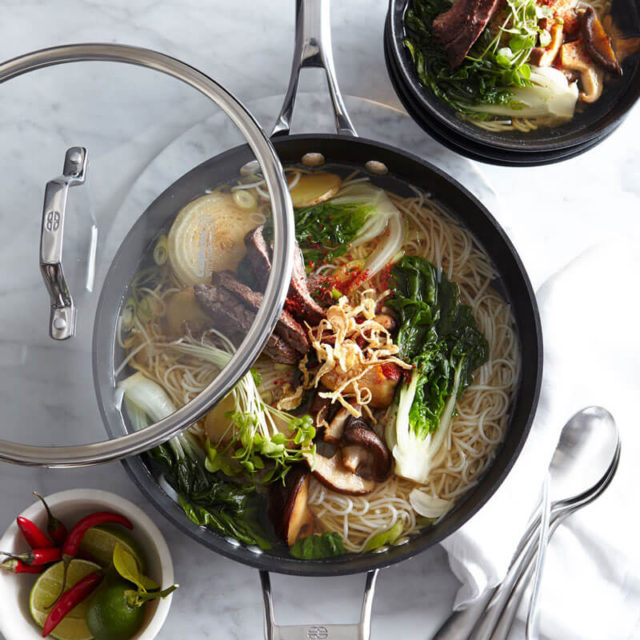 It might seem like a lot of other ingredients are required, but they all take only simple preparation, making this a perfect recipe for a weeknight dinner. To save time, you could always prepare the stock a day ahead, refrigerate it and simply bring it back to the boil when you are ready.
Togarashi, the Japanese condiment that typically includes chilli flakes, sesame seeds, seaweed flakes and other seasonings, can be found at most supermarkets or your local Asian grocer along with white miso paste.
Serving suggestion? It's hard to go past these gorgeous ramen bowls in indigo, paired simply with chopsticks and ceramic soup spoons. Have flavoursome garnishes on offer at the table, such as the togarashi, fresh coriander, lime and chopped fresh chilli, so everybody can tune their meal to their own taste.
Serves 4
Ingredients
4 Tbsp (80 ml) canola oil

1 onion, peeled and halved

5 cm piece of fresh ginger, thinly sliced

2 garlic cloves, thinly sliced

3 spring onions, white and light green portions, thinly sliced

250 g fresh shiitake mushrooms, thickly sliced

1/4 cup (60 g) white miso paste

1 Tbsp soy sauce, plus more to taste

220 g thin dried rice noodles

500 g flank or skirt steak

2 baby bok choy, ends trimmed, halved lengthwise

Radish sprouts, for serving (optional, or substitute bean sprouts)

Lime wedges, for serving

1 jalapeño chilli, thinly sliced

Chopped fresh coriander, for serving

Togarashi, for serving
Method
In a large saucepan over medium-high heat, warm 1 Tbsp of the canola oil. Place the onion halves, flat side down, in the pan and sear until golden brown, about 4 minutes. Add the ginger, garlic and spring onions and cook, stirring, until fragrant, about 1 minute. Add 2 litres water and bring to the boil. Reduce the heat to low and stir in the miso and soy sauce until dissolved. Simmer for 30 minutes until the flavours deepen. Season to taste with more soy sauce. Keep warm until ready to serve.
Meanwhile, cook the rice noodles according to the packet instructions. Divide among four individual bowls.
In a large sauté pan over medium-high heat, warm 1 Tbsp of the canola oil. Add the steak and sear, turning once, until browned on both sides and medium-rare in the centre, about 3 minutes per side. Transfer to a shopping board and cover loosely with foil. Set aside to rest.
In the same sauté pan over medium-high heat, warm the remaining 2 Tbsp canola oil. Add the mushroom and bok choy and sauté until the vegetables are just tender, about 4 minutes. Divide the vegetables among the bowls with the rice noodles.
Thinly slice the steak against the grain and divide among the bowls.
Pour the warm broth through a fine-mesh strainer, dividing it evenly among the 4 bowls. Garnish each bowl with some sprouts. Serve immediately, with lime wedges, fresh chilli, coriander and togarashi alongside.
–For more new-season cooking inspiration, head to williams-sonoma.com.au.